A roundup of 6 vegan dinner recipes from cozy bowls of pasta, healthy stuffed sweet potatoes to rich and indulgent lasagna. Gluten-free, oil-free friendly, healthy, vegetarian, plant-based, there's a meal here to impress everyone - vegan or not!
I've included some easy vegan recipes and a couple that require a few more pots and pans. But they are all incredibly hearty, bursting with flavour, and are sure to warm you from the inside out. This is vegan comfort food its very best!
1. Rich and Delicious Lentil Bolognese Sauce
Rich Lentil Bolognese Sauce (vegan)
Rich and delicious, this hearty lentil and mushroom bolognese sauce is a family favourite. It's packed with vegetables, easy to make, super healthy, and loved by ALL eaters! Great for leftovers and batch cooking too!
Check out this recipe
what people are saying . . .
"I love this sauce! It is easy to make and so delicious. We will for sure be having this a lot this winter." Jan
'This is so darn good. My favourite pasta sauce of all time. The lentils add so much texture to the sauce!" Darren
2. Indulgent Vegan Lasagna with Bechamel
Vegan Lasagna with Béchamel Sauce
Luxurious layers of rich, red marinara sauce, thick decadent bechamel white sauce, meaty-spinach-onion filling stuffed between 3 layers of tender lasagna noodles and topped with melted mozzarella cheese. Devoured by vegans, vegetarians and meat-eaters alike. Each bite is pure blissful perfection!!
Check out this recipe
what people are saying . . .
"If you had a restaurant, I'd walk down the street every night for this lasagna!" Drew
"Long time family favourite, this lasagna is irresistible! Jenn
3. Creamy Rosé Veggie Pasta
Rich Creamy Rosé Pasta Sauce with veggies
The most delicious creamy vegan Rosé (marinara with cashew cream) sauce ever!!!! Loaded with veggies like cauliflower, mushrooms, and leeks, this pasta is deliciously nourishing and filling. So easy to make, this dairy-free, oil-free, vegan recipe is perfectly indulgent and irresistible - vegan or not!
Check out this recipe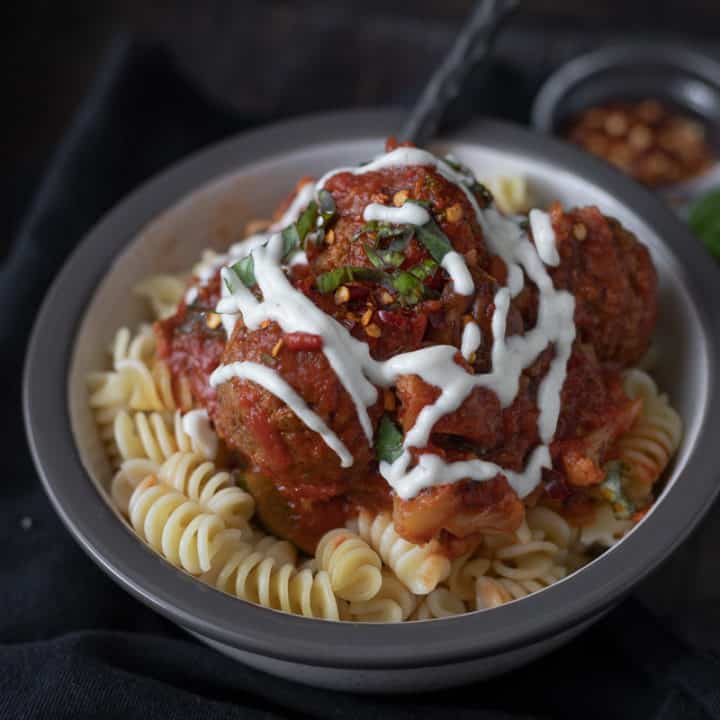 what people are saying . . .
"The mixture of these ingredients makes a delicious meal! The flavours are amazing - can't wait to have more!" Rob and Danielle
"This is such a delicious recipe. We love all the vegetables and the cashew sauce! Sonja
4. Yummy Healthy Stuffed Sweet Potato
Easy Vegan Stuffed Sweet Potatoes with Black Beans
Baked stuffed sweet potatoes with black beans are a nourishing, delicious, easy vegetarian meal any day of the week. This simple meatless main is protein rich, hearty and the flavour combination is superb! Dairy-free, gluten-free, oil-free, and vegan, these delicious stuffed sweet potatoes are the perfect meal for ALL eaters!
Check out this recipe
what people are saying . . .
"One of my new favourites! Flavours combine so perfectly!" Georgina
"Super delicious! So easy to make! Love them!!" Miranda
5. Spicy Ginger Beef and Tender Crisp Veggies
Spicy Vegan Ginger Chicken with Yum Yum Sauce
Crispy vegan ginger chicken/beef in a perfectly balanced salty-sweet ginger sauce served with tender-crisp vegetables on a bed of fluffy rice and a yummy drizzle. This is vegan comfort food at its scrumptious best!
Check out this recipe
what people are saying . . .
"Wow, we had this for dinner last night and it is out of this world. The soy curls are the perfect meat replacement and the flavour is unbelievable. Love the yumyum sauce!" Jamie
"Omg I loved this! My husband even thought this was the best meat replacement dish of all time! Like takeout but better." Jen
6. Chickpea Mushroom Bake (so easy & cozy)
Baked Mushrooms and Chickpeas on Rice
Baked mushrooms and chickpeas in a rich tomato sauce with pools of cashew cheese sauce served on fluffy rice. Quick and easy, super delicious, gluten free, vegan/vegetarian comfort food to warm you inside out.
Check out this recipe
what people are saying . . .
"This recipe is so easy to make and so delicious. The flavours are unbelievable." Joan
"I love how easy this recipe is, it practically makes itself!" Dorothy
I hope one or two of these recipes will become new family favourites at your house too. Let me know if you have any questions, and I'd love to hear which is your favourite.
Check out the blog for lots more healthy, oil-free friendly, gluten-free, vegetarian/vegan recipes. We've got tacos, burgers, pizza, pasta and more!
Oh, if you are craving something sweet, we've got you covered. Try this unbelievable Vegan Peanut Butter Chocolate Chip Banana Bread - it's a friend and family favourite!
Let me know below which of these vegan dinner recipes is your favourite!
For more vegan food inspiration, follow along on Instagram and Facebook!
NEVER MISS A RECIPE: Sign up for my email NEWSLETTER!