A round up of 15 of our best vegan, gluten free recipes that are super delicious, made with nourishing plant-based ingredients, and packed with big bold flavors. Whether you're looking for tacos, enchiladas, cozy soup or a super quick dinner idea, we've got got you covered.
These are some of our best and favorite vegan recipes that are gluten-free (or gluten-free friendly) and in most cases oil-free. There's no skimping on flavor or texture either - these plant-based recipes deliver outstanding, delicious, nourishing, and oh so satisfying food that everybody loves - vegans, vegetarians, meat eaters, wfpb, oil-free.
Let's get into the details . . .
Rich Hearty Lentil Bolognese
Vegan Lentil Bolognese Sauce - hearty and substantial, this lentil bolognese is packed with veggies, mushrooms and walnuts simmered in a rich red tomato sauce.
Served over gluten-free pasta or garlic mashed potatoes with a sprinkle of vegan parmesan cheese on top, this spaghetti bolognese is a full meal deal. No one will miss the meat!
Meaty Vegan Chili Everyone Loves!
Vegan Chili for Everyone - this easy one-pot vegan chili is ultra hearty, spicy, and bursting with rich smoky flavors. It's made with a combination of 3 beans, plant-based Beyond meat, thick tomato sauce, veggies, and smoky bold spices.
Serve on your favorite gluten-free pasta (Cincinnati style) or over rice and don't forget the toppings. It's a hearty vegan meal that everyone enjoys - vegan or not!
Authentic Italian Marinara Sauce
Authentic Italian Marinara Sauce - oh yeah, this homemade marinara sauce is a rich, bold, super flavourful, Italian tomato sauce that's 1000% better than any jarred sauce! Perfect for your favorite Italian dishes like epic vegan lasagna or use it as pizza sauce!
This marinara sauce is going to be the hardest working sauce in your kitchen!
Creamy One-pot Vegetable Bean Soup
One-pot Vegetable Bean Soup - there's nothing more satisfying than sipping a hearty, warming, wholesome soup on a cold winter evening.
This simple, one-pot, veggie soup recipe is packed with vegetables, beans, and quinoa. It's super nourishing, vegan, gluten-free, and oil-free friendly! Grab a spoon and dig in!
Curried Cauliflower Mushroom Soup
Coconut Curry Cauliflower Rice and Mushroom Soup - a top family favorite, this nourishing vegan cauliflower-broccoli soup is overflowing with veggies like mushrooms, cauliflower and broccoli rice, carrots and kale. The broth is unbelievably flavorful and luscious from porcini mushrooms, coconut milk, and curry broth.
Easy to make, this healthy plant-based, gluten-free soup is ready to be devoured in under an hour!
It's always a huge hit with family and friends at our annual Christmas Eve buffet!
Hearty Vegan Shepherd's Pie (w/crispy potatoes)
Vegan Shepherd's Pie - an old family favorite, this Shepherd's pie recipe is an incredible flavor and texture bomb.
The mince is bursting with big bold flavors from the veggies and Beyond meat. Top that off with a mountain of cheesy mashed potatoes baked to crispy perfection, and you've got yourself an outrageously delicious, stick to your ribs kind of vegan meal!
We love this gluten-free, vegan Shepherd's pie during the holidays because it's so simple and so pretty!
The Best Chana Masala
Vegan Chana Masala - one of my all time favorite Indian dishes! This spicy chana masala recipe is incredibly rich and decadent with bold flavors from Indian spices. Tender cauliflower florets and plump chickpeas simmered in the creamy tomato-onion masala gravy make a perfect, cozy vegan meal served on a bed of fluffy rice with a swirl of cashew cream.
This is some serious, drool-worthy vegan comfort food!
Fuss Free Creamy Mushroom Chickpea Bake
Baked Mushroom + Chickpea Casserole - this baked mushroom chickpea casserole is super simple to make - it's what they call a dump and bake.
Mushroom caps filled with cashew mozzarella sauce are smothered in rich red marinara sauce and then baked until bubbly, creamy and delicious. Serve this cozy family favorite on rice or vegan mashed potatoes to keep it gluten-free and vegan!
Irresistible Spicy Peanut Tofu Noodle Bowl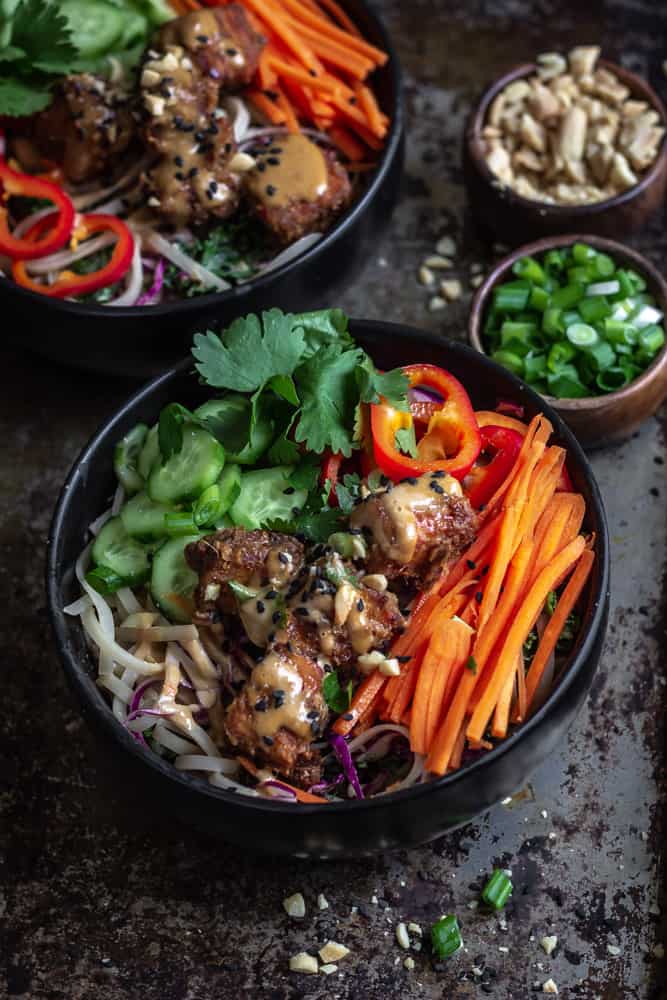 Spicy Peanut Tofu Noodle Bowl - fresh and healthy, naturally gluten-free, oil-free friendly, and easy to make, this tofu noodle bowl is a popular request with family and friends. For good reason too - the spicy peanut tofu is irresistibly delicious!
Don't just take my word for it - here's what people are saying . . .
'I'm drooling over that tofu.' Jess
'So wowed by this tofu recipe.' Colleen
'This is my favorite tofu recipe, I'm addicted to it." Sandra
Easy Vegan Sushi (4 Sushi Dipping Sauces)
Vegan Sushi Rolls - forget takeout, vegan sushi is easy and fun to make at home - it's healthy, oil-free, gluten-free, dairy-free, and fish free! And try my vegan sushi bowl.
Combined these two recipes include a foolproof method for making perfect sushi rice, vegan versions of avocado rolls, sweet potato rolls, California rolls, dynamite rolls, and more than 8 unbelievable sushi dipping sauces.
My family can't stuff their faces fast enough on vegan sushi night!
Vegan Baked Falafel balls (crispy + tender)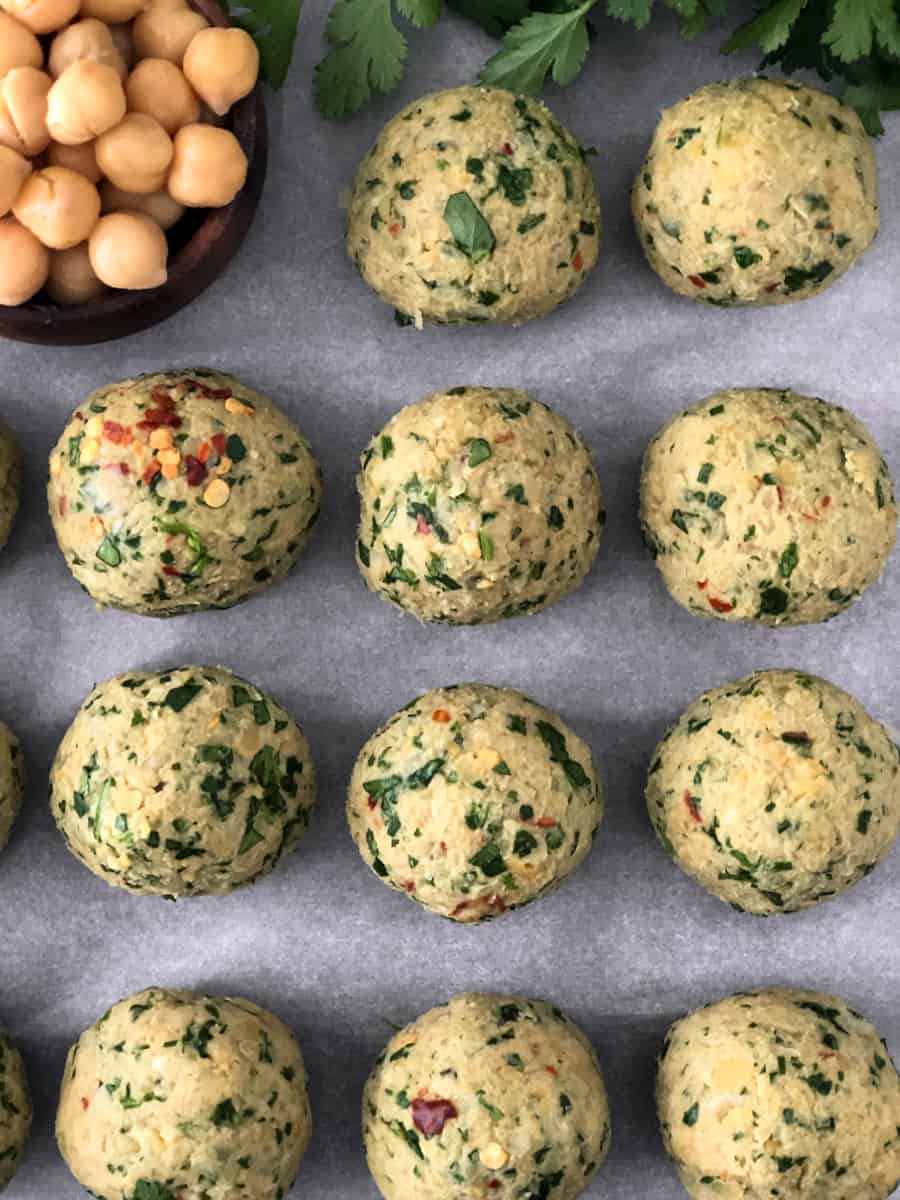 Easy, Crispy Vegan Falafel that are baked, air fried or fried. After a lot of recipe testing, we voted this the perfect falafel recipe! Crispy crust, fluffy and tender inside, perfectly spiced, and deliciously healthy - it's tough to resist these yummy falafels.
Our family loves them drizzled with tahini sauce - sweet and spicy tahini, spicy green tahini or easy everyday tahini.
Spicy Smoky Jackfruit Tacos with Tropical Slaw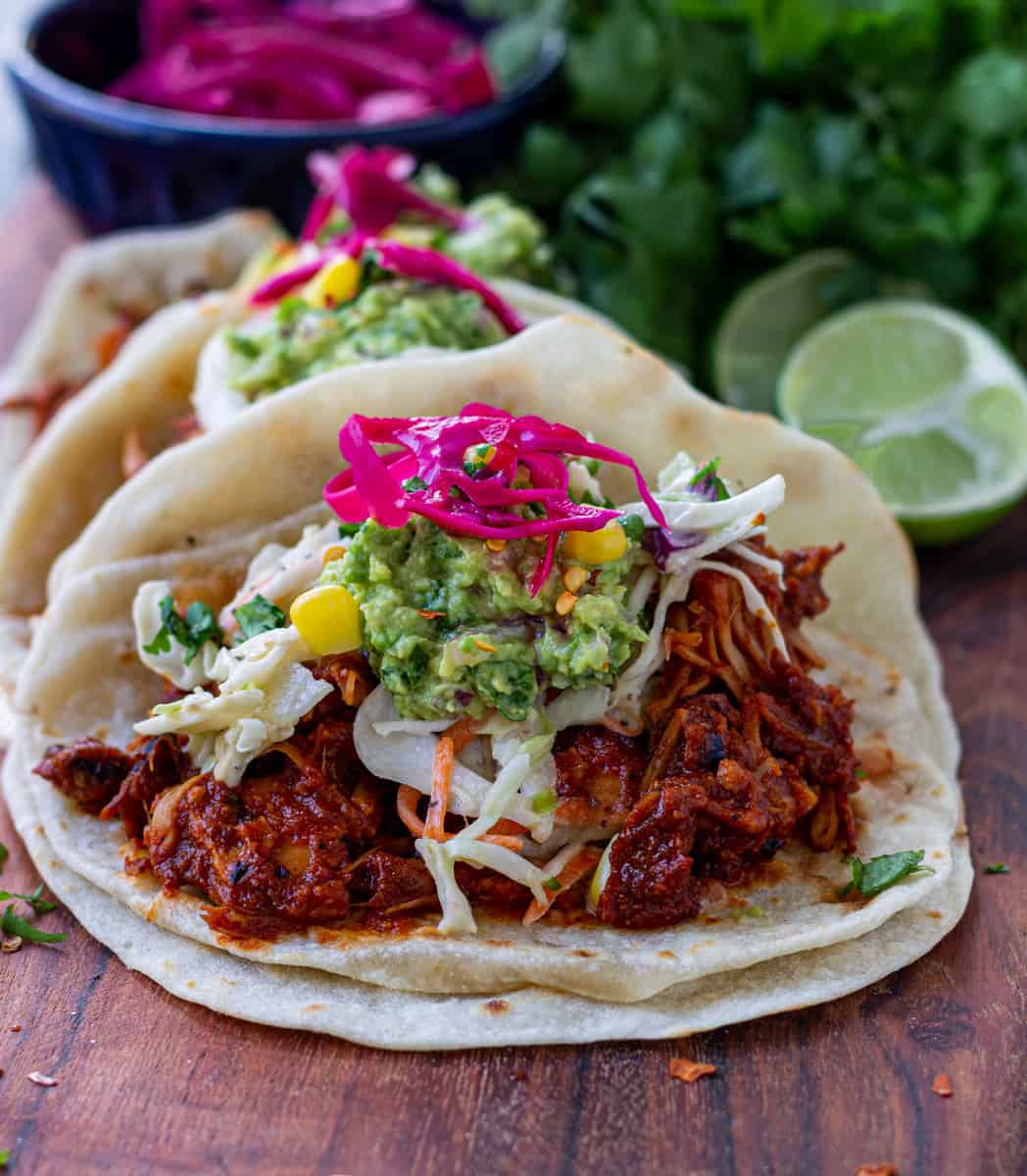 Spicy Jackfruit Tacos - ready to light up your tastebuds? This smoky, spicy, succulent jackfruit tacos recipe is just the ticket!
Fully loaded jackfruit tacos stuffed with the sauciest, smokiest filling paired with creamy tropical slaw create a major flavour explosion and incredible crunch factor. Every single person who eats these delicious, juicy vegan jackfruit tacos, goes crazy for them.
Have you tried jackfruit yet? It's a fabulous, gluten-free, oil-free, soy-free, nut-free, vegan meat substitute.
Thai Peanut Lettuce Wraps (quick + nourishing)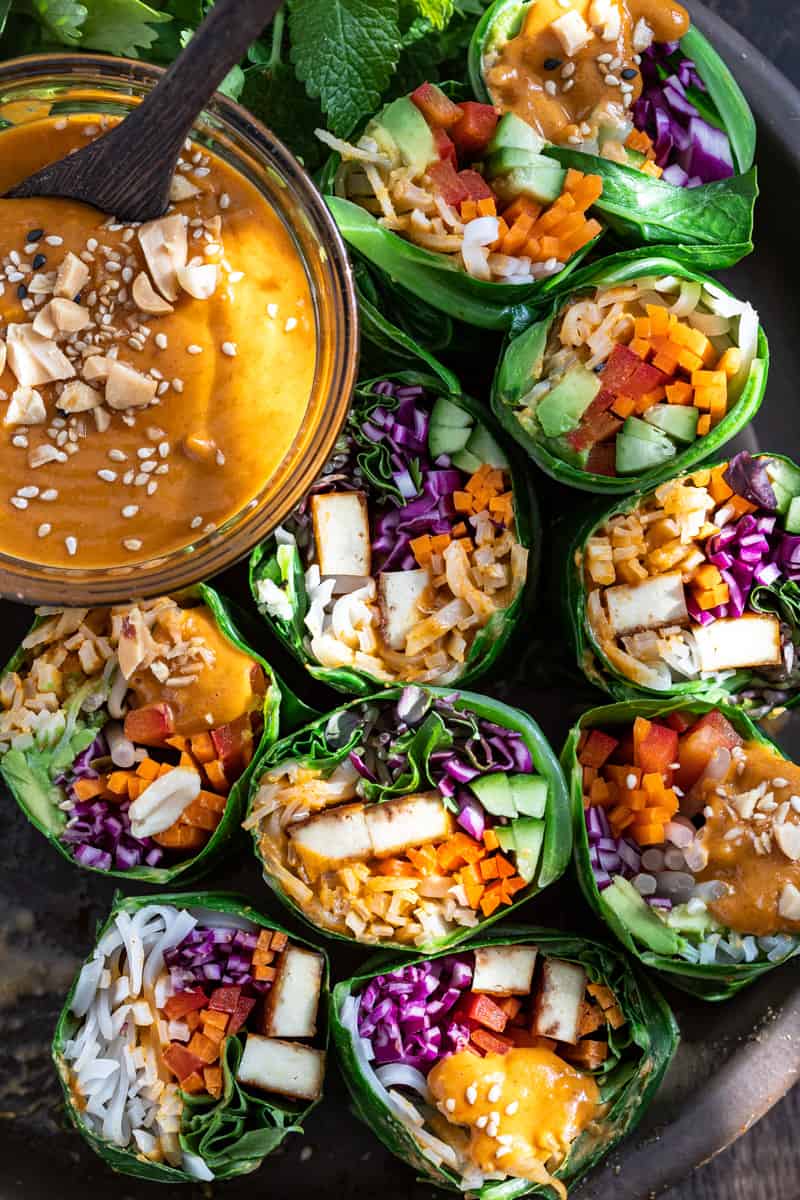 Spicy Thai Peanut Lettuce and Noodle Wraps - ready to eat in under 30 minutes, these rainbow colored veggie noodle lettuce wraps are bursting with freshness and smothered in an incredible Thai peanut satay sauce.
Super healthy, oil-free, naturally gluten-free, and raw, they are the BEST crunchy, creamy, salty, sweet and spicy summer rolls - serve as an appetizer or vegan dinner!
Simple Savory Chickpea Pancakes
Simple Savory Chickpea Pancakes - quick and easy, and oh so healthy, these savory chickpea pancakes are made with chickpea flour and packed with veggies (great way to use up leftovers!).

They are gluten-free, oil-free friendly, dairy-free, grain-free, egg-free, totally plant based, and totally delicious!
Don't forget the vegan sauce for drizzling and extra toppings!!!
The Actual BEST Stuffed Sweet Potatoes
Stuffed Sweet Potatoes (2 ways) - these baked sweet potatoes are stuffed with black beans, tomatoes, avocados and a delicious tangy, dilly drizzle.
If you love sweet potatoes, you've hit the jackpot. This is the mother of all stuffed sweet potato recipes. It's super nourishing, vegan, naturally gluten free and oil free, is an epic flavor pairing, and is packed with protein and nutrients. Delicious leftover too!
Vegan Cashew Chicken Stir Fry (sweet + spicy)
Sweet and Spicy Vegan Cashew Chicken - Forget takeout! These plump, succulent soy curl tenders are grilled to crispy perfection, stir fried with tender crisp veggies and toasted cashews slathered in an incredible sweet and spicy vegan stir fry sauce.
A totally irresistible, super flavorful, gluten-free vegan dinner served over rice that everyone goes crazy for.
Have you tried soy curls yet? Soy curls are a fantastic gluten-free, oil-free, organic, non-GMO, vegan meat substitute. They are super versatile, have great texture, and take on the flavor of whatever you're cooking. Our family LOVES them - I have a couple more soy curl recipes on the blog.
Did you make any of these recipes? I'd love to see them!
Please let me know in the comments. Tag me on Instagram
NEVER MISS A RECIPE: Sign up for my email NEWSLETTER!