Loaded with healthy ingredients, this zucchini veggie lasagna is the best recipe ever. Just like classic lasagna, it's packed with 3 layers of noodles, homemade red sauce, meaty veggie filling and grilled zucchini, creamy vegan tofu ricotta, and gooey mozzarella sauce. Everyone loves this healthy, nourishing zucchini lasagna recipe!
Keep reading for expert tips, kitchen management, freezing and make ahead suggestions for making the best meatless lasagna from scratch plus an express version!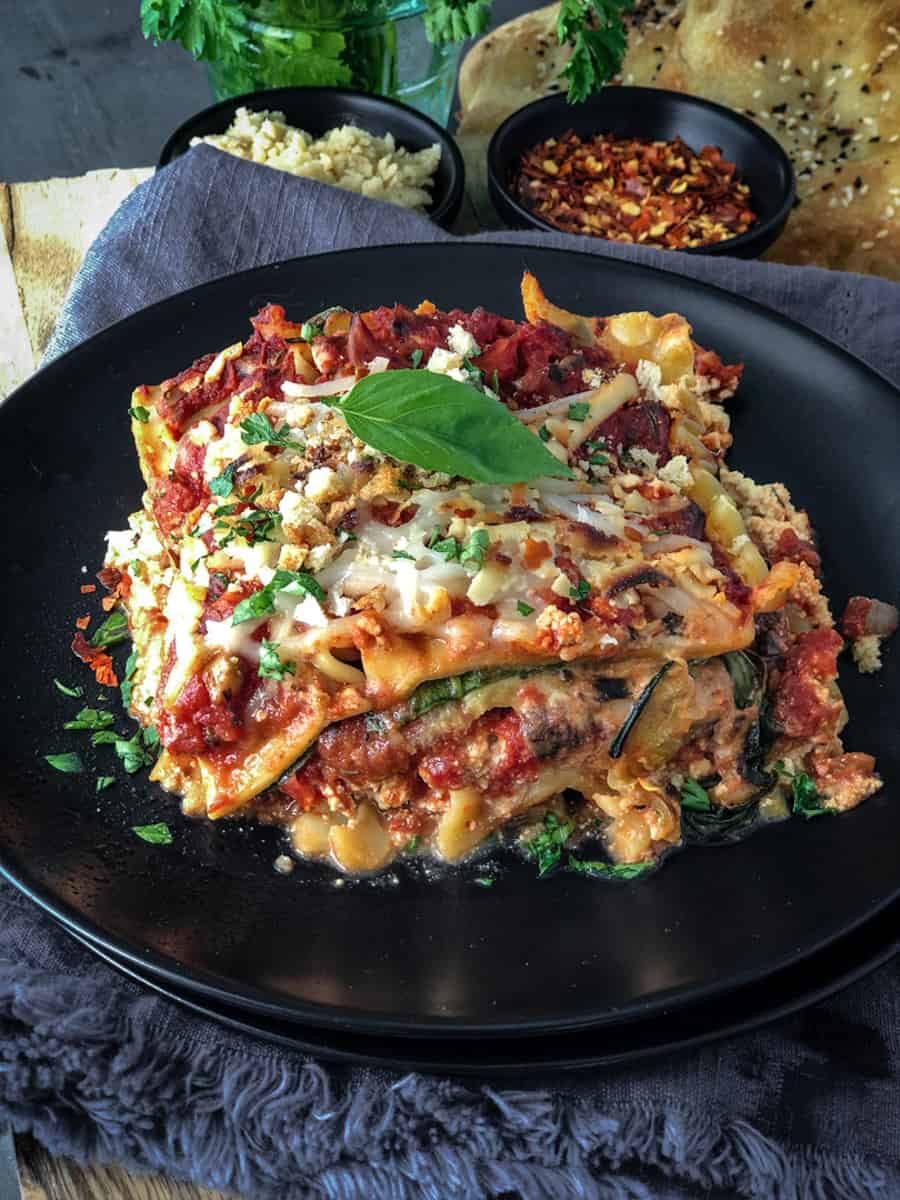 When it comes to vegan comfort food, pasta is at the top of my list. We live in Alberta, winter calls for cozy food like lasagnas, Rich Lentil Bolognese, Spinach and Tomato Fettuccine and Dan Dan Noodles.
Making lasagna from scratch has a few components so it requires a bit of a time commitment, but everything is easy to make and worth the effort! Vegan lasagna is just as hearty, cheesy, and saucy as traditional lasagna - here are the main ingredients you'll need:
the Sauce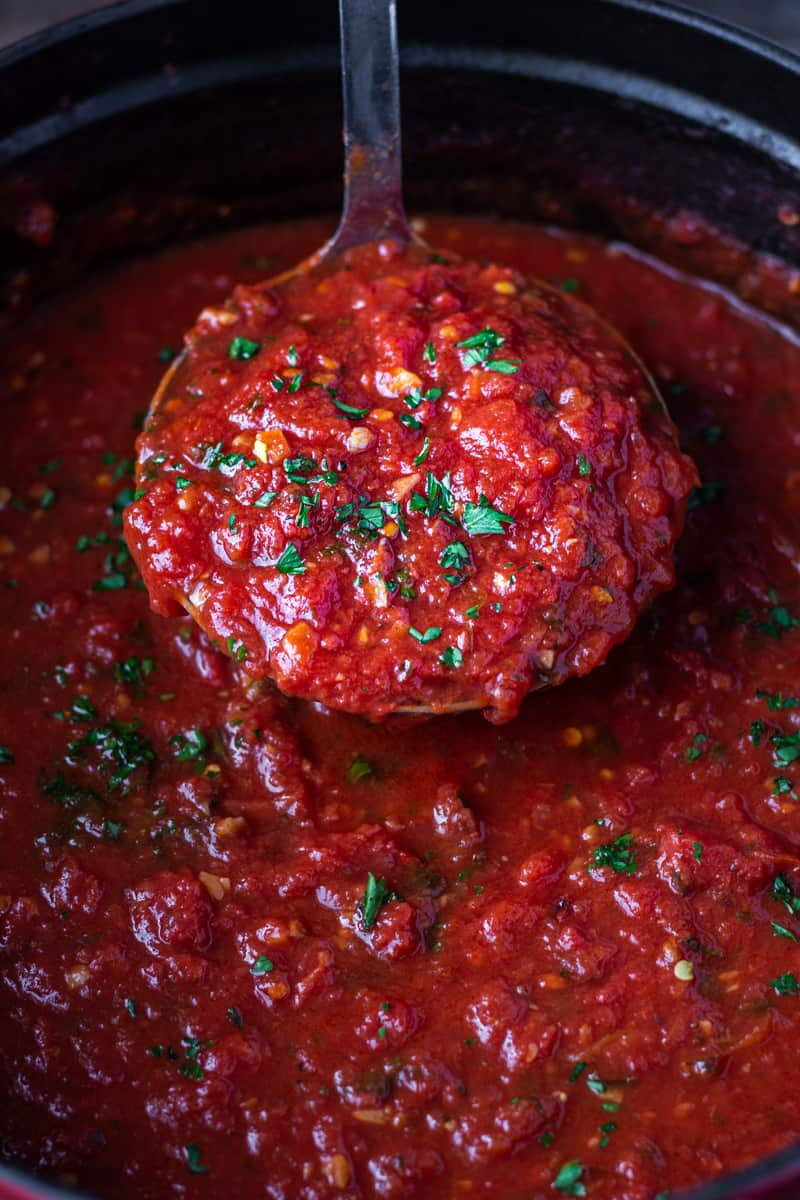 Rich Red Marinara Sauce from scratch - an Italian classic! An easy to make and super flavourful, versatile tomato sauce that makes up the base of the lasagna.
My Homemade Italian Marinara Sauce is simple, makes a big batch, and freezes beautifully. Which comes in handy as many of my recipes including these incredible Easy Vegan Meatball Sub use marinara.
the Vegetable Filling
One of the key goals in vegan cooking is to coax as much flavour as possible from plants. A delicious vegetable soffritto is the base for building that flavour. Each vegetable brings a different flavour profile; and when they are slow cooked, flavour magic happens!
Vegetables create the texture in the dish. Cutting the veggies in a variety of shapes and sizes creates varying textures which adds toothsomeness and satisfaction to the dish. Here's how we develop flavour and texture for this recipe:
Aromatics - diced onions and minced garlic are fried slowly over medium-low heat until light golden which creates a delicious, flavourful foundation for the sauce. Don't rush this step.
Mushrooms - a flavour powerhouse, they add umami depth of flavour and plenty of texture. Small button mushrooms are a good choice for this lasagna. Cut into quarters they add bulk and the perfect chewy texture. If you can't find small mushrooms, cut medium size mushrooms into 6 chunks.
Spinach - fresh or frozen. Adds flavour and flecks of colour. For frozen spinach, let the package thaw, squeeze out all the excess water then add directly to the vegetable mixture.
the Cheese
The idea of lasagna made without cheese can be a non-starter for some people. But I promise this recipe will deliver all the comfort and satisfaction of a traditional lasagna without dairy and meat free. I think you'll love this indulgent vegan version!
Ricotta Cheese - easy to make and the texture is very similar to dairy ricotta thanks to inspiration from Miyoko herself. This vegan ricotta recipe is made with both crumbled tofu and cashew sauce creating the perfect creamy consistency for a vegan lasagna.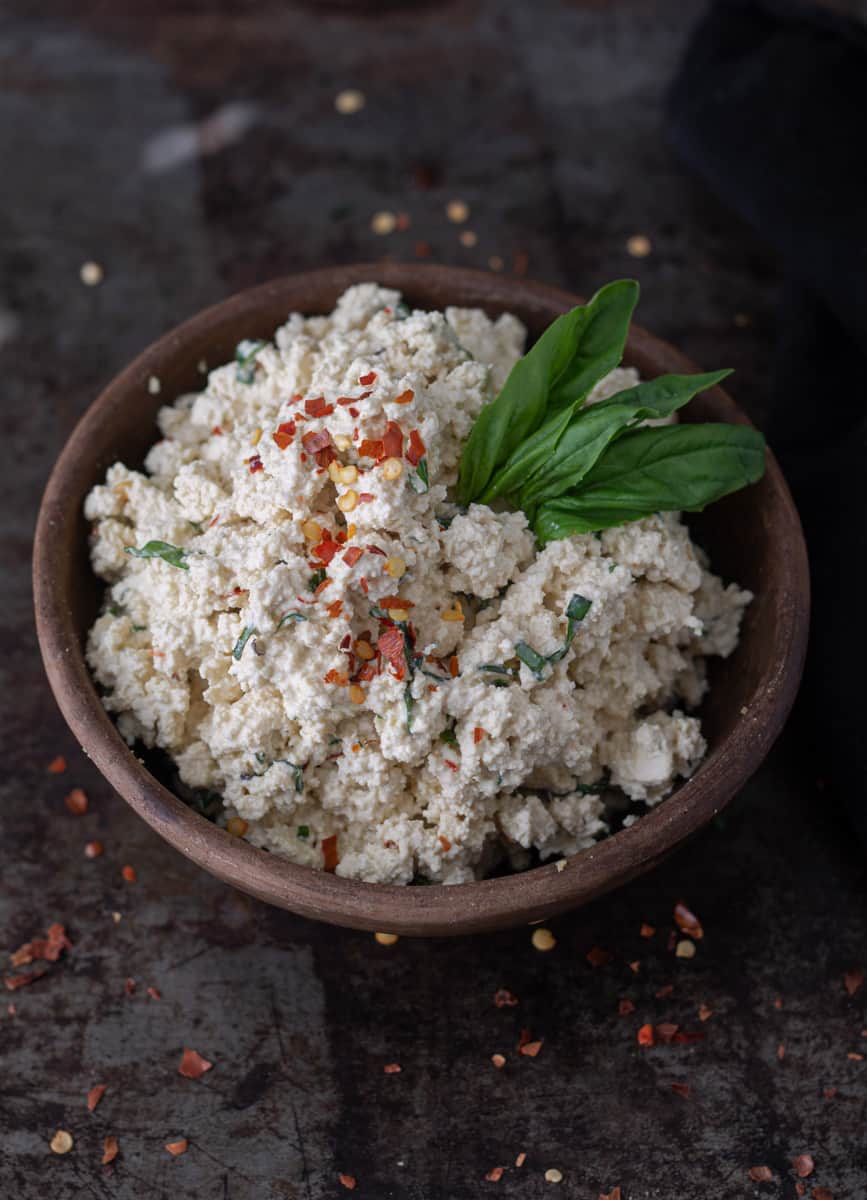 Vegan Mozzarella Cheese Sauce - this incredibly luscious white sauce is just elevated cashew cream*. It's an upgrade you don't want to skip! Quick to make, rich, and oh so comforting this is THE perfect white sauce to replace mozzarella in vegan lasagna. No jokes!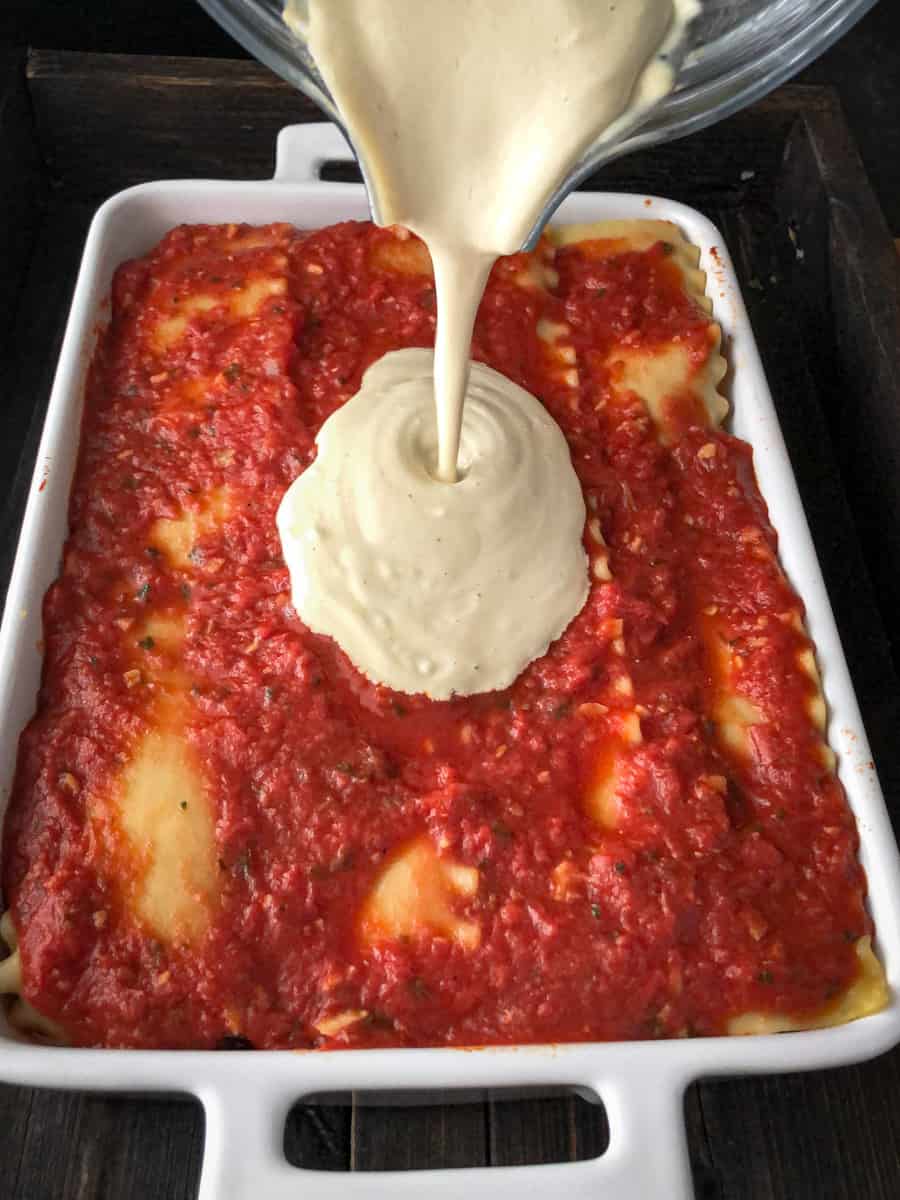 *If you are oil-free, stick with a traditional cashew cream recipe which is super delicious as well!
the Zucchini
I was gifted A LOT of zucchini this summer! So I replaced the middle layer of pasta noodles with zucchini and scattered some across the top.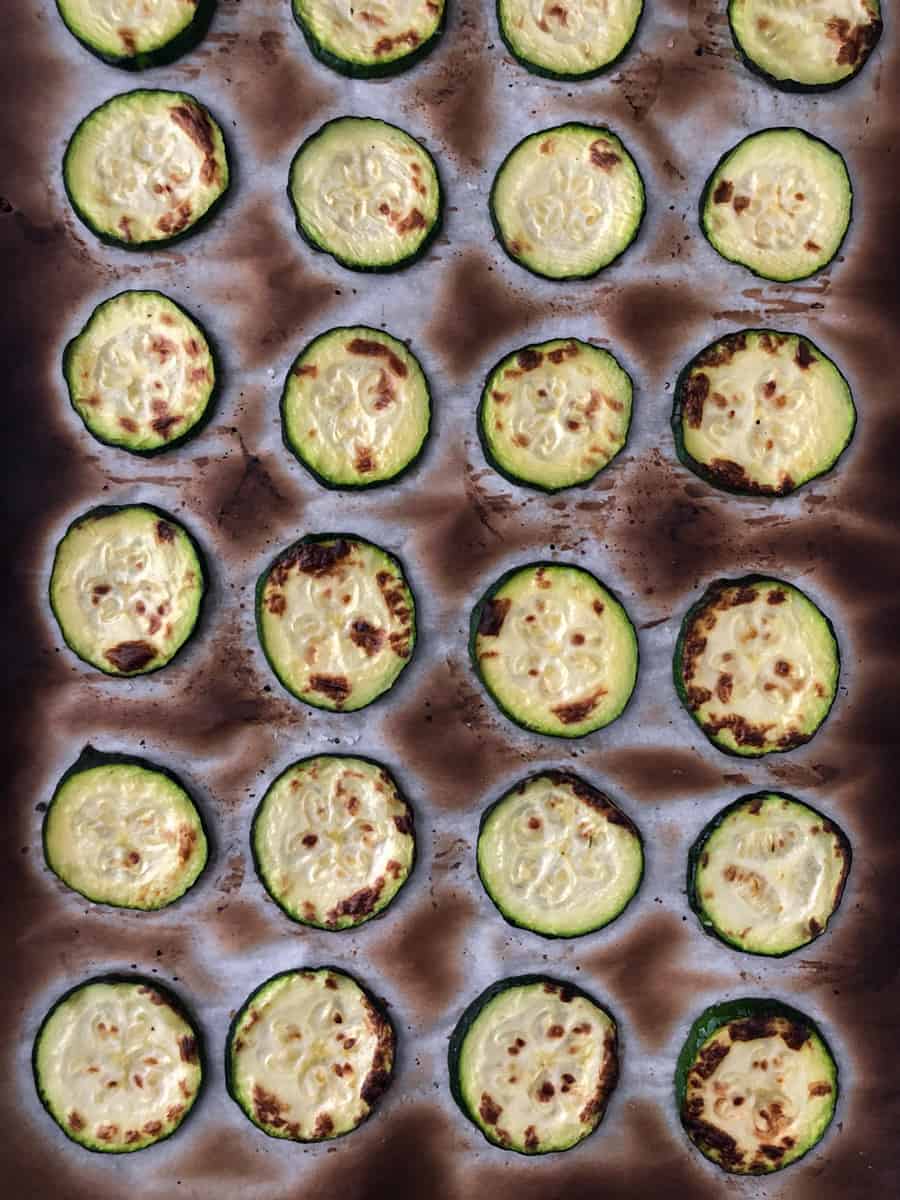 Here's how to make flavorful zucchini that isn't soggy. Cause no one likes bland, soggy zucchini!
Slice the zucchini thin (~⅛") which produces less water.
Place zucchini slices on a clean kitchen towel or paper towel, sprinkle with coarse salt. Once the water is drawn out and forms pools on the zucchini, brush the salt off and blot excess water.
Lightly brush with oil and broil until lightly brown.
Layering the Lasagna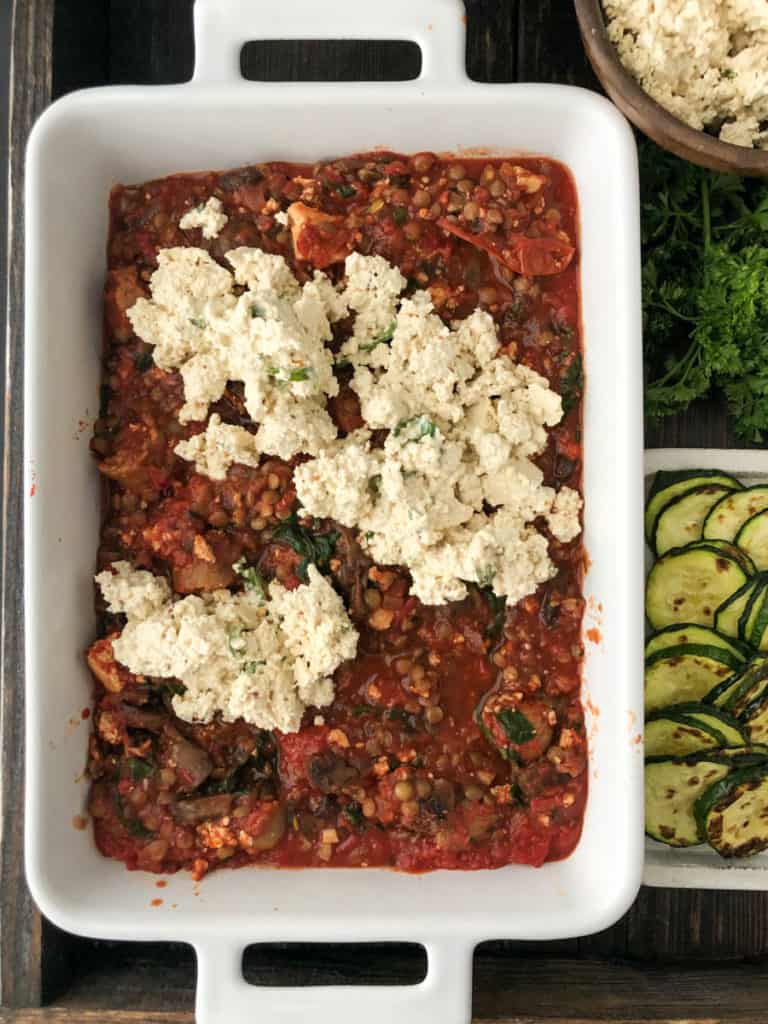 In a nutshell: noodles, half the mushroom marinara sauce, all the ricotta cheese. Then a layer of zucchini, the remaining mushroom marinara sauce, ½ the mozzarella sauce, and noodles. Top with reserved marinara sauce, and remaining mozzarella sauce.
Express Version (shortcuts)
Craving lasagna but short on time? Here are some tips for prepping ahead and/or shortcuts that will make your lasagna quick and easy and still produce a luscious veggie lasagna.
Ricotta Cheese - buy your favourite store bought vegan ricotta. I like Kite Hill. But I can't always find it so I make this vegan tofu ricotta a day or two in advance and store it in the fridge.

Vegan Mozzarella - Sub in vegan mozzarella for the mozzarella cheese sauce. My favourite is Miyoko's Fresh Vegan Mozza; but grab your favourite block or grated cheese.
Marinara Sauce - use your favourite jarred sauce - I love Rao's marinara sauce. Or make homemade sauce a few days ahead of time and store in fridge.
How to Store Lasagna
Leftovers - can be covered and stored in the fridge for 3 or 4 days without any loss of flavour or texture. Reheat in the oven or microwave.
Freezer (baked) - this lasagna freezes like a dream. Wrap in a layer of plastic wrap and a layer of tinfoil and freeze for up to 3 months. Let the lasagna come to room temperature, remove the plastic wrap and warm in the oven or microwave. Store in individual size servings for quick lunches or weeknight dinners.
Freezer (unbaked) - wrap the lasagna tightly with plastic wrap and then tinfoil. Add a label and store in the fridge for up to 3 months. When it's time to cook, thaw and then bake following the recipe directions.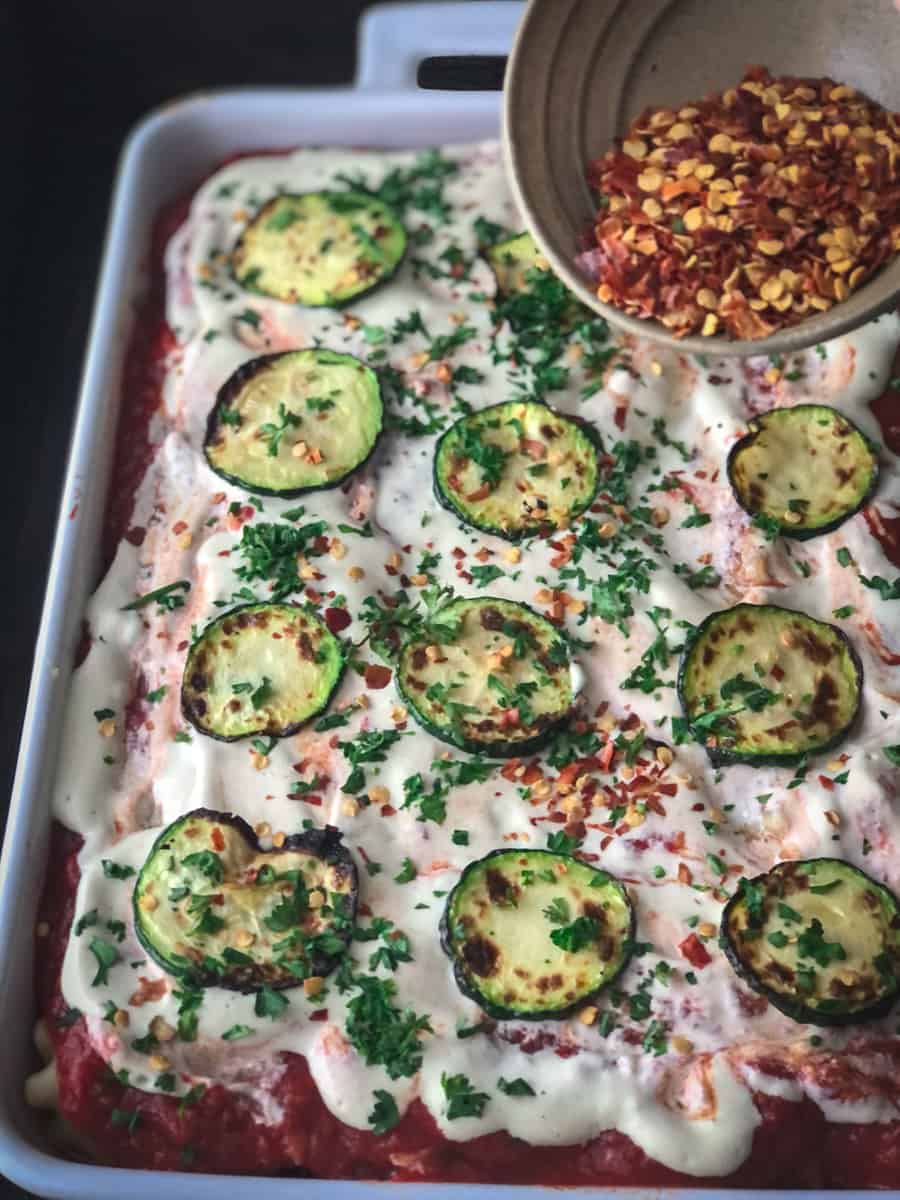 More Vegan Lasagna Recipes
Vegan Lasagna with Sausage and Mushrooms - California Italian style lasagna.
Easy Vegan Lasagna Roll Ups - very easy, really delicious, super pretty.
Vegan Lasagna with Béchamel Sauce - the perfect bite of cheesy, meaty, sauciness!
Tex-Mex Lasagna - made with beans, avocados, salsa and spicy cream sauce.

Did you make this Best Vegan Lasagna Recipe with tofu ricotta?
Please leave feedback and a rating below. 
For more vegan food inspiration, follow along on Instagram and Facebook!
NEVER MISS A RECIPE: Sign up for my email NEWSLETTER!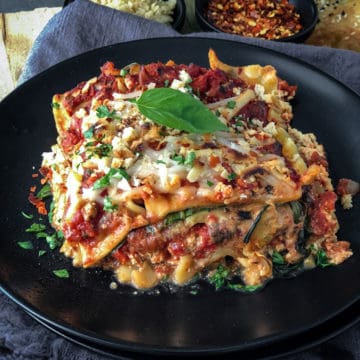 Best Vegan Lasagna with Tofu Ricotta
Italian vegan comfort food that dreams are made of!! This plant-based lasagna is stuffed with spinach, mushrooms, and grilled zucchini between layers of tender pasta swimming in a classic marinara sauce. Plus there are two vegan cheeses: creamy tofu ricotta and luscious vegan mozzarella cheese sauce that knocks this lasagna over the top!
Rate this recipe!
INGREDIENTS
Broiling Zucchini
2

medium

zucchini, sliced thin (peel on)
Make the Vegetable Sauce
1

tbsp

oil (or splash of broth for oil-free)

1

small

onion, diced

2-3

cloves

garlic, minced

4

cups

small mushrooms, quartered (450 gram pack)

4-5

cups

spinach, chopped

4-5

cups

marinara sauce, store bought or homemade

1-2

tsp

red pepper flakes

coarsely ground salt and black pepper (to taste)
Vegan Mozzarella Cheese Sauce
1

cup

cashews, raw unsalted

1

cup

hot water

2

tbsp

coconut oil (unrefined), melted

1 ½

tbsp

tapioca flour

1 ½

tbsp

nutritional yeast

½

tsp

salt, to taste
Cheese
1 ½

cups

ricotta cheese recipe or store bought

12

squares

mozzarella cheese (express version)
Garnish
¼

cup

parsley-basil, chopped for garnish

red pepper flakes
INSTRUCTIONS
Zucchini Slices
Preheat oven to Broil. Place rack on shelf 5-6" from top burner.

Slice the zucchini (leave the skin on) into coins about ⅛" thick and place in a single layer on some paper towel or a clean kitchen towel.

Sprinkle with some coarse salt (which is easier to brush off), and let sit for around 10-15 minutes while the water is drawn out of the slices and has pooled on top.

Brush the salt off the slices, blot any excess water and place in a single layer on a prepared baking sheet (I use parchment). Lightly spray or brush each zucchini slice with oil (optional).

Broil the zucchini for 6-8 minutes until lightly brown. No need to flip. Remove from the oven and let cool.

Set oven to 375º F. Move rack back to original position.
The Pasta
After the zucchini is salted, start the water for the lasagna noodles.

Cook 8-10 lasagna noodles in boiling water for 6 or 8 minutes. Drain and set aside.

I keep the noodles from sticking by flipping them over the edge of my strainer and covering them with a kitchen towel. However, if they get a bit firm or stick together, just run warm water over them before using.
The Red Sauce
I typically use my favourite store-bought red sauce*. You need 4-5 cups (2 jars).

Rao's Marinara is my favourite store-bought sauce.
The Vegetable Filling
Heat the oil in a dutch oven or large pan over medium heat until shimmering. Add the onions, garlic, and mushrooms and cook until the mushrooms have released their water and the onions are tender and fragrant ~10 minutes.

Add the salt, pepper, red pepper flakes, and chopped spinach. Cook for another few minutes.

Stir 4 cups* of the marinara sauce into the vegetable filling and let simmer. Add a splash of water or broth if the sauce gets too thick.

Reserve the other 1 - 1 ½ cups of marinara for the top layer.

Taste the sauce and adjust seasonings to your preference (more oregano, hot pepper flakes, pepper, etc.)
Vegan Mozzarella Cheese Sauce
Place all the ingredients in a high-power blender*.

Blend until smooth and creamy (about 1 minute).

If you don't have a high-power blender, soak the cashews in boiling hot water in a covered container for an hour or more until plump. Then drain and continue as directed.
Homemade Ricotta or Store-bought Ricotta
How to Layer the Lasagna
Lightly grease the bottom of a 9x12 pan. Spread a ½ cup of marinara sauce over the bottom of the pan (thin layer).

Add 4-5 pasta noodles (slightly overlapped to cover bottom).

Evenly spread half the vegetable marinara sauce over the noodles.

Next layer: Spread out 1 ½ cups ricotta cheese.

Add zucchini slices (save 12 for the top).

Spread the remaining half of vegetable marinara sauce.

Drizzle half the white mozzarella sauce and smooth with the back of a spoon.

Top with the remaining 4-5 noodles.

Evenly spread the reserved 1 cup of red sauce over the noodles and then drizzle evenly with the remaining white mozzarella sauce.
Baking the Lasagna
Cover the lasagna with a sheet of tinfoil which prevents it from drying out.

I tent the tinfoil so it doesn't touch the cheese!

Bake covered at 375º F for 20 minutes and another 25-30 minutes uncovered. The sauce will be bubbly along the edges and the cheese will be golden.

Remove the lasagna from the oven and let it set for at least 15-20 minutes before cutting and serving.

Garnish with a sprinkle of chopped herbs and hot pepper flakes.
NOTES
Marinara Sauce - make from scratch ahead of time and store in fridge or freezer until needed or buy 2 jars at the store. Ricotta Cheese - if making from scratch, can be prepared a few days in advance and stored in the fridge. Pasta - be sure to check your pasta ingredients to confirm they are vegan (some have eggs). I undercook my pasta by a few minutes so it's the perfect texture after baking.  Rest - let the lasagna rest for 15-20 minutes so it has time to set before you cut and serve it. Freezing - wrap the lasagna in freezer-friendly container or wrap. Cover tightly with tinfoil. Label and place in freezer for up to 3 months.
This recipe is from simplyceecee.co food blog. All images and content are copyright protected. Please do not use my images or republish this recipe without prior permission. Thank you.