This crispy Brussels sprouts recipe is super delicious, fast and easy to make, and kind of addictive. Perfectly cooked they are tender and salty-sweet with irresistible crispy edges. Super customizable with your favorite seasonings or drizzles, this yummy vegan side dish can be on your table in under 30 minutes.
Keep reading to learn how to make Brussels sprouts 2 ways (crispy oven roasted or deep fried) plus how to choose, prepare, and serve them . . .
Say goodbye to old school Brussels sprouts (boiled, mushy, flavorless) and hello to tender, golden caramelized, crispy Brussels sprouts (two ways!). Plus don't forget Nana's sauce or a tangy-sweet honey mustard dipping sauce.
Brussel sprouts are so versatile, they are amazing shredded in potstickers, salad or coleslaw, stir fried in rosé pasta sauce or pan fried with onions and peppers. But our family favorite are these crispy, caramelized Brussels sprouts for holiday meals or appetizers.
Ingredient Review
You'll need only a few simple ingredients for this recipe, but the combination is simply irresistible!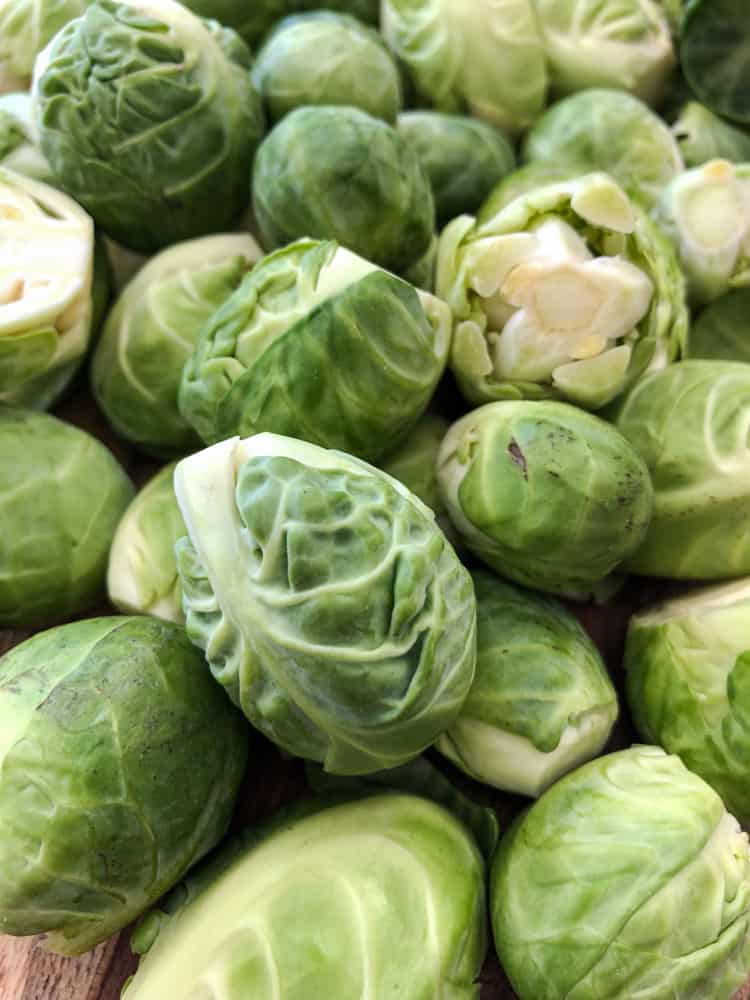 Brussels Sprouts. Choose bright green, firm, like-sized Brussels sprouts.
Olive Oil. The way to get crispy Brussel sprouts with caramelized edges!
Salt. Brussels sprouts need some salt so they aren't bland. Salt enhances the flavor and brings out the natural roasted sweetness.
Lemon. Wakes up the flavors, adds brightness, and some zing!
How to Prepare and Make Crispy Brussels Sprouts
Easy to prepare, these two methods are the best way to cook Brussels sprouts: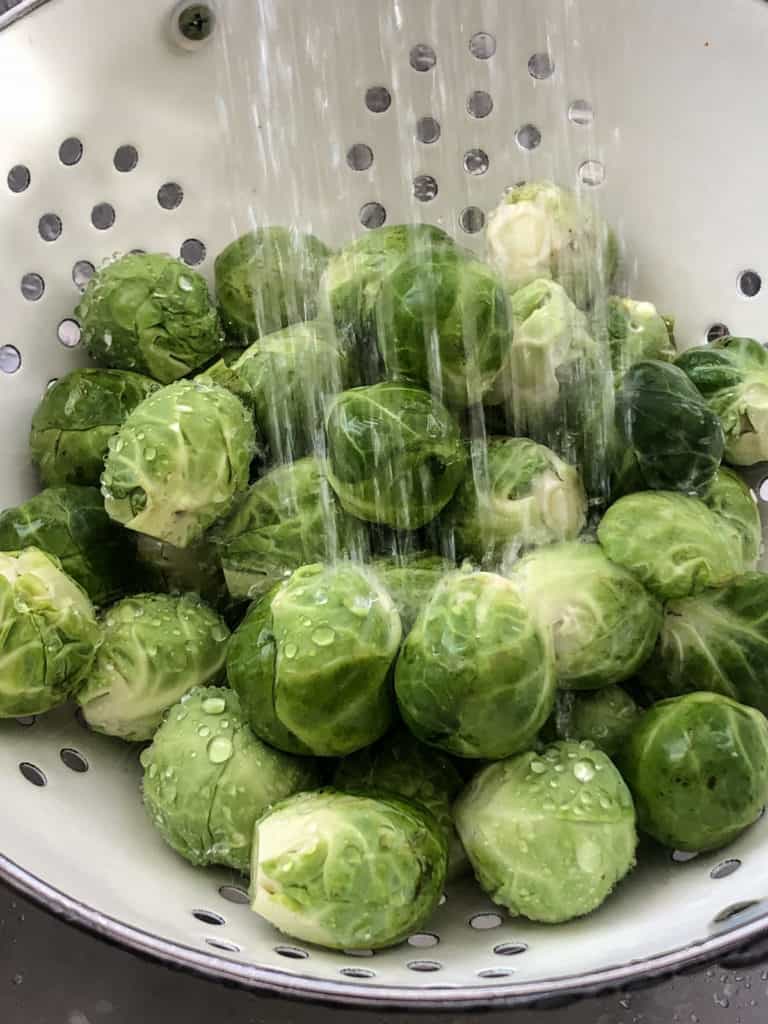 select sprouts that are similar in size for cooking unity. Trim any excess stem or ratty looking leaves. Wash and pat dry. If the sprouts are small, you can leave them whole; otherwise cut them in half.
preheat the oven or warm up the fryer.
Oven Roasted Method
Brussels sprouts have a very strong and distinct flavor that when roasted softens bringing out their natural, subtle sweetness and nuttiness. Follow these steps to make perfectly crisp roasted Brussels sprouts . . .
Preheat oven to 400º F. High heat is the secret to ensuring crisp edges, caramelized surface and perfect texture.
Be sure to dry the Brussels sprouts thoroughly.
Toss them in oil and seasonings on the baking sheet.
Place cut side down in a single layer without touching. For best results, don't over crowd the baking sheet which will steam the veggies instead of roasting them.
Tuck any stray leaves around the cut halves - they turn out crunchy and delicious!
Bake until tender (not mushy) with golden caramelization and crisp edges. Check for those visual cues around 15-18 minutes by flipping one over and piercing it with a fork - roast for longer as required.
Pro Tip: the size of the sprouts, how hot your oven runs and the type of pan you use will all impact the roasting time.
Remove from oven and transfer to bowl, add a squeeze of lemon, a sprinkle of salt, and a few red pepper flakes. Taste and adjust seasonings as desired.
Serve immediately with a dipping sauce!
Deep Fried Method
These are the delicious deep fried crispy Brussels sprouts my niece, Chef Steph, makes for the family during the holidays. Ultra indulgent and delicious!
Preheat the oil to 360º F either in a deep fryer or using a heavy bottom pan with 2-3" of oil over medium-high heat.
Be sure the Brussels are completely dry before adding to oil.
Once the oil has come to temperature, add the sprouts to the oil using a spider or slotted spoon. Don't overcrowd the pan which drastically reduces the temperature of the oil.
Remove from oil to a paper towel lined rack or bowl. Add a pinch of salt.
They fry up pretty fast so don't leave them unattended.
Continue in batches until all Brussels are fried. Season with a squeeze of lemon, salt to taste, and a pinch of two of red pepper flakes.
Serve immediately, hot and crispy!
Don't forget the dipping sauce.
Dipping Sauce Recommendations
My family has been making a creamy, tangy, lemony, worcestershire sauce to drizzle over Brussels for many generations (Nana's sauce). It's dairy-free, gluten-free, oil-free and now vegan.
Our family loves sauce! Here's a few other suggestions that go well with Brussels sprouts: Honey Mustard Dipping Sauce, Sweet and Spicy Tahini sauce, Vegan Tahini sauce or Vegan Tzatziki sauce. For lots more sauce, drizzles, and dip ideas, check out my vegan sauce page.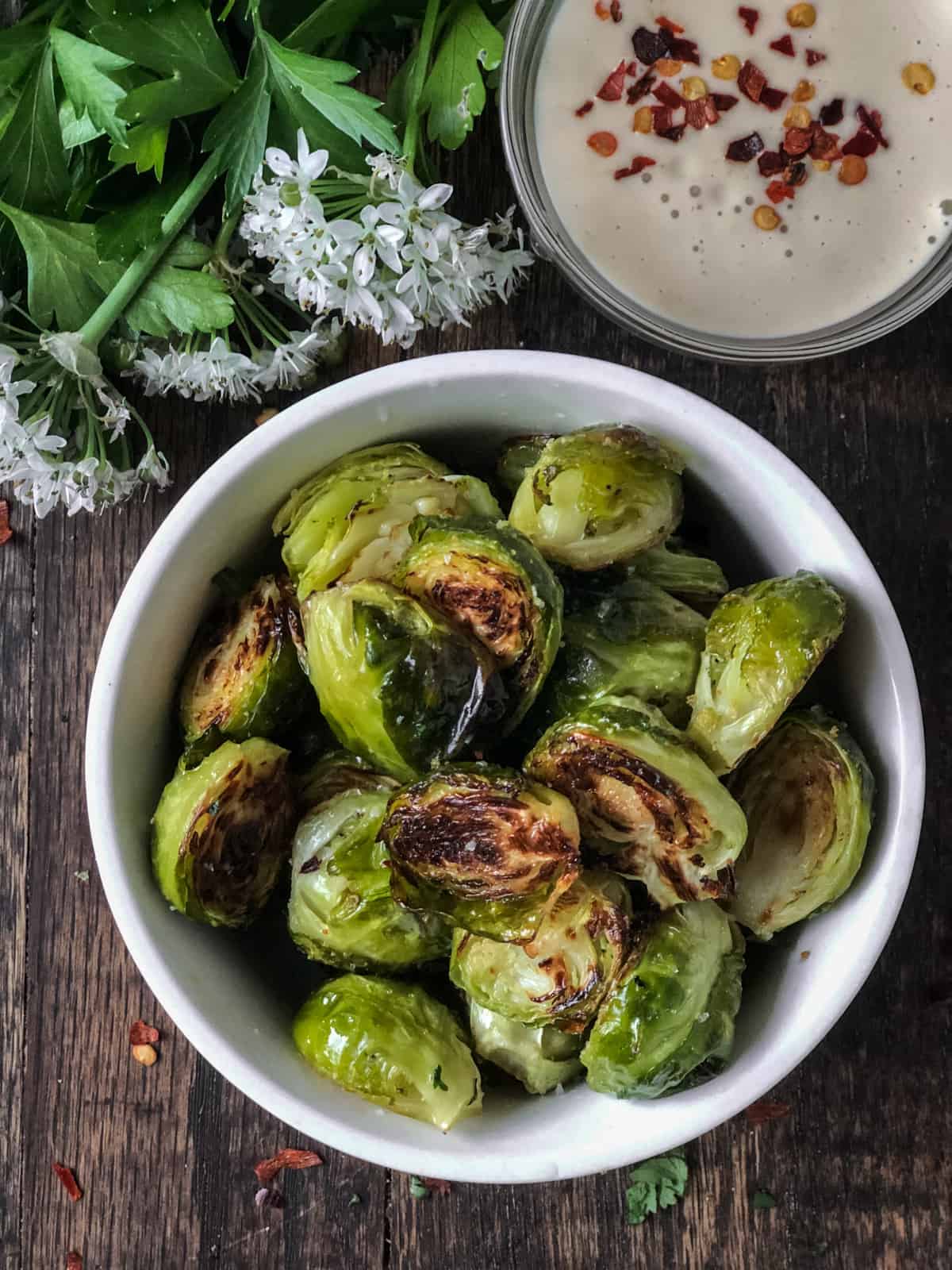 FAQ - choosing, cleaning, storing Brussels sprouts
How do you clean/prepare Brussels sprouts?
Choose bright green, fresh Brussel sprouts that are free from black marks or yellow leaves. Trim off the woody stem and any damaged leaves.
Wash and thoroughly dry the Brussels, cut them in half, leave whole, shred or chop them depending on your recipe.
Can I use frozen Brussels sprouts?
Yes! Fresh is best, but frozen Brussel sprouts work too. The texture is not as crispy and caramelized as fresh (because of extra moisture), but they are super flavorful and tasty.

Thaw the Brussels. Spread in a single layer on a kitchen towel to absorb as much moisture as possible. Thoroughly pat dry after thawing to extract as much moisture as possible. Once thawed and dry, continue with recipe as directed.
Can I make Brussels sprouts ahead of time?
For holiday meals when there are many dishes to manage, go ahead and prep the Brussels sprouts up to the point where you pop them into the oven. Instead, cover with foil and refrigerate. When it's time to cook, just pop them into the preheated oven.
If your oven schedule is tight, roast the Brussels sprouts per the recipe and then pop them into an airfryer right before serving to heat through and bump up the crispiness.
What's the best way to cook Brussels sprouts?
The best way to cook them is any way your family enjoys them! But for the best flavor and texture, avoid boiling or steaming instead try oven roasting, frying, quick stir frying or air frying. See flavor variations in recipe notes.
Storing and Serving Tips
Storing Raw. Don't wash Brussels sprouts before using. Keep them cool and dry until ready to use by storing in the fridge in a plastic bag (add a paper towel to the bottom of the bag if the veggies are damp) to soak up any excess moisture.
Storing and Reheating Leftovers. Leftover Brussels can be stored in the fridge for 2 or 3 days in an airtight container. To warm them, pop into the microwave for 10-20 seconds, drizzle with sauce and enjoy. Or to crisp up, place on a baking sheet in the oven at 400º F for a few minutes or use an airfryer if you have one!
How to Serve Brussels Sprouts. Leftover Brussel sprouts are delicious in pasta sauces, on pizza, in rice bowls, quesadilla, soups or stews. Raw Brussels add colour, texture and loads of nutritional value to a rainbow salad or vegan coleslaw - shaved or shredded then sprinkled over top for a gorgeous healthy crunch.
Did you make my Crispy Brussels Sprouts (2 ways) recipe? If so, please leave a review and comment below. I appreciate your support!
Follow me on Instagram @ceeceecooks, and Facebook
NEVER MISS A RECIPE: Sign up for my email NEWSLETTER!
Crispy Brussels Sprouts Recipe (2 ways)
Easy to make, super flavorful, crispy Brussels sprouts made two ways - oven roasted and deep fried. Perfect served as an appetizer, a side dish for the holidays or a quick and easy weeknight meal.
Rate this recipe!
INGREDIENTS
1-2

lbs

brussels sprouts, trimmed and cut in half

1-2

tablespoon

olive oil

sea salt, to taste

¼

teaspoon

garlic powder

½ - 1

lemon, juiced

1-2

pinches

hot pepper flakes
Nana's Sauce (make this ahead and store in the fridge)
2

tablespoons

Vegenaise

2

tablespoons

vegan Worcestershire sauce (store bought or homemade)

1

tablespoon

lemon juice (more to taste)

kosher salt and coarse black pepper to taste

1

tablespoon

sriracha, to taste (optional)

¼

teaspoon

maple syrup (optional)
INSTRUCTIONS
NANA's SAUCE  - prepare ahead of time and store in fridge.
Season with salt and pepper. Taste and adjust ingredients as desired. Creamier, add more Vegenaise; more flavor, add more Worcestershire; tangier, more lemon juice; flat, more salt.

*Check the label to be sure your Worcestershire is vegan.

Option: add sriracha to spice things up - approximately 1 tablespoon to start.

Option: maple syrup - add if the sauce is too sour for you or you enjoy a hint of sweetness. 
Preparing the Brussels Sprouts (for either version)
Trim the ends off the Brussels sprouts and remove any ratty leaves.

Cut the sprouts in half unless they are small (under 1" diameter), then leave whole.
OVEN ROASTING METHOD  
Preheat the oven to 400º F.  

Prepare a baking sheet with foil, parchment, a cooking spray or rub oil on baking sheet.

Place trimmed Brussels sprouts in a large bowl (or right on the baking sheet) and toss with olive oil, a good sprinkle of sea salt, and the garlic powder.

Arrange the Brussels in a single layer on the prepared baking sheet cut side down with space between.

Bake until golden and crispy - approximately 15-30 minutes.

Remove from the oven and place in a serving bowl - add a squeeze of fresh lemon, a sprinkle of sea salt, and a pinch of red pepper flakes. Taste and adjust seasoning as required.

For best texture, serve immediately with a drizzle of sauce.

Topping Option: for extra crunch, add a handful of toasted pine nuts, almonds, walnuts or hazelnuts.
DEEP FRYING METHOD
Use a deep fryer if you have one. If you don't, heat 2-3" vegetable oil in a heavy bottom pan over medium to high heat (to 360º F).

Be sure the Brussels are dry before deep frying them (oil and water don't mix!). 

Carefully place the Brussels in the hot oil using a spider or slotted spoon. Cook in batches - don't overcrowd which lowers the temperature of the oil.

Let them cook for 2-3 minutes until they are crispy and golden. Remove them from the oil with the spider and place in a paper-towel lined bowl or baking rack.

Continue until all the batches are cooked.

Add a squeeze of lemon, a sprinkle of sea salt, and a pinch of red pepper flakes. Taste and adjust seasoning as needed.
TO SERVE
Serve and eat while piping hot for best texture. Add a drizzle of sauce and pass extra sauce in a bowl for guests to help themselves.
NOTES
Brussels Sprouts. Choose sprouts that are fresh, firm, and similar in size so they cook at the same rate or cut them in half.
Cooking Method. Both baked and fried are delicious. The oven baked sprouts are sweeter, caramelized, and healthier. The fried sprouts are crispier and far more indulgent.
Deep Frying. Be sure your sprouts are completely dry before frying them as oil and water do not mix!
Nana's Sauce. This sauce is delicious in its original form (without Sriracha or maple syrup). Check ingredients in Worcestershire to be sure it's vegan or make your own super easy Vegan worcestershire sauce.
Spices. Brussels are super adaptable and their slightly sweet, earthy flavor lends itself well to bold flavors - try adding a pinch of curry powder, harissa, Italian spices, EBTB, chili, cumin or whatever your favorite spice is. Enjoy!
Optional Toppings. For added crunch add a handful of toasted pine nuts, almonds, walnuts or hazelnuts.
Storage. Baked Brussels sprouts can be stored in the fridge for a day or two and used very successfully in leftovers.  
This recipe is from simplyceecee.co food blog. All images and content are copyright protected. Please do not use my images or republish this recipe without prior permission. Thank you.
Originally posted November 2019, updated photos and directions September 2021.