These vegan burrito bowls are bursting with a fiesta of flavors and textures you'll be craving for days! Totally customizable, our whole family loves digging into the layers of crispy sweet potatoes, cilantro-lime rice, black beans, fajita spiced veggies, creamy guacamole, and so much more!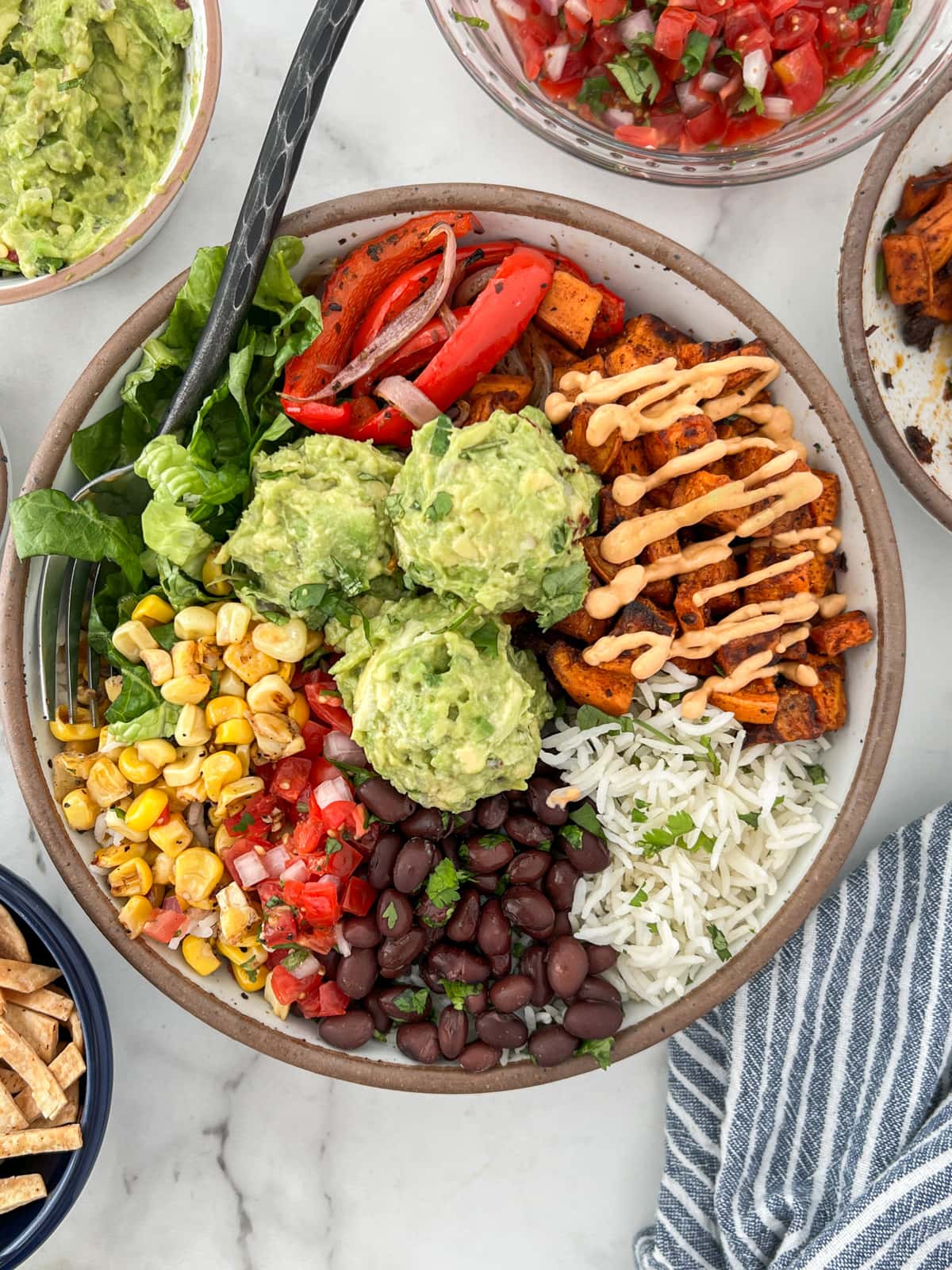 This homemade vegan burrito bowl is creamy, crunchy, saucy, tangy, and of course delicious!!!! The combination of crisp sweet potatoes, fajita-spiced peppers and onions, black beans and spicy cashew dressing comes together in around 40 minutes and keeps you feeling full and satisfied.
Our family can't get enough plant based bowls for dinner. This vegan burrito bowl joins a tasty lineup including my spicy peanut tofu bowl, vegan sushi bowl, and vegan buddha bowl on the blog.
These Vegan Bowls are for ALL Eaters!
Whether you're a busy family on the go, a single professional, want to add more veggies to your meals or are just wondering about plant-based meals, you're going to love these wholesome veggie burrito bowls! Here's why: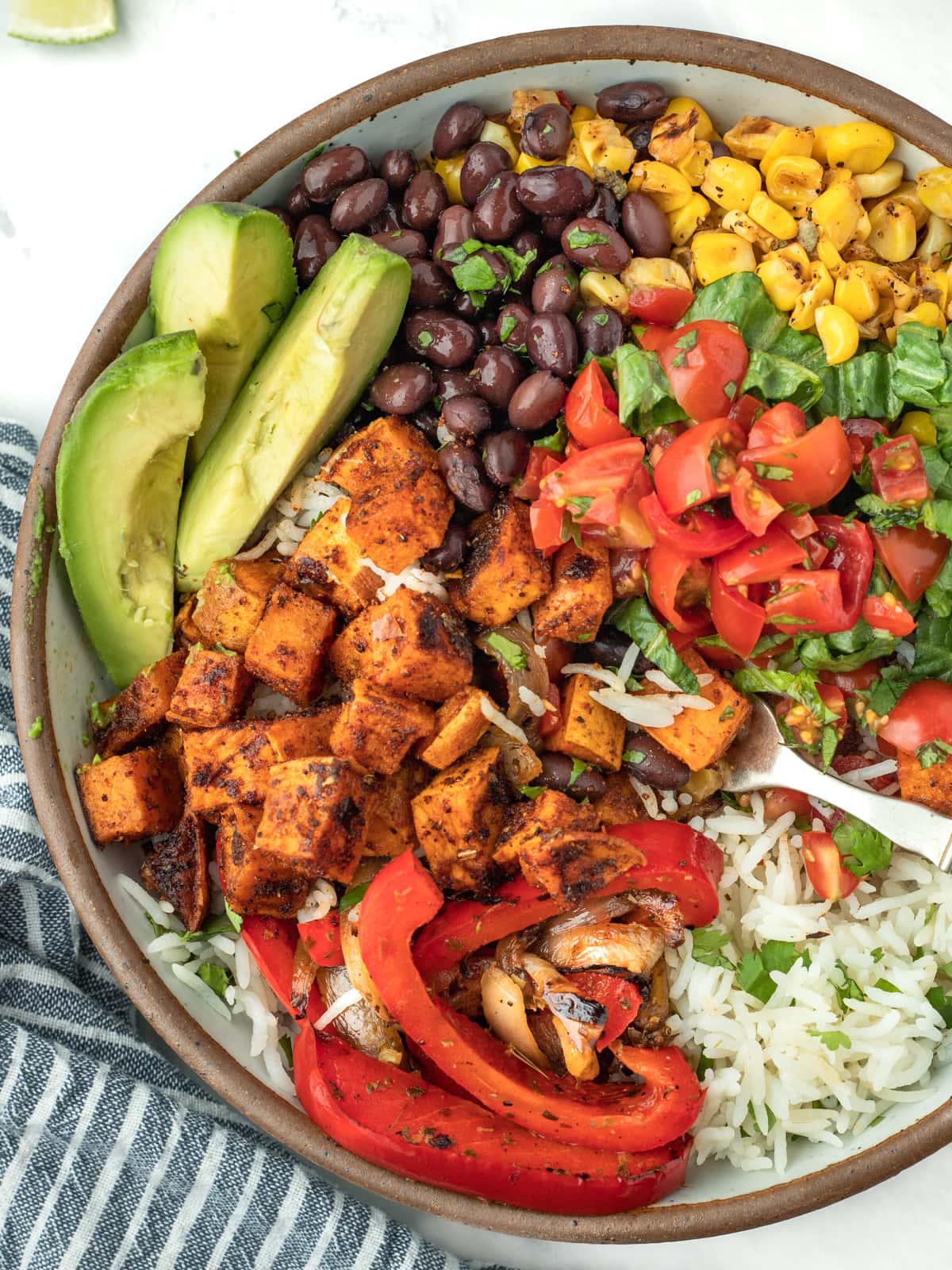 Easy to make and ready in ~40 minutes!
Packed with Veggies!: Can you even call it a vegetarian bowl without a ton of veggies? This recipe is packed with vegetables and tons of plant-based protein to fill you up and nourish your body.
Allergy and Diet Friendly: Much like Chipotle's (vegan/vegetarian) Lifestyle bowls, if you're kicking off a healthy eating plan, have allergies or follow a special diet, these wholesome veggie burrito bowls are suitable for all eaters! They're meat free, dairy free, gluten free (celiac), plant based, soy free, high protein and fiber, vegan, and vegetarian.
Customizable: With endless options to choose from, use this vegetable burrito bowl recipe as a starting point, then go wild with all or some of the toppings and mix-ins.
Inexpensive: Made with simple, wholesome ingredients from the pantry & fridge.
Let's get into the details . . .
Vegetarian Burrito Bowl Ingredients
For this vegan version, I kept the flavors and ingredients classic; but skipped the meat. Here's what you'll need . . .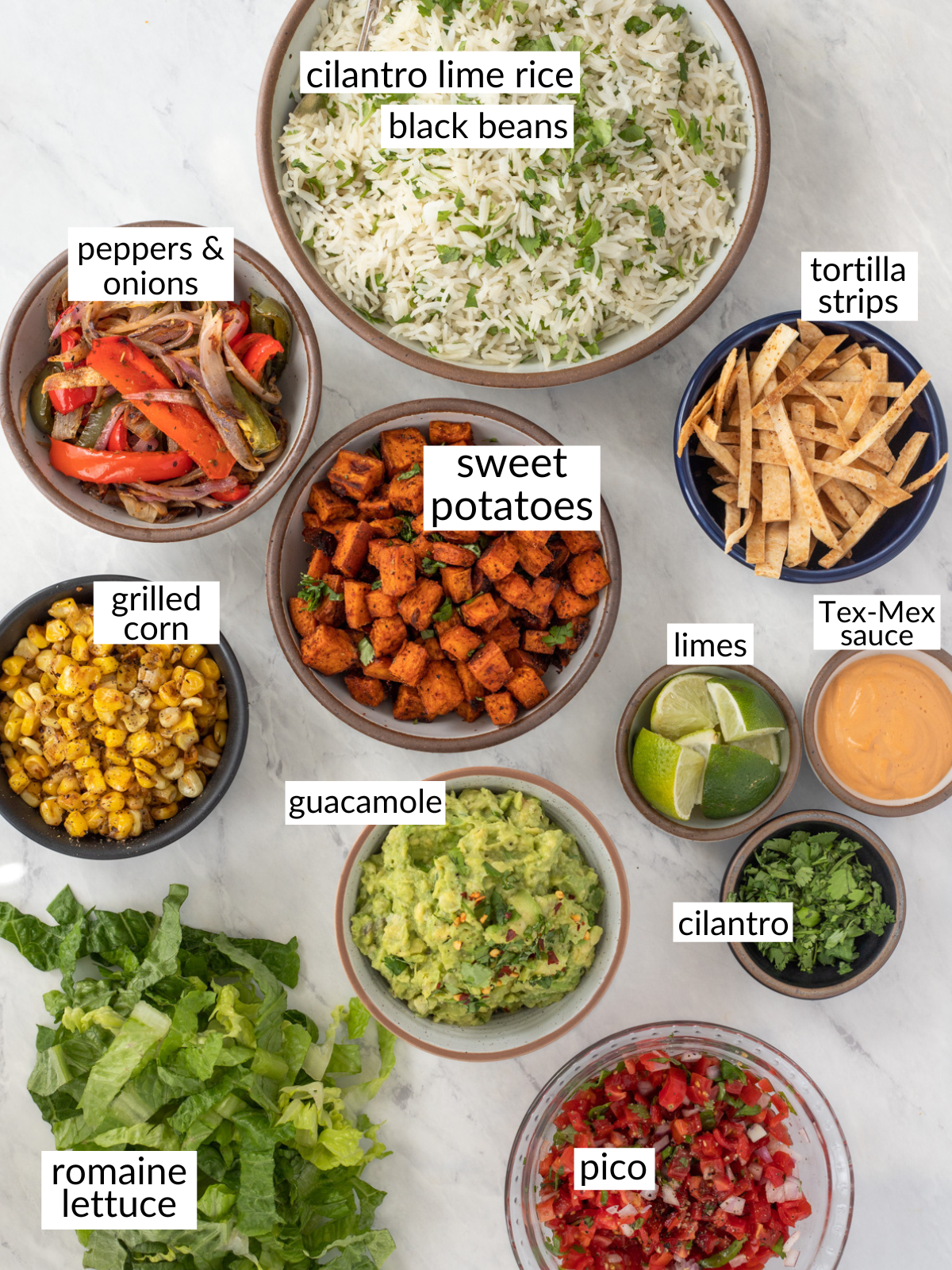 Sweet potatoes: Heavily spiced and roasted until crispy.
Black beans: The perfect co-star to sweet potatoes!
Peppers & onions: Bell peppers (red, green, yellow or orange) and red onions.
Tomatoes: I like cherry tomatoes or romas for flavor, fresh lime, and cilantro for pico.
Rice: Long grain white or brown rice made from scratch or pre made package.
Optional toppings: Avocado, grilled corn, fajita spices, chipotles in adobo, leafy greens (romaine or iceberg), salt and pepper.
Burrito bowl sauce: I like the creamy, smoky, tanginess of Tex-Mex cashew sauce to bring all the flavors and textures of the burrito bowl together (recipe below). Made with raw cashews.
Ingredient Substitutions & Variations
As more and more people shift toward plant-based eating, vegan meal options are becoming more popular. These sweet potato, black bean burrito bowls are a go-to weeknight meal at our house because they are so flexible. Here's a few subs and swap ideas:
Change up the plant protein: Sub the roasted sweet potatoes for cubed tofu or sofritas (meaty tofu crumbles). Add lentils, quinoa or chickpeas.
Alternate grains: Rice is popular, but swap out for your favorite grain like quinoa, couscous, cauliflower rice, etc.
Play with spice: Sub 1-2 tablespoons taco seasoning on the sweet potatoes. For extra heat, add a hot sauce like sriracha, cayenne pepper or chipotle pepper seasoning.
Avocado: My guacamole recipe is super quick and easy plus it adds a creamy freshness. But sub in sliced, diced or mashed avocado if you prefer.
Salsa option: Instead of chopped tomatoes sub with store bought salsa or a quick homemade pico de gallo.
Make it cheesy: Add a handful of shredded dairy-free cheese straight onto the hot rice so it melts and gets gooey and delicious.
Burrito bowl add-in ideas: Corn is a classic ingredient in burrito bowls - add fresh, canned or grilled corn or even corn salsa.
Pickled red onions add a burst of tanginess and pickled jalapenos add extra heat and crunch.
Vegan sour cream tempers the heat and tortilla strips add crunch and flavor.
What the best dressing for burrito bowls?: Choose your favorite! Here's a few vegan sauces to try: dairy-free chipotle cream, vegan queso, cilantro cashew sauce or southwest sauce.
How to Make (step by step)
Although there are a few components to these homemade burrito bowls, they are all easy. Here's some tips for managing your time:
Cook the Rice: Make the rice (use a rice cooker or Instant Pot) or use leftover rice or premade rice. Once cooked, fluff and add chopped cilantro and fresh lime juice.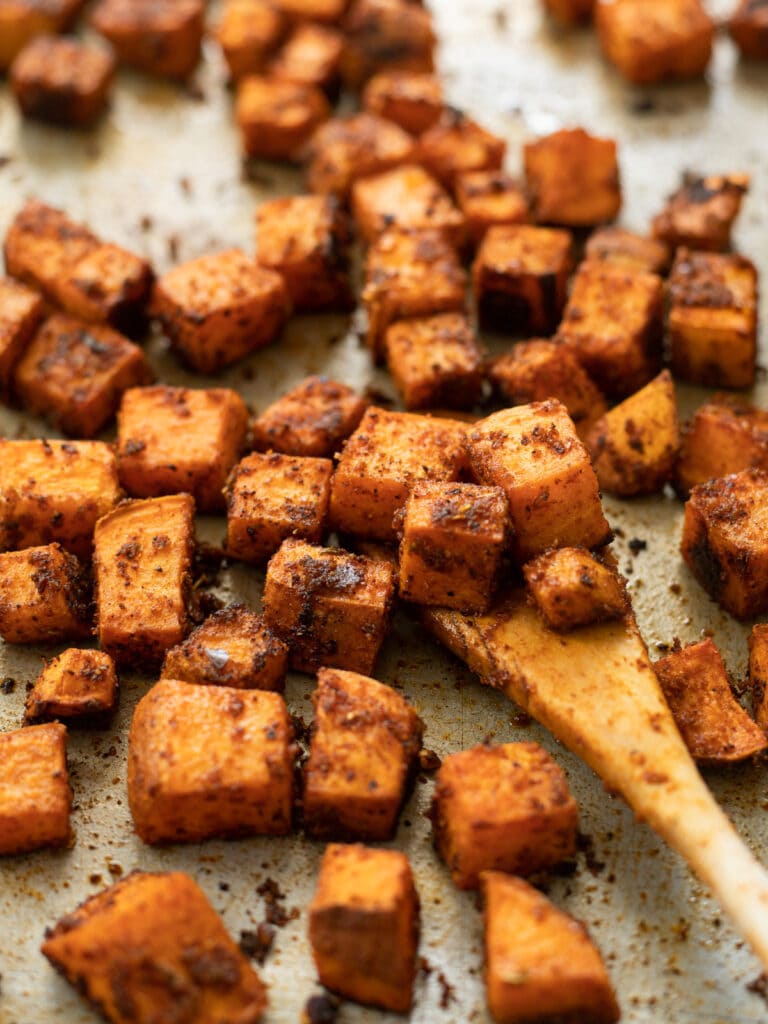 Sweet Potatoes: Once the rice is on - toss the chopped sweet potatoes together with the chipotle fajita spices and oil. Spread in a single layer on a baking sheet and roast until crispy. Pro Tip: The smaller the dice, the faster the sweet potatoes will cook.
Peppers & Onions: Cut the onions into slices and peppers into strips. Season with oil and fajita spices. Roast until tender crisp and fragrant.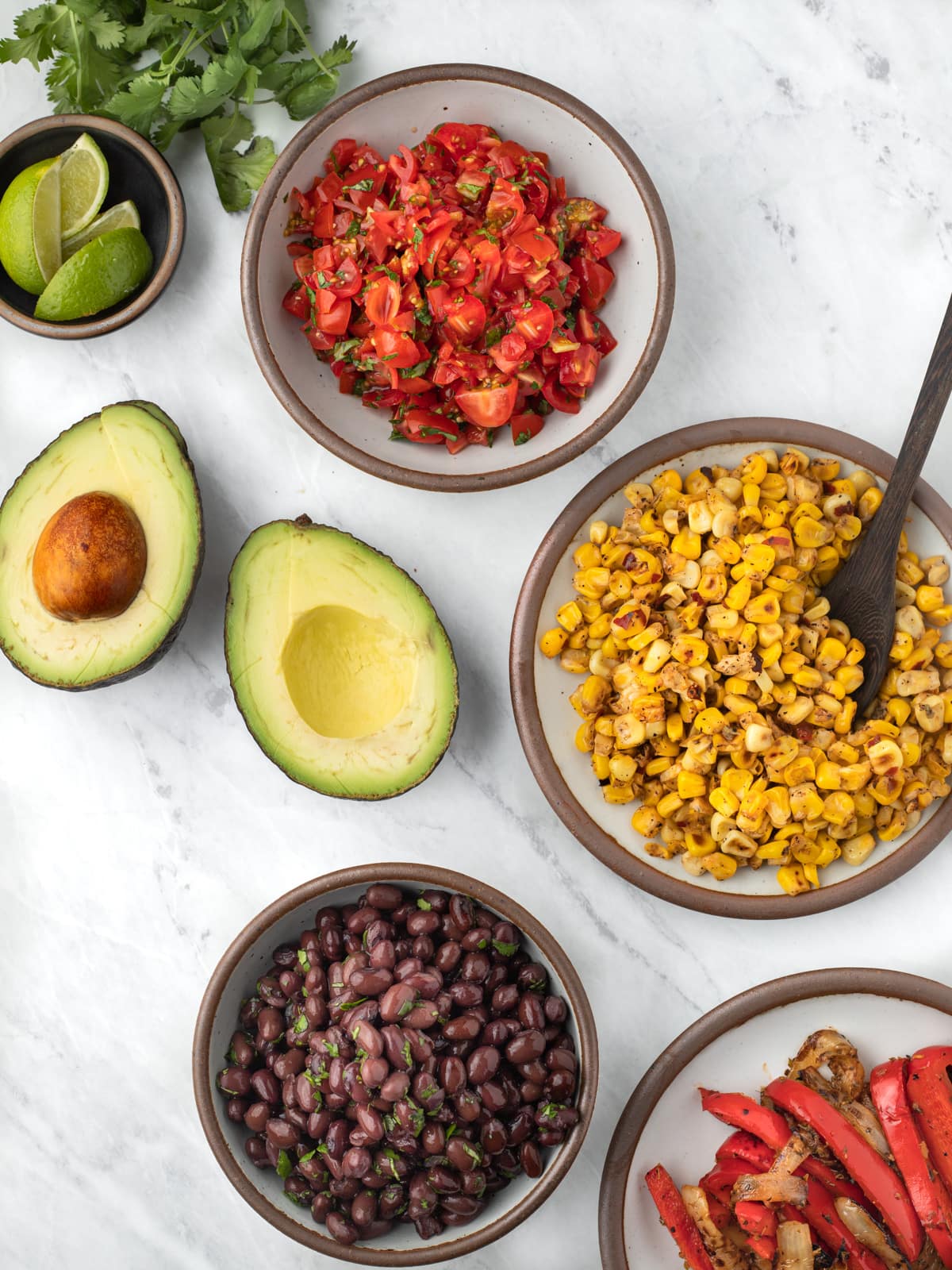 Sauces & Toppings: While the veggies are roasting, make the sauce, guacamole, pico/tomatoes, beans, corn, and any other toppings you choose.
Time to Dig In!: All that's left is to assemble the burrito bowls. Start with a scoop of rice, followed by sweet potatoes, peppers & onions, beans, tomatoes, avocado, and shredded romaine. Finish with a generous drizzle of Tex-Mex cashew sauce, freshly chopped cilantro, and a squeeze of lime juice.
Make Ahead Shortcut! Just like my Vegan Buddha bowls and Vegan Taco Bowls, these veggie burrito bowls are fantastic for meal prep. Most components can be made ahead and stored individually in the fridge which cuts down active prep at dinnertime for those busy weeknight dinners!
Ideas for Serving
When I was a busy mom of 3 juggling a hectic after school schedule, these wholesome burritos bowls were a life saver. Sometimes I'd serve them buffet style and some days, I made them to go. Here's how:
Buffet Style: One of the top 3 reasons this burrito bowl recipe is my family favorite is versatility. Set the ingredients out in bowls and let everyone customize their own bowl as they arrive home.
Burrito Salad: For a hearty, nourishing salad, serve all the toppings on a bed of leafy greens (romaine, kale or spring mix) with a scoop of rice (or quinoa) on the side and a generous drizzle of the spicy sauce on top.
Burrito Wrap: Roll everything up in a large flour tortilla and serve with salsa and extra sauce for dipping. Delicious and easy way to repurpose leftovers!
Crunch Burrito Wrap: Add a layer of shredded vegan cheese and wrap everything in a large tortilla then grill it in a hot skillet until golden and crispy. Remove from heat, drizzle with chipotle sauce, sriracha, and top with green onion slices. Serve with a side of salsa, guacamole, sour cream, and extra sauce for dipping.
Meal Prep & Storage
Meal Prep Option: These vegetable burrito bowls are incredible as a make ahead dinner or lunch. Make each component and store in the fridge in separate containers for up to 4 or 5 days. The guacamole is best served fresh!
Make Ahead: Make the rice, beans, corn, and sauce up to a week in advance and store in the fridge to save some time for quick weeknight dinners.
Reheating Options: Reheat the veggies in the microwave or in the toaster oven until warmed through.
5 Healthy Vegan Meals
More delicious, nourishing, vegan dinner ideas to make next:
If you tried this Vegan Burrito Bowl recipe or any other recipe on the blog, please let me know how you liked it by leaving a rating and review below! Be sure to follow along on Instagram and Pinterest for more delicious vegan recipes.
JOIN US SUNDAY MORNINGS: Sign up for my weekly NEWSLETTER!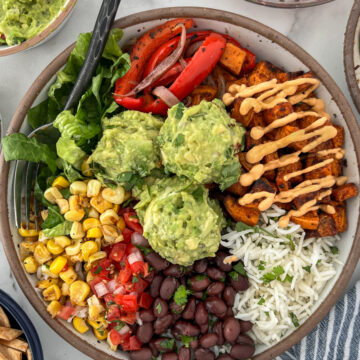 Vegan Burrito Bowls with Black Beans and Sweet Potatoes (gf)
Just as delicious as Chipotle's but vegetarian, this sweet potato, black bean burrito bowl is easy to make at home. A fun and nourishing plant-based meal that's packed with vegetables, plant protein, whole grains, and of course, a delicious dairy-free spicy cashew sauce for drizzling. It's the perfect make-ahead friendly and meal prep recipe!
Rate this recipe!
INGREDIENTS
Cilantro-Lime Rice
1

cup

white or brown rice, uncooked

½

teaspoon

salt

½

cup

cilantro leaves and small stems (chopped)

½

large

lime, juice
Roasted Sweet Potatoes
2

large

sweet potatoes, diced

1 ½

tablespoons

olive oil

2

chipotle peppers in adobo sauce, chopped

2

teaspoons

chili powder

1

teaspoon

cumin

1

clove

garlic, minced

½

large

lime, juice

salt and pepper
Fajita Onions & Peppers
1

medium

red onion, sliced

2

large

bell peppers, sliced into strips

1

tablespoon

olive oil

½

teaspoon

kosher salt

1

teaspoon

dry oregano
Seasoned Black Beans
14

oz can

black beans, drained and rinsed

¼

cup

cilantro leaves, rough chop

½

lime, juiced

1-2

pinches

salt (to taste)
Optional Toppings
romaine lettuce, sliced into ribbons

diced avocados or easy guacamole

chopped tomatoes or quick pico de gallo

2

cups

grilled corn (recipe below) or corn salsa
INSTRUCTIONS
Start the rice: Make the rice as per package directions. Make it in the Instant Pot for fuss free rice.

Finish the rice: To finish the rice, fluff with a fork then stir in the chopped cilantro, lime juice, and salt.

Roast the sweet potatoes: Toss the sweet potato cubes with the olive oil, spices and lime juice. Arrange in a single layer on a baking sheet and roast until crispy on the outside (~20-25-minutes), tossing halfway through to prevent burning.

Roast the peppers & onions: Slice the peppers into strips and slice the onions. Toss with olive oil, salt, and oregano. Arrange in a single layer on a baking sheet. Roast until tender crisp and slightly caramelized on edges stirring one or two times (~15-20 minutes).

Season the black beans: Drain and rinse the black beans. Toss with a handful of chopped cilantro, a sprinkle or two of salt, and a squeeze of lime.

Time to dig in!: Build your bowl with rice, sweet potatoes, black beans, avocado, tomatoes, peppers & onions, shredded romaine, and extra toppings of your choice. Top the bowl with chopped cilantro, a squeeze of lime, and a generous drizzle of spicy cashew sauce.
NOTES
Rice: Use a rice cooker or Instant Pot for easy hands off preparation. Double the batch - and store in the fridge or freezer for meals later in the week. Use white or brown long grain rice or another grain of your choice like quinoa.
Vegetable Burrito Bowl Topping Options:
Grilled corn: Heat up 1 tablespoon of oil in a skillet until shimmering over high (to medium high heat), add 2 cups of corn, a sprinkle of salt and black pepper.  Quick fry, stirring frequently until slightly charred then add 1 crushed clove of garlic, red pepper flakes, and a squeeze of fresh lime juice. OR make corn salsa
Avocado (sliced, diced or smashed) OR guacamole
Cherry tomatoes (halves) OR pico de gallo
Leafy greens eg. shredded romaine or iceberg
Crispy tortilla chips: crush then sprinkle on top of the bowls right before serving.
Vegan cheese: Add a sprinkle of grated cheese immediately to the hot rice so it melts into it.
Sweet potato seasoning: Sub for 1 ½ - 2 tablespoons of taco seasoning along with the oil and lime juice.
Freshly squeezed lime juice can be subbed with lemons.
This recipe is from simplyceecee.co food blog. All images and content are copyright protected. Please do not use my images or republish this recipe without prior permission. Thank you.