A classic, oil-free hummus recipe with a super spicy twist! Imagine if creamy, healthy hummus bumped into a bowl of spicy Dan Dan sauce. How magical would that be?!
Hummus is a staple in our fridge! Your's too? It's such an easy, healthy snack mid-afternoon with veggies or crackers. It's fast to make, oil free, naturally gluten free, dairy free, super healthy, and totally delicious.
I usually make a BIG batch of classic, garlic hummus, divide it up, and make a few different flavours. It's easy to change the flavour profile of hummus with only a few ingredients.
Don't be afraid to spice up your favourite store-bought hummus too!
Easy to make, inexpensive, nutritious, and super versatile, homemade hummus is a delicious addition to your diet. You have total control over the ingredients and can make it richer/creamier (tahini or water), spicier (hot sauce), tangier (lemon) or more garlicky.
Spicy Hummus Recipe Ingredients
Spicy Dan Dan inspired sauce is our current favourite hummus flavour. Dan Dan sauce is easy to make, oil-free friendly, gluten free, and super spicy.
Hummus - make homemade Hummus from scratch or buy your favourite store-bought brand.
Dan Dan Sauce - a tasty mixture of spicy, sweet, umami, and heat.
Add more or less of each to taste.
Unless you know your heat tolerance, start with the lower quantity of sriracha and then taste and adjust to your preference.
Pro Tip: Keep in mind that plain hummus will temper the heat of the Dan Dan sauce slightly. As well, if you are serving on pasta or rice or something bland, that will also change the intensity of the Dan Dan spice.
Pairing iconic, spicy Dan Dan sauce with the creamy, mild profile of classic hummus is a surprising, delicious twist. We eat it on everything.
Serving Suggestions for Spicy Hummus
This healthy, oil-free version is packed with protein and fiber plus it's a spicy flavour bomb that is loved by all eaters!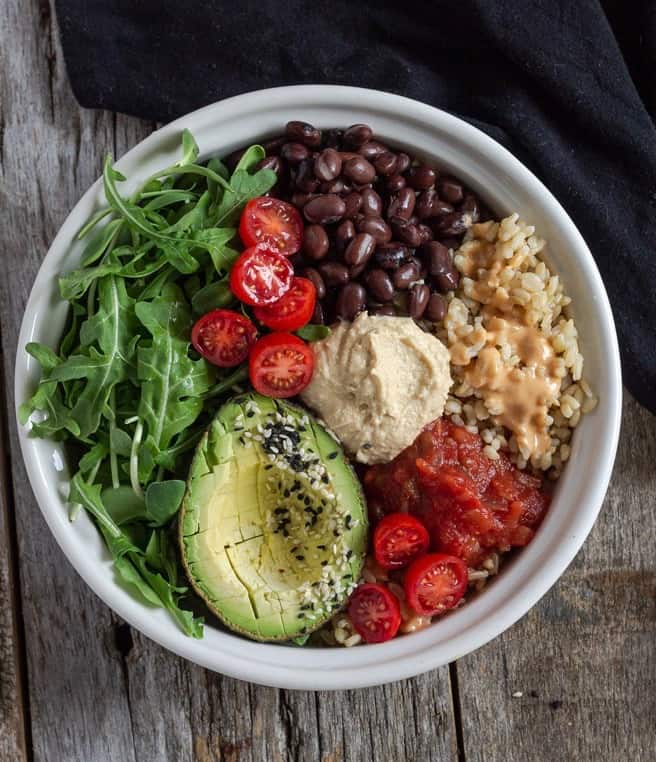 Serve hummus as an appetizer with crackers, pitas or veggies for dipping. It's a wonderful addition to buddha bowls, as a creamy base sauce for pizza instead of cheese or wrapped in a veggie burrito. We love hummus in place of butter or mayonnaise on a sandwich, stirred into hot pasta or drizzled over rice and veggies. It's delicious on everything!
5 More Spicy Vegan Recipes to Enjoy
Avocado Toast with Spicy Mushrooms - addictive pairing
Sweet and Spicy Cashew Chicken - old family favourite veganized
Sweet and Spicy Tahini Sauce - current drizzle obsession
Nuts for Dan Dan Noodles - Dan Dan 2.0 with peanut butter
Poblano and Mushroom TexMex Enchiladas - the sauce is to die for!

Did you make this recipe? I'd love to see it!
Please leave a star rating and comment at the bottom of the page.
Thank you so much for sharing! Tag me on Instagram 
For more Vegan Recipes: Sign up for my email NEWSLETTER!
Classic Hummus with a Spicy Twist (oil free)
When creamy, classic hummus collides with iconic, spicy Dan Dan sauce, pure YUMminess ensues! Oil free, dairy free, gluten free, and incredibly addictive, this spicy hummus is life-changing.
Rate this recipe!
INGREDIENTS
1-2

cups

basic hummus recipe (homemade or store bought)
Spicy Dan Dan Sauce
3-4

tbsp

sriracha sauce

¼

cup

tahini

¼

cup

soy sauce (tamari)

1

tsp

maple syrup

1

small clove

garlic, minced or grated

½

tsp

ginger, minced or grated

½+

tsp

Szechuan peppercorns, ground

½+

tsp

five spice powder

1

tsp

sesame oil (optional)
INSTRUCTIONS
Spicy Dan Dan Sauce
Whisk all ingredients together in a small bowl or jar. Taste and adjust seasonings to personal preference. I don't use the sesame oil but it does add a lovely nuttiness if you want another layer of flavour.

Add as much Dan Dan sauce as desired to 1 or 2 cups of hummus. The more sauce you add, the more intense the flavour will become. Taste as you go.

I mixed around 3-4 tbsp of spicy Dan Dan sauce into 1 cup of hummus.

Store left-over Dan Dan sauce in an airtight container in the fridge.
NOTES
Extra Dan Dan sauce can be used in the Avocado Toast with Spicy Mushrooms recipe.
The spicy Dan Dan hummus will store well in the fridge for a week or more. 
QUICK DINNER: Stir extra Dan Dan hummus in some hot pasta (thinned with broth or left-over cashew cream if necessary) for a quick delicious meal.
This recipe is from simplyceecee.co food blog. All images and content are copyright protected. Please do not use my images or republish this recipe without prior permission. Thank you.