This is the best vegan broccoli cauliflower soup recipe! It's a healthy, creamy, dairy-free soup that's easy to make, packed with vegetables, and you won't believe the rich flavorful mushroom-curry broth.
Made from scratch in under an hour, it's the perfect cozy, vegan soup to feed your family.
Homemade soup is simple to make, super adaptable, and 100 x better than canned soup. Not only is this spicy cauliflower soup easy, it's vegan, gluten free, and extra flavorful - a delicious dairy-free twist on classic cauliflower soup. Make a big pot on Sunday and enjoy it for lunch and dinner all week.
To make it cozier, serve your soup with overnight bread, easy vegan dinner rolls or Air Fryer Biscuits!
Vegan Soup Ingredients
The magic of soup is it's versatile and very forgiving. Use whatever veggies you have on hand - fresh or frozen.
In addition to tasting good, this vegan broccoli cauliflower soup is good for you! Just like any soup, this one is totally customizable with lots of substitutions which I mention below.
Okay, let's get into the ingredients you'll need to make this soup: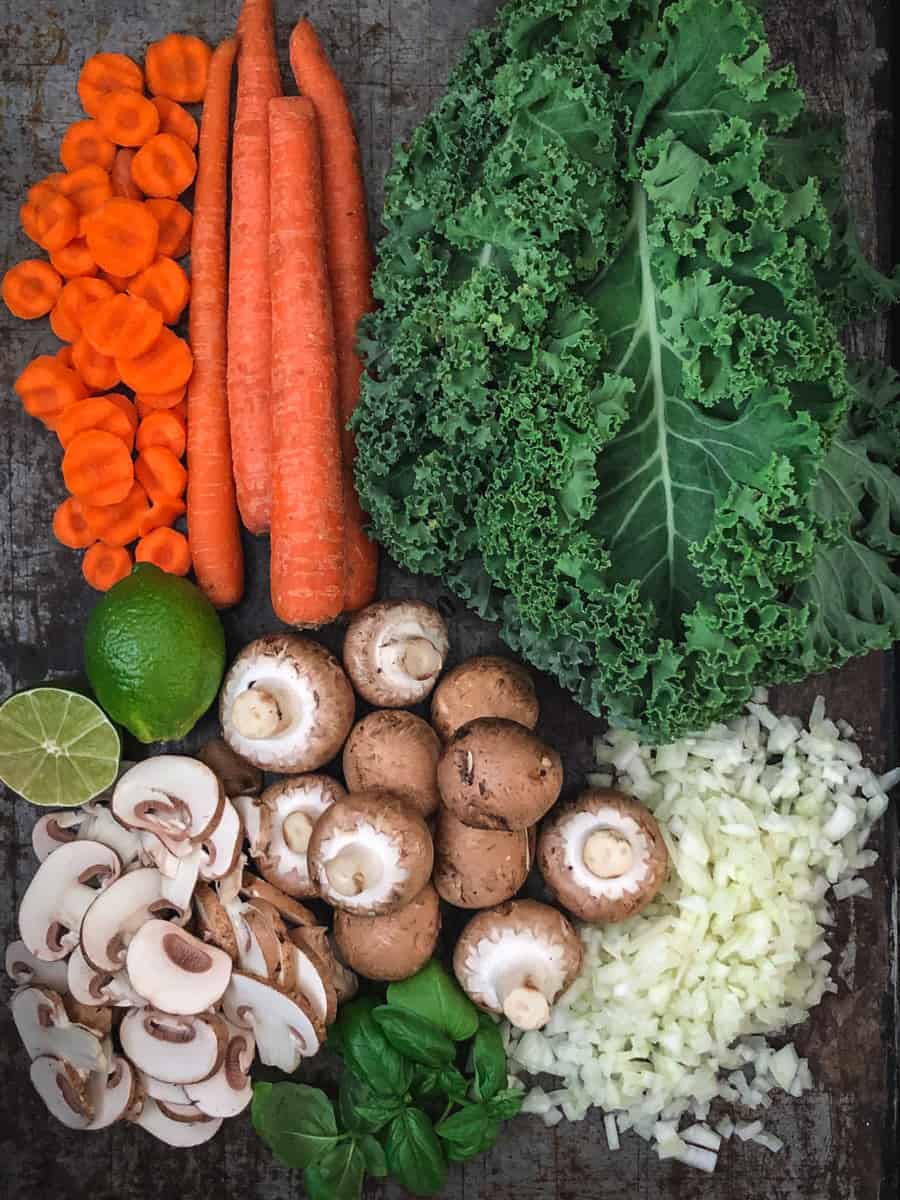 Although we do eat this cauliflower rice soup year round, its popularity goes way up in the cooler months. So I choose hearty veggies like cauliflower and broccoli, kale, onions, mushrooms, and carrots.
For the flavorful broth, gather together curry powder, porcini mushroom powder, fresh garlic, salt and pepper, vegetable broth, and coconut milk or vegan heavy cream (to keep it dairy free).
Ingredient Substitutions
Cauliflower or broccoli: If using frozen riced cauliflower and/or broccoli, be sure to roast them first for extra flavor.
Curry spice: I use Sambar spice in this curried cauliflower soup, but you can sub in your favorite curry - any should work.
Porcini mushroom powder - a secret flavor ingredient for vegan soup broth. Adds extra savory, umami depth of flavor to the broth. Available at grocery stores, specialty spice stores, in bulk, online or make your own porcini mushroom powder (recipe below).
Dairy Free Soup: to keep this cauliflower soup dairy free, use coconut cream/milk in a can, powdered coconut cream (reconstituted) or vegan heavy cream.
How to Make Dairy Free Cauliflower Soup
Soup season is my favorite! Dinner is just a handful of ingredients, a bit of chopping, and the rest of the work is done by the stove. Here's the main steps to follow (full instructions in recipe card below):
Prep work: Preheat the oven, dice the onions, mix the broth (if using Better than Bouillon vegetable broth or similar) and set aside.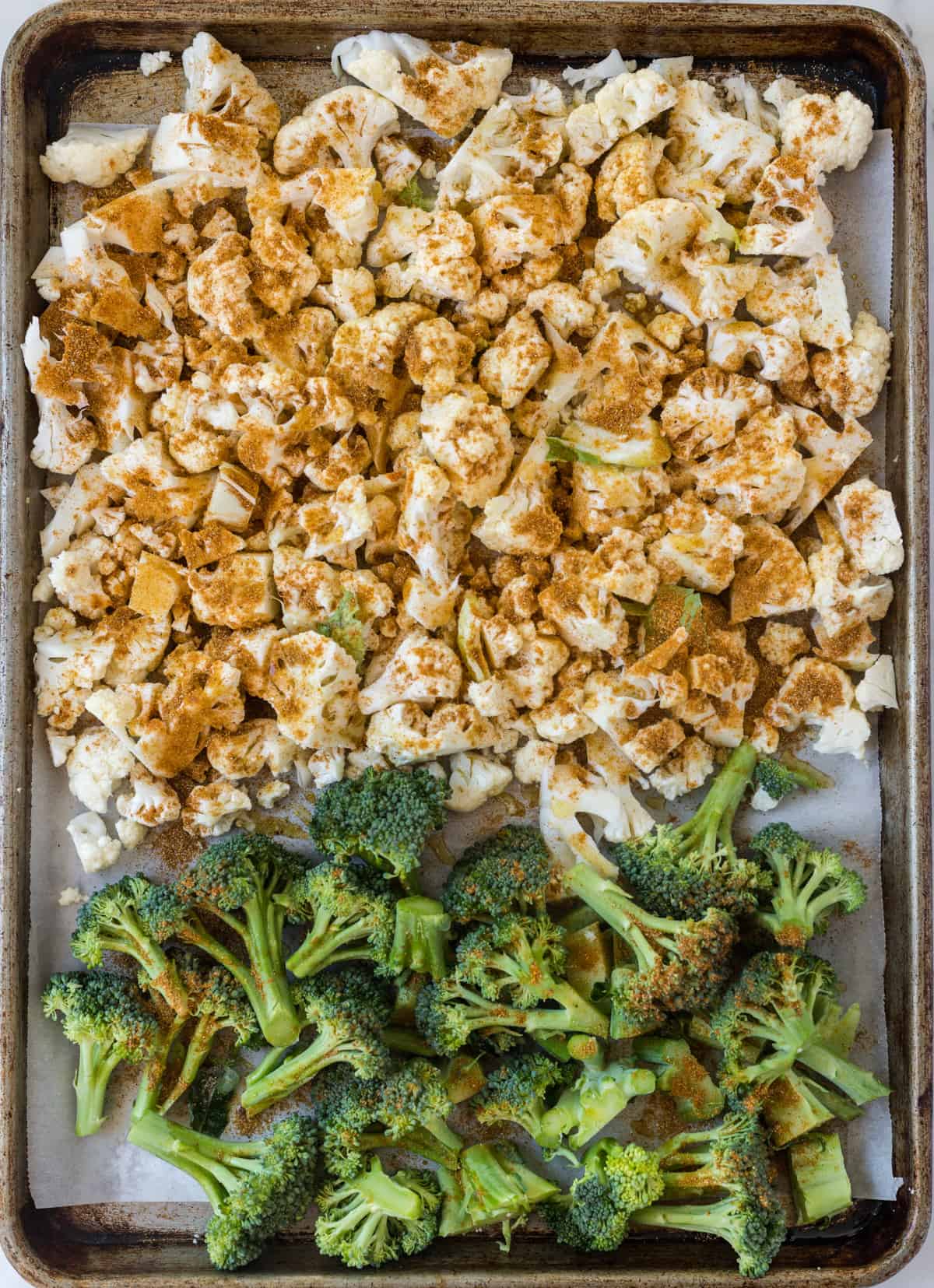 Roast the vegetables: Arrange the cauliflower and broccoli on a baking sheet, season, and bake.
Sauté the onions and mushrooms: Sauté the onions, mushrooms, and garlic in a large stock pot until fragrant and golden (7-10 minutes). The vegetables will leave bits and scrapings on the bottom of the pot (aka flavor) which you deglaze with the vegetable broth. A lot of flavor is coaxed out of the veggies in this step - don't rush it!
Prep veggies: While the onions and mushrooms are cooking, prepare the carrots and kale.
Ricing cauliflower and broccoli: When cooked, transfer the roasted cauliflower and broccoli to a food processor (might take 2 batches) - pulse a few times until it looks like rice (see photo). Add to soup pot.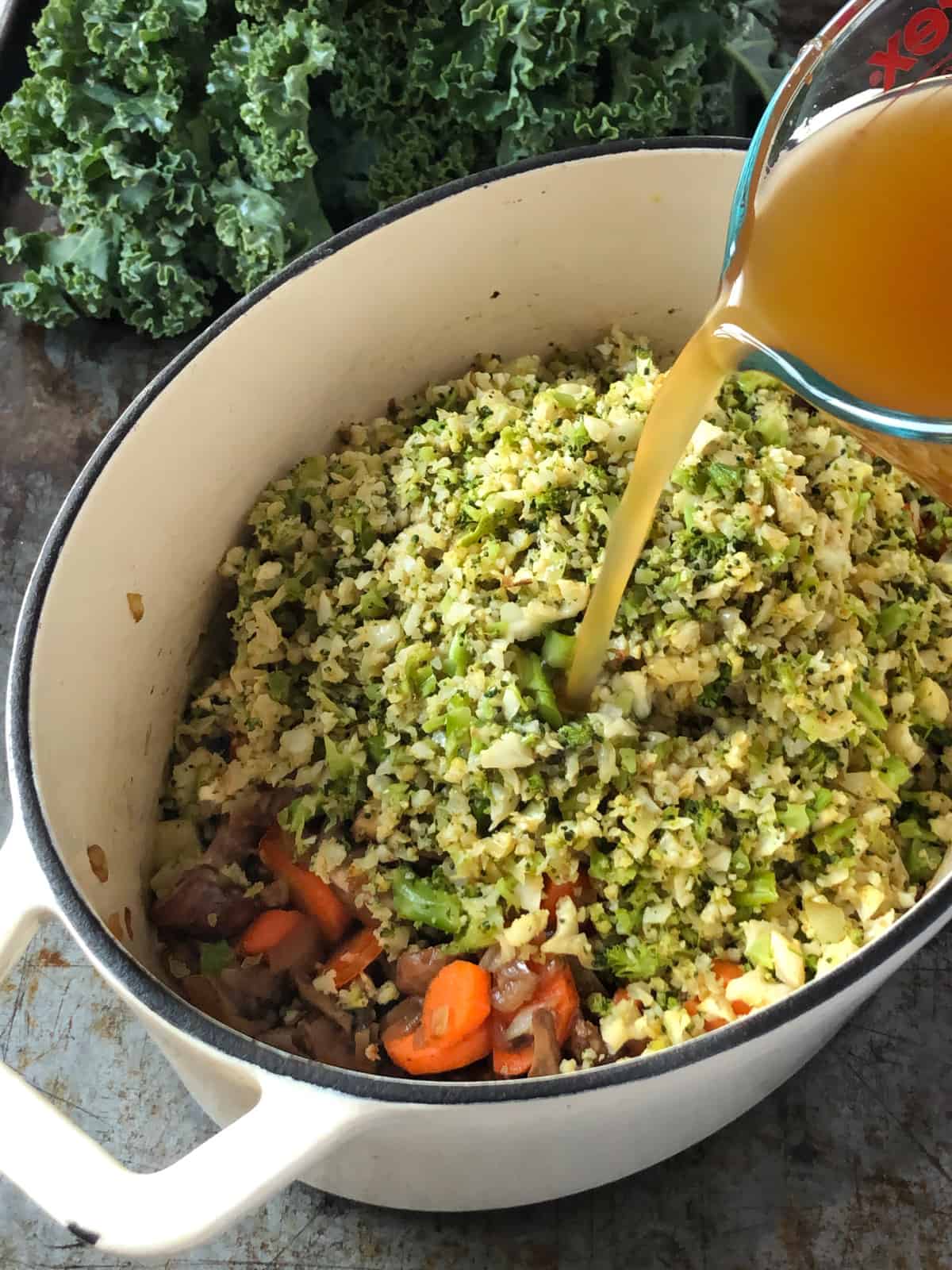 Add remaining ingredients: Add the vegetables, broth, coconut cream and spices to the soup pot. Add another 2-4 cups of water as needed for soupy consistency. If you don't like too much spice, add the curry a little at a time tasting as you go.
Simmer the soup: Simmer the soup uncovered until the carrots are tender crisp and the kale is soft.
To serve: Spoon into bowls, add a squeeze of fresh lime and a sprinkle of chopped cilantro to wake up the flavors and to add freshness. Serve warm dinner buns or crackers on the side.
A Few Tips & Options
Make ahead: Make the cauliflower and broccoli rice anytime during the week and store in the fridge until ready to make soup.
Carrots: I add the carrot slices near the end so they are tender crisp (no hospital veggies in this soup!).
Kale v Spinach: if you choose a tender green (like spinach) over something with a heartier constitution like kale, wait and add it shortly before serving. Kale needs time to soften, but spinch does not. Kale Tip: I used to cut the kale into ribbons, but it was super messy to eat. So I recommend rough chopping the kale instead.
Broth: I use Better Than Bouillon vegetable broth which can be found in the soup or Natural aisle of most grocery stores, at Costco (big jar) or online.
No food processor? No problem!: after the cauliflower and broccoli are roasted, chop it with big knife until it has a rice consistency.
Should I use a lid?: A lid is used to control the amount of liquid in a soup or sauce. Cooking uncovered allows water to evaporate which reduces the sauce creating a thicker soup/sauce. Using a lid traps the steam/condensation making the soup thinner. Sometimes, the answer is to crack the lid (or place it askew) for the best moisture control.
Leftover coconut milk: If I don't use a whole can of coconut milk, I freeze the leftovers in an ice cube tray. Once frozen, transfer to a freezer bag. They can be used in smoothies, soups, stews, and sauces in their frozen state!
Vegan heavy cream: out of coconut milk or don't like it? Use vegan heavy cream instead!
Storing, Freezing, Reheating Tips
This spicy cauliflower soup is fabulous for leftovers and can be stored in the fridge for several days without any loss of flavor or texture.
Although we rarely have soup leftover for freezing, it would freeze nicely in an airtight container for a couple months.
To reheat, remove the soup from the freezer, let it thaw, then warm on the stove top or reheat in a microwave if you have one.
More Delicious Cauliflower Recipes
If you like cauliflower as much as we do, try these vegan cauliflower recipes next:
Extra mushrooms? Make vegan mushroom pasta (easy weeknight meal), the best vegan bolognese with mushrooms and lentils or my famous vegan mushroom gravy.
Did you make this vegan Broccoli Cauliflower Soup? I'd love to see it!
Please leave a review and rating below. Tag me on Instagram and Facebook!
CRAVING MORE VEGAN RECIPES?: Sign up for my Sunday NEWSLETTER!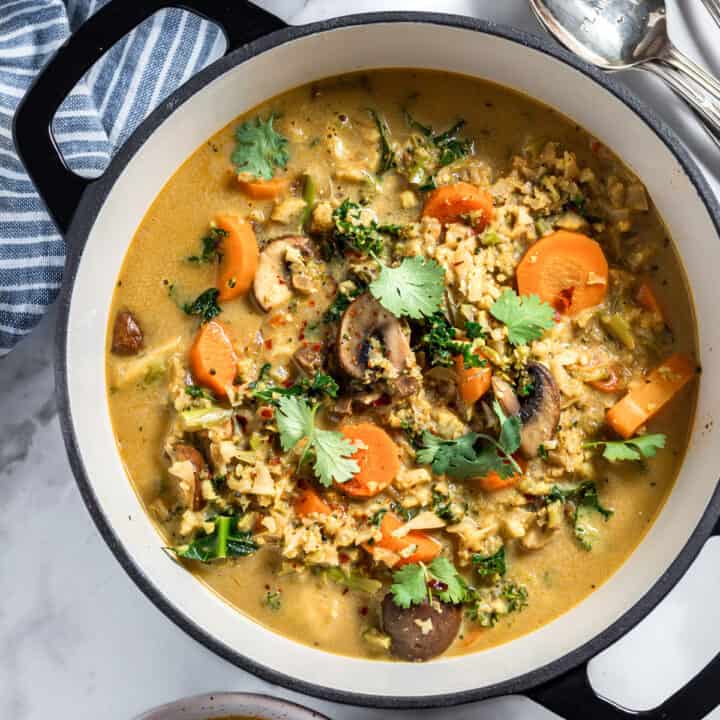 Vegan Broccoli Cauliflower Soup (gf)
This dairy free cauliflower broccoli soup is packed with kale, carrots, and mushrooms simmering in a rich and creamy coconut curry mushroom broth. A spicy, healthy, vegan soup made from scratch that ready to feed your family in under an hour! Make it extra cozy by serving with warm dinner rolls.
Rate this recipe!
INGREDIENTS
Cauliflower-Broccoli Rice
1

medium head

cauliflower, florets (~ 6 cups)

2

cups

broccoli and stems, florets

1

teaspoon

cumin powder

1

teaspoon

garlic powder

1

teaspoon

paprika

¼

teaspoon

salt

1 - 1 ½

tablespoons

oil or splash of broth
Coconut Curry Mushroom Broth
1

tablespoon

olive oil

1

cup

onion, chopped

1-2

cloves

garlic, minced

3

cups

mushrooms, quartered or sliced

2-3

tablespoons

curry powder, to taste

2

tablespoons

porcini mushroom powder

3-4

cups

vegetable broth*

14

ounce can

coconut milk/cream (400 ml)

2-3

cups

carrots, peeled and cut into coins

2-4

cups

kale or spinach, rough chop

2+

cups

water (as needed)
Optional Toppings
few

cilantro sprigs, chopped

green onions, chopped

red pepper flakes

lime wedges

croutons
INSTRUCTIONS
Preheat oven to 400º F. Prepare a baking sheet.
Broccoli Cauliflower Rice
Break cauliflower and broccoli into florets (or rough chop).  

Mix together, cumin, garlic powder, paprika, salt, 1-2 tablespoons olive oil. Toss with the cauliflower and broccoli until well incorporated.

Arrange on the prepared baking sheet in a single layer.

Roast veggies for approximately 25 minutes until tender but not mushy (al dente). Stir after 10 minutes.
Coconut Curry Mushroom Broth
While the vegetables are roasting, chop the onions and mushrooms.

Heat 1 tablespoon of oil in a large soup pot or Dutch oven. Sauté the onions, mushrooms, and garlic for 8-12 minutes over medium to medium-high heat until soft, fragrant, and lightly brown.

Once cooked, add the curry powder and mushroom powder, stir to incorporate.

Peel and cut the carrots, kale/spinach, and cilantro.

Time to rice the cauliflower and broccoli: Transfer the roasted veggies into the bowl of a food processor and pulse a few times until the texture is similar to rice (see photo). May have to do 2 batches.

Pro Tip: If you don't have a food processor, no problem, just chop the vegetables with a large knife until rice-like texture.

Add the riced cauliflower-broccoli mixture, vegetable broth, coconut cream, carrots, kale, and a cup of water to the soup pot with the mushroom mixture. If using spinach, don't add yet (add for the last 10 minutes of simmering).

Stir and bring up to a boil, reduce heat immediately and then let simmer for 20 minutes* or until the kale is tender. Taste and adjust seasoning as needed.

Add water as needed, I usually end up adding at least 2 cups hot water.
Serving Suggestions
Optional toppings: green onion slices, chopped cilantro, hot pepper flakes, and a lime wedge.

We love eating this soup with toasted sourdough or warm dinner rolls for dunking.
NOTES
Mushroom Powder: The porcini powder is optional, but totally worth the extra flavor and richness it adds to the broth. To make your own: buy bulk dry porcini mushrooms. Place in a small food processor, spice grinder or blender. Blend until smooth and powdery. Store in a jar in the cupboard.
Dairy Free: I keep coconut cream powder on hand for emergencies when I'm out of canned coconut milk/cream. Or sub in vegan heavy cream.
Oil Free Option: swap oil for vegetable broth.
Veggies: The vegetables can be fresh or frozen.
Leftovers: This soup makes delicious leftovers. Store in the fridge for 3 or 4 days or in the freezer for 2 or 3 months.
Lid or no lid?: A lid is used to control the amount of liquid in a soup or sauce. Cooking uncovered allows water to evaporate which reduces the sauce creating a thicker soup/sauce. Using a lid traps the steam/condensation making the soup thinner. Sometimes, the answer is to crack the lid (or place it askew) for the best moisture control.
Recipe inspired by Cotter Crunch Cauliflower Soup
This recipe is from simplyceecee.co food blog. All images and content are copyright protected. Please do not use my images or republish this recipe without prior permission. Thank you.