This vegan coconut curry cauliflower soup is easy to make and the flavour payoff is huge!! Roasted cauliflower and broccoli rice in a luscious curry-mushroom broth, it's healthy, flavourful, and a real crowd pleaser. This five star, vegan meal is ready in under an hour!
I often make a big pot of this silky smooth, coconut curry cauliflower rice soup for large family gatherings (like Christmas eve) - it's a simple dish to make and the guests help themselves throughout the evening. It's perfect served with a side of 10 minute Air Fryer Biscuits!
Curried Cauliflower Soup Ingredients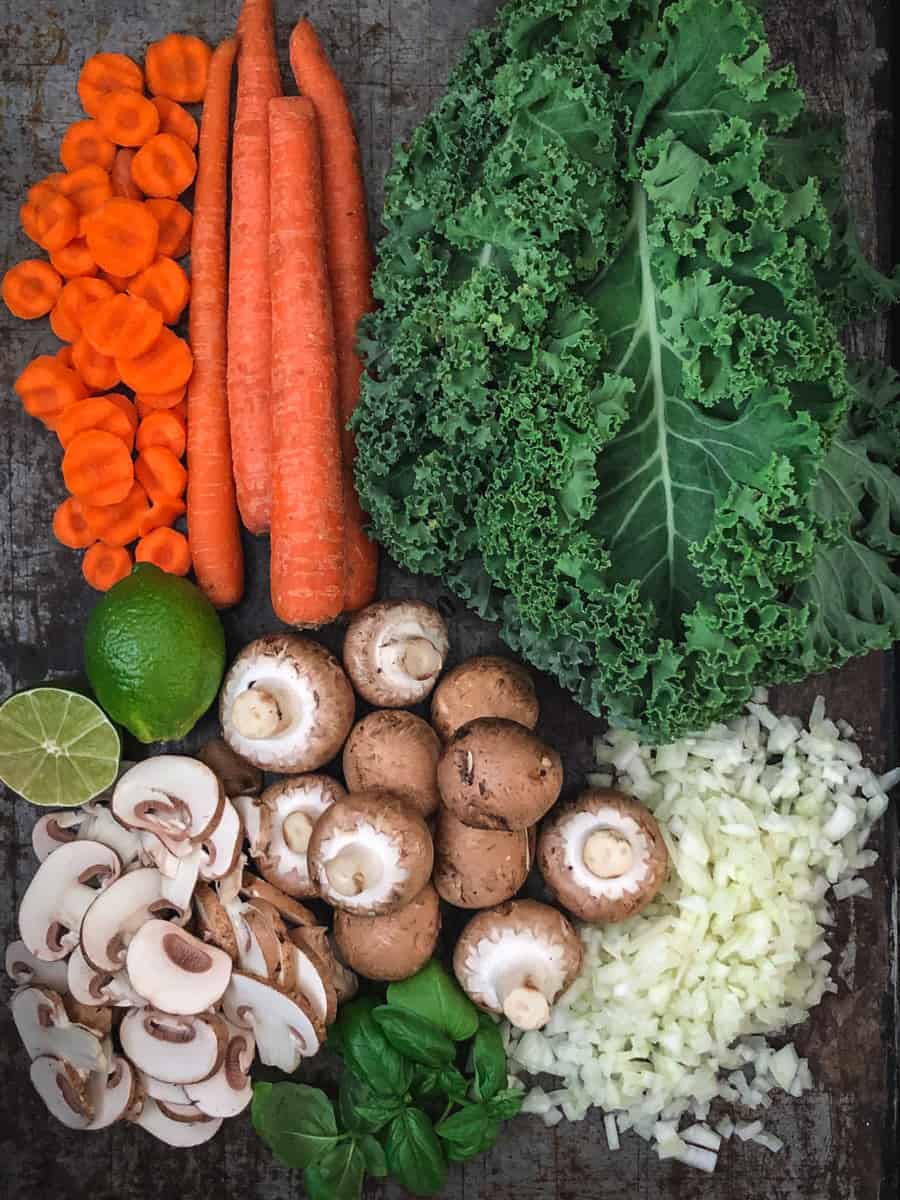 the flavour makers
Developing layers of flavour and incorporating a variety of texture is important in vegan cooking. Here I'll show you how to coax the flavours out of basic vegetable and the importance of a variety of textures to bring about the most incredible results.
Aromatics - onions, garlic, mushrooms – slowly sautéed to bring out incredible flavour.
Curry Powder – my favourite curry and the one I use for this soup every time is Sambar spice. Sambar adds a wonderful colour, flavour, and scent; but choose your favourite curry.
Mushroom Powder – porcini mushroom powder is a secret flavour ingredient for the broth. It brings an extremely earthy, savoury, umami flavour and depth to the broth. I buy mine at our local Silk Road spice store, but it's available at bulk stores or online for your convenience.
Coconut Cream – adds dairy-free creaminess and richness to the broth. I've used thick coconut cream / coconut milk in a tin as well as powdered coconut cream (reconstituted) with great success.
the texture makers
To get the best results in vegan cooking, it's best to vary the textures so the dish is not flat. Here I add riced cauliflower and broccoli to add a fullness and bulk to the soup. Carrots and mushrooms are cut into coins and chunks to add toothsomeness and a satiating mouth feel. Crunchiness is added with croutons or a slice of toasted sourdough.
Cauliflower - is the star here, baked in spice until tender and then 'riced'. Adds bulk and texture. Use fresh or frozen.
Broccoli – a triple threat, broccoli adds flavour, texture, and colour. Use fresh or frozen.
Carrots – carrot coins add textural variety and a lovely tender-sweet bite in every spoonful.
Mushrooms – small button mushrooms cut into quarters or larger mushrooms cut into slices add depth and heartiness. Any variety of mushrooms can be subbed in.
Kale or Spinach – adds visual and textural interest and diversity.
Toppings – another opportunity to add a layer of flavour and texture. Try chopped cilantro, green onions, hot pepper flakes, and crunchy croutons.
How to Make the Best Vegan Cauliflower Soup
Easy to make with incredible results, tastes like you fussed; but you didn't.
Baking - chop, season, and place the cauliflower and broccoli in the oven to bake while you start the broth.

Aromatic Base - sautéing the onions, garlic, and mushrooms develops flavour for the base of the soup - don't rush this step! Let them get soft, fragrant, and lightly golden (8-10 minutes) for best results.
Curry - letting the curry spice 'roast' before incorporating with the other ingredients brings out the flavour and produces the best taste results.
Ricing – 'rice' the baked cauliflower and broccoli in the food processor - just a couple pulses. If you don't have a food processor that's no problem, it takes only a few minutes to chop the vegetables with a big knife until desired consistency is met.
Carrots - adding the carrot coins near the end ensures that they are tender but firm (no hospital veggies in this soup!).
Kale v Spinach - if you choose a tender green (like spinach) over something with a heartier constitution like kale, wait and add it shortly before serving. The kale needs some time to break down and soften up, but as you know spinach is soft in no time.
One final note about kale, I used to cut the kale into ribbons, but it was super messy to eat So I recommend to rough chop the kale which keeps the splash factor to a minimum.
Broth - I use Better Than Bouillon veggie broth which can be found in the soup or Natural aisle of most grocery stores, at Costco (big jar) or online.
Storing, Freezing, Reheating Tips
This soup is fabulous for leftovers and can be stored in the fridge for several days without any loss of flavour or textures.
Although we never have soup leftover for freezing, it would freeze nicely in an airtight container for a month or two.
To reheat, remove the soup from the freezer and let it thaw, then warm on the stove top or reheat in a microwave if you have one.
More Delicious Cauliflower Recipes
If you like cauliflower as much as we do, try some of these yummy recipes:
Cauliflower Quinoa Balls - tender on the inside, crunchy on the outside - so good!
Creamy Rosé Vegetable Pasta - a fast, easy, fan favourite!
Simply Delicious Vegan Taco - simple family favourite - 2 ways!
Did you make my Coconut Curry Cauliflower Soup? Please leave feedback and a rating below. Tag me on Instagram and Facebook!
NEVER MISS A RECIPE: Sign up for my email NEWSLETTER!
Coconut Curry Cauliflower Soup
Rich and creamy, vegan cauliflower-broccoli soup made with a luscious porcini mushroom, coconut milk, and curry broth. This healthy, comforting soup is perfect for chilly days and it's ready in under an hour!
Rate this recipe!
INGREDIENTS
Cauliflower-Broccoli Rice
1

medium head

cauliflower, rough chop (~ 6 cups)

2

cups

broccoli, rough chop

1

tsp

cumin powder

1

tsp

garlic powder

1

tsp

paprika

¼

tsp

salt

1

tbsp

oil or splash of broth
Coconut Curry Mushroom Broth
1-2

tsp

oil

1

cup

onion, chopped

1

clove

garlic, minced

3

cups

mushrooms, quartered or sliced

2-3

tbsp

curry powder, to taste

2-3

cups

carrots, peeled and cut into coins

3-4

cups

vegetable broth*

2

tbsp

porcini mushroom powder

1,

398 ml tin

coconut milk/cream

2-4

cups

kale or spinach, rough chop

2+

cups

water (as needed)
Optional Toppings
few

cilantro sprigs, chopped

green onions, chopped

red pepper flakes

lime wedges

croutons
INSTRUCTIONS
Preheat oven to 400º F. Prepare a baking sheet.
Cauliflower-Broccoli Rice
Cut cauliflower and broccoli.  

Mix together, cumin, garlic powder, paprika, salt, 1 tbsp oil or splash of broth. Toss with the cauliflower and broccoli until well incorporated.

Spread out on the baking sheet.

Roast veggies for approximately 20 minutes until tender but not soft (al dente). Stir after 10 minutes.
Coconut Curry Mushroom Broth
While the vegetables are baking, chop the onions, garlic, mushrooms, carrots, kale/spinach, and cilantro.

Heat 1 tbsp of oil to a large soup pot or wok-type skillet. Sauté the onions, garlic, and mushrooms for 8-10 minutes over medium heat until soft, fragrant, and lightly brown.

Push the vegetables to the side, add the the curry powder and let it roast for a minute, then stir to incorporate with the vegetables.

Once cooked, place the baked cauliflower and broccoli in the bowl of a food processor and pulse a few times until the cauliflower is similar to rice.

If you don't have a food processor, no problem, just chop the vegetables with a large knife until desired consistency is achieved.

Add the cauliflower-broccoli mixture, carrot coins, mushroom powder, coconut cream, broth, and kale to the mushroom mixture. If using spinach, don't add yet.

Stir and bring to a boil, reduce heat immediately and then let simmer for 20 minutes or until the kale is tender.  Taste and adjust seasoning as needed.

Add water as needed, I usually end up adding at least 2 cups hot water.
Serving Suggestions
Serve with any optional toppings: crunchy croutons, green onion slices, chopped cilantro, hot pepper flakes, a squeeze of lime.

We love eating this soup with crunchy toasted sourdough slices.
NOTES
The porcini powder is optional but totally worth the extra flavour and richness it brings.
I keep coconut cream powder on hand for emergencies when I'm out of the tinned milk/cream. It's wonderful in this soup. Plus it's the main ingredient in my vegan salted caramel sauce which is spectacular.
The vegetables can be fresh or frozen.
Toasted sourdough slices or crunchy croutons are the perfect addition to this soup.
Delicious leftover, store in individual servings in the fridge for 3 or 4 days or in the freezer for 2 or 3 months.
Recipe inspired by Cotter Crunch Cauliflower Soup
This recipe is from simplyceecee.co food blog. All images and content are copyright protected. Please do not use my images or republish this recipe without prior permission. Thank you.