This scrumptious pasta dish is rich and creamy with flavour notes from 2 types of tomatoes, 2 varieties of mushrooms, and fresh basil. Treat yourself to this quick and delicious 5 STAR Italian pasta dish any day of the week. The whole family will love it!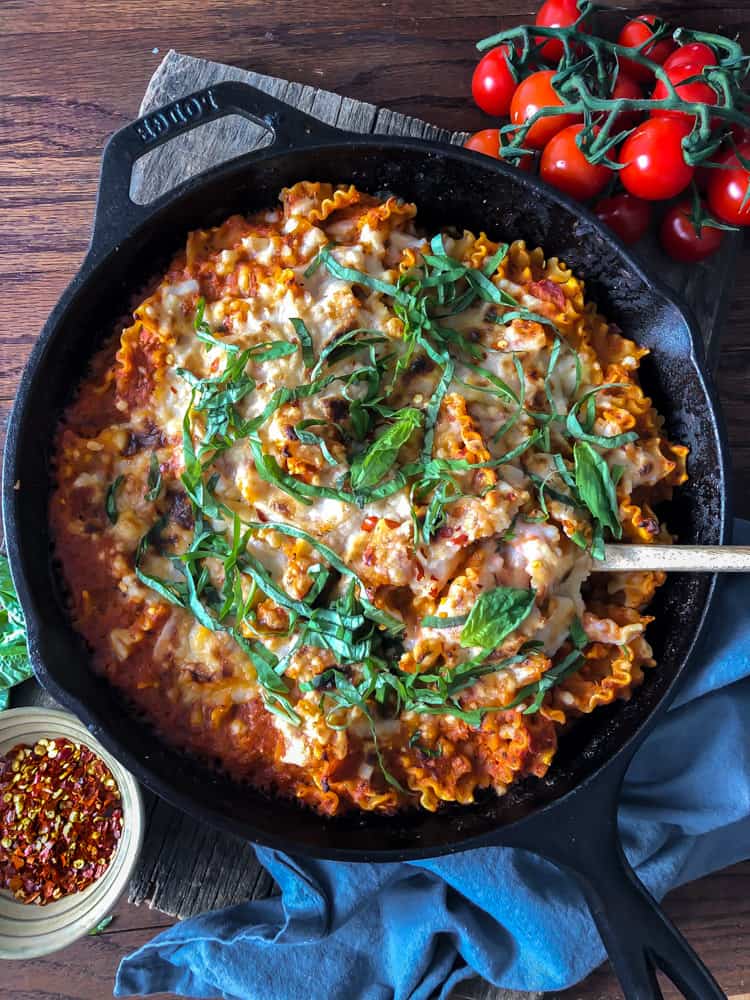 What's better than a rich, creamy, tomato and mushroom pasta sauce? If your answer is nothing, HELLO, new bff!!! I'm a pasta lover no doubt about it. I've been fortunate to enjoy some really great pasta dishes in my lifetime, first of all, my mother thinks she's Italian so she's made us a lot of delicious pasta. Also, I hung out with all the Italian girls at college and spent lots of time with their mammas in the kitchen (sooo grateful for the whispered family secrets for perfect Italian sauce and pasta). AND, drumroll please . . . I ate (and drank) my way through Italy a few years ago which was a life-changing experience for me.
The most incredible food I've ever tasted in my life was in Florence at this tiny little family-run restaurant (if you blink, you'll miss it; and if you don't have a reservation, fuhgeddaboutdit - you'll never get in) Vini e Vecchi Sapori.
This pasta dish has a few steps, but it's easy to make and incredibly worth it. Two varieties of mushrooms bring the umami, 2 types of tomatoes bring richness and acidity, and the garlicky cashew cream adds the incredible creaminess. All that velvety smoothness without the use of any dairy! WHAT? It's a miracle!!!
PRO TIPS: Unlike the Italian countryside, we don't have fresh porcini mushrooms here, (which add such an earthy, nutty, robust flavour); however, it is still possible to get that flavour profile using dehydrated porcini mushrooms ground into powder (*if I can't find the powder, I just grind some dehydrated pieces with the mortar and pestle).
For the pasta, you'll want to choose something that will trap all that creamy, tomatoey goodness. I usually use a sturdy variety like penne or rotini; but when I'm feeling fancy, I like to use this pretty, ruffly mafalda (mini lasagna). I undercook the pasta by 2-3 minutes as it will cook further in the oven.
Managing your Time: Pour hot broth over the cashews in a measuring cup. Prepare and chop all veg and herbs. Fry the veggies and aromatics (the longer you saute them, the more flavour they will add to your sauce ~8-10 minutes), add the BEST quality canned tomatoes you can find as well as sun-dried tomatoes (either in oil or rehydrated no oil) let it simmer. Pulse in blender and return to stove - add remaining ingredients and simmer - rinse blender. Meanwhile, start the water for the pasta and prepare as per package instructions less 2-3 minutes). Finish making the cashew cream by pouring soaked cashews and water plus remaining ingredients into the cup of a high-speed blender and blend until smooth (~ 1 minute). Follow remaining recipe.
More Vegan Pasta Dinner Ideas
Looking for more pasta dishes, I think you'll enjoy some of these . . .
Fast, Fresh Tomato + Spinach Fettuccine with vegan feta - numero uno vegan pasta!
Spaghetti Pie Bolognese - rich and hearty vegan spaghetti pie - family favorite!
Red and White Pasta Feast - easy to make, luscious red and white pasta sauces.
Did you make this recipe? I'd love to see it!
Please leave a star rating and comment at the bottom of the page.
Thank you so much for sharing! Tag me on Instagram 
For more Vegan Recipes: Sign up for my email NEWSLETTER!
Creamiest Sun-Dried Tomato Pasta (vegan)
Creamy, tangy and bursting with flavor this sun-dried tomato and mushroom pasta sauce is an easy to make weeknight meal the whole family will love. Leftovers are delicious too!
Rate this recipe!
INGREDIENTS
1 ½

cup

white onion, chopped

2

cloves

garlic, minced

1 ½

cups

mushrooms, sliced

1

tbsp

tamari (optional)

1

tsp

oregano

½ - 1

tsp

hot pepper flakes

S&P, to taste

1 - 2

tsp

porcini mushroom powder (optional)

⅓

cup

sundried tomatoes, chopped

28

oz

san marzano tomatoes

1

cup

vegetable broth

½ - 1

cup

cashew cream recipe*

4-6

servings

pasta (penne, rotini)

sprinkle

hot pepper flakes

garnish

parsley or basil, chopped

vegan parmesan cheese (optional)

1

cup

vegan mozzarella cheese (optional)
INSTRUCTIONS
Start cashew cream. ½ cup raw cashews, ½ cup water, pinch of salt, 1 clove garlic. Place everything in the cup of a high-speed blender - replace lid.

Blend until smooth (~ 1 minute). Taste and adjust seasoning as required. Pour into a large measuring cup (will use blender again).

In a large wok-style skillet over medium heat, heat oil, onions, and garlic.

After a few minutes add the mushrooms, oregano, hot pepper flakes, S&P, (porcini mushroom powder if using) and let cook until the mushrooms release their water and start to turn golden (approximately 8-10 minutes).

Optional: add 1 tablespoon of tamari for additional flavour (optional but delicious).

Add the chopped sundried tomatoes and a large tin of whole tomatoes (I love the flavour from San Marzano), stirring and gently crushing the whole tomatoes with the back of your spoon.

Gently simmer for 10 - 15 minutes over medium-low heat. 

Transfer tomato mixture to the blender and pulse a few times (to desired level of smoothness). *Use immersion blender if you have one.

Pour back into large skillet, add remaining vegetable stock (1 cup) let simmer.

Cook the pasta in salty water as per package directions.

Add ½ - 1 cup of the cashew cream to tomato sauce - start with ½ a cup and mix well - if you want it creamier, add more until desired creaminess is met.  

Simmer over medium heat. Taste for seasonings and adjust as necessary. 

Toss sauce with hot pasta, add a garnish of basil ribbons, hot pepper flakes, and vegan parmesan cheese (optional).
NOTES
Baked Version: Toss sauce with hot pasta, place in large ovenproof skillet or dish, top with 1 cup of your favourite vegan mozza and place in oven at 400º F until cheese is golden and melty. You may want to broil for the last minute or two. Add chopped fresh herbs. Serving Suggestions:  make toasted garlic bread and a side salad. Ingredient Options: add some fresh spinach ribbons, cauliflower or broccoli scraps for extra texture, flavor and nutrients if desired. Leftovers: This sauce can be frozen for 2 months or any leftovers can be stored in the fridge for 3 or 4 days and then warmed before serving.
This recipe is from simplyceecee.co food blog. All images and content are copyright protected. Please do not use my images or republish this recipe without prior permission. Thank you.