This creamy chipotle sauce is an easy vegan condiment that adds a BIG flavor boost to crispy cauliflower tacos, black bean burrito bowls and so much more! Ready in 5 minutes, this dairy-free sauce is a spicy, smoky, flavor bomb that's going to WOW you!
Sauce is one of the easiest and best ways to elevate the flavors in any meal. Just like my popular sweet and spicy tahini sauce and vegan tzatziki, this thick, rich chipotle sauce is quick and simple to make, tastes amazing, and goes with absolutely everything! It's an addictive sauce slathered on fish tacos, grilled corn, quesadillas, and it totally transforms tired old leftovers into some magical! We're obsessed and I think you will be too!
Chipotle Sauce Ingredients
You'll need only a handful of ingredients to make this Mexican-inspired smoky sauce from scratch, and it couldn't be any easier to throw together.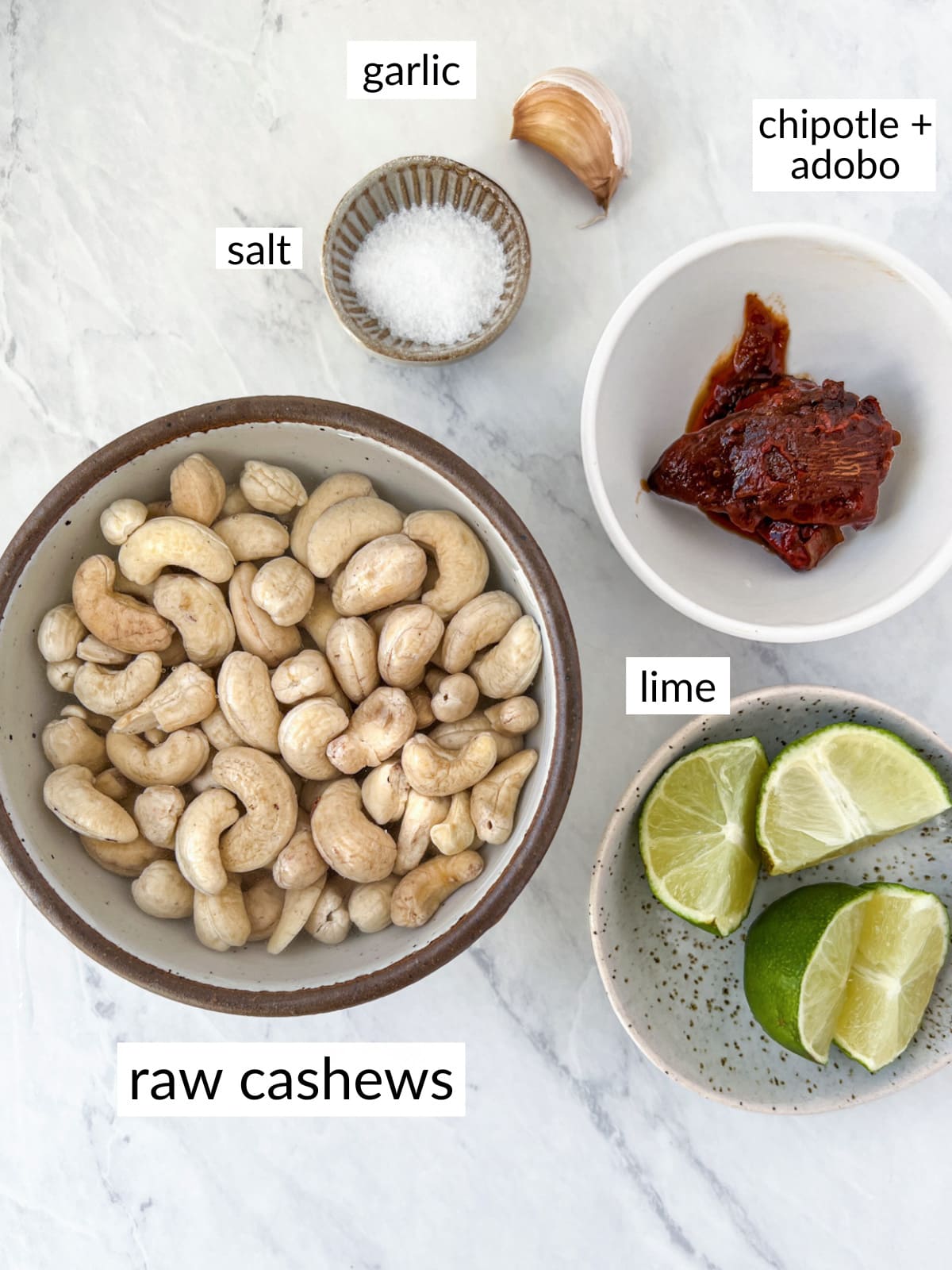 Here's what you'll need:
Vegan sour cream base: Raw cashews, water, vinegar, and salt make the perfect creamy, rich sour cream base (naturally dairy free, vegan, and gluten free).
Chipotle peppers in adobo sauce: Chipotle peppers and chipotle sauce give this sauce its bold smoky flavor. They come in a small can, typically found in the Mexican/International aisle at the grocery store. Since you'll need only 1 or 2, you can freeze the rest or use them to make Saucy, Spicy Jackfruit Tacos, Tex-Mex Cashew Cream Sauce or Vegan Queso.
Seasonings: Along with freshly squeezed lime juice and garlic, a pinch of salt and a drizzle of maple syrup help to balance and enhance the smoky, sweet sauce flavors.
Possible Variations & Substitutions
Can you use chipotle powder?: Yes, in a pinch, if you can't find chipotle peppers in adobo sauce, sub ¼ teaspoon ground chipotle powder (or more to taste). Note: 1 dried chipotle pepper ~½ teaspoon chipotle powder.
Too spicy?: Start with only one chipotle pepper or just one teaspoon of adobo sauce, blend, taste, and adjust.
No limes?: No worries, you can use freshly squeeze lemons instead or bottled lime juice (in a pinch).
How to Make Vegan Chipotle Sauce
If you're obsessed with sauces for dipping, drizzling, and dunking like we are, you're going to love this craveable, smoky-sweet and spicy chipotle sauce recipe. Seriously, we can't get enough of it!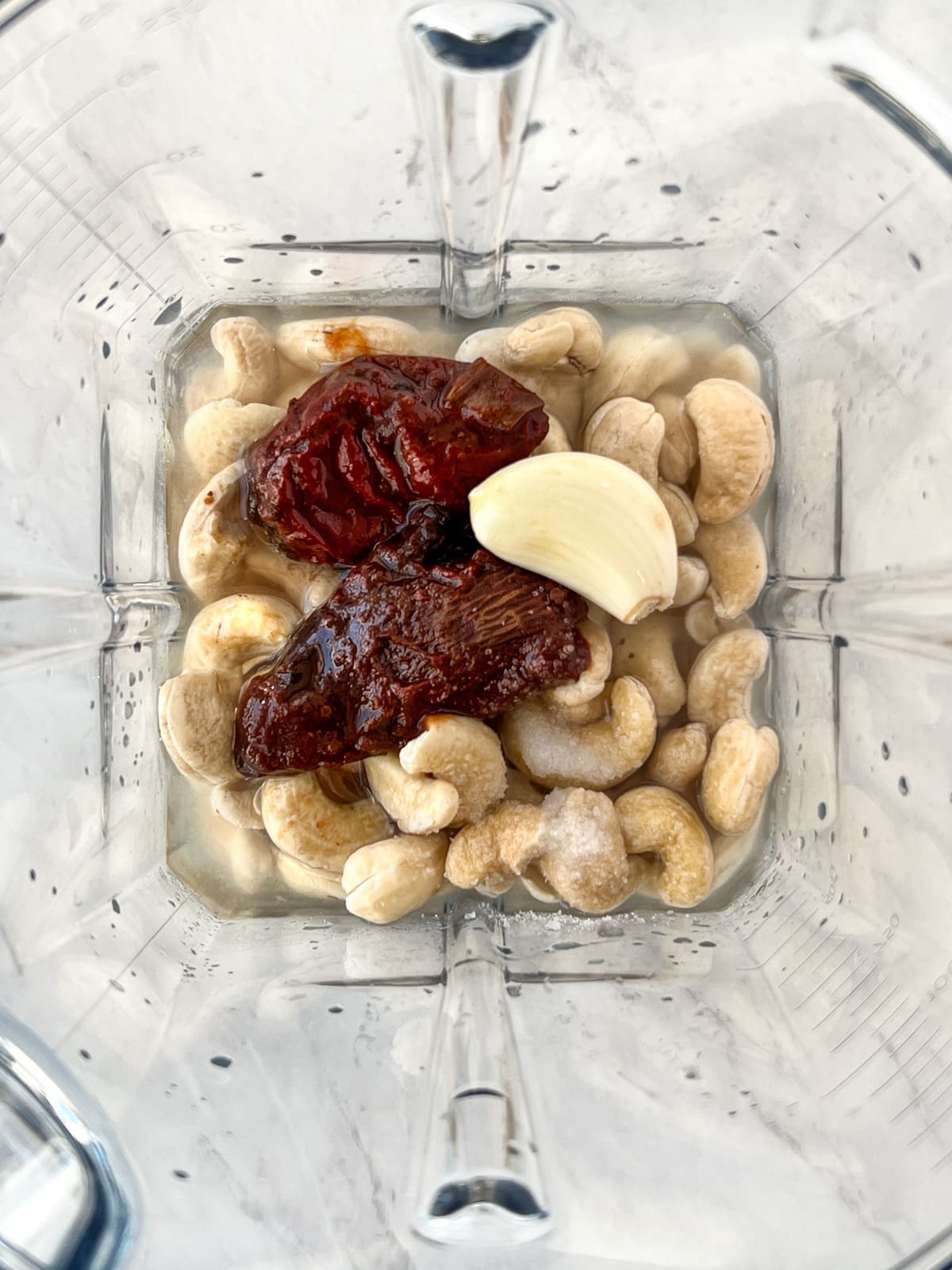 Here's how to make a dairy-free, spicy chipotle aioli:
Just place everything into a high power blender like a Vitamix. Blend until silky smooth. Pro Tip: Start with ½ cup of water then add more water 1 or 2 tablespoons at a time to get the consistency you need: thicker for a condiment or dipping sauce and thinner for a drizzle or salad dressing.
Taste and adjust the seasonings to make the sauce spicier, tangier, saltier or sweeter to your personal preference. As you add more chipotle peppers, the spice level goes up - customize to your taste!
Transfer to a jar with a lid and refrigerate for up to 2 weeks. The flavors intensify and the sauce thickens while chilling. Use a tablespoon or two of water to thin.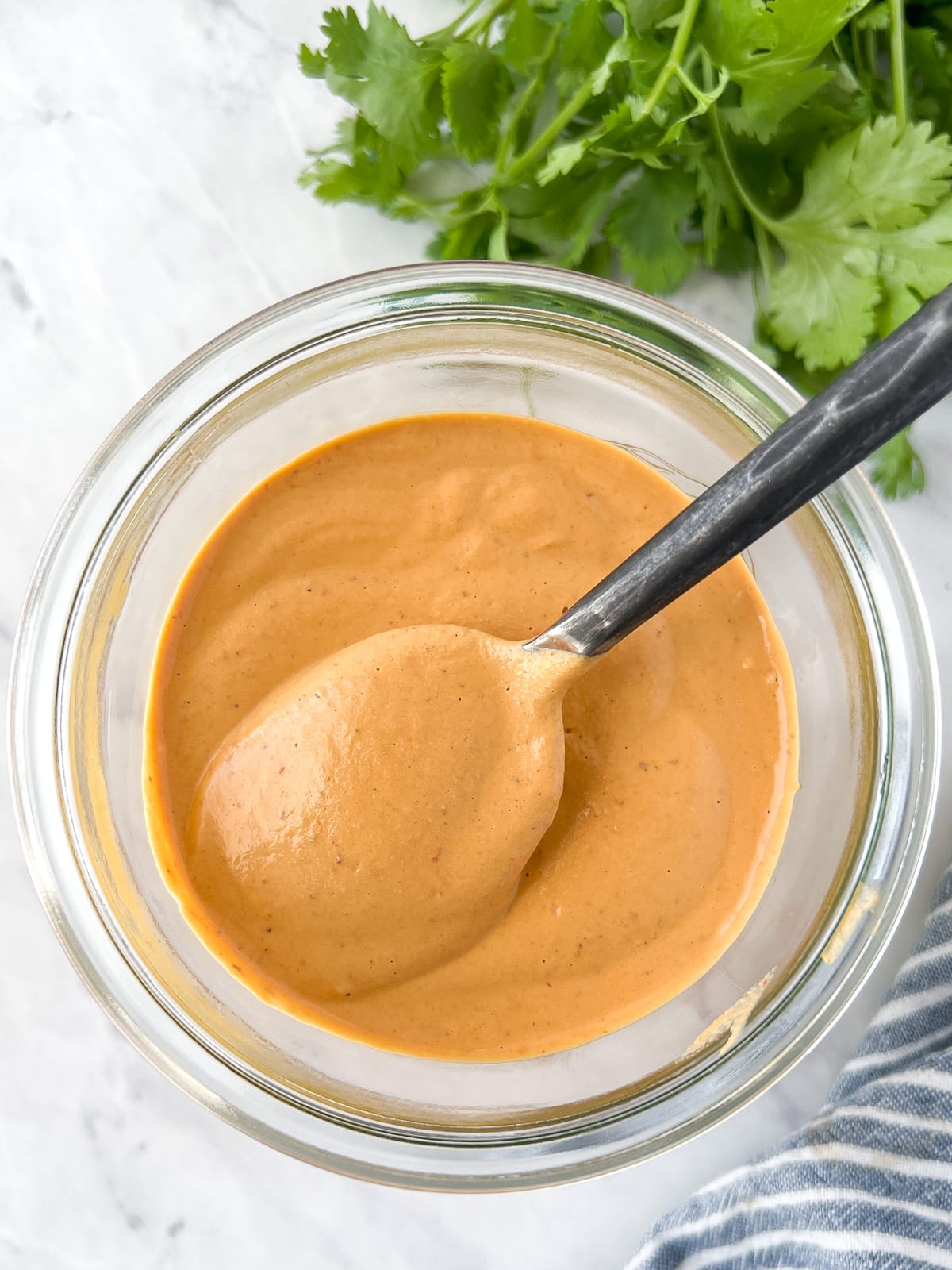 Expert Tips
A few tips for making and storing homemade chipotle aioli sauce:
No high power blender?: No problem - you have a couple options. Soak the raw cashews in boiling hot water (covered) for up to an hour until soft, pump, and juicy. OR soak the cashews in cold water at room temperature (covered) for several hours (or overnight) until fully plump and hydrated. Then drain the cashews and follow the rest of the recipe.
Flavor boost: If your chipotle sauce tastes flat or like it's missing something, the answer is usually salt. Add another pinch or two to correct the flavor. It could also be acid which cuts through the richness of the cashews making the sauce brighter and tangier. To correct the balance, try adding another teaspoonful of lime juice or vinegar.
Storing creamy chipotle sauce: Homemade chipotle sauce can be stored in the fridge in a jar for up to 2 weeks. It can be frozen, but may separate when thawed. Use a whisk or pulse a couple times in a food processor or blender (with a tablespoon of water if needed) to bring the sauce back together.
Storing chipotle peppers: This recipe uses only a few chipotle peppers so save the remaining peppers in the fridge or freezer. Freeze them whole by spreading individually on parchment lined baking sheet until frozen solid. Then transfer to a freezer safe bag or container.
OR blend the chipotle peppers and sauce in a blender or small food processor before freezing (use an ice cube tray or make 1 tablespoon mounds on a parchment lined baking sheet). Freeze until solid, then transfer to a freezer safe bag or container for up to 4- 6 months.
Ways to Use Vegan Chipotle Sauce
Chipotle cream sauce is super versatile and 100% delicious on EVERYTHING! It's a rich and velvety, flavorful sauce that elevates all your favorite Mexican dishes like vegan tacos, veggie burritos, fajitas, and so much more:
Extra Flavorful Dip: Serve as a creamy dip for appetizers (like vegan wings), nachos, fresh vegetables, and sweet potato fries.
Flavor Booster: Delicious drizzled over grilled vegetables, stuffed sweet potatoes instead of the dilly hummus or breakfast burritos made with vegan scrambled eggs. Best chipotle sauce on vegan fish tacos, vegan burrito bowls and vegan taco bowls!
Butter Alternative: Slather rich and buttery, vegan chipotle sauce over grilled corn instead of butter for a burst of smoky, spicy flavor.
Vegan condiment: Veggie sandwiches and cauliflower burgers instantly go from ordinary to extraordinary served with a thick layer of dairy-free chipotle sauce. Trust me, it's incredible on everything!
Try One of These Vegan Sauces Next!
Here's a few more sauces that taste good served with vegan tacos, rice bowls, and salads:
If you tried this Creamy Chipotle Sauce or any other recipe on the blog, please let me know how you liked it by leaving a rating and review below! Be sure to follow along on Instagram and Pinterest for more delicious vegan recipes.
JOIN US SUNDAY MORNINGS: Sign up for my weekly NEWSLETTER!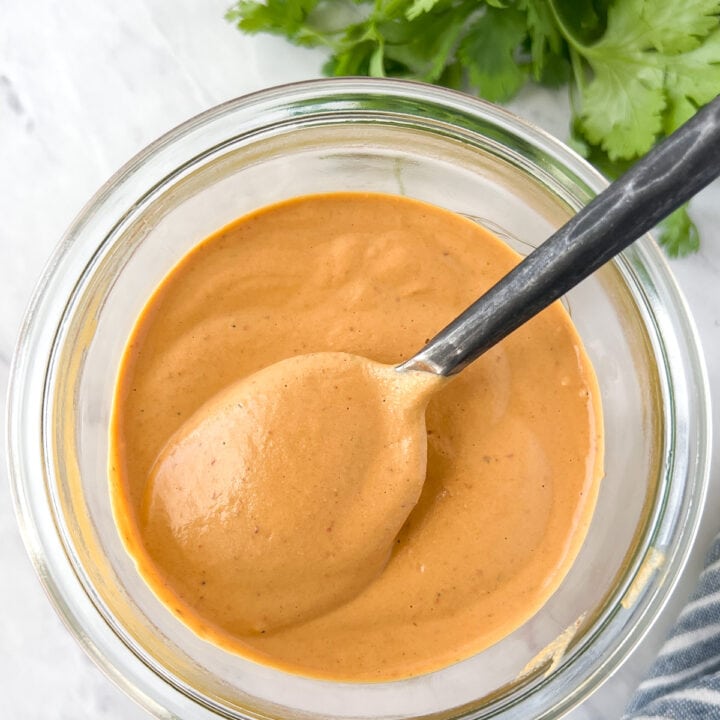 Creamy Chipotle Sauce (vegan)
When you're craving a creamy, smoky, tangy sauce like they serve at Taco Bell and Subway, this homemade chipotle sauce recipe is the BEST! Ready in 5 minutes and only 6 ingredients, this addictive chipotle sauce is ah-mazing slather on vegan fish tacos, bowls, and grilled summer corn. Plus it's dairy free, gluten free, and vegan too!
Rate this recipe!
INGREDIENTS
1

cup

raw cashews

½ - ¾

cup

water

1

tablespoon

white vinegar

2

chipotle peppers in adobo sauce*

1-2

teaspoons

adobo sauce

1

large clove

garlic

2

tablespoons

lime juice (freshly squeezed)

¼

teaspoon

sea salt (to taste)

¼ - ½

teaspoon

maple syrup (optional)
INSTRUCTIONS
Add the ingredients to a high speed blender (like a Vitamix). Add ½ cup water and blend until smooth - stopping to scrape down as needed. Add more water 2 tablespoons at at a time until desired consistency.

*Chipotle peppers: Start with 1 chipotle pepper then add additional peppers and adobo sauce to suit your taste.

Taste and adjust ingredients to make the sauce spicier, tangier or saltier. Add the maple syrup to balance the flavors.

Transfer to a jar and refrigerate for up to 2 weeks.
NOTES
Chipotle peppers in adobo sauce: Find them with the Mexican food at most grocery stores.  Smokier/spicer: Add extra adobo sauce and more chipotle peppers to taste.  Tangier: Add more lime juice or vinegar. Sweetness: To balance the flavors, add ¼ - ½ teaspoon of maple syrup. No high power blender?: Soak the raw cashews in boiling hot water (with a lid) for up to an hour or cold water for several hours until plump and hydrated. Drain, then follow the recipe as written.
This recipe is from simplyceecee.co food blog. All images and content are copyright protected. Please do not use my images or republish this recipe without prior permission. Thank you.