If you love drizzles and dips like we do, you're going to go crazy for this creamy cilantro jalapeno sauce recipe. Super luscious, this sauce is embarrassingly simple to make with only a few ingredients including cashews, jalapeno, cilantro, and lime.
Super versatile and flavorful, creamy cilantro jalapeno sauce is easy to throw together when you need a delicious spicy sauce, dressing, drizzle or dip.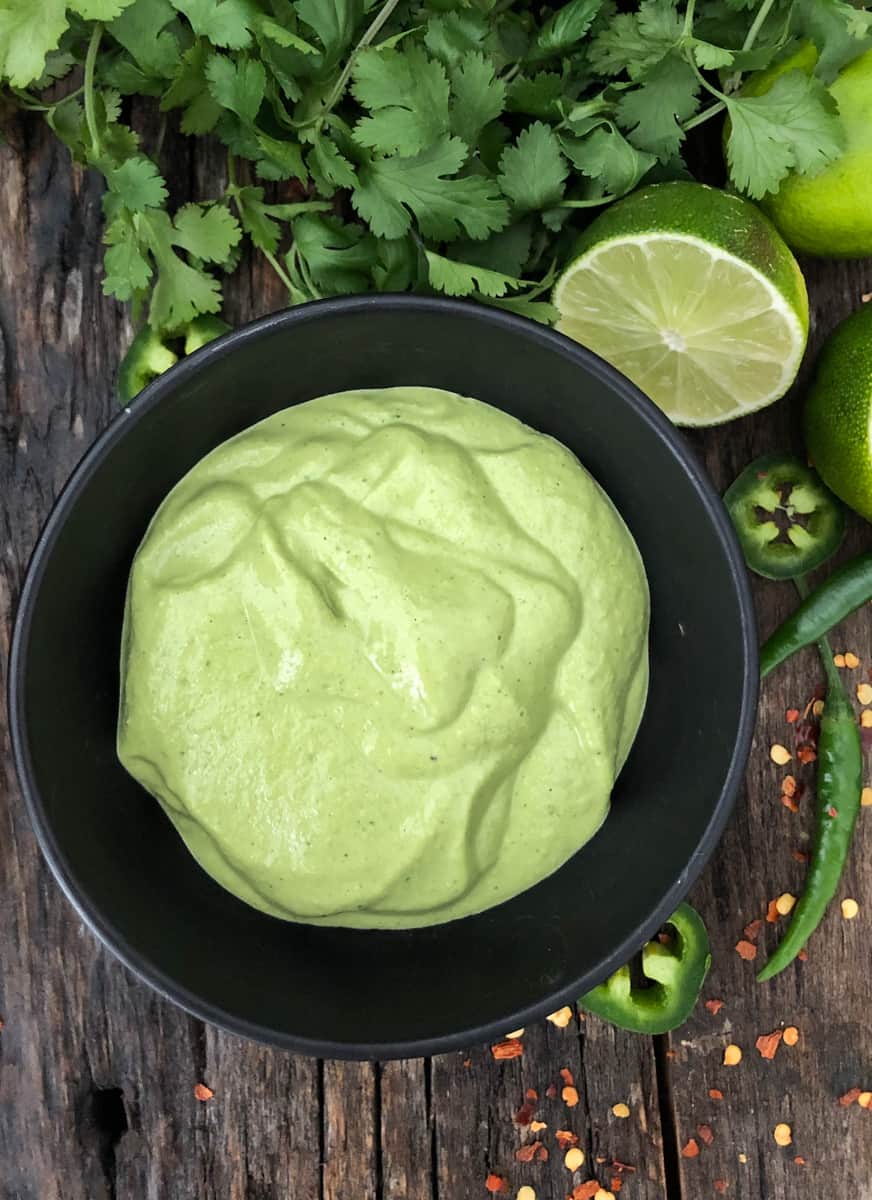 If you're looking for a dairy-free sauce that's rich and creamy with a fresh herby flavor from cilantro, a zing from lime, and a hit of heat from jalapenos, keep reading for how to make this indulgent cashew sauce. It's one of my favorites!
Some of Our Favorite Dairy-free Sauce Recipes
Honestly, I couldn't love cashew cream more if I tried. It's a kitchen essential for all vegan (vegetarian and plant-based) kitchens!! Because of its versatility, a simple all-purpose cashew cream sauce recipe is magical - trust me!
Here are a few cashew sauce versions to get you started. Slather green cashew cream or Tex-Mex cashew cream over chips with a side of pico, guacamole, and black beans for game day. Make a big batch of the easy everyday cashew cream to drizzle on chana masala curry bowl or in a hearty vegetable bean soup. Smoky, Buffalo, and cheesy cashew cream sauces are perfect for drizzling over Buddha bowls, taco stuffed sweet potatoes or a baked potato bar. Plus the sweet, salted maple version is unbelievable drizzled over a fresh fruit platter or warm cinnamon buns!
Just call me the Saucy Vegan because we looove sauce, and I make A LOT of it. Here's another scrumptious and popular sauce series to try: everyday white tahini sauce, sweet and spicy tahini sauce, and spicy green tahini sauce.
And if you want even more, check out all the sauces on my Vegan Sauce Page.
What's in Creamy Cilantro Jalapeno Sauce?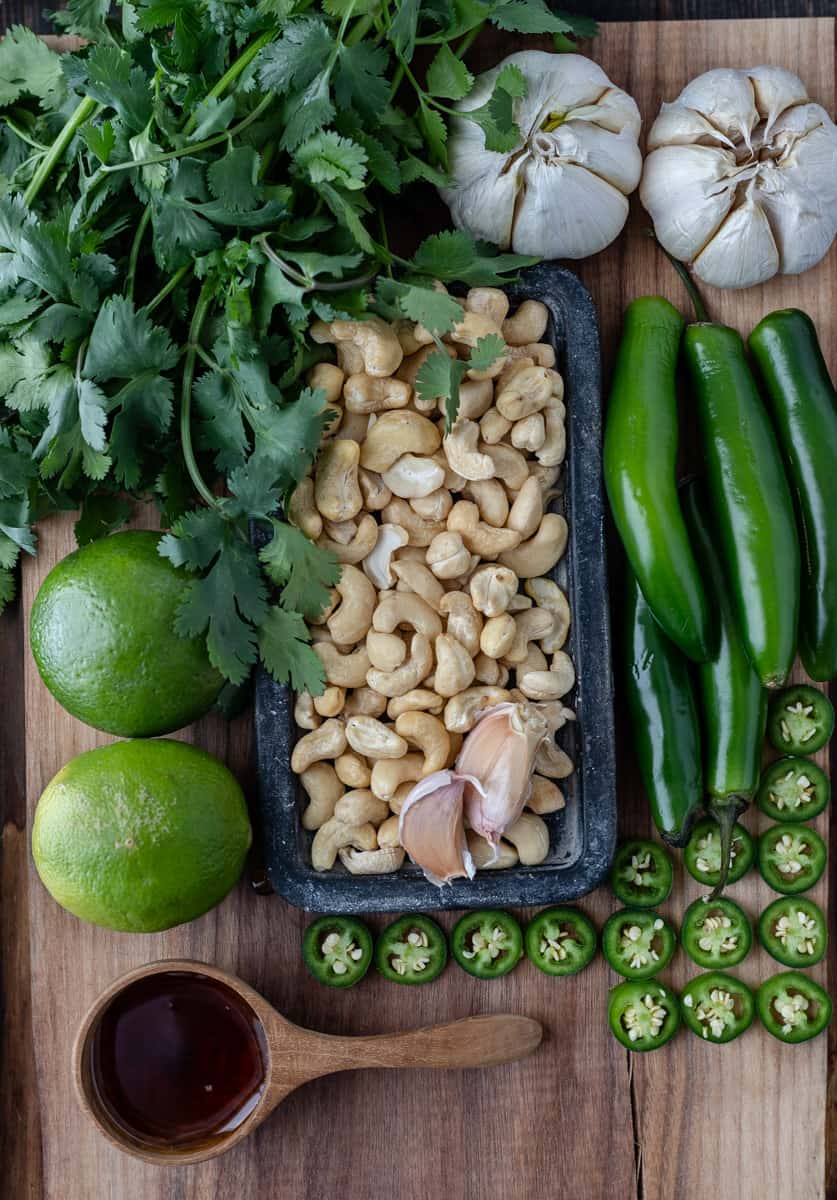 I think you'll to go crazy for this creamy, spicy, cilantro-lime sauce recipe. It's so tasty, you'll want to slathered it on everything!!!! For sure it's going to be your new go-to drizzle for the summer.
Here's the ingredients you'll need:
raw cashews - the creamy rich base comes from plump, juicy soaked cashews
garlic - one medium or two small cloves
jalapeno chilli peppers - fresh jalapenos bring the heat
fresh cilantro - fresh, herbal flavor plus gorgeous green color (use leaves and tender stems)
lime - fresh lime juice and zest adds tang and brightens up the sauce
maple syrup - just a few drops smoothes out the heat
salt - makes all the flavors sing
Let's Make Spicy Cilantro Cream Sauce
There are only a few steps to make this simple cashew cream sauce that will transform your vegan (vegetarian or plant-based) cooking. Let's get started . . .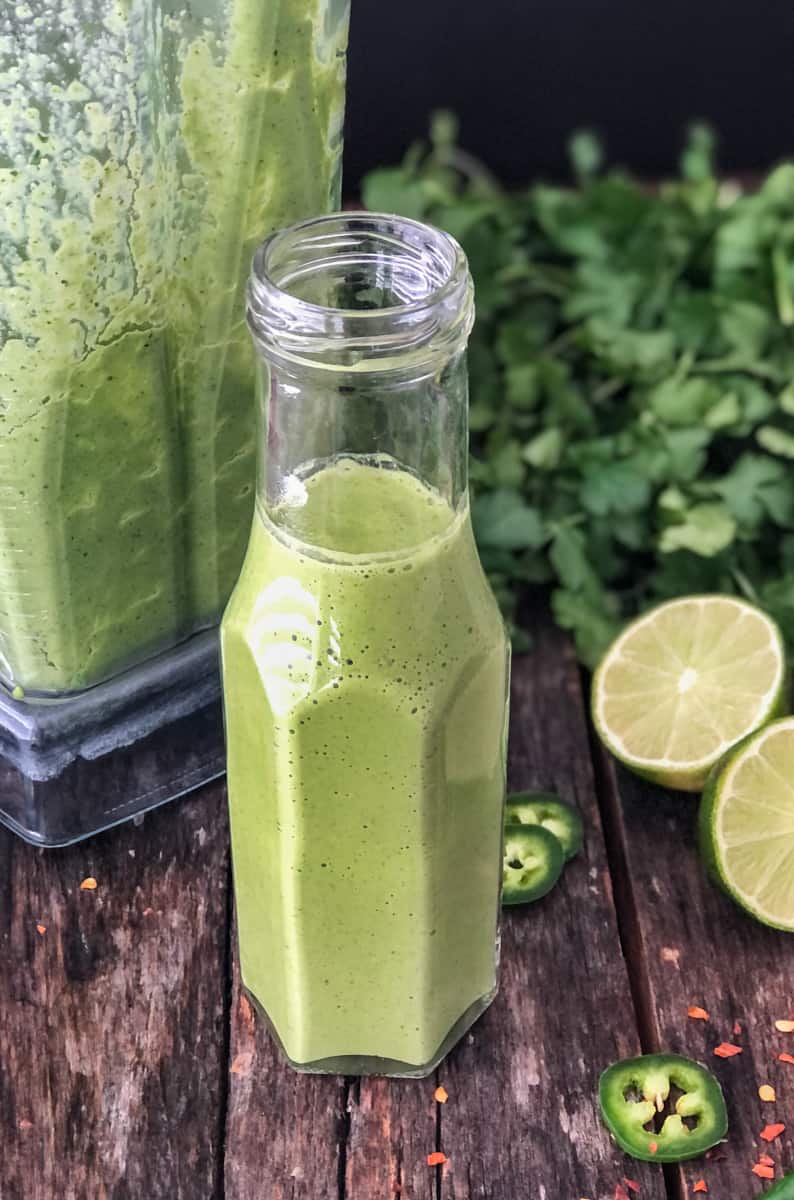 So easy to make - just place the ingredients into a high speed blender like a Vitamix and let it do all the work. My Vitamix gets A LOT of action - it's the hardest working appliance in my vegan kitchen!
If you don't have a high-power blender, pour boiling water over the cashews and let them soak for 30 minutes or more. They get plump and juicy and are easier to blend into a smooth creamy sauce.
The high-speed blender version requires very little soaking - pour boiling hot water over the cashews, cover, and let sit for 5 minutes. Drain and proceed with recipe.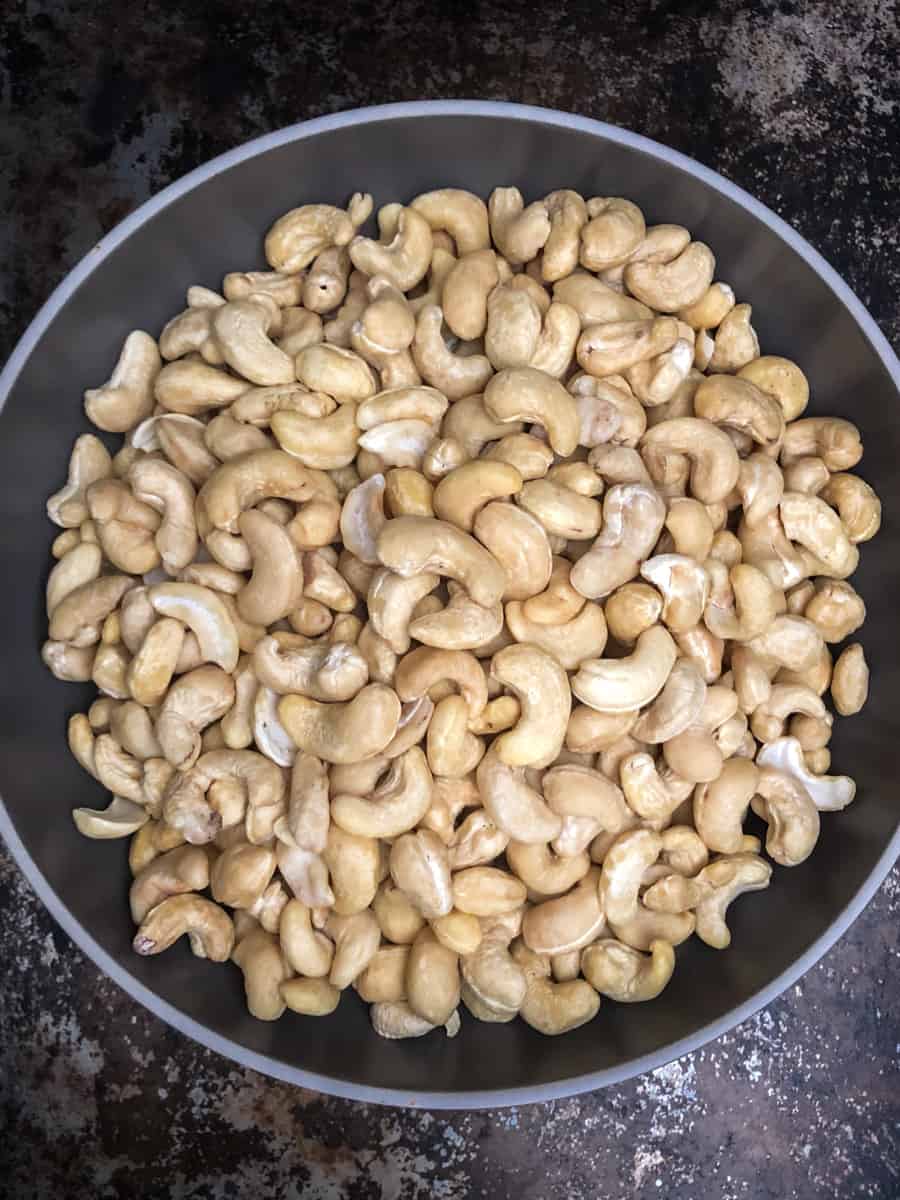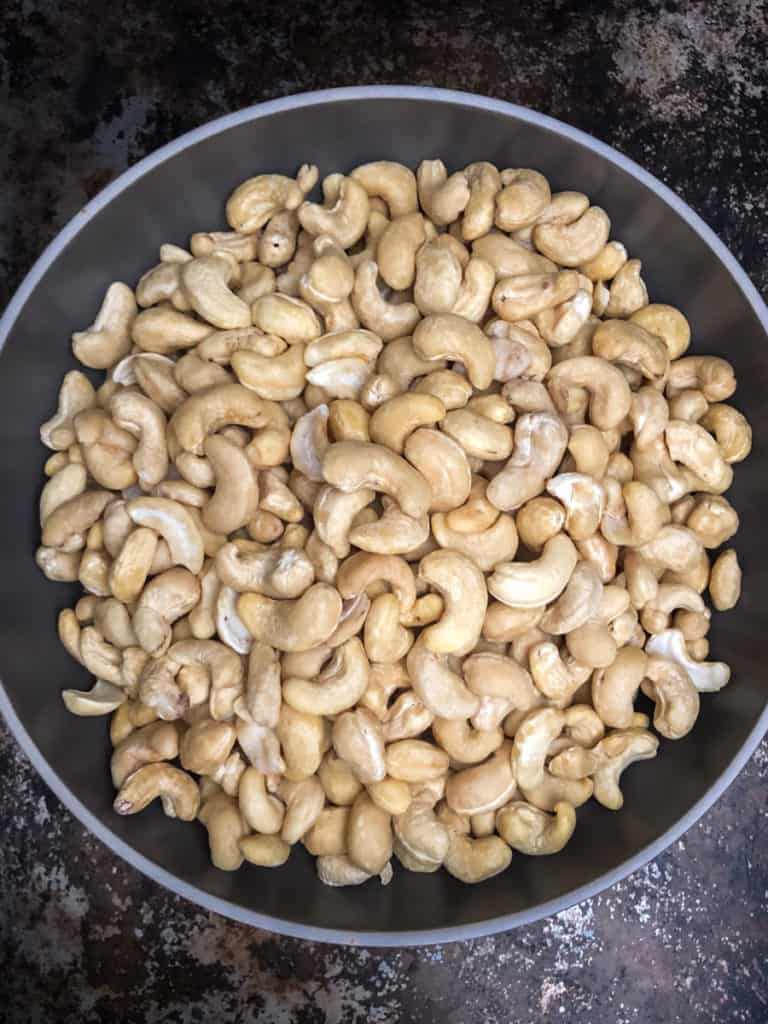 Tips for Making Creamy Cilantro Jalapeno Cashew Sauce
Control the sauce consistency by adding more or less liquid. If making a thicker dip, start off with less water. Add 1 tablespoon more water at a time until desired consistency is met.
Note: cashew sauce does thicken up after being chilled!
Customize the tanginess, heat, garlic, and salt. Start with the quantities in the recipe and then adjust to your taste preference. Add more lime, more cilantro, and more or less garlic. Keep in the mind that garlic intensifies and becomes more prominent over a few days.
I use the whole jalapeno - seeds, membranes and all. But you control how much heat/spice to your preference. Remove some of the seeds, add half the jalapeno pepper then taste and adjust. If you want it hotter, add the other half of the pepper and the seeds until you are happy with the taste.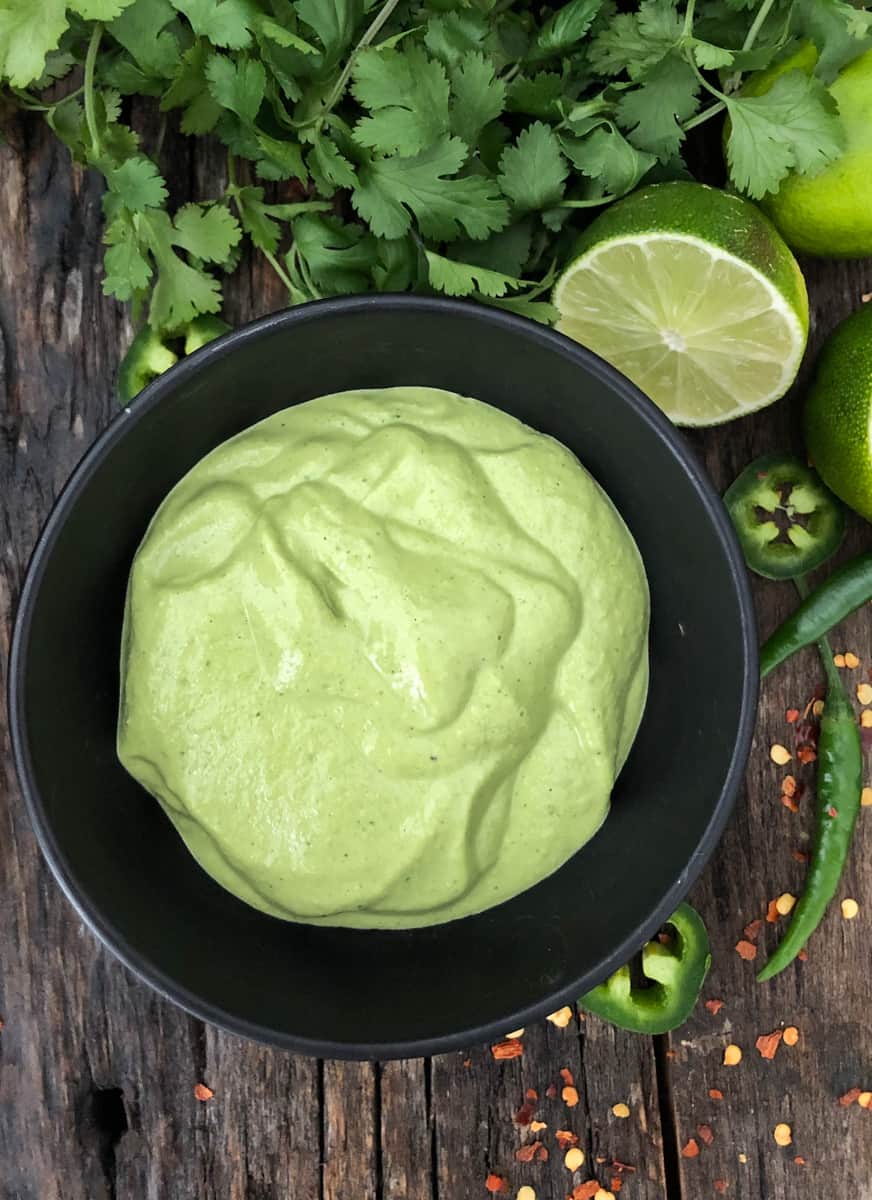 How to use Creamy Cilantro Jalapeno Sauce
Sensational drizzled, slathered or dipped on anything and everything! Make a double batch and try it on burgers and sandwiches, drizzle it on tacos or a crunchy summer salad.
Tacos - Cauliflower Chickpea Tacos, Simply Delicious Vegan Tacos
Burgers - Cauliflower Burger, Pulled Pork Jackfruit Burger
Sandwiches - California Veggie Sandwich, Vegan Shawarma Wrap
Buddha Bowls - Spicy Taco Bowl, Simple Rice Bowl
Tofu Scramble - Breakfast Bowl
Grilled vegetables like cauliflower, carrots, broccoli, sweet potatoes, etc.
Serve as a thick dip with vegetable charcuterie board.
Did you make my Creamy Cilantro Jalapeno Sauce recipe? 
I'd love to see it! Please leave a comment below and tag me in you photos on IG @ceeceecooks
NEVER MISS A RECIPE: Sign up for my email NEWSLETTER!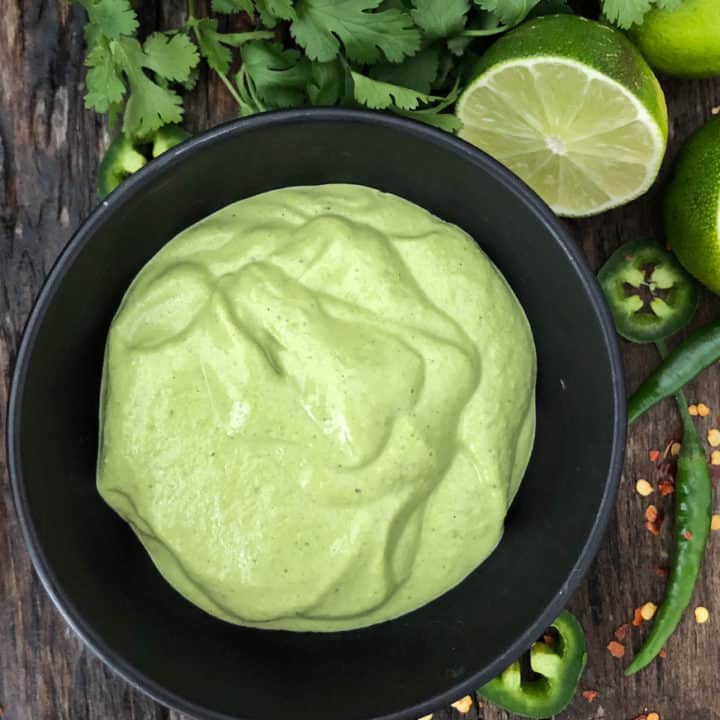 Creamy Cilantro Jalapeno Sauce Recipe
Creamy cilantro jalapeno sauce takes only 5 minutes to make which is lucky because it's going to be this summer's favorite recipe for dipping, drizzling, and dressings! It's spicy, creamy, sweet, and garlicky. Drizzle this luscious sauce on salads, dollop it on tacos or grilled vegetables and scoop it up with crunchy veggies. You're going to love it!!!
Rate this recipe!
INGREDIENTS
½

cup

raw cashews, soaked

⅓-1/2

cup

water

½

bunch

cilantro, rough chop

1

jalapeno, cut into 3 or 4 chunks

1

medium

garlic clove, rough chop

1

lime juice and zest

½

tsp

salt (or more to taste)

¼ - ½

tsp

maple syrup (optional)
INSTRUCTIONS
If no high-power blender: place cashews in the blender cup, pour boiling water over the cashews, replace lid and let soak for 30 minutes up to 2 hours (until plump).

Drain, rinse and continue with recipe.

With a high-power blender, you can get away without pre-soaking. Just boil the ⅓-1/2 cup water, pour over the ½ cup cashews in the blender cup, add the other ingredients, replace the lid and puree until smooth.

It's not necessary to pick the leaves off the cilantro. Cut any large stalks off but the smaller, tender stems are fine to include.

The consistency will be a thick dressing. Add more water, 1 tablespoon at a time, if you want a thinner more pourable drizzle. Or add less water if you'd like a thicker dip or sauce.
NOTES
Easy to make thick or thin consistency to use as a dip, sauce, dressing or drizzle by adding more or less water.
Jalapeno peppers carry heat in the seeds and membranes as well so if your family doesn't like too much heat, remove the seeds, start with ½ a jalapeno pepper, and then taste and adjust to your personal preference.
The cashews puree more evenly and creamy if they are plump and juicy. If you don't have a high-power blender, soaking the cashews is essential for a smooth cashew sauce. Either the boiling water method for up to a couple hours or soak in cool water overnight covered in the refrigerator.
This recipe is from simplyceecee.co food blog. All images and content are copyright protected. Please do not use my images or republish this recipe without prior permission. Thank you.