This creamy, vegan rosé sauce with veggies on a big bowl of pasta is sure to become a family favorite. It's the most deliciously slurpable, vegan tomato cream sauce made with authentic Italian marinara and silky, rich cashew cream. Packed with vegetables and meatballs, this is a quick, versatile and nutritious, weeknight meal that leaves the whole family feeling full and satisfied.
Keep reading for step by step directions, cooking tips, ingredient substitutions and serving ideas for this tried and true vegan dinner recipe. Great, easy recipe for newbie vegans or anyone who loves a delicious, healthy, meatless meal.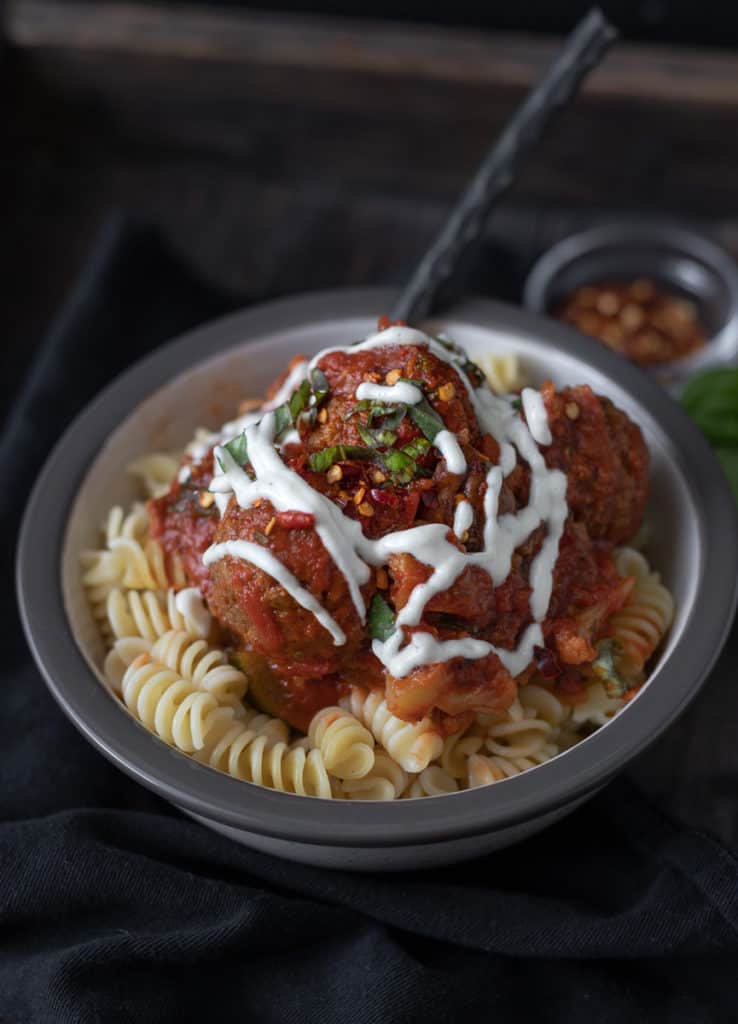 When the Fall weather turns cooler, I'm ready for my vegan comfort food like cauliflower curry soup, easy vegetable bean soup, meaty vegan chili, hearty bolognese sauce and all the pasta!
Here's Why We Love This Recipe
Quick and easy. My favorite, go-to, simple pasta recipe that's ready in 30 minutes.
Healthy. Packed with fresh veggies and tomatoes, this meal is gluten-free friendly, oil-free, soy-free, dairy-free, meatless, vegetarian, and totally vegan!
Flavorful! Each bite is heavenly. The combination of tender sweet cauliflower, onion, and garlic mixed together with silky tangy rosé sauce with just a kiss of heat and perfectly cooked pasta is beyond satisfying and droolworthy. Honestly I find this combination of flavors and textures completely irresistible!
Pantry (fridge) friendly. Any type of pasta, canned tomatoes, 5 minute cashew sauce, and vegetables from the fridge (including leftover veggies from the week)! Simple and budget friendly.
Recipe Ingredients
Packed full of veggies and Italian meatballs, this indulgent creamy tomato sauce served on spaghetti is an updated version of spaghetti and meatballs - vegan style!
Marinara Sauce. Rustic marinara sauce is the foundation for this luscious tomato cream sauce. Make an easy, authentic homemade marinara from scratch or buy your favorite store bought marinara.
Cashew Cream. Cashew cream is easy to make and adds a rich, silky, creaminess without any dairy! It takes under 5 minutes to make. Cashew cream is super versatile and an essential in every vegan kitchen (if no nut allergies of course!).
Vegetables. The addition of vegetables adds another layer of flavor and texture plus nutrients and colour. Choose any vegetables your family enjoys, but make sure to include some of the big flavor makers (onions, celery, carrots, garlic, mushrooms, peppers to name a few).
This is a great meal for using up leftover vegetables too - just chop them up and add them right before serving. Pro Tip: I add the root vegetables first and give them more time to soften and release flavors, then add the leafy vegetables or leftover (cooked) vegetables near the end. That way you won't get any mushy vegetables!
Meatless Meatballs (optional): A delicious addition if you have some on hand. I add the meatballs to the sauce while it's simmering. Our family loves the Italian flavor and meaty texture of these Gardein meatballs!
Pasta Noodles: I like kamut spaghetti with this sauce, but also penne or rigatoni because they are the perfect shape and size for the sauce to stick to and trap all the yummy bits of sauteed vegetables and garlic.
Recipe Tips for Success
Marinara Sauce. Make a batch of this incredible homemade marinara sauce on your food prep day. It's easy, authentic, uses only a few pantry ingredients, and freezes beautifully. Makes a big bath so you always have some on hand for recipes (like my decadent vegan lasagna!). Freeze it in 2 cup containers for convenience.
Cashew Cream Sauce. A magical ingredient in a dairy-free or vegan kitchen (if no nut allergies of course). Easy to make, super customizable, and incredibly rich and indulgent. Use a high-power blender like a Vitamix (affiliate link), and your sauce will be ready in a few minutes! If not, soak the cashews for a couple hours (just pour boiling water over the cashews in the blender and replace the lid) for the creamiest results.
Vegetables. Take the time to coax flavor out of the sautéed vegetables - don't rush this step. Add the vegetables in order of cooking time (harder veggies like cauliflower, kale, and brussel sprouts first; softer veggies like spinach and leftover or pre-cooked veggies last). Pro Tip: This recipe is a great opportunity to use food scraps too eg. cauliflower and broccoli stems, mushroom stems, etc.
Time Management. The is an easy recipe to manage. Chop vegetables and aromatics. Begin the saute. Start the pasta water. Make the cashew cream. Add remaining vegetables and marinara to pan. Cook and drain pasta (reserve 1 cup pasta water to thin sauce). Add cashew cream to marinara sauce. Serve over hot pasta with chopped fresh herbs on top.
Storage and Leftovers
Luscious creamy tomato sauce is delicious leftover for lunches or dinner later in the week. For the best flavor and texture, use the sauce up in 2 or 3 days.
Store the pasta and sauce separately in the fridge for best results.
Reheat in pan over low-medium heat or in the microwave.
More Easy Vegan Meal Recipes
Some simpler vegan (vegetarian) dinner ideas for everyone - from newbie vegans and new cooks to anyone who loves incredible, cozy, vegan comfort food:
Chickpea Mushroom Bake - fuss free family meal that's healthy, easy, and delicious.
Vegan Lasagna Roll Ups - easiest lasagna recipe, super delicious and mega pretty.
Fast Fresh Tomato and Spinach Fettuccine - incredible flavor and super easy!
One-pot Vegan Chili - everyone loves this easy, meaty chili recipe - I think you will too!
Cauliflower-Chickpea Tacos with Dilly Slaw - easy, healthy, protein rich vegan tacos.
Did you make this creamy vegan Rosé Sauce with veggies recipe?
If so, please leave a review & comment below. 
Follow me on Instagram  @ceeceecooks, and Facebook
NEVER MISS A RECIPE: Sign up for my email NEWSLETTER!
Originally posted December 2019, updated photos and instructions September 2021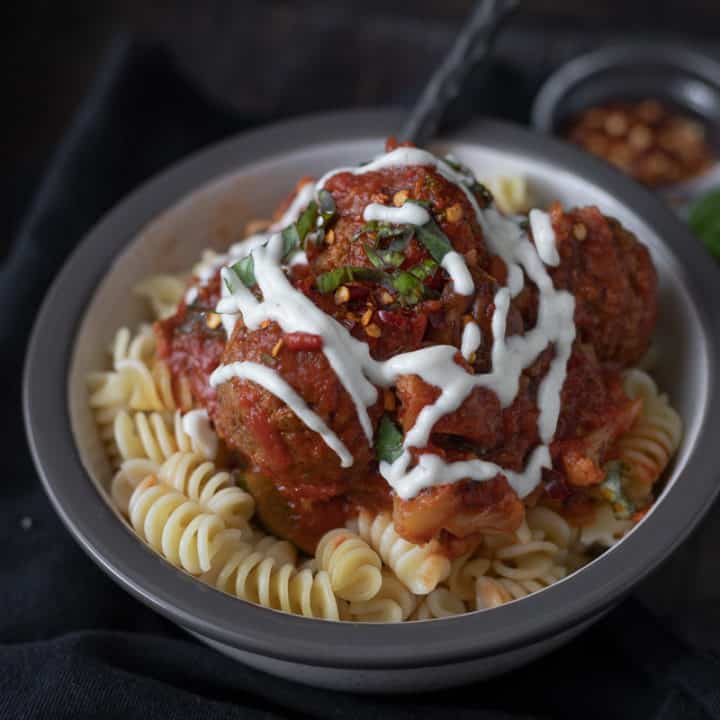 Rich Creamy Rosé Pasta Sauce with veggies
The most delicious creamy vegan Rosé (marinara with cashew cream) sauce ever!!!! Loaded with veggies like cauliflower, mushrooms, and leeks, this pasta is deliciously nourishing and filling. So easy to make, this dairy-free, oil-free, vegan recipe is perfectly indulgent and irresistible - vegan or not!
Rate this recipe!
INGREDIENTS
1

tablespoon

olive oil (if oil free, use a splash of broth)

1

leek or ½ cooking onion, diced

2

cloves

garlic, crushed

1

cup

mushrooms, rough chop

1

cup

cauliflower, small florets

1

cup

broccoli, small pieces

8-10

brussel sprouts, quartered*

1

small

zucchini, chunks

8-12

Gardein Meatless Meatballs (optional)

1-3

teaspoons

dry basil, oregano, thyme combo

4

cups

marinara sauce (or any red sauce)

1-2

handfuls

spinach, rough chop

½ - 1

cup

cashew cream recipe (link below)

1

teaspoon

red pepper flakes

4

servings

pasta

small bunch

parsley/basil, chopped
INSTRUCTIONS
Preparing the Vegetables
Wash and prepare the vegetables of your choice. Use any leftover veggies for this recipe - add them with the spinach since they won't have to cook for as long as the raw vegetables.

NOTE: Use more or less vegetables as per your personal preference. This recipe is totally customizable, choose any vegetables your family enjoys.
Leeks or Diced Onions
Trim end, slice through center and rinse dirt from leeks (they often hold a lot of dirt in their layers), thinly cross slice the white and light green parts of the leek and set aside.

Save the dark green section (which is tougher) for a stew or bake where you are cooking it for longer.

OR use ½ a white/yellow onion, diced.
Cauliflower and Broccoli
Trim the large stalks to add as small dice (or save them for soup, stir fry or ricing) separate or cut into bite-size florets.
Other Vegetable Options
Pro Tip: This is a great recipe to use vegetable scraps because you cut them up and saute them. So use up your cauliflower and broccoli stems, mushroom stems, etc. Keep the bits and bobs and ends of veggies from preparing meals and salads all week and then make this yummy veggie forward rosé sauce on Sunday.

Cut the vegetables into a variety of shapes and sizes to keep the texture of the dish interesting.

Mushrooms - use a variety of mushrooms (rough chop or cut button mushrooms in half)

Brussel sprouts - either cut into quarters or shred 

Zucchini - cut into thick slices and then into quarters (chunks) or dice

Spinach - stack, roll, and slice into ribbons or rough chop
Pasta
Put salted water on to boil for the pasta. I used spaghetti (Kamut) but this recipe works well with any pasta and is especially good with penne or rotini. Cook as per package directions.

* Reserve a cup of water when draining.
How to Make Creamy Tomato Sauce
In a large stirfry pan, heat oil (use a splash of broth if oil free), leeks or diced onions, garlic, and mushrooms.

Saute for a few minutes until soft and translucent over medium heat.

Add all the 'hard' veggies - cauliflower, broccoli, brussels - stir and saute for 5-7 minutes. Deglaze with a splash of broth or wine as you go.

Add zucchini and meatballs (if using) saute for another 2 or 3 minutes.

Add dry spices - oregano, basil, thyme, any Italian spices plus salt and pepper, red pepper flakes to taste.

Stir in spinach (plus leftover cooked veggies if using).

Reduce heat and let simmer for 5-10 minutes or until meatballs are done*.

If the sauce is too thick, add in some or all of the reserve pasta water to desired consistency.

Taste for seasoning and adjust if necessary.
Vegan Meatballs
* If you are going to add the Gardein meatless meatballs, add them when you add the zucchini and then simmer sauce until meatballs are done (see package directions).
Just before serving, swirl a dollop (¼ - ⅓ cup) of cashew cream into the sauce and simmer until warmed through.
To Serve
Divide the pasta onto 4 plates or bowls, smother in creamy tomato rosé sauce, an extra swirl of cashew cream, a couple meatless meatballs (if using), a sprinkle of hot pepper flakes, and chopped fresh parsley/basil.

Serve with crusty bun or wedge of warm bread to scoop up the last of the creamy sauce and any tasty bits!
NOTES
VEGETABLES - cook the hardest vegetables first, then add the tender vegetables and leftover vegetables (already cooked). This recipe is great for using up left0ver vegetables like cauliflower and broccoli. Use any combination of vegetables your family likes.
CASHEW CREAM - if you do not have a high-power blender like a Vitamix, you will need extra time to soak your cashews for the creamiest best result. An hour or more in boiling water is sufficient - but you can soak them in cold water overnight as well.
PASTA - use any pasta you have on hand. Penne and rigatoni are a a good choice as the twists and turns hold lots of sauce and veggies.
MEATBALLS - the meatballs are optional but a delicious addition. Our favourite brand is Gardein. Just tuck them into the sauce as it's simmering.
STORAGE - This pasta sauce stores well in the fridge for 2 or 3 days. If possible store the pasta and sauce separately for best results. 
This recipe is from simplyceecee.co food blog. All images and content are copyright protected. Please do not use my images or republish this recipe without prior permission. Thank you.