The best salty, crunchy high protein vegan snack ever! Quick, easy, and oh so delicious, these crispy chickpeas are roasted to perfection in the air fryer and stay crunchy for days. An irresistible vegan snack on the go, they also add incredible texture sprinkled on salads, tofu bowls, wraps, and soup.
Keep reading for a bonus Chocolate Chickpea Bark recipe that is totally addictive!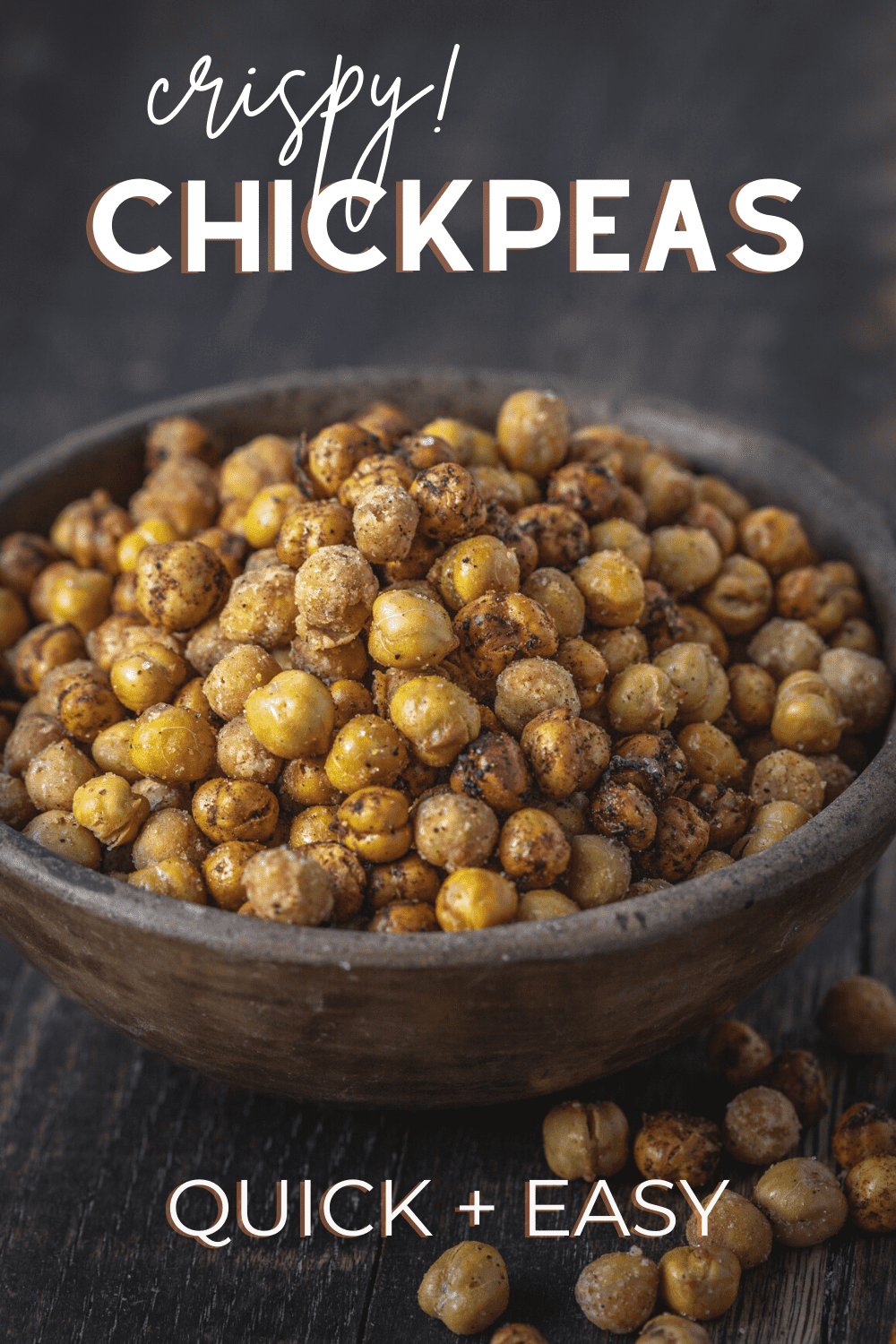 Why You'll Love Crispy Chickpeas
stay super crispy for days
healthy - gluten-free, oil-free friendly, allergen free, plant based, vegetarian/vegan
high protein vegan snack and a great source of fiber
quick and easy to make with only 3 ingredients!
cheap and delicious
easy snack for parties, game day, roads trips and hostess gifts
versatile - season with any flavors
How Do I Make Extra Crispy Chickpeas?
There are severals methods for making crispy chickpeas including roasting, deep frying, pan frying or air frying. Air fryer chickpeas is by far my favorite method!
The secret to crispy chickpeas that stay crunchy for days: dry roasting! Let me show you what I did to make mine:
Preheat the air fryer (390º F) while you drain and pat the chickpeas (aka garbanzo beans) dry.

Place raw chickpeas in air fryer basket and let roast until dry and crisp. Shake the basket every 5 minutes until desired crunchiness.
Remove the air fryer basket (careful, it's HOT), spray the chickpeas with cooking oil or toss with oil and seasoning shaking the basket until coated.

Return the seasoned chickpeas to the air fryer for a few minutes to get that final layer of golden crispness. Tip out onto a baking sheet to cool completely.

Store at room temperature in an open bowl or glass jar (no lid) for several days.
That's it - enjoy!
Flavor Options
Enjoy crunchy chickpeas tossed in savory, sweet or salty seasonings for a healthy vegan snack! Popular flavors: Ranch, Buffalo, Cajun, Salt and Vinegar, Chili Lime, Indian curry or parmesan seasoning or here's a few more suggestions:
Salty-Sweet - toss with sugar and salt. Add cinnamon too!
Taco Seasoning - homemade taco blend or store bought.
Savory Sage-Onion - savory sage-onion-garlic seasoning blend and a pinch of sugar.
Everything But The Bagel Seasoning - fabulous of course!
Recipe Tips
The biggest challenge making crispy chickpeas is to find the perfect cooking time so they stay crisp. If you underbake them, they are chewy in the middle, not crunchy enough, and soft the next day. If you over cook them, they are dry and dusty. Perfectly cooked chickpeas are crunchy and shatter into a crispy, salty explosion when you bite into them.
For extra crunch - cooking time is what determines how crisp the chickpeas are, and if they maintain crispness. I recommend testing a chickpea each time you shake the basket to determine crispness. Roasting time depends on how hot your air fryer is, how crowded the basket is, how much oil you add and when.
How to store air fried chickpeas - store the chickpeas at room temperature in an open bowl, paper bag or glass jar (no lid). Cool completely on baking sheet before transferring to storage container. Do not store in plastic bag or the fridge.
Oil-free version - for reduced calories or oil-free option, sub the oil for an equal amount of aquafaba. The chickpeas won't be as crispy, but are still delicious.
Ways to Serve Crispy Chickpeas
Now that you've made crispy chickpeas, how will you use them? Here's a few ideas:
As a healthy high protein vegan snack - grab a handful when you're craving something salty, sweet, spicy and crunchy. Or stir into your favorite trail mix to bump up the nutrition and crunch factor! Great for game day, parties, road trips, gym bags, athletic competitions or anytime!
As a salad topper - sprinkle crispy chickpea croutons on your favorite salad -Rainbow Salad, Vegan Southwest Salad or Vegan Caesar Salad.
Garnish for dinner - add extra crunch and plant protein to Buddha Bowls, Vegan Shawarma Wraps, and Stuffed Sweet Potatoes plus so much more.
As breakfast - delicious and nutritious mixed into granola over yogurt or sprinkled over avocado or peanut butter toast!
As a dessert - Chocolate Chickpea Bark Recipe: 1 ½ cups crispy chickpeas stirred into 1 cup melted vegan chocolate/chocolate chips with 1 teaspoon coconut oil. Spread onto parchment-lined baking sheet, dust with sea salt, and pop into the fridge/freezer until set. Break into chunks and enjoy this salty, sweet, crunchy high protein vegan snack for dessert or at parties. Makes a perfect (and easy) Valentine's Day or holiday gift!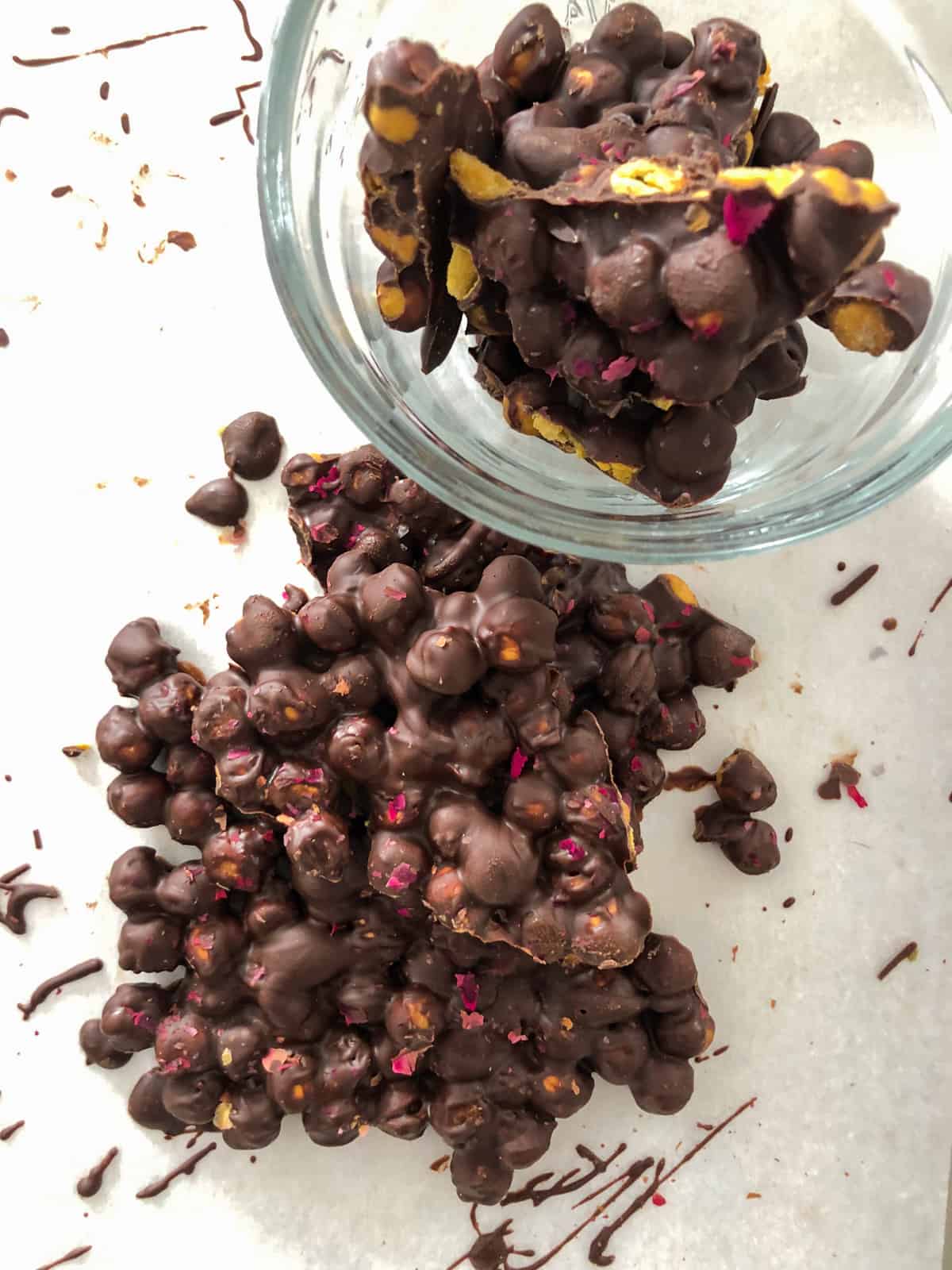 More High Protein Vegan Recipes
Where do vegans get their protein? Here's a few more vegan recipes with high protein that are gluten-free and ultra delicious - enjoy!
Did you make this recipe? I'd love to see it!
Please let me know in the comments. Thank you so much for sharing!
Tag me on Instagram
NEVER MISS A RECIPE: Sign up for my email NEWSLETTER!
Crispy Crunchy Chickpea Recipe (air fryer)
Grab a handful of these crispy chickpeas when you're craving a crunchy, salty snack! Super crispy, healthy (gluten-free and protein rich) chickpeas are quick and easy to make, super versatile, and stay crunchy for days. Add them to your Trail Mix to bump up the crunch factor, use them as chickpea croutons in salad or sprinkle over a nourish bowl to bump up protein, fiber and yumminess.
Rate this recipe!
INGREDIENTS
19

ounce can

chickpeas

1-2

teaspoons

olive oil (or cooking spray)

sea salt to taste

1-2

teaspoons

seasoning (more to taste)
INSTRUCTIONS
Preheat the air fryer to 390º F.

Open and drain the chickpeas in a colander.

Spread the chickpeas out on a kitchen towel (or paper towel) and pat dry. If there are any obvious loose skins, remove them.

Transfer to the basket of the air fryer. Dry roast the chickpeas until desired crispiness is reached (~12-15 minutes).

Every 5 minutes or so, shake the basket to help the chickpeas cook evenly. This is a good time to test a chickpea for crispiness level.

After 12 - 15 minutes, spray the chickpeas with cooking oil (or drizzle 1 - 2 teaspoons of oil over chickpeas) while shaking the pan vigorously to evenly coat. Sprinkle with spice of choice.

Return to roast for another 2-5 minutes. With my air fryer, 17-18 minutes total roasting time produces perfectly crisp chickpeas that stay crispy all week.

Test and add more spices to taste. Pour the chickpeas onto a baking sheet to cool completely before storing in an open bowl or jar (no lid) at room temperature. Enjoy!
NOTES
Roasting Time - with my Air Fryer* 17-18 minutes total roasting time produced perfectly crispy chickpeas that stayed crisp for days. Individual results will vary so test a chickpea everytime you shake the basket to determine perfect roasting time for your fryer.
I have a small air fryer (I will buy a larger one when it's time to replace).
Soft/Chewy - once the chickpeas cool down, if they aren't as crisp as you wanted, put them back into the air fryer for a minute or two!
Seasoning - add as much seasoning as desired (start with 1 - 2 teaspoons). Sprinkle extra seasoning on when the chickpeas come out of the air fryer as needed.
Oil - use any oil (olive oil, avocado oil, coconut oil, neutral oil), cooking spray* or skip altogether (use 1 teaspoon aquafaba in place of oil so the seasoning with stick to the chickpeas). *I like the cooking spray option because it doesn't take much and makes the chickpeas super crispy.
BONUS TIP: Aquafaba keeps well in the fridge all week or save it in 1 tablespoon measures in an ice cube tray. Freeze then transfer cubes to a bag or container and store in the freezer for up to 3 months to use in baking and cooking in place of eggs.
How to Store Crispy Chickpeas - to ensure they stay crisp: spread the roasted chickpeas out on a baking sheet in a single layer and let them cool completely before storing them. Store in an open bowl, paper bag or glass jar - no lid. Not recommended to store in plastic or fridge. 
This recipe is from simplyceecee.co food blog. All images and content are copyright protected. Please do not use my images or republish this recipe without prior permission. Thank you.