Say hello to our newest potato obsession - ultra crispy, buttery, smashed potatoes!!! Creamy and delicious on the inside, but super crispy and buttery on the outside - these oven roasted potatoes are very addictive and irresistible - vegan and gf too!!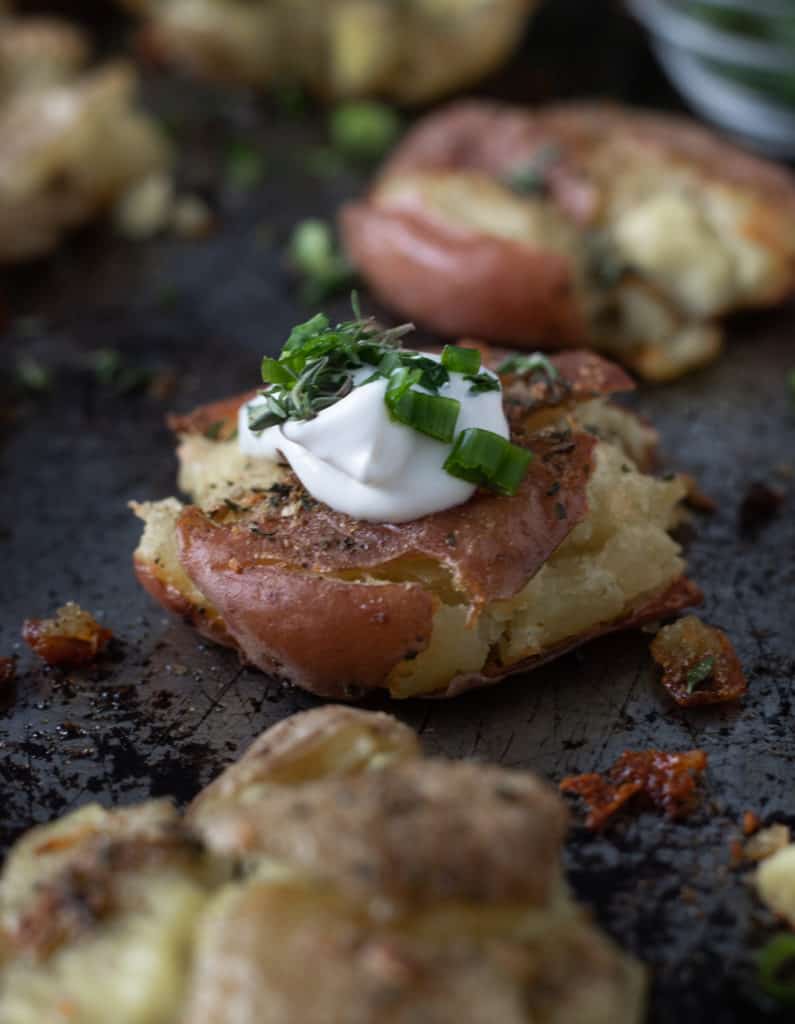 Easy recipe that can be made ahead (which is great for holiday entertaining) and make a delicious appetizer, snack or a side dish at family dinners. You're going to go crazy for these incredible, craveable, smashed potatoes - everyone does! Try a drizzle of lemon gremolata for a zesty twist!
These smashed potatoes are sooo freaking delicious! Fluffy, creamy centers wrapped in a crispy golden crust, perfectly spiced with sage-onion-garlic seasoning and a drizzle of garlicky-herb infused butter. The seasoning is a bit salty and savory - holiday inspired - with little bits of onion that become crunchy and simply irresistible when baked. Be warned they are indulgent and addictive tho . . .
Everything You'll Need to Make Crispy Potatoes!
Only a few pantry items and some time in the oven:
Potatoes. I typically choose small red or golden/yellow potatoes. Fingerling potatoes work well too. Small potatoes get crispier while the medium size baby potatoes have an irresistibly creamy center and crispy edge! I leave the skins on.
Spices. Sage-onion-garlic spice blend for festive flair. Customize to your preference.
Infused Oil. I recommend a combination of butter for flavor and oil so they don't burn! I infuse my butter-oil mixture with garlic cloves and fresh thyme.
Topping Suggestions. Sour cream, tahini sauce, tzatziki, pesto or lemon gremolata.
Garnish. Chives or other fresh, chopped herbs like parsley, cilantro or mint.
How to Make the Best Crispy Potatoes
These oven roasted potatoes are really easy to make - great for a new or beginner cooks or your first time making the big Christmas (or any holiday) meal. There are a few extra (but simple) steps, they can be prepared ahead of time, and everyone will rave about them: vegans, vegetarians, and meat eaters all LOVE this smashed potato recipe.
Start by boiling the potatoes until fork tender.
Drain and let the potato skins air dry.
Transfer to an oiled baking sheet. Pro Tip: Don't crowd the potatoes, leave room for air to circulate around them while they roast.
Time to smash/squish* the potatoes to open them up and increase the surface area for optimal crispiness. Use a potato masher, fork, cup or mug (see photos) brushed with oil to prevent sticking.
Butter/oil - drizzle or brush with the garlic-herb infused butter/oil mixture.
Season the potatoes - I use sage-onion-garlic spice blend to bring traditional holiday flavors to the potatoes, but sub in any favorite spices like garlic or onion powder, s&p.
Roast in oven until tender inside and crispy outside.
Pro Tip: *Don't annihilate the potatoes - gently squish about halfway through. If some potato chunks break away when squishing, just push them back in. The stray bits become super crunchy, buttery, and delicious as they bake.
While the potatoes are roasting, make sauce, toppings, and garnishes of choice.
Serving Suggestions
Some popular and delicious sauces that pair well with potatoes: sour cream and chives/green onions, dairy free cheese (add the last few minutes of roasting), tahini, vegan tzatziki or tartar sauce. More vegan sauces recipes.
Here's some suggestions for serving crispy vegan smashed potatoes:
as an appetizer at parties.
as a snack for game night or date night!
for brunch with tofu scramble, guacamole, and pico.
use leftovers in vegan bowls or sheet pan weeknight meals.
as a Thanksgiving or Christmas side dish smothered in vegan gravy!
Make Ahead and Storing Tips
Can smashed potatoes be made ahead of time you ask? Absolutely! Boil, dry, and smash the potatoes. Place in the fridge, covered, until ready to bake. Drizzle with oil and season before placing into the preheated, hot oven. Bake as directed.
Store any leftover potatoes in the fridge for 2 or 3 days. To reheat, place on baking sheeting in a hot oven, pop into the airfryer or in the microwave until warmed through.
More Easy Vegan Recipes
Delicious anytime, but perfect for holidays like Christmas, here's a few more our our favorite vegan recipes:
Did you make this crispy smashed potatoes vegan recipe? I'd love to see it!
Please let me know in the comments. Thank you so much for sharing!
Tag me on Instagram
NEVER MISS A RECIPE: Sign up for my email NEWSLETTER!
Ultimate Crispy Smashed Potatoes (vegan)
The crispiest smashed potatoes with perfectly golden edges and creamy centers. Everyone loves these easy, smashed potatoes served as an appetizer or side dish! Absolutely irresistible drizzled with sour cream, tahini or pesto - all vegan and gluten free of course!
Rate this recipe!
INGREDIENTS
10-12

potatoes (baby or fingerling)
Garlic-Herb Infused Oil
1

tablespoon

oil

2-3

tablespoons

butter

4

cloves

garlic, sliced in half

4-6

sprigs

fresh thyme

2

tablespoons

sage and onion spice, more to taste

pinches

salt to taste
Potato Toppings & Garnishes
⅓

cup

sour cream

¼

cup

green onions/chives, sliced

fresh thyme/parsley, chopped
INSTRUCTIONS
Choose 10-12 small to medium size baby potatoes.

Boil in salted water until fork tender (depending on size) ~15-20 minutes.

While potatoes are boiling, preheat the oven to 425º F with rack in middle position. Brush a baking sheet with oil.

Strain the water, leaving the potatoes in colander to air dry.

Transfer potatoes to the prepared baking sheet. Leave room between the potatoes so they do not touch when crushed.
Smashing the Potatoes
Brush oil on the bottom of a glass, potato masher or even a fork. Apply medium pressure to smash the potatoes (about half way through thickness).

The goal is to create some edges and texture on the top that will get crispy when baked at high heat while leaving a creamy center. *The more rough edges on the surface of the potato, the crispier they will become.

Drizzle or brush with infused oil-butter, sprinkle with spices and salt.

If the potatoes fall apart a bit while being squished, just push them together.

Bake until crispy and golden - about 20 minutes or longer to personal preference.
Sage-Onion-Garlic Spice Blend Recipe
Garlic and Thyme Infused Oil
Place oil and butter in a small saucepan over medium-low heat. Add garlic and herbs. Let simmer while the potatoes are cooking.

Store any extra infused oil in a small jar in the pantry to use in stir fries, soups, stews or to drizzle over sheet pan veggies, etc.
To Serve
Remove crispy potatoes from oven, add a dollop of sour cream or sauce, sprinkle with fresh herbs, and devour immediately.
NOTES
Choose potatoes that are small(ish) around the size of a golf ball or slightly larger.
Once smashed, be sure there is some space between the potatoes so the edges can get nice and crispy.
Make potatoes, garnishes, and sauce earlier in the day and store in the fridge until right before dinner or party. Then pop in the oven or airfryer until golden and crispy!
Leftover potatoes can be stored in the fridge then warmed in microwave, oven or airfryer before serving over the next few days.
This recipe is from simplyceecee.co food blog. All images and content are copyright protected. Please do not use my images or republish this recipe without prior permission. Thank you.