Vegan tzatziki sauce is easy to make in 5 minutes! Tangy, fresh, and creamy, this dairy-free tzatziki is the perfect sauce for vegan gyro, shawarma, grilled veggies, and taco bowls. It's a top 3 favorite vegan sauce in my family!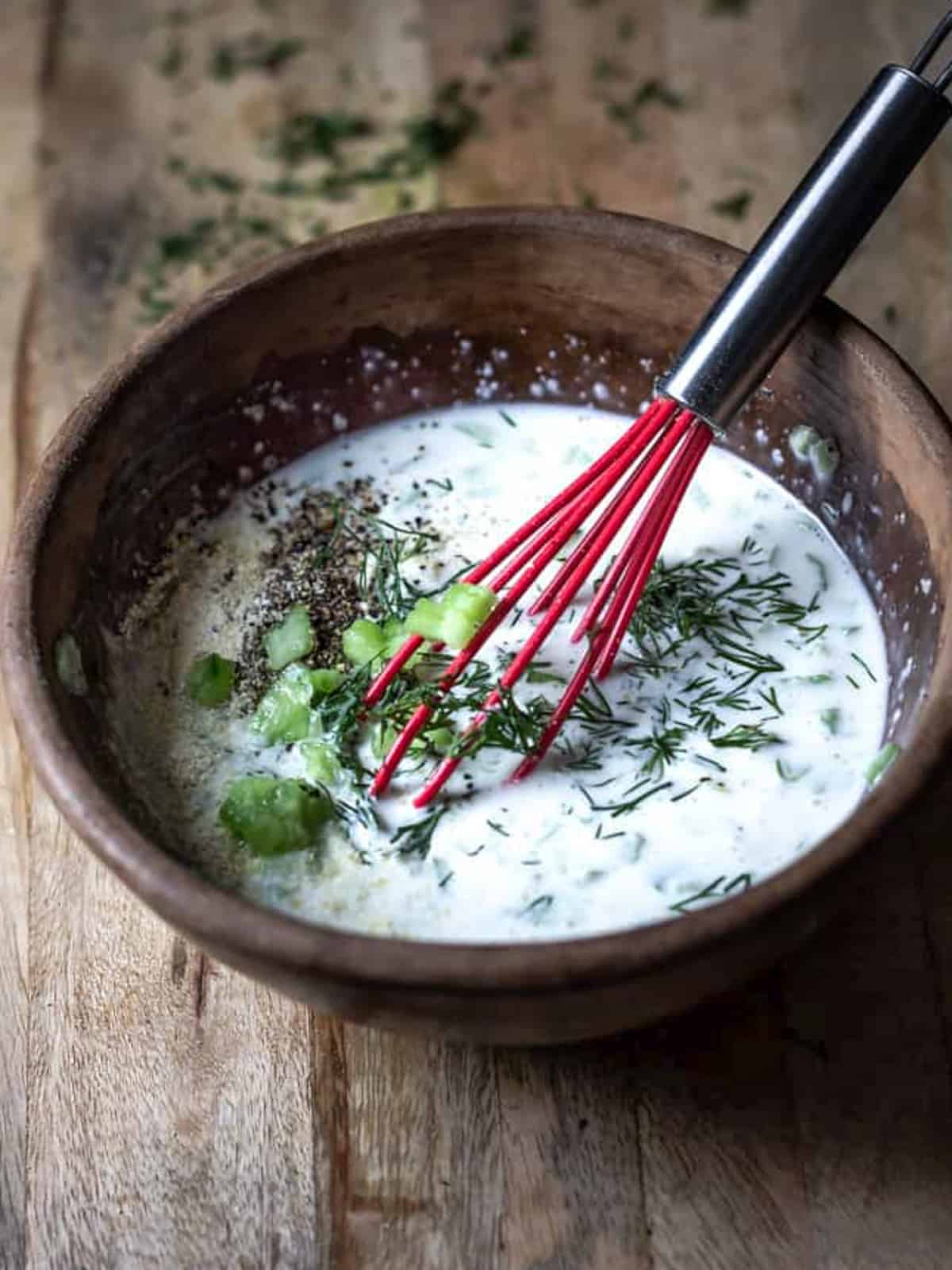 Sometimes you just need a tasty, creamy sauce to take your meal to the next level. My son always sits down for dinner and asks, 'Where's the sauce?'. What can I say, we're a saucy family!
This vegan tzatziki sauce is one of my favorite vegan sauces just like my sweet and spicy tahini sauce, everyday tahini sauce, honey lemon vinaigrette, and cashew cream sauces it's effortless to make and tastes delicious on everything!
Tzatziki Ingredients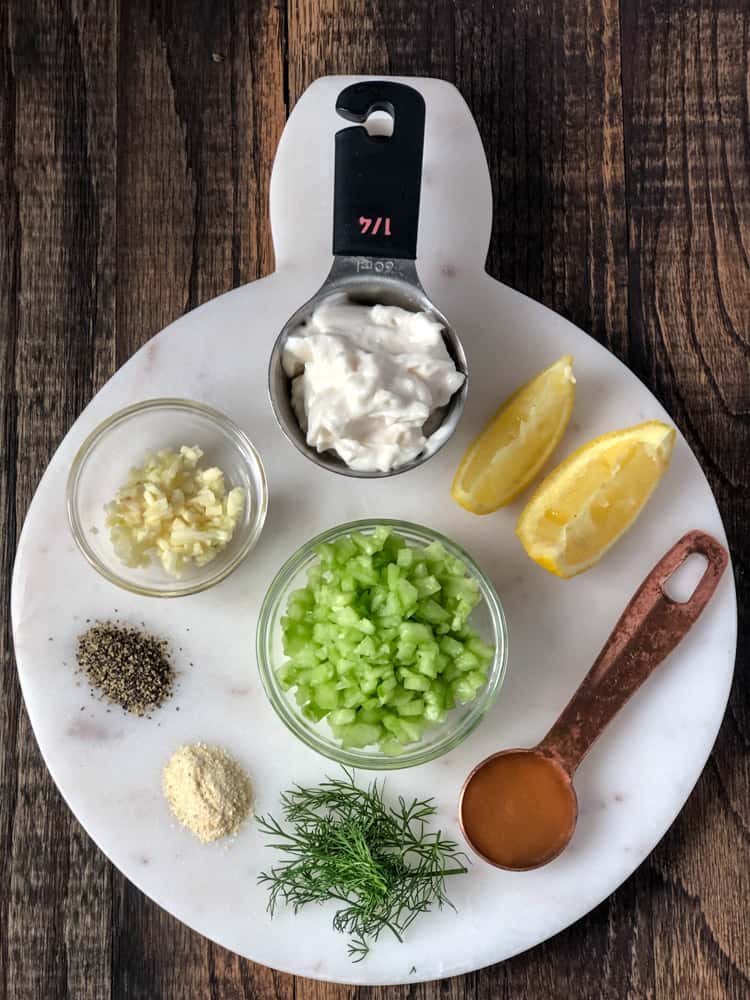 An authentic tzatziki sauce is traditionally made with a yogurt base, but I've opted for a twist in my dairy-free tzatziki version. Our family loves this vegan tzatziki made with a Vegenaise (vegan mayo) base, but I've included 2 more options to create that perfect creamy base for this dip: cashews and also dairy-free coconut yogurt.
For all 3 versions, here's what you'll need: vegan mayonnaise (cashew cream or plant-based yogurt), apple cider vinegar, lemon juice, fresh garlic, cucumber (small or Persian cucumbers), fresh dill, salt and pepper.
Ingredient Substitutions & Variations
This plant-based tzatziki is pretty versatile, here's a few ideas for customizing ingredients to suit your personal preference:
Creamy base: I use Vegenaise, and we love it! It makes a thinner tzatziki sauce perfect for drizzling or as a slaw dressing. However, you can successfully sub in an equal amount of thick cashew cream or unsweetened Greek style vegan yogurt (coconut milk yogurt).
Change up the acid: use white vinegar or apple cider vinegar or a combination with fresh lemon juice for different flavors and levels of tanginess.
Fresh Garlic: add more or less garlic to taste. I prefer fresh garlic, but you could use garlic powder.
Play with herbs: dill, parsley or mint are great choices.
Make it chunkier: add more cucumber for a chunkier sauce.
Make it richer: add 1 teaspoon extra virgin olive oil for a richer mouthfeel.
Make it spicy: we sometimes add a tablespoon of sriracha for a hit of heat (especially to slather on burgers and sandwiches).
Let's Make Vegan Tzatziki!
Super easy and fuss free to make, all you need is one bowl and 5 minutes to make this creamy vegan tzatziki sauce/drizzle/dressing. Here's the method: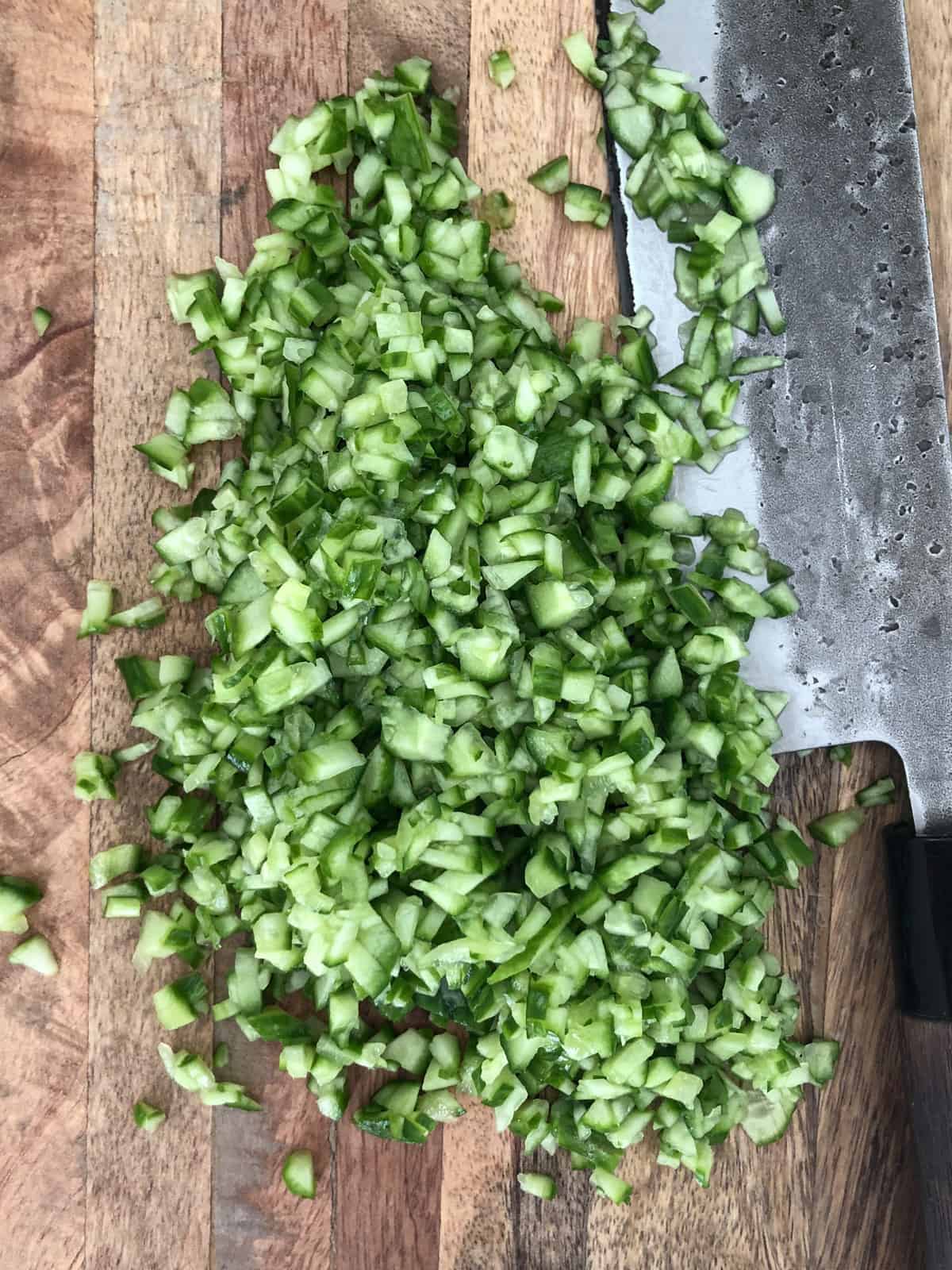 Prepare the cucumbers: Remove the seeds from the mini or Persian cucumber then finely dice or grate. Wrap the diced cucumber in a paper towel and squeeze to wring out the excess liquid before adding to the tzatziki sauce so it's not watery. If using an English or field type cucumber, you'll probably want to peel it first - your choice.
Chop/mince the fresh herbs. Mince or grate the garlic clove.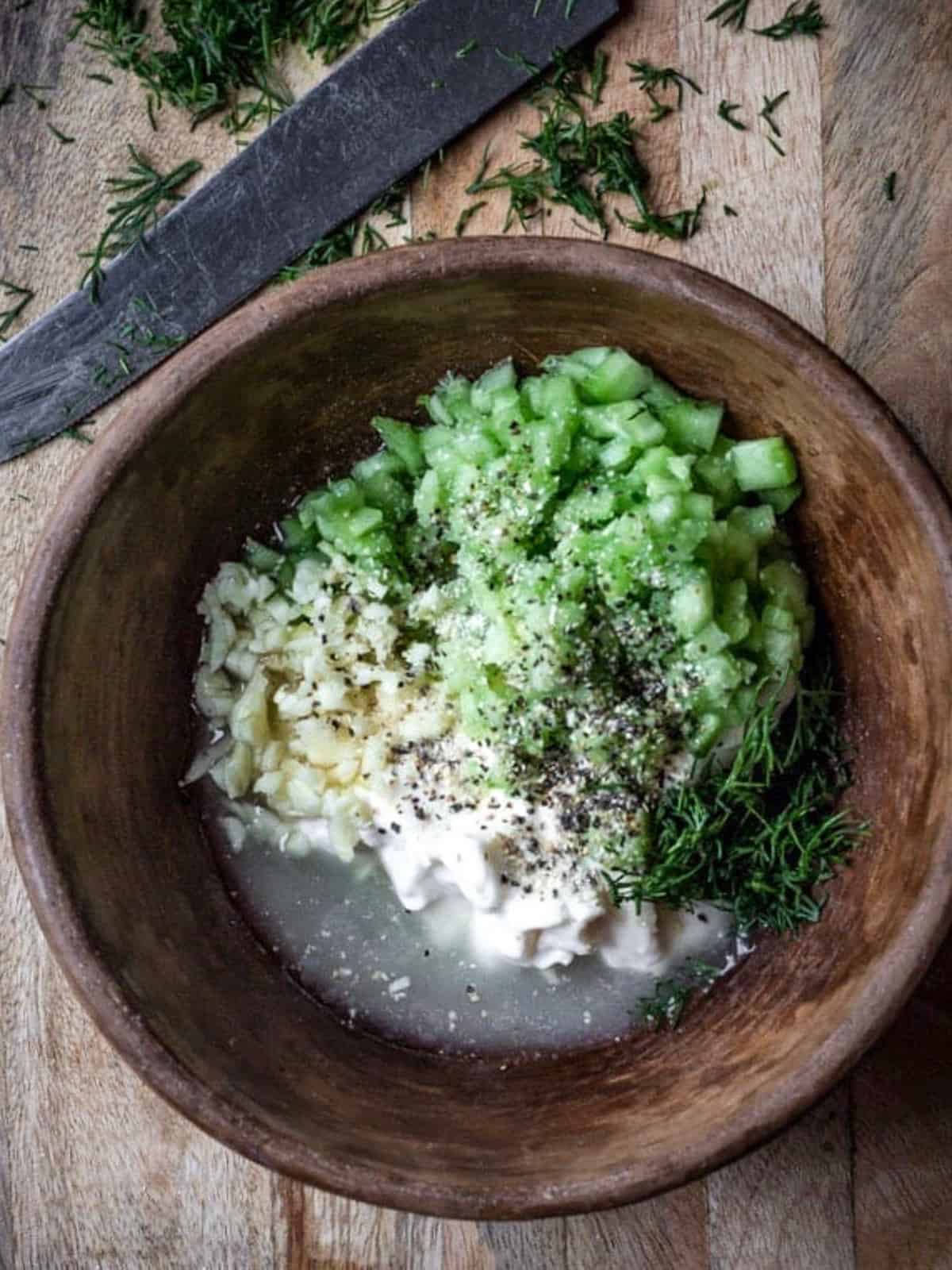 Whisk all the ingredients together in a small mixing bowl. Taste and adjust seasonings to your taste.
Chill until ready to use. The tzatziki sauce will thicken as it chills.
Vegan Tzatziki (cashew based)
This is the thickest of the 3 dairy-free tzatziki versions which is perfect for dipping or slathering on tacos, burgers and vegan gyro. The cashew base is naturally slightly sweet so to balance the flavor, I typically use apple cider vinegar or white vinegar and an extra sprinkle of salt. Customize your own tzatziki - mix and match the acids and herbs to find the right flavor and texture balance for your preference. Here's how to make it: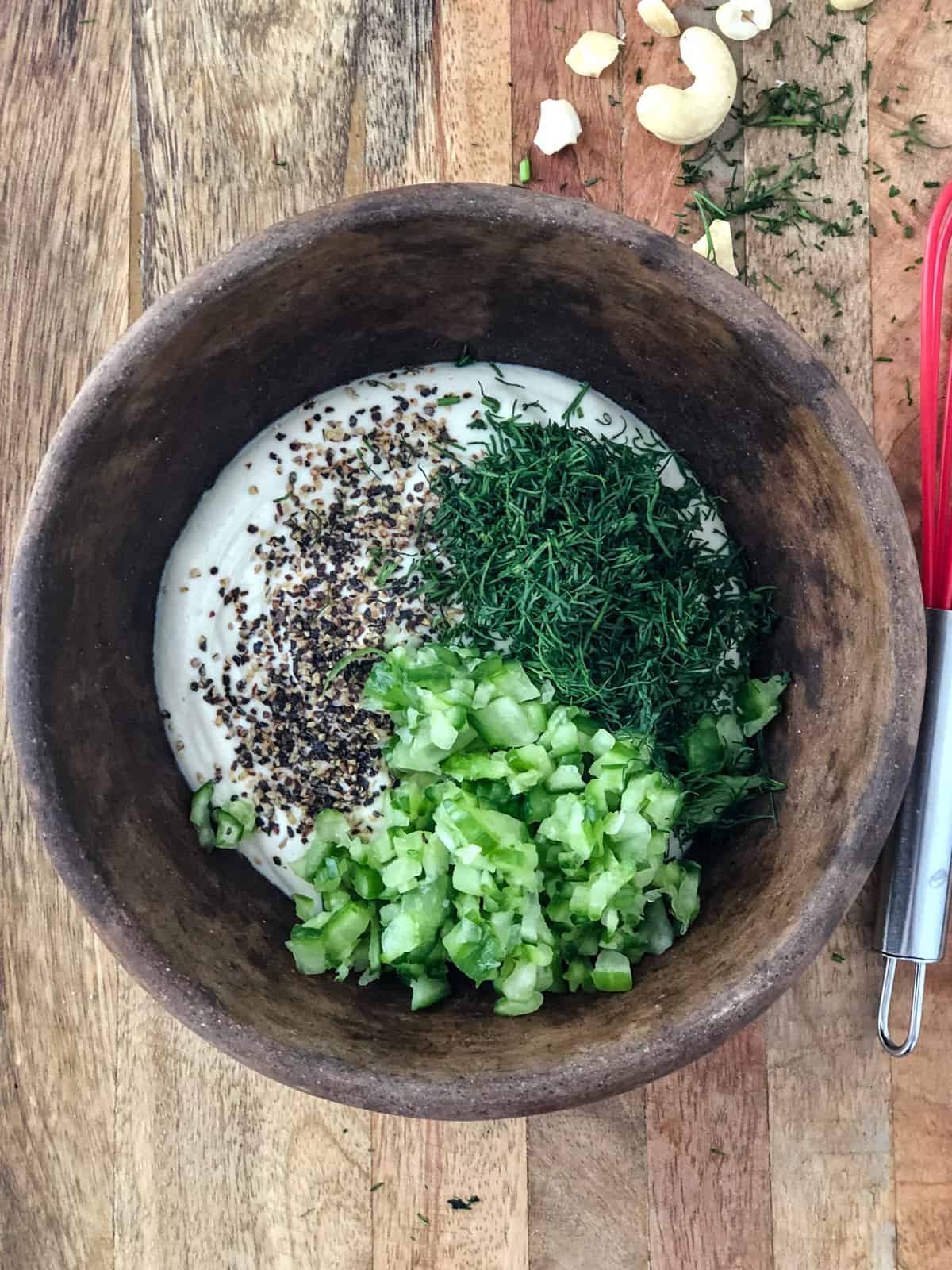 Blend the ingredients: Place ½ cup raw cashews, 2 tablespoons water, 2 tablespoons acid (lemon juice/apple cider vinegar/white vinegar), garlic clove/s, and salt in a high power blender and blend until smooth and creamy. Add additional water if required for thinning. (If your Vitamix is large, you may need to double this recipe to get a good smooth blend).
Stir in the remaining ingredients: Transfer the cashew sauce to a bowl, stir in the chopped cucumbers, dill, and pepper (onion granules and parsley if using). Taste and adjust seasonings to your personal preference.
Chill: The tzatziki will thicken as it chills.
Vegan Tzatziki Sauce with Dairy-free Yogurt
This more traditional version of tzatziki sauce is made with vegan yogurt. I had a difficult time finding a plant-based yogurt (where I live) that had a neutral enough flavor and a thick enough texture for my liking. I tried a few that were good, but not great (hence the other 2 delicious versions above).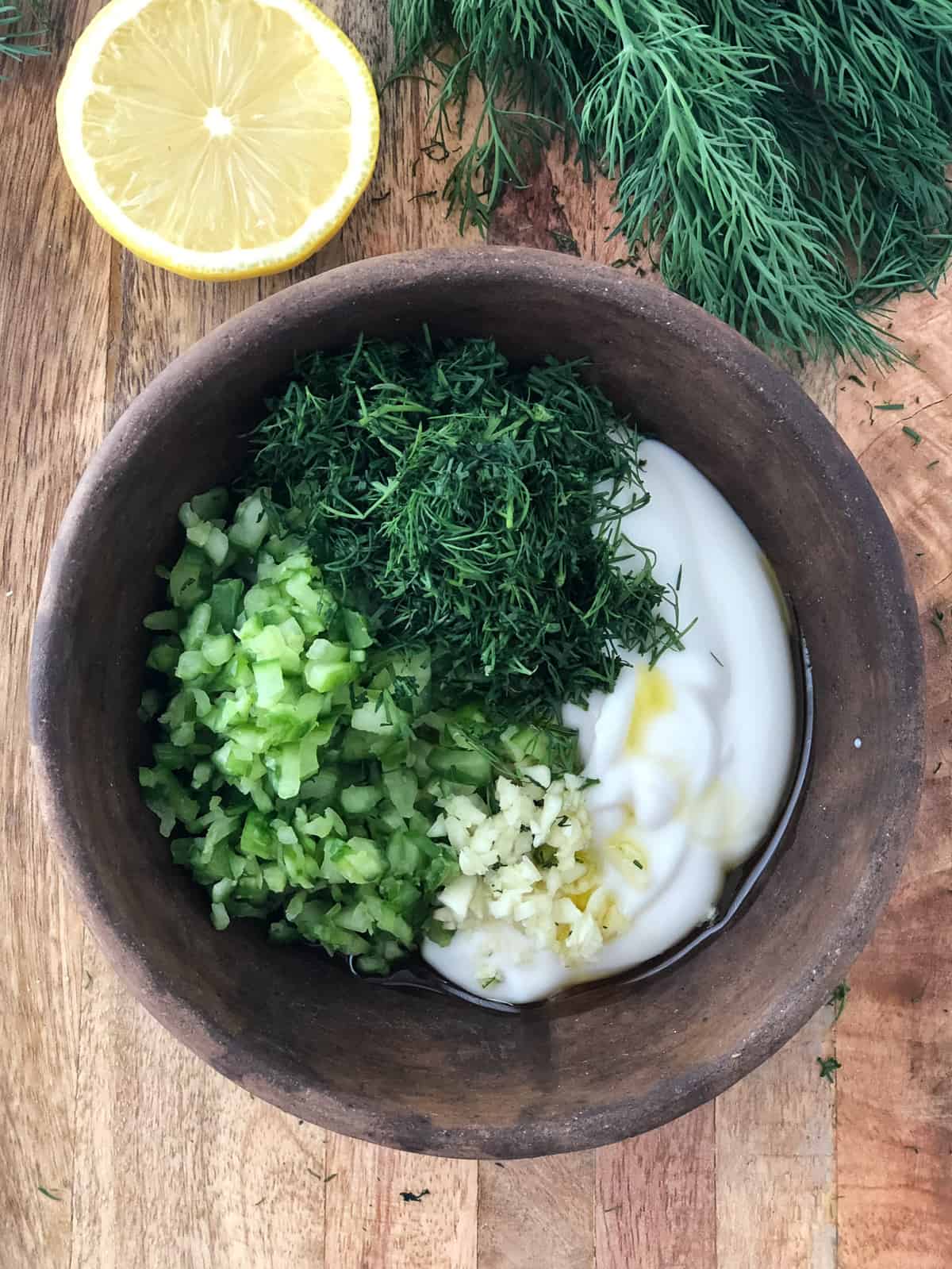 To make this vegan tzatziki sauce using yogurt, follow the same directions as the mayo version (and let me know which vegan yogurt you use!).
Tips
This vegan tzatziki tastes very much like the original, it's tangy creamy fresh and easy to make at home from scratch. Here's a few tips I've learned after making this vegan sauce for over a decade:
Remove excess liquid: The cucumbers can be grated or finely chopped then wrapped in a kitchen towel or paper towelling to squeeze out any excess liquid.
Should I remove the cucumber seeds?: Removing the seeds is a good idea to avoid a thinner/watery sauce.
Deseeding a cucumber: Cut the cucumber in half lengthwise. Hold one half in your hand and run a spoon down the seed spine from top to bottom with the other hand. It's quick and tidy.
Vegan Mayonnaise: The Vegenaise version is the tastiest, but thinnest of these three vegan tzatziki sauces IMO - perfect for drizzling! Start with 1 tablespoon of acid (lemon) mix everything together and add more as needed. It does thicken a bit in the fridge so make it a day ahead if you want a thicker sauce.
Optional Add Ins: I don't add oil, but I know it's popular and authentic to give the sauce a richer, creamier texture and mouthfeel. I don't think it's necessary in the cashew version which is already rich and creamy. The curly parsley is totally optional but adds freshness and color.
Storing and make ahead: all 3 versions get thicker and more flavorful as they chill in the fridge. It's a great make ahead dip for that reason! Make it a day or two in advance and store in a jar in the fridge for up to 5 days. The cashew based tzatziki may need a teaspoon of water to thin it after being chilled overnight.
What to Eat with Tzatziki Sauce
If you love this homemade tzatziki sauce as much as we do, here's a few ways to serve it:
More Vegan Sauces
If you love this ultimate vegan tzatziki sauce, here's a few other sauces and dips to try:
Did you make this recipe? I'd love to see it!
Please leave a star rating and comment at the bottom of the page.
Thank you so much for sharing! Tag me on Instagram.
For more Vegan Recipes: Sign up for my email NEWSLETTER!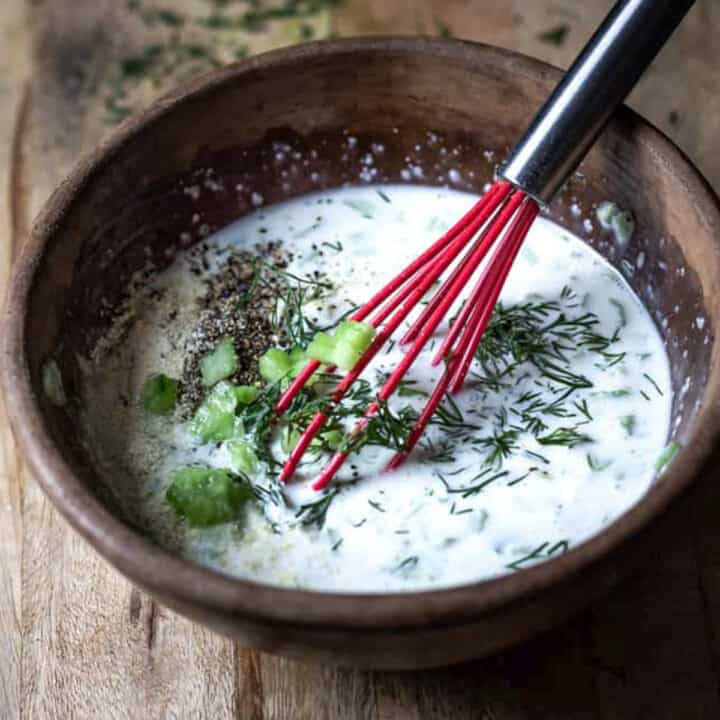 Vegan Tzatziki Sauce Recipe (3 ways!)
This vegan tzatziki sauce is creamy, tangy, dairy-free and ready in 5 minutes! Easy to make, oil-free and gluten-free, this plant-based tzatziki elevates all your favorite meals. Your choice of 3 creamy non dairy bases - coconut yogurt, cashews or vegan mayonnaise!
Rate this recipe!
INGREDIENTS
½

cup

Vegenaise (cashew cream or non-dairy yogurt)

1

teaspoon

apple cider vinegar

1 - 1 ½

tablespoons

lemon juice (to taste)

1-2

cloves

garlic, minced

1-2

Persian or mini cucumber

2

tablespoons

fresh dill, chopped

sea salt, to taste

coarse black pepper, to taste
Optional Add Ins
½

teaspoon

onion granules (or powder)

1

tablespoon

fresh curly parsley, minced

1

teaspoon

olive oil
INSTRUCTIONS
Instructions for the Mayo or Yogurt Base
Deseed the cucumber and peel (if required). Dice or grate the cucumber. Wrap the cucumber in a paper towel or kitchen towel - squeeze excess liquid. Set aside.

Peel and mince the garlic (1 or 2 cloves depending on the size and how garlicky you like your tzatziki). Chop the dill (and parsley if using).

Whisk all ingredients together in a small bowl (including any optional ingredients). Taste and adjust seasonings as desired.

Store in an airtight container or jar in the refrigerator for 4-5 days.
Instructions for the Cashew Base Option
Add ½ cup raw cashews, 2 tablespoons of water, apple cider vinegar, lemon juice, and garlic cloves to a high speed blender. Blend until smooth and silky.

Transfer the cashew sauce to a bowl, add the prepared cucumber, chopped dill, salt, pepper (onion granules and parsley if using), and whisk together. Taste and adjust seasoning to your personal preference.

Pro Tip: because the cashews have a natural sweetness, I typically use apple cider vinegar and/or white vinegar in place of lemon juice. And an extra pinch of salt.

Store in an airtight container or jar in the refrigerator for 4-5 days. Tzatziki sauce thickens as it chills.
NOTES
Dairy-free mayonnaise: I love Vegenaise but any vegan mayo will work.
Cashew cream or yogurt base: Sub in an equal amount of thick cashew cream or Greek style non-dairy yogurt for the Vegenaise.
Cucumbers: I use the mini or Persian cucumbers they are the perfect size for this tzatziki sauce, have thin skin (leave the peel on) and a low seed content. Add more cucumbers for a chunkier sauce OR less for a smoother texture.
Garlic: Add more or less garlic to taste. I use 1 large garlic clove or 2 small.
Lemon juice: Use freshly squeeze lemons, white or apple cider vinegar for the tanginess.
Dill: Fresh is best, but use dry dill in a pinch. If using dry, start with 1 teaspoon, stir together, taste and adjust to your preference.
Storage: Keep refrigerated in a jar for up to 5 days.
This recipe is from simplyceecee.co food blog. All images and content are copyright protected. Please do not use my images or republish this recipe without prior permission. Thank you.