These soft and buttery homemade breadsticks (vegan) are so easy to make using all purpose refrigerator dough. They are light, fluffy, and oh so addictively delicious bathed in garlic butter then sprinkled with vegan parmesan cheese and Italian seasonings.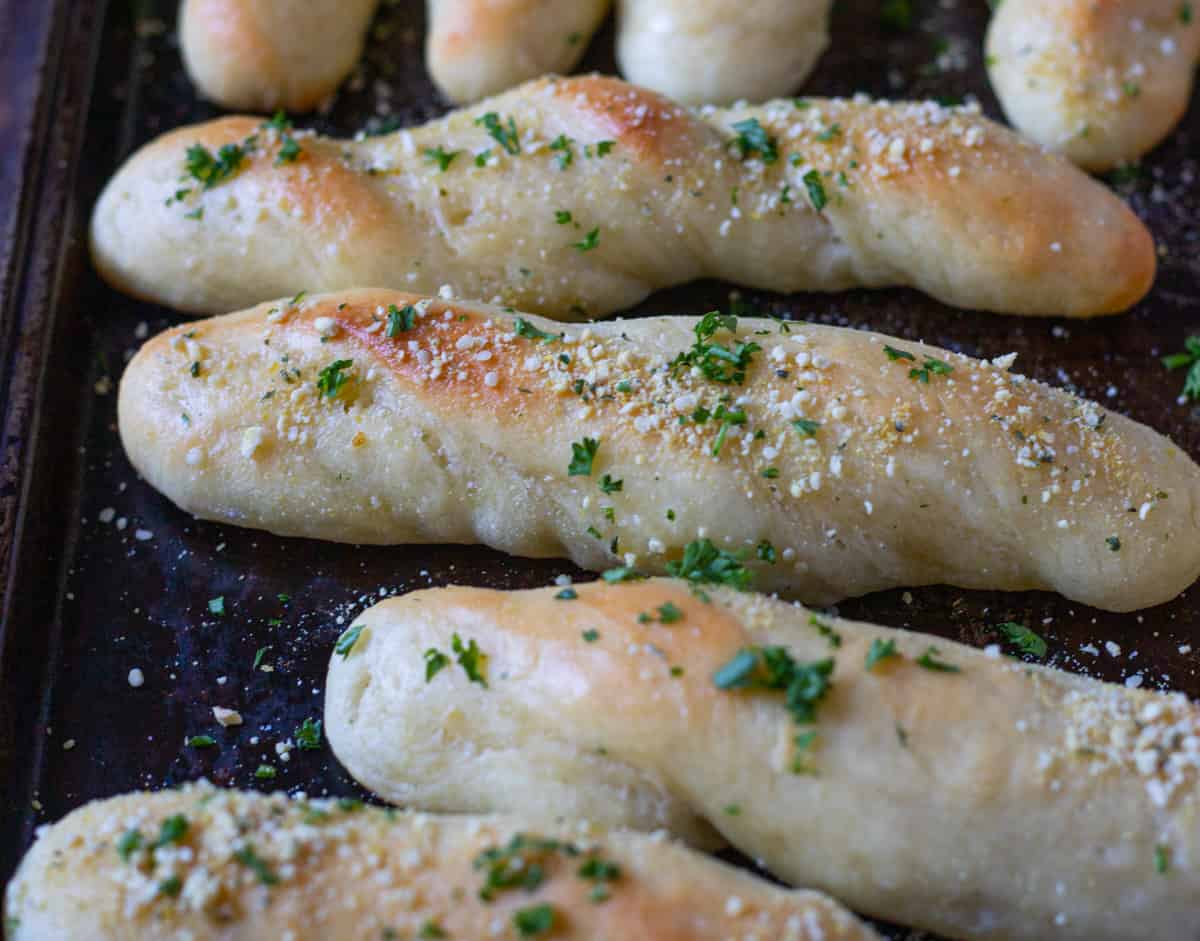 I'm super excited to share another simple bread recipe you can make from scratch using your bucket of all purpose refrigerator dough. There's nothing quite as satisfying as hot, freshly baked breadsticks. But we're equally obsessed with other homemade bread recipes like warm sandwich bread, soft dinner rolls and even vegan cinnamon buns – our family loves them all!
Soft, chewy vegan breadsticks are perfect served alongside your favorite Italian dishes like vegan lentil bolognese, vegan chili and Tuscan tomato soup.
Why You'll Love this Recipe
One of the great things about this vegan breadsticks recipe is it's so easy to make and it turns out every single time! Here's some more things: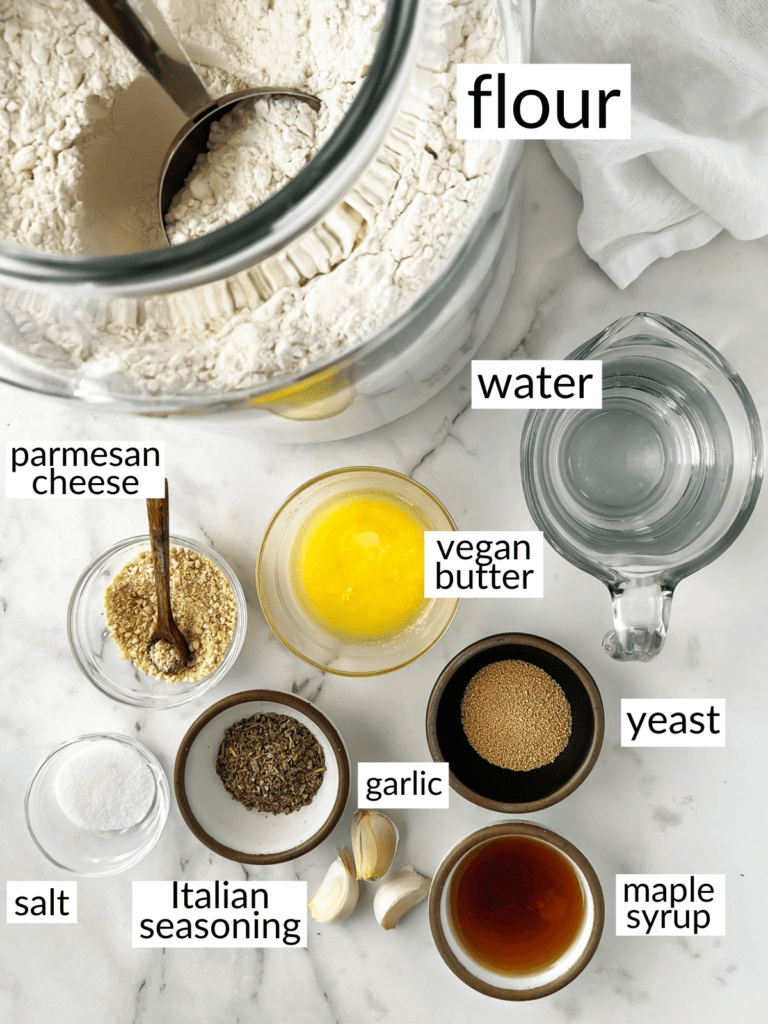 Ingredients for Vegan Breadsticks
How to Make Homemade Breadsticks
You won't believe how quickly these garlicky breadsticks come together! This simple, stir together dough can be mixed in the morning (no kneading) then baked for dinner the same day! Here's a sample schedule: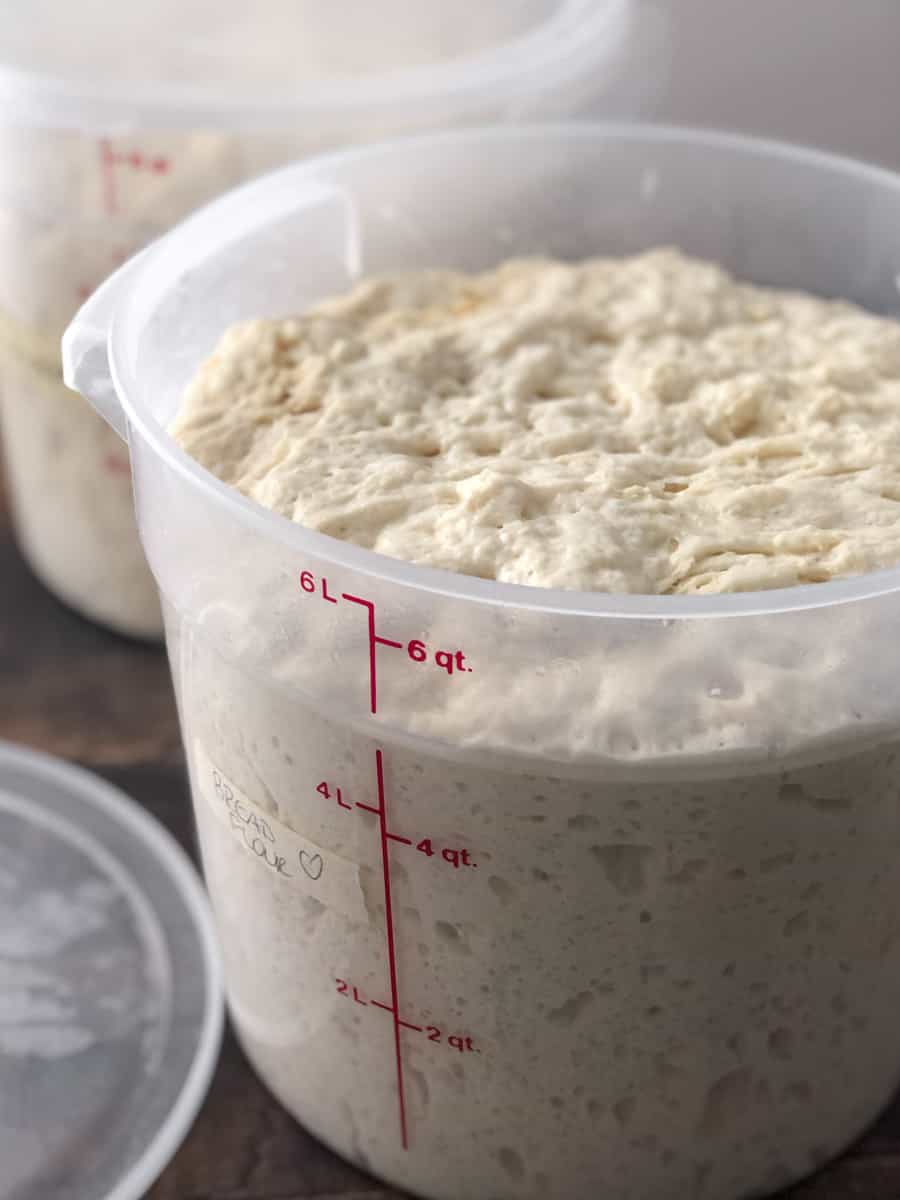 Make the bread dough: Make the all purpose refrigerator dough in the morning (or up to two weeks in advance). This is a very simple (no knead) yeast bread dough recipe, just place all the ingredients into a bucket and mix them together. Let the dough rise at room temperature for 2 hours then place it in the fridge until ready to bake.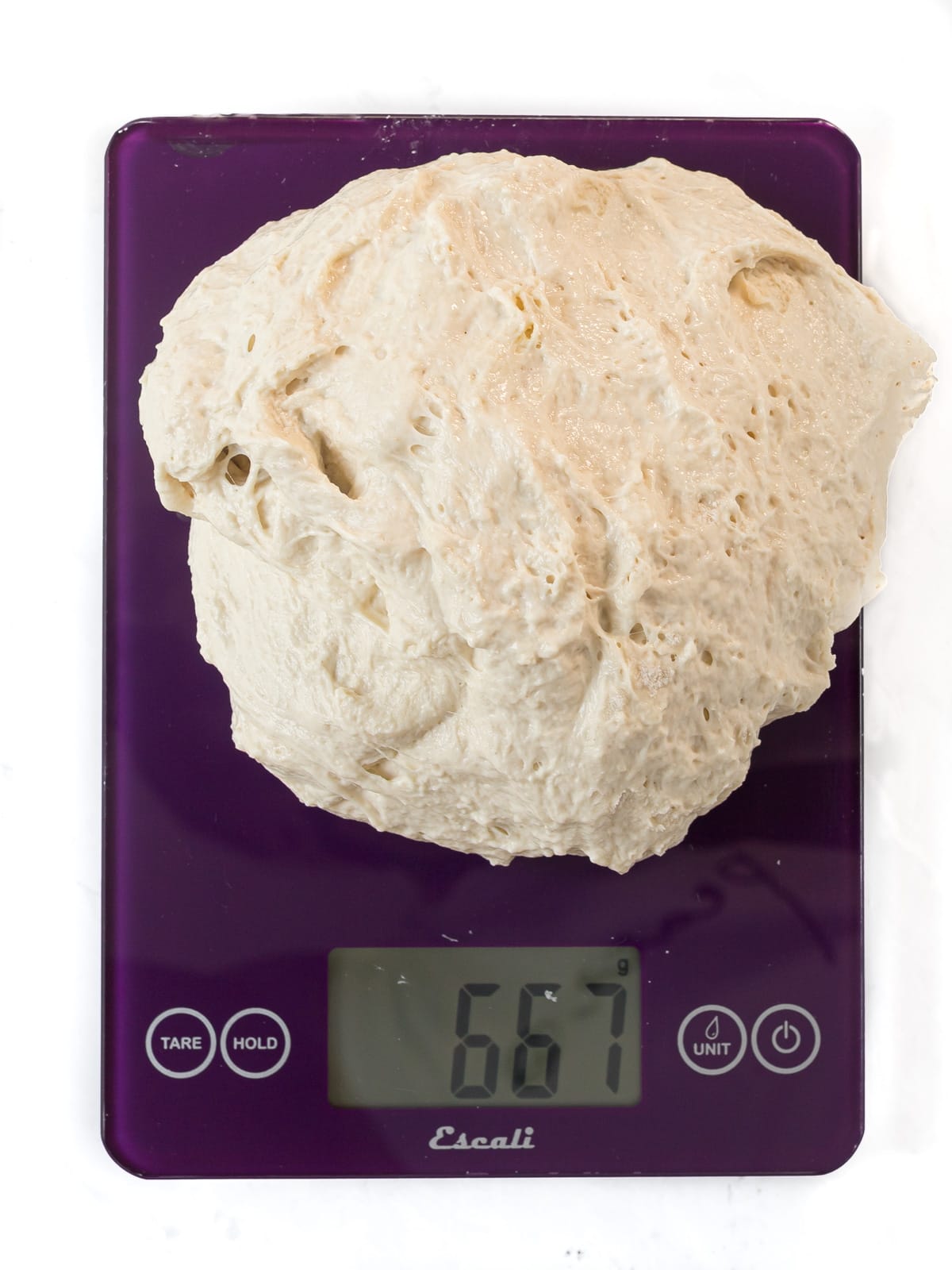 Batch Size: Decide how many breadsticks you'll be making then twist off an appropriate size chunk of dough. A large ~650 gram ball (about the size of a small melon) will make ~9-12 breadsticks.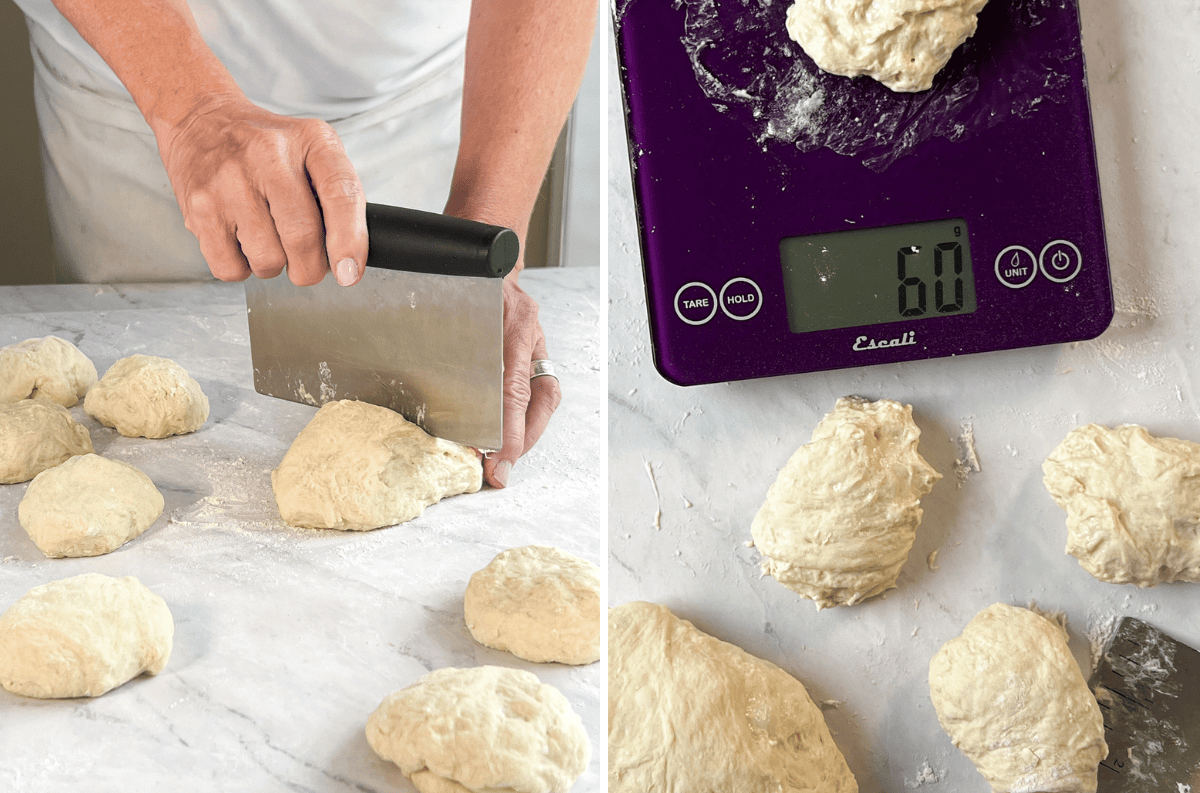 Dividing the dough: Turn the dough onto a lightly floured surface then section it into equal size pieces using a bench scraper or knife. (If the dough is sticky, lightly flour your hands as needed.) Divide the dough into the number of breadsticks you are making (~60-70 grams each).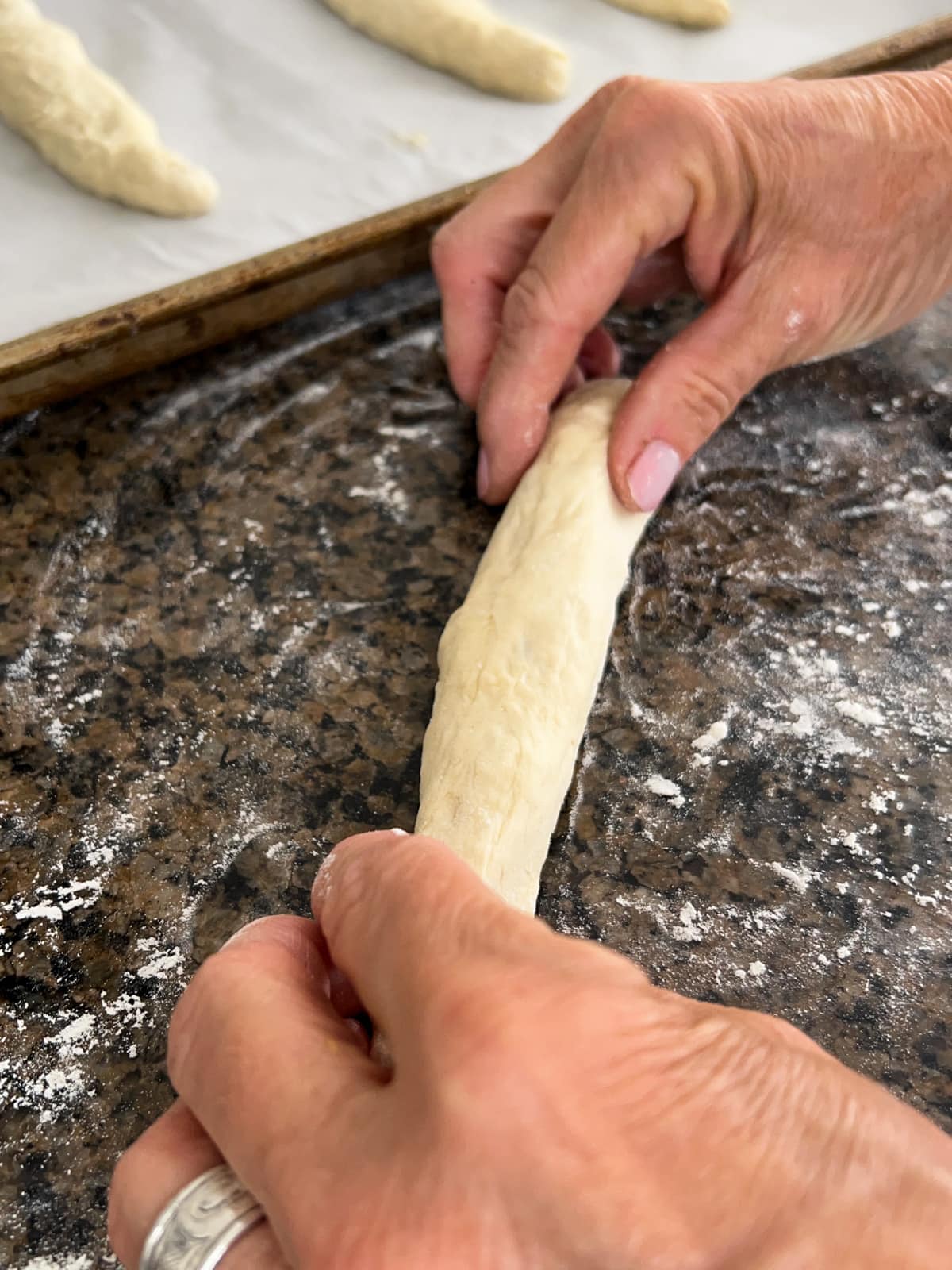 How to shape breadsticks: Using your hands roll/shape each piece of dough into a 7-8" log. The exact size and shape of the breadsticks is up to you! Don't worry about getting the logs perfect, they will puff up and bake into beautiful, golden breadsticks! Or twist some of the breadsticks into garlic knots if you prefer.
Baker's Tip: If the chilled dough keeps springing back while rolling, let it rest for a few minutes until the gluten has warmed up and relaxed.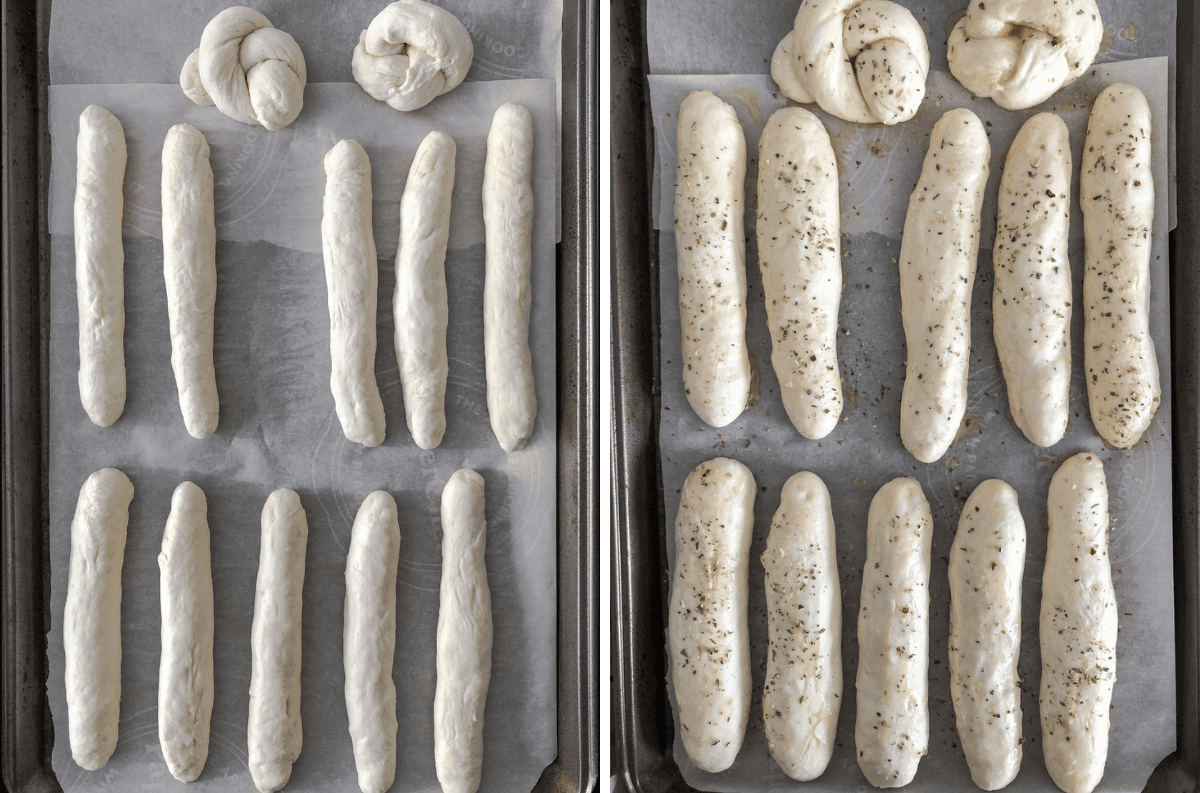 Proofing the breadsticks: Place the breadsticks on a parchment lined baking sheet with room between. Cover and let rise in a warm spot until the breadsticks get puffy (~20 minutes or more depending on your kitchen temperature).
Right before placing into the oven, gently brush with melted garlic butter or plant milk for extra color (optional). If adding sesame seeds, sprinkle them on the melted butter or milk before going into the oven.
Time to Bake - Bake in a preheated 450º F oven for ~12-15 minutes until golden. The baking time will depend on the size of the breadsticks, how hot your oven runs, and if you prefer soft or crusty breadsticks. Broil for an additional minute if you prefer a richer brown crust. Keep your eyes on the breadsticks for the last couple minutes of baking.
What to Serve with Breadsticks
Of course these vegan breadsticks are impossible to resist pulled hot from the oven slathered in butter, but they go with absolutely everything! Here's a few ways to serve them: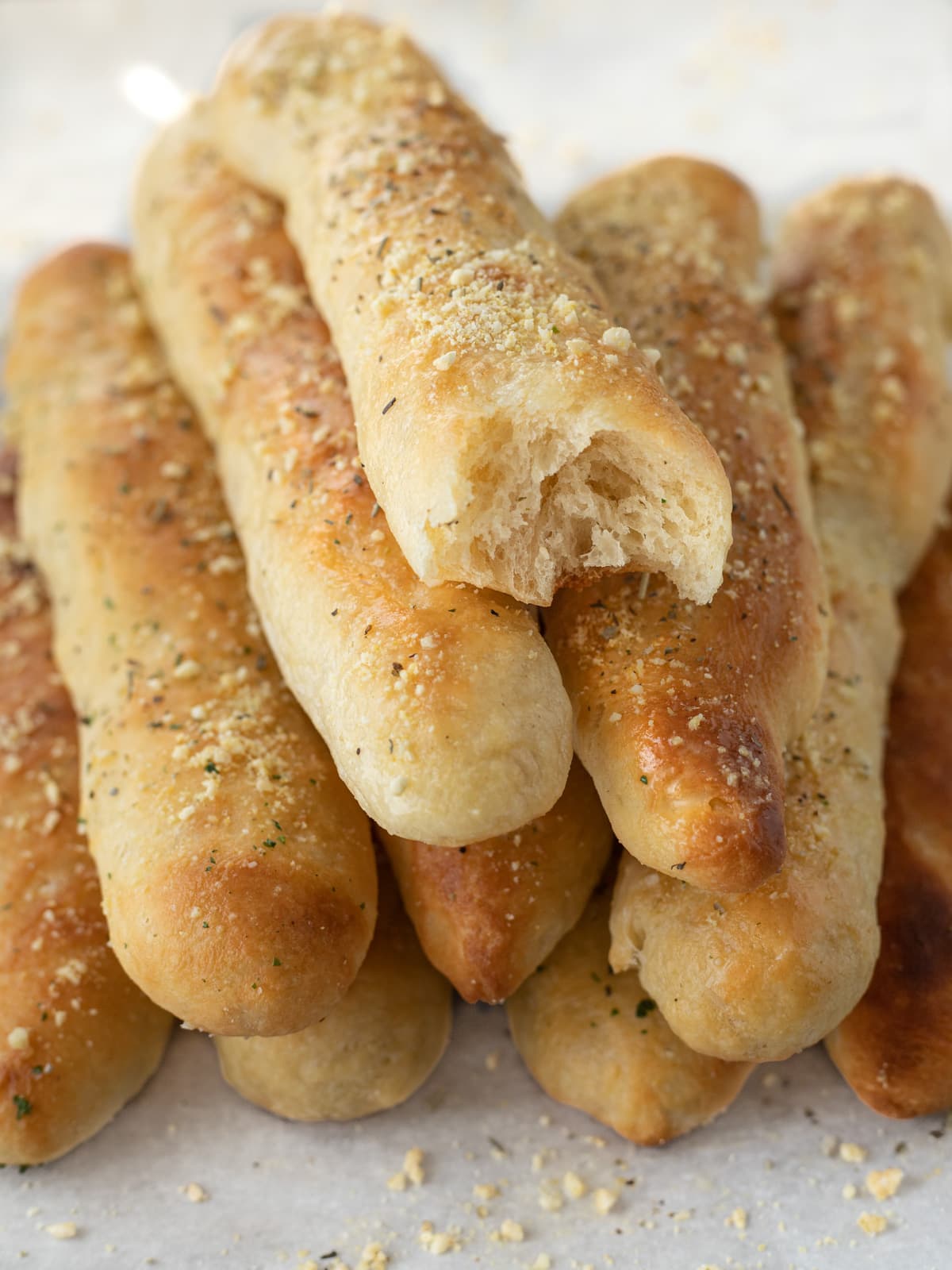 FAQ
Are breadsticks vegan?
Not necessarily! Check to be sure the bread dough is made without eggs or dairy butter. Also, if the breadsticks are brushed with butter, be sure it's vegan.
Can breadsticks be frozen?
Yes! Place the baked, cooled breadsticks into a freezer friendly bag or container and store in the freezer for up to several months. When ready to serve, gently warm them in the microwave or wrap the breadsticks in foil and place in a 350º F oven until warm.
How long do breadsticks keep?
Breadsticks are best straight out of the oven served hot and crispy. However, they can be wrapped and stored on the counter for several days. Gently rewarm or enjoy at room temperature.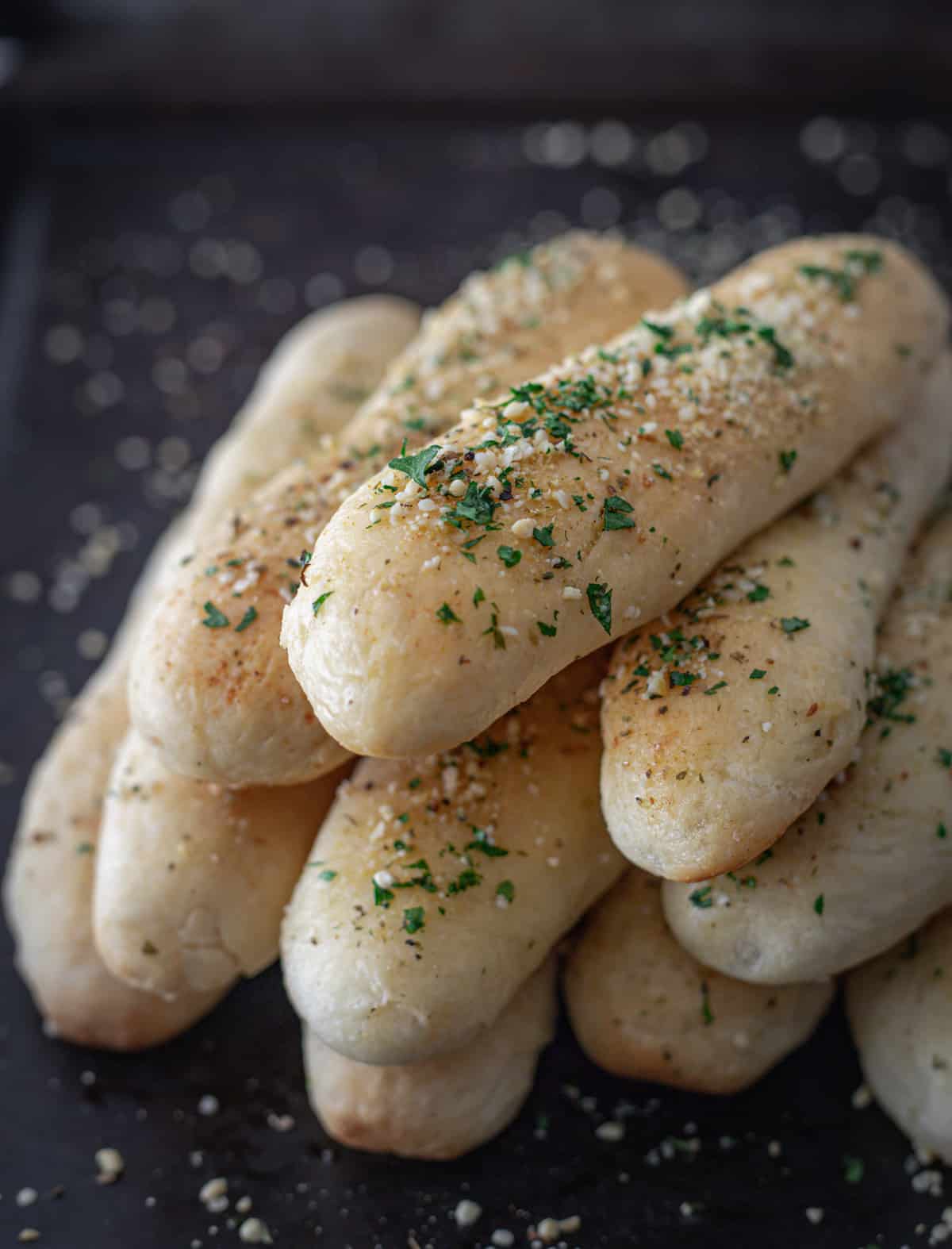 More Bread Dough Recipes
If you like homemade bread (egg free, dairy free), then try these vegan bread recipes next:
Did you make this Easy Vegan Breadsticks recipe? I'd love to see it!
Please leave a comment and review below. Thank you so much for sharing!
Tag me on Instagram or Facebook
NEVER MISS A RECIPE: Sign up for my email NEWSLETTER!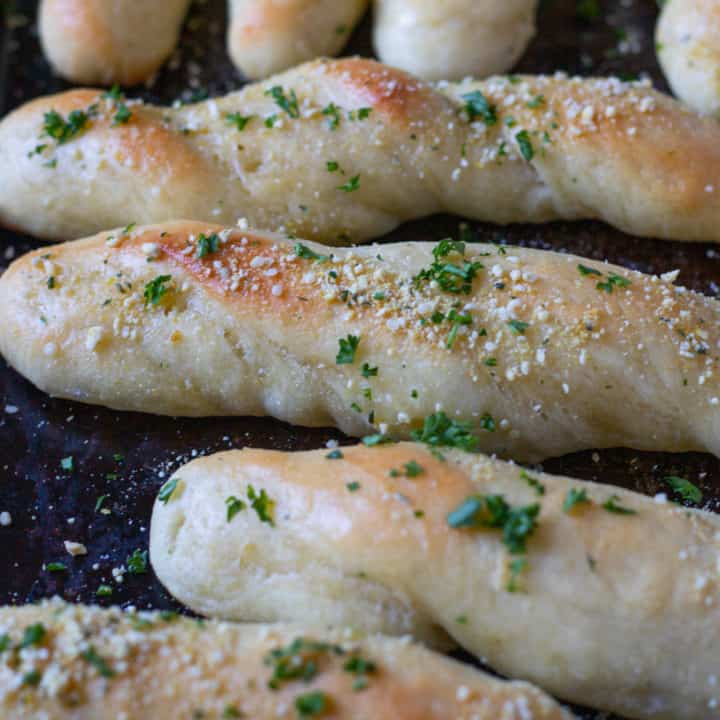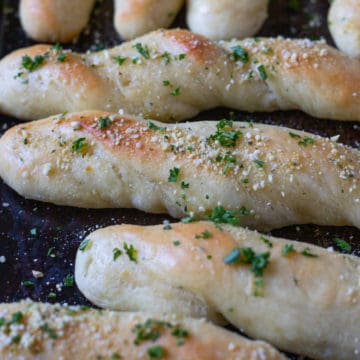 Soft Garlic Breadsticks (easy + vegan)
You've got to have these soft, melt-in-your-mouth buttery breadsticks sprinkled with vegan parmesan in your life STAT! Quick and easy to make these vegan breadsticks are a super popular crowd favorite at parties, game day, dinner or just a yummy snack.
Rate this recipe!
INGREDIENTS
Garlic Butter
2-3

tablespoons

butter, melted

½ - 1

teaspoon

garlic granules or 1 large clove, minced

½

teaspoon

salt, sea salt or flaky salt (to taste)
Optional Toppings
1-2

tablespoons

parmesan cheese

1

teaspoon

Italian dry herbs (oregano, basil, parsley)

fresh parsley, basil, rosemary or thyme (chopped)

sesame seeds
INSTRUCTIONS
Add parchment or a silicone mat to a large baking sheet.
Shaping the Breadsticks
Twist off a chunk of all purpose refrigerator dough (around 1 - 1 ¼ pounds). The size of the chunk will depend on how many breadsticks you plan to make.

Shape it into a ball on a lightly floured surface. Portion the dough into 9-12 equal pieces (60-70 grams) using a bench scraper or knife.

Roll/shape each piece into a 7-8" log. If the dough keeps springing back, give it a few minutes for the gluten to warm up and relax. Add flour to your hands as needed to prevent sticking.

Transfer the breadsticks to the prepared baking sheet with about 1" between. Cover with plastic and a towel then let rise in a warm place until puffy (~20 minutes depending how warm your kitchen is).

PREHEAT oven to 450º F with rack in center position. If your oven runs hot, preheat to 425º F. Keep your eyes on the breadsticks for the last minute or two.
Make the Garlic Butter
Melt the butter and stir in the garlic powder or fresh minced garlic and salt.
Time to Bake
When it's time to bake, gently brush melted garlic butter or dairy-free milk on the top of each breadstick. If adding sesame seeds, sprinkle them on now so they stick.

Bake for 12-15 minutes until light - medium golden. Broil for the last minute if you prefer a darker crust.

Remove the pan from the oven, brush with more butter, a sprinkle of parmesan cheese, sea salt, and Italian seasonings if desired.
NOTES
Vegan Parmesan Cheese - I'm obsessed with this parmesan cheese and it's dynamite on breadsticks. Make a batch and store it in the fridge indefinitely. Shake it over everything for a salty, cheesy, garlic boost of flavor!
Soft Breadsticks - Brushing the baked breadsticks with garlic butter when they come out of the oven makes the crust soft and tender.
Baking Time - For softer breadsticks bake just until golden; for crispier breadsticks, bake until richly golden brown. Keep your eyes on the breadsticks for the last minute or two.
Freezer Friendly - Freeze any leftover baked and cooled breadsticks in a ziplock in the freezer for up to several months.
This recipe is from simplyceecee.co food blog. All images and content are copyright protected. Please do not use my images or republish this recipe without prior permission. Thank you.