This freshly baked, pillowy soft vegan pita bread recipe is easy to make from scratch using all-purpose refrigerator dough. They are incredibly soft and flavourful plus so fun and absolutely magical to make. I've included two ways to cook them, but either way, you'll end up with incredible, warm puffy pita pockets!
Hot out of the oven with melted butter and salt, these simple vegan pitas are hard to resist! But they are equally scrumptious stuffed with creamy hummus, crispy falafels and drizzled with lemony, everyday tahini sauce, my famous sweet and spicy tahini sauce or this incredible spicy green tahini sauce!
Made without eggs or dairy, this easy vegan pita bread recipe is super flavourful and versatile. Make them as big or small as you prefer. They freeze really well so are perfect for lunches and meal prep!
Jump to:
Ingredients for Simple Homemade Pita Bread using Refrigerator Dough
tear off a chunk from your bucket of all-purpose refrigerator dough
refrigerator dough can be made up to 14 days before baking and consists of flour, water, yeast, salt, agave, and oil. Simply mixed in a bucket and left in the fridge until baking day.
to determine the size of chunk you need: decide if you want a big batch or small batch (x 50 - 75 grams per pita pocket)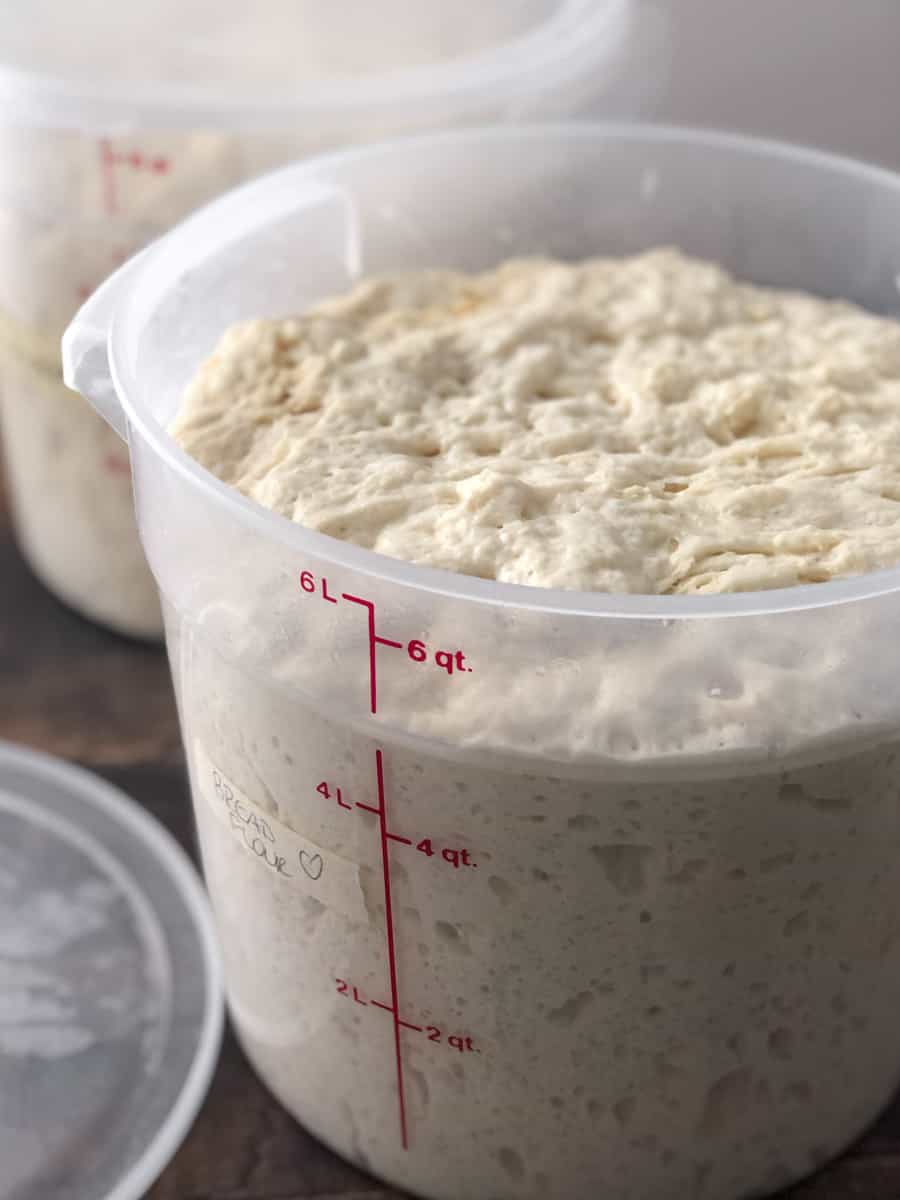 How to Make Easy Pita Bread from Scratch
For this easy vegan pita bread recipe, simply tear off a piece of refrigerator dough, shape it, and bake it! One of the best things about the bucket of dough is you can make a big batch or just a couple freshly baked pitas for dinner. Either way, you can be holding your soft, warm pitas in under an hour!
The first time I made pita pockets, I was in awe of their magic! I had to call Mr. Ceecee and the children in to watch the next batch. Funnily enough, all this time later, I'm still super excited watching those pita pockets puff up - it's pretty incredible!
Let's get started!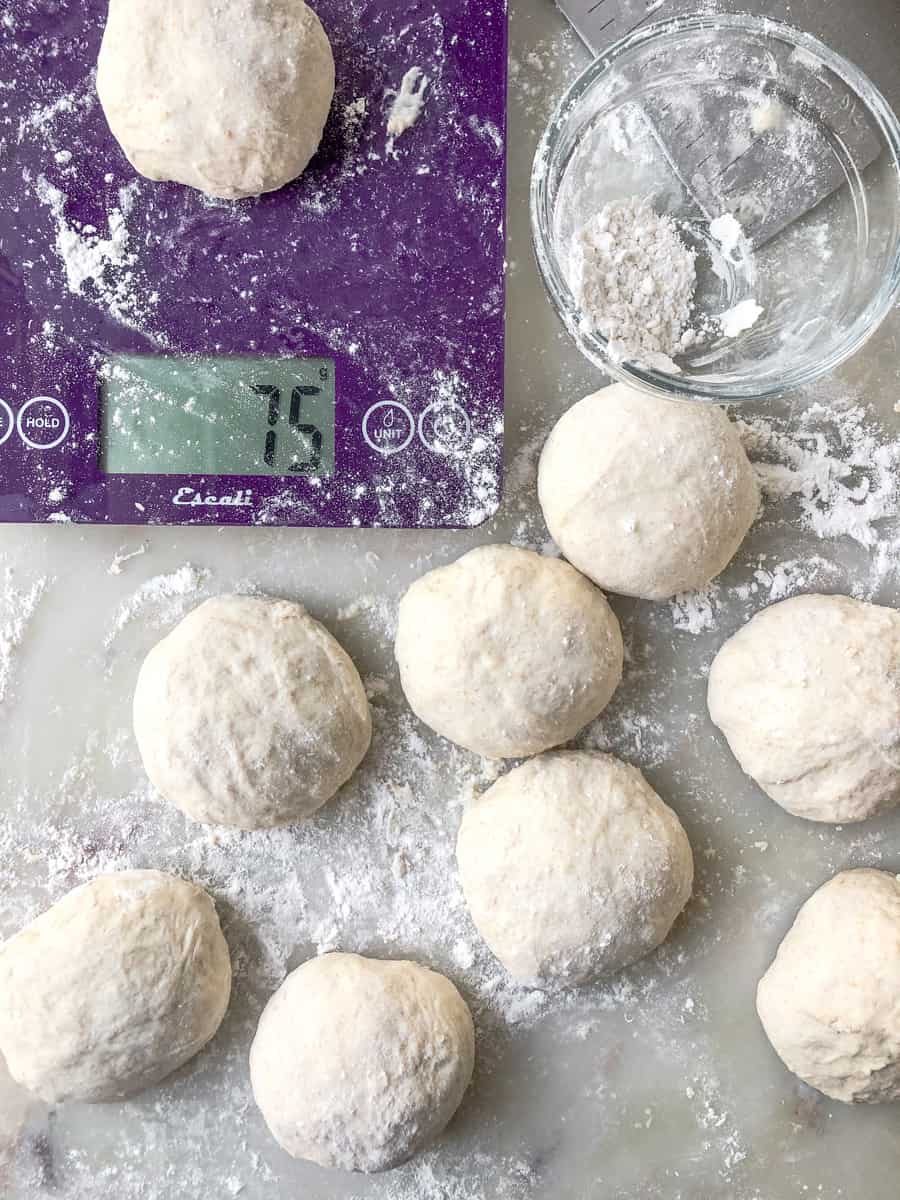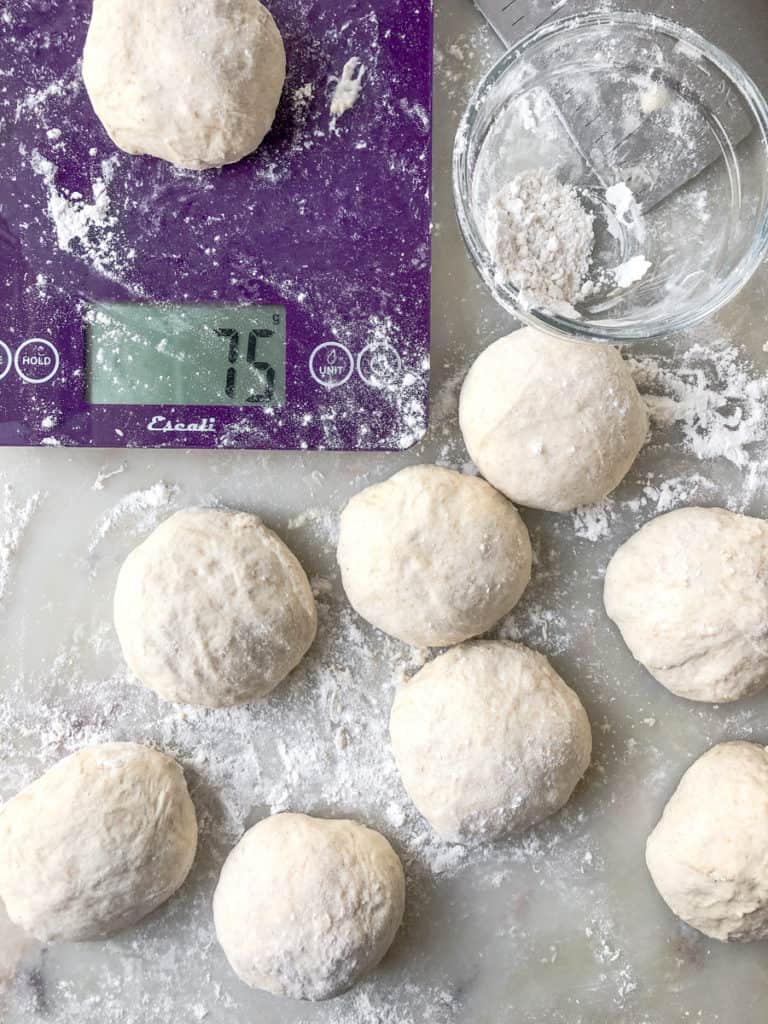 Divide the chunk into equal pieces ~ 50 grams (small) - 75 grams (medium) each. Roll each piece into a ball. Place on lightly floured surface and cover with a clean kitchen towel or pastry cloth for 15 minutes to rest until the dough comes to room temperature.
To roll the balls: working with one ball at a time, gently flatten and begin to press the dough ball between your fingers to form a disc (like a pizza crust). Place on lightly floured surface and roll to ¼" thick, 5-7" circle (depending on ball size).
Place on a parchment-covered baking sheet and cover with a clean kitchen towel or pastry cloth while you roll the rest of the pitas and the oven is preheating.
Cook on the stove or in the oven until soft, lightly golden, and puffy!
How to Cook and Puff Pita Pockets (2 ways)
These pita pockets are so fun to make. They puff way up like a balloon in no time in the oven or on the stove top and then collapse which makes the pocket pitas are famous for.
Oven Method - preheat the oven (rack in middle position) to 470º F while you roll out the dough. Puffing Tip: Let the oven get nice and hot so when the dough hits the heat it creates steam and the pitas puff up.
Place the pita rounds on the baking sheet. Bake for 3-5 minutes, gently flip the puffed pita pockets using a kitchen towel or a wooden spoon. Cook for another 2-3 minutes. Remove from the oven, admire how amazing they are, then cover them up in kitchen towels.
Cooking Tip: Watch the magic through the oven window. Don't be tempted to open the oven until the pitas are puffed and ready to be flipped.
Stove Method - cook on a hot, non-stick griddle or a seasoned cast iron pan. Place pita round on hot pan. After about 30 seconds it will start to bubble up, flip it, don't touch for about 45 - 60 seconds, it will bubble and puff. Flip one more time. If it's not puffing up yet, press the middle of the pita using a towel to protect your hand and watch it puff all the way up!
Cooking Tip: if the pita gets stuck down in one spot, press next to it and that can help move the air around and unstick it. Sometimes you have to fiddle around with the heat settings a bit to find the perfect temperature to get those pitas puffing up consistently.
Pita Chips (leftovers)
If you overdo cooking the pitas (it happens) or end up with a couple stale pitas, make homemade pita chips! Pita chips are the perfect accompaniment for dips (spicy hummus) and sauces (queso cheese) as well as a nice crunchy scoop for guacamole or vegan chili.
Here's a simple recipe/method for making easy pita chips: Preheat oven to 400º F. Cut the pita into triangles (or any shape), brush with melted butter or olive oil (garlic infused), sprinkle with your favourite spices (eg. garlic, basil, zatar, salt, pepper, hot pepper flakes). Cook on baking sheet for 5-8 minutes until lightly brown and crispy. Alert: the pita chips can burn easily so keep your eyes on them!
Storing and Reheating Pitas
Store baked pitas at room temperature in a bag for a few days or in the fridge for a week.
Cooked pitas freeze easily which is perfect for meal prep. Make a big batch, let them cool, and then pop them into a freezer friendly bag.
Take one or two out at a time as needed, let them come to room temperature, and enjoy.
To reheat the pita bread, place in the oven (350º F oven for 5 minutes), the microwave (wrapped in a towel) or in a pan on the stove over medium heat until heated through.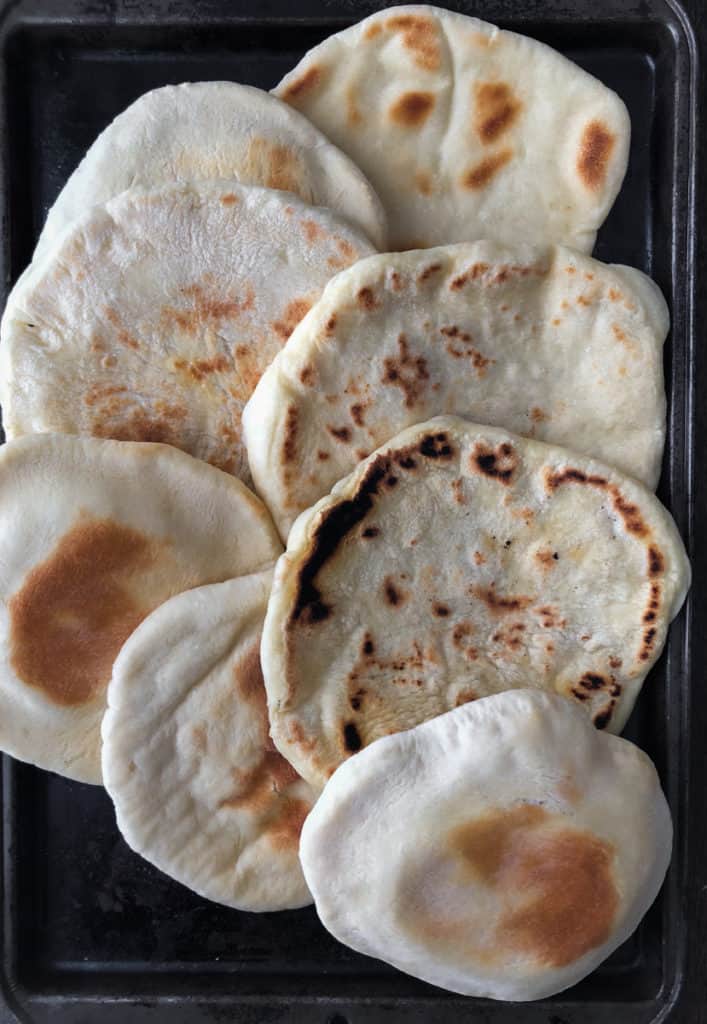 What to Serve with Pita Bread
There are endless uses for soft, chewy, freshly baked pita bread of course! But here are a few of our favourite ideas:
stuffed with falafel, tahini, tomato and pickled onion
hot from oven with melted garlic butter and salt
If you Love Bread . . .
Make a bucket of no knead, no fuss, all purpose refrigerator dough for easy fluffy white sandwich bread, rustic dinner buns, cinnamon rolls, soft buttery breadsticks, easy pita bread, and much much more.
Plus have you tried this super easy and popular no knead overnight bread?
Did you make my Easy Pita Bread recipe (vegan)? 
I'd love to see it! Please leave a comment below and tag me on IG @ceeceecooks with any photos!
NEVER MISS A RECIPE: Sign up for my email NEWSLETTER!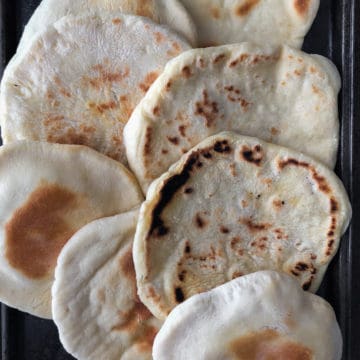 Easy Pita Bread Recipe (vegan)
Learn how to make soft, puffy pita bread using dough from your big bucket of refrigerator dough recipe. You can easily be enjoying delicious, freshly baked, homemade pita bread every night for dinner. They are kinda fun and magical to make too!
Rate this recipe!
INGREDIENTS
400-600

grams

chunk of dough from refrigerator dough recipe
INSTRUCTIONS
Bread Dough Recipe (made ahead of time)
Shaping and Rolling the Pita Dough
Divide your chunk of dough into 50-75 gram balls (you can make bigger or smaller!).

To roll the pitas: working with one ball at a time, flatten the dough ball with the palm of your hand. Pick up the disc and work it into a bigger circle with your fingers.

Place back on lightly floured surface and roll to ¼" thick, 5-7" circle (depending on ball size).

Place on a parchment-lined board and cover with a clean kitchen towel or pastry cloth while you roll the rest of the pitas and the oven is preheating.
Baking the Pitas (Oven) Preheat the oven to 470º (rack in middle position)
Place the pitas on a parchment-lined baking sheet and into the oven on the middle rack.

Cook for 3-5 minutes. Flip the pitas using an oven mitt or wooden spoon.

Cook another 2-3 minutes.

Remove from oven and place in towel-lined bowl. Cover to keep warm and soft.
Cooking the Pitas (Stove) Preheat the griddle/cast iron pan
Preheat a griddle or large cast iron pan over medium-high heat.

Place the pita rounds on the hot pan and cook on medium-high heat for 30 seconds until they start to bubble.

Gently flip the pitas and cook for another 45 seconds.

Flip again.

If not already puffed up, press the center of the circle with an oven mitt or towel to protect your fingers.

The pitas will turn slightly golden and puffy.

You may have to fiddle around with the heat setting to get the right temperature for your pitas to puff up consistently.
NOTES
A 50 gram ball makes a smaller lunch or appetizer size pita pocket. The larger 75-80 gram ball is a standard size pita perfect for dinner.
Don't use too much flour when rolling out the pita balls. Brush any excess off.
The pan/oven needs to start off hot. The temperature can be adjusted on subsequent batches as necessary.
Both oven and stove top methods make delicious pitas. The oven method is easier with less hands on time. I prefer the stove method.
I always say making pitas is like running hurdles, once you get the timing down, you nail it every single time!
Pitas freeze well and are perfect for meal prep. 
Good luck and enjoy!
This recipe is from simplyceecee.co food blog. All images and content are copyright protected. Please do not use my images or republish this recipe without prior permission. Thank you.