Perfectly crisp, incredibly easy, these potato-leek pancakes are delicious for breakfast, a snack, or a quick dinner. And they can be fancy with spicy mushrooms and an avocado boat filled with sauce on top - what's not to love?
Affordable, abundant, versatile, and packed with goodness, the humble potato has been a staple in cooking throughout history. Most cultures have their own version of a potato pancake and for good reason - they are quick, easy, and delicious Traditionally they are made with shredded potatoes, flour, egg, onions, and salt.
You know those days when you're running all day long, get home late, everyone is hangry, grocery day isn't until tomorrow, and the whole family is looking to you for dinner? Well with only a few simple ingredients, you can be feasting on easy, delicious potato pancakes in no time. Spectacular on their own or serve them with a little dab of vegan sour cream and green onions or a drizzle of spicy, cheesy cashew cream. These crunchy but tender little flavour bombs are so dang addicting - it's best to make extras.
How to Make Crispy Potato Pancakes
Potatoes - I use russet potatoes because I always have them in the pantry and they are starchy which helps bind the pancakes together.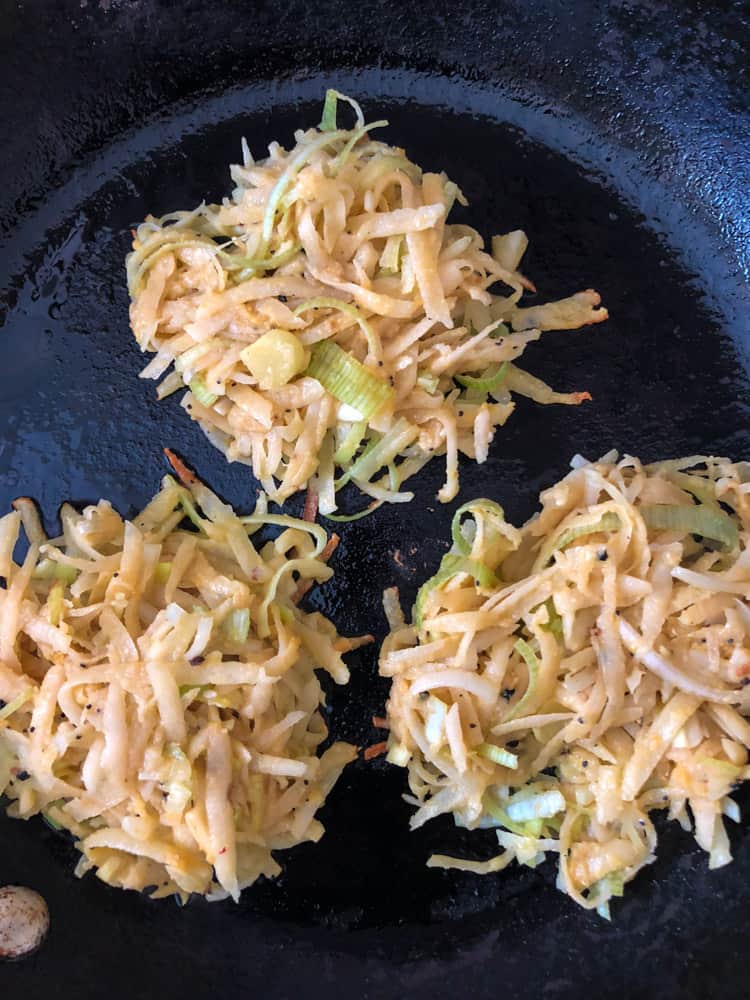 Binder - the starch from the potatoes as well as flour work together to hold the pancakes together. You might need to add a splash of milk. If the potatoes are super juicy, gently squeeze and drain off the excess liquid. The batter will be loose, but it cooks up beautifully.
Size - don't make them too big! It makes them more difficult to flip! Plus a bigger surface is floppier and less likely to stick together after its cooked. I recommend sticking to a scant ¼ cup size for the best results.
Cooking - I suggest a cast iron pan if you have one. Add a small amount of oil and heat to shimmering. Don't add the pancake batter until the pan is hot (but not smoking) - just like frying a regular pancake. I don't recommend fiddling around with the pancake, just set it and let the heat do its work. Flip it once, remove from the heat when crispy and brown on both sides. Serve immediately for crispiest results!
Pro Tip: If the pan is too hot, the pancake will be burnt on the outside, raw on the inside, and will likely stick to the pan. Depending on your stove, you may need to adjust the heat. I typically start out medium-high and then lower the heat to medium.
Potato Pancake Toppings
It's no secret that I like to add my own twist to the classics, so I made this amped up, kinda fancier version of vegan potato pancakes.
One stack of three crispy, hot, potato-leek pancakes layered with spicy mushrooms, green onion slices, a big tangle of sprouts, and topped off with an avocado boat filled with spicy, garlic-ginger-sriracha sauce that spills over the pancakes when you cut into it. The flavours are killer and it's so pretty.
Of course, you can stick to the more traditional toppings like sour cream and green onions!
More Vegan Potato Recipes
Packed full of nutrients and fiber, low in calories, sodium free, fat free, gluten free, inexpensive, versatile, and abundant – potatoes are a great addition to your weekly menu!
Here's some of our favourite potato recipes: try our easy and delicious Stuffed Potato bar, super popular Delicious Stuffed Sweet Potatoes or tangy BBQ Jackfruit and Slaw Baked Potatoes.
Enjoy!
If you make my Easy Potato Leek Pancakes, please leave a comment and rating below. Also, if you share on Instagram, please tag me @ceeceecooks, #ceeceecooks. I love to see your creations!
NEVER MISS A RECIPE: Sign up for my email NEWSLETTER!
Easy Potato Leek Pancakes
These potato and leek pancakes are crispy, spicy and kinda fancy. They are layered with incredible, spicy mushrooms, and an avocado boat filled that delivers a flavour surprise!
INGREDIENTS
Spicy Mushrooms
1

cup

mushrooms, rough chop

1

tbsp

sriracha

3

tbsp

tamari

1

clove

garlic, minced

½

tsp

ginger, minced

1

tsp

maple syrup

1

tbsp

water
Potato and Leek Pancakes
3

cups

potatoes, shredded

1

cup

leeks, sliced

2-4

tbsp

chickpea flour (or any)

¼ - ⅓

cup

nutritional yeast

1 /2

tsps

garlic powder

tsp

salt & pepper, to taste

1-2

tbsp

plant-based milk

1-2

tbsp

oil (for frying)
Avocado Boat
1

avocado, peeled and cut in half

2-3

green onions, sliced

sprouts for garnish
INSTRUCTIONS
Spicy Mushrooms
Prepare and rough chop mushrooms, saute in a skillet over medium-high heat. When the mushrooms are almost ready, add 2-3 tbsp of spicy sauce, warm through and remove from heat.

SPICY SAUCE: While the mushrooms are cooking, make the spicy sauce.  Add all 6 ingredients from sriracha to water to a small bowl and whisk to incorporate.  Taste and adjust as per preference.
Potato and Leek Pancakes
Clean the leek by slicing into it length wise and gently rinsing. Cut the leek into thin slices and place in large mixing bowl.

Grate 3-4 potatoes depending on their size to get 3 loose cups. If the grated potatoes are super juicy, wrap in paper towel and give a gentle squeeze to remove excess liquid. Add to leeks. 

Add 2 tablespoons chickpea flour, the nutritional yeast, garlic powder, S&P and stir thoroughly to incorporate. You may need to add more flour or some plant-based milk (but with the potatoes I used, the consistency was good and I did not have to). The 'batter' will still be pretty loose.

Heat oil in skillet over medium-high heat until shimmering. Once hot, place a scant ¼ cup mound of batter into the pan and let it fry until crispy and brown, flip it (the second side does not take as long). Around 6 - 8 minutes total.

Place on paper towel to drain any excess oil if necessary (I keep the oil in the recipes quite low so this shouldn't be a problem usually).

PRO TIP: Depending on how big your pancake is and how hot your stove runs, you may have to adjust your heat (don't go too hot or they burn on the outside and are raw on the inside). I start medium-hot and then turn down for the second side. 

Keep warm in a 200º F oven if making larger batches.
Avocado Boats
While the pancakes are cooking, cut avocado in half, remove pit, and casing.
Slice the green onions.
Putting It All Together
Stack up 3-4 potato pancakes.

Sprinkle spicy mushrooms over top.

Place ½ an avocado on the mushrooms and fill it with spicy sauce.

Garnish with sprouts and onions.

ENJOY! 
NOTES
Keep the pancakes small so they stick together and flip easily. Plus they fry up nice and crisp.
Add more oil to the pan if desired. I like to keep the oil in my recipes as low as possible so the potatoes are crispy but not greasy. I use a cast iron pan for these pancakes which gets nice and hot, retains heat, and ups the crisp factor!
Before placing the avocado on top of the stack, cut a small slice off so it sits flat.
Potato pancakes store well in the fridge for a day or two and are delicious cold or reheat them in a skillet to crisp them up.
This recipe is from simplyceecee.co food blog. All images and content are copyright protected. Please do not use my images or republish this recipe without prior permission. Thank you.