Perfectly golden and crispy, these savory vegan potato pancakes are pan fried to lacy perfection. Quick and easy to make with basic pantry ingredients, they are a delicious vegan, gluten-free, breakfast, lunch or dinner.
Enjoy them with a dollop of sour cream and chives or go super fancy and top them with an avocado boat filled with spicy sauce! Either way, you won't be disappointed.
Cheap, abundant, and easy to store, the humble potato has been a staple in cooking throughout history. Most cultures have their own version of a potato pancakes and for good reason - they are nourishing, versatile, and affordable (peasant food). A few potato pancakes I've tried include Irish (boxty), Swiss (Rösti), Jewish (latkes), German potato pancakes, and of course North America's hash browns - all quick and easy to prepare plus super delicious and satisfying!
And if you like potato pancakes like we do, I'm sure you'll love these corn zucchini fritters, savory green pancakes, and easy chickpea pancakes!
Potato Pancakes Ingredients
Most versions of potato pancakes include eggs to help bind the ingredients together, but this vegan version is made without eggs - we use flour and milk to do that job.
Potatoes - grate potatoes by hand or using a food processor with grater attachment. I use russet, Idaho or Yukon potatoes because I usually have them in the pantry and they are high starch, low moisture potatoes which helps bind the pancakes together.
Leeks - or green onions, for color and flavor!
Flour - since this vegan version is made without eggs, the flour, starch from the potatoes, and milk help to bind the ingredients together so the pancakes don't fall apart.
Spices - salt, pepper and garlic are pretty basic flavor enhancers and pair well with potato, but add a teaspoon of any spice you enjoy.
Plant Based Milk - works together with the flour to bind the pancakes together.
Savory Vegan Pancake Toppings - optional topping ideas below
How to Make Crispiest Vegan Latkes
Peel the potatoes and then grate using a box grater or in the food processor using the grater attachment. Cover with a kitchen towel and pat dry to absorb excess liquid.
Wash and slice the leeks or green onions. Add to bowl with shredded potatoes.
Add the flour, seasonings, and milk. Toss to coat the potatoes and leeks (see photo).
Heat the skillet and oil. To test the oil for readiness, add a bit of potato mixture - it should sizzle right away.
PRO TIP: Don't make the pancakes too big! They don't stick together as well and are more difficult to flip. I recommend a scant ¼ cup size for the best results.
Shallow fry the potato pancakes on each side until medium golden, and crispy.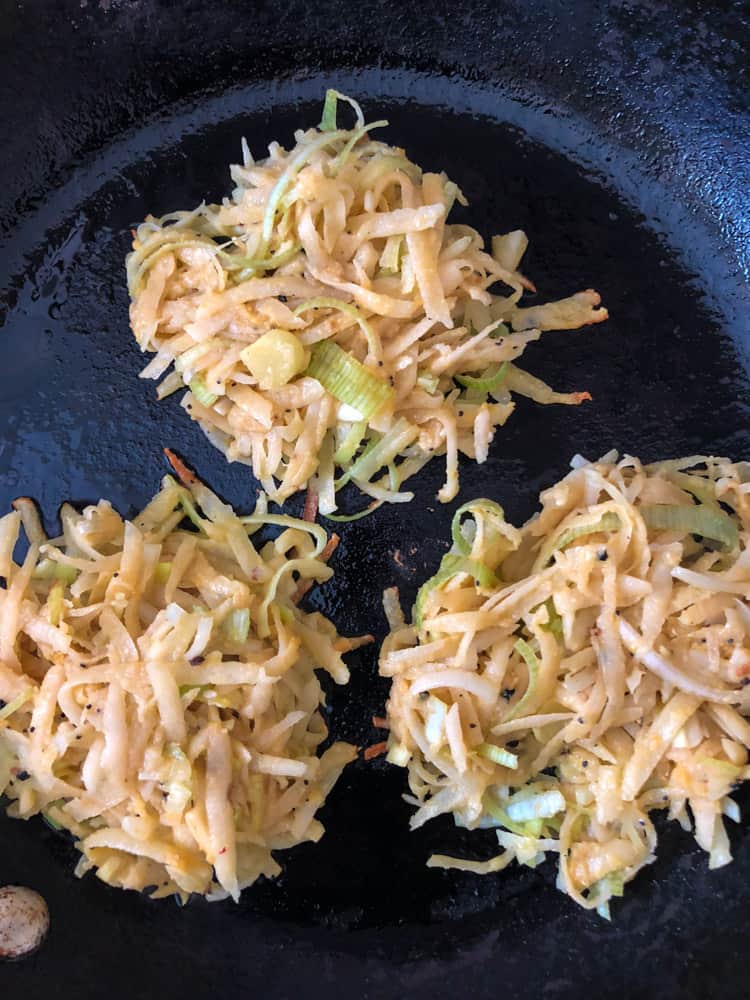 Cooking Tips for Crispy Vegan Latkes: - A cast iron or heavy bottom pan is recommended if you have one. Add enough oil to cover the surface (~½") and heat to shimmering. Don't add the shredded potato mixture until the oil is hot (but not smoking).
Add the potato pancake batter and then don't touch it - let the heat do its work creating a crispy crust. Flip it, then remove from the heat when golden brown on both sides. Serve immediately for best results!
Pro Tip: If the pan is too hot, the potato pancakes can burn on the outside but be raw on the inside. Depending on your stove, you may need to adjust the heat. I typically start out medium to medium-high and then lower the heat to medium as needed.
Optional Toppings
It's no secret that I like to add my own twist to the classics, so I made this elevated, fancy version of vegan potato pancakes for special occasions . . . 
Stack three potato leek pancakes, top with spicy mushrooms, green onion slices, sprouts, and an avocado boat filled with spicy, garlic-ginger-sriracha sauce for dipping or drizzling. The flavors are killer and it's so pretty.
Traditional vegan latke toppings include dairy-free sour cream, applesauce, chives, green onions or even ketchup, vinegar or HP sauce. Anything you enjoy on French fries, will be perfect on crispy potato pancakes (check out the sauce page for more inspiration).
FAQ - vegan potato pancakes
How do you make potato pancakes crispy?
The secret to perfectly crispy potato pancakes: a hot pan and hot oil, removing excess liquid from potatoes, not undercooking, and serving immediately.
Why do my potato pancakes fall apart?
Usually, potato pancakes (especially vegan) fall apart because they need a better/more binder. Maybe they are too wet so would benefit from a tablespoon of flour to make them stickier. Toss ingredients together and let them sit and get sticky while the skillet and oil heat up. OR could sub in an egg replacer for milk as needed.
What do you serve with vegan potato pancakes?
Some traditional toppings include sour cream, applesauce, chives, and green onions; but tzatziki, salsa, guacamole or even ketchup and vinegar would also be delicious! There's no rules, serve them with your favorite condiment or sauce.
More Vegan Potato Recipes
Packed full of nutrients and fiber, low in calories, sodium free, fat free, gluten free, cheap, versatile, and healthy – potatoes are a great addition to your weekly menu!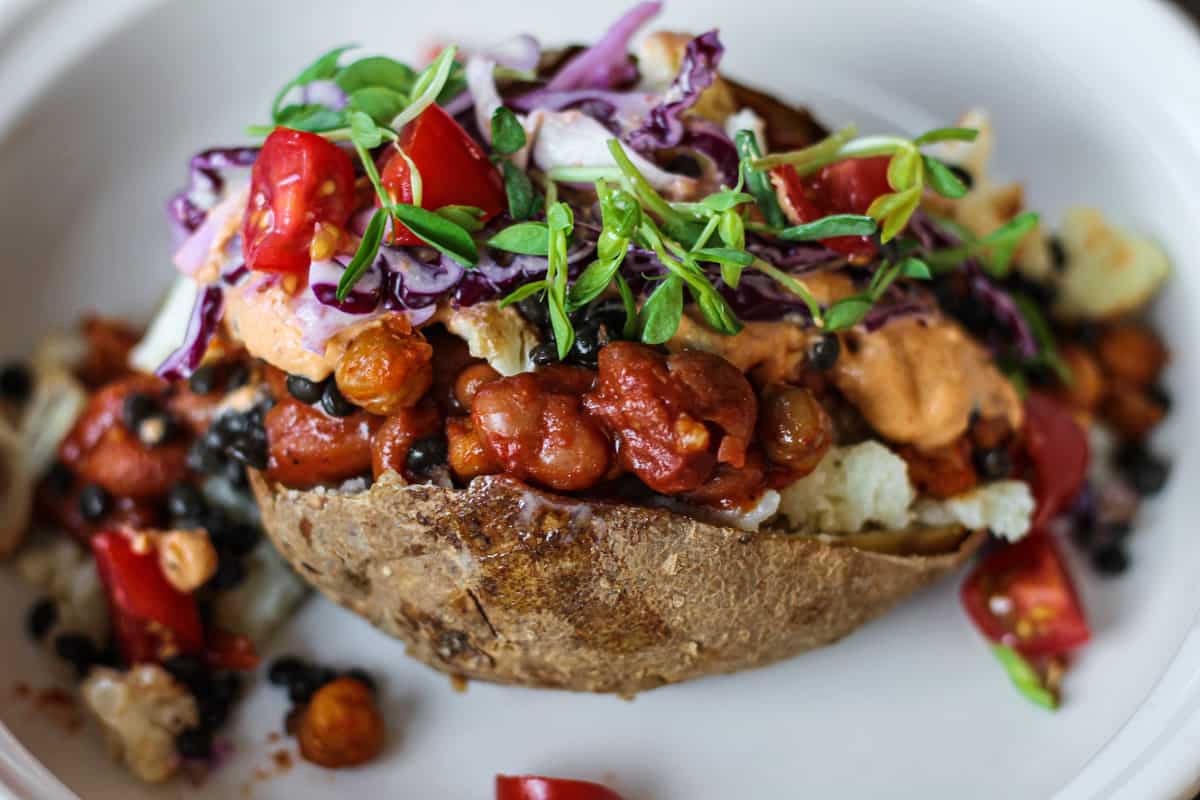 Here's some of our favorite potato recipes:
Did you make this recipe? I'd love to see it!
Please let me know in the comments. Thank you so much for sharing!
Tag me on Instagram
NEVER MISS A RECIPE: Sign up for my email NEWSLETTER!
Originally post July 2018. Post updated February 2022 with new photos and tips.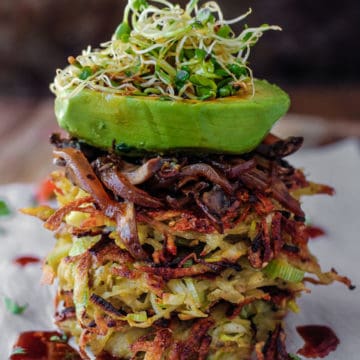 Easy Potato Pancakes Recipe (vegan)
Perfectly golden and ultra crispy these potato leek pancakes are fried to lacy perfection. Grab a stack and top them with a dollop of sour cream and chives or go super fancy and top them with an avocado boat and spicy sauce!
Rate this recipe!
INGREDIENTS
Spicy Mushrooms (Fancy Version)
1

cup

mushrooms, rough chop

1

tablespoon

sriracha

3

tablespoons

tamari

1

clove

garlic, minced

½

teaspoon

ginger, minced

1

teaspoon

maple syrup

1

tablespoon

water
Potato Pancakes
3

cups

potatoes, grated

1

cup

leeks, sliced

2-4

tablespoons

flour (ap or chickpea)

1 /2

teaspoon

garlic powder

salt & pepper, to taste

2-3

tablespoons

plant-based milk

oil for frying (avocado, canola)
Avocado Boat (Fancy Version)
1

avocado, peeled and cut in half

2-3

green onions, sliced

sprouts for garnish
Optional Toppings (Traditional Version)
sour cream

applesauce

chives, chopped
INSTRUCTIONS
Spicy Mushrooms (Fancy Version)
Prepare and rough chop mushrooms, saute in a skillet over medium-high heat. When the mushrooms are almost ready, add 2-3 tbsp of spicy sauce, warm through and remove from heat.
Spicy Sauce (Fancy Version)
While the mushrooms are cooking, make the spicy sauce. Add all 6 ingredients from sriracha to water to a small bowl and whisk to incorporate.  Taste and adjust as required.
Potato Pancakes
Clean the leek by slicing into it lengthwise and gently rinsing under running water. Cut the leek into thin slices and place into a large mixing bowl.

Peel and grate 3-4 potatoes depending on their size to get 3 loose cups. If the grated potatoes are super juicy, wrap in kitchen towel and pat dry to absorb excess liquid. Add to leeks. 

Add 3 tablespoons flour, garlic powder, salt and pepper, and 2 tablespoons milk to the potatoes. Toss to incorporate. The potatoes will be coated and sticky (see photo). Add more flour/milk if needed to get a sticky mixture.

Heat ~½ inch of oil in a heavy bottom skillet over medium-high heat until shimmering. Once hot, place scant ¼ cup of potato mixture into the skillet and let it fry until crispy and brown. Flip it (the second side does not take as long to cook). Around 6 - 8 minutes total.

Place on paper towel to absorb any excess oil.

PRO TIPS: Depending on how big your pancake is and how hot your stove runs, you may have to adjust your heat (don't go too hot or they burn on the outside and are raw on the inside). Start at medium to medium-hot and then reduce heat as needed. 
Avocado Boats (Fancy Version)
While the pancakes are pan frying, cut an avocado in half, remove the pit, and skin. Slice the green onions.
Serving (Fancy Version)
Stack up 3-4 potato pancakes. Sprinkle spicy mushrooms over top. Place ½ an avocado on the mushrooms and fill it with spicy sauce for drizzling or dipping.

Garnish with sprouts and onions. Enjoy!
Serving (Traditional Version)
Serve the potato pancakes hot and crispy with a dollop of sour cream and applesauce, some chopped chives or green onions. Enjoy!
NOTES
Keep the pancakes small so they stick together, flip easily, and are cooked all the way through. Plus they fry up nice and crisp.
Use a cast iron or heavy bottom pan for best results.
Before placing the avocado on top of the stack, cut a small slice off the bottom so it sits flat.
Potato pancakes store well in the fridge for a day or two and are delicious cold or reheat them in a skillet or air fryer to crisp them up.
This recipe is from simplyceecee.co food blog. All images and content are copyright protected. Please do not use my images or republish this recipe without prior permission. Thank you.