Delicious and nourishing garden salad with and incredible lemon vinaigrette dressing that's oil-free, dairy-free, super creamy and delicious.
Crunchy, fresh and packed full of goodies, this salad is a fabulous side dish or a healthy, protein-rich, vegan lunch!
Sometimes my body literally craves high vibrational, healthy, crunchy, fresh food; and I just feel like a BIG salad. I love the versatility of salads - add a bit of this and a bit of that, raw, roasted, beans, grains, cheese, tofu, a few nuts and seeds, a tasty salad dressing and presto - you're all set.
Why this Rainbow Salad Works
Healthy - loaded with colourful veggies each with its own nutrient profile.
Quick and Easy - a great nourishing lunch or dinner depending on the add-ons that can be ready in 10 minutes. Easy to take for lunch - add the dressing right before serving.
Adaptable - choose a variety of colours and textures, add in leftover baked veggies, beans, tofu or tempeh from earlier in the week.
Customizable - add a zesty, creamy, spicy, sweet or cheesy salad dressing each day of the week. Switch the beans and toppings to create a different salad every day.
Homemade Salad Dressing (oil-free)
More than five years ago, I gave up buying commercial salad dressings. I mean let's be real, they take up a lot of real estate on the fridge door (especially when you've got six, half used bottles hanging around!). They can be expensive (for the same reason), and they usually aren't super healthy. Plus salad dressing is a cinch to make so making my own seemed like a no brainer.
Lemon Vinaigrette takes 3 minutes to make is creamy and tangy made with Dijon mustard and lemon juice. It's oil-free, gluten-free and dairy-free. This is a family favorite.
Creamy Red Wine Vinegar Dressing (or balsamic) is a quick and easy, dairy-free dressing that's one of my go-to, oil-free salad dressings.
Salad Add Ons Suggestions
This salad is super delicious just as a regular garden salad especially with a creamy salad dressing; but depending on the add ons, you can make this a full meal salad bowl. Here's some ideas to get you started:
Grains - warm rice, quinoa or lentils
Beans - baked or raw chickpeas, black beans, brown beans, pintos, etc
Leftovers - baked veggies (cauliflower, carrots, sweet potatoes, broccoli)
Vegan Meat Replacement - Gardein Crispy Tenders, Field Roast Chipotle Sausage, Pepper Crusted Tofu
Something Sour - pickled onions, hot peppers, capers, olives
Berries or Fruit - blueberries, raspberries, pears, apples
Tips for Keeping Salad Greens Fresh
Place a paper towel or clean kitchen towel in the bag or container with leafy greens to keep extra moisture away.
If you buy leafy greens in large containers at the grocery store, remove them when you get home.
Place a paper towel in the bottom of the container then add back half the greens. Add another paper towel and the remaining greens.
If they are packed super tight, place half the produce in a separate container or bag. Air circulation will help keep the greens fresh longer.
Store fresh herbs in a paper towel to keep them fresh and crisp. Remove any tags or twist ties from herb bunches - especially cilantro - before storing.
Fluff the herbs to ensure they are not tightly packed. Loosely wrap in paper towel, and place in container or bag.
What to Serve with Salad Bowls
Vegetable Bean Soup - soup and salad is a classic pairing.
Lentil Mushroom Bolognese - served on pasta or sweet potatoes.
Vegan Chili Everyone Loves - with Beyond meat and lots of beans!
Homemade Dinner Rolls or Olive Garden copycat Breadsticks - carbs!
Did you make this recipe? I'd love to see it!
Please leave a star rating and comment at the bottom of the page.
Thank you so much for sharing! Tag me on Instagram
For more Vegan Recipes: Sign up for my email NEWSLETTER!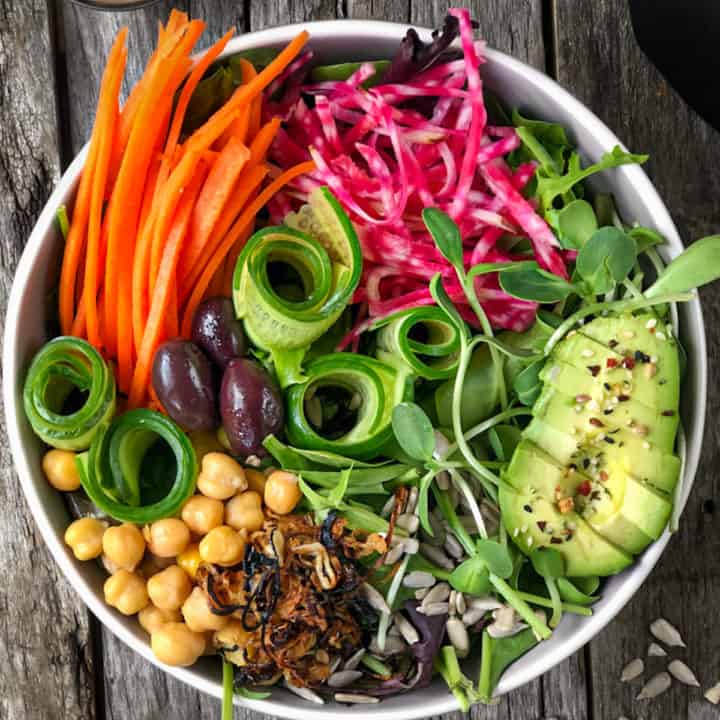 Garden Salad with Lemon Vinaigrette (oil-free)
This rainbow garden salad is fresh, nourishing and hearty. Packed with all the colourful vegetables, beans, and seeds and topped with a delicious creamy oil-free salad dressing. Perfect for a side dish or filling lunch.
Rate this recipe!
INGREDIENTS
Salad Dressing (more options in post)
2

tablespoons

Vegenaise

1

tablespoon

Dijon mustard

1.5

tablespoons

balsamic vinegar

1-2

teaspoons

maple syrup

1

clove

garlic, minced (optional)

1 - 2

teaspoons

oregano, dry leaves

pinch

hot pepper flakes (optional)

salt and pepper to taste
Salad Ingredients
greens of choice

purple cabbage (or green)

tomatoes, halves

radish, coins

cucumber, ribbons

carrots, grated

1

avocado, slices or chunks

chickpeas (or beans)

nuts and seeds, toasted

sprouts or fresh herbs
Optional Add Ons (full list in post)
crispy onions

Gardein Tenders, crispy tofu, vegan sausage
INSTRUCTIONS
If including crispy tenders, sausage or tofu (and you don't have leftovers), pop them in oven now.
Salad Dressing (oil-free, dairy-free, gluten-free, vegan)
Mix all dressing ingredients in a small jar and shake to combine. Can be stored in fridge all week.
Salad Ingredients
Drain and rinse the beans.

For the salad, use a variety of greens (spinach, kale, arugula, etc), shredded purple cabbage, shaved Brussels sprouts, cherry tomato halves, thin cucumber ribbons, radish coins, sweet bell peppers, avocado chunks, and your favourite beans (I used chickpeas this time). 

Add a sprinkle of toasted sunflower seeds or pumpkin seeds and garnish with fresh herbs or sprouts. 

I enjoy a handful of fresh blueberries in this salad as well.
NOTES
Add Ons - to turn your salad into a full meal deal try some of these options. Gardein Tenders (air fry or oven baked). Baked tofu or vegan sausage like Beyond or Field Roast are delicious.
Make* or buy fried onions for a crunchy salad topper. (*Air fried or pan fried.)
Dressing stores well in the fridge in a jar all week. Great for meal prep.
This recipe is from simplyceecee.co food blog. All images and content are copyright protected. Please do not use my images or republish this recipe without prior permission. Thank you.