Quick and easy, these rainbow colored veggie noodle lettuce wraps are bursting with freshness and smothered in an incredible Thai peanut satay sauce. Better than any takeout, these yummy lettuce rolls are ready to eat in under 30 minutes!
Super healthy, oil-free, naturally gluten-free, and raw, they are the best crunchy, creamy, salty, sweet and spicy summer rolls served as an appetizer or vegan dinner!
When it's HOT outside, we crave, easy, fresh, light meals like vegan sushi, cauliflower-chickpea tacos or summer zucchini and corn fritters! But the number one plant-based summer meal at our house is veggie and noodle salad rolls (lettuce cups, spring rolls, summer rolls, collard green wraps - whatever you call them!) with spicy Thai peanut sauce! Keep reading for the key ingredients plus that incredible dairy-free peanut dipping sauce!
Vegan Lettuce Wrap Ingredients
To build the best lettuce wrap (salad roll), choose a variety of crunchy vegetables . . .
lettuce/greens - a large leaf variety for wrapping or cup variety (eg. collard greens, romaine, butter or leafy green lettuce).
carrots - julienne or cut into matchsticks
cucumbers - deseed and cut into matchsticks
red peppers - long thin strips
avocados - creamy slices of avocado
purple cabbage - adds great crunch and colour
bean sprouts/microgreens - adds crunch, color, plus flavor
rice noodles - vermicelli is a great size/texture for these summer rolls or try soba noodles!
Tips for Making the BEST Spicy Thai Peanut Sauce
If you know me, you know my family is all about sauce! Spicy-sweet Thai peanut sauce is the perfect compliment to these fresh, crunchy noodle lettuce wraps/cups. Of course, you can slather this yummy satay sauce on anything - it makes everything 1000% better!
Peanut Butter - use a runny variety for easy emulsion, but if your peanut butter is on thicker side (as mine often is), put the sauce ingredients into a blender for the smoothest, creamiest results. Flavor Option: sub any nut butter of tahini or make your own homemade peanut butter!
Sweet v Spicy - we like it pretty spicy with just a hint of sweetness. The levels of both are customizable to suit your taste by adjusting the amount of sriracha and maple syrup.
Balanced Flavor - start with the suggested amounts and then adjust to get the right balance of flavor for your palate. More peanut butter for nutty creaminess, adjust the soy sauce (tamari) for umami flavor and saltiness. More lime will increase sourness/acidity, more or less sriracha for heat index, and maple syrup adjusts sweetness. The ginger and garlic add pungency and some heat.
This peanut satay sauce is easy to make and stores well in the fridge all week so it's perfect for meal prep, drizzled over grilled veggies, sweet potatoes or a vegan rice bowl!
Let's Make Vegan Lettuce Wraps!
Cook the noodles (rice or soba) per package directions.
While they are cooking (soaking), wash and cut the veggies. If you have a julienne slicer (affiliate link), it will speed things along for this recipe.
Make the spicy Thai peanut dipping sauce.
If using collard greens, they need a quick blanch for tenderness.
Wash and pat dry the lettuce. If making lettuce cups, start with a few noodles tossed in a drizzle of peanut sauce in the bottom of the cup. Add some of each veggie, drizzle with more peanut sauce, then garnish with fresh herbs, hot pepper flakes, and crushed peanuts.
Step-by-Step Guide for Vegan Lettuce Noodle Wraps
Remove the tough part of the spine of the collard green leaf so it lays flat and wraps easily.
Quickly blanch the collard greens in simmering water for 20-30 seconds which makes the leaf pliable (tender) and turns it bright green!
Don't leave them longer or they get too soft.
Pat dry, let cool, then start assembling the wraps.
Lay the leaf flat, stack the veggies in the middle at the bottom of the wrap (don't over fill).
Add a few noodles and a drizzle of peanut sauce.
Fold the bottom of the leaf over the filling.
Tuck the sides in as you roll the the wrap.
Cut in half and then dip into that epic, vegan, spicy Thai peanut sauce.
Storage and Make Ahead Tips
The peanut sauce can be made a few days in advance and stored in the fridge. Stir in a teaspoon or two of water to thin the sauce when ready to use.
Cut all veggies and store in separate containers in the fridge for several days. The avocado is best served the same day it is cut.
Make the noodles or rice (for bowl) ahead of time and store in the fridge until ready to use.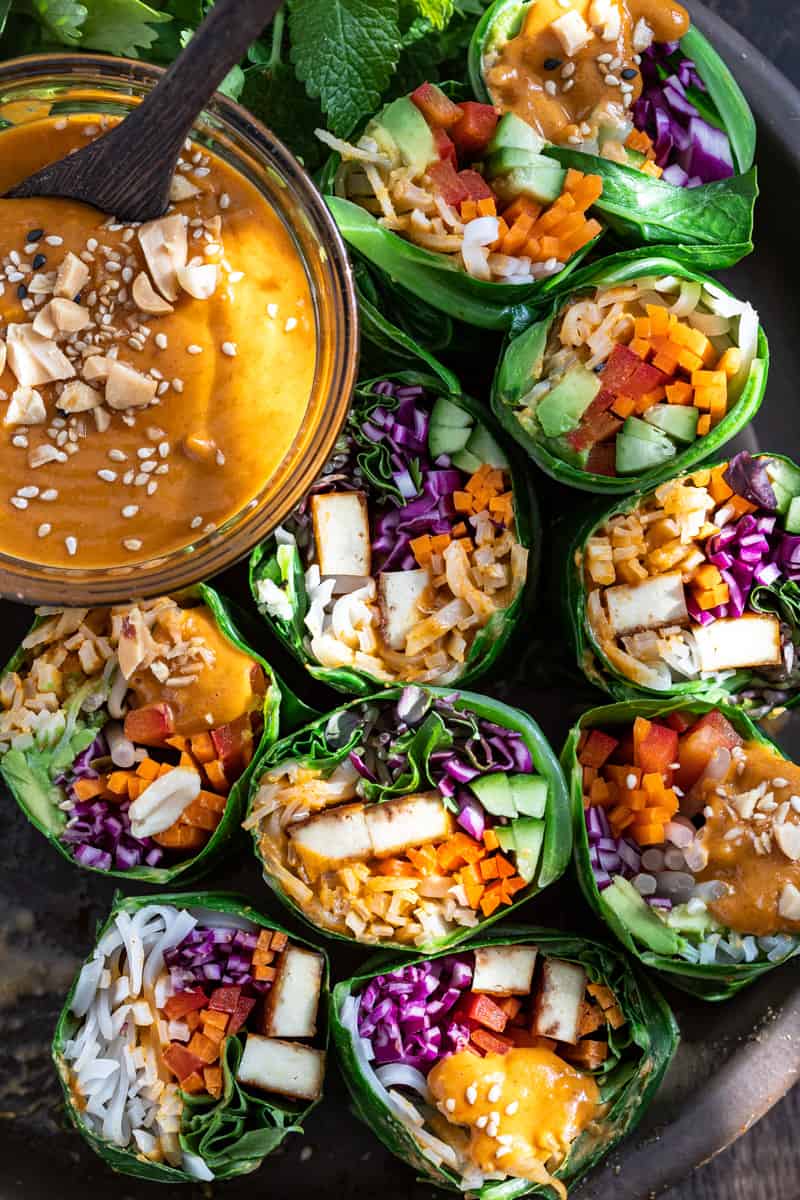 More Vegan Peanut Butter Recipes
If you're addicted to peanut butter like we are, you'll love these recipes . . .
Easy Homemade Peanut Butter - 5 minute, delicious peanut butter recipe.
Spicy Peanut Tofu Bowl - family favorite - bursting with bold flavors!
Dan Dan Noodle Bowl - an incredible spicy, creamy sauce - sooo irresistible!
Peanut Butter Chocolate Chip Banana Bread - second to none - trust me on this!
Did you make this recipe? I'd love to see it!
Please leave a star rating and comment at the bottom of the page.
Thank you so much for sharing! Tag me on Instagram 
For more Vegan Recipes: Sign up for my email NEWSLETTER!
Vegan Lettuce Wraps with Noodles and Spicy Thai Peanut Dipping Sauce
Crunchy, fresh, raw vegetable and rice noodle wrap drizzled with the most addictive spicy Thai peanut dipping sauce. This is a perfect, fresh and nourishing summer appetizer or meal that everyone loves!
Rate this recipe!
INGREDIENTS
2-4

servings

vermicelli or soba noodles, cooked
Lettuce Wrap Filling
1

red pepper, cut into thin strips

1-2

carrots, julienne or cut into thin strips

1-3

Persian cucumbers, cut into strips

1

avocado, cut into long slices

2-4

green onions, cut lengthwise (green part)

¼

head

purple cabbage, shredded

1

cup

bean sprouts or microgreens

¼

cup

cilantro, Thai basil and/or mint, chopped

1

head

lettuce for wraps or cups
Spicy Thai Peanut Sauce
⅓

cup

peanut butter, runny

3-4

tbsp

tamari or soy sauce

2

tsp

maple syrup

1

tsp

sesame oil (skip if oil free)

2

tbsp

lime juice

1

medium clove

garlic, minced

½ - 1"

piece

fresh ginger, grated

2+

tbsp

sriracha sauce

1

tbsp

water (for thinning)
Garnish
½

cup

peanuts, chopped

1

pinch

hot pepper flakes
INSTRUCTIONS
Vegetable and Noodle Prep
Cook noodles as per package directions and set aside.

Cut and slice all vegetables - julienne or slice into sticks.

Chop fresh mint, cilantro, and/or basil.

Place small piles of the vegetables, noodles, and fresh herbs across the grain of a sturdy collard green (or similar - butter lettuce, romaine, leafy green).

Gently roll the lettuce around the vegetables and noodles tucking the sides in as you roll (like a burrito).

Or place noodles and vegetables in large lettuce cup.

Drizzle with peanut sauce and garnish with added chopped peanuts and hot pepper flakes as desired.
Spicy Thai Peanut Dipping Sauce
Place all ingredients (except water) for the peanut sauce in a blender and mix until smooth. Or just whisk together in a bowl.

Ginger (sub ¼ - ½ tsp ground ginger if no fresh). But fresh is best if available!!

Taste and adjust ingredients as per personal taste.

Add water 1 teaspoon at a time to thin if needed for drizzling instead of dipping.
NOTES
These lettuce wraps are very versatile - use a variety of crunchy, colorful vegetables. As well use any rice, vermicelli or soba noodles.
For a wrap, choose a large, flat collard or romaine type leaf without tears and holes for the best results. If making a lettuce cup, choose a head of butter lettuce or iceberg type lettuce with a large, fresh leaf.
If you don't have a large leafy green, serve this meal as a Buddha bowl over noodle or rice and drizzle the peanut satay sauce over top. Super easy and delicious!!!
Optional Filling: Leftover tofu slabs in the fridge? Cut them into strips and add to the filling for extra texture, protein, and yummy flavor.
Meal Prep / Make Ahead: The peanut sauce will store in the refrigerator for a week with no loss of flavour or texture*. Cut the vegetables and prepare the noodles (rice) and store in separate containers for quick lunches or dinners throughout the week. The avocado is best if sliced right before serving.
*Stir in a teaspoon or two of water to thin the sauce if necessary.
This recipe is from simplyceecee.co food blog. All images and content are copyright protected. Please do not use my images or republish this recipe without prior permission. Thank you.