Fast, Fresh Tomato Spinach Fettuccine is the ultimate vegan comfort food when you're in a hurry and craving carbs! Made with juicy summer tomatoes, sun dried tomatoes, vegan feta cheese, fresh spinach and basil, and garnished with toasted pine nuts and crispy capers, this pasta delivers big bold flavors without a lot of fuss!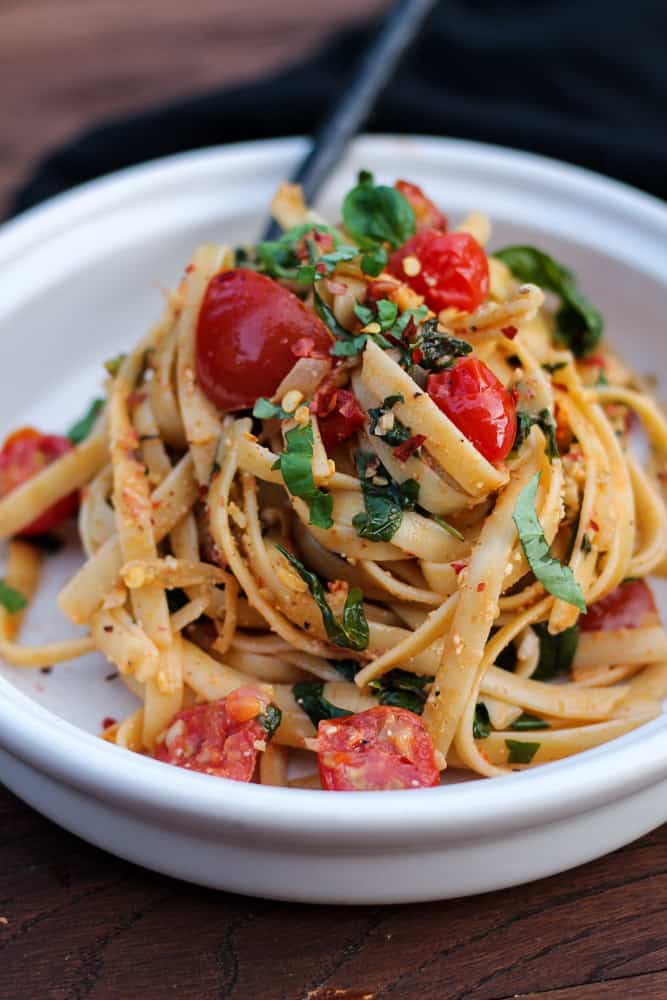 We are a pasta loving family and this one is a favorite summer meal. It's packed with fresh vegetables, creamy-salty feta, and crunchy buttery pine nuts. Crispy capers take this vegan pasta dish over the top!
It's easy to throw together those weeknights when you walk through the door and the family is hangry. I made this recipe on the regular when we finally got home from hockey, swimming, and skating practice! Our busy family loved coming home to chickpea pancakes, cauliflower chickpea tacos or a big bowl of vegan vegetable bean soup too!
Ingredient Review
The flavours and textures work so well together! Sweet warm tomatoes, creamy feta, earthy sun dried tomatoes, buttery pine nuts in a tasty tomato basil wine sauce. Here's what you'll need to make this incredible tomato spinach pasta recipe - vegan version . . .
Pasta: I use fettuccine most of the time, but you can easily sub in any pasta - rotini and penne work well also. Choose your favourite gluten free pasta noodles or try it with spaghetti squash!
Tip - when selecting your pasta, be sure to check the ingredients for eggs. Not all pasta is vegan. Typically Northern and Central Italian pasta is made with egg while pasta from Southern Italy is made without eggs.
Tomatoes: Fresh tomatoes make up the bulk of this sauce. Choose the reddest, most flavourful, ripe tomatoes you can find - cherry tomatoes and roma tomatoes are great choices.
The Flavor Makers: Sautéed onions, garlic, sun-dried tomatoes, and a splash of wine.
Spinach + Basil: Right before serving, fresh spinach and basil are stirred in (just until wilted). If you don't have fresh spinach on hand, defrost frozen spinach and squeeze out excess liquid before using.
Feta Cheese: Vegan feta cheese chunks add an incredible creamy-saltiness that is becomes soft and irresistible as it softens. Make homemade vegan feta or buy your favorite store brand.
Garnishes: Red pepper flakes for some heat. Toasted pine nuts for buttery nuttiness and crunchiness. Fried capers add the most incredible oily, crunchy, salty texture and flavor ever! They are optional, but I wouldn't skip them!!!
How to Cook al dente Pasta
You'll want to be sure your pasta is cooked to perfection (al dente - to the tooth) - tender but firm. Pro Tip: Fresh pasta takes only a few minutes to cook while dry pasta takes much longer.
Add salt to a large pot of boiling water.
Choose a pot that is large enough - don't crowd the pasta.
Set the timer as per the recommended time on the package (different types of pasta will require more or less time). Start at the lower end of the recommended time, test a piece of pasta, and then adjust the cooking time accordingly.
Drain the pasta.
Toss with a drizzle of oil, and set aside.
Fresh Pasta Recipe: If you want to make your own delicious, homemade pasta from scratch, try (Fresh Vegan Pasta recipe). It's pretty easy!
How to Make Tomato Spinach Pasta - vegan version
Start the salted water for the pasta.
Prepare and chop the aromatics and vegetables.
Start sautéing the onions and garlic - don't rush this step it develops loads of flavor and sweetness.
If making the fried capers, heat the oil, pat the capers dry and fry them until they transform into crispy, salty little balls of deliciousness!
Add the other ingredients to the sauce.
Once the pasta is ready, drain and add to the fresh tomato sauce in the pan. Add the spinach and basil.
Toss to incorporate, top with feta, capers and garnishes. Voila, ready to serve.
Recipe Tips
Gluten Free Option: this tomato spinach fettuccine is gluten free adaptable. Choose your favorite gf pasta - fettuccine, penne or rotini.
Feta Cheese: if interested in making homemade vegan feta cheese, I recommend making it a day or two in advance and storing in the fridge.
To Serve: once you've tossed the pasta, using a pair of tongs, dig into the middle of the noodles, and twist them into a beautiful tangle on an individual plate or bowl. Add a spoonful of the fresh tomato spinach pasta sauce to each tangle and garnish with feta crumbles, fresh basil ribbons, toasted pine nuts, crispy capers, and hot pepper flakes.
Serve with a warm wedge of crusty bread to sop up all the garlicky-tomato and cheesy bits.
Storing and Leftovers
If you are lucky enough to have any leftovers, this pasta recipe stores well in the fridge for a day or two. It does not freeze well.
I've served this pasta about a zillion times over the years to family and friends - it's always a crowd pleaser. I hope you'll enjoy it too!
More Vegan Pasta Recipes
If you've got a cravin' for delicious vegan (vegetarian/plant-based) pasta, here are some of my family's favorite vegan dinners. These pasta recipes are gluten-free adaptable and oil-free friendly!
Easy Vegan Lasagna Roll Recipe - honestly this one will knock your socks off!
Cal-Ital Lasagna with Sausage - this is THE BEST vegan lasagna with a twist ever!!!
Creamy Rosé Vegetable Pasta - scrumptious, everyday pasta the whole family LOVES!
Check out many more sensational vegan, dairy-free, pasta recipes on my pasta page!
Did you make this recipe? I'd love to see it!
Please leave a star rating and comment at the bottom of the page.
Thank you so much for sharing! Tag me on Instagram 
For more Vegan Recipes: Sign up for my email NEWSLETTER!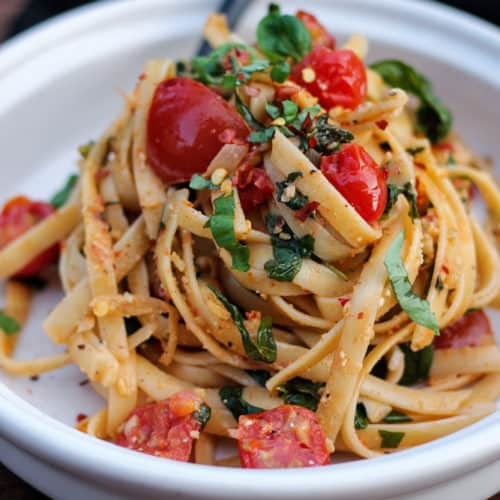 Fresh Tomato and Spinach Pasta Recipe (vegan)
The prettiest tangle of pasta with a fresh tomato, spinach, sundried tomato, garlic, basil sauce, topped with crumbled creamy vegan cheese, crispy fried capers, buttery toasted pine nuts and hot pepper flakes. Bursting with big bold flavors and a ton of texture, this easy, vegan dish is devoured by everyone - vegan or not!
Rate this recipe!
INGREDIENTS
4

servings

fettuccine or pasta of choice
Fresh and Sun Dried Tomato Sauce
1

tablespoon

oil from sun dried tomatoes (or splash of broth)

½

cup

red onion, chopped

1

tablespoon

garlic, minced

½

cup

white wine

1

teaspoon

red pepper flakes (to taste)

4-6

pieces

sun dried tomatoes, chopped

2-3

cups

tomatoes, cut into chunks

2

cups

fresh spinach, chopped
Toppings/Garnishes
½

cup

fresh basil, cut into ribbons

¼

cup

vegan feta (store bought or homemade)

sprinkle

toasted pine nuts

¼

cup

crispy fried capers (optional)
INSTRUCTIONS
Boil salted water for the pasta. Prepare as per package instructions.
Crispy Capers (optional but not really!)
If making the crispy capers (recommended): heat enough oil to cover the bottom of a small saucepan or small skillet over medium heat.

While the oil is heating, dry the capers between layers of paper towel.

Once the oil is warm, remove the pan from heat, carefully spoon the capers into the oil (watch for oil splattering). Stir or shake them around to ensure even cooking.

Cook until the capers open up and become crispy and golden.

Pro Tip: save the oil the capers cooked in to add flavor to your next dish!

Let them drain in a single layer on a paper towel until just before serving.
Fresh and Sun Dried Tomato Sauce
Prepare veggies as above and set aside.

As well, take out all other ingredients and place near stove.

In a deep skillet or wok style pan, heat the oil*. Add the onion and garlic and saute over medium to medium-high until the onions are translucent and turning golden about 4-6 minutes.

*If oil free, use a non-stick pan and add a splash of broth as needed to prevent sticking.

Add the wine to deglaze the pan then lower the heat to medium and cook for another 3-5 minutes to reduce the liquid.

Stir in red pepper flakes, chopped sun dried tomatoes (approx. ¼ cup) and fresh tomatoes.

Taste and add salt and pepper as needed.

Back to the Pasta: Drain the pasta and add it to the tomato mixture in the wok/pan.

Add the spinach and vegan feta cheese (if using) and toss to incorporate.

The spinach will wilt within a couple of minutes and then presto, it's ready.
To Serve
Top with basil ribbons, toasted pine nuts, crispy capers, and a sprinkle of hot pepper flakes.

Pro Tip: to ensure the capers stay crispy - pass them to be sprinkled on each serving
NOTES
Tomatoes: Choose the reddest, ripest tomatoes you can find. Cherry tomatoes and roma tomatoes are a good choice.
Cheese: Vegan feta adds a wonderful salty, tangy creaminess. I like Violife Brand or homemade feta cheese.
To Serve: For a beautiful presentation, put a pair of tongs into the center of the finished pasta and twist into a gorgeous pile on each individual plate or bowl. Add a spoonful of the tomato-spinach filling then sprinkle with pine nuts, basil, hot pepper flakes, feta cheese crumbles and crispy capers.
Storage: Although we rarely have leftovers, this pasta will keep well in covered dish in the fridge for 2 or 3 days. It does not freeze well.
This recipe is from simplyceecee.co food blog. All images and content are copyright protected. Please do not use my images or republish this recipe without prior permission. Thank you.