This vegan Greek salad recipe is a fresh, crunchy, tangy, salty explosion of flavors and textures in every bite. It's made with fresh summer vegetables like crisp green peppers and juicy red tomatoes, tossed with briny olives, creamy dairy-free tofu feta, and paired with a tangy classic Greek salad dressing. Always a crowd favorite, this easy summer salad is my go to for BBQ, picnics in the park, and family gatherings.
In this vegan version, I stick pretty close to the original Mediterranean flavors; but keep reading for a crunchy salty twist and that vegan tofu feta cheese recipe - only the most incredible feta ever . . .
Most requested salad in our house by far - Greek Salad!
Why You'll Love this Tasty Greek Salad
Healthy, oil-free friendly, gluten free.
Adaptable – add in beans, rice or pasta (choose a pasta like farfalle or rotini to catch all the yummy bits and dressing or a filled pasta like tortellini.
Delicious served fresh or for leftovers the next day or two. Check out the Recipe Notes for a Leftover Remix (easy vegan dinner idea).
Crowd Pleaser - super popular at BBQs, family get togethers and potlucks.
Easy to make or make ahead.
Surprise crunchy-salty, heavenly addition!
Let's make Vegan Greek Salad
This vegan Greek salad recipe is super popular and super easy. Here's the ingredients you'll need . . .
Tomatoes - choose ripe, red, juicy tomatoes - cherry or cocktail size are a great choice.
Green Peppers - traditionally we use green, but any colour will work - adds lots of texture!
Red Onions - chopped or sliced, thick or thin - your choice.
Cucumbers - Persian or English cucumbers, chunks - leave the peel on!
Feta Cheese - vegan tofu feta cheese adds creaminess and saltiness.
Kalamata Olives - whole pitted Kalamatas are classic, but use any variety you prefer.
Traditional Greek Salad Dressing - tangy, bright, and creamy (easy oil-free option too).
Capers - crispy fried capers are optional but incredible! More below . . .
Vegan Feta Cheese
Vegan feta cheese recipes - what can I say, in my experience they usually require a good imagination. Dairy-free cheese is a challenge. Since becoming vegan, I typically skip the cheese or make recipes that don't require cheese. But Greek Salad . . . it's defined by that creamy, salty, briny cheese - isn't it?
There are some really great commercial brands now like Violife and Black Sheep to name a couple. But if you want to try homemade vegan feta cheese, this is the recipe!!! It takes only a few minutes to make and then needs some time in the fridge to set.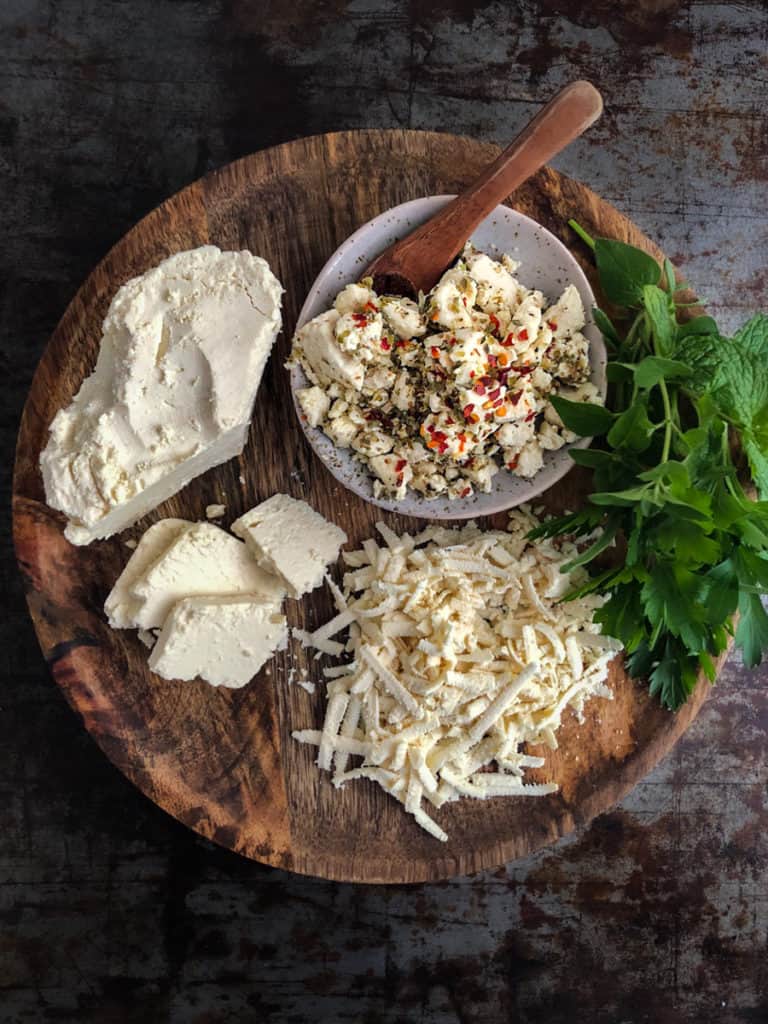 This yummy tofu feta cheese recipe is created by Virtuous Pie in Vancouver and it's a wonderful feta replacement in this Greek Salad recipe, sprinkled on tacos, in my Fast, Fresh Tomato and Spinach Fettuccine, and on Greek potatoes!
Full Meal Vegan Salad Option
To make this salad heartier, serve it over a scoop of warm brown rice, stir in some chickpeas (raw or baked) or add some cooked pasta. All super delicious and satisfying.
Start with about a cup of cooked rice and add more as desired. For the pasta, we like the bowties (farfalle) or corkscrew (rotini) because they catch all the little bits of herbs and cheese in their twists and crevices. Another great addition would be filled pasta like tortellini. Add 1 or more cups of cooked pasta to start and then more as desired.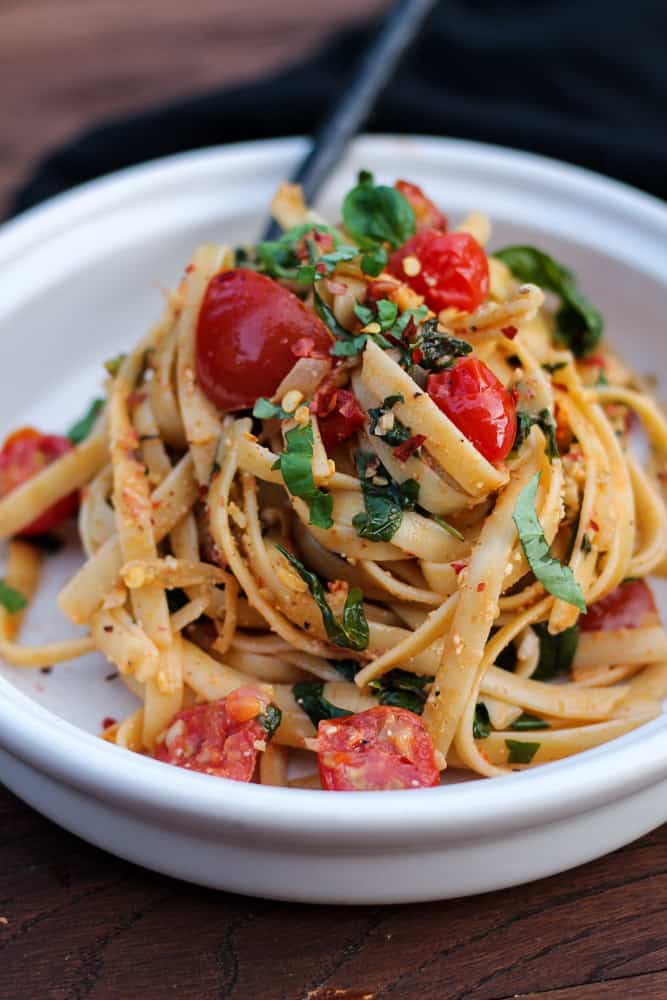 More Yummy Vegan Recipes (with feta)
Fast and Fresh Spinach and Tomato Fettuccine - an easy, beautiful summer pasta!
Ultimate Mediterranean Bowl with Greek Potatoes - vegan comfort food at its best!
Slow Roast Tomato Pasta with Feta - simple, super flavorful, epic pasta dish.
Did you make this recipe? I'd love to see it!
Please leave a star rating and comment at the bottom of the page.
Thank you so much for sharing! Tag me on Instagram 
For more Vegan Recipes: Sign up for my email NEWSLETTER!
Easy Greek Salad Recipe (with crumbly tofu feta)
This vegan Greek Salad is fresh and delicious - it's loaded with juicy summer tomatoes, crisp green peppers, zippy onions, briny olives, crispy fried capers and creamy salty feta. A real crowd pleaser this Greek Salad is perfect for summer BBQ's, family get togethers, and neighborhood potlucks. Take the leftovers for lunch all week!
Rate this recipe!
INGREDIENTS
Greek Salad Ingredients
2

cups

tomatoes, quartered

4-5

mini

cucumbers, quartered and sliced

1

green pepper, chunks

⅓

small

red onion, chopped

S&P

½

cup

Kalamata olives

¼

cup

feta chunks, plant-based

¼

cup

capers (optional - sort of)
Greek Salad Dressing (vegan)
3-4

tbsp

lemon

2

tbsp

olive oil (*avocado if oil free)

2

tbsp

red wine vinegar

2

tbsp

Dijon mustard

½ - 1

tsp

Sambal Oelek (or more to taste)

1-2

cloves

garlic, minced (to taste)

¼ - ½

tsp

maple syrup (optional)

1

tbsp

dry oregano

sprinkle

hot pepper flakes
Hearty Salad Options
rice, chickpeas, pasta (optional - see Notes)
INSTRUCTIONS
VEGAN FETA CHEESE
Use your favourite brand of feta or try the recipe below* (if you are making the feta cheese from scratch, you need some time to let it set). 
VEGETABLE PREP
Wash vegetables and pat dry. Use more or less of each ingredient to your preference.

Choose flavorful cherry or cocktail tomatoes (cut in half or quartered) but any juicy, ripe tomato cut into chunks will work.  

Use an English cucumber or Persian cucumber and skip the peeling! Cut the cucumbers into quarters and then slices or if using small cucumbers, just thick slices.

Chop or slice the red onions - thick or thin to your preference.

Chop the green pepper into large pieces so there is a good variety of textures in the salad.

Cut feta cheese into chunks or crumble over the salad.
CRISPY FRIED CAPER RECIPE (optional - but is it really???!!!)
Heat ½" or so of oil in a small skillet or saucepan until shimmering.

Pat the capers dry then carefully add them to the oil with a slotted spoon or a spider strainer.

Let them cook on medium-high to high heat until crispy. This takes only a few minutes. Take one out and test if you aren't sure. The are ready when golden and crispy.

Remove from the oil and let drain on a paper towel.

RECYCLE: Let the oil cool and save it to use in Spinach and Tomato Fettuccine, Bolognese Sauce, Greek potatoes or anything else.
GREEK SALAD DRESSING RECIPE
Place all ingredients from lemon to oregano into a glass jar with a lid. Shake until incorporated. *Leftover dressing will keep in the fridge for several days - use it on bowls or garden salads!

Taste Test: taste the dressing and adjust seasonings to your preference.

I add ¼ - ½ tsp maple syrup to take the edge off if it's too sharp (acidic). This is optional but give it a try if your flavor profile isn't quite balanced.

Pro Tip: Skip the oil and add avocado (to make the dressing creamy). Start with ¼ - ½ avocado.

Pulse in a blender to emulsify. Taste and adjust seasoning to taste.
TO SERVE
Place all prepared veggies in a large bowl. Sprinkle with S&P, olives and dressing. Toss to incorporate.

Add chunks of feta, a sprinkle of red pepper flakes, and fresh basil leaves. Add crispy capers rights before serving!

Place in the fridge until ready to serve.
NOTES
Fried Capers - an amazing flavor and texture addition to vegan cooking. Even if you don't like capers, I'm sure you'll LOVE these. The are salty crispy flavor bombs with texture similar to bacon. I find them irresistible!!! Rice, chickpeas or pasta - add cooked brown rice, baked or raw chickpeas OR cooked pasta (rotini, farfalle or tortellini) to make a heartier salad. Start with a cup and the add more as desired. Oil-free Dressing - for oil-free dressing, just skip the oil all together (I do this a lot) or add avocado and pulse in a blender to incorporate. Storage and Leftovers - store the salad in the fridge for up to a few days. It's great leftover the next day or two. Leftover Remix - if you've got a bunch of salad leftover, cook some rotini or penne. Meanwhile, heat up the leftover Greek salad in a wok style pan. Stir the cooked pasta into the salad, sprinkle with feta or parmesan, fresh basil, and hot  pepper flakes. Enjoy!
This recipe is from simplyceecee.co food blog. All images and content are copyright protected. Please do not use my images or republish this recipe without prior permission. Thank you.
Creamy Tofu Feta Cheese Recipe (vegan)
Creamy, salty, melty vegan feta cheese recipe that's made with tofu. It's perfect for crumbling on Greek Salad, over pasta dishes or melting on burgers and pizza. This is the most incredible vegan feta cheese ever - it crumbles, it melts, it's creamy, salty and tangy! You'll love it - promise!
Rate this recipe!
INGREDIENTS
12

oz

tofu, firm

5

oz

coconut oil (refined), melted

2

tsp

onion powder

2

tbsp

lemon juice

4

tsp

apple cider vinegar

1 - 1 ½

tsp

salt (to taste)
INSTRUCTIONS
Place all ingredients in blender and blend until extremely smooth. You may need to stop and scrape down the sides periodically.

Place in an appropriately shaped dish or mold (covered) and place in refrigerator until firm (a few hours or overnight).
NOTES
Coconut Oil - use refined oil so there's no coconut flavor. Choose the scoopable kind not the liquid.  Storage - the feta keeps well in the fridge for a few weeks or freeze it in small blocks and pull out only what you need. Recipe Origin - This is the recipe from Virtuous Pie in Vancouver, British Columbia, which is where I first had it. If you are ever there, they have some of my favorite plant-based meals EVER!
This recipe is from simplyceecee.co food blog. All images and content are copyright protected. Please do not use my images or republish this recipe without prior permission. Thank you.