This 4 ingredient guacamole recipe is the best ever! It's fresh, healthy, chunky, creamy, and ready in a matter of minutes! We love it served with fresh pico de gallo, corn salsa, pita chips, and everything else!!
Is there anything better than a perfect homemade guacamole recipe (aka guac)? Of course, 'perfect' is subjective, and in our family everyone thinks their guacamole recipe is THE BEST. A bit more lime juice, add a splash of lemon juice, bring on the heat, more cilantro, less cilantro, HOLD the cilantro - small differences and preferences; I love ALL their guacamole recipes.
Ingredients for Simple Guacamole
If you ever need a little something extra to elevate a dish, guacamole dip is always the answer. The flavors and texture pair so well with vegan tacos, stuffed sweet potatoes, and a big plate of cheesy vegan nachos.
You'll only need a few high quality ingredients to make this super simple guacamole recipe:
Avocados - of course! Avocados are the main ingredient in guacamole.
Limes - fresh is best.
Cilantro
Onions
Salt
Jalapeño pepper (optional)
How to Make the Easiest Guacamole
So quick and easy, you can be enjoying homemade guacamole in a matter of minutes. Here's how to make it:
Slice in half, remove the pit, scoop into a mixing bowl. Gently mash the avocado halves using a fork. Pro Tip: Texture counts, don't over mash and mix the guacamole (you can't unmash an avocado!). Leave some bigger chunks because when you add the lime, cilantro, and onions, the avocados will break down more.
Mince the onions and cilantro - add to bowl.
Add freshly squeezed lime juice and salt. Mince and add jalapeno if using.
Stir everything together. Taste and adjust seasoning to your preference.
Enjoy!
Expert Tips for making Guacamole
Choosing avocados - choose avocados that are dark green, are soft but not mushy, are free from big soft spots (bruises) and aren't too firm or hard.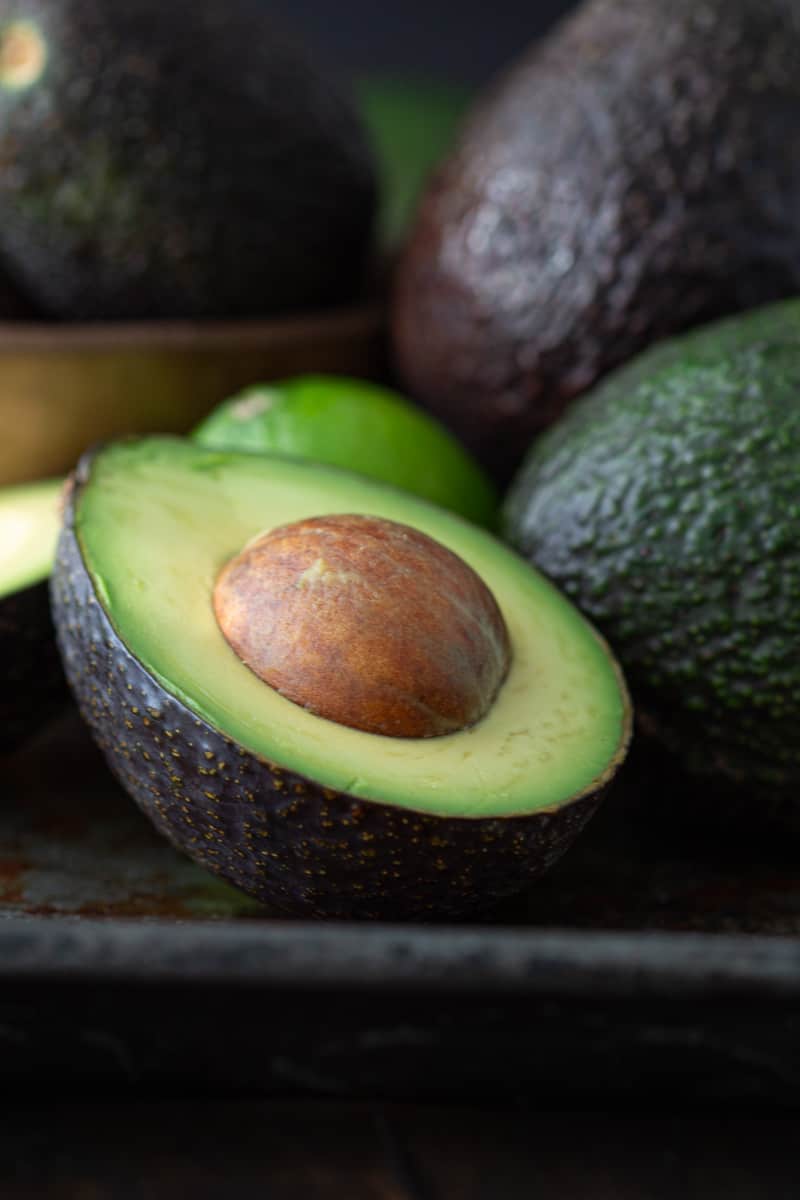 Storing avocados - store at room temperature if you are going to use them right away. If they are ripening too quickly, move them to the fridge. Hard or firm avocados need a day or two on the counter. Placing them in a paper bag in a warm spot (like a sunny counter) will also speed along the ripening process a bit.
Texture - make guacamole with room temperature avocados for best results. Guacamole texture is important! In our family, we like it chunky, not too mashed/smooth. It's easy to control the texture simply using a fork.
Guacamole flavor - if the guacamole is bland, add some salt and then some lime. If you like more heat, add more jalapeno or red pepper flakes.
Optional add ins - add a sprinkle of minced jalapeño for a hint of heat (seeds will increase the heat). Minced garlic, cumin and chopped tomatoes are popular additions as well.
Ways to Serve Guacamole
Vegan Buddha Bowl
Spicy Tofu Taco Bowl
Vegan Breakfast Burritos
With a big bowl of tortilla chips guacamole, Pico de Gallo, Vegan Queso Cheese Sauce!

Did you make this recipe? I'd love to see it!
Please leave a star rating and comment at the bottom of the page.
Thank you so much for sharing! Tag me on Instagram
For more Vegan Recipes: Sign up for my email NEWSLETTER!
Simple Guacamole Recipe (easy - only 4 ingredients!)
Simple and delicious 4 ingredient guacamole recipe ready in minutes! Made with ingredients like avocados, onions, limes, and cilantro. A real crowd-pleaser, this guac is naturally gluten free, oil free - don't forget to whip up a fresh batch for Sunday football games, Cinco de mayo parties, and family get togethers!
Rate this recipe!
INGREDIENTS
3

large

ripe avocados

2-3

tablespoons

white onion, minced

3

tablespoons

cilantro leaves, chopped

2-3

tablespoons

lime, juice (more or less to taste)

½

teaspoon

sea salt, (more to taste)

jalapeno, minced (to taste)
INSTRUCTIONS
Cut the avocados in half and remove the pit. Scoop the avocado flesh with a spoon and place in a bowl. Gently mash leaving it pretty chunky.

Add the remaining ingredients and continue mashing and mixing (leave some texture) until desired consistency is met (don't over mash).

Taste and adjust seasonings as desired. If it's bland, first add more salt, then add more lime.

Serve immediately with chips and pico or salsa.
NOTES
Avocados - Too hard? Leave on counter in a warm sunny spot. Ripening too quickly? Pop them into the fridge. Limes - best if fresh but in a pinch, use bottled. Texture - guacamole texture is important. Chunky or smooth - you choose. (I'd love to hear in the comments which your family prefers!) Add ons - popular guacamole add ins include cumin, garlic, and tomatoes.  Storage - lots of talk about how to store guacamole. I try to make only what we will consume; but if we have a bit leftover, I place in the fridge in an air-tight container in a paper bag. The quality of guacamole goes down each additional day it is stored IMO. It's so easy to whip up a fresh batch when you need it - like literally minutes.
This recipe is from simplyceecee.co food blog. All images and content are copyright protected. Please do not use my images or republish this recipe without prior permission. Thank you.