Making your own melt-in-your-mouth, creamy peanut butter is a quick and easy process that produces a luscious protein-rich, gluten-free vegan spread in a matter of minutes. Plus it's equally delicious in sweets and savory dishes like eggless peanut butter cookies, eggless banana nut muffins, and Thai vegetarian lettuce wraps to name a few.
There's absolutely nothing like freshly ground, spreadable peanut butter! Keep reading for tips for making your own homemade nut butters plus lots of serving suggestions . . .
If you love nut butters like our family does, you can use this recipe to make all your favorite butters - spicy peanut butter, cashew, almond and our current decadent obsession - NUTELLA!!
Why This Recipe Works
Homemade peanut butter is super easy to make from scratch. Make it smooth or crunchy, sweet or spicy whichever your family enjoys . . .
fast and easy - whip up a batch in just 5 minutes!
inexpensive + convenient - buy peanuts in bulk!
simple - only 1 essential ingredient
healthy - whole food, protein rich, gluten-free, dairy-free, oil-free, sugar-free
stores well in pantry or fridge for weeks
super versatile - spicy peanut butter, maple peanut butter, smooth or crunchy!
Tips for Making Peanut Butter from Scratch
Peanuts. Dry roasted or shelled peanuts, unsalted or salted. Roasting the peanuts before making peanut butter brings the oils out and produces a creamier smoother nut butter. Choose salted or unsalted peanuts (I prefer unsalted to control the level of saltiness). I find salted peanuts produce a very salty peanut butter.
Food Processor. The quantity of the peanuts v. the size of the food processor can affect the outcome. If you have a large food processor and try to make a small batch of peanut butter, you likely won't get the smooth, creamy texture you desire. I use a big, old, but super powerful Kitchenaid food processor and 2 cups is the minimum quantity of nuts I can blend to get a smooth consistency.
Blender. No food processor? No problem, use a high-power blender like a Vitamix to make the nut butter. For best results, stop frequently to scrape down the sides and bottom, and don't overcrowd the blender which can heat it up!
Salt. After the peanut butter is blended completely, stir in some salt (if using). Add a pinch or two at a time until desired saltiness. Expert Tip: Adding salt changes the texture and consistency of peanut butter so stir or just lightly blend after adding salt.
The Stages of Blending Peanut Butter
Place dry roasted peanuts in the food processor and start blending.
The transformation is immediate and the nuts soon look like coarse brown sugar.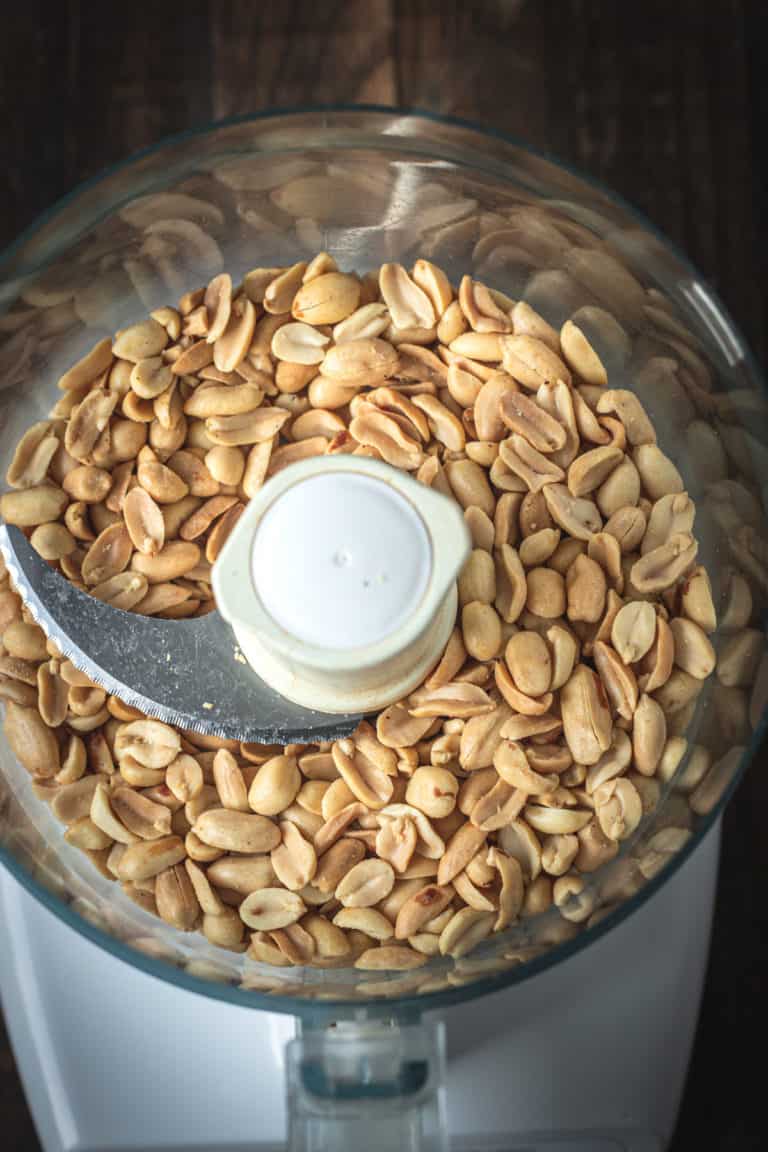 Keep going! Next stage the peanut butter comes together like a soft dough.

Soon after, the 'dough' magically transforms into a silky, smooth peanut butter. Expert tip: blend for about 4-5 minutes or until the peanut butter is creamy smooth and runny. *The length of time will depend on the power of your machine.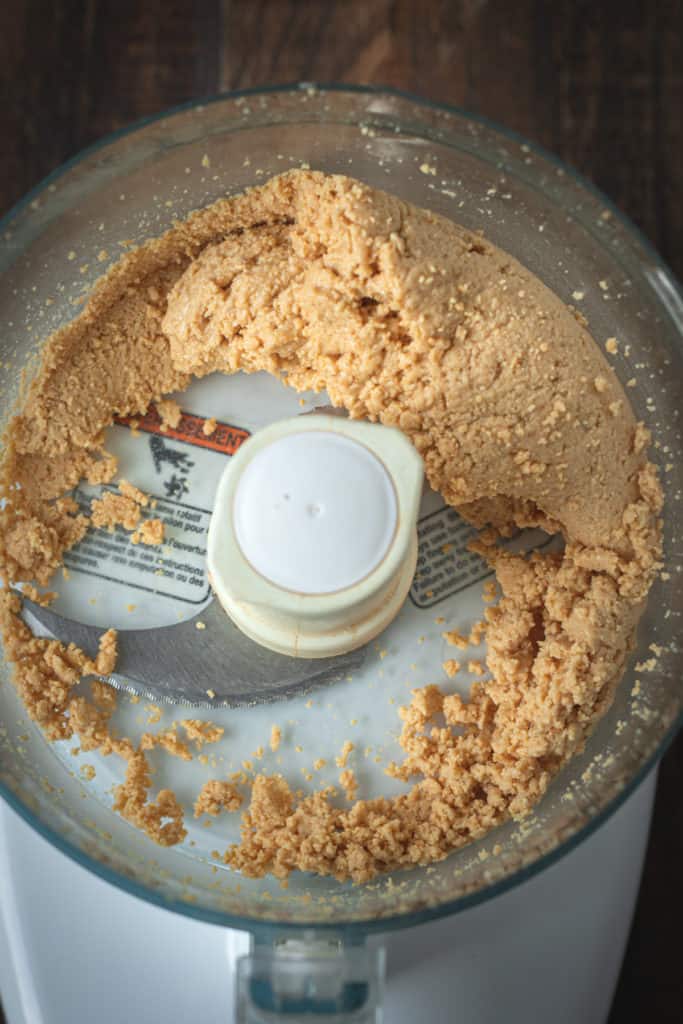 Optional Add-Ins
Here are a few optional add-ins for after the peanut butter is blended.
Crunchy. Roast about ¼ cup extra peanuts. Chop them until they are the texture you prefer then stir into the peanut butter after the blending is finished.
Sweet Peanut Butter. After blending, stir in a 1-2 tablespoons of maple syrup, agave or vegan honey to add a hint of sweetness if desired.
Spicy Peanut Butter. After blending, remove a portion of the peanut butter and stir in a pinch or two or cayenne or a squeeze of sriracha for a nice, unexpected kick of heat.
Chocolate. Melt ½ cup of dairy-free chocolate chips and add to the food processor once the peanuts are blended. Pulse a few times to incorporate.
8 Delicious Things to Make with Peanut Butter
I mean, let's be honest, peanut butter makes everything way better! I love spoonfuls of it straight out of the jar or drizzled over fresh fruit. I always add it to smoothies and stir it into my breakfast bowls to bump up the flavor and protein. Here's a few more peanut butter things our family loves . . .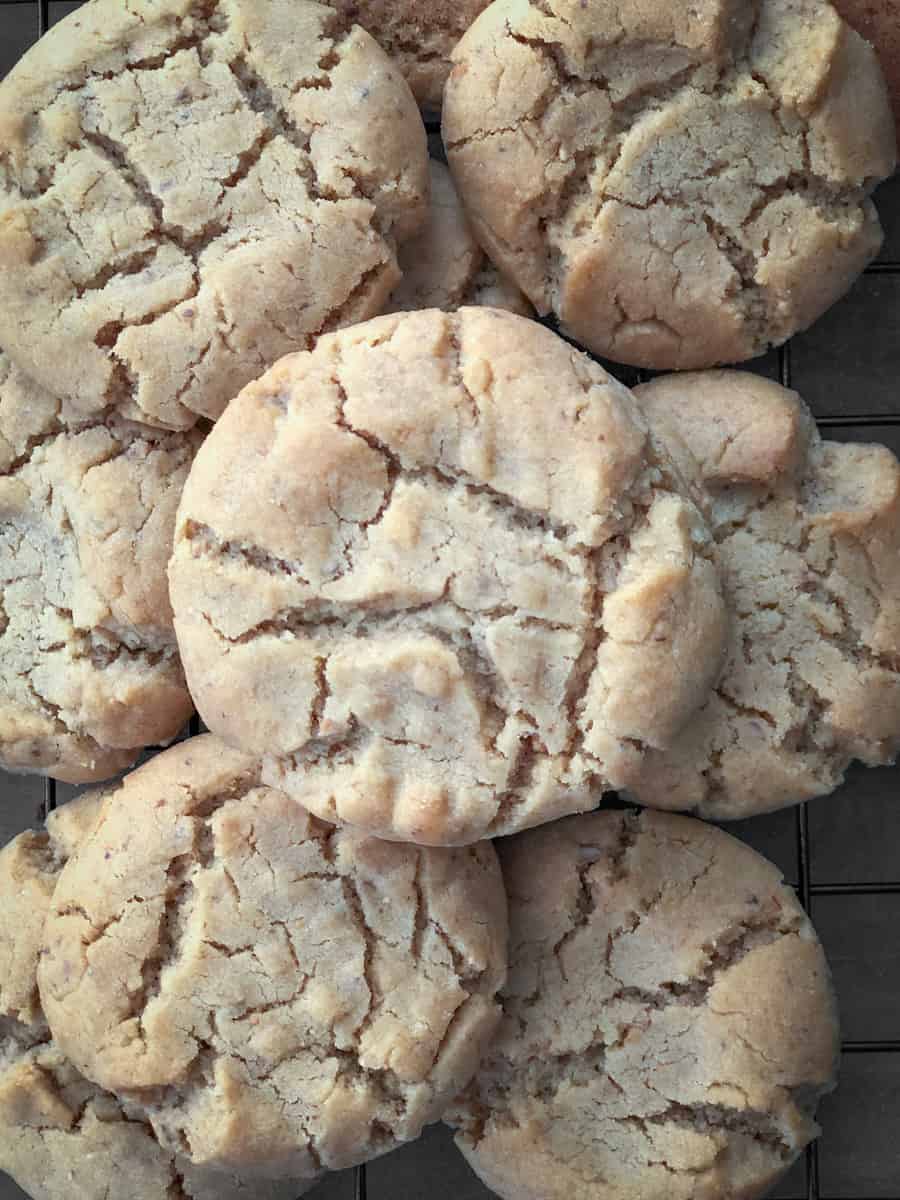 How to Store - Shelf Life
Store your peanut butter in a jar in the pantry and it will last for a few weeks or pop it into the fridge to extend its shelf life.
Since there are no preservatives, it will keep much longer in the fridge (especially if you live in a warm climate). Be aware that the oils will tighten up when chilled so you may need to slightly warm it before using in a recipe.
Did you make this Easy Homemade Peanut Butter recipe? 
Let me know what you think in the comments below. Also, I love to see your creations, please tag me on Instagram and Facebook!
NEVER MISS A RECIPE: Sign up for the Sunday morning NEWSLETTER!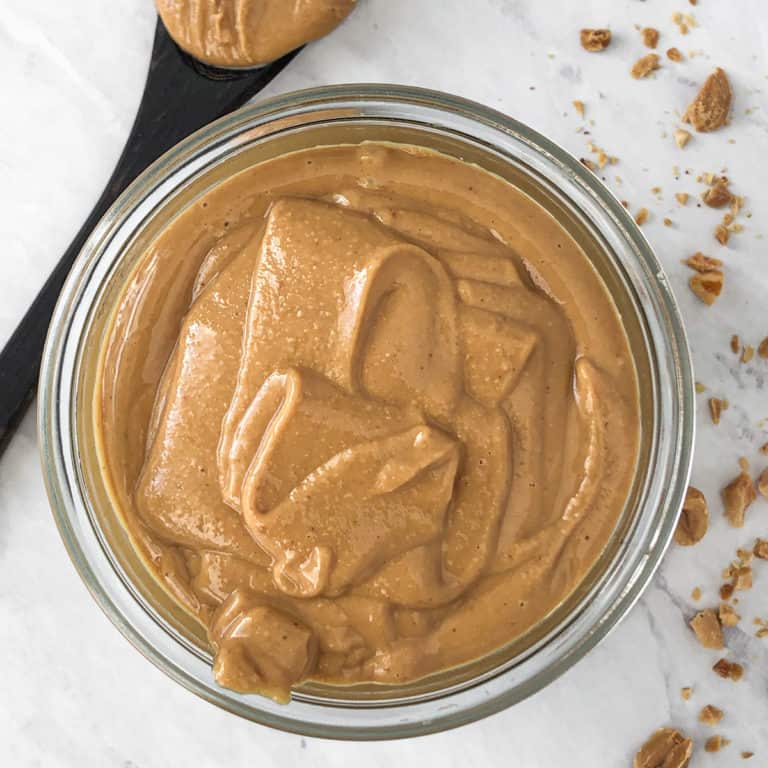 Easy Homemade Peanut Butter (gf + v)
Freshly ground and totally irresistible, homemade peanut butter is easy to make with a food processor or blender. It's super adaptable to make salted, unsalted, vegan honey roasted, maple or chocolaty. Protein rich, gluten free, oil-free and 100% vegan, this super healthy peanut butter is ridiculously simple and yummy.
Rate this recipe!
Equipment
food processor

high speed blender
INGREDIENTS
2

cups

dry roasted peanuts, unsalted

¼ - ⅓

cup

dry roasted peanuts, chopped (optional)
Optional Add-Ins
salt (to taste)

1-2

tablespoons

maple syrup, agave, vegan honey

⅓ - ½

cup

chocolate chips, dairy-free (optional add in)
INSTRUCTIONS
Dry Roasted Peanuts
Optional Step: preheat the oven to 350º F, spread the dry roasted nuts in a single layer over a baking tray. Warm the nuts for ~4 minutes to heat up the oils.

Place 2 cups dry roasted peanuts* in a food processor and blend until smooth. Approximately 5 minutes.

The nuts will transform into dry crumbles, a ball of dough, and then smooth, creamy, runny peanut butter.

After you've blended the nuts, stir in the maple syrup and salt if using.

Store in a glass jar in the cupboard or for longer shelf life, store in fridge.

*The peanut butter will become firm in the fridge but just warm it for a few seconds in the microwave to loosen up the oils.

See recipe notes below for crunchy or chocolate peanut butter options.
Raw, Shelled, Unsalted Peanuts
Roast the peanuts in a 350º F oven until golden - about 8 - 10 minutes. Stirring halfway through. Continue as above with blending.
NOTES
Crunchy Peanut Butter - roast an additional ¼ - ⅓ cup of peanuts, chop them, and set aside. Once the peanut butter is blended, stir in these peanuts to make it chunky! Dry Roasted Peanuts - I get the best results from unsalted, dry roasted peanuts. I pop them into a 350º oven on a baking tray for 4 or 5 minutes to warm the oils which produces the creamiest peanut butter. With unsalted peanuts, you control how much salt is added. Food Processor or Blender - I prefer to make nut butter in the food processor, but it works equally as well in a high-power blender. Affordable - buy peanuts in bulk for best value. Other Variations - use this same method to make any nut butter: cashew, pistachio, almond and decadent nutella.
This recipe is from simplyceecee.co food blog. All images and content are copyright protected. Please do not use my images or republish this recipe without prior permission. Thank you.