This vegan version of honey mustard sauce is so luxurious and full of flavor - it's way better than store bought!! Tangy, sweet and creamy it makes a fabulous salad dressing, addictive dipping sauce, and delicious drizzle. Takes under 5 minutes to make, plus it's oil free, dairy free, and gluten free! BOOM!!
Keep reading for lots of way to use this delicious, vegan twist on classic honey mustard . . .
I can't believe I haven't shared this vegan 5 Minute Honey Mustard Sauce recipe on the blog yet - it's so irresistible! I created it years ago for dipping my Vegan Sausage Rolls in at family get togethers.
We love it dipped and drizzled on everything from big vegan salad bowls to grilled, BBQ'd or baked veggies, stuffed sweet potatoes, and tacos. This oil-free honey mustard sauce makes everything 1000% more delicious!
Whip up a batch and toss it in the fridge - you'll be happy you did!
What's in Honey Mustard Sauce
With only a few simple ingredients, this incredible, vegan honey mustard sauce/dressing recipe can be made at home in no time. Here's what you'll need . . .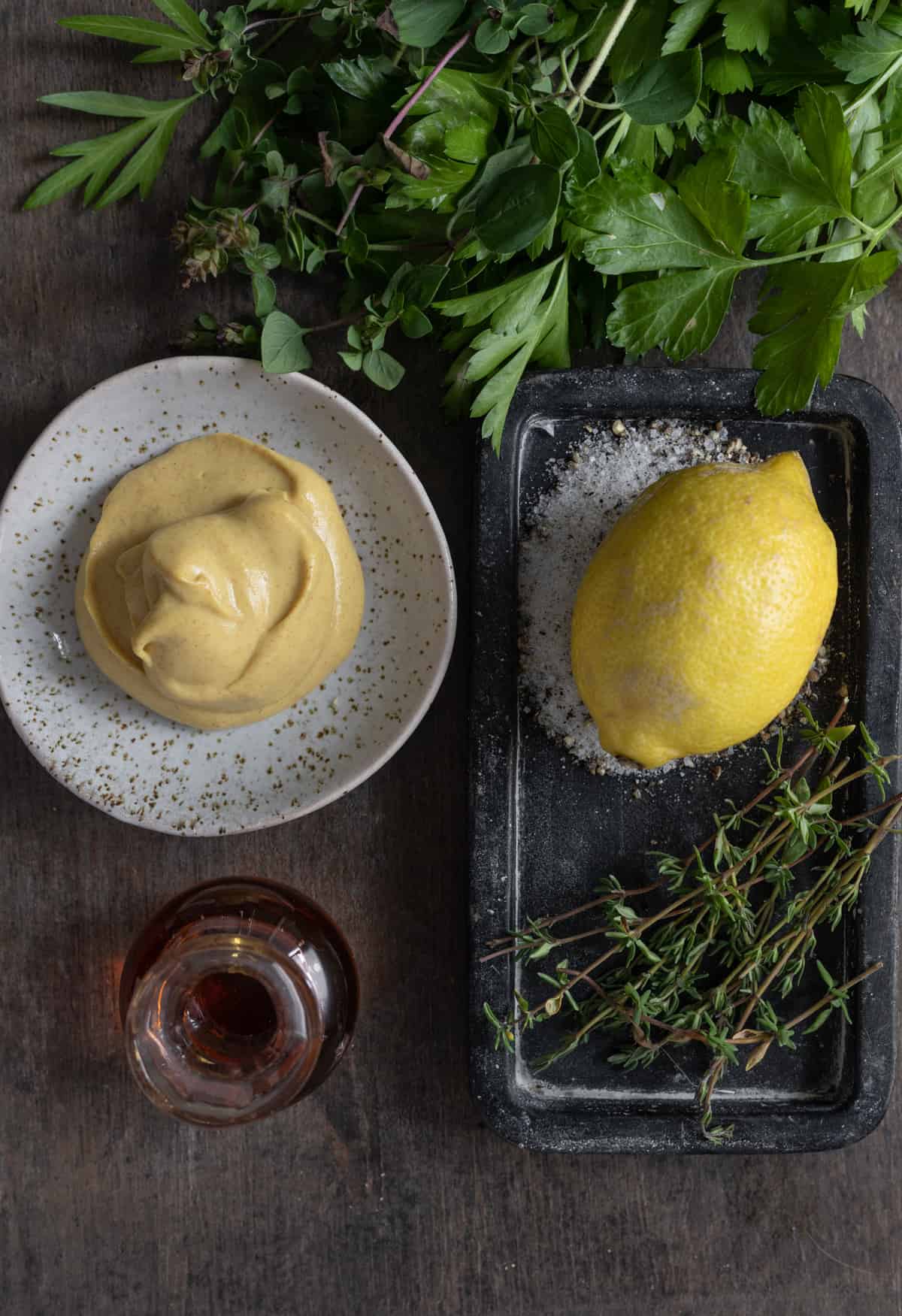 Dijon Mustard. Smooth, creamy and super flavorful, dijon mustard adds a lovely earthy depth of flavor and zippiness to this dressing.
Maple Syrup. Canadian girl here 👋🏻 we love our maple syrup for its lovely subtle flavor and sweetness. It's the perfect vegan substitute for honey in this dressing. You could also try some vegan honey or agave syrup.
Lemon. A squeeze of fresh lemon adds the perfect amount of acid and brightness to balance the flavors. Start with a splash, then taste, Add more to your personal preference.
Cayenne Pepper. A dusting of cayenne adds the slightest kiss of heat that is almost indiscernible but definitely elevates the dressing flavor profile.
Salt and Pepper. Skip the table salt and go directly to ground sea salt or kosher salt. Salt will make all the flavors sing. Fresh ground black pepper to taste.
Herbs. Optional but incredible - I love adding fresh thyme!
Optional Add Ins. This recipe is an incredible oil-free version of honey mustard sauce. However, to add more richness or creaminess, try adding Vegenaise or tahini.
Combine all the ingredients in a small bowl and whisk together. Taste and adjust seasonings to suit your personal taste. Voilà perfect vegan style honey mustard sauce/dressing!
Uses for Maple Mustard Dressing
Whip up a batch of this sweet and tangy dressing and store it in a jar in the fridge all week - great for meal prep. Super versatile, it's amazing on big salad bowls; but that's not all, here are a few more ideas . . .
More Vegan Sauces / Dressings to try
I'm a saucy vegan - check out my sauce page for more dairy-free, oil-free, vegan sauces! Here are some suggestions to get you started:
Did you make this recipe? I'd love to see it!
Please let me know in the comments. Thank you so much for sharing!
Tag me on Instagram 
NEVER MISS A RECIPE: Sign up for my email NEWSLETTER!
Honey Mustard Sauce (vegan version)
Sweet and tangy this 5 minute honey mustard sauce is the best. It's so easy to make, so smooth and creamy for dipping, drizzling, and it makes a perfect dressing. Say goodbye to store bought honey mustard dressing, there's a better homemade, oil-free vegan version in town and it's spectacular!!!
Rate this recipe!
INGREDIENTS
¼

cup

Dijon mustard

¼

cup

maple syrup*

2

tablespoons

lemon juice, more to taste

sea salt and coarse black pepper, to taste

¼ - ½

teaspoon

cayenne pepper, more to taste
Optional
1 ½

tablespoons

Vegenaise or tahini sauce

2

teaspoons

fresh thyme leaves, more to taste
INSTRUCTIONS
Whisk all ingredients together in a small dish.

Taste and adjust seasoning to personal preference.

For the optional ingredients, add 1 tablespoon at a time until desired flavor and consistency is met.

Stir in fresh thyme leaves (if using).

Store in the fridge in lidded jar or container for up to a week.
NOTES
Optional: try vegan honey or agave in place of maple syrup which have a thicker viscosity.
Delicious without any optional ingredients, but it's fun to try different flavors and textures for this vegan honey mustard. Whisk in either the vegan mayonnaise or the tahini to desired flavor and texture.
Add a teaspoon or two of water as needed to thin to desired consistency of dressing.
This recipe is from simplyceecee.co food blog. All images and content are copyright protected. Please do not use my images or republish this recipe without prior permission. Thank you.