Learn how to cook tofu (and love it!) with this tofu cooking master class. Tofu is an incredibly versatile and affordable plant-based protein used as a vegan meat replacement. The secret is knowing how to cook and season it properly!
With this tutorial, you'll learn all the basics of tofu (selecting, preparing, seasoning) as well as how to master techniques for cooking meatless crumbles for tacos, crispy tofu for Thai peanut noodles, and scrambled tofu for breakfast that tastes amazing!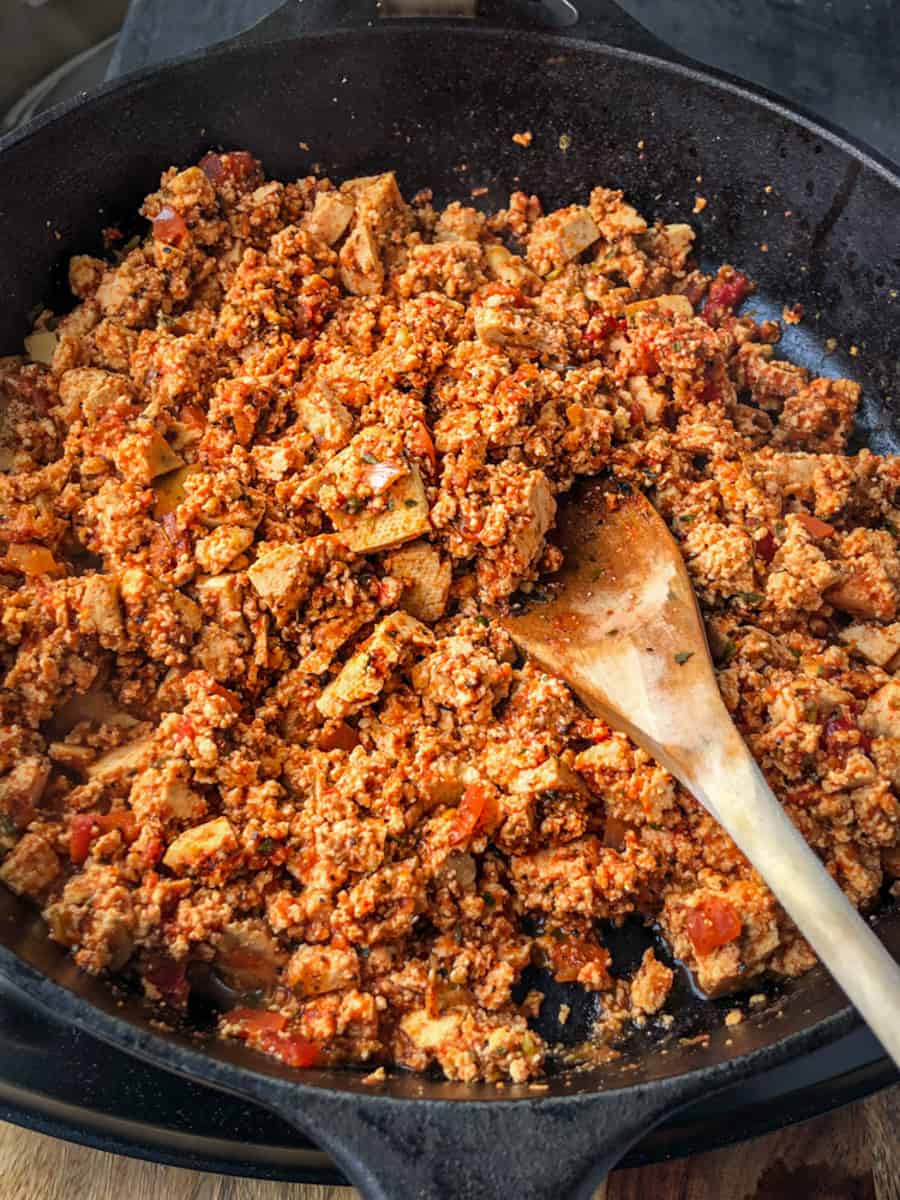 I'm not going to lie, I was slow to the tofu game. I had been eating a vegetarian and then vegan diet for a long time before I tried tofu. I believed the hype - "bland, rubbery texture, weird"; So I was apprehensive to try it. But I'm here to tell you, my friends, those things are not true - tofu is magically delicious.
Once I learned how to prepare and cook tofu properly, the whole family was hooked. I think you'll love it too!
This Complete Tofu Cooking Guide includes:
Jump to:
What is tofu?
Tofu is simply soy beans that have been soaked, blended into soy milk, and then boiled, curdled, and pressed.
Tofu is a protein and fiber rich, low fat, healthy alternative to meat that's a staple in vegan and vegetarian kitchens. To read more about the health benefits of tofu (soy), check out this article by leading health expert, Dr. Michael Greger, 'Soy' at Nutrition Facts dot org.
Very easy to find in grocery stores, tofu is typically located in the refrigerated section (near produce or deli). Choose organic, non GMO tofu which is readily available and affordable.
Tofu - the basics
Tofu is available in a wide range of textures from smooth and creamy to firm and meaty. Here are some tips and techniques for selecting, preparing, seasoning, and cooking tofu. Keep in mind that tofu textures will likely differ between brands.
Selecting the right texture (organic, non GMO)
Silken tofu has the highest water content. The texture is ultra creamy and jiggly. It's typically used for creamy blended recipes like vegan desserts, mousse, and pie fillings as well as dairy-free creamy sauces and vegan cheese. Silken tofu is not pressed.
Medium tofu has more structure than silken, but is still delicate and creamy. It's the perfect choice for fluffy tofu scrambles, ramen, and miso soup.
Firm or Extra firm tofu are definitely the most popular and versatile textures of tofu. They have the lowest water content giving them the most compressed, hearty, meaty texture. They both take on flavor well, can be frozen, fried, crumbled, and baked with great success. Use these textures for crispy fried or deep fried tofu, curries, hearty soups, lasagnas, and tofu meat crumbles.
How do you press tofu?
The firmer the tofu, the lower the water content and the denser it is. To press excess water from tofu, simply wrap it in a clean kitchen towel or paper towels and place a cast iron pan or a couple heavy cookbooks on top.
To press the tofu quickly, cut the block in half (width wise), wrap in paper towelling, place a cutting board over the slices with some heavy cookbooks on top. After 15 minutes, cut or break the tofu into pieces, slices or slabs and get cooking!
If you prefer, purchase a tofu press designed specifically to extract water from tofu. They are simple to use and clean up with just a rinse.
How to season tofu so it tastes good
Tofu does not bring a lot of flavor with it, so I recommend two layers of seasoning to create the richest depth of flavor in tofu recipes. No bland tofu for us!
Sprinkle pressed tofu with spices like garlic or onion powder, salt and pepper, taco spice or soak in a marinade.
Brush tofu with yummy glaze while cooking.
Ways to Cook Tofu (and love it)
Tofu can be baked, fried (pan fried, deep fried, air fried), scrambled, crumbled, blended, and so much more.
There are many ways to cook and serve tofu; keep reading for 4 easy and popular cooking methods to get you started . . .
How to Cook Tofu Crumbles
Tofu crumbles are a quick and easy replacement for ground beef. This is a great choice for vegan lasagna and stuffed sweet potatoes because the tofu texture holds up very well to double baking.
As well the texture of tofu crumbles is similar to traditional taco meat making it the perfect choice for vegan tacos or tofu taco meat bowls.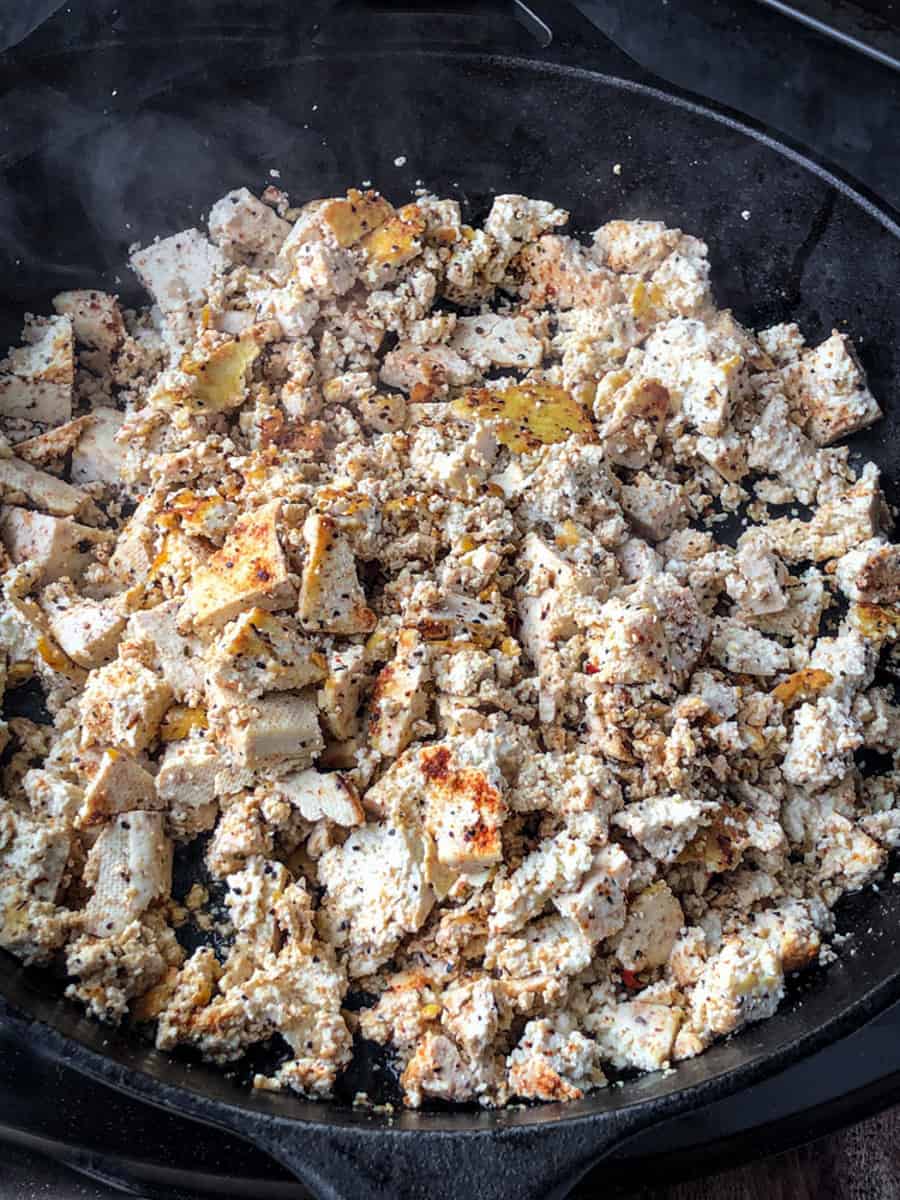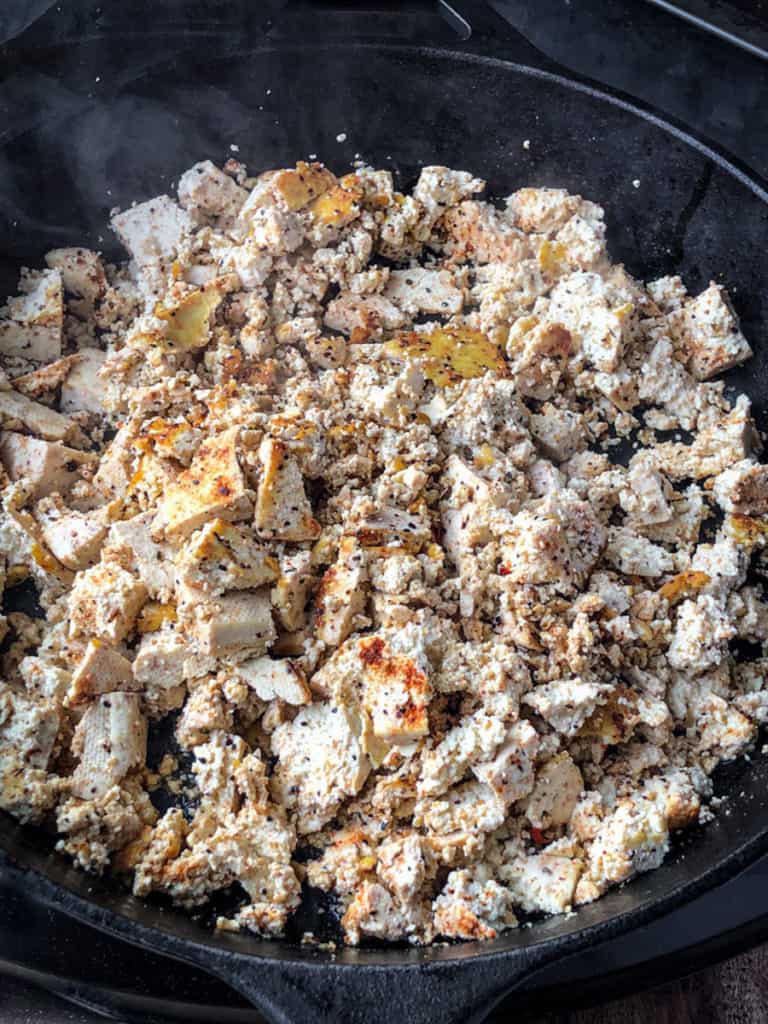 Tofu Crumbles - Cooking Method
Here's the basic steps for making tofu crumbles. The seasonings and spices will depend on which recipe you are making!
Choose a firm or extra firm, organic, non GMO block of tofu (where available).
Pat dry and gently squeeze the tofu wrapped in a paper towel or a clean kitchen towel to blot up the extra liquid. For this method of cooking tofu, it's not necessary to press first.
Crumble the tofu to the size and texture of ground meat or mince.
Heat skillet over medium-high heat, add oil and seasonings.
Add crumbled tofu and cook stirring until golden, crispy, and heated through.
Tofu crumbles store well in the fridge all week to be used in wraps, tacos, bowls.
How to Bake Tofu
Baked tofu is very versatile and is a great vegan alternative for creating chicken strips, nuggets, cutlets, and roasts. Baking tofu creates the best meaty texture - it's super succulent and a little bit crispy (but don't overcook it because then it turns rubbery). Oven baking tofu is also super convenient as there is little hands-on time required, and it's easily made oil-free.
It's a great choice for tofu pasta dishes, vegan bowls or tacos,
Baked Tofu - Cooking Method
Here's the basic steps for making perfectly baked tofu every single time. The seasonings and spices will depend on which recipe you are making!
Select a block of firm or extra firm, organic, non GMO tofu.
Press the tofu by wrapping in kitchen towel or paper towel and stacking a few cookbooks on top to extract excess water. Press for as little as 15 minutes or more depending on the tofu you choose.
Preheat the oven to 400º F.
Cut or tear the pressed tofu into cubes ~1" - 1 ½"
Place the tofu cubes in a large bowl with the spices and liquid. Gently shake (or mix with your hands) the bowl to cover all the pieces with the seasonings. Sprinkle with 1 tablespoon of cornstarch, shake again. The spice mixture should be sticky and clinging to the tofu pieces. If not, add another tablespoon of cornstarch and repeat.
Arrange the tofu in a single layer (without touching) on the prepared baking sheet.
Bake for 12 minutes. Flip and continue to bake for 6 - 7 minutes until crispy.
Pro Tip: in the Tofu Peanut Noodle Bowl (addictive flavors!), I bake and then fry the tofu cubes which gives them a crispy, saucy, irresistible coating that tastes so good we can't resist it! Give it a try and let me know what you think.
Baked tofu keeps well in the fridge all week and can be enjoyed hot or cold.
How to Fry Tofu (with or without oil)
Pan frying is the quickest, easiest method for cooking crispy tofu. This method for cooking tofu is amazing on vegan veggie sandwiches, rice bowls, salads, soups, curries and vegan tacos.
Crispy Pan Fried Tofu - Cooking Method
Here's the basic steps for making the best crispiest tofu. The seasonings and spices will depend on which recipe you make!
Choose a block of firm or extra firm, organic, non GMO tofu.
Wrap tofu in clean kitchen towel or paper towel and press by stacking a couple cookbooks on top while you are preparing the other recipe ingredients (30 minutes or more). For the crispiest fried tofu, the goal is to extract as much water as possible.
Cut the tofu into 1" cubes or ½" slices. Season with spices in recipe.
Add oil to a skillet over medium-high heat. Once shimmering, add tofu and sear until crispy - flipping to sear the other sides. When golden and crispy, remove to paper towel to drain.
Oil-free Frying: heat a non-stick skillet. Once hot, add tofu pieces. You'll know it's ready when it's golden and crispy on both sides.
Pro Tip: when frying tofu without oil, don't rush to flip it. Let the water evaporate from the surface and the tofu will release naturally (if it's sticking, it's not ready yet).
Seasoning: To bump up the flavor, glaze with BBQ sauce after the first side is seared and flipped. This will prevent the sugars in the sauce from burning on the pan.
Fried tofu keeps well in the fridge and can be enjoyed all week.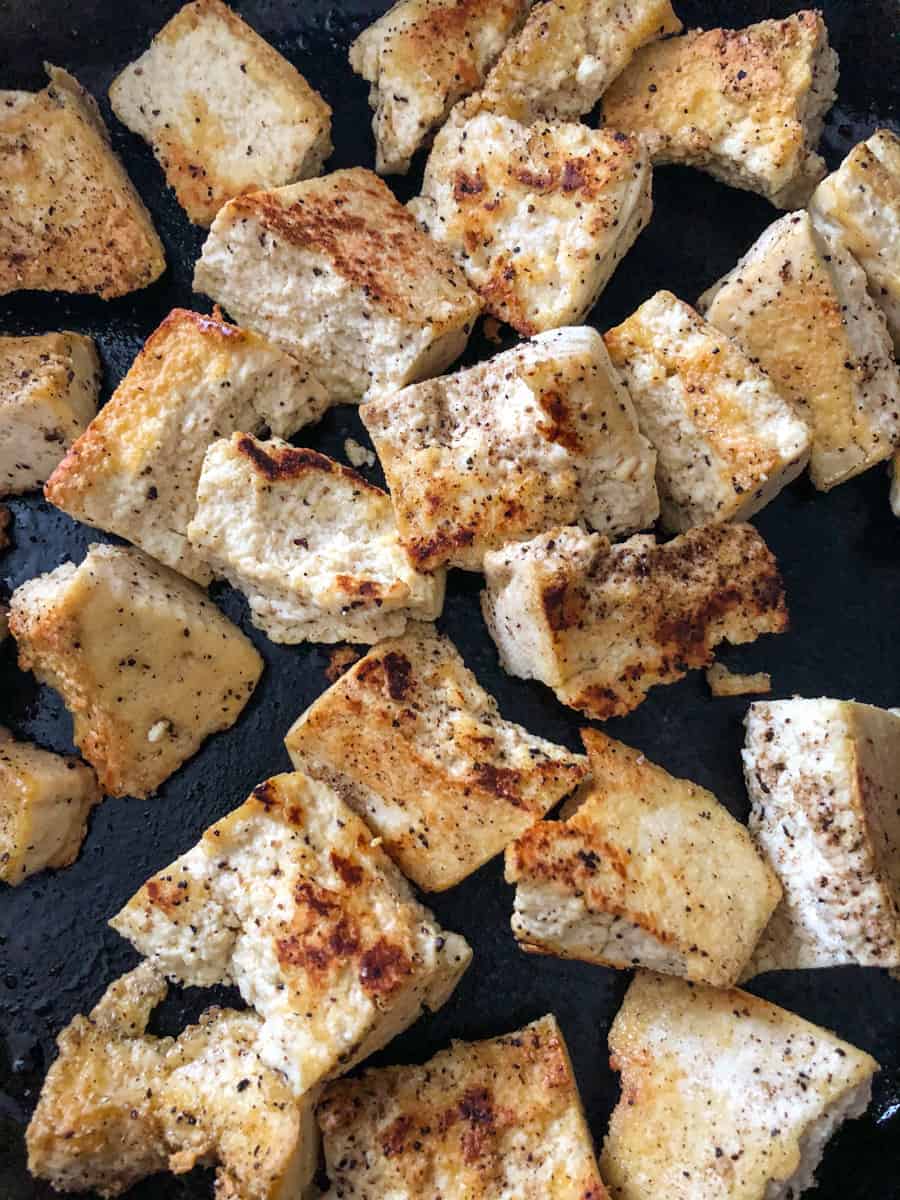 How to Air Fry Tofu
Air frying is all the rage and for good reason. If you want the best, crispiest tofu with only a spray of oil, cook your tofu in the air fryer! Best of all it's easy and hands-free cooking.
This method is fabulous for cooking marinated tofu which is scrumptious as a snack, on sandwiches, in bowls, salads, and tacos.
Air Fryer Tofu - Cooking Method
Choose a block of extra firm, organic, non GMO tofu.
Wrap tofu block (sliced in half through the width if thick block) in clean kitchen towel or paper towel and press by stacking a couple cookbooks on top for 30 minutes or more. For the crispiest tofu, the goal is to extract as much water as possible.
Cut the tofu into cubes, slices or slabs. Season or marinade as desired.
Spray the basket of the air fryer with cooking spray or rub a layer of oil on with your hands. Preheat the air fryer to 370º F.
Place seasoned/marinated tofu pieces into the basket in a single layer with room between each piece.
Cook at 370º F for 6-7 minutes then shake/flip the tofu. Continue cooking for another 2-3 minutes. Cooking time will depend on how big your tofu pieces are and how hot your air fryer runs. My ~1" cubes are perfect in 8 minutes (6 and 2)!
Ultra crispy OPTION: spray with or drizzle on some oil after the first bake for an extra crispy coating.
Air fryer tofu keeps well in the fridge to be enjoyed all week.
How to Scramble Tofu
Tofu scramble a quick and easy, healthy, protein-rich egg alternative. The soft and fluffy texture, eggy flavor, and color is very similar to scrambled eggs. This method for cooking tofu is the perfect choice for scrambles, breakfast sandwiches, wraps, and vegan breakfast bowls.
Pro Tip: Leftover tofu scramble makes THE BEST vegan egg salad sandwich ever!!!
Fluffy Tofu Scramble - Cooking Method
Here's the basic steps for making the best, eggy breakfast scramble without eggs! The seasonings and spices enhance the egg flavor and color.
Choose a block of medium, organic, non GMO tofu.
Wrap the tofo block in paper towel or kitchen towel and gently squeeze to remove excess water. Leave the tofu wrapped while you prepare the other recipe components. \
Heat oil in a skillet over medium heat until the oil is shimmering.
Add the salt, and a handful of chopped green onions and fry for 30 seconds.
Break the tofu into chunks using your hands onto the paper towel or kitchen towel. Pat dry. Add the tofu chunks to the hot pan. Don't be in a rush to start scrambling right away. Let the tofu cook a bit and release some water.
Add an additional layer of spices - nutritional yeast and kala namak (black salt) which makes the scramble taste so good and turmeric for color. Then scramble until warmed through and fluffy.
Tofu scramble can be stored in the fridge and enjoyed all week hot or cold.
Tofu FAQ
Can tofu be frozen?
Yes! Freezing tofu changes the texture as it freezes and thaws. This is a popular method for making tofu chewier and more porous so it soaks up marinate. Some cooks even swear by double freezing and thawing before making crispy vegan fried chicken (just like KFC chicken!). Throw the whole package into the freezer, remove, let it thaw and then press it before using.
What does tofu taste like?
Tofu does not have a lot of flavor, it's pretty mild like most beans. It's the perfect vehicle for any flavor profile sweet or savory. Seasoned and cooked properly, tofu tastes amazing and is a protein rich, nourishing, vegan meat alternative.
Is tofu healthy?
Yes! Tofu is packed with protein and fiber, is low in fat, and serves as an affordable and healthy meat replacement in almost any dish. For more information on the health benefits of soy, check out Dr. Gregor's article 'Soy' at Nutrition Facts dot org.
Why do you press tofu?
Tofu is typically packaged in water to keep it fresh, plump, and hydrated. Pressing/drying tofu helps remove excess water from the block of tofu - so when a tofu recipe calls for crispy tofu, use extra firm and press to extract excess water before cooking. However if crispiness is not a factor (eg. tofu scramble), pressing is not necessary.
More Vegan Meat Replacements
There are loads of plant-based meat replacements and alternatives. Like jackfruit, cauliflower-walnut crumble, soy curls, and banana blossoms to name a few. It's easy to find oil-free, dairy-free, soy-free, whole food plant based, gluten free, and nut free options made without meat, eggs or dairy these days. Here are a few recipes that are sure to impress vegans, vegetarians, and meat eaters:
Did you make this recipe? I'd love to see it!
Please let me know in the comments. Thank you so much for sharing!
Tag me on Instagram
NEVER MISS A RECIPE: Sign up for my email NEWSLETTER!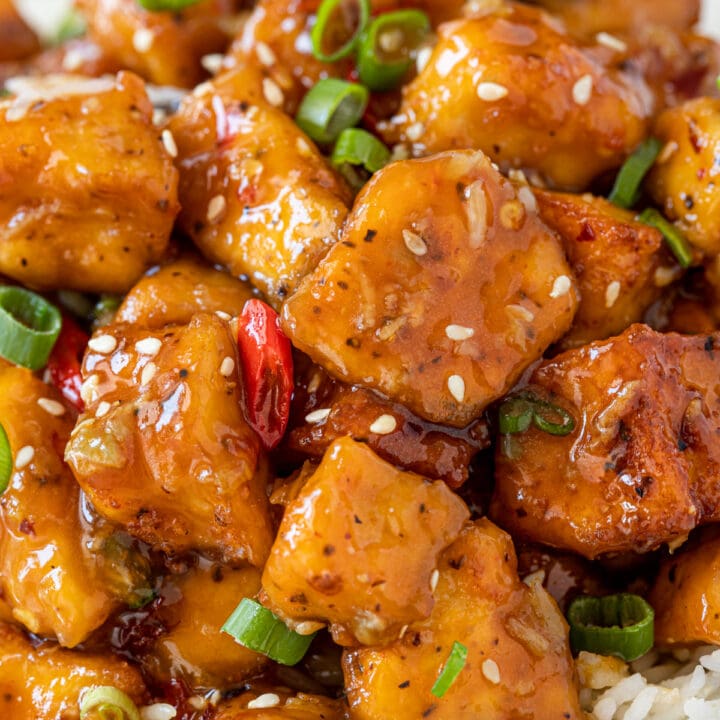 How to Cook Tofu that Tastes Good
A complete guide to selecting, preparing, seasoning, and cooking tofu that tastes good. Learns all the expert tips for making the most delicious, flavorful tofu with the best texture!
Rate this recipe!
INGREDIENTS
350

grams

tofu block, extra firm, organic

seasoning of choice (bbq, buffalo, Asian)

oil
INSTRUCTIONS
Press excess water out of tofu.

Bake, grill, scramble, stir fry, air fry or pan fry as per recipe of choice.
NOTES
Cooked tofu stores well in the fridge all week making it a great choice for meal prep.
Super versatile, it's delicious in sandwiches for lunch, breakfast burritos, tacos, soups, and stews.
This recipe is from simplyceecee.co food blog. All images and content are copyright protected. Please do not use my images or republish this recipe without prior permission. Thank you.