These vegan potstickers are beyond incredible! Plump with veggies stuffed into a tender dumpling wrapper that's fried then steamed then fried. Potstickers (Chinese dumplings) are spectacular served with a drool worthy, salty-sweet dipping sauce.
Simple and fun to make, they are a delicious and popular appetizer at cocktail parties and holiday get togethers or serve on rice for an easy weeknight dinner!!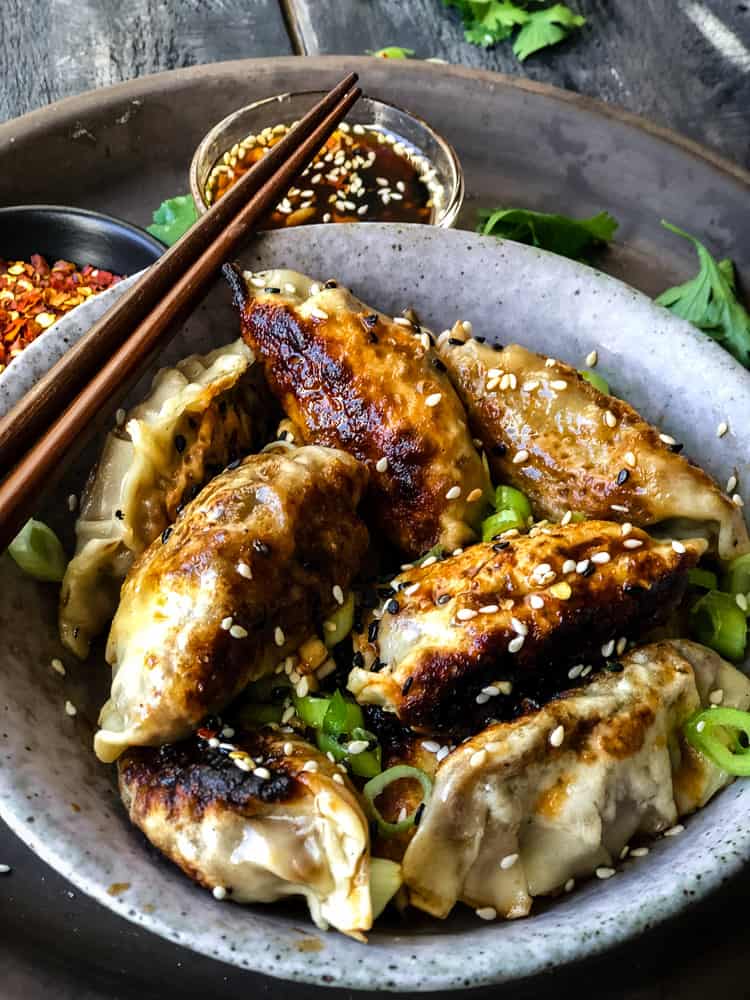 When I was a kid, Mother made the most incredible homemade chow mein. I mean, EVERYONE loved it! Especially my cousin, Bobby. I remember him telling me one time that he ate so much chow mein, he was going to explode. That was terrifying to my seven-year-old self! What did that mean? I mean, would his stomach actually blow open all over the living room? I was young, and literal, and super afraid!
Heh heh, I took the essence of Mother's chow mein recipe, stuffed it into wonton wrappers and served them with an irresistible spicy-sweet potsticker dipping sauce. I think that's what makes this vegan dumpling recipe so good! These healthy, succulent vegetable potstickers are devoured by all eaters: vegans, vegetarians, and meat eaters. I think you'll love them too!
Ingredient Review
Potstickers can be stuffed with almost anything from meat to vegetables. However vegetarian potstickers are popular with and enjoyed by ALL eaters. You'll find vegetables such as cabbage, mushrooms, carrots, and onions as well as crumbled tofu and vermicelli noodles stuffed into vegan dumplings (gyoza) at most Chinese restaurants. Tender and juicy with a signature pan-fried crisp bottom, these homemade vegan dumplings are irresistible. Here's what you'll need . . .
Veggie Filling - cabbage, mushrooms, carrots, celery, and onions. Any combination of vegetables will work, eg. broccoli, leeks or sprouts.
Flavor - ginger, garlic, soy sauce, sriracha, maple syrup, sesame oil, rice vinegar.
Wonton Wrappers - store-bought or homemade. Check ingredients to be sure they are vegan (eggs are common).
Optional Add Ins - tofu crumbles, vermicelli noodles, chopped water chestnuts, sprouts, etc.
Vegetable Potsticker Filling
Potstickers are easy to make, and while there are only 3 main components (filling, assembling, sauce), they require a bit of a time commitment. Here's the main steps for making the vegetable filling . . .
Cut, chop and shred the veggies you'll be using. Pro Tip: if you want to skip the shredding and chopping, buy pre-cut coleslaw/cabbage and vegetables in the produce department at your local grocery store.
Heat the oil over medium-high heat until shimmering. Add the aromatics and cook for 2 or 3 minutes. Add the mushrooms, cabbage, and carrots and cook the vegetables until caramelized. Add the soy sauce mixture and continue to cook until all the liquid has evaporated.
Remove from heat. Let the filing cool. Then get wrapping.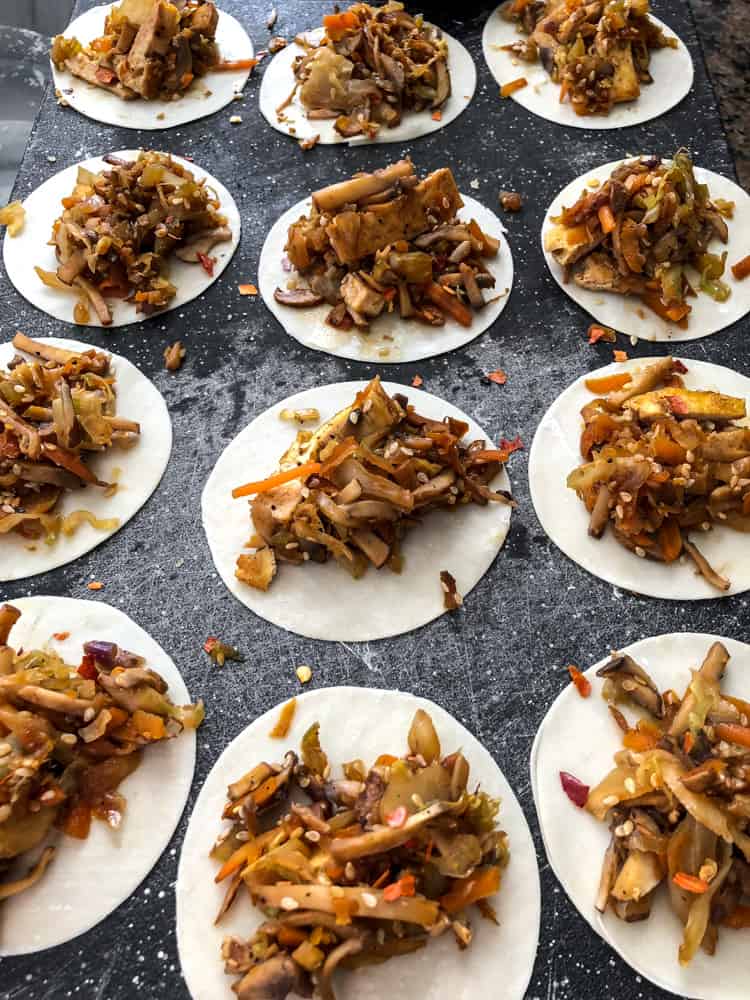 Wonton Wrappers - homemade or ready made?
Look for vegan wonton wrappers (potsticker or dumpling wrappers/egg roll wrappers) in the produce department, near the refrigerated tofu, frozen food section or International aisle at the grocery store or Asian market. Check the label to be sure they are vegan (no eggs or dairy).
If you can't find any, you can make wonton wrappers from scratch. Not too difficult and just 3 ingredients. I've made the recipe by It Doesn't Taste Like Chicken and cut into 3 ½ - 4" circles.
Pro Tip: If you are going to make your wonton wrappers from scratch, get started on the dough first thing. It has to rest for 20 minutes before rolling. This gives you time to prepare the filling and dipping sauce. OR you can make the wrappers a day or two in advance and store in the fridge.
How to Fold Potstickers
Set up a potsticker folding station with the following:
bowl of vegetable potsticker filling
small bowl of water for sealing edges of wrappers
clean kitchen towel for wiping hands
pile of wonton wrappers (keep covered so they don't dry out)
parchment lined baking sheets and towel to cover potstickers
Place veggie filling in the center of the wrapper so it doesn't touch the edges. Moisten the edge with water, fold the circle in half (like a taco). Pick up the 'taco' pinch/seal the top middle then fold 2-3 pleats going down one side and squeeze so there is no hole at the end. Then pinch and pleat the other side.
Pro Tip: the folds (pleats) are on one side of the wrapper only (see photo)
There are lots of ways to pleat and fold potstickers - the crimp, envelope, circle, triangle etc - as long as the wrapper is fully sealed, it'll work. The half moon with pleats is pretty common and simple. After practicing a few wontons, you'll get the hang of it. Have fun - let the whole family help!
How to Cook Vegan Dumplings (without sticking)!
Use a non-stick pan for the best results so the potstickers don't tear.
Heat oil in the pan over medium-high (skip if oil free), add the potstickers gently pressing down to flatten the bottom. Fry until the bottom is golden. ~ 8-10 dumplings/batch
Add water (or broth for extra flavor) to the pan and steam them with the lid on.
Remove lid and continue frying until all the liquid has evaporated and the bottom of the potsticker is crisp again.
Working in batches continue to fry-steam-fry the remaining dumplings until done.
Plate and serve immediately with scrumptious spicy-sweet soy maple ginger dipping sauce, toasted sesame seeds, and sliced green onion. These are super irresistible!
Expert Tips and FAQ
Don't overfill the wonton wrapper. It's important that the edges are sealed so the dumplings don't blow open when cooking.
Don't overcrowd the pan when frying. Be sure the dumplings aren't touching each other.
Use a nonstick pan so the dumplings don't stick and tear.
Make sure the pan and oil are preheated before adding the potstickers.
What's the difference between a potsticker, gyoza, and dumpling?
Potstickers are a popular type of medium size Chinese pan fried dumpling.
Gyoza are very similar to potstickers but in Japanese cuisine.
Every culture has its own specialty form of dumpling ranging from potstickers to perogies, wontons and nokedli to kroppkakor. Basically dough with filling.
How do you make potstickers crisp?
Crispness is created when the potstickers come in contact with hot fat and the water evaporates from the surface of the food. So preheat the pan and preheat the fat. Add the potstickers in a single layer (without touching). Cook until golden. Add liquid and cover with lid. Steam until tender. Then remove the lid and continue to fry until the liquid is all evaporated and the dumplings are crisp again. For the crispiest potstickers, don't stack on top of each other, add sauce or cover before serving.
Can you make potstickers/dumplings ahead?
Yes, make the veggie filling, potsticker sauce, and wonton wrappers ahead of time. Assemble the potstickers then cover with plastic wrap and store in the fridge for up to a day before cooking.
Can you freeze them?
Yes! Place potsticker dumplings on a parchment lined baking sheet without touching. Place in freezer until solid. Transfer to a freezer friendly container or bag for up to 3 months.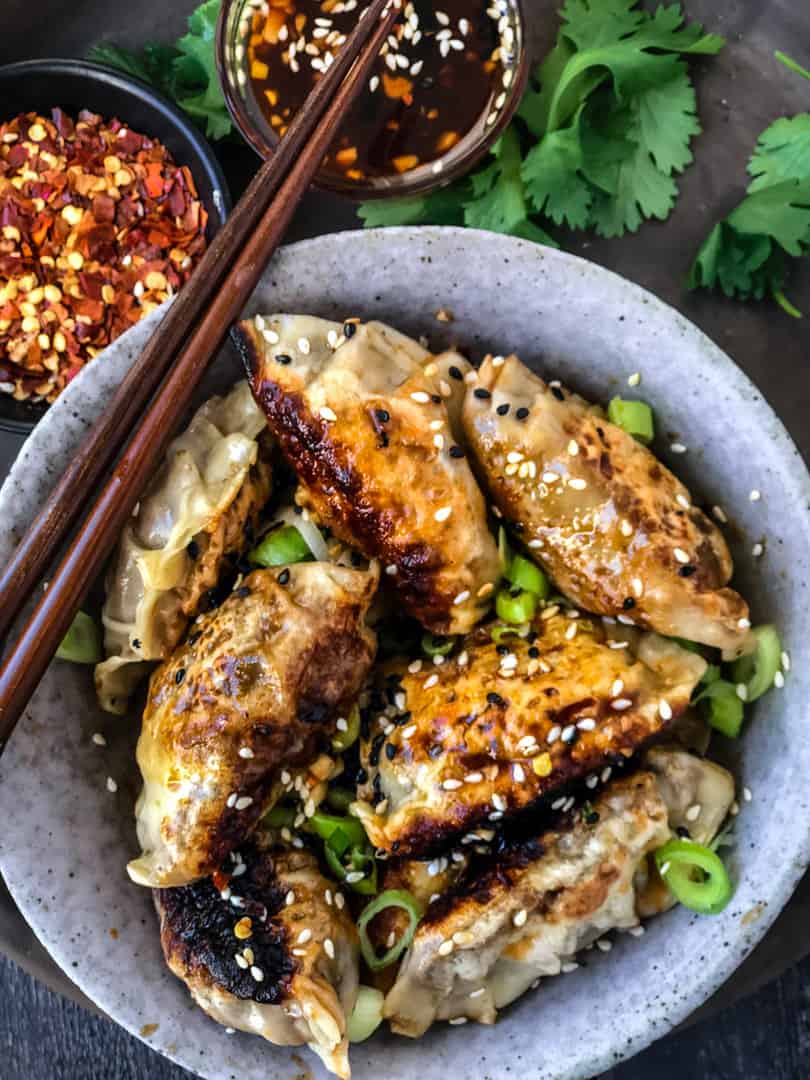 More Delicious Vegan Recipes to Try
Let me know if you try this incredible Vegan Potstickers Recipe!
Please leave a comment below and tag me on Instagram and Facebook
NEVER MISS A RECIPE: Sign up for my email NEWSLETTER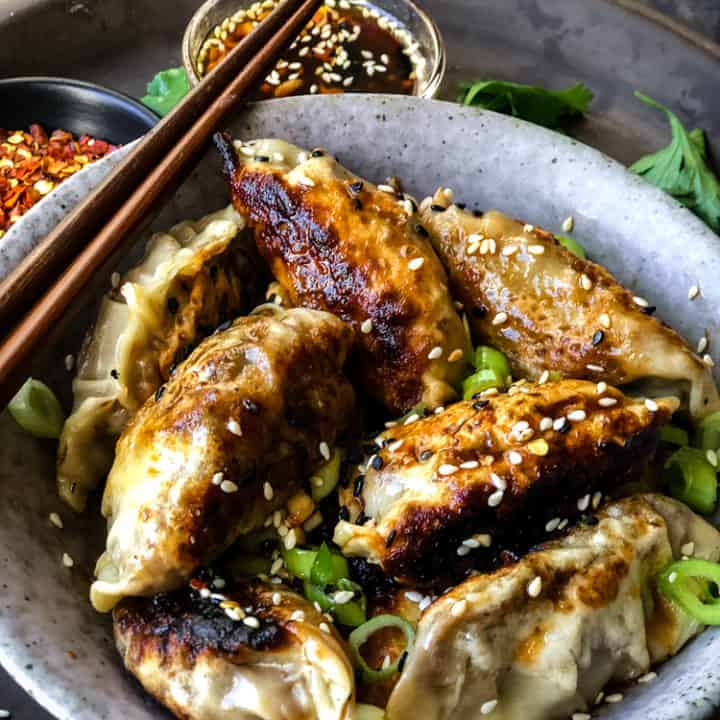 Vegan Potstickers and Sauce Recipe
These veggie vegan potstickers are super delicious and popular with all eaters! Easy to make, these plump veggie dumplings are tender on the inside, crispy on the bottom and are served with an irresistible, sweet-salty potsticker sauce. Take them to your next holiday party or make a big batch and eat them all week for dinner!
Rate this recipe!
INGREDIENTS
Potsticker Dumpling Filling
2

tablespoons

oil, divided (skip if oil free)

1

cup

white onions, diced

1-2

cloves

garlic, minced

1"

ginger, grated

1-2

cups

mushrooms, chopped

1

cup

cabbage, shredded and chopped

1

cup

carrots, shredded and chopped

1

celery stalk, diced

2-3

tablespoons

soy sauce (low sodium)

½

teaspoon

white sugar

1

teaspoon

sesame oil

1-2

tablespoons

sesame seeds, toasted

20+

3 ½"

wonton wrappers (vegan)

2-3

green onions, sliced

hot pepper flakes
Potsticker Sauce Recipe
3

tablespoons

rice vinegar

2-3

teaspoons

sesame oil (leave out or sub tahini if oil free)

2

tablespoons

soy sauce (tamari)

1-2

tablespoons

sriracha

2-3

teaspoons

maple syrup

1

clove

garlic, minced

sesame seeds, toasted
INSTRUCTIONS
Prepare the vegetables as above.

Toast the sesame seeds (especially if oil free as they will add a lovely nuttier flavour).
Potsticker Veggie Filling
Warm 1 tablespoon of oil in a large skillet over medium to high heat. Add the onions, ginger, and garlic and saute for 1 or 2 minutes.

Add mushrooms, cabbage, carrots, and celery stirring, until the veggies release their water and the liquid is evaporated/caramelized (8-10 minutes).

Stir together soy sauce, sugar, and sesame oil. Pour into veggies and continue to cook until the liquid evaporates.

Stir in sesame seeds and remove from heat.
Assembling the Vegan Dumplings
Set up a filling station (see post for details).

Place a spoonful of filling in the center of the wrapper - without touching the edges.

Lightly moisten the edge of the wrapper with water, fold over into a half moon.

Pinch, pleat or crimp to seal the edge making sure there are no gaps left open. Repeat with remaining filling and wrappers.

See post for photos and more tips for folding.
Fry-Steam-Fry
Heat a large, non-stick skillet over medium-high heat with 1 tablespoon oil (skip if oil free).

Once the oil is heated, add the dumplings (8-10) gently pressing down to flatten the bottom. *Don't overcrowd the pan - the dumplings shouldn't be touching.

Cook for 2-3 minutes. Check the bottom of the dumpling to see that it's golden. Adjust heat if necessary.

Time for steaming: Pour ¼ -⅓ cup of water/broth into the pan and cover with lid. Let the potstickers steam for 3-5 minutes or until the wrapper pleats are cooked.

Remove the lid, but leave the pan on the burner for another ~2 minutes until the liquid has completely evaporated and the bottoms of the dumplings are crisp again.

Plate and serve immediately with the dipping sauce, green onion slices, extra sesame seeds for sprinkling, and hot pepper flakes.
Maple Sesame Soy Dipping Sauce
Whisk ingredients together in a small bowl. Taste and adjust as needed to suit your preference.

More vinegar for sourness, oil for nuttiness/richness, soy sauce for umami and saltiness, sriracha for heat, maple syrup for sweetness, and garlic for pungency.
NOTES
Check the ingredients in your store bought wonton wrappers to be sure they are vegan.
Don't overfill the dumplings! Make sure none of the filling breaches the sealed edges as they will burst open when cooking. 
Homemade Wonton Wrappers: easy to make (only 3 ingredients), but the dumpling dough needs time to rest (20 minutes) before rolling. Also rolling and cutting takes a bit of time so be sure to allow for that. I make the wrappers a few days ahead of time and store in fridge or freezer.
Storing and Reheating
Fridge: Leftovers can be stored in the fridge for several days.
Reheating: Place cooked dumplings in a frying pan or air fryer to re-crisp or in the microwave (soft dumpling) for 20 seconds or more to reheat.
Freezing: Place a single layer of uncooked dumplings on a baking sheet lined with parchment. Freeze until solid. Transfer to a freezer friendly container/bag for up to 3 months.
When ready to cook: Follow recipe above with 2 tablespoons extra water/broth and extra time for steaming.
This recipe is from simplyceecee.co food blog. All images and content are copyright protected. Please do not use my images or republish this recipe without prior permission. Thank you.
Originally published October 2019. Updated to include new photos and information.