Sweet, savoury, slow-roast tomatoes, garlic, fennel, basil and sun-dried tomato sauce tossed with lemon and served on tender baked orzo pasta. Super flavorful, ultra satisfying and filling, this dish is pure, addictive, vegan comfort food!
What is Orzo?
I mean, is it a grain? a rice? a pasta? It looks like a large grain of rice; but in actuality, it's a short-cut pasta. Orzo, when cooked, has a lovely silky texture making it perfect for a rice-a-roni-type dish or a pasta salad. It can be boiled and used as a rice substitute in many dishes or slow cooked like a creamy risotto.
Orzo is simple to cook - just bring a pot of salted water to a boil and cook until tender (8-10 minutes).
What Goes Well with Orzo?
Slow cooking tomatoes with garlic and basil mellows, sweetens, and mingles all the flavours together. And it's easy, just pop the tomatoes and spices into the oven and let the magic happen. The fennel adds a lovely unexpected pop of flavour to this cozy bowl of deliciousness.
Dry toast the fennel seeds in a small skillet over medium heat to release and intensify the flavour. Then crush them with a mortar and pestle or rolling pin.
This dish is easy to make, makes the house smell like a five-star restaurant, and is incredible served hot or as a yummy cold orzo salad.
PRO TIP: if it's a lazy Sunday, make a double or triple batch of slow-roast tomatoes. Lower the heat to 325º or 350º F and let them slow roast for an hour or more (depending on the size of the tomatoes) until the edges are caramelized and the tomatoes are wilted and soft.
Lemon Fennel Orzo Leftovers and Storage Tips
Buddha Bowl - orzo is delicious served in a bowl the next day with greens, guacamole, pico de gallo and black beans or chickpeas.
Vegan Cabbage Rolls - I've stuffed leftover orzo into cabbage leaves, rolled them, and put them into a casserole dish with spicy tomato sauce then baked them in the oven until bubbling and hot. Simple, easy and delicious.
Filling for Savory Pancakes - delicious in a pancake! Add a handful of leftover orzo into Simply, Savoury Chickpea Pancake recipe.
Simple Salad - a sprinkle of leftover orzo makes a simple salad hearty! Fancy Rainbow Salad
Store leftover orzo in the fridge for several days with no loss of flavor or texture. This lemon fennel orzo recipe also stores well for a month or more in the freezer.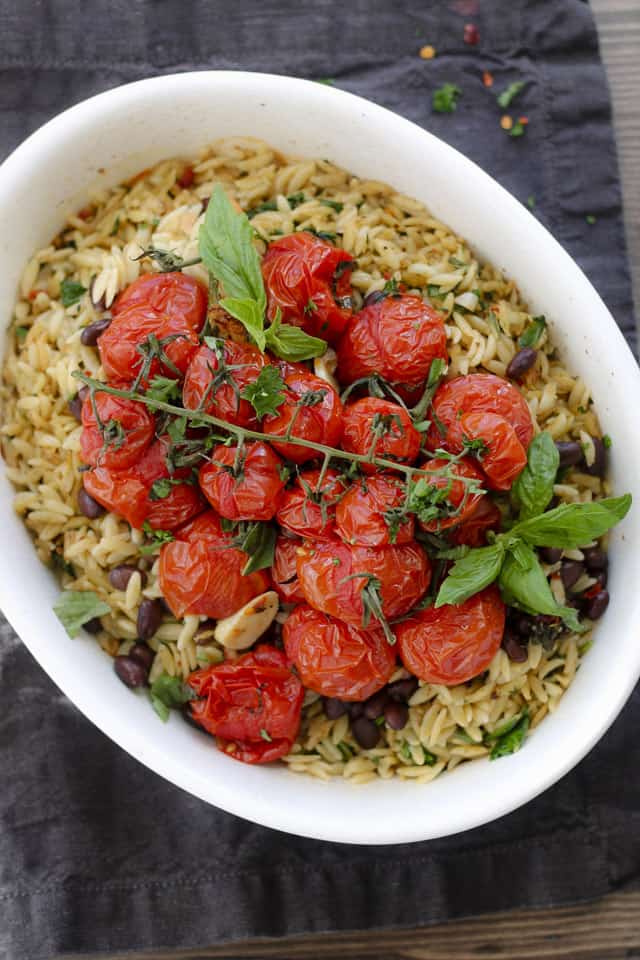 More Delicious Vegan Recipes
Vegan Potstickers with Maple Sesame Soy Sauce - Mom's Chow Mein Recipe
Sweet and Spicy Cashew Chicken (vegan) - family favourite!!!
Stuffed Sweet Potatoes - popular blog favorite!
Best Vegan Shawarma Recipe with spicy soy curl tender and 2 incredible drizzles!
Did you make this recipe? I'd love to see it!
Please leave a star rating and comment at the bottom of the page.
Thank you so much for sharing! Tag me on Instagram 
For more Vegan Recipes: Sign up for my email NEWSLETTER!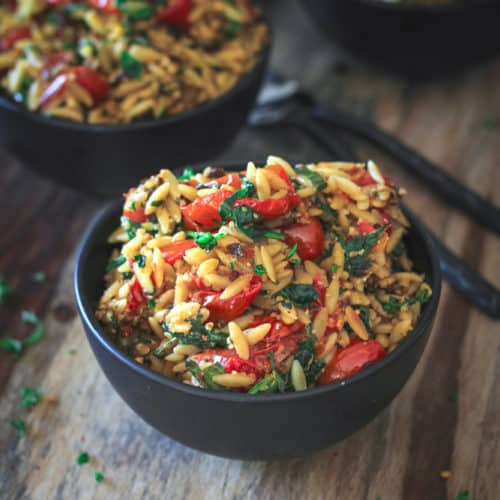 Lemon Fennel Orzo Bowl Recipe
Sweet, savoury, slow-roast tomatoes with baked bits of garlic and basil on tender orzo. Pure, addictive, vegan comfort food! Easy to make, healthy, hearty, and delicious hot or cold!
Rate this recipe!
INGREDIENTS
8-10

cocktail tomatoes, halved

1

tbsp

olive oil (optional)

3-4

cloves

garlic, crushed

¼

cup

basil, finely chopped

S&P

1-2

cups

orzo

1

tbsp

olive oil (optional)

2

cloves

garlic, minced

1

tsp

paprika powder

½

tsp

ground fennel

¼

cup

fresh parsley, chopped

2

tsp

fresh thyme or rosemary, chopped

4

sun dried tomatoes, chopped

1

tsp

red pepper flakes

2-3

cups

kale, chopped

¼

cup

veggie broth*

2-4

cups

spinach, ribbons

1

lemon, juiced

⅓

cup

cashews, crushed

3-4

leaves

basil, torn
INSTRUCTIONS
Toss halved tomatoes with 1 tbsp of olive oil, large garlic cloves (crushed), finely chopped basil, and S&P - mix well to coat the tomatoes.

Use a splash of broth or oil if oil-free.

Tip tomatoes into an oven-proof dish and bake until soft and bubbly (20-40 minutes). 

*PRO TIP - if you don't have cocktail tomatoes, use whole cherry tomatoes or quartered roma tomatoes. Choose the most flavourful tomatoes you can find.

While the tomatoes are roasting, prepare the orzo as per package instructions. Set aside.

In a large skillet over medium to high heat, add 1 tbsp olive oil (or a splash of broth if oil free), garlic, paprika, ground fennel, fresh parsley, thyme or rosemary (1 tsp if dry) and sun dried tomatoes - sauté for a couple minutes until fragrant.

Add kale and a ¼ cup of broth (I use this one), cover and let steam for a few minutes until kale is soft.

Toss in the spinach, cooked orzo, ½ a lemon juiced (or more to taste), ground cashews, stir together and cook until spinach wilts. Remove from heat.

Taste and adjust spices, s&p, and lemon as required.  Transfer to serving dish.

Place tomatoes and all juice and spices from the roasted tomatoes on to the orzo mixture. 

Garnish with chopped fresh basil, more hot pepper flakes, and lemon slices.
NOTES
Cocktail tomatoes are about the size of a ping pong ball. Cherry tomatoes are the size of a large cherry. Roma tomatoes will fit nicely in a cupped hand.
The longer and slower you roast the tomatoes, the more the flavour and sweetness will develop. Slow roasting tomatoes is a perfect lazy Sunday activity. Reduce the heat to 325º F, follow the directions above; but leave the tomatoes in for an hour or more until they are soft and caramelized. You can scoop the tomatoes and all the juice and pan drippings into an air-tight container and use them later in the week.
Storage: Delicious stored for 2 or 3 days in the fridge. Just remove from the fridge and warm in the microwave or a pot on the stove.
This recipe is from simplyceecee.co food blog. All images and content are copyright protected. Please do not use my images or republish this recipe without prior permission. Thank you.