There's a lot to love about this homemade vegan granola recipe. Not only wholesome and EASY to make, but also super delicious on its own or served with almond milk or dairy free yogurt. We're obsessed with the flavor and crunch!
Forget store-bought granola, healthy granola is easy and cheaper to make at home. This sweet and salty granola is vegan, gluten-free, and packed with classic granola ingredients like rolled oats, healthy nuts/seeds, and dried fruit. I'm sure you have all the ingredients in your pantry right now!
My kids love a big bowl of granola cereal with almond milk and fresh berries for a healthy breakfast. My favorite way to enjoy granola is with yogurt and fresh fruit in the morning or in a smoothie bowl after my workout. And the best part, it takes only 10 minutes of hands on time and then just pop it into the oven to bake!
Vegan Granola Ingredients
The full recipe for this crunchy, vegan granola is below; but here's a few notes about the ingredients for my go-to combination: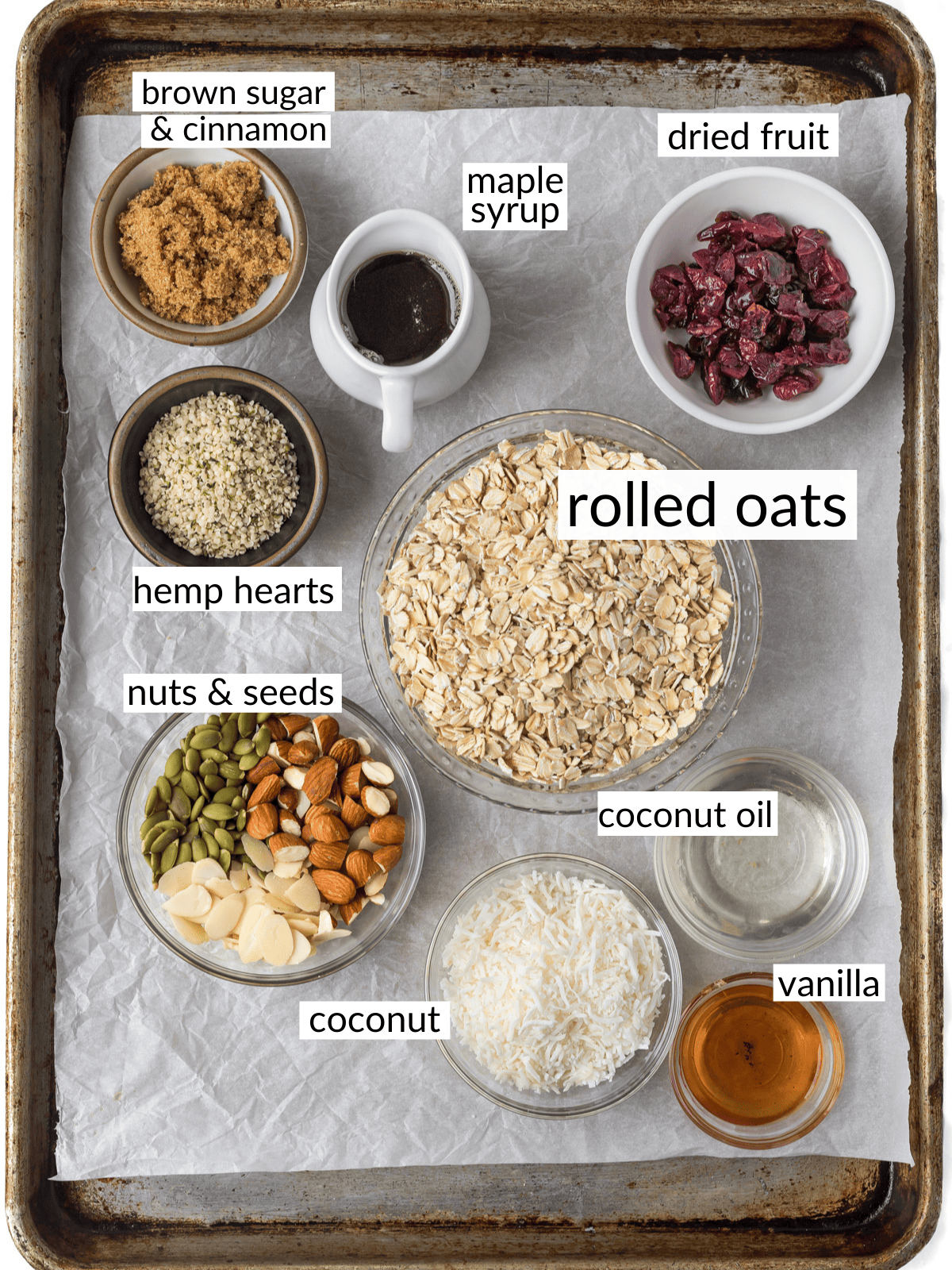 Old-fashioned oats: Aka rolled oats. Check for certified gluten free as needed.
Nuts/seeds: I almost always use a mixture of almonds (raw chopped or sliced) and sunflower seeds in my granola for tons of crunch and flavor.
Chia, flax or hemp seeds: I like a sprinkling for extra nutrients, healthy fats, and plant protein.
Melted coconut oil: Use any neutral flavored oil or melted vegan butter/margarine.
Brown sugar & maple syrup: For refined sugar free version, use all maple syrup. Reduce or increase the level of sweetness to taste.
Cinnamon, vanilla, and salt: I like a hefty dose of cinnamon and vanilla. If you are using fine table salt, use about half the amount of sea salt. Taste as you go (you can always add more salt).
Unsweetened coconut: Your choice! Use large coconut flakes, shredded coconut or if you don't like coconut, skip it altogether.
Easy Ingredient Variations
Each time I make this tasty granola, it turns out a bit different depending what ingredients I have on hand. That's the beauty of homemade granola recipes, they are totally customizable to create any flavor combination you are craving. Here's a few options:
Dried fruit: Any dried fruit you love will work like cranberries, blueberries, cherries, apples or chopped dates.
Nuts & seeds: Choose a variety of your favorite nuts eg. almonds, hazelnuts, pecans, pistachios, walnuts or cashews. Or skip the nuts and use seeds like pumpkin seeds or sunflower seeds for a tasty nut-free granola.
Chocolate lovers: Stir in chocolate chips or chopped chocolate after the granola has cooled completely.
Oil: Oil helps bind the granola, adds flavor, and helps to crisp it up: swap for vegan butter or oil of your choice. Reduce the oil by ½ for a low fat granola (no clusters tho).
Play with flavors: Add ginger, cardamom, all spice, apple pie or pumpkin pie spice or nutmeg in place of or along with cinnamon. Sub almond extract for vanilla extract.
Gluten-free option: For gluten free granola, check to be sure the rolled oats you choose are certified gluten free.
Holiday spiced granola: For a festive and delicious holiday granola add in pistachios or pumpkins seeds, cranberries or apples, and orange zest. Jars of granola make a great hostess or holiday gift too!
How to Make Granola from Scratch
This maple granola recipe is practically effortless yet it makes a BIG batch of crunchy, chewy golden clusters of oats and nuts. It's quick and easy to make from scratch - let's get into the details:
Dry Ingredients: Measure all the dry ingredients into a large bowl.
Wet Ingredients: Melt the coconut oil, maple syrup and brown sugar in a large glass measuring cup for 30-40 seconds until the coconut oil is melted then whisk in the vanilla. OR heat them in a saucepan until the coconut oil is melted (2-3 minutes).
Combine the ingredients: Next to eating it, my favorite thing about this granola is pouring the sweet maple-vanilla mixture over the salty cinnamon scented dry ingredients - it smells irresistible and tastes divine! Stir well to coat ALL the pieces.
Bake: Spread the granola mixture on the baking sheet and press down with a spatula or measuring cup to flatten and compress the dry and wet ingredients together. Bake without stirring until lightly golden with crisp edges.
Cool completely: Remove from the oven and let cool completely before breaking into clumps.
Add the dried fruit: After the granola is cool, add any dried fruit or chocolate.
Store: This makes a large batch of granola that lasts for several weeks in an airtight container.
Time to Dig In: Serve granola with dairy-free yogurt and berries; sprinkle it over a smoothie bowl or vegan ice cream; enjoy it as a breakfast cereal with plant based milk.
Tips for Making Epic Salty-Sweet Granola
I've made A LOT of granola in my life and there's one thing I know for sure, it's always slightly different and it never disappoints. Here's a few of my secrets for making this gluten-free granola (clusters too) without using eggs or honey:
Compact the granola: If your goal is salty-sweet and chewy granola clusters, pack the oatmeal mixture on the baking sheet by pressing with a spatula, and don't over cook. I don't recommend stirring the granola until completely cool if you're after clusters.
Million Dollar Cooking Tips: The longer the granola bakes, the more fragile the sugar threads becomeso the granola will be crispier but there will be less clumpage. Play around with baking time until you get the perfect granola texture for you!
The thinner you spread the granola on the baking sheet, the faster and dryer (crispier) it will be.
Some sweeteners brown up more quickly than others (like honey) - so keep your eyes on the granola.
Cool the granola: It's important to let the granola cool completely (~30 minutes) without disturbing for the best granola clusters. Once cool, lift an edge of the parchment so the whole sheet of granola comes up together. Break into any size granola clusters, bites or chunks. There will naturally be smaller pieces as well.
Granola tastes better over time: I'm always surprised how much the granola flavor changes and improves in the days after it's made. If you're making granola for a brunch or hostess gift, I recommend making it a day or two in advance for the best flavor!
More Vegan Breakfast Ideas
If you love this healthy granola, here's some more wholesome, delicious breakfast of champions:
The Best Vegan Granola Recipe (gf)
This recipe for homemade granola is a salty sweet and crunchy vegan and gluten free breakfast option. Serve it with almond milk and fresh fruit or make a vegan yogurt parfait. The large crunchy oat clusters make a delicious afternoon snack.
Rate this recipe!
INGREDIENTS
½

cup

coconut oil

⅓

cup

brown sugar

¼

cup

maple syrup

1 ½

teaspoons

vanilla

3 ¾

cups

rolled oats

1

cup

shredded coconut, unsweetened

1 ½

cups

nuts/seeds

1 ½

teaspoons

ground cinnamon

¼ - ½

teaspoon

sea salt

½

cup

raisins/cranberries
OPTIONAL Add Ins
2

tablespoons

hemp hearts (chia seeds or ground flax seeds)

½

cup

chocolate chips
INSTRUCTIONS
Preheat oven to 325º F

Cover baking sheet with parchment paper.

Heat the sauce ingredients: Combine the coconut oil, brown sugar, and maple syrup in a large glass measuring cup and microwave it for ~30-40 seconds until the coconut oil is melted. Whisk in the vanilla. *Alternatively, place the ingredients in a saucepan over medium-low heat until the coconut oil is melted (~2 minutes). Stir in the vanilla.

Combine the dry ingredients: In a large mixing bowl, combine the oats, coconut, nuts/seeds, cinnamon, hemp hearts (chia seeds), and salt. Stir to blend.

Stir together: Pour the melted coconut oil-maple syrup mixture over the dry ingredient and stir to combine thoroughly. Spread the mixture on the prepared baking sheet in an even layer then press down and smooth using a spatula or measuring cup.

Bake: Bake for 20 minutes without stirring. Rotate the baking sheet. *Bake another ~6 minutes until lightly golden with crisp edges. Remove from the oven and let cool completely on the baking sheet for ~30 minutes.

Serve: Break into chunks, add dried fruit chocolate chips as desired.

Storing: Store in an airtight container or bag at room temperature for several weeks. Can be frozen for several months if needed.
NOTES
Add ins: For an extra boost of nutrients and plant protein, I love adding hemp hearts. Sub chia seeds and/or ground flax seeds instead. Salt: If using iodized table salt instead of fine sea salt, start with ¼ teaspoon, stir in and taste adjusting to your preference. The salt will enhance and balance the sweet flavors in the granola, but it shouldn't taste 'salty'. *Cook time: The cook time will be impacted by the baking sheet you use, how hot your oven runs, how thick you spread the granola mixture, and the type of sugar/sweetener you use (see tips above). If cutting the recipe in half, keep your eyes on the granola and drop the cook time as needed. Store: Store in an airtight container on the counter for several weeks (it will never last that long!).
This recipe is from simplyceecee.co food blog. All images and content are copyright protected. Please do not use my images or republish this recipe without prior permission. Thank you.