If you crave sweet, spicy, tangy food, this Mango Corn Salsa recipe is for you!
This fresh, colorful, corn salsa is bursting with sweet and spicy flavors. Made with gorgeous ripe mangos, sweet summer corn, fresh lime, cilantro and jalapeños, this healthy, corn salsa is ready in minutes and goes with everything!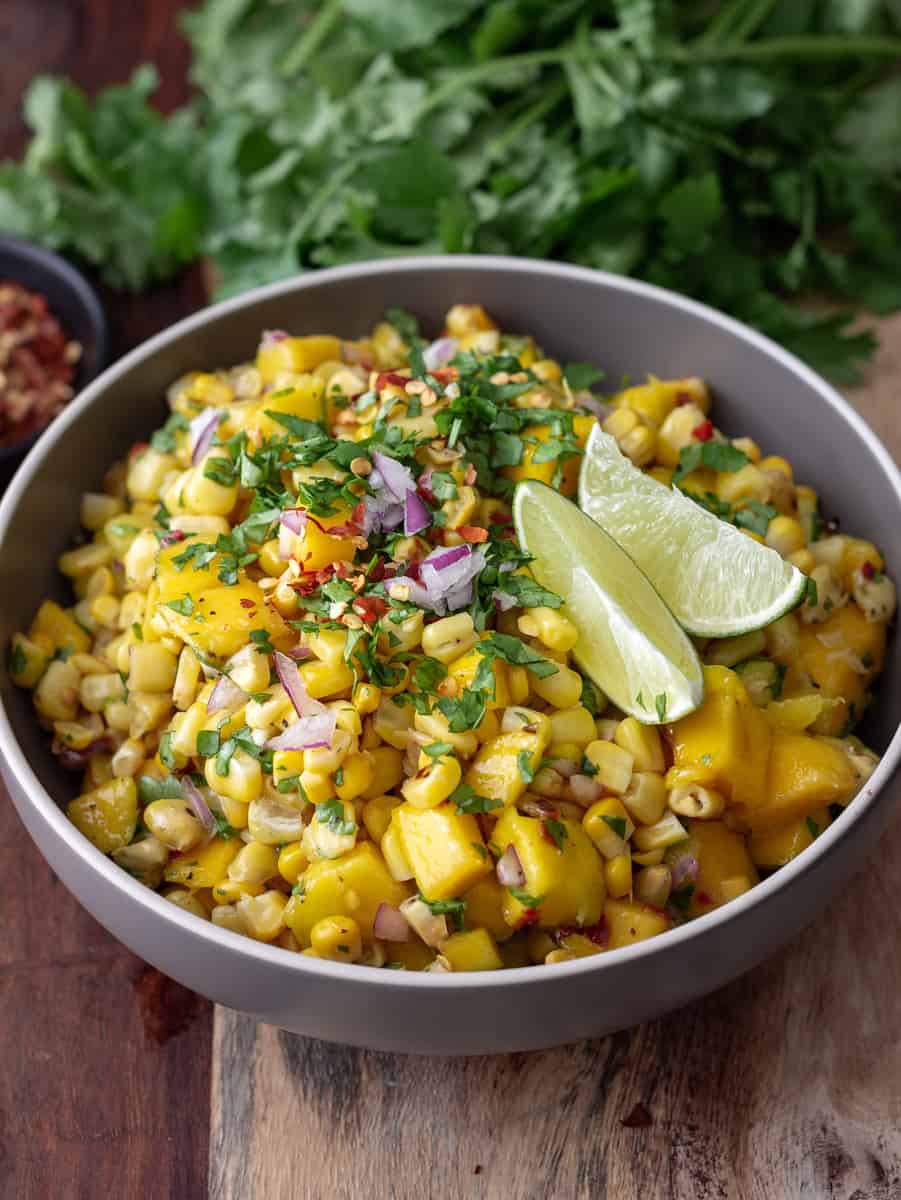 The first time I made this mango corn salsa, it was for a spicy tofu taco recipe. But every time I made it, my dinner guests would polish off the salsa first so I knew it would be delicious on everything! We love it on Mexican-inspired vegan bowls, over Taco Stuffed Sweet Potatoes, top every summer taco with it, and serve it as a side salad.
Reasons You'll Love Mango Corn Salsa
Healthy – fresh, nourishing, whole food plant-based salsa that's naturally sweet, tangy, spicy and irresistible. Plus it's oil-free, gluten-free, dairy-free, and grain-free!
Simple – this corn salsa is quick and easy to make. For fuss-free entertaining, make it ahead of time and store in the fridge so the flavors have time to mingle and develop.
Ingredients for Mango Corn Salsa
Inspired by our favorite corn salsa topping at Chipotle, this juicy mango corn salsa takes it one step further. Here's what you'll need: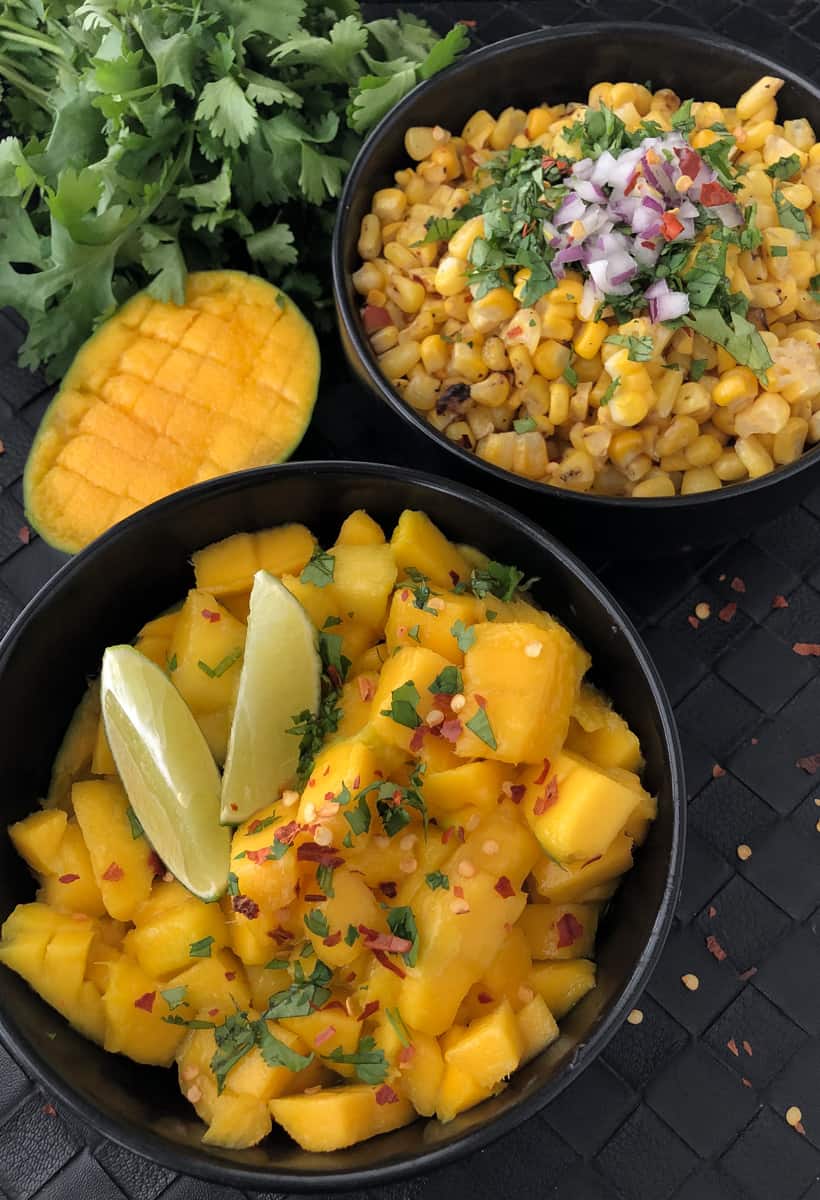 Mangos – choose ripe, juicy, sweet mangos. Mangos are incredibly healthy and nutritious plus that color just screams summertime! Give the mangos a gentle squeeze to check for ripeness – they should be firm but with some give (like an avocado).
Mango Ripening Tip - if the mangos are perfectly ripe when you buy them, store them in the fridge until you need them (this will slow down further ripening). If the mangos are a bit hard, leave them out on the counter or place them in a paper bag in a warm spot in the kitchen or pantry for a day or two.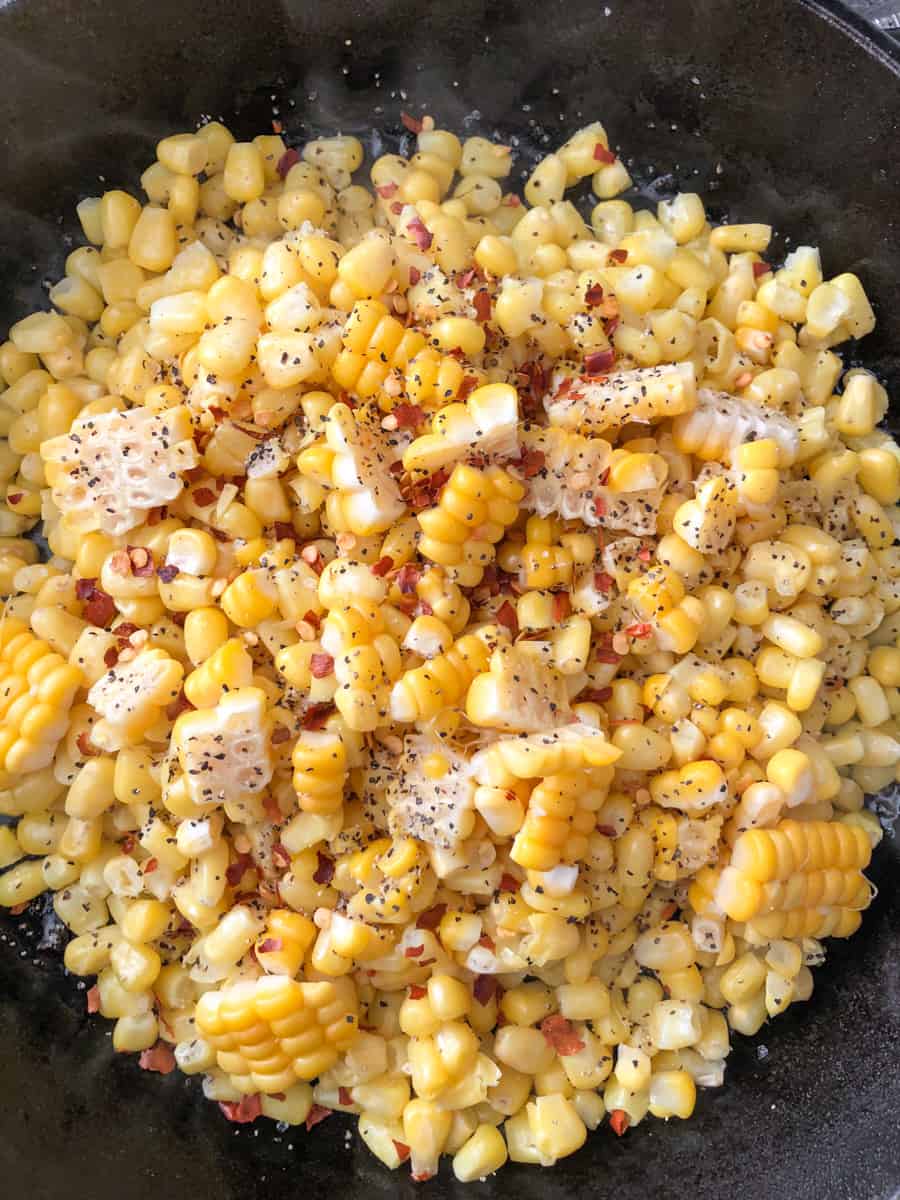 Corn – fresh is best, but frozen works when corn is out of season. Grilling the corn adds another layer of flavor to the salsa.
Red Onions – I use red onions for color, but white onions are a delicious choice as well.
Cilantro – bright, fresh and delicious plus adds flecks of color.
Lime Juice – fresh is best; but if you are out, use bottled lime juice.
Apple Cider Vinegar – adds smooth acidity and enhances overall flavor.
Heat – jalapeño peppers (hotter with or milder without the seeds and membrane), and a pinch or two of cayenne pepper.
Salt – salt is a flavor enhancer (it wakes up all the salsa flavors).
Optional – black beans, red peppers, and corn salsa are a delicious flavor combo!
Let's Make the Best Sweet + Spicy Salsa!
You won't believe how easy it is to make this fresh and delicious mango corn salsa. Let's get started!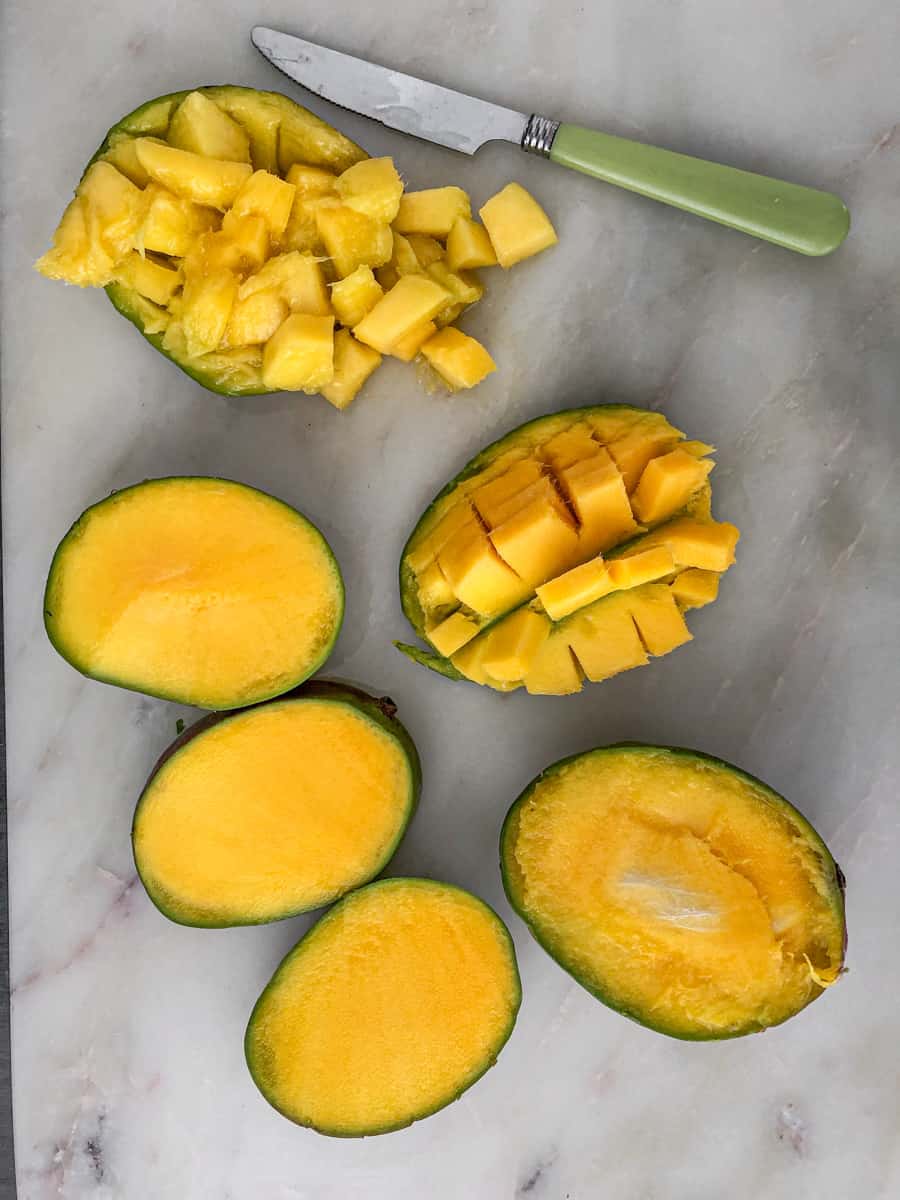 Cut the mangos by slicing down each side of the pit so you have two large pieces. Cut a grid into each half then scoop the flesh out of the skin. Keep the grid larger for a chunkier salsa or tighter for a finer salsa.
Boil the fresh corn, remove the kernels.
If grilling the corn, cook on stove or BBQ.
Add mangos and corn to a medium size bowl and toss with remaining ingredients.
Taste and adjust the seasonings. If the salsa is bland, add salt. If it's too sweet, add some lime or apple cider vinegar. More jalapeños or another pinch of cayenne will punch up the heat.
Pro Tip: when adjusting the seasonings, keep in mind what you are serving the salsa with – salty chips, spicy burger, rich fried vegan fish, etc. and adjust accordingly.
Chill in fridge until time to serve.
This mango corn salsa is best served the same day it's made. However, it does store in the fridge for a day or two without loss of flavor. The texture of the salsa does change the more days it is stored.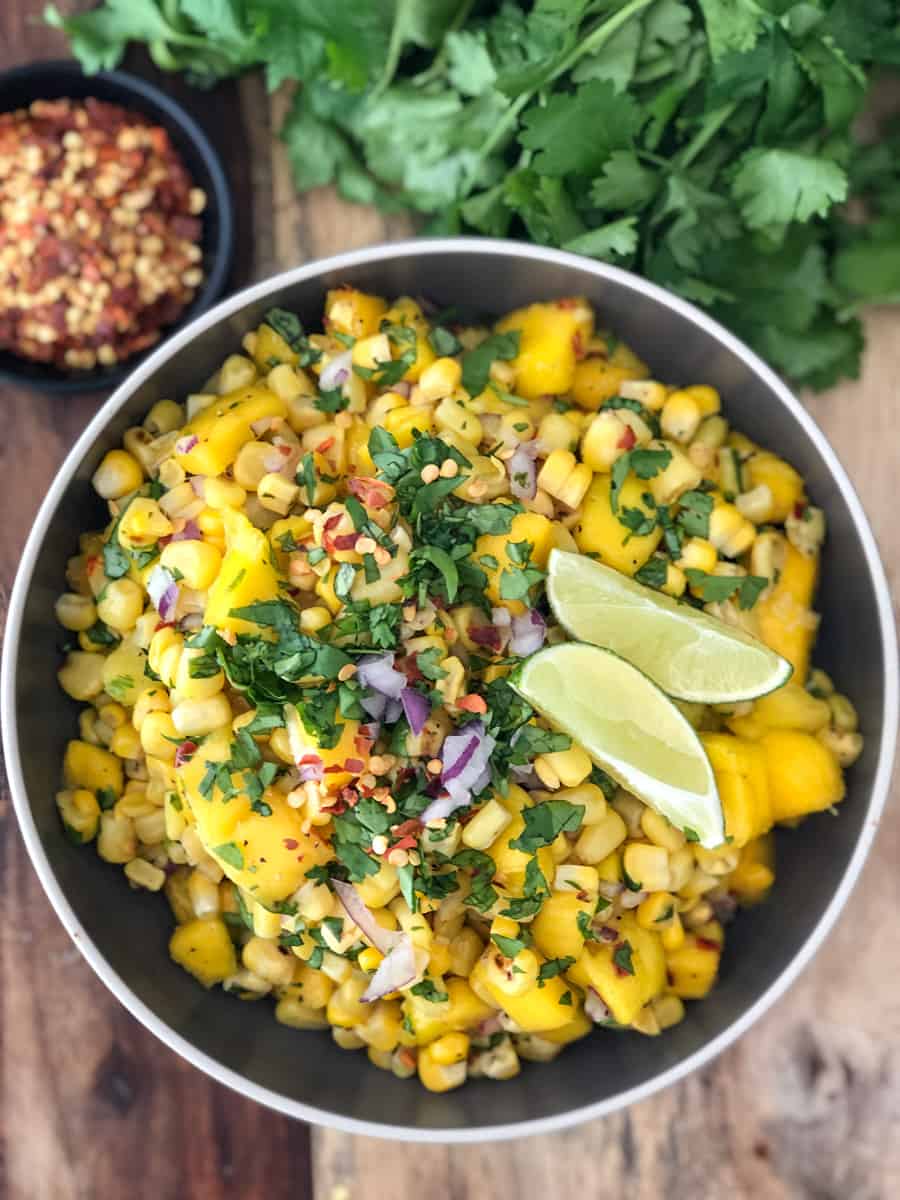 Vegan Food to Serve with Mango Corn Salsa
This salsa is so flavorful and delicious, it's fabulous with just a bag of chips and a bottle of beer. But when you're in the mood for a meal, try it serve with some of these favorites:
Guacamole – creamy and delicious.
Pico de Gallo - fresh, juicy and smoky.
Queso Cheese Sauce – the best vegan cheese sauce ever!
Nachos with Vegan Sausage – full meal deal!
Vegan Fish Tacos – out of control delicious tacos.
Did you make my oil-free Sweet + Spicy Mango Corn Salsa recipe?
I'd love to see it! Please leave a comment below and tag me on IG @ceeceecooks if you took photos!
NEVER MISS A RECIPE: Sign up for my email NEWSLETTER!
Sweet + Spicy Mango Corn Salsa Recipe
This easy-to-make Mango Corn Salsa recipe is fresh, juicy, and healthy. Made with mangos, corn, jalapeno, cilantro and lime, it's the perfect balance of spicy, sour, sweet, fresh and tangy. Plus it's oil-free, gluten-free, and vegan. This salsa is equally delicious as an appetizer or spooned over vegan fish tacos.
Rate this recipe!
INGREDIENTS
1-2

ripe mangos, diced

2

cobs of corn, steamed

½

red onion, chopped

1-2

jalapeños chili peppers, minced

1-2

limes, juice

2

tsp

apple cider vinegar

1

handful

cilantro, chopped

pinch

cayenne pepper

pinch

sea salt and cracked black pepper

pinch

hot pepper flakes (optional)
INSTRUCTIONS
Peel corn and place in boiling water to cook for a couple of minutes. Remove from heat, drain, let cool, and then cut niblets off the cobs.

Optional (but delicious) quick fry the niblets in a hot dry cast iron skillet if oil free (or add 1 tsp of oil) with coarse black pepper, a sprinkle of sea salt, and red pepper flakes just until slightly charred (about 2-3 minutes).

If you are using frozen corn, let it thaw, and then use the quick fry method above.

Set aside to cool.

Cut mango into bite-size cubes (if you've never done this before, here's a helpful video) and place them in a medium-sized bowl.

*Leave the mango pieces a bit bigger if you like a chunky salsa or cut into smaller pieces for a finer salsa.

To the mango and corn, add the chopped red onion, minced jalapeño peppers, lime juice, and apple cider vinegar.

Top with chopped fresh cilantro, a pinch of cayenne pepper, S&P, and hot pepper flakes. Toss to incorporate.

Taste and adjust flavours as necessary. If the salsa tastes bland, add more salt. Not tangy enough, add lime or apple cider vinegar. Add more jalapeño or cayenne to bump up the spice level.
NOTES
Heat - your choice of chili pepper is individual - some people can handle and enjoy A LOT of heat while others (like some members of my family, cannot). So choose the level of heat you enjoy. Check out
this handy heat index
when choosing your chili!
When chopping the peppers, remember the seeds and membranes are hot. Be sure to wash your hands, the cutting board, and knife right after dicing. Don't touch your eyes.
Sweetness - if your mangos are not sweet and juicy, you can add 1 tsp maple syrup to bump up the sweetness
Storage Tips - this mango corn salsa is best served the same day it's made. However, it does store in the fridge for a day or two without loss of flavor. The texture of the salsa does change the more days it is stored.
This recipe is from simplyceecee.co food blog. All images and content are copyright protected. Please do not use my images or republish this recipe without prior permission. Thank you.