BIG and showy, these vegan chocolate chip cookies with marshmallow are a cookie lovers dream come true. Stuffed with melted pools of chocolate and gooey toasted marshmallow, every bite is pure decadence. Just like my eggless peanut butter cookies, they're an epic twist on a beloved classic.
Grandma's famous chocolate chip cookies are soft and chewy, stuffed with chocolate chips, and are deliciously addictive. I've been making her recipe for decades with a few vegan swaps. These epic vegan chocolate chip and marshmallow cookie cups are a nod to grandma's classic chocolate chip cookie recipe with a little s'mores on top (ha ha)!
How to make vegan chocolate chunk cookies
It can be a little trickier to veganize baking recipes than cooking recipes because they are made without eggs and without dairy and that can change the flavor and texture of baking. However, once you get the hang of it, it's pretty easy. Here's what I did for this recipe:
Butter: butter adds flavour, tenderness, and richness. Start with any flavourful vegan stick butter or margarine at room temperature (sitting out for ~1 - 2 hours). Room temperature butter emulsifies with the sugar more evenly and becomes creamy and light which impacts the texture of the cookies.
PRO TIP: If you're in a rush to eat chocolate chip cookies (and who isn't!), use this tip to speed up the softening process. Cut the butter sticks into slices, separate them into a medium mixing bowl, and leave on the counter while you gather and measure your other ingredients giving them time to soften. Additionally, you can cover the bowl with a hot damp towel (creating a warm cave) to speed things along.
Vegan Egg Replacement: eggs offer structure to the cookies, but you can easily swap out any of these replacements with 'egg'cellent results: golden flax egg, aquafaba or Bob's Red Mill egg replacement.
Where to find vegan chocolate
Dairy-free Chocolate: there are so many choices for dairy-free chocolate nowadays - luckily! I like the Enjoy Life brand of chocolate - it's delicious and easy to find at most grocery stores in the baking aisle (sometimes in the Natural Food aisle). Most big brands have a dairy-free version of chocolate chips/chunks including Costco Kirkland Brand, Baker's semi sweet, Guittard semi sweet, and Trader Joe's - just check the label.*
The mini chocolate chips from Enjoy Life are perfect in my most-requested recipe: Vegan Peanut Butter Chocolate Chip Banana Bread!
Allergen Tip: sometimes the chocolate chip package will say 'may contain milk or milk products' which typically means it is made in a facility that uses milk/milk products. But if milk or milk products (whey, butter, etc) are not listed in the ingredients, you should be good to go.
Fun Fact: Grandma's sister gave her this chocolate chip cookie recipe in 1934. Apparently, the original recipe used Crisco with a sprinkle of salt and 2 chopped squares of Baker's semi-sweet chocolate. So if you have a favourite dairy-free chocolate bar, chop it up into chunks and use that in place of the chocolate chips!
Are marshmallows vegan?
Yup, there are vegan marshmallows, and they are are scrumptious. I love Dandies! You can find them easily now in many grocery stores or online. There are other vegan brands available too, like Trader Joe's brand. (I use half a large marshmallow or tear it into smaller pieces.)
Baking Tips and Cookie Testing
Although I've been baking this recipe for eons, these cookie cups are BIG so I did some extra recipe testing to make sure they were perfect. What I found out was almost everything worked with yummy results!
Egg Replacements - flax egg (1 tbsp golden flax, 3 tbsp warm water), aqua faba (2-3 tbsp), and Bob's Red Mill Egg Replacement - all good. Typically I use a flax egg or aqua faba in baking because I always have these ingredients on hand.
These cookie cups have no chill (tee hee) - chilling the dough didn't make a huge difference in this case because the cookies are baked in cups which prevents them from spreading. The texture was very similar and equally enjoyable with and without chilling. Typically I do chill the cookie balls for 10-20 minutes before baking though.
When the cookies are slightly under baked, they are super chewy and gooey (my future son-in-law's favourite). However, the middle tends to sink upon cooling (partly because of the weight of the extra chocolate chunks and the marshmallow on top a tender crumb). This still produces a very chewy tasty cookie, but it's not as pretty. A few more minutes in the oven solves this.
Mixing the Dough - if you don't have electric beaters, not to worry, you can make these cookies the old fashion way! When mixing by hand, if the dough is not coming together, add another tablespoonful of aqua faba or up to 2 tbsp of plant-based milk. The dough should be moist but stiff.
Storing and Freezing the Cookies
Baked Cookies - Once the cookies have completely cooled, store them in an air-tight container on the counter or in the fridge for up to 5 or 6 days.
Freeze any baked cookies in an air-tight freezer bag for up to 3-4 months.
Unbaked Cookie Balls - Make 12 cookie balls as per the recipe and place on a cookie sheet in the freezer for about 30 minutes. Then transfer the frozen balls to an airtight container and freeze for up to 3 months. I usually note the date and cooking instructions on the container with a piece of masking tape (eg. CCC May 28/2020 - 350º F 13-15 min).
On baking day, bring the balls to room temperature while your oven is preheating, then add the chocolate chunks and marshmallows, and bake as directed.
Other Yummy Vegan Treats
If you love these eggless chocolate chip cookies, you're going to love these other vegan treats: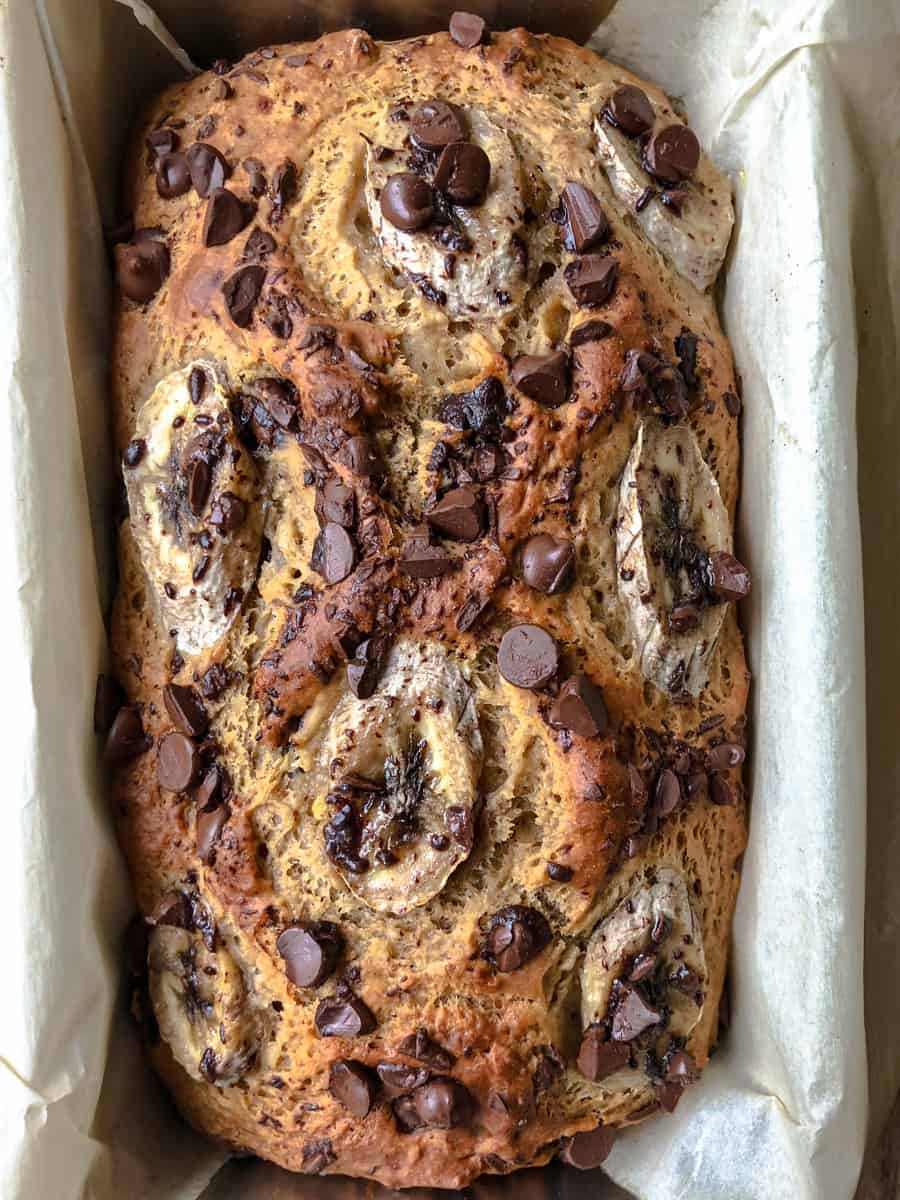 Did you make my Epic Marshmallow Chocolate Chip Cookie Cup recipe?
I'd love to see them! Please leave a comment below and tag me on Instagram if you take photos!
NEVER MISS A RECIPE: Sign up for my email NEWSLETTER!
Epic Chocolate Chip and Marshmallow Cookie Cups (vegan)
Incredible, chewy, chocolate chunk cookie cups stuffed with pools of melted chocolate and vegan marshmallows. These epic cookies are the definition of chewy, gooey, chocolatey decadence - vegan style!
Rate this recipe!
INGREDIENTS
½

cup

butter, softened

½

cup

brown sugar

2

tbsp

white sugar

1

egg replacement (aqua faba, flax egg)

1 ½

tsp

vanilla

1

cup + 2 tbsp

flour (all purpose)

½

tsp

salt

½

tsp

baking soda

1

cup

dairy free chocolate chips/chunks (divided)

6

large

vegan marshmallows, halved

12

mini

pretzel twists (optional)

4-6

pieces

chocolate chunk, melted for drizzling

maldon finishing salt flakes
INSTRUCTIONS
Preheat oven to 350º F. Prepare muffin pan with non-stick spray or wipe with a light swipe of butter.

In a large bowl, using a hand mixer (or wooden spoon) cream softened butter and sugars until creamy and light. Beat in egg replacement* and vanilla.

Egg Replacement: *2 tablespoons aquafaba (liquid from chickpeas) OR 1 tablespoon ground flax seeds + 3 tablespoons warm water stirred and set

Add dry ingredients and mix until a stiff dough forms.

Add an additional tablespoon flour if the dough is too soft.

Stir in ¾ cup chocolate chips/chunks* by hand until evenly incorporated. Save the remaining chocolate chunks for the top and also for drizzles.

* use chocolate chunks, chocolate chips or a blend of the two

Scoop into 12 equal size balls, place each ball in the prepared muffin tin.

Press a chocolate chunk or two into the top of each cookie ball.

Cover the cookie dough balls and place the pan into the fridge for 30 minutes up to 48 hours.

Remove from fridge and press half a marshmallow (or break into 3 chunks) onto the top of each cookie cup.

Bake 13-15 minutes until the cookies are golden and the marshmallows are toasted. If the marshmallow isn't lightly golden, turn the heat up to 360º F for the last minute. (In my oven 15 minutes @ 350º F is perfect!)

Optional Pretzels: Remove the cookies from oven and gently tuck a pretzel* twist into melted marshmallow (if using). Let cool until set and then move the cookies to a cooling rack to cool completely.Pro Tip - *the pretzels add a lovely salty crunch.

Optional Drizzle: Melt a few chocolate chunks or chocolate chips to drizzle over the cookies for extra decadence.
NOTES
Dough - when mixing the dough by hand, you may need to add a tablespoon or two of plant-based milk to bring the dough together. 
Chocolate - check the label to be sure there is no dairy.
Marshmallows - the Dandies brand is absolutely delicious. They freeze really well and for a long time with no loss of flavour or texture. Find them online or in super markets in baking aisle or natural food aisle.
Marshmallows - don't be alarmed when

the marshmallows puff way up in the oven, they return to normal during the cooling process.
Storing Baked Cookies - store cookies in an air-tight container on the counter or in the fridge for as long as they last (ha ha - at my house, one day). Freeze the baked cookies in an air-tight freezer bag or container for up to 3-4 months.
Freezing Unbaked Cookie Balls - portion into 12 balls, place on a cookie sheet in the freezer for about 30 minutes, then transfer to a freezer bag or air-tight container and freeze for up to 3 months.
On baking day, remove as many cookie balls as you'd like to cook. Let the cookie dough come to room temperature while the oven is preheating, then add the two chocolate chunks and marshmallows on top. Cook as directed.
This recipe is from simplyceecee.co food blog. All images and content are copyright protected. Please do not use my images or republish this recipe without prior permission. Thank you.