This spicy Mexican-inspired rice with crispy baked chorizo chickpea recipe is a hearty, delicious, and healthy combination. For an incredible vegan buddha bowl just add a few juicy tomatoes, creamy avocados, leafy greens and a drizzle of your favorite sauce.
Try cashew cream (Tex-Mex cashew cream, smoky, Creamy Cilantro-Jalapeno), easy tahini sauce with a twist (sweet spicy tahini sauce, spicy green) or tangy dairy-free tzatziki sauce.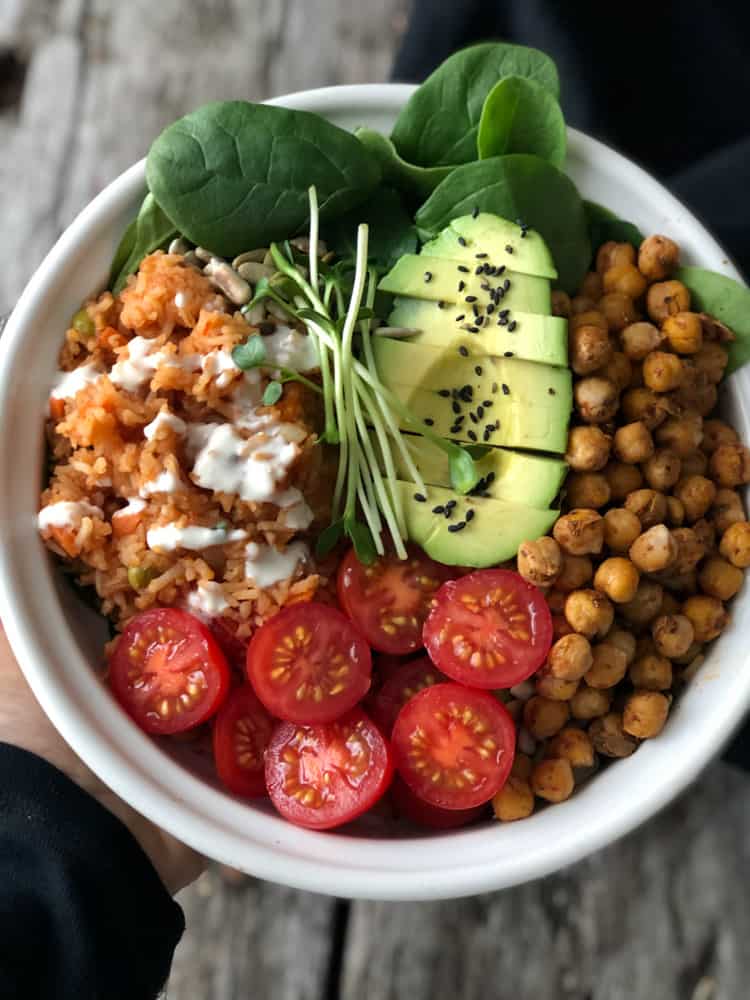 When we were growing up my oldest brother had a conniption fit if the food on his plate touched (or if anyone touched it - so of course, we touched it every time he wasn't looking!!). But I'm not like that, I haven't eaten off a plate in I can't remember how long. I like my food to touch, and I like to mix it and drizzle sauce on it so I can be messy and a bowl is the perfect answer for said messiness.
Same brother gave me a beautiful Mexican cookbook (Mexico, The Beautiful Cookbook, Authentic Recipes from the Regions of Mexico) a zillion years ago and this Mexican-style rice recipe is from that book. It's easy to make, and I just love having a batch of this tasty tomatoey rice on hand for burritos, bowls, and rice balls. It's really the perfect food - inexpensive, a regular pantry staple, gluten free, simple to prepare, and very versatile.
So those chorizo-spiced chickpeas are fiery little flavour bombs. I made some vegan chorizo sausage before the holidays and everyone went crazy for the flavour so I thought, gotta make this again but with baked chickpeas. Again, simple, fast, inexpensive, gluten free, abundantly available, and delicious in so many dishes.
Both the rice and the chickpeas are great for meal prepping during the week as well. Wrap the rice, beans, salsa, cashew cream, and greens in a tortilla and then warm at lunchtime or dry fry them until golden and crispy on all 4 sides. I freeze them rolled (no greens) and take them to work during the week with all the fixings on the side. You can even add a handful of your favourite vegan cheese for added yumminess.
Step by Step Managing Your Time
This vegan Mexican rice and chorizo chickpea recipe is not difficult, but there are a few components to manage. Keep ready for some time management tips to make this recipe a breeze.
Preheat the oven and prepare the baking sheet.
Start the rice.
Soak the cashews.
Mix spices for chickpeas during breaks while making the rice.
Place chickpeas in pre-heated oven while the rice is simmering.
Prepare additional veggies for the bowl (5 minutes).
Toast the nuts/seeds if using (2-3 minutes).
Blend the cashew cream (1-2 minutes).
Pile everything into a bowl and drizzle with cashew sauce or stuff it in a burrito and place in a dry pan to crisp each side until golden.
Storage
The components of this recipe hold well in the fridge for up to a week or can be frozen for a couple months.
Did you make this recipe? I'd love to see it!
Please leave a star rating and comment at the bottom of the page.
Thank you so much for sharing! Tag me on Instagram 
For more Vegan Recipes: Sign up for my email NEWSLETTER!
Mexican Rice and Chorizo Chickpea Bowl
This Mexican rice and spicy chickpea combination is a delicious and healthy, and great for food prep.
Rate this recipe!
INGREDIENTS
2

cups

long-grain white rice

1

~ 14 oz tin

whole tomatoes, canned

3

tbsps

oil

⅓

onion, rough chop

2-4

cloves

garlic, rough chop

4

cups

vegetable broth

1

sprig

parsley

1

tbsp

chili sauce (or chopped fresh chiles)

½

cup

shelled green peas

½

cup

carrot, chopped
Chorizo-Spiced Chickpeas
1

19 oz tin

chickpeas, drained and rinsed

2

tsp

garlic powder

1

tsp

onion powder

1 ½

tsp

chili powder, ground

2

tsp

chipotle powder or chipotle liquid

1 ½

tsp

cumin, ground

2

tsp

dried oregano leaves

1

tsp

course black pepper

½-1

tsp

salt (to taste)

pinch

cayenne (optional for extra heat)

2

tsp

coconut sugar or maple syrup

2

tsp

lime juice or apple cider vinegar

1

tbsp

tomato paste

1-2

tbsp

water (for thinning)
Optional Bowl Ingredients
1

avocado, sliced

6-10

cherry tomatoes, halved

leafy greens like spinach, arugula, romaine

½

cup

cashew cream recipe*

pepitas or sunflower seeds, lightly toasted
INSTRUCTIONS
Preheat the oven to 400º F. Prepare a baking sheet with parchment paper.
Mexican-Style Rice
Soak the rice for 5 minutes in warm water (then rinse and drain). Set aside.

While the rice is soaking, chop the veggies, parsley, garlic, and make the vegetable stock (I like Better than Bouillon).

Heat the oil in a skillet, add the onion and garlic and sauté over medium heat for 5 or 6 minutes. Add the chopped parsley and chili sauce (I use this one). 

Stir in the drained rice and continue to cook, stirring until translucent.

Add the canned tomatoes including the liquid to the skillet breaking them up with the back of your spoon.

*Note: the original recipe uses less tomatoes - so add only half the tin if that's your preference.

Stir in the peas and carrots.

Once the mixture has come to a boil, cover and cook over medium heat for ~ 20 minutes or until the liquid has been absorbed and the rice is tender. 

Taste and adjust seasoning if required. Garnish with chopped parsley.
Chorizo-Spiced Chickpeas
Drain and rinse the chickpeas.  

Mix all the chorizo ingredients together in a medium bowl. Start with 1 tbsp water and add more as needed for thinning.

Pour the spice paste over the chickpeas and stir together until evenly coated.  

Spread on a prepared baking sheet in a single layer. Place in preheated oven for ~20 minutes until slightly crispy (don't over cook them).
Putting It All Together
Slice the avocados and tomatoes. Wash and pat the greens dry.

Dry toast the nuts in a pan on the stove. If using.

No need to add any oil. Keep your eyes on the nuts, giving the pan a shake frequently. The toast pretty quickly!

Place a handful of greens into your favourite bowl. Add a scoop of rice, some chickpeas, a few slices of avocado, some tomato halves and garnish with toasted nuts/seeds, and a drizzle of cashew cream (and sriracha!) or your favourite dressing.

If you are making burritos: add a pile of greens, rice, beans, salsa (or tomatoes), avocado, nuts and a drizzle of sauce on a big tortilla and roll burrito style. These are great lunches for school or work.
NOTES
Cashew cream - choose any of the flavors for drizzling. Smoky, spicy, hot, garlicky.
The rice and chickpeas last in the fridge for up to a week so they are great for food prep. Make a bowl, stuff them in a burrito or served with grilled vegetables.
This recipe is from simplyceecee.co food blog. All images and content are copyright protected. Please do not use my images or republish this recipe without prior permission. Thank you.