This crispy orange tofu is beyond finger licking good! Just like your favorite Chinese orange chicken takeout, the juicy pan-fried tofu morsels are super crispy and drenched in a spicy-sweet and tangy Asian orange sauce. Every mouthwatering bite will leave you craving more.
Now you can experience the classic flavors and textures of the beloved take-out dish orange chicken at home with this delectable pan-fried orange tofu recipe. It's a quick and easy tofu dish that everyone devours - even the kids!
This succulent, spicy orange tofu chicken is an absolute must-try for all food enthusiasts (vegan or not)!
Ingredients for Crispy Orange Tofu
Made with extra firm tofu and a handful of pantry ingredients, this tasty orange tofu is an inexpensive vegan and gluten-free dinner. Let's get into the details: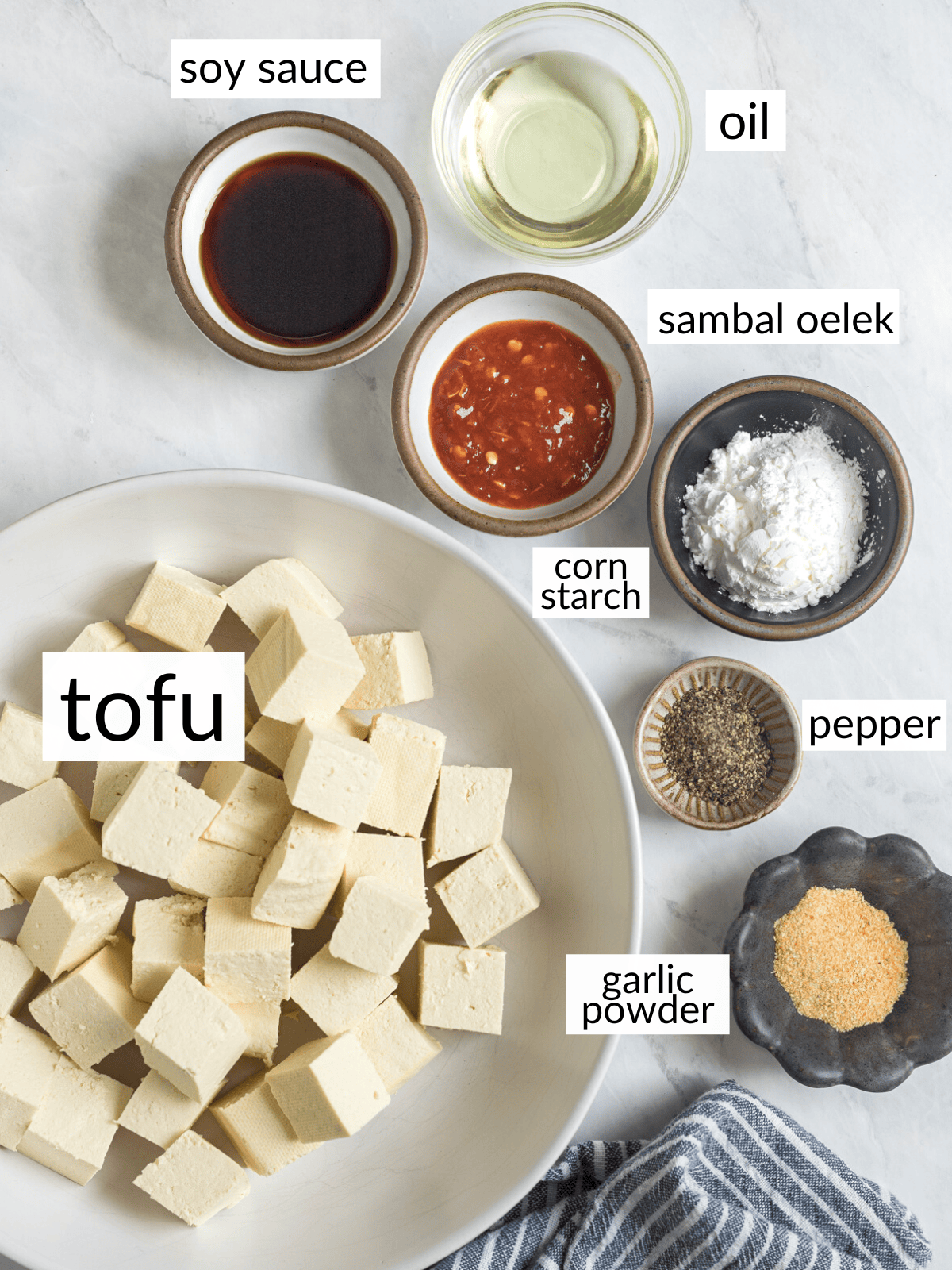 Ingredients for the crispy tofu:
Tofu: I recommend extra firm tofu (vacuum packed) found in the refrigerated aisle.
Dry Seasoning: Coarse ground black pepper and garlic powder.
Liquid Seasoning: Sambal oelek and soy sauce.
Cornstarch: To create the crispy tofu crust.
Oil: Choose a neutral oil with a high smoke point for the frying like canola or vegetable.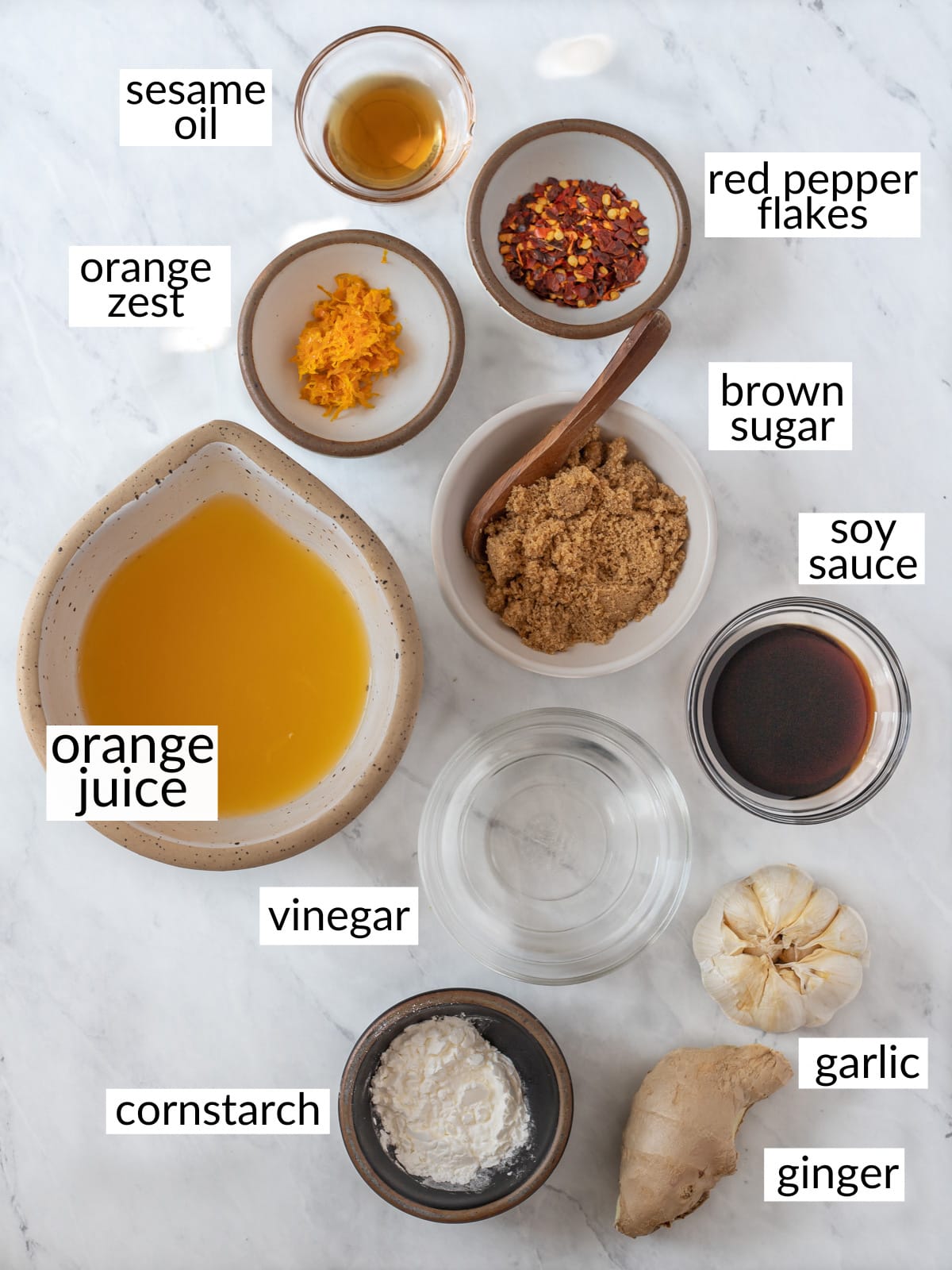 Ingredients for the orange sauce: Gather together fresh oranges (3-4) plus orange zest, soy sauce and white vinegar, fresh ginger and garlic, brown sugar, red pepper flakes, and fresh red chiles. As well as cornstarch and cold water for the cornstarch slurry.
Ingredient Substitutions & Variations
This tofu recipe is flexible - sub with what you have on hand. Here's a few swaps:
Orange juice: I really like freshly squeezed orange juice and zest for this recipe but pre-mixed orange juice is fine too.
Acid: Can sub white vinegar with rice vinegar (white vinegar has a sharper/stronger flavor).
Soy sauce: For gluten free orange sauce, use tamari or gluten free soy sauce.
Sweetness: Use coconut sugar, maple syrup or agave in place of brown sugar. This recipe is on the lighter side of sweet. Customize the level of sweetness to your personal preference. Some people like it a bit sweeter, some don't - taste as you go!
Make it spicy: For a spicier orange sauce, add thinly sliced red chili peppers to the pan when you fry the aromatics or use as a garnish. Highly recommended!
Customize the orange sauce to your personal preference! Tangier? Add more vinegar. Saltier or more depth? Add more soy sauce. Sweeter? Add more sugar. Spicier? Add more red pepper flakes or fresh red chiles.
How to Make the BEST Orange Tofu
It's easy to recreate Panda's popular orange chicken dish at home including the secret sweet and spicy orange sauce with one easy swap - crispy pan-fried tofu. Let's make a batch together: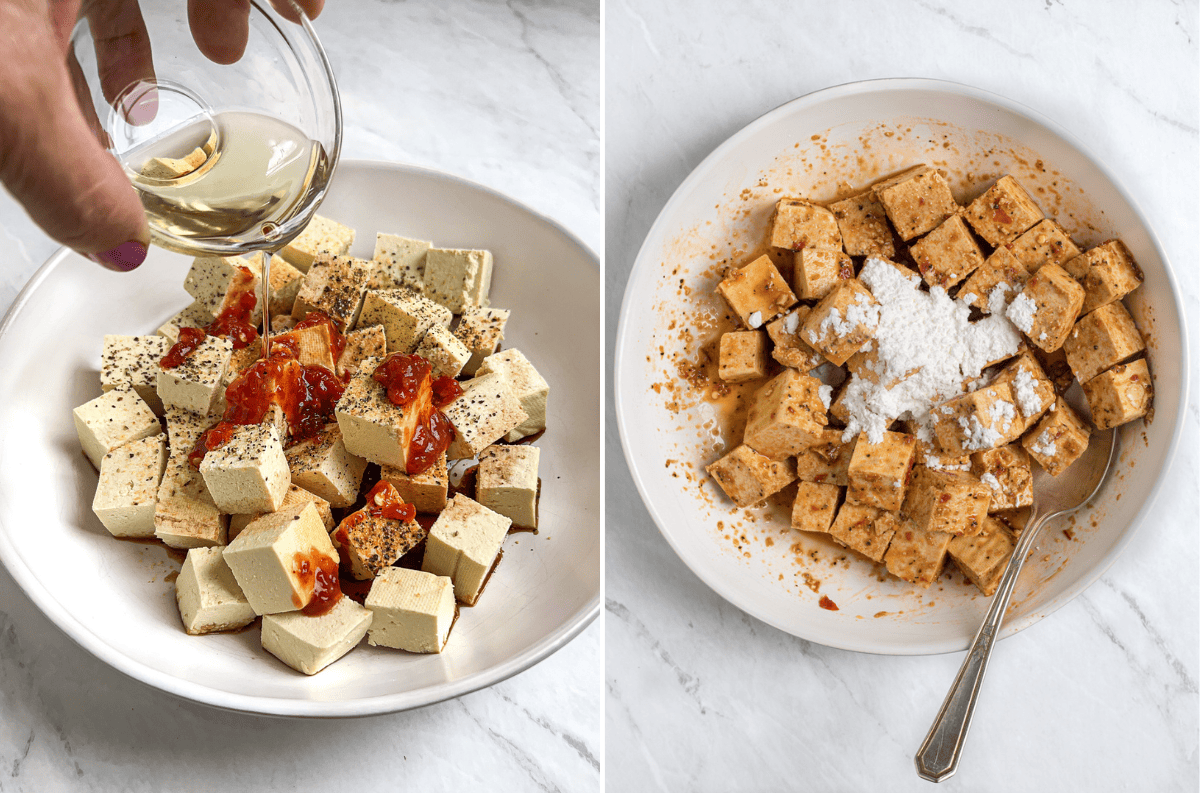 Start with extra-firm tofu: Drain the tofu, pat dry then cut into cubes or break into bite-size morsels. Toss the tofu pieces with the seasonings then dredge in cornstarch until evenly coated. The coating should be sticky and thick - not runny.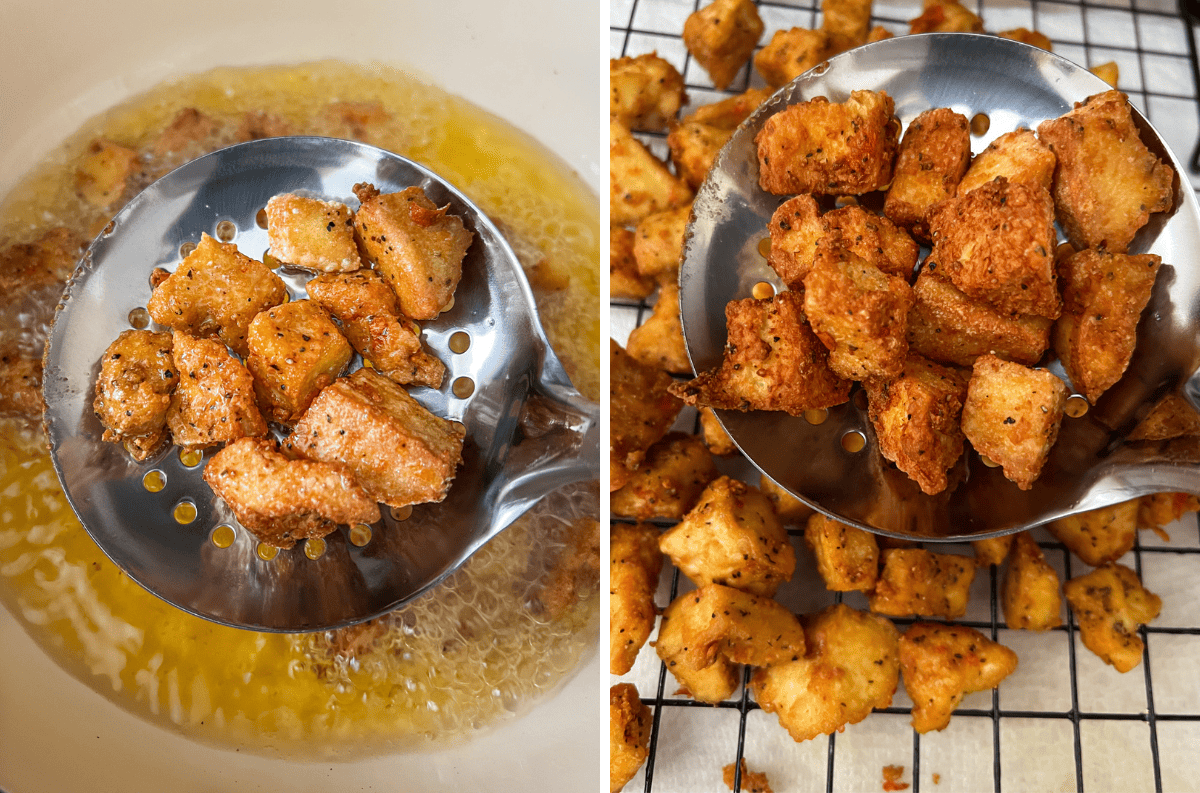 Pan fry the tofu: Generously coat the bottom of a non-stick skillet with oil and heat over medium-high until shimmering. Next add the tofu (in batches as necessary) and cook until golden. Use a spider or slotted spoon (not plastic) to flip and stir the tofu to be sure all the edges are golden and crispy. This will take only 2-4 minutes. Repeat with remaining tofu pieces.
After that transfer the tofu to a paper towel-lined plate to absorb excess oil.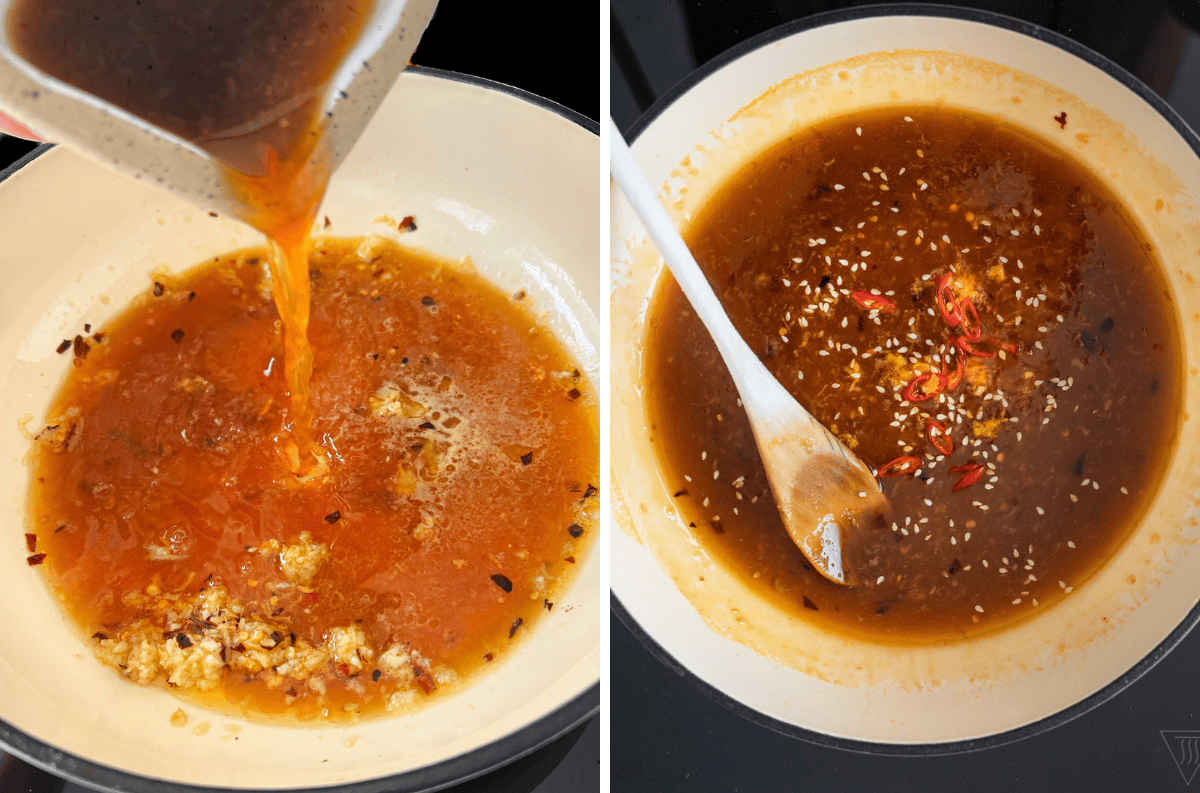 Prepare Panda's copycat Orange Sauce: Fry the aromatics until fragrant (10-30 seconds) then add the orange sauce ingredients (except the cornstarch slurry) and bring up to a boil. Reduce the heat then add the cornstarch slurry (half at a time) whisking to thicken the sauce. Add more liquid if the sauce becomes too thick.
Ready to eat?: Add the crispy tofu to the spicy orange glaze and toss until coated. Serve immediately topped with sliced green onions, a sprinkle of sesame seeds, orange zest, and thinly sliced red chiles (if using).
Tofu Cooking Options: This tofu recipe can be customized and made with air fryer tofu or oven baked tofu for a delicious, healthier alternative.
Cooking Tips for Crispy Tofu
Our family loves tofu, and I make it A LOT - I consider myself somewhat of a tofu expert! Here's a few tips I've learned over the years: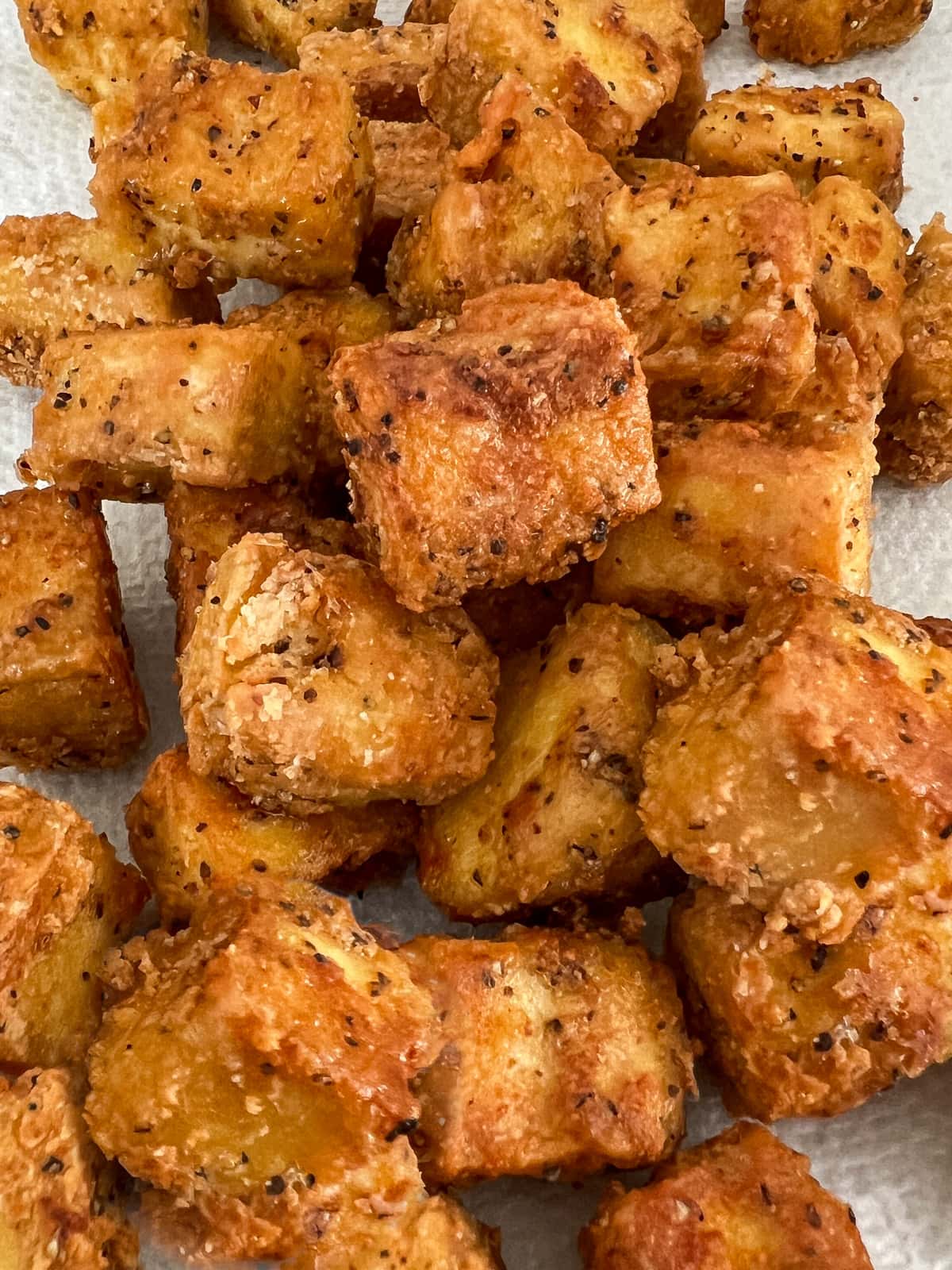 What kind of tofu should I use?: For crispy tofu, use extra firm tofu (vacuum packed) which has a lower water content than silken or medium tofu. Tofu texture varies from brand to brand. If your extra firm tofu is on the soft side, wrap it, add a couple heavy cookbooks then let it press for 20-30 minutes to release excess moisture. Or use a tofu press if you have one.
What role oil plays in crisping tofu: Oil heats to a very high temperature which sears the outside edges of tofu turning it ultra crispy.
What does cornstarch do in frying?: Cornstarch helps remove moisture from the surface of the tofu and creates a thin crust that becomes crispy in the hot oil.
How long do I fry the tofu?: Use enough oil to come halfway up the sides of the tofu cubes (½") then they only have to be flipped once. Or break the tofu into morsels then just stir the tofu pieces in the hot oil until they are golden and crispy. Around 2-4 minutes.
Oil-free option: Skip the oil and use a non-stick skillet. Place the tofu in the hot skillet then don't touch it until it naturally release (~2 minutes on medium high). Flip the pieces then follow the recipe as written. Side Note: The oil-free tofu will not be as crispy, but the texture is meaty and it tastes delicious.
Million Dollar Tofu Tip: Don't overcook the tofu! Overcooked tofu is rubbery and dry (not great). When you first start cooking tofu, test it periodically as you're cooking until you find the perfect combination of time, temperature, and texture to suit your taste (rare, medium or well done).
How to Zest an Orange: See recipe notes.
How to Serve Orange Tofu
Incredible on its own or make a hearty, gluten free, vegan meal by adding a side of rice, quinoa or noodles with steamed broccoli, bok choy or your favorite greens.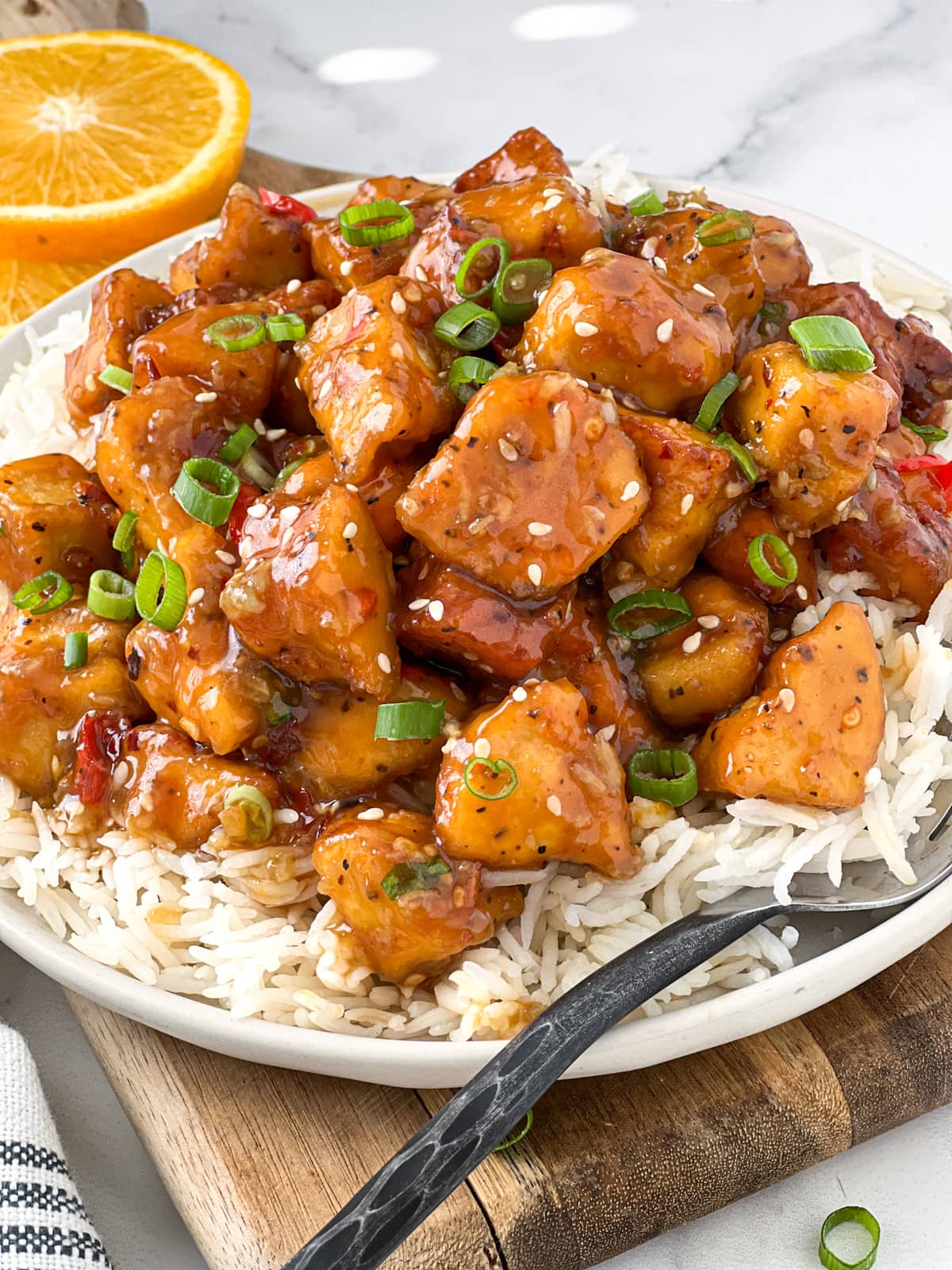 Storing & Reheating Cooked Tofu
Leftover tofu will keep well in the fridge all week. Although it won't be crispy, it is still beyond delicious. Reheat on the stove, in a toaster oven or the microwave.
More Drool Worthy Vegan Recipes
If you're loving tofu, browse the blog for even more incredible tofu recipes. In the meantime, here's a few favorite vegan recipes we're loving right now:
If you tried this Crispy Orange Tofu, please let us know how you liked it by leaving a rating and review below! Be sure to follow along on Instagram and Pinterest or sign up for our Sunday morning newsletter for more delicious vegan recipes.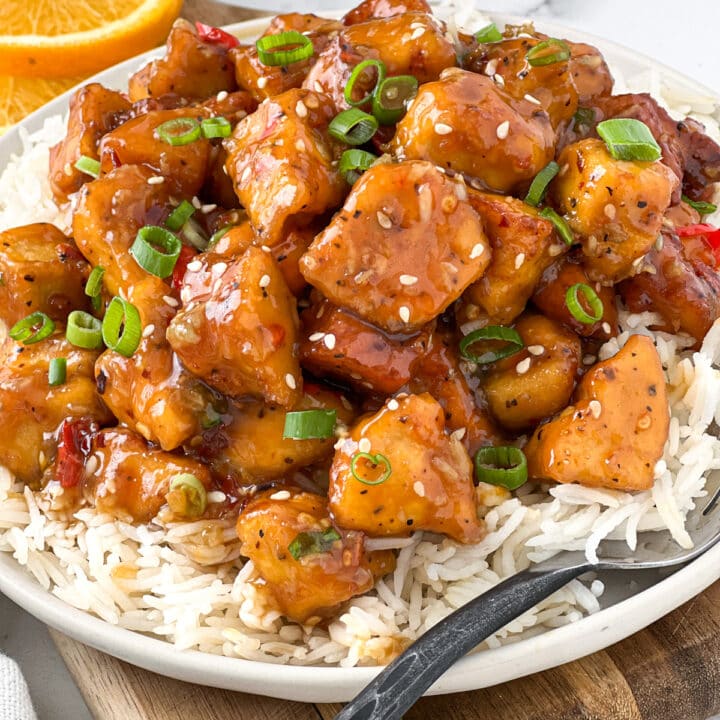 Spicy Orange Glazed Tofu (vegan + gf)
Craving succulent, crispy, pan-fried tofu morsels smothered in Panda's secret sweet and spicy orange sauce? This easy vegan recipe is the perfect copycat of Panda Express Orange Chicken - but vegan! The whole family devours it - even the kids! Yield: 3-4 servings
Rate this recipe!
INGREDIENTS
Pan Fried Tofu
12

ounce block

tofu, extra firm

2

tablespoons

soy sauce (tamari)

2

teaspoons

sambal oelek

1

tablespoon

oil

¼ - ½

teaspoon

coarse black pepper

1-2

tablespoons

cornstarch
Orange Sauce Ingredients
3

tablespoons

white vinegar

⅔

cup

orange juice (freshly squeezed)

3

tablespoons

brown sugar, packed

2

tablespoons

soy sauce

¼ - ½

teaspoon

red pepper flakes / red chiles

2

cloves

garlic, minced (~2 teaspoons)

½"

knob

ginger, grated (~2 teaspoons)

1

tablespoon

cornstarch + 2 tablespoons water

1

teaspoon

sesame oil (optional)

2

teaspoons

orange zest (optional)
Garnish
1

tablespoon

sesame seeds, toasted

2

green onions, sliced

1-3

red chiles, thinly sliced (optional)
INSTRUCTIONS
Drain the tofu: Wrap the tofu block in a few paper towels, squeeze excess water and pat dry. Or wrap in kitchen towel and stack some cookbooks on top to press while you prepare the orange sauce ingredients, zest the oranges, and slice onions and chiles.

Mix the orange sauce ingredients: Stir together the vinegar, orange juice, brown sugar, and soy sauce in a small bowl. Taste and adjust the sauce to personal preference: tangier (vinegar), sweeter (brown sugar), saltier (soy sauce). Note: Do not add the cornstarch and water yet.

Divide and season the tofu: Break the tofu into bite size pieces or cut into cubes (see photos in post). Place in a large bowl then toss with the soy sauce, sambal oelek, oil, garlic powder, and black pepper. Shake or stir until thoroughly coated. Then sprinkle 1 tablespoons cornstarch over the seasoned tofu, shake again until coated (no dry spots). If the mixture is still saucy, add another tablespoon of cornstarch and mix again. The coating should stick to the tofu pieces.

Heat the oil: Pour enough oil to generously cover the bottom of a non stick skillet. Heat oil over medium high until shimmering. Arrange the tofu pieces in the hot skillet in a single layer with a bit of space between. They should sizzle when added to the hot oil. Use a spider or slotted spoon to stir and remove the tofu from the oil.

Pan fry the tofu: Let the tofu cook undisturbed until golden (1-2 minutes), then stir the pieces and continued to pan fry until crispy and golden on all edges (another ~2-4 minutes). Don't over cook!

Blot the tofu: Transfer the tofu to a few paper towels on a plate or cooling rack to catch any excess drippings.

Next, make the orange sauce: Remove most of the oil from the skillet except ~1 tablespoon. Turn the heat to medium-low. Add the minced garlic and ginger, red pepper flakes and/or sliced red chiles (if using) and fry for ~45-60 seconds being careful not to burn. Add the prepared orange sauce (not the cornstarch and water) and bring up to bubbling for ~1 ½ minutes.

Thicken the orange sauce: Whisk together 1 tablespoon cornstarch with 2 tablespoons water to create a cornstarch slurry. Gradually add it to the orange sauce (half at a time), whisking until the sauce is thick enough to coat the back of a spoon (don't over thicken or it becomes paste). You may not need all of the slurry.

Optional step: Now swirl in 1 teaspoon of sesame oil to give the orange sauce a velvety sheen and richness.

To Serve: Add the crispy tofu to the skillet and stir to coat. Remove from heat then garnish with green onions, sesame seeds, sliced red chiles, and orange zest. Serve immediately!
NOTES
Tofu: Use extra firm tofu for the crispiest tofu.
Cooking Options: If you prefer, use baked tofu or air fryer tofu.
Orange Juice: Use freshly squeezed if you have oranges (3-4) on hand. The orange zest adds a boost of orange flavor. But if not, a jug of orange juice is perfectly fine.
How to Zest an Orange: Wash and dry the oranges. Holding the orange in one hand and your zester upside down over the top of the orange, pull it across the surface of the orange, turn the orange and repeat. I show you how to zest a lemon here. 
Leftovers: Store leftovers (if you are lucky enough to have any) in the fridge to be warmed up and enjoyed over the next day or two. The tofu will not be crispy, but it is firm and tastes delicious.
This recipe is from simplyceecee.co food blog. All images and content are copyright protected. Please do not use my images or republish this recipe without prior permission. Thank you.