Pico De Gallo (aka Pico) is an easy-to-make, popular, Mexican condiment that makes everything taste better. Amazing with a big bowl of tortilla chips, on vegan tacos or served sprinkled over vegan nachos!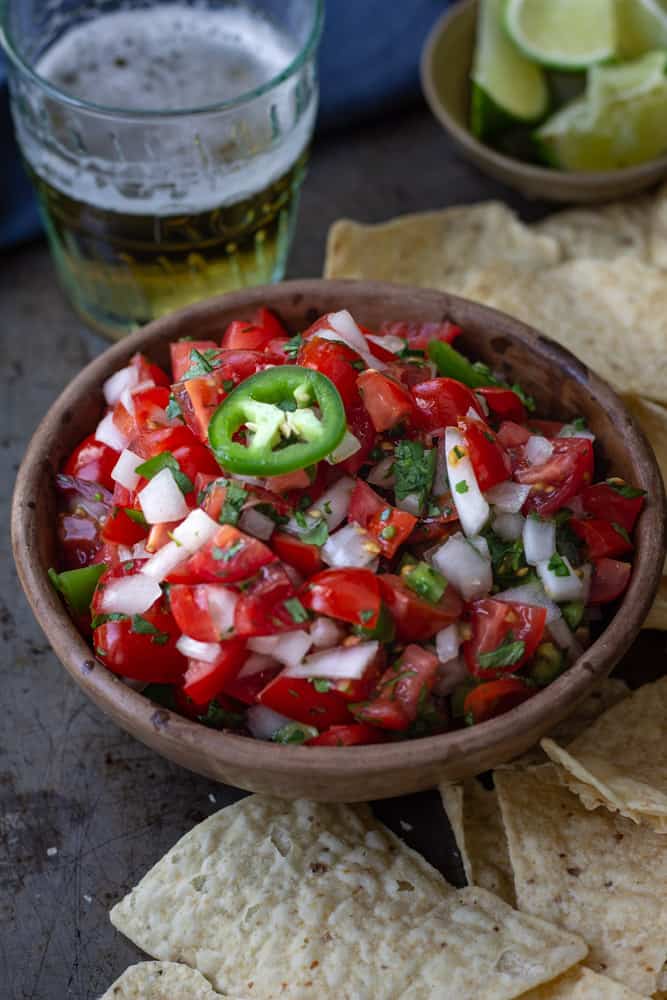 Why We Love Pico de Gallo
easy to make
healthy
better than store bought
vegan, vegetarian, plant based, oil free, gluten free, nut free
makes everything 1000 times better
Pico is delicious on so many dishes. On Friday nights, we love digging into a big bowl of taco chips, pico, Tex-Mex cashew cream, and vegan guacamole. Pico is a must add to crispy vegan fish tacos and elevates any tofu scramble, vegan burrito bowls, veggie quesadillas, and pizzas.
Ingredients for Pico de Gallo
Since Pico de Gallo has only a few basic ingredients, look for the best quality ingredients you can find. You'll need ripe tomatoes, white onions, jalapeno peppers, fresh cilantro, juicy lime, and coarse salt.
Tomatoes: Since tomatoes are front and center for pico flavor, it's imperative to select the reddest, ripest, most flavorful tomatoes available.
Do you de seed the tomatoes in pico? Sometimes yes, sometimes no.
Plum tomatoes (like Roma) have a higher solid to seeds ratio and lower moisture content than regular tomatoes making them a good choice for pico. As long as the tomatoes are top quality, and perfectly ripe, any variety will work; but if they are super juicy, I remove most of the seeds and pulp to manage an over abundance of liquid.
Onions: I used to use red onions for my pico. I love red onions for their flavor and nutrition profile. BUT, after a pico-eating trip to Mexico, I switched to white onions. The sharpness and pungency of white onions is a perfect compliment to the ripe tomatoes in pico.
Everything Else: chopped fresh cilantro, jalapeno chiles (to taste), juicy limes, coarse ground salt, and chipotle Tabasco (optional).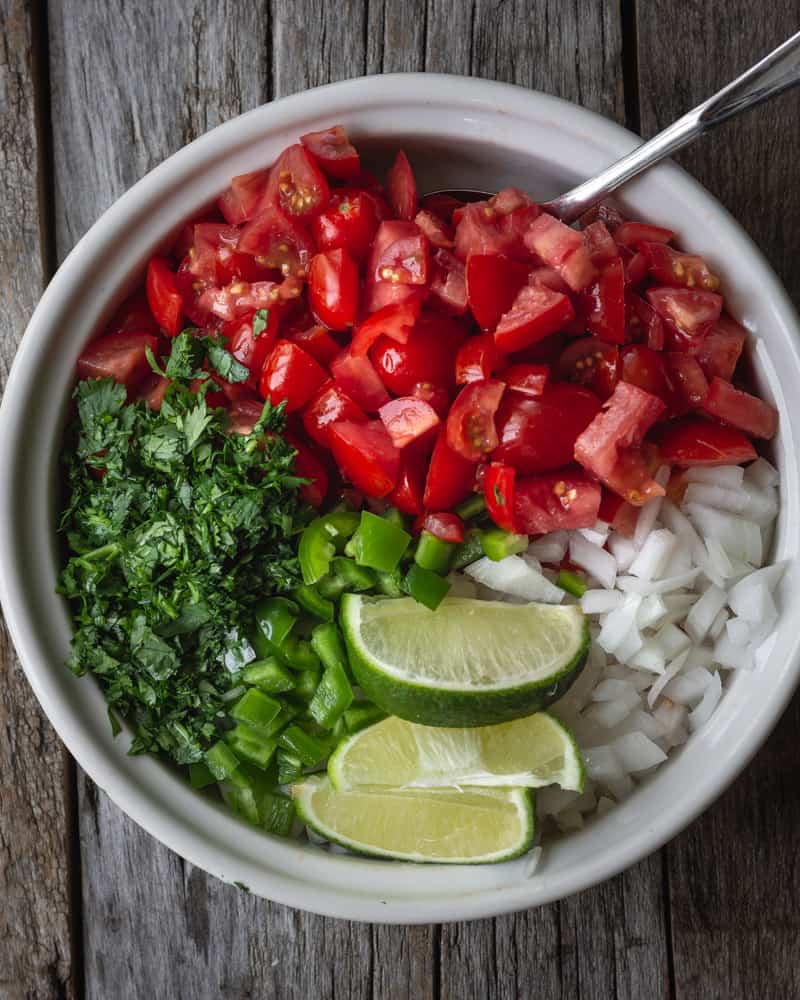 Let It Rest: Once you've sliced and diced all the veggies and herbs and mixed them together, let it sit out on the counter where the flavours will mingle and be enhanced. Just before serving, taste the pico and adjust the seasonings to suit your personal preference.
Vegan Dinner Ideas
More vegan sauces and toppings for tacos, bowls, snacking and so much more:
Did you make this recipe? I'd love to see it!
Please leave a star rating and comment at the bottom of the page.
Thank you so much for sharing! Tag me on Instagram
For more Vegan Recipes: Sign up for my email NEWSLETTER!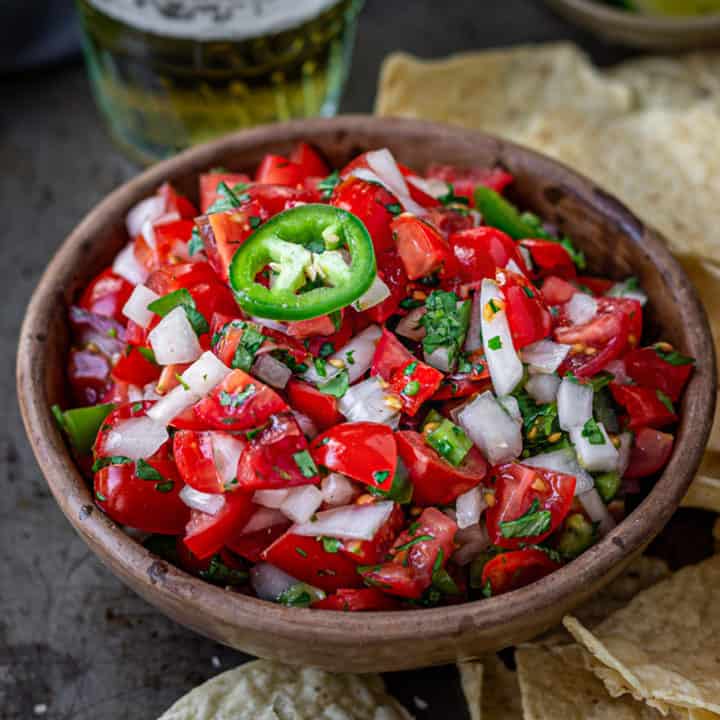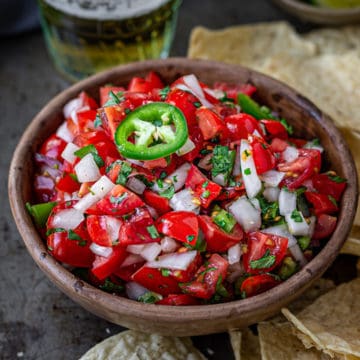 Perfectly Simple Pico de Gallo Recipe
This simple pico made with fresh whole foods like tomatoes, onions, and cilantro is easy to make. Pile it on top of nachos, tacos, Buddha bowls, and breakfast burritos to elevate your favourites. It's 100% plant based, oil free, gluten free and 1000% delicious.
Rate this recipe!
INGREDIENTS
4-5

medium plum tomatoes (like Roma), medium dice

½

medium white onion, diced

1-2

juicy limes, juiced

⅓

cup

cilantro, chopped

1

jalapeno pepper, seeded and minced

1-2

pinches

coarse salt, to taste

1

splash

Chipotle Tabasco
INSTRUCTIONS
This is so simple.

Slice the tomatoes in half and remove seeds and pulp if desired.

Cut the tomatoes into about ½" pieces (medium dice). Place the tomatoes into a medium-sized bowl.

Chop the onions and cilantro, and mince the jalapeno. Add to the tomatoes.

Squeeze the juice of one lime onto the tomatoes (if it's a really juicy lime, that might be enough, but sometimes the limes are small or a bit dry so add more to taste).

Season with coarse ground salt to taste. Taste and adjust lime and salt as desired.

Add a splash of Chipotle Tabasco sauce - this is optional but delicious.

Let the pico sit at room temperature for 20 - 30 minutes for flavour development.

Stir, taste, and adjust the seasonings once again. Enjoy!
NOTES
Make the pico first and let it sit while you make the rest of your dinner to give the flavours a chance to marry.
Pico is best served fresh although it does keep in the fridge for a day or maybe two without too much loss of flavour and texture. I usually throw leftover pico in soup, chilli or stew. 
This recipe is from simplyceecee.co food blog. All images and content are copyright protected. Please do not use my images or republish this recipe without prior permission. Thank you.