Smoky, creamy, spicy poblano and mushroom enchilada recipe with a slightly sweet, super spicy, mole sauce that will surprise you, and a white sauce that will have you reaching for seconds.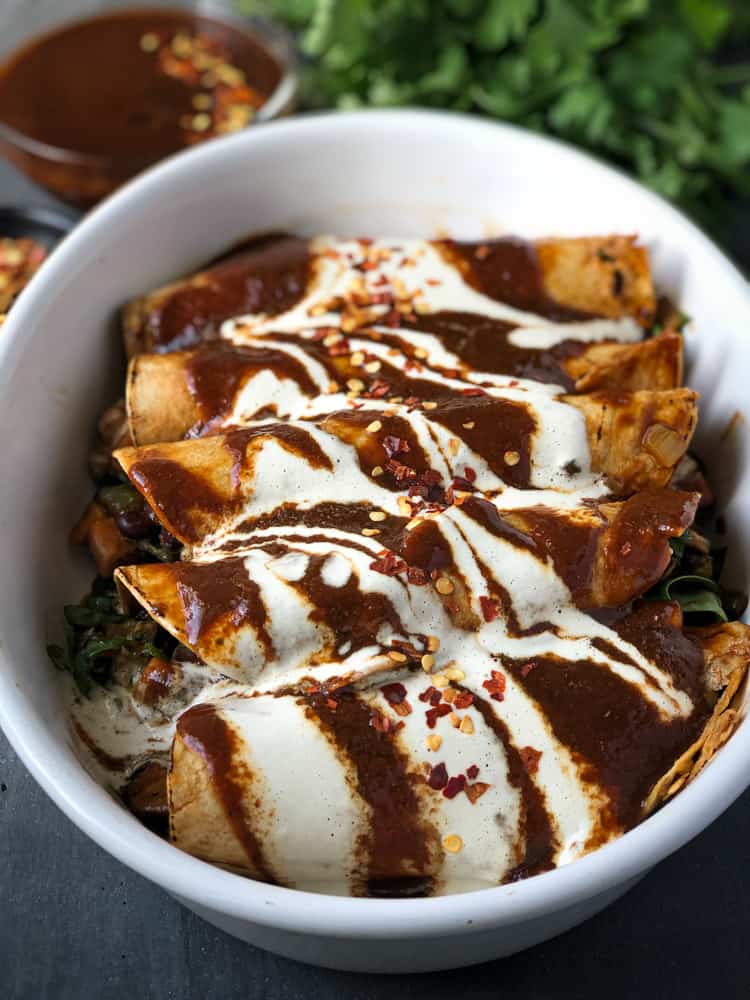 I love Mexican-inspired dishes. Our family eats tacos and burritos on the regular. High time for some enchiladas! I'm not talking about traditional enchiladas either.
These are the most delicious vegan enchiladas filled with poblano peppers, mushrooms, sweet potatoes, black beans and spinach. Then I smothered them in not one but two incredible sauces - one to heat things up and add a spicy punch and one to add some creamy coolness. But wait, right before serving, I top these babies with a pile of freshness - chopped tomatoes, green onions, and avocados. Beyond EPIC!
How the Make Vegan Enchiladas
For this poblano and mushroom enchilada recipe, I wanted a really substantial, veggie-packed filling cooked in lots of warming spices. Wrapped in tortillas, swimming in a luxurious mole-esque sauce and topped with cheesy goodness took this cozy dish over the top.
For the filling, I sautéed poblanos, mushrooms, sweet potatoes, and onions. Then stirred in black beans and spinach, wrapped everything into soft corn tortillas, and covered them in two incredible sauces. A generous sprinkle of cheese (I used Miyokos Mozzarella) and then off to the oven for 20 - 25 minutes.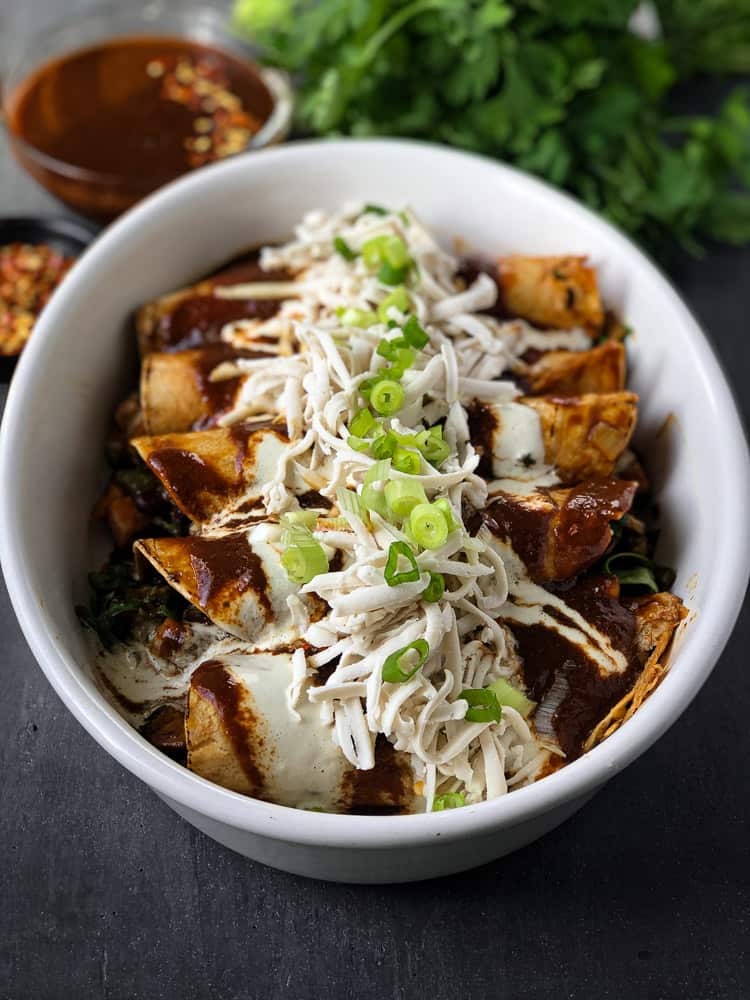 Once these delicious enchiladas were all warm, gooey and delicious, I topped them with freshness from chopped tomatoes, avocado chunks, cilantro, green onions, and lime. Spectacular, cozy combo!
Enchilada Sauce with a Twist
Oh yeah, the sauce!! The sauce plays a starring role in this dish! I thought about the sauce for a long time. I knew I wanted something a bit unexpected - like the flavours of a classic enchilada but richer and more luxurious. Something with sweet and spicy notes and a kick of heat. So I combined elements of enchilada sauce and Mexican bbq sauce - voila, exactly what I was imagining.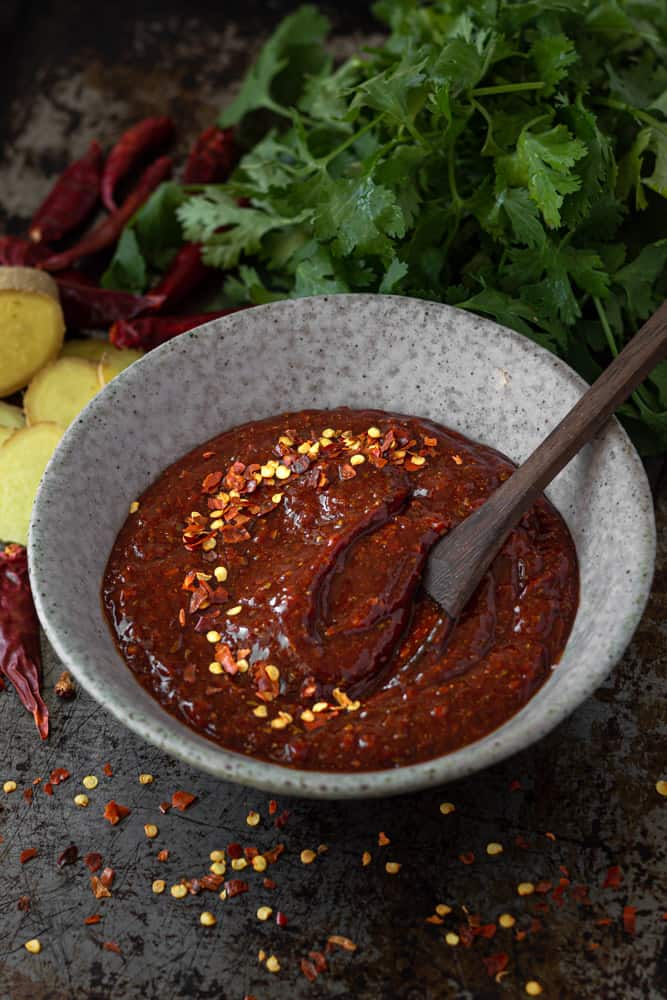 Are Poblano Peppers Hot?
Poblanos add such a rich, complex flavour without overpowering the heat index of a recipe. So I checked where poblanos fall on the Scoville Heat Scale which measures the amount of capsaicin in a chili pepper (the more capsaicin, the more heat).
For reference, green bell peppers have 0 scoville heat units while jalepeno peppers have 2,500 - 8,000 heat units. Poblanos fall between those two measures with a 1000 - 1500 rating on the Scoville scale. *FYI: the ghost pepper is 850,000 - 1,000,000 ai-yai-yai!
For this recipe, I added 1 large poblano and 1 tablespoon of sriracha sauce (2,200 scoville heat units) which gave these enchiladas a hefty hit of heat (for my palate). However, the mole-esque brown sauce has a bit of sweetness which tempers heat; as well, the white sauce and fresh veggies all play on the cool side of the heat index. Keeping that in mind, you can control the heat level in your enchiladas by manipulating these ingredients.
These are the most incredibly, delectable, nourishing vegan enchiladas ever! They are next-level cozy and super satiating. Hands down one of my favourite, easy, vegan comfort food dishes I've ever made.
Kitchen Management
Timing is everything at meal time. Once you find your kitchen groove, any dish is manageable. Here's a few tips for these delicious enchiladas to get you in and out of the kitchen in no time.
Make the brown sauce (Spicy TexMex Enchilada Sauce). Make the white sauce.
Preheat the oven to 350º F.
Prep and chop the veggies for the filling. Start the cooking process.
Roll the filling in the tortillas and place in oven to bake.
Chop and prepare the garnishes.
More Saucy Vegan Recipes
Did you make this recipe? I'd love to see it!
Please leave a star rating and comment at the bottom of the page.
Thank you so much for sharing! Tag me on Instagram 
For more Vegan Recipes: Sign up for my email NEWSLETTER!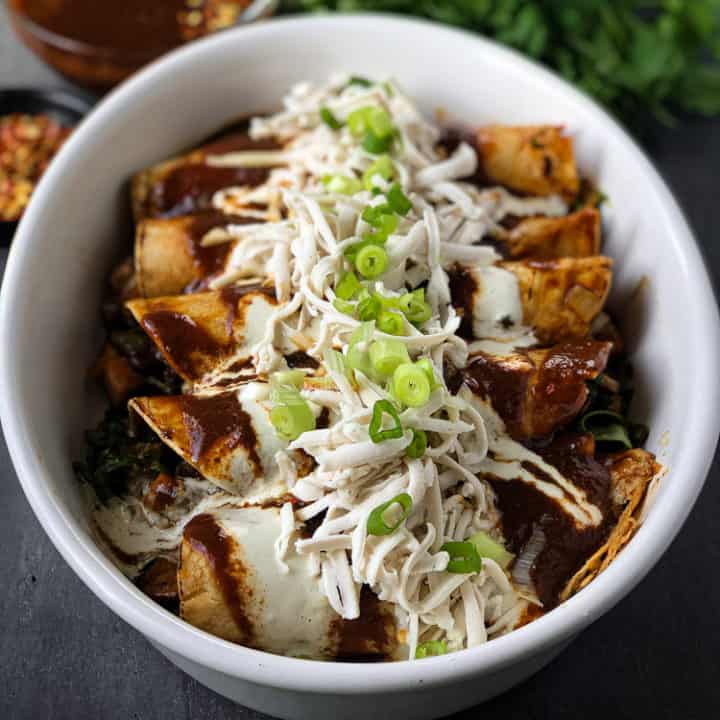 Poblano and Mushroom TexMex Enchiladas
These epic poblano, mushroom TexMex enchiladas are rich, luxurious and all vegan. This sauce will knock your socks off! Dairy free, oil free, delicious! No Jokes!
Rate this recipe!
INGREDIENTS
3

cups

mushrooms, cut into strips

1 ½

cups

sweet potatoes, medium dice

1

cup

onions, peeled and diced

1

poblano pepper, medium dice

2

cloves

garlic, minced

½

tsp

turmeric powder

½

tsp

cumin powder

½

tsp

smoked paprika powder

1

tsp

chili powder

1,

19 oz tin

black beans

1

large handful

spinach, rough chop

¼

cup

cilantro, chopped

1-2

tbsp

lime juice

8

corn tortillas

1 - 1 ½

cups

mozzarella, I use Miyokos brand

white sauce recipe (below)

spicy TexMex enchilada sauce recipe (link below)

Serving Options* chopped cilantro, chopped tomatoes, avocado slices, sliced green onions
INSTRUCTIONS
White Sauce Recipe
1 cup cashews, ¾ - 1 cup water, 1 tbsp nutritional yeast, 2 tsp apple cider vinegar, 1 clove garlic, pinch of salt, 1 tbsp tapioca starch

Place everything into a high power blender and process until smooth and creamy.
Vegetable Filling
Prepare the mushrooms, sweet potatoes*, onions, and poblanos. Mince garlic.

*It's not necessary to peel the sweet potatoes. They are beautifully rustic and add more nutrients.

Heat 1 tbsp of oil over medium-high heat (if oil free, add a splash of water or broth to prevent sticking). Add all chopped veggies, garlic, and the spices - cook, stirring until soft and fragrant.

Once the veggies are soft, stir in the black beans, chopped spinach and cilantro, and a squeeze of lime. Remove from heat.

Spread some enchilada sauce in the bottom of a 13x9 baking dish.
Rolling the Enchiladas
Lay tortilla on flat surface, place filling into the tortilla, add a splash of brown sauce and a drizzle of white sauce. Roll it up and place in the baking dish, seam side down.

Repeat with remaining tortillas and filling.

Cover with remaining enchilada sauce and white sauce as desired. Sprinkle with shredded mozzarella.

Bake covered for 18-20 minutes at 350º F until hot and bubbly.

Remove foil and broil the last few minutes to brown up the plant-based cheese if required.

While the enchiladas are baking, prepare any of the optional toppings to serve on the side: chop cilantro, slice 2-3 green onions, cut 10-12 cherry tomatoes into quarters, sliced avocado.
This recipe is from simplyceecee.co food blog. All images and content are copyright protected. Please do not use my images or republish this recipe without prior permission. Thank you.