This easy all purpose cashew cream sauce recipe is as simple to make as it is incredibly useful and versatile. If you're looking for a luscious, rich and creamy sauce that elevates dishes from ordinary to extraordinary without the addition of dairy, oil or gluten, your search is over. No joke, cashew cream is the secret sauce of all vegan chefs!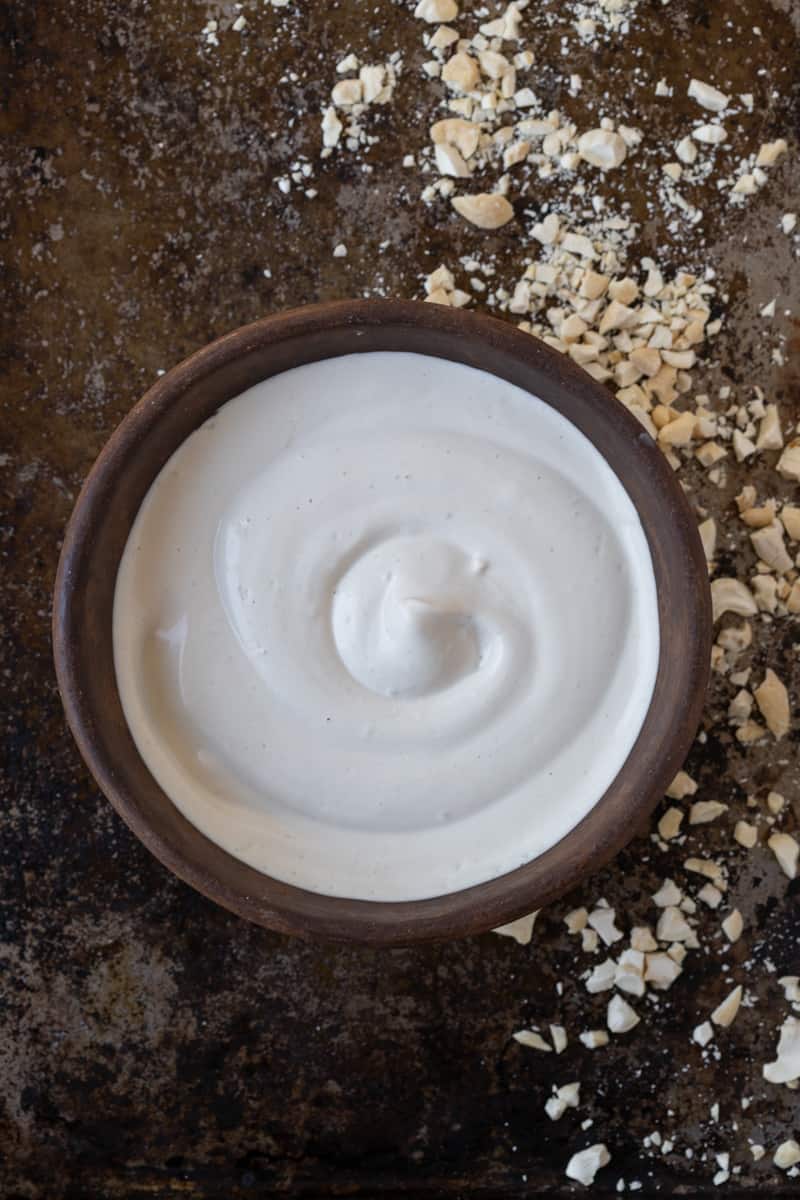 OMG, I couldn't love cashew cream more if I tried. It's a kitchen essential for all vegan (vegetarian and plant-based) kitchens!! Super versatile with so many flavor possibilities, plus it's incredibly creamy and indulgent without a drop of dairy!!! Everyone loves cashew cream - vegan or not!
Why You'll Love Easy Cashew Cream Sauce
Dairy-free, Gluten-free, Oil-free, Vegan, Vegetarian, Plant based.
Super versatile vegan kitchen staple: soup, Buddha bowl, tacos, lasagna, and raw dessert.
Nothing compares to homemade cashew cream!
Keeps well in the fridge; therefore, it lends itself well to making ahead and meal prep.
Rich, thick, and creamy smooth. This is best five minute cashew sauce ever!!!
I make a version of cashew cream sauce at least once a week! As a savory application, it's a wonderful dairy-free alternative for milk, heavy cream, drizzles, dips, and creamy sauces. In addition, it makes a sensational sweet cream for vegan icing and drizzle for desserts or ice cream.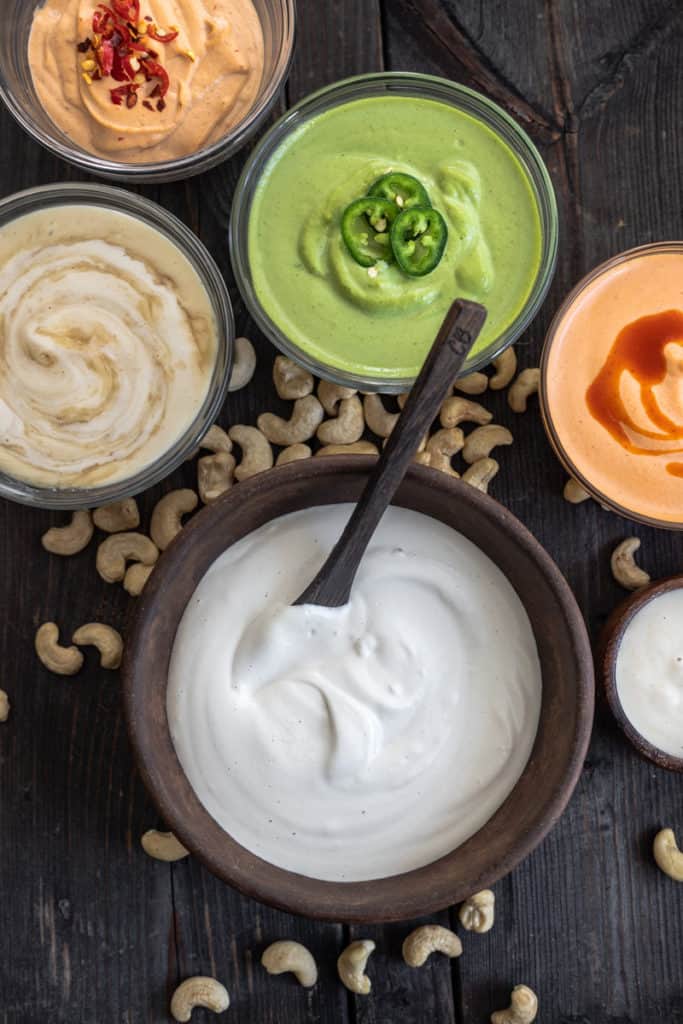 How to Make Smooth Creamy Cashew Sauce - plus flavor variations!
If you're looking to elevate your vegan cooking and baking, keep reading. I'll guide you through the steps to make this easy, scrumptious cashew cream sauce including a variety of flavours and textures.
The base sauce is just cashews and water everything else is added depending on your application! You may require regular cashew cream (consistency of thick dairy cream for cheese sauce or gravy) or a thicker consistency for tasty drizzles and dips. This simple cashew cream sauce can do everything - trust me!
Let's get started . . .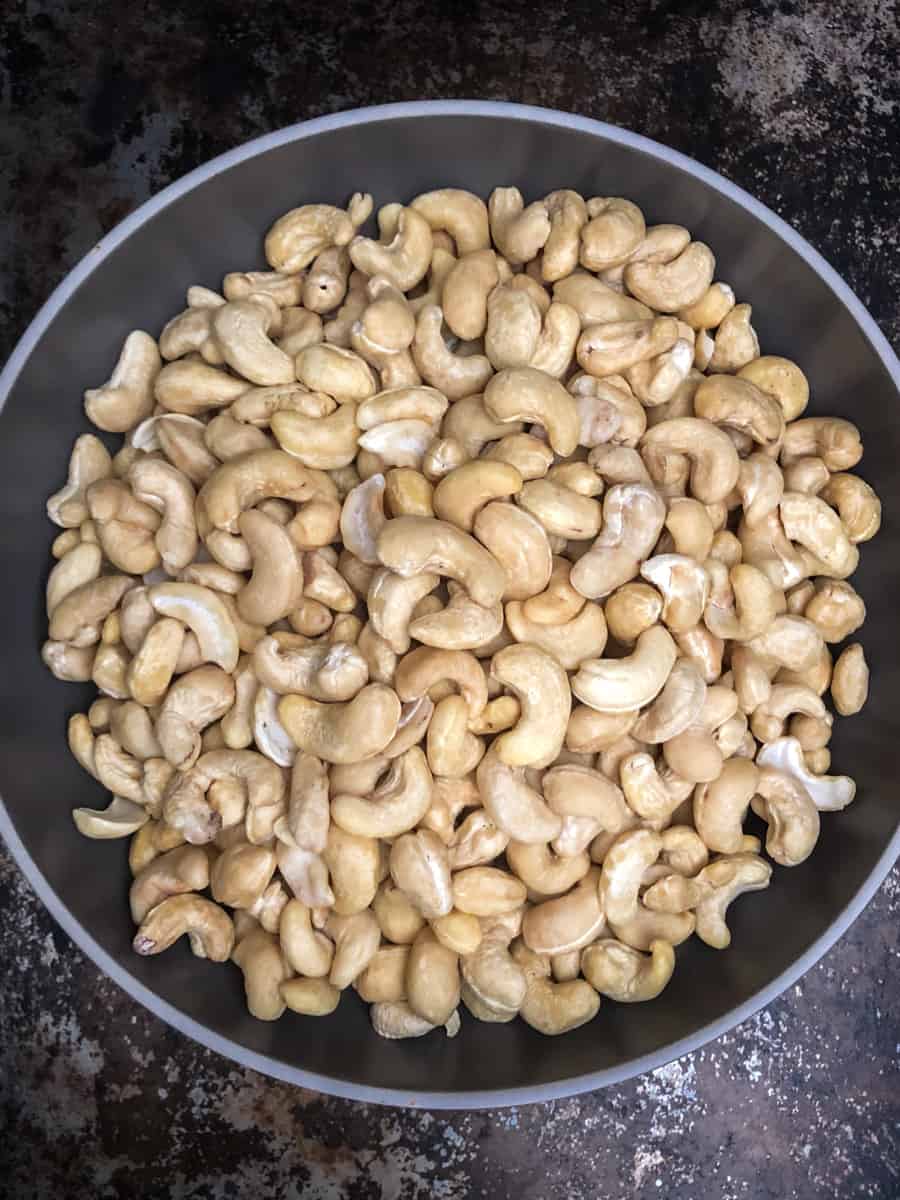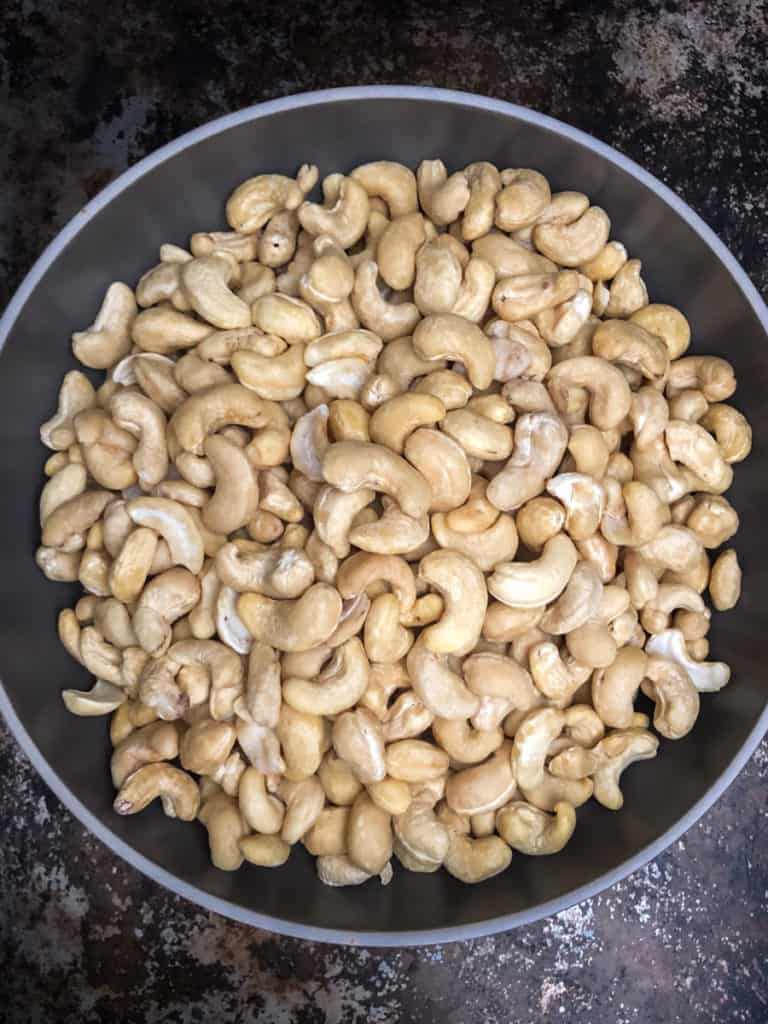 High Power Blender - for the creamiest, smoothest cashew cream, you'll get the best results from a high power blender; and I can't say enough good things about my Vitamix*. I've had mine for over a decade and use it daily. It's a real workhorse in my vegan kitchen! Budget Shopping Tip: grab a renewed blender from Vitamix!
The Vitamix consistently produces silky smooth cashew sauce (without soaking) in a couple of minutes.
Food Processor - I also have an older KitchenAid food processor (similar to this model) that is not as powerful. It produces a very slightly grainy sauce using cashews soaked in boiled water for 2 hours. Note: I had to make a larger batch of cashew sauce when using my food processor - 2 cups soaked cashews and ~1 - ½ cups water.
Raw Cashews - be sure to choose raw cashews! For best texture, pre-soak the cashews.
Water - boil water, pour it over the cashews in the cup of your blender, replace the lid, and let sit for 10-15 minutes. After that drain, rinse, and proceed with the recipe. *If you don't have a high-power blender, cover the cashews with boiling hot water, cover, and let sit for up to 2 hours.
Soaking the raw cashews softens them and makes them plump and juicy for the creamiest, smoothest sauce ever (vital step if you don't have a powerful blender!).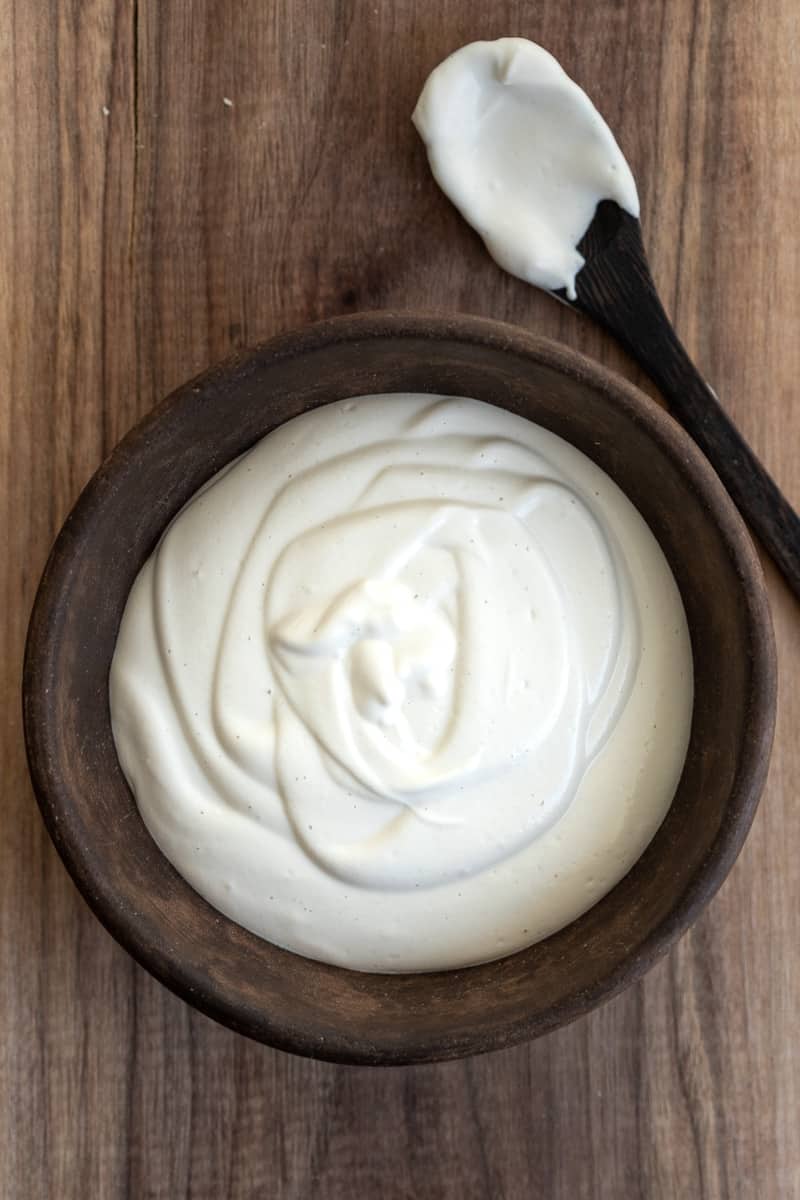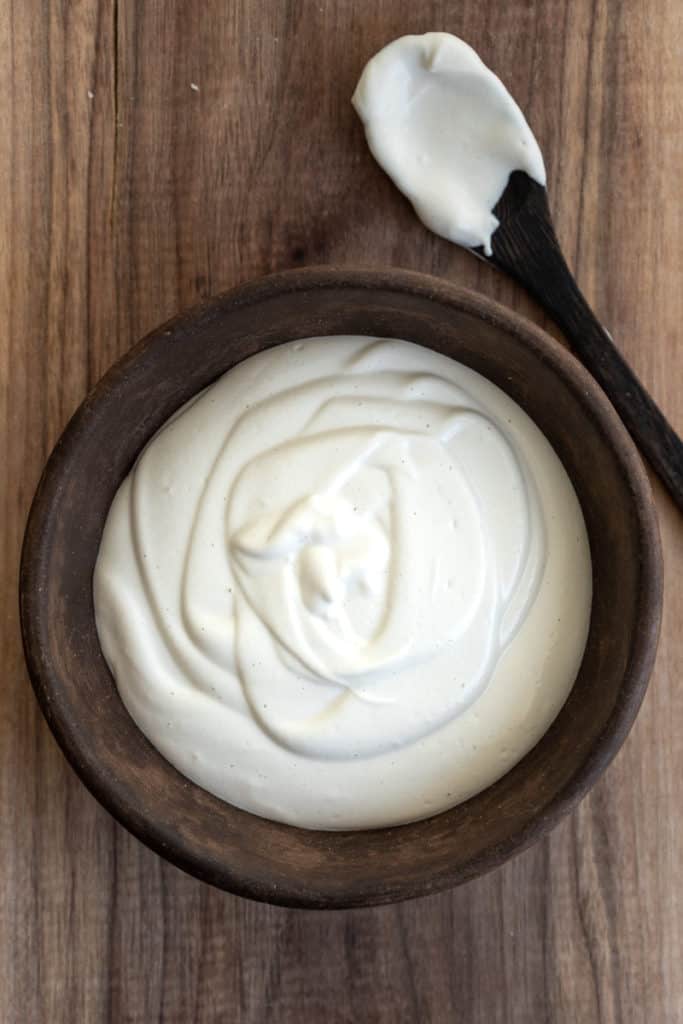 Cashew Nut to Water Ratio Guideline
⅓ - ½ cup water to 1 cup soaked cashews - used for a thick sauce like a vegetable dip, lasagna layer or cake frosting.
½ - ¾ cup water to 1 cup soaked cashews - for drizzles on bowls, tacos, pizza, dessert, etc.
1 cup water to 1 cup soaked cashews - for heavy cream to add to curries, soups, vodka sauce and much more.
Pro Tips: This is a loose guideline. I recommend starting with the lower quantity of water then adding additional water until desired consistency is met. Note: Because it takes only a small amount of water to change the consistency, add the water 1 tablespoonful at a time.
In addition the cashew cream thickens when chilled.
8 Savory Cashew Cream Flavor Variations
These flavor variations are based on a 1 cup raw cashew batch size. Adjust the flavors to your personal preference.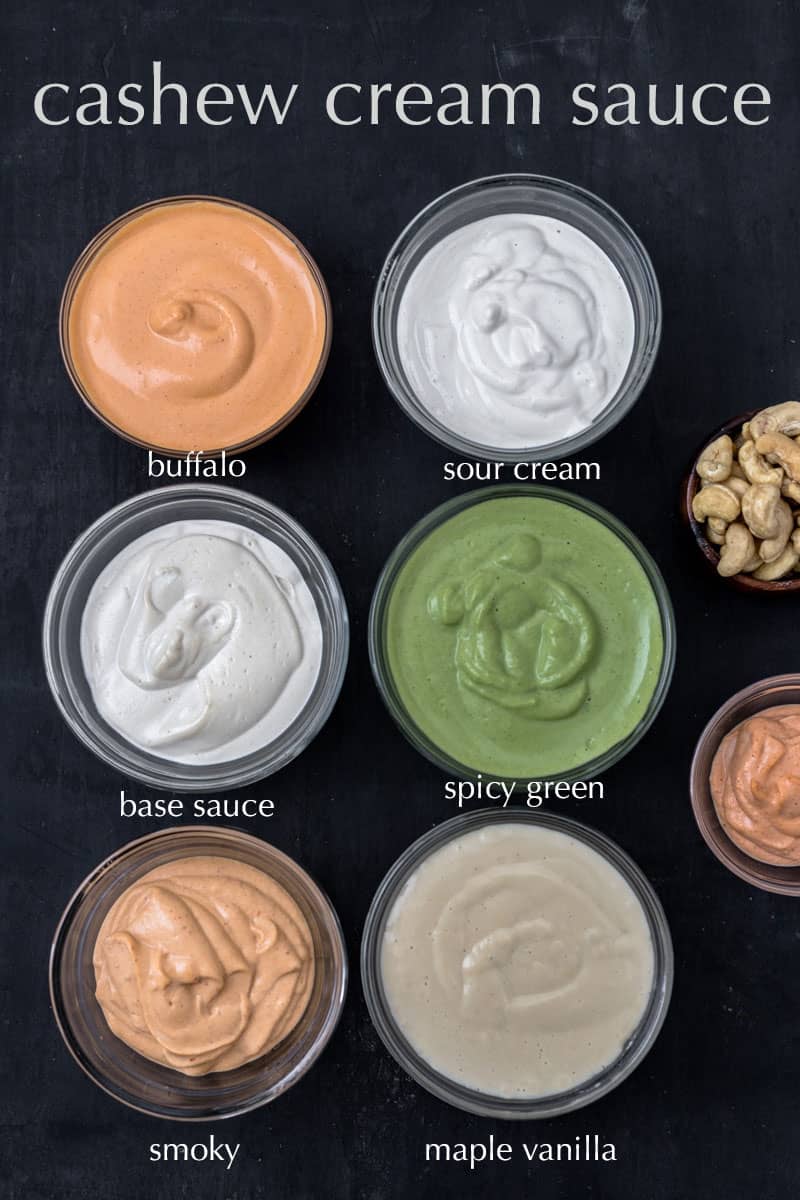 Cheesy: 2-4 tbsp nutritional yeast, 1 tsp apple cider vinegar (or lemon juice), 1-2 garlic cloves, salt to taste. Simple, all purpose version that adds richness and cools off a spicy curry dish!
Spicy Green: Creamy spicy cilantro jalapeno sauce recipe. If your dish needs a pop of freshness and heat, this is your sauce!! Mix it thicker for a dip with raw veggies or smear it on a California veggie sandwich. Thin it out and make a pourable sauce to liberally drizzle over tacos.
Smoky: 1-2 chipotle peppers in adobo, squeeze lime juice, 1 clove garlic, salt (optional ¼ - ½ tsp maple syrup). This is incredible drizzled over nacho chips with pico, guacamole, and black beans.
Tex-Mex: creamy smoky spicy chipotle cream sauce. Scrumptious on Tex-Mex Lasagna, Savory Chickpea Pancakes, and Stuffed Baked Potatoes!
Buffalo Hot: 3-4 tbsp Buffalo hot sauce (eg. Franks), ½ tsp onion powder, 2 tbsp melted butter (optional), salt. Delicious drizzled over pizza, grilled or baked vegetables, baked cauliflower with vegan blue cheese dressing!
Vegan Sour Cream: 1 ½ tbsp apple cider vinegar, 2-3 tsp lemon juice, dab of dijon mustard, and salt to taste. Delicious served with baked potato bar and in any pasta recipe that calls for tangy flavor.
Roasted Red Pepper: thick, creamy, and super flavorful! Delicious on grilled vegetables or serve as a dip with a vegetable charcuterie board!
Thai: 1 tbsp minced lemongrass, 2-3 tsp grated ginger, ½-3/4 cup cilantro, squeeze of lime, garlic clove, salt (all to taste). Delicious drizzled over spicy cauliflower tacos!
Sweet Cashew Cream Variation - Salted Maple
In addition to all the savory versions, try this sweet version inspired by 'The Conscious Cook' which is incredibly luscious. There's something irresistible and distinct about the flavor combination of maple, cashew cream, and a pinch of salt.
Easy to make and super versatile - try it drizzled over fresh fruit with a sprig of mint or serve with a warm coffee cake and a pinch of cinnamon. Here's what you'll need: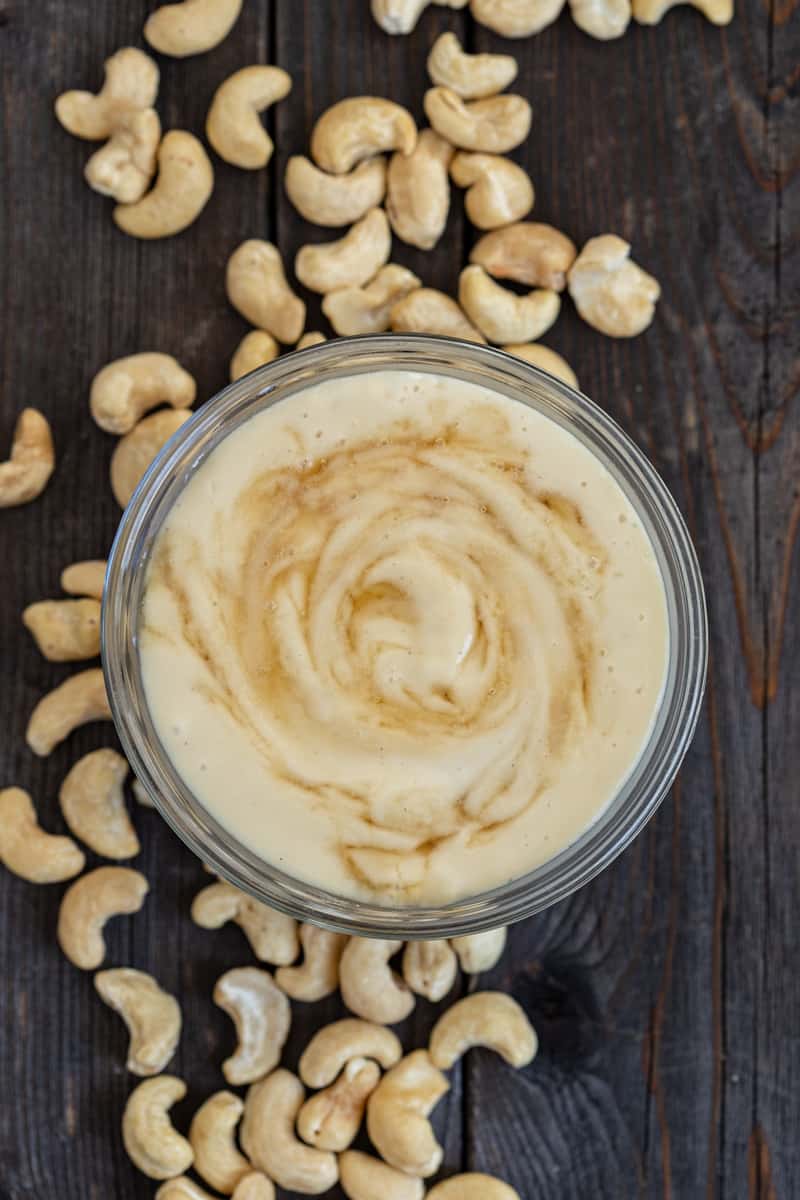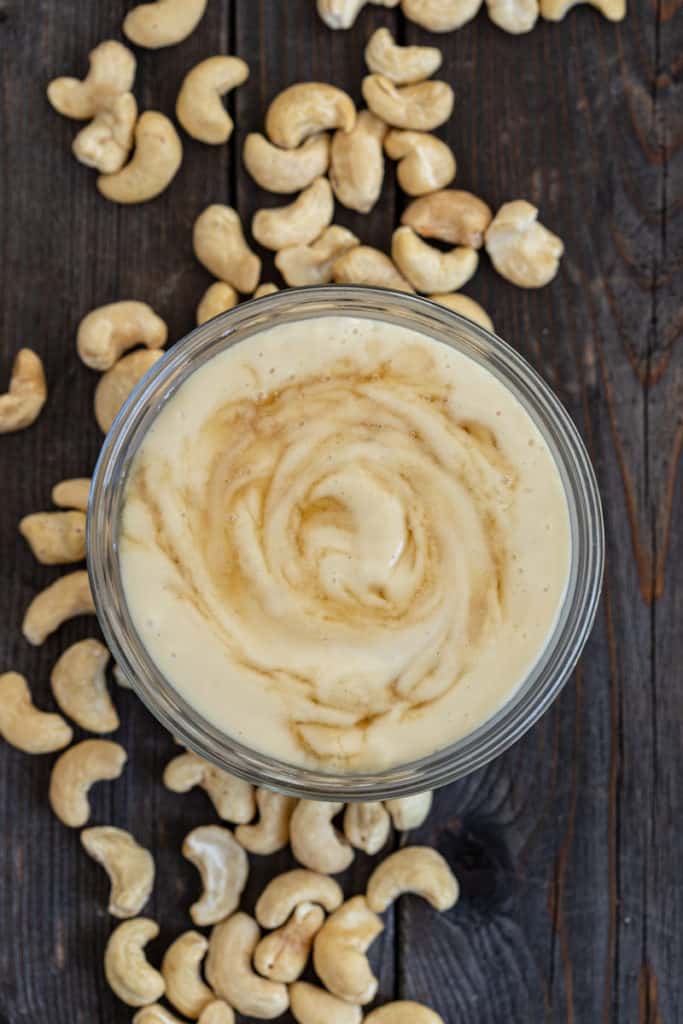 To 1 cup of thick cashew cream add ¼ cup maple syrup, ½ - 1 tsp vanilla extract, ¼ cup water, ⅔ cup refined coconut oil (melted and cooled to touch), pinch of finishing salt.
Place the cashew cream, maple, vanilla, and water into the blender and mix until combined. Next, with the blender running, remove the cap in the lid of the blender and slowly drizzle the melted oil through the hole. Blend until emulsified. Store in a covered bowl in the fridge for 2 hours to chill and set. Add a pinch of salt (optional), stir, and serve drizzled over everything.
Dairy-free Staple
Cashew cream is a sensational, dairy-free replacement for heavy cream in soups and luscious Italian sauces like Pink Rosé Sauce and vegan lasagna. Add an additional tablespoonful or two of water to create a thinner sauce more like the consistency of dairy cream. Pro Tip: When cooking with cashew cream (in a roux, cheese sauce or gravy recipe for example), you'll notice that the sauce thickens up more quickly than dairy cream.
For more homemade, dairy-free staples, check out my Pantry Staples page!
Cashew Cream Storage and Freezing
Store cashew cream in the refrigerator for up to a week. As well, it keeps well in the freezer for up to 6 months. Defrost in the fridge or on the counter and then give it a mix in the blender to bring it back together.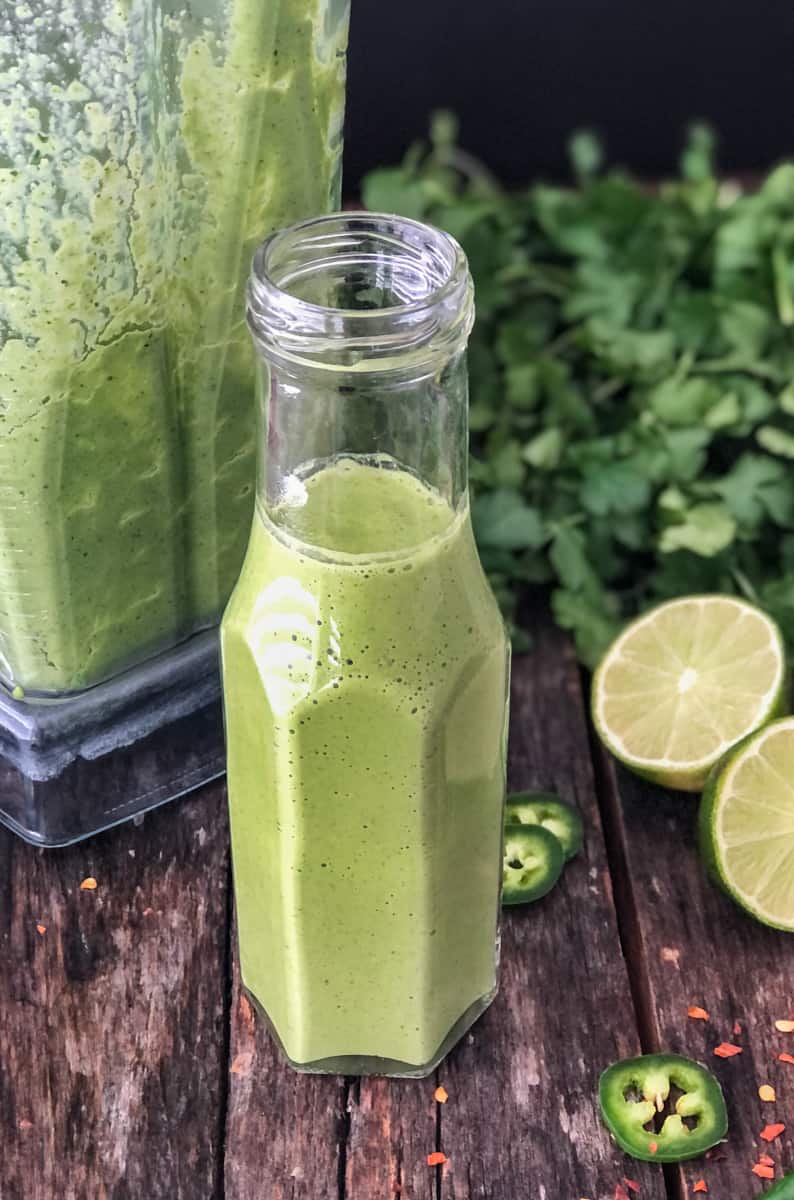 Vegan Recipe Ideas for using Cashew Cream
Try Tex Mex Cashew Cream flavour on this delicious Tex-Mex Lasagna.
I love the basic cashew Cream on this Creamy Rosé Veggie Pasta.
Family-friendly vegan comfort food - Easy, Delicious Chickpea Mushroom Bake
Delicious weekend breakfast buffet - Simple Tofu Scramble
One Pot Vegetable Bean soup is sensational with a drizzle of cashew cream!
Did you make my Easy Cashew Cream Sauce recipe?
Let me know in the comments below which is your favorite!
Tag me on IG @ceeceecooks if you took photos!
NEVER MISS A RECIPE: Sign up for my email NEWSLETTER!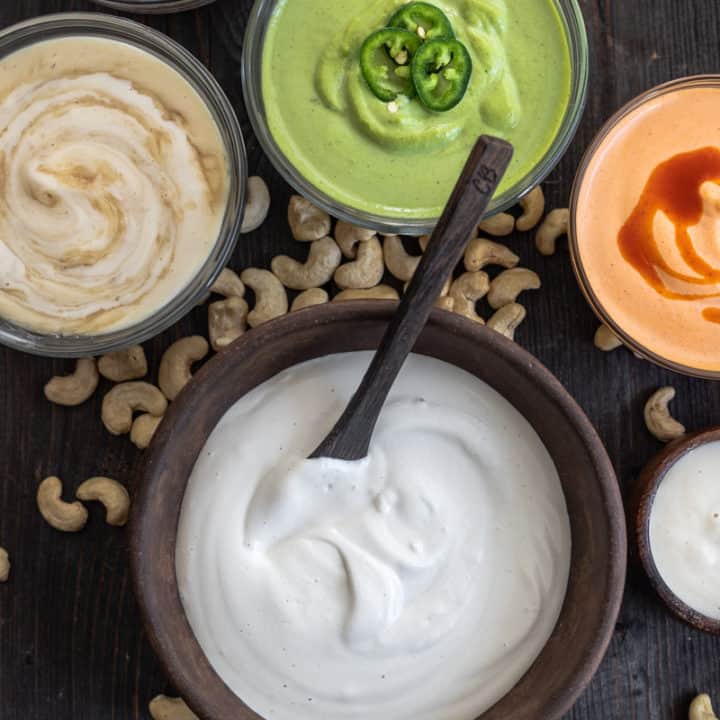 Easy Cashew Cream Sauce Recipe
Creamy, rich, and delicious, dairy-free cashew cream sauce is incredible drizzled on buddha bowls, stirred into curries, and takes vegan lasagna over the top! Everyone is obsessed with cashew cream sauce - vegan or not!
Rate this recipe!
INGREDIENTS
1

cup

raw cashews

¾ - 1

cup

boiling water

1-2

cloves

garlic (optional)

1-2

tbsp

lemon juice (optional)

salt (optional)
INSTRUCTIONS
Pre-Soaking Cashews
No High Power Blender: soak the cashews covered in hot water for a couple hours for the creamiest, smoothest cashew sauce.

High Power Blender: Pour boiling hot water over cashews nuts. Let sit for 5-15 minutes in the blender cup with the lid on. Drain and rinse before proceeding.
How to Blend the Cashew Cream Sauce
Place soaked cashews into the cup of a high-speed blender. Pour ¾ cup of hot water over raw cashew nuts.  

Blend on high until smooth and creamy. It may be necessary to stop and scrape down the sides.

Base white sauce is just cashew nuts and hot water. For savoury recipes I always add 1-2 garlic cloves, a splash of lemon, and salt to taste.

For a thick, spreadable sauce or dip, add less water.

For a thinner, pourable cream/milk or drizzle, add more water a tablespoonful or two at a time until the desired consistency is achieved.

Store leftover sauce in a covered jar in the fridge for up to a week.

Sauce thickens up in the fridge, add 1 tsp of water at a time to thin.
NOTES
Raw cashews are readily available in grocery stores by the bag or in bulk. Or for your convenience, they can be ordered online.
The base sauce is cashews and water only which is mostly bland. From there you can build flavours and texture.
See cashew nut to water ratio guideline in the post to make thinner or thicker sauces.
Store leftover cashew sauce in fridge to be used up all week long. The sauce will thicken when chilled so it may need to be thinned with a teaspoonful or two of water.
Cashew cream can be frozen in a freezer-friendly container for up to 6 months.
This recipe is from simplyceecee.co food blog. All images and content are copyright protected. Please do not use my images or republish this recipe without prior permission. Thank you.
This post was originally posted in January 2018 and updated in April 2021 with updated recipe instructions, photos, tips and tricks.