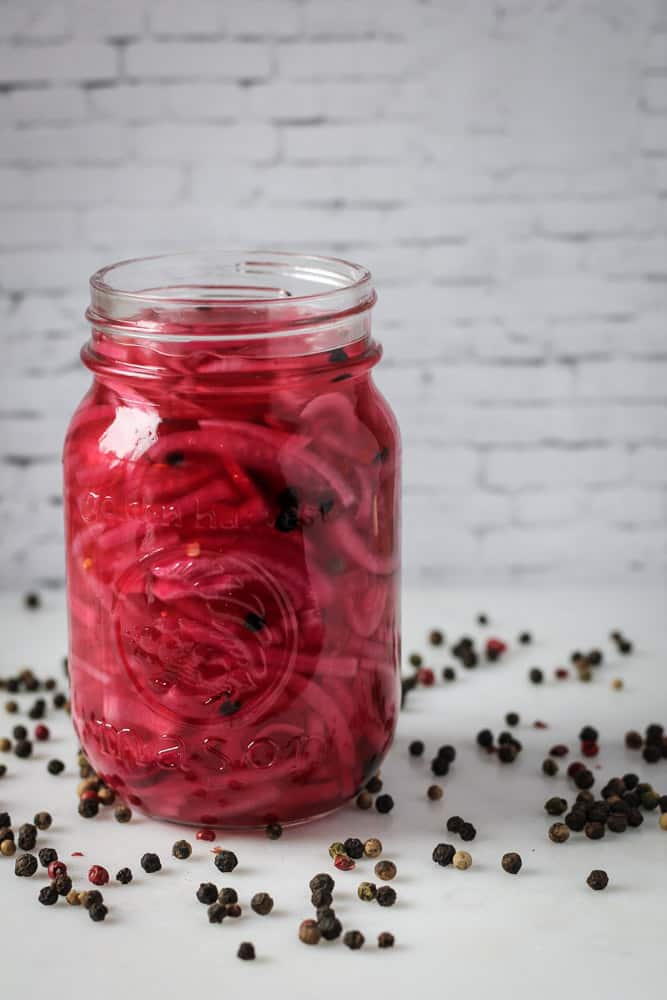 Peter Piper and all that, right!
This is a very basic recipe for a quick, garlic pepper pickled onions; but you could swap out the onions for any other veggies. It's an easy recipe to make with only a few basic pantry ingredients; but it really elevates a sandwich, salad, bowl, taco, pizza or practically anything.
Try them as a garnish on this delicious tomato, cucumber, avocado salad to add a delicious sour crunch to each bite. They are perfect on avocado toast, a toasted tomato and cucumber sandwich or banh mi. We love them on our tacos to add a nice garlicky, peppery, fresh, crunchy texture to each bite.
These pickled onions are quick and easy to make. Add salt and sugar to water - bring to boil. Peel and slice onions. Place in jar (or jars if you want to share with friends). Done!
I hope you enjoy gobbling up your jar of pickled onions.
x Tracy
Did you make this recipe? I'd love to see it!
Please leave a star rating and comment at the bottom of the page.
Thank you so much for sharing! Tag me on Instagram
For more Vegan Recipes: Sign up for my email NEWSLETTER!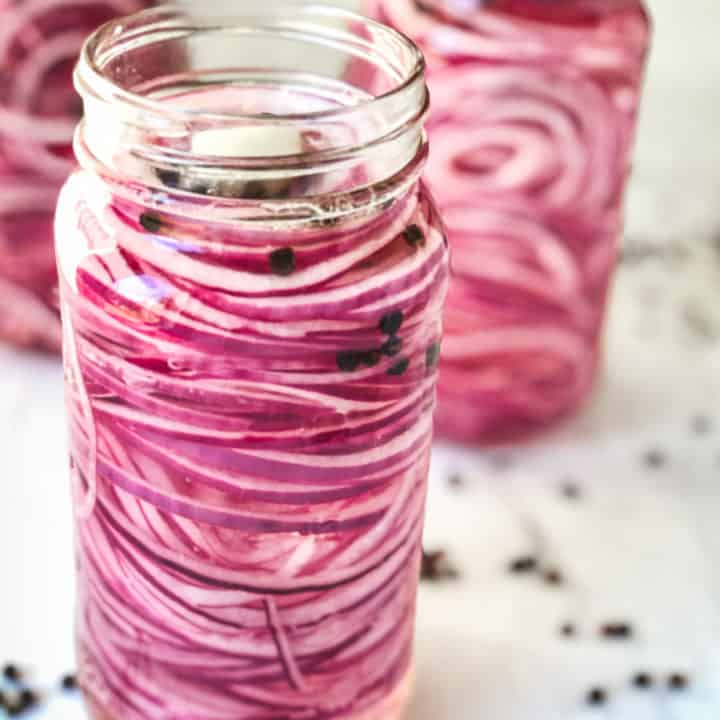 Quick Pickled Red Onions
Crispy, tangy pickled red onions ready in no time. Delicious to top off a burger, vegan buddha bowl, tacos or pizza. Apply them liberally!
Rate this recipe!
INGREDIENTS
1 ½

cups

white vinegar

2

tbsp

sugar

1

tbsp

salt

1

large red onion, sliced thin

2-4

cloves

garlic (whole)*

1

tsp

peppercorn

pinch

red pepper flakes (optional)
INSTRUCTIONS
Add the vinegar, sugar, and salt into a medium sauce pan - stir while bringing it to a boil. Remove from heat. While it is cooling, prepare the onions.

Peel and slice red onion into thin ½ moons (I cut them in half again but consider what you will use them for and cut accordingly). Place them in a clean jar or two (you can push them down gently to fill the jar). Add the garlic cloves, black peppercorns, and a pinch of red pepper flakes if you want to bring a little heat to your pickled onions (this is optional).


Pour the brine over the onions in the jar. Let cool, add the lid, and put in the fridge.
These pickled onions can stay in the fridge for up to 6 months (but they won't last that long).

PRO TIPS:
I peel but keep the garlic cloves whole. The size of the cloves and how garlicky you like your pickles will determine how many cloves you add. I take my garlic out after the first day.
Add peppercorns to taste. Depending how peppery you want the onions, add more or less whole peppercorns.
This recipe is from simplyceecee.co food blog. All images and content are copyright protected. Please do not use my images or republish this recipe without prior permission. Thank you.