This epic, vegan salted caramel and chocolate ganache cookie is just as indulgent as the famous Millionaire Shortbread Bar, but deconstructed and fancy!
These are the prettiest, most decadent salted caramel millionaire cookies ever! They have all the elements of a perfect, indulgent treat - buttery, flaky, rich and chocolatey with an addictive (not joking) salted caramel swirl. Your family and friends will swoon, trust me!
How to Make Millionaire Cookies Vegan
These indulgent showstopper cookies are all vegan and everyone is obsessed - vegan or not! I promise you're going to love these millionaire salted caramel cookies!
Cookie Base (Scotch Cakes v Shortbread)
Super buttery, tender, Scotch Cakes are melt-in-your-mouth delicious! You might be surprised that they are savoury, and need only 3 ingredients! I use my beloved Grandmother's recipe, but just switch out the dairy butter for Miyokos Cultured Butter.
Although they use the same ingredients, Scotch cakes are more savoury - there's only a couple tablespoons of sugar. Whereas shortbread cookies are sweeter and lighter.
Pro Tip: Grandma suggests making your Scotch cake cookies around the size of a juice glass. If they are too big, they break when you frost them. These cookies do not puff up (much) or spread out so the shape and size you cut, will be the same when baked.
Chocolate Layer (chocolate ganache)
I had a little 'problem' with ganache about 2 years ago. My problem was that I couldn't stop eating it! It's so luxurious and chocolate-y. Not too sweet and yet still richly decadent. I understand the sentiment 'death by chocolate' much better since ganache came into my life.
Luckily, dairy-free (vegan) chocolate is readily available these days in most super markets, vegan grocers and online.
I use Enjoy Life chocolate chips or Camino bars chopped up for the ganache. If you love chocolate like we do, these Epic Marshmallow Chocolate Chunk Cookie Cups are scrumptious!
Pro Tip: after making the ganache, pop it into the fridge for 30 - 60 minutes (to firm up for spreading). It turns all fudgy and delicious in the fridge - seriously irresistible. I mean honestly, how do these cookies even get made!
Salted Caramel Sauce (vegan condensed milk)
If you are nervous about making your own, don't be. I'm not kidding, this method is super easy and uses only 4 ingredients.
Thick and silky, sweet and salty, like golden pools of heaven, this caramel sauce is truly addictive.
I use a simple recipe from Yumsome which calls for powdered coconut milk/cream* and coconut sugar which I find at my local market, health food store, bulk store or online. However, any thick, vegan caramel sauce/condensed milk will work).
Tips for Making this Vegan Cookie Perfect
Cookie and Layers: The base is rich and buttery, the caramel is sweet and salty which pairs perfectly with the semi bitterness from the decadent chocolate ganache. Perfecto! But to take this cookie over the top, it needs some crunch and something unexpected to excite and delight the palate. Here's what I suggest:
Crunch Factor: The smallest dusting of crushed raw pistachios adds a the perfect crunch, a beautiful pop of colour, and a lovely subtle nutty flavour. You can add any nut you enjoy (walnut, almond, cashew, hazelnut); but I was going for a holiday cookie, so the pistachio green paired with raspberry red is exquisite.
Fresh and Fabulous: Adding something fresh to a weighty dessert is a wonderful way to lighten it up. A raspberry is the perfect finishing touch for this cookie. It's slightly tart and juicy, goes well with the flavour profile, and the gorgeous colour and texture add a real wow factor to this beauty. Pomegranate seeds would be a spectacular choice as well.
Drizzle and Sprinkle: I mean, who doesn't love a drizzle and a sprinkle? Don't be heavy handed tho - think of it as pixy dust on this magical cookie! I keep it pretty simple just a kiss of chocolate drizzle and a few flakes of finishing salt which is the perfect garnish for this epic millionaire cookie.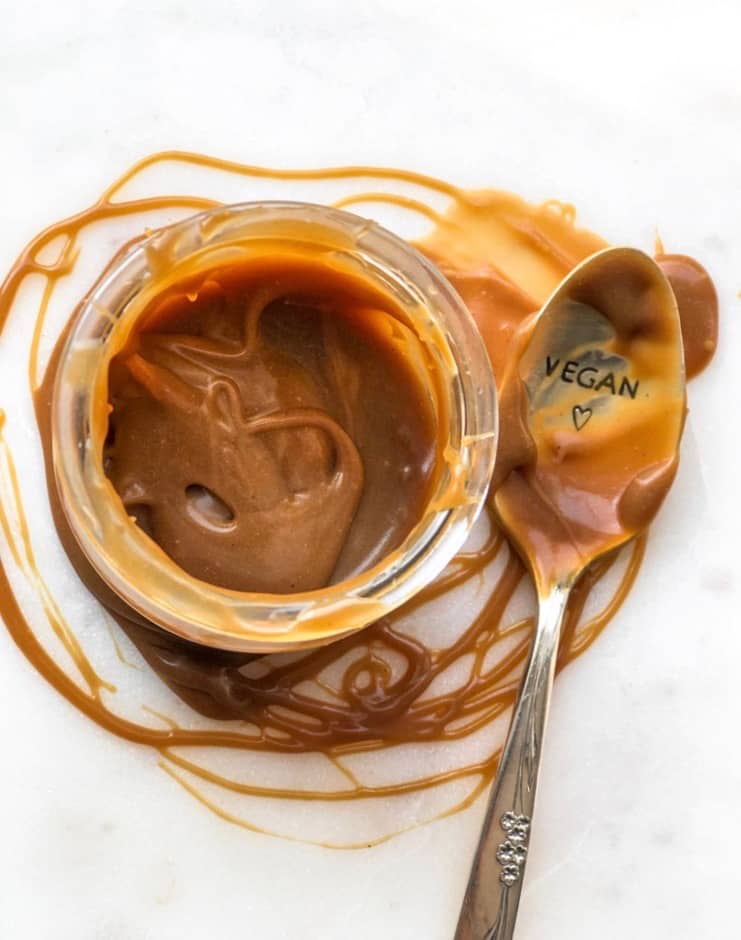 Storage Tips
The nice thing about this cookie recipe is everything can be made ahead of time.
FRIDGE: The salted caramel sauce comes together in a snap, but it actually gets better the longer it sits in the fridge. The only problem is, it takes a lot (and I'm talking every ounce) of discipline to walk by the fridge without 'checking' on the caramel. Don't do it, people, that's a slippery slope and pretty soon the container is empty! It's very deliciously addictive.
The chocolate ganache can be made a few days in advance and stored in the fridge as well.
The sauces get thicker in the fridge so let them come to room temperature before decorating the cookies. Any leftover sauce can be stored in the fridge and enjoyed all week.
FREEZER: The unbaked cookie dough stores well in the fridge for a few days or in the freezer for a month or two. Just pop any remaining dough in an airtight container until needed.
Baked Scotch cake cookies freeze beautifully. Make them at the beginning of December and tuck them into the freezer until needed. They thaw super fast so it's great to have a batch on hand for last minute guests.
More Decadent Vegan Desserts
Decadent Affogatto Dessert - could be the most popular menu item in a fancy restaurant. Decadent Mocha Truffles easy-to-make, incredible for the chocolate lovers in your life.
Mini Chocolate Peanut Butter Cups - easily the most requested treat at our house!
Did you make this recipe? I'd love to see it!
Please leave a star rating and comment at the bottom of the page.
Thank you so much for sharing! Tag me on Instagram 
For more Vegan Recipes: Sign up for my email NEWSLETTER!
Salted Caramel Millionaire Cookies (vegan)
The most decadent and indulgent salted caramel and chocolate ganache shortbread cookies ever. Like a millionaire shortbread bar, but deconstructed and vegan! These showstoppers are beyond luxurious - they're a little piece of heaven on earth in every bite.
Rate this recipe!
INGREDIENTS
Salted Caramel (Condensed Milk)
75

g

coconut milk (cream) powder*

75

g

coconut palm sugar

60

ml

warm water

1

tbsp

coconut oil, melted

pinch

sea salt
Scotch Cake Cookies
1

cup

vegan stick butter, room temperature

2-3

tbsp

icing sugar

2 ¼

cup

AP flour
Chocolate Ganache
1

cup

semi-sweet chocolate chips

¼

cup

coconut milk (sub: soy, rice, plant-based milk)
Toppings
2-3

tbsp

raw pistachios or pretzels, chopped

2-4

tbsp

coconut shreds (optional)

chocolate drizzle (thinned ganache)

16

raspberries (or pomegranate seeds)
INSTRUCTIONS
Salted Caramel Sauce Recipe Link

Place all ingredients in a blender and blitz for 2 - 3 minutes until smooth, thick, goopy sauce. Stop to scrap down the sides as necessary.

Place in an air-tight container and store in fridge until needed. The sauce will set as it cools in the fridge.
Scotch Cake Cookie Base
Preheat the oven to 375º F

Prepare a baking sheet.

Cream room temperature butter in a stand mixer or using a hand mixer. Add flour and icing sugar.

Pro Tip: Aunty Kaye says the dough is ready when a pencil stands alone in it!

Pat or gently roll to about ¼" thick. Cut into rounds (use top of a juice glass).

Arrange on cookie sheet.

Bake at 375º F for 10-12 minutes. The bottom edges will be slightly golden.

Let cool on pan. Transfer to cooling rack and let cool completely before decorating.
Chocolate Ganache
Melt the chocolate chips and plant-based milk in a double boiler or heavy bottomed pan on the stove over low heat. Stir until smooth and silky.

Remove from heat to cool completely.

Once cool, place in an airtight container in the fridge for up to a week.
Easy Chocolate Drizzle
Thin out 2-3 tablespoons of ganache with a little splash of milk so it's pourable.
Decorating the Cookies
Let the ganache set then smooth a thick layer over each cooled cookie. Don't press too hard or the cookies will snap. I hold each cookie in my hand to decorate for the best results.

Let the caramel sauce set then swirl a thick layer over ganache. Add a flake or two of finishing salt like Maldon (or sea salt).

Decorate with a few crushed pistachios and some coconut (optional).

If not serving immediately, place in fridge until ready to serve.

Right before serving, add one perfect raspberry or a few pomegranate seeds to each cookie.

Place on a serving dish. Drizzle the whole plateful with a drizzle or two of chocolate sauce. Serve immediately.
NOTES
Salted Caramel - the caramel will need extra time to set. So make it first (even a day or two in advance) and then let it set in the fridge in an airtight container.
Salted Caramel - ALERT! If dairy free or vegan, be sure to check the ingredients on your coconut milk powder as some brands include whey.
BISCUITS - the Scotch cakes are a tender cookie so don't choose a cookie cutter that is too big. A juice glass is the perfect size. These cookies are smallish (approximately 2 ¼" diameter). Handle with care when decorating the cookies or they will break.
I recommend bringing the ganache to room temperature before icing.
BISCUITS - Scotch cakes are a savoury cookie vs. Shortbread which is sweeter. If you like a sweeter cookie, you could use shortbread for the base instead.
STORAGE - These cookies store well in the fridge for a week.
Both sauces can be stored in the fridge for a week without any lose of flavour or texture.
Baked Scotch cakes freeze well and thaw quickly so are a great choice for unexpected cravings.
This recipe is from simplyceecee.co food blog. All images and content are copyright protected. Please do not use my images or republish this recipe without prior permission. Thank you.