If you like a zesty kick to your food, you're going to love this vibrant and flavorful lemon gremolata recipe. A popular Italian herb sauce made with only a few ingredients in the food processor. Spicy gremolata is a quick and easy way to add a boost of flavor to vegan chili, vegan meatball subs, grilled veggies and it literally transforms boring leftovers!
When the garden is abundant with fresh herbs like basil, parsley, and cilantro, I know it's time to make my favorite herby sauces like gremolata, vegan walnut pesto, creamy chimichurri sauce, and green tahini. Super easy and versatile, these tasty vegan sauces are a quick way to elevate your favorite savory meal.
Why You Should Make This Recipe
Ready in only 5 minutes, gremolata is a bold and flavorful Italian condiment that will spice up your meals. Here's a few reasons why I love to have it on hand:
Elevates dishes. Use the fresh, tangy flavors of gremolata to wake up boring or bland dishes! Liberally drizzle it over veggies like grilled or baked cauliflower and vegan smashed potatoes. Or stir it into rich dishes like soup and chili to add a bright citrus, herby kick. The possibilities are endless.
Make Ahead. Make gremolata in advance and store in the fridge to enjoy all week.
Freezes Beautifully. Extra gremolata sauce can be frozen in ice cube trays, then added frozen into vegan stir fry or pasta dishes for a flavor boost.
Special Diet-Friendly. Suitable for vegetarian, vegan, gluten-free, dairy-free, sugar free, keto, grain free, soy free, nut free diets. This Italian parsley sauce is a wonderful, low carb condiment for any special diet (see notes for oil-free option).
Ingredients
Gremolata sauce is quick and simple to make and delivers a big flavor payoff! While classic gremolata is a dry garnish made with finely minced parsley, lemon zest, and garlic; I like to add an extra ingredient: olive oil to make it saucy and a little richer. Plus oil helps balance the acidity from the lemons.
For my lemon gremolata recipe, here's what you'll need: a fresh bunch of Italian flat leaf parsley, garlic, fresh lemons (juice and zest), olive oil, and coarse ground salt.
Ingredient Substitutions and Notes
Don't have parsley or lemon? Create your own version of this tasty herb sauce by playing with the ingredients. Here are a few options you might enjoy:
Make it oil free. Make a traditional gremolata garnish by skipping the oil and lemon juice.
Vary the herbs. Add some other fresh herbs or leafy greens like cilantro, mint, arugula, dill or a combination of them.
Play with citrus. Don't have lemon or meyer lemon? Use orange, tangerine, grapefruit, lime or a combination of citrus juices and zest.
Add cheese or nuts. To bump up the flavor and richness, add a sprinkle of dairy-free cashew parmesan cheese, toasted pine nuts or pistachios.
How To Make Italian Parsley Sauce
This zesty sauce is easy and quick to make whether you are chopping the ingredients by hand or simply throwing everything into the food processor. Here's the step-by-step instructions I use:
Prepare the herbs and garlic. Place rough chopped parsley and peeled garlic in the food processor.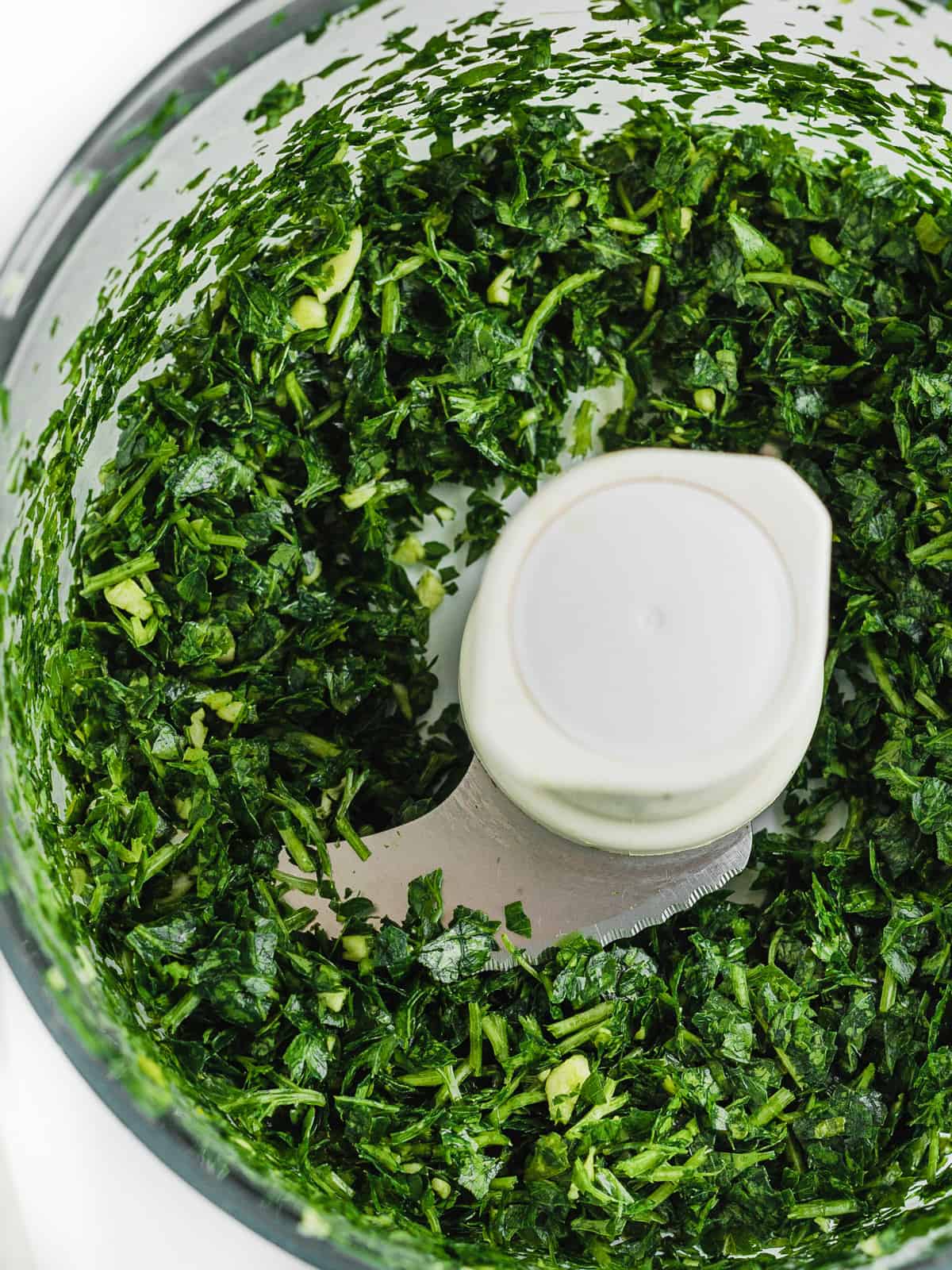 Blend. Process the parsley and garlic cloves in the food processor, stopping to scrape down the sides as needed.
Add ingredients. Add lemon juice, oil, and salt (save the lemon zest to the side). Blend again until the parsley mixture is finely chopped, but not pureed. Leave some texture (see photo).
Stir in the lemon zest and hot pepper flakes if you like spicy gremolata.
How to Use
Traditionally lemon parsley sauces are served as a punch of flavor and freshness for meat dishes like osso ubo and grilled fish or chicken. But there are so many other ways to use this zesty Italian flavor booster - here's a few ideas:
Drizzle over vegetables. Add a tangy garlic kick to BBQ vegetables. Baked potatoes with a dollop of rich cashew cream sauce and a drizzle of gremolata makes a fabulous flavor combination.
In soups, stews or sauces. Swirl into veggie bean soup, ultimate vegan chili or vegan Bolognese to add a quick flavor burst.
For a snack. Drizzle over avocado toast, focaccia or pizza!
In a sandwich. Fabulous on a vegan meatball sub in place of walnut pesto sauce.
How To Make Ahead, Store, Freeze, and Thaw
Super convenient, this herby sauce can be made ahead plus it freezes beautifully - here's how:
Make Ahead Instructions. Make gremolata, transfer to a jar, and store in the fridge for up to a week.
Freezing Instructions. Pop any leftover gremolata sauce into an ice cube tray and freeze. Once solid, transfer to a freezer bag to use over the next several months.
Thawing Instructions. Add frozen cubes directly to soup or stew. To use as a drizzle, salad dressing or marinade thaw in the fridge or at room temperature until no longer frozen.
Expert Tips
Here's a few tips for making the best lemon gremolata every time: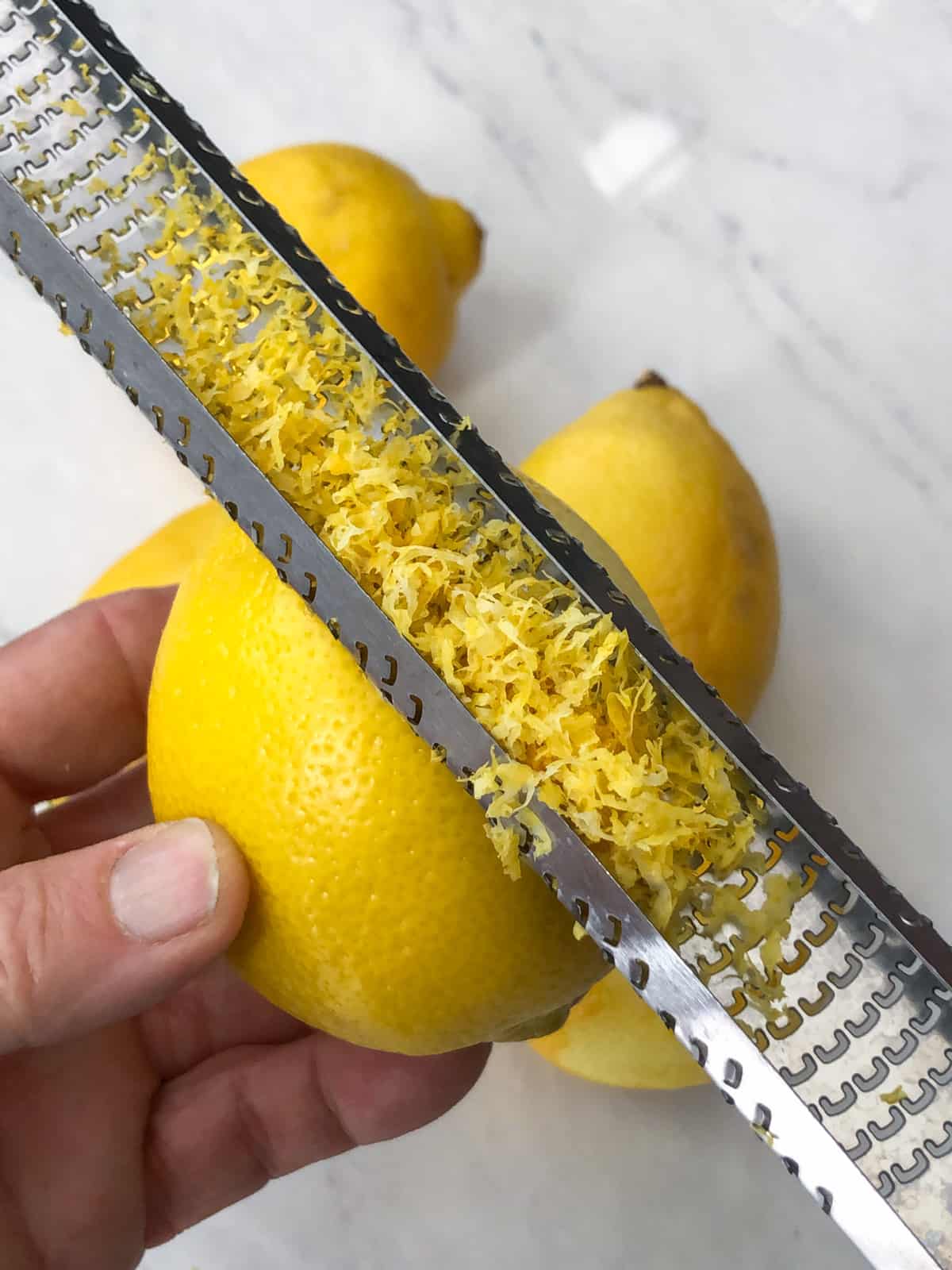 How to zest a lemon. Wash the lemons in warm water and pat dry. Using a microplane or a citrus box grater, scrap off just the yellow outer skin turning the lemon as you zest it. Don't zest into the white (pith) layer of the lemon which is bitter.
Lemon Juice. Fresh is best. In a pinch, use bottled lemon juice but freshly squeezed lemon juice has a zestier, brighter flavor profile.
Million Dollar Freezer Tip. Write the name of the sauce and a date on the freezer bag - I mean who can remember 2 or 3 months later which green or red sauce is what!!
FAQ
What is gremolata?
Gremolata is a savory Italian condiment made with chopped parsley, garlic and lemon zest for sprinkling over meat or rich dishes.
What does gremolata taste like?
Gremolata has a similar taste to many other herby garlic sauces like pesto and chimichurri. It has an earthy herbaceous flavor from parsley, a sour/acidic taste from lemons and lemon zest, and pungency from raw garlic. It will wake up your taste buds at first taste.
What is the difference between chimichurri and gremolata sauce?
The main differences between chimichurri and gremolata is chimichurri uses red wine vinegar instead of lemon, is typically a blend of cilantro and parsley, and includes olive oil and fresh red chilies.
More Vegan Sauce Recipes
If you enjoy sauces as much as we do, you'll find all my best vegan sauces on the blog. In the meantime, here's a few of our current favorites:
Did you make this recipe? I'd love to see it!
Please take a minute to rate the recipe and comment below.
If you take photos, tag me on Instagram, and I'll share on my stories!
Please join us for Sunday morning coffee: NEWSLETTER sign up!
Lemon Gremolata Recipe (Italian Parsley Condiment)
This Lemon Gremolata recipe is an easy to make zesty Italian condiment. Bright, vibrant and bursting with flavor, this garlic parsley sauce is naturally gluten free, low carb, and totally vegan! Enjoy it as a drizzle, dip, marinade or salad dressing for dinner tonight!
Rate this recipe!
INGREDIENTS
1

bunch

flat leaf Italian parsley

2

cloves

garlic, peeled and chopped

1-2

tablespoons

fresh lemon juice (more to taste)

4-6

tablespoons

olive oil

¼

teaspoon

sea salt, to taste

1

fresh lemon, zest

½

teaspoon

red pepper flakes
INSTRUCTIONS
Food Processor Method
Rough chop the parsley (small stems are fine) and place in bowl of food processor.

Add the peeled garlic cloves to the parsley and process until the parsley is chopped but still has texture (don't puree). Stop and scrap down the sides a few times as needed.

Add the freshly squeezed lemon juice and oil. Pulse again until well combined and the gemolate has the texture you enjoy.

Sprinkle with salt, lemon zest and a few red pepper flakes if desired. Stir together, taste and adjust seasonings to your preference. 

Stir together, taste and adjust seasonings to your preference.
Hand Chopped Method
Using a sharp Chef's knife, finely chop the parsley (small stems are fine) and place in medium size bowl.

Peel and mince the garlic cloves. Add to bowl.

Wash, zest, and juice 1 lemon. Squeeze 1 tablespoon lemon juice (more to taste) into the bowl with the parsley. Reserve the zest.

Add oil (start with smaller quantity) and salt. Stir into parsley mixture to incorproate. Add lemon zest and red pepper flakes (if using).

Taste an adjust seasonings to your preference.

Cover and store in refrigerator for up to 7 days or see freezing tips in recipe notes.
NOTES
Gremolata Texture - If using the food processor method, don't over blend it until smooth. Leave some texture, it should be on the rustic side. Lemon Juice - use fresh lemons for their superior taste and also you'll need lemon zest, but in a pinch you could use bottled lemon juice. Oil-free Version - skip the oil and enjoy this gremolata in its traditional form as a dry Italian condiment. *We like the oil for richness and it transforms the gremolata into a sauce, drizzle or marinade. As well, the oil protects the fresh herbs. Storing and Freezing - store gremolata in the fridge in a jar for up to 7 days or pour any leftovers into ice cube trays. Once frozen solid, transfer to a freezer bag* to be used up over the next 3 months. * Pro Tip - put the name of the sauce and a date on the freezer bag.
This recipe is from simplyceecee.co food blog. All images and content are copyright protected. Please do not use my images or republish this recipe without prior permission. Thank you.