This no-knead overnight bread is ridiculously easy to make and incredibly delicious. It turns out every. single. time. Even for beginners, this bread recipe is foolproof! It's so simple, it practically makes itself. No one can resist this yummy homemade Dutch oven bread recipe hot out of the oven - trust me!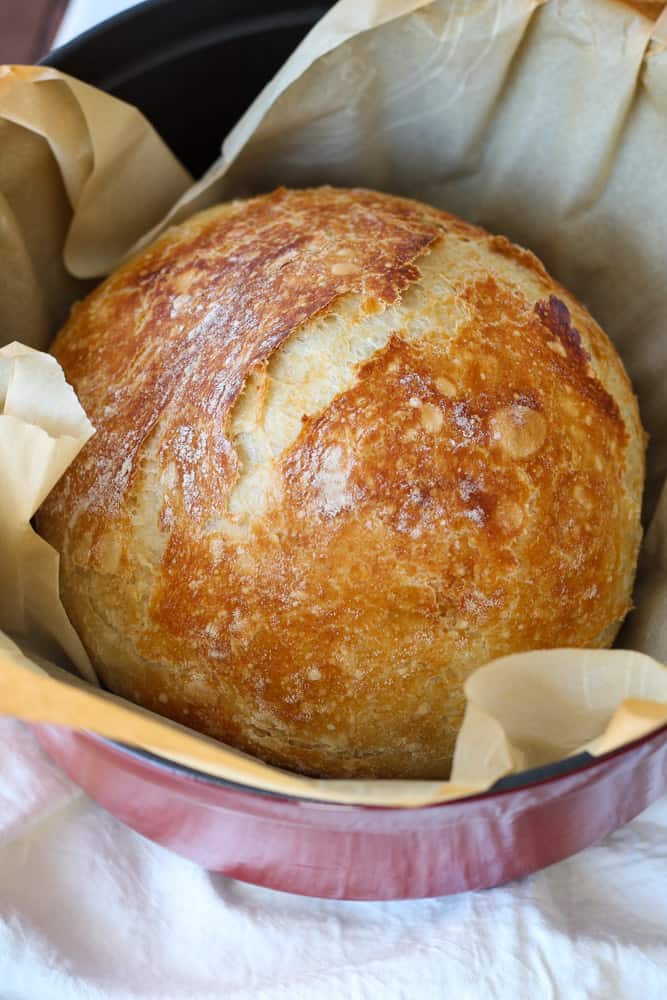 I mean, there's nothing like the smell of fresh bread baking in the oven! Is there? Making gorgeous golden brown, tender, chewy loaves of bread with crackly crusts at home has never been easier.
This crusty Dutch oven bread is phenomenal served along with homemade Cauliflower Mushroom Curry Soup or Vegetable Bean Soup. The Dagwood sandwich is delicious stuffed between two slices of this rustic bread too!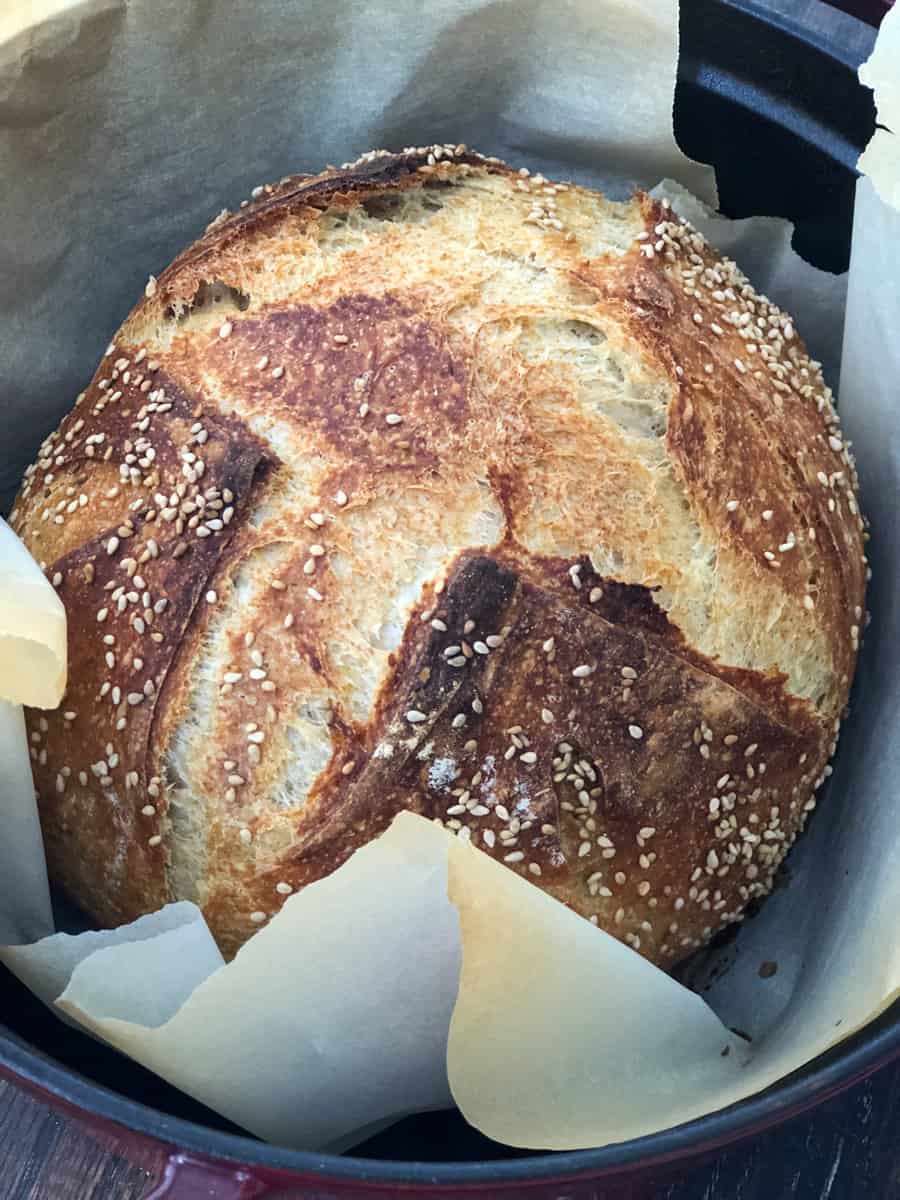 4 Ingredients for Overnight Bread
This no knead artisan bread recipe is really simple to make. And the loaf reminds me of my homemade sourdough bread - gorgeous crispy crust, lots of air pockets and deliciously chewy texture. This homemade bread is considered lean dough (made without eggs or fat) it's a simple and inexpensive vegan bread to make. Here's what you'll need . . .
commercial yeast - rapid or instant. Active dry yeast needs to be activated first.
water - slightly warm
flour - bread flour has more protein than all purpose flour and develops the chewy texture and rise. I've used both with 100% success.
salt
How to Make Simple No-Knead Bread
Mix The Dough - in an extra large bowl or bread bucket whisk the dry ingredients together. Add the warm water and mix to incorporate all the dry ingredients. Dough will be rough and sticky.
If using regular dry active yeast, activate the yeast as per package directions. Then mix together with dry ingredients.
Cover and Let it Rest - for 12-18 hours at room temperature. Resting the bread dough gives the flour time to hydrate, the gluten strands more time to develop which improves dough strength for rising and baking success. Plus the yeast and flavors develop during this time producing a more delicious loaf.
Shape the Dough - once ready to bake, tip the dough onto a floured work surface. Shape the dough into a ball or oval shape. Let it rest, covered, on a piece of parchment paper while the oven and pan preheat.
Bake - Preheat the oven and pot (30 minutes). Putting the moist dough into the hot pot and adding a lid creates a hot and steamy environment perfect for making bread swell and creating a crispy, crackly golden crust.
Cool - remove from pot and let cool on a wire rack.
Variations for No-Knead Bread Dough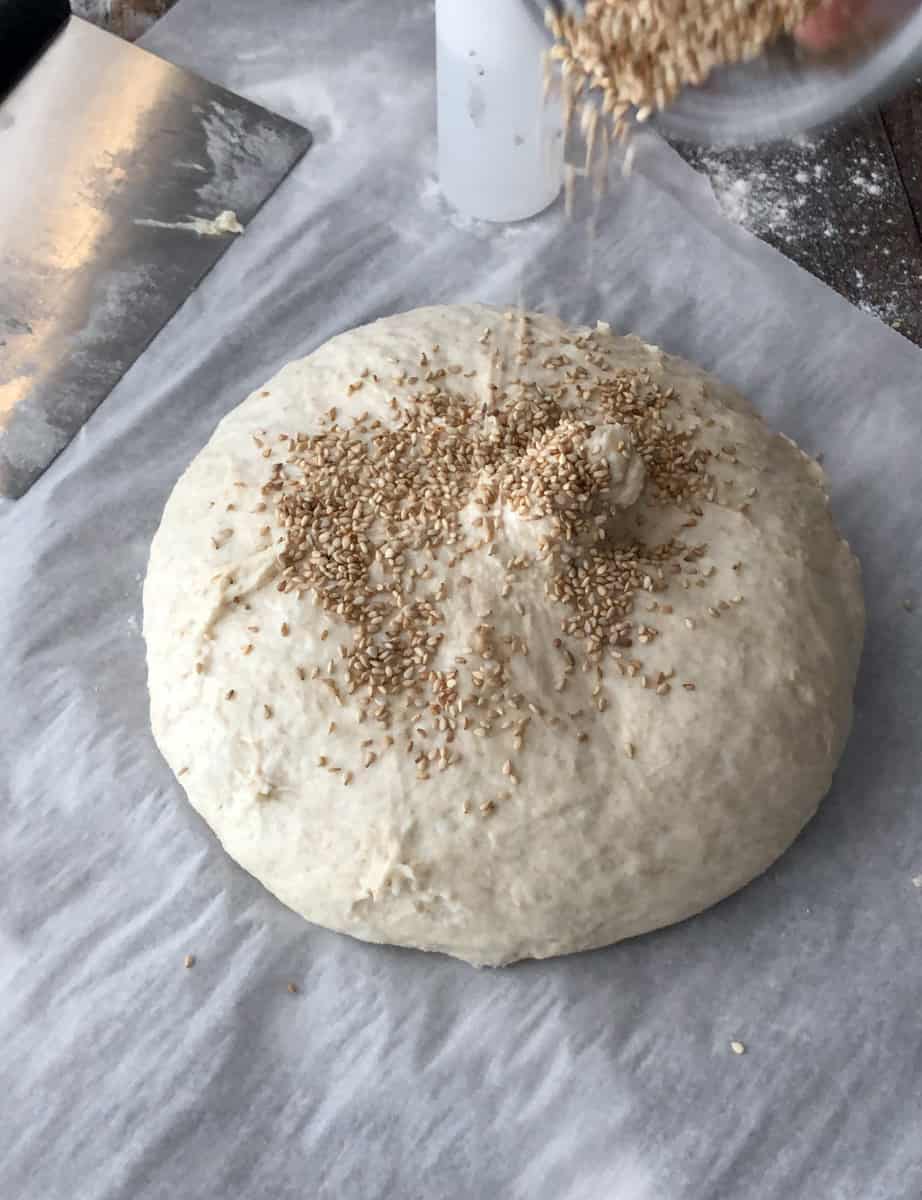 Add in's can be as simple as a handful of chopped garlic, some herbs or a sprinkle of melty cheese (add to dough when mixing).
Typically I add a few sesame seeds to the top of my loaf. Right before baking, mist with water or brush with plant-based milk and then sprinkle with sesame seeds.
FAQ - no knead bread
Why didn't my bread dough rise?
Check the expiry date on the yeast before using, it may have expired. Be sure the dough is in a draft-free spot, the bowl is covered, and the space is warm for best results.
How long should No Knead Bread rise?
A longer rise gives the bread dough a chance to strengthen and the flavor time to develop so letting it rest and rise overnight produces maximal results. However, you can mix the dough in the morning and enjoy freshly baked bread in time for dinner!
Can I make this no knead bread without a Dutch oven?
Yes! I made this bread with and without a Dutch oven. Although there were a few differences with the loaf baked in a large soup pot/stock pot, both times the bread was delicious!
The pot creates an insulated, steamy, draft free, consistent heat environment for the bread loaf to rise and puff up (oven spring), produces a deep golden crust, and chewy texture. The Dutch oven (affiliate link) works particularly well because it holds high heat really well and has a heavy, tight fitting lid. So choose the heaviest pot you have with lid and get baking bread!
Serve Crusty Dutch Oven Bread with
Hot out of the oven slathered in butter.
Toasted with homemade peanut butter and jam for breakfast.
For scooping vegan chili or Lentil-Mushroom Bolognese!
Vegan 'egg' salad sandwich Avocado Chickpea Sandwich.
More Easy Vegan Bread and Baking Recipes
Master Refrigerator Dough Recipe - for everything from breadsticks to cinnamon buns
Easy Pita Bread (vegan) - simple and magical pita bread made from master dough.
Vegan Cloud Biscuits - quick and easy and oh so tender, flaky and delicious!
Did you try this Easy No Knead Overnight Bread recipe?
If so, please leave a comment and rating Thank you!
I love seeing your creations please tag me on IG @ceeceecooks and Facebook!
NEVER MISS A RECIPE: Sign up for my email NEWSLETTER!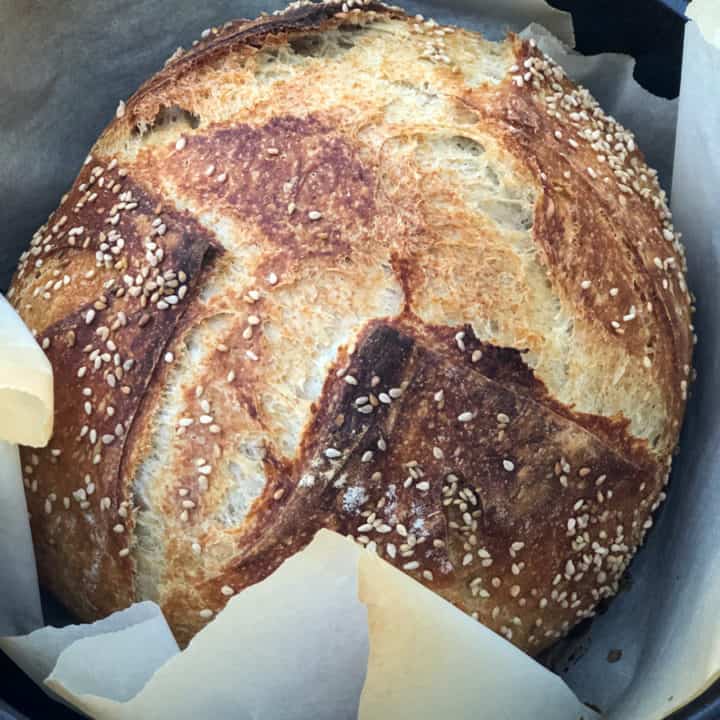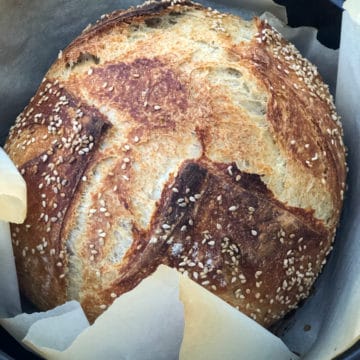 Easiest No-Knead Overnight Bread
The Miracle of No-Knead Overnight Bread is its simplicity to make. But the magic of it is that it produces a crispy, crackly golden crust and a tender chewy crumb (like sourdough bread) every single time! There's nothing better than a thick warm slice slathered in butter. TRUST ME!
Equipment
Dutch oven or pot with lid.

Bread dough bucket or large mixing bowl.
INGREDIENTS
3

cups

flour, all purpose or bread

1 ¼

teaspoons

salt

½

teaspoon

instant yeast

1 ½

cups

water, room temperature
INSTRUCTIONS
Mixing the Dough (the day before baking)
In a large bowl or bread tub, mix together the flour, salt, and yeast*. 

If using active dry yeast, activate per package instructions.

Pour in the room temperature water and mix until incorporated - using a large spoon or clean hands.

Wet your hands and scoop to the bottom of the bowl to incorporates the last bits of flour.

This dough will be shaggy and sticky. Be sure to incorporate all the dry flour.
Proofing the Dough
Time to let the dough rest and do its thing.

Cover the bowl with a plate, towel or plastic wrap. Leave out at room temperature for 12-18 hours (overnight or all day and bake for dinner).
Baking Day - Shaping the Loaf
The dough will be bigger and puffy now.

Flour your work surface. Scrape the loose, sticky dough from the bowl.

With lightly floured hands, gently lift one edge of the dough and fold it into the center (fold it onto itself) quarter turn and repeat 4-5 times creating a ball. Gently push the edges in and tuck them around until you have a round(ish) shape.

Flour a piece of parchment paper and flip the dough onto the parchment seam side down.

Cover the dough with the bowl or a towel and let it rest while the oven and pot preheat (~30 minutes).

Place rack in lower ⅓ of oven. Set the oven to 450º F.

Place a large (6 quart) cast iron Dutch oven (or heavy pot with lid) into the cold oven and let the oven and pan with lid preheat for 30 minutes.
Baking Day - Oven Time
Open the oven, using an oven mitt, remove the lid of the Dutch oven.

Lift the edges of the parchment paper and place it together with the dough into the heated Dutch oven (be careful NOT to touch the sides of the pan). Replace the lid.

Bake covered for 30 minutes, remove the lid and continue baking uncovered for another 10-15 minutes until the outside crust is brown and crispy.

Remove pot from oven. Transfer bread to a wire rack immediately to cool before slicing.
NOTES
Flour - use bread flour or all purpose flour.
Pot -
I tried 2 different pans for baking. One loaf in a cast iron dutch oven and one loaf in a large stock pot and although there was a difference in colour and crust texture, both were successful and happily devoured!
Storage -  store any leftover bread in a bag or air-tight container on the counter for a couple days. The crust softens when placed in a bag. 
The loaf can be stored in a bag in the fridge for up to a week.
For longer storage, slice the bread, wrap the loaf and store in a freezer friendly bag or container for a month or two in the freezer. Remove slices as needed. 
Original Recipe - No-Knead Bread recipe by Jim Lahey.
This recipe is from simplyceecee.co food blog. All images and content are copyright protected. Please do not use my images or republish this recipe without prior permission. Thank you.
Original post august 2018 - updated October 2021