This no-knead overnight bread is both ridiculously easy to make and incredibly delicious. It turns out every. single. time. With just 5 minutes of prep time, only 4 ingredients, and no kneading, this homemade bread recipe is perfect for beginners!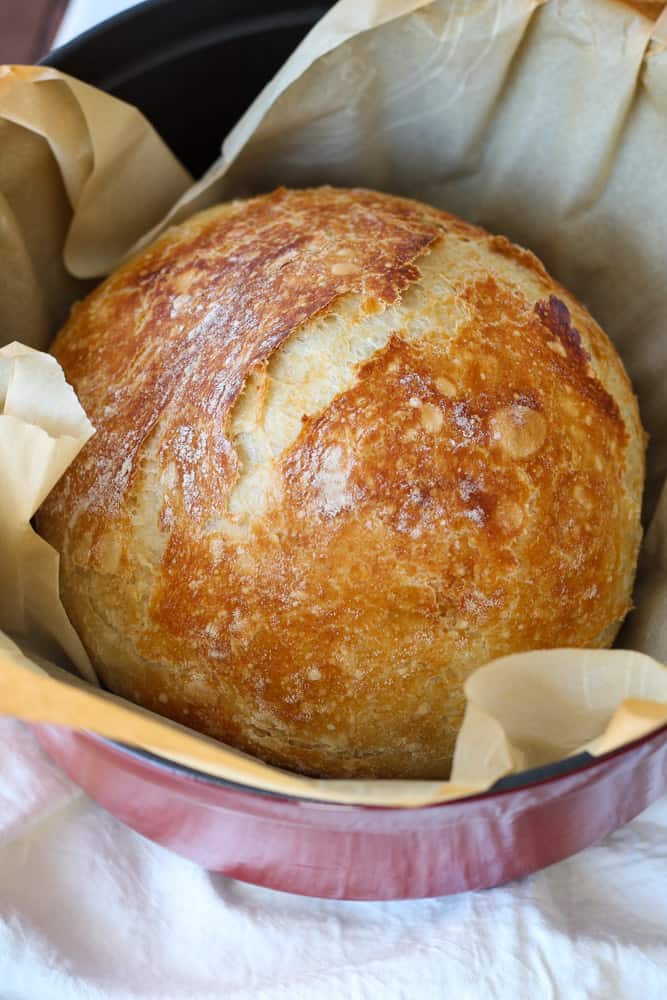 To me there's nothing more satisfying than the smell of freshly baked bread. My kids and I make this no-knead quick bread all the time because it's so simple (practically foolproof!). Whether you're new to bread baking or a seasoned pro, this Dutch oven bread recipe is sure to become a favorite.
The easy stir-together bread dough is mixed the night before then proofs overnight on the counter. The next morning pop it into a Dutch oven and voila, a perfect artisan-style loaf of crusty bread every time.
It's delicious served alongside Veggie Soup, Vegan Bolognese or rich and hearty Vegan Chili!
4 Ingredients for Easy No Knead Bread
This is the most basic and simplest homemade bread (aka peasant bread). Considered a lean dough (without eggs or fat), this bread is made with just pantry items. It's a very affordable rustic, vegan bread to make. Here's what you'll need . . .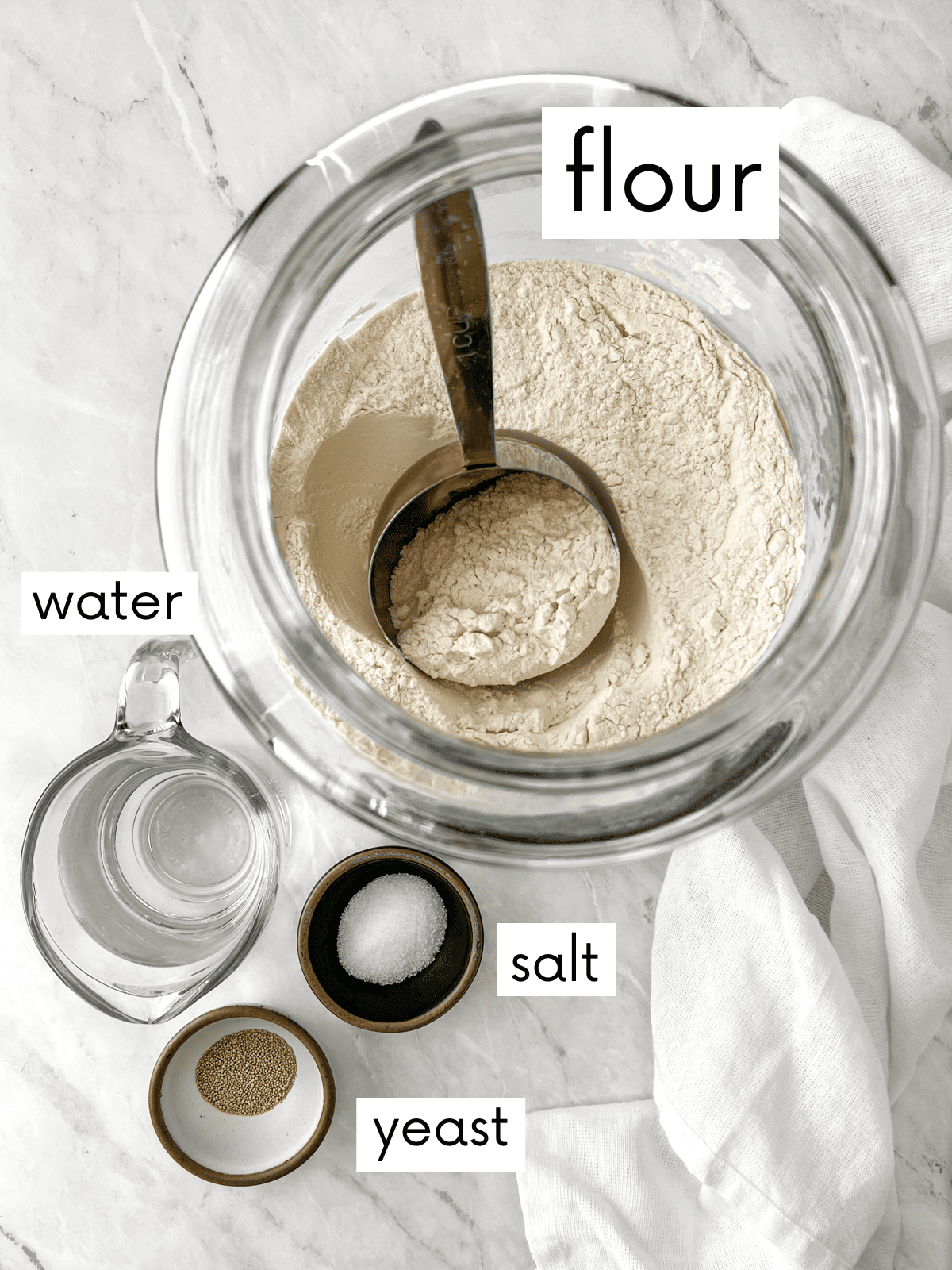 traditional yeast - active dry or instant yeast
water - tepid water
flour - bread flour has more protein than all purpose flour so is a stronger flour. I've used both with 100% success.
table salt or fine sea salt
How to Make Simple No-Knead Bread
If you've ever wanted to try making bread from scratch but felt intimidated; this tried and tested, no knead bread recipe is a good place to start! It's perfect for beginners - a super simple, very forgiving and fuss free recipe. Let's get into the details: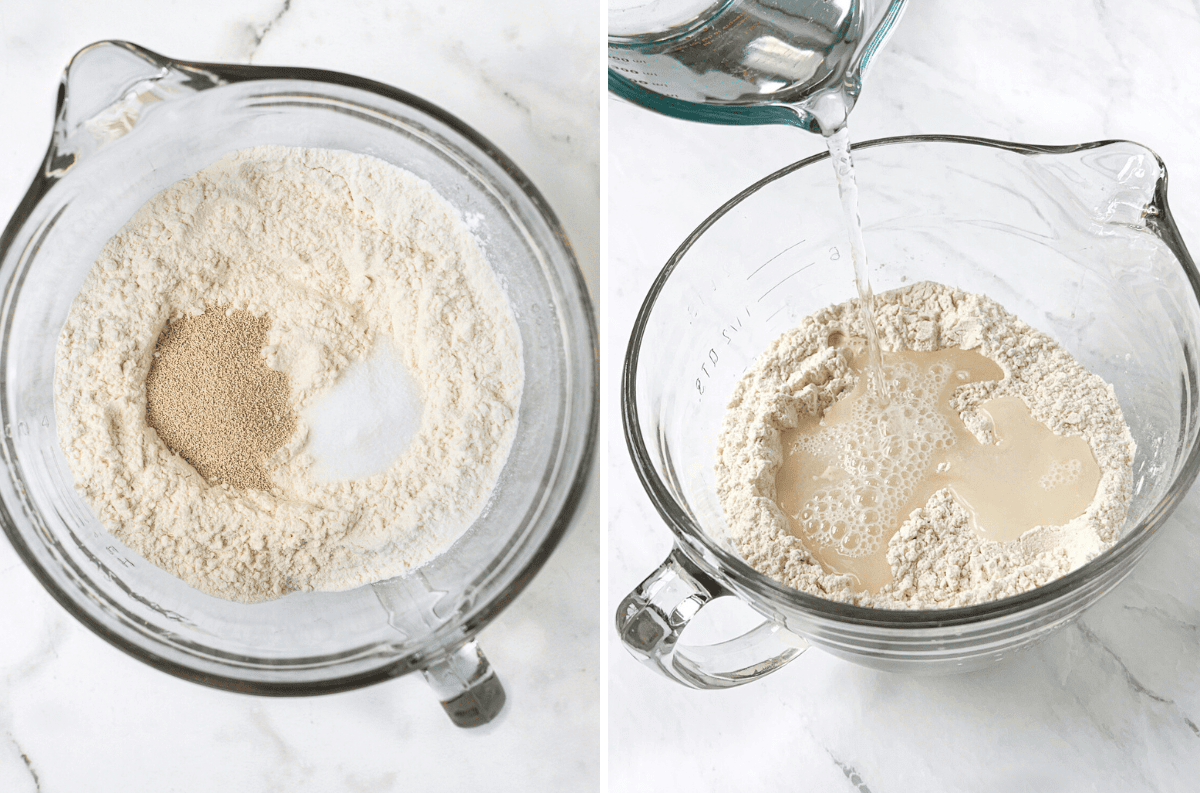 Mix the dry ingredients: In an extra large measuring cup (8 cups or more), mixing bowl or bread bucket stir the dry ingredients together.
Add warm water: Next add the warm water and stir to incorporate all the dry bits. Wet your hands as needed to get all the dry bits from the bottom of the bowl. The bread dough will be a bit shaggy (no need to knead though).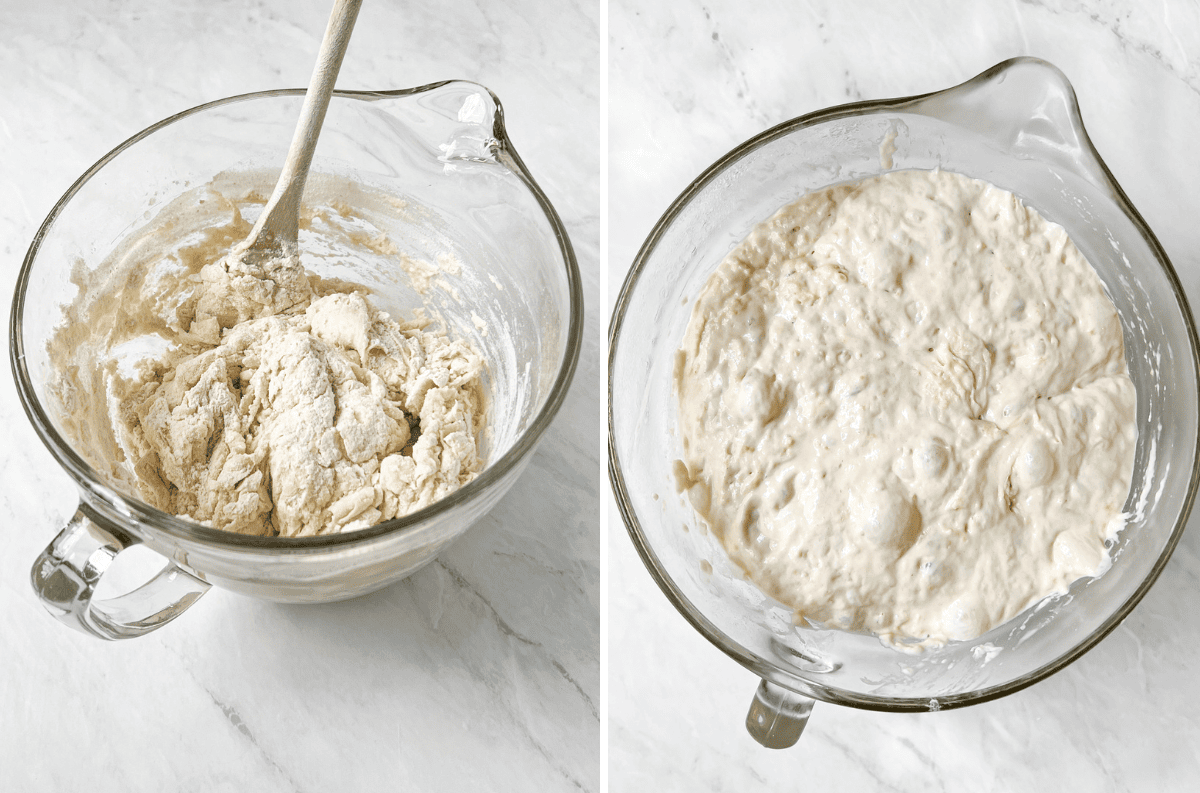 Let the Dough Rise: Cover the bread dough with Saran or a kitchen towel. Let it rise at room temperature 12-18 hours (slow fermentation). During this bulk fermentation stage, the flour is hydrated, the gluten strands develop, and yeast produces all the lovely flavor.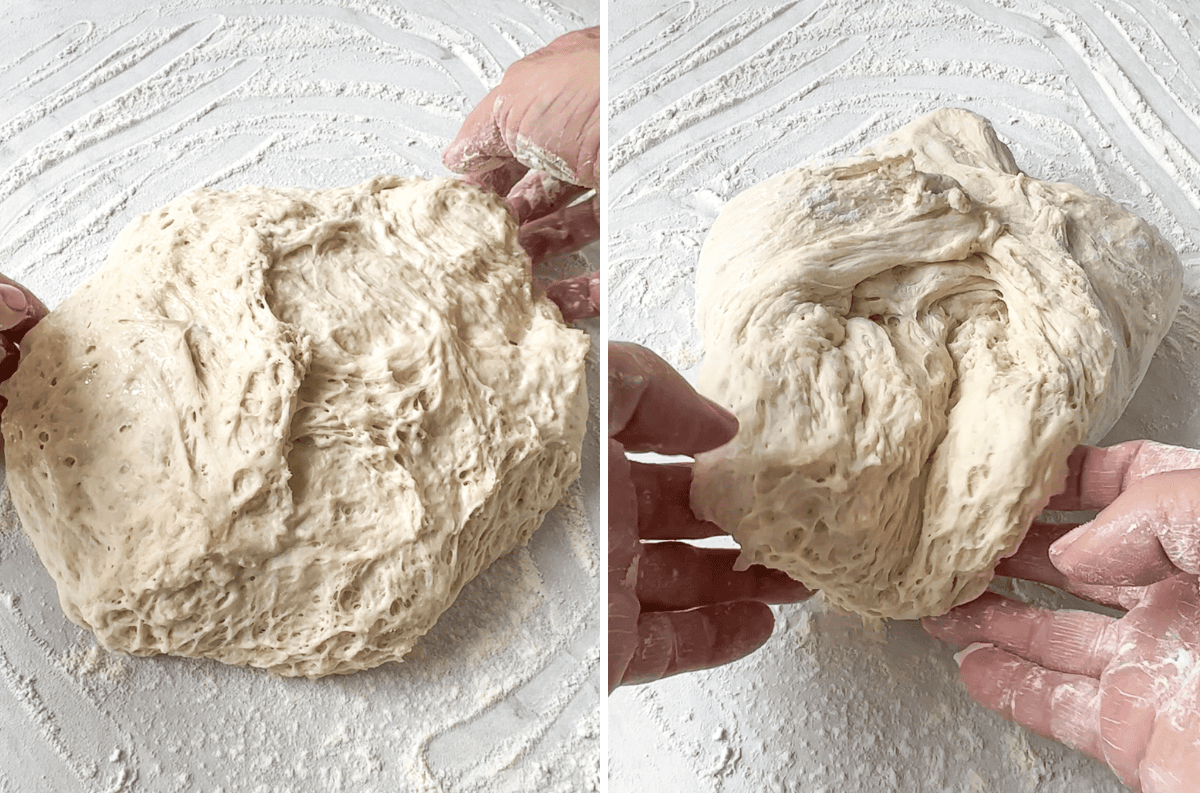 Shape the Bread Dough: Once your bread dough is puffy and has some bubbles, turn it out onto a floured work surface. Flour your hands and gently shape the bread dough into a round ball or log shape being careful to preserve the volume and air bubbles. It doesn't have to be perfect. The dough will be somewhat sticky and loose.
Transfer to a piece of parchment paper. Lightly dust the top of the bread dough with flour then loosely cover with a piece of saran or a clean kitchen towel. Let it rest while the oven and enamel Dutch oven (with lid) are heating.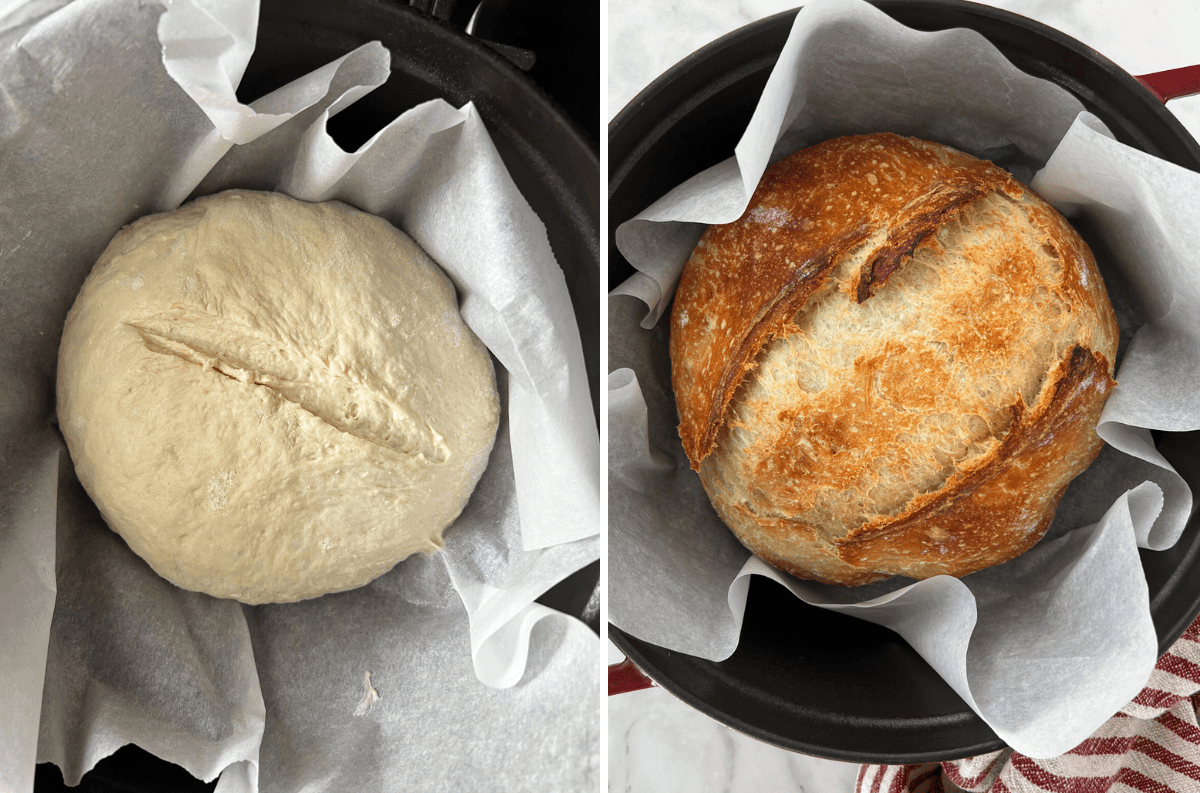 Bake the bread: Once the oven is preheated ~30 minutes at 450ºF, it's time to bake. Transfer the dough (including parchment paper) to the hot Dutch oven then replace the lid, and put it into the oven.
Pull the bread from the oven: Remove the bread from the Dutch oven - take a moment to feel proud of your accomplishment. Then transfer the bread to a wire rack and let it cool completely before slicing into it (the hardest part!). A personal note: I have an embarrassing number of bread photos on my phone!
I love no knead bread recipes (they are so magically simple and versatile). For a big batch of no knead bread, try my bucket of all purpose refrigerator dough. It lasts 2 weeks in the fridge and makes everything from homemade bread to vegan cinnamon rolls and so much more!
No-Knead Bread Variations
Once you've mastered the basics of bread making, have some fun customizing your loaves. Here's some optional additions: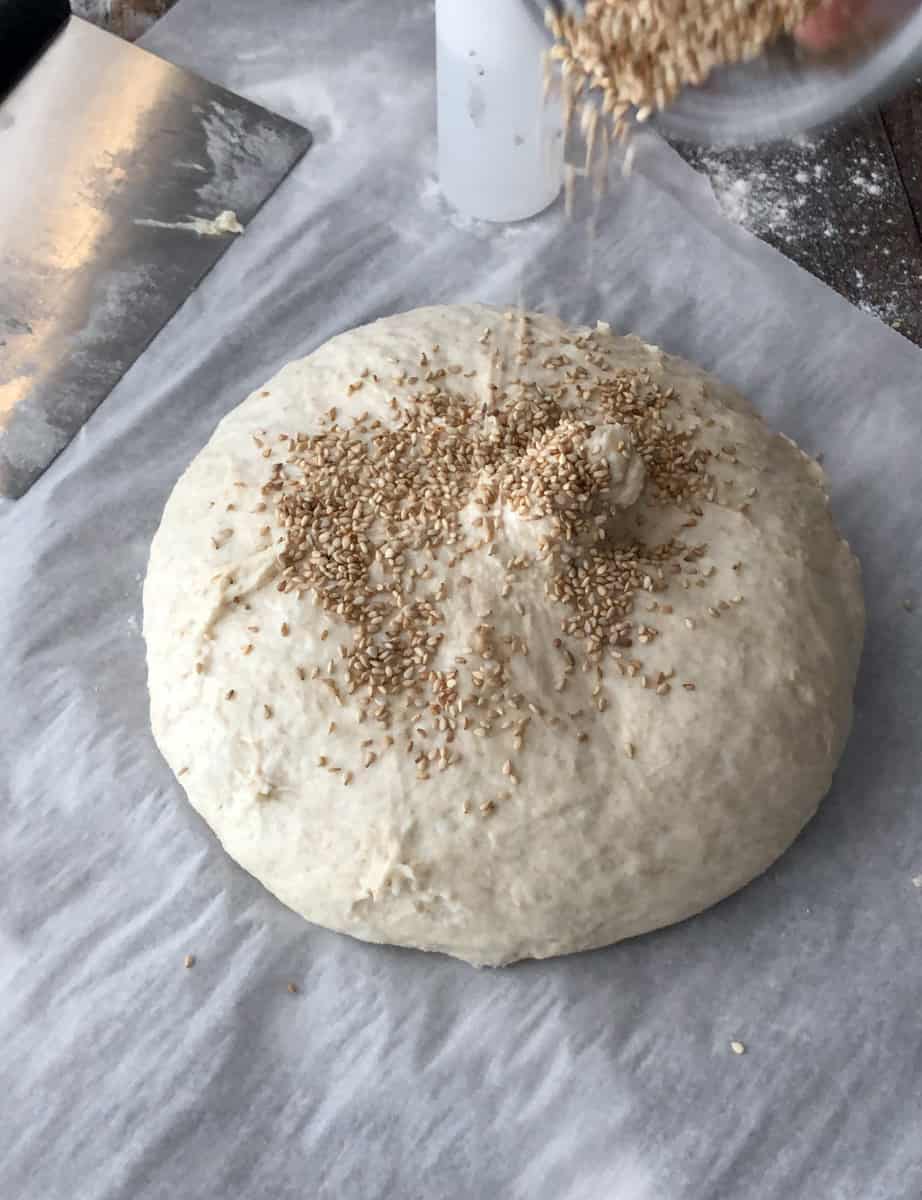 Garnish: Right before baking, mist the top of the bread dough with water then add a sprinkle of sesame seeds, Everything Bagel seasoning or flaky salt.
Garlic bread: Add in 1 or 2 cloves of minced garlic in Step 1.
Make it cheesy: Add a handful of vegan cheese during Step 1 for a cheesy swirl.
Pro Tips & FAQ for Dutch Oven Bread
A tiny bit of the science behind yeast-bread baking and some tips for a perfect loaf. As mentioned earlier, this recipe is very forgiving so if the flour or water is a bit over or under, the bread will still turn out beautifully.
Looser dough: This recipe produces a slightly wetter (loose) bread dough that can be a bit difficult to manage the first few times. This is partly because of the hydration level, the long, room-temperature fermentation, and no kneading. Where you live, how warm your kitchen is, and the type of flour can impact the dough as well. Trust the process, this method has been used to make millions of loaves of bread. Pop the dough into the fridge for an hour before shaping if it's too difficult to manage.
Warm water: To preserve the integrity of the yeast, use tepid water. It shouldn't feel cold or hot. Or as a professional bread maker told me years ago, the water should just feel wet!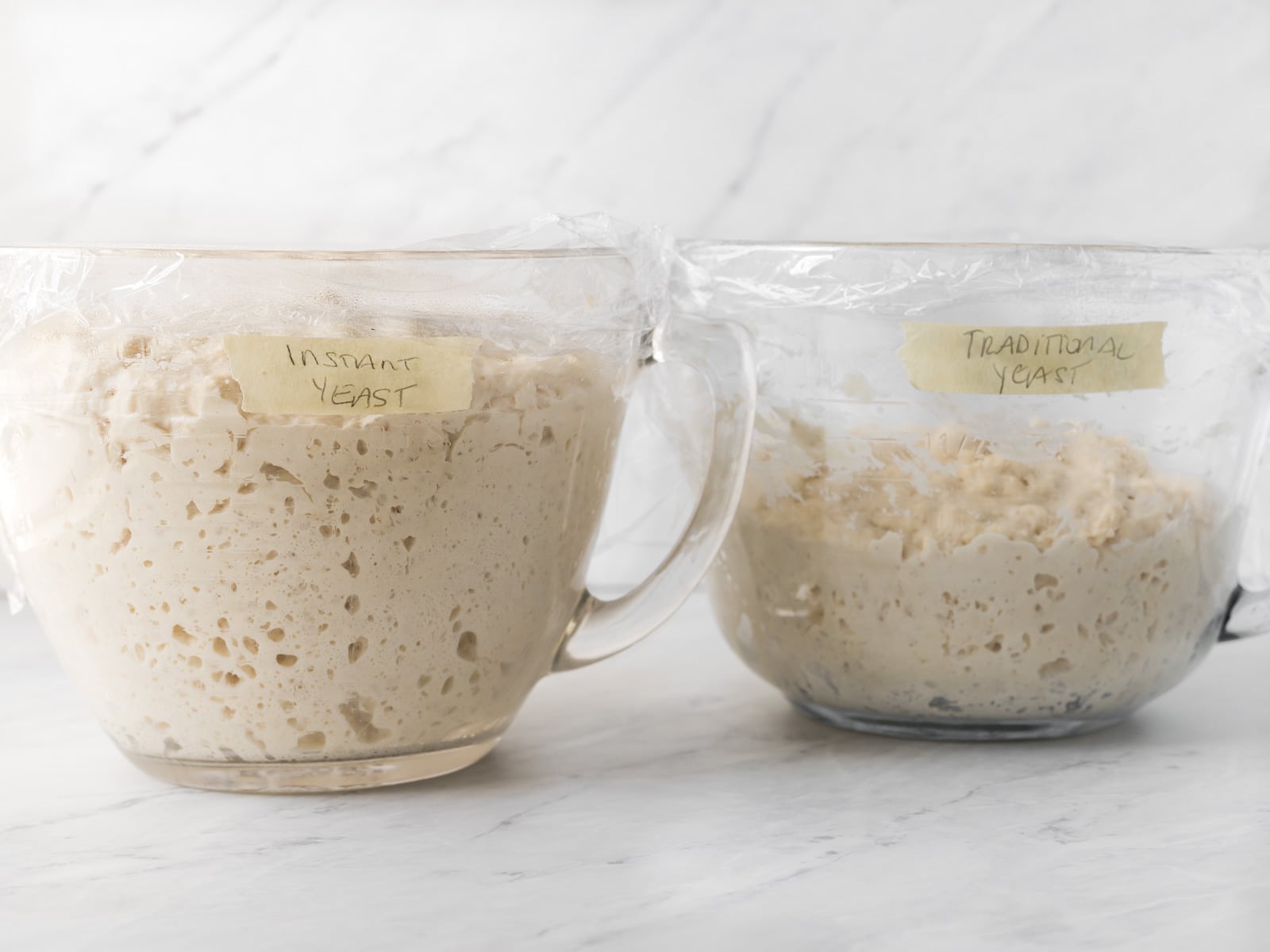 Traditional Yeast v. Instant Yeast: You can use Traditional yeast (aka: active dry) or Instant yeast (aka: quick rise) 1:1 in this recipe. Instant yeast rises faster initially so it's a good choice for quicker recipes. Traditional yeast takes a little longer to rise, but catches up in a long fermentation bread like this No Knead Overnight Bread recipe. (Photo shows the difference at 2 hours).
To Knead or Not to Knead?: Kneading your bread dough develops the formation of gluten giving the dough structure and strength. But it's not the only way it forms. You can achieve a similar result with time. You will see evidence of the flour water and yeast working as the dough bubbles and creates a tangled web of sticky strands.
Flexible Baking Schedule: A traditional schedule for this recipe is to mix the dough in the evening, let it proof overnight on the counter, and bake it in the morning. But, you can mix it in the morning and bake it in the evening. If your plans change, put the dough into the fridge which slows the fermentation until you are ready to bake.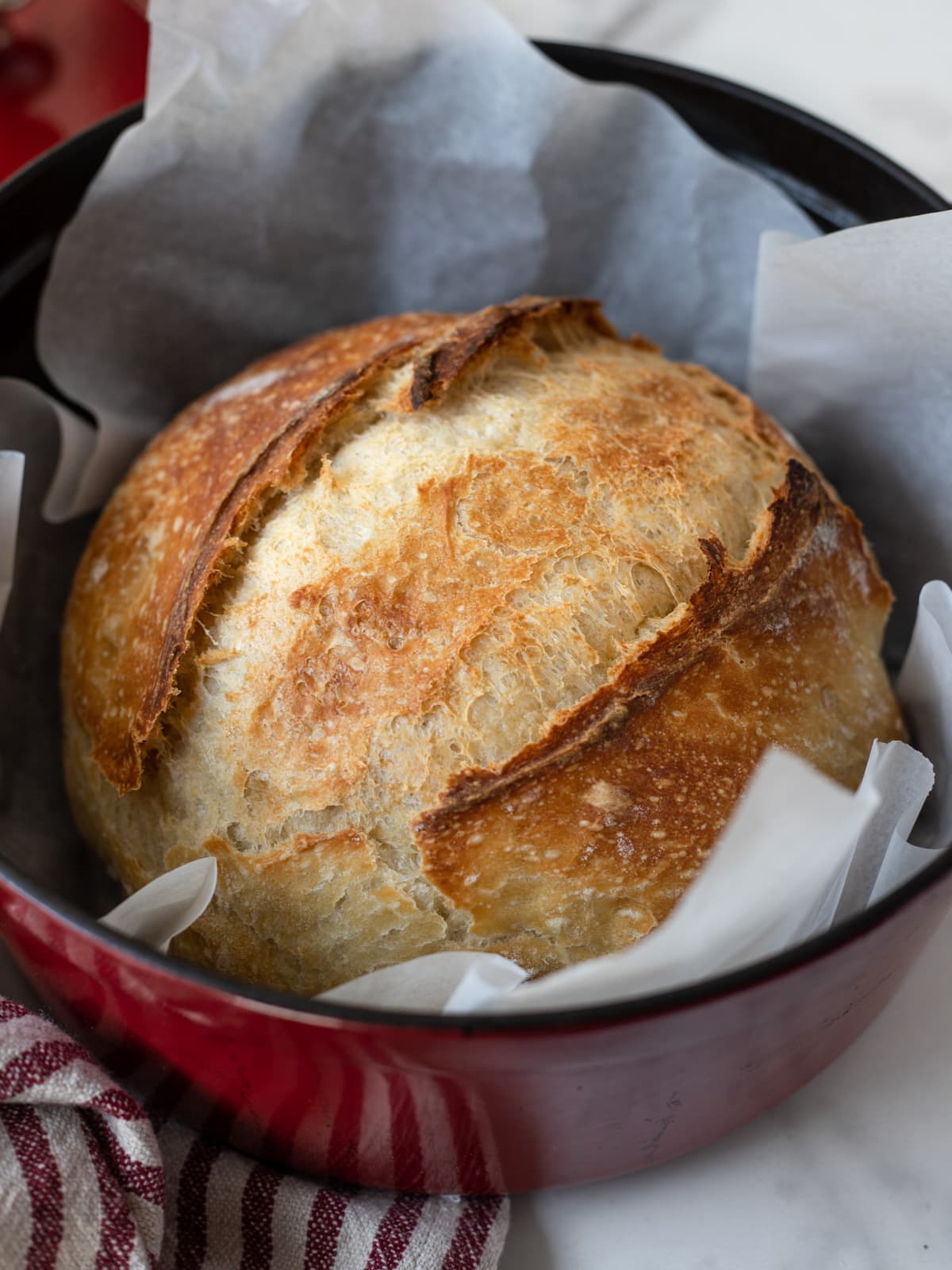 Why didn't my bread dough rise?
Check the expiry date on the yeast before using, it may have expired. Be sure the dough is in a draft-free spot, the bowl is covered, and the space is warm for best results.
Can I make this no knead bread without a Dutch oven?
Yes! I tested this bread in a stock pot and a Dutch oven. Although there were a few differences, both produced delicious bread!
The pot creates an insulated, steamy, draught free environment for the bread dough to rise and puff up (oven spring) and produce a crusty loaf of bread. The Dutch oven works particularly well because it holds the high heat and has a heavy, tight fitting lid. So choose the heaviest pot you have with lid and get baking bread!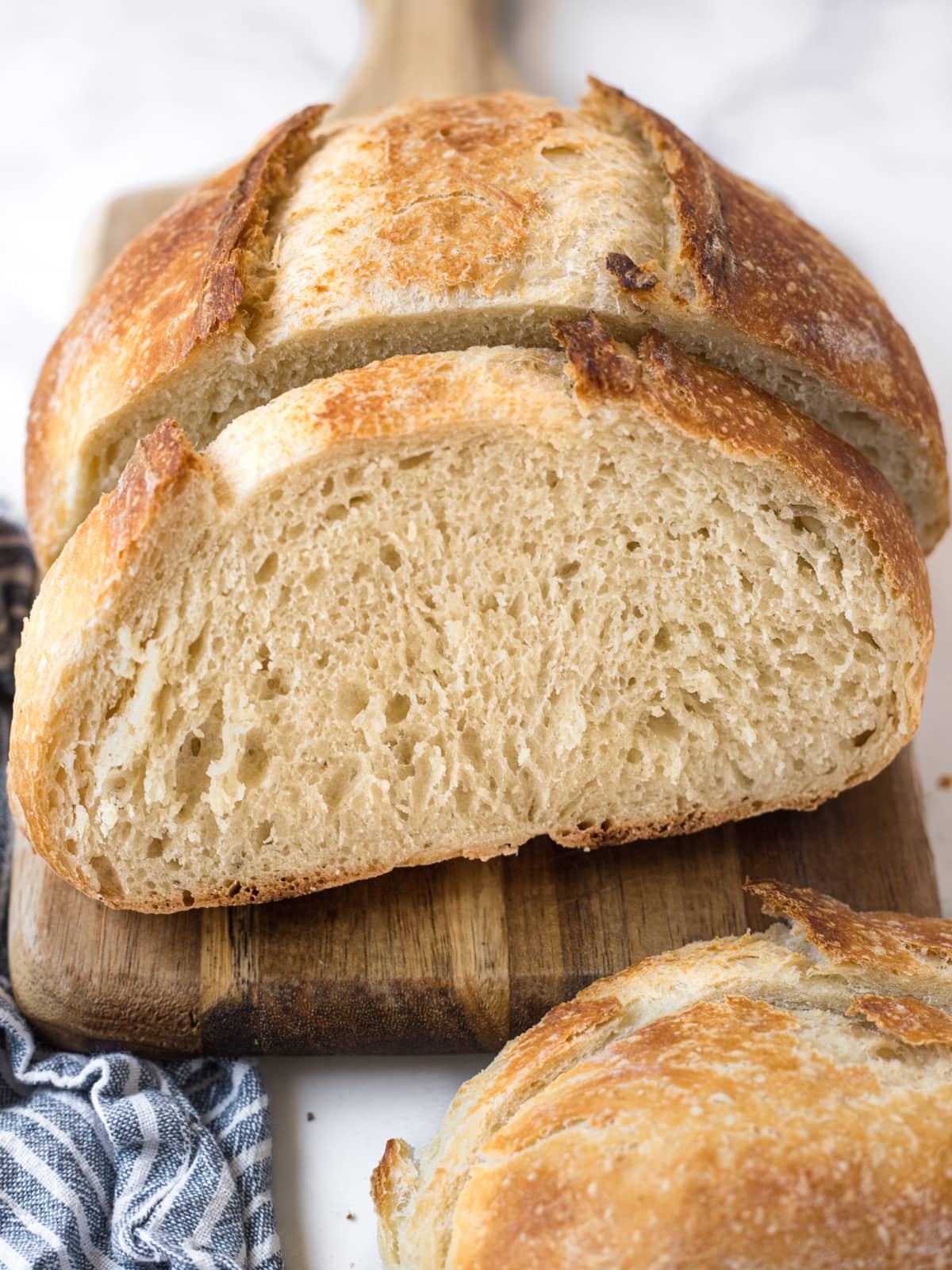 Ways to Serve Crusty Bread
More Easy Bread Recipes to Try
If you love baking, here's a few more vegan bread recipes to try next:
Did you try this Easy No Knead Overnight Bread recipe?
I'd love to see it! Tag me on IG @ceeceecooks and Facebook!
NEVER MISS A DELICIOUS VEGAN RECIPE: Sign up for my email NEWSLETTER!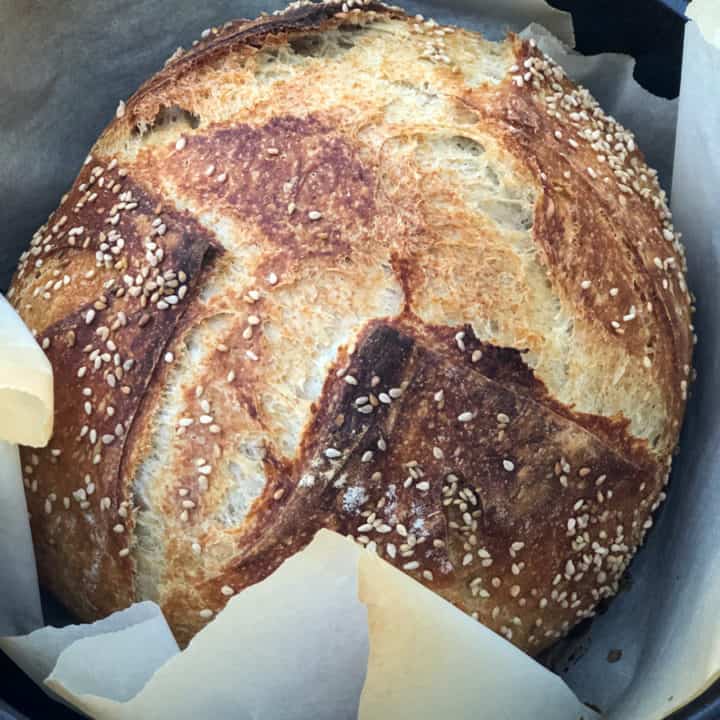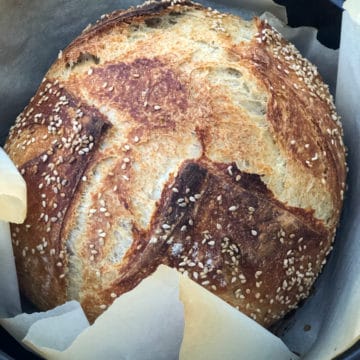 Easiest No-Knead Overnight Bread (vegan)
The miracle of No-Knead Bread is its simplicity to make (great beginner recipe!). But the magic of it is that it produces a crispy, crackly golden crust and a soft tender crumb every single time! There's nothing better than a thick warm slice slathered in butter. Is there?
Rate this recipe!
Equipment
Dutch oven or pot with lid.

8 cup measuring cup or large mixing bowl
INGREDIENTS
3

cups

flour, all purpose or bread

1 ¼

teaspoons

table salt

½

teaspoon

active dry yeast or instant yeast

1 ½

cups

water, room temperature
INSTRUCTIONS
Mix the Dough (the day before baking)
In a large mixing bowl or bread tub, mix together the flour, salt, and yeast. 

Pour in the room temperature water and mix until incorporated - using a large spoon or clean hands.

Wet your hands and scoop to the bottom of the bowl to incorporate all the dry bits of flour as needed.

This dough will be shaggy and sticky. Be sure to incorporate all the dry flour.
Proofing the Dough
Time to let the dough rest (bulk fermentation) while the yeast does its thing.

Cover the bowl with a plastic wrap, a towel or shower cap. Leave out at room temperature for 12-18 hours.
Shape the Dough (on baking day)
The dough will be bigger and puffy after the overnight fermentation.

Flour your work surface. Scrape out the loose, sticky dough from the bowl.

With lightly floured hands, gently lift one edge of the dough and fold it into the center (fold it onto itself) quarter turn and repeat 4-5 times creating a ball. Gently push the edges in and tuck them around until you have a round(ish) shape or make a longer log shaped loaf. It doesn't have to be perfect!

Transfer the bread dough ball to a slice of parchment paper seam side down. Dust with flour and cover the dough with the mixing bowl, a towel or plastic wrap and let it rest while the oven warms up.

Place a large (5-6 quart) Dutch oven (or heavy pot with lid) into the cold oven, turn the oven to 450º F and let the oven and Dutch oven with lid preheat for ~30 minutes.
Time to Bake
Open the oven, using oven mitts, remove the Dutch oven.

Lift the edges of the parchment paper and carefully transfer the dough (and parchment paper) into the heated Dutch oven (be careful NOT to touch the sides of the pan). Replace the lid.

Bake covered for 30 minutes, remove the lid and continue baking uncovered for another 15-25 minutes until the outside crust is brown and crispy.
To Serve
Remove from the oven and carefully lift the edges of the parchment to transfer the bread to a wire rack to cool. After 30 minutes, slice into the bread and enjoy!
NOTES
Measuring flour: Use the scoop and level method for measuring flour or a weigh scale.
Flexible Baking Schedule: If your plans change or something comes up, pop the dough into the fridge which will slow down the fermentation. Then around an hour before baking, remove the dough from the fridge and shape it. Place on a piece of parchment paper, loosely cover and let the loaf come to room temperature (~60 minutes plus or minus depending on the temperature of your kitchen). Around 30 minutes before baking, preheat the oven along with the Dutch oven and follow the rest of the recipe above.
No-knead bread storage:
Store any leftover bread in a bag or air-tight container on the counter for a couple days. The crust softens when placed in a bag. You can also place the cut side down on a plate and store uncovered on the counter.
The bread can be stored in a bag in the fridge for up to a week.
Freezer: For longer storage, slice the bread, place in plastic bag and store for a month or two in the freezer. Remove slices as needed. 
Original Recipe: Slow Rise No-Knead Bread recipe from Jim Lahey with lessons learned from King Arthur Baking and Brilliant Bread.
This recipe is from simplyceecee.co food blog. All images and content are copyright protected. Please do not use my images or republish this recipe without prior permission. Thank you.
Original post August 2018 - updated August 2023