These savory chickpea pancakes are loaded with flavor - crispy on the outside and packed with veggies on the inside. Top these super healthy, protein rich, pancakes with fresh tomatoes, avocado and an incredible spicy sauce. Bonus points they are fast and easy to prepare without any eggs or dairy.
Keep reading for instructions and tips for making perfectly cooked chickpea pancakes that are grain free, naturally gluten free and easily oil-free adaptable. Serve these super delicious pancakes for dinner or as an appetizer at family gatherings - everyone loves these savory pancakes - vegan or not.
The humble chickpea in all its glory morphs into so many things - hummus and dips, baked/roasted (for snacks, tacos, burritos, rice bowls, salads or soups) or ground into flour for baking and cooking.
Pro Tip: Make chickpea flour with dry chickpeas and a Vitamix (affiliate link) in under 2 minutes!
Ingredient Essentials
Vegetables - Use leftover vegetables for this fast and delicious vegan dinner the whole family loves. But if no leftovers; mushrooms, onions, peppers, spinach, and beans are our favourite combination.
Drizzling Sauce - Drizzle dairy-free cashew cream over these yummy vegan chickpea pancakes - it's quick to make if you have a high-speed blender (5 minutes).
We also love them with sweet and spicy tahini sauce drizzle.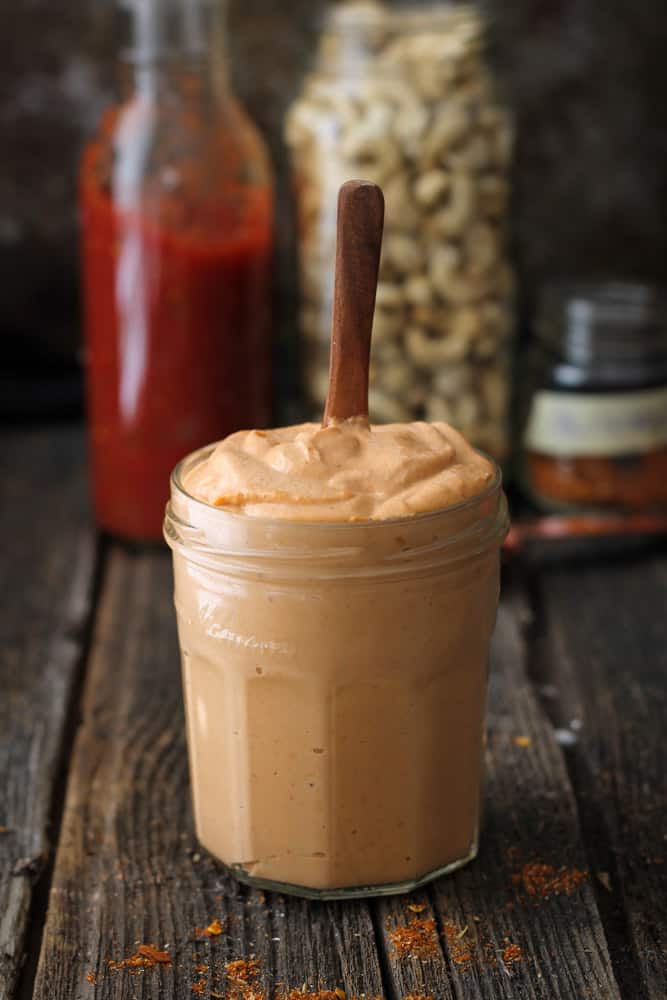 Optional Toppings - Juicy tomatoes, avocado chunks, and fresh green onions are the perfect combination for toppings. But sub in any toppings of your choice.
How to Make Chickpea Flour Pancakes
Easy and delicious, you will be devouring dinner in less than 25 minutes. If you're anything like our family, you're gonna be addicted to this easy, healthy, vegan meal.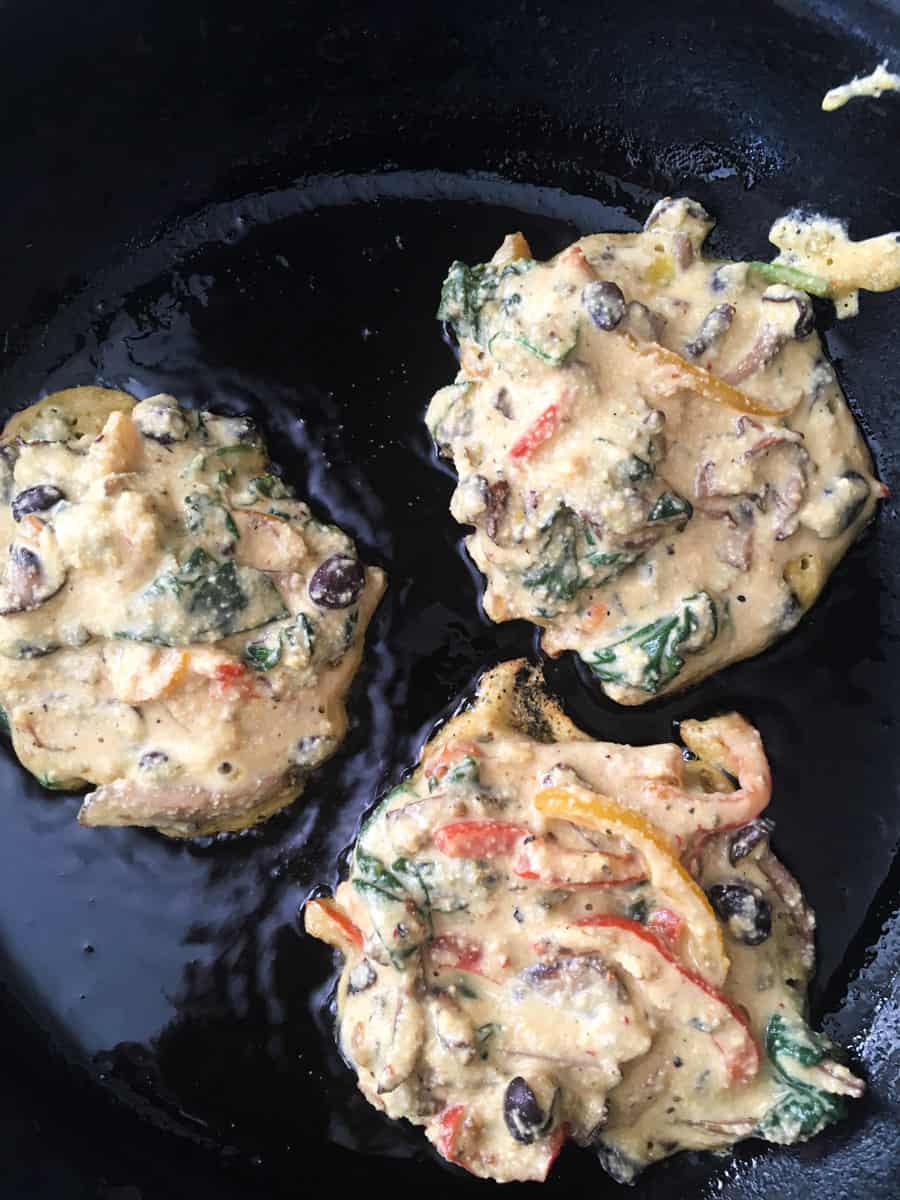 Saute the veggies.
Mix the pancake batter and stir in the sautéed vegetables and beans.
Preheat oil in a skillet over medium to high heat before adding the batter.
Cook the pancakes in batches until golden and crispy on both sides.
Pile high with toppings and a drizzle of your choice of vegan sauce.
FAQ and Tips
What is chickpea flour used for?
Chickpea or garbanzo flour is ground raw chickpeas. A staple in Middle Eastern recipes, it adds a nutty earthy taste to falafel, pancakes, socca, pizza crust, crackers etc. Naturally gluten free and high in protein, chickpea flour is wonderful in both sweet and savory dishes.
Although slightly different might be called besan or gram flour interchangeably.
What is chickpea flour made from?
Chickpea flour is simple to make if you have a high speed blender or coffee/spice grinder. Place the raw chickpeas (chana) into the blender and blitz until the desired texture is achieved. For a finer flour, continue to pulse/blend stopping to scrape the sides and bottom of blender. Pass the flour through a fine sieve or sifter to separate any larger pieces.
Storing Pancakes - cooked and completely cooled, leftover pancakes can be stored in the fridge in an airtight container or bag for several days. Store the sauce and any toppings separately.
Leftover Pancakes - leftover chickpea pancakes are delicious hot or cold. Crisp them up in a non-stick skillet then add toppings of choice and sauce.
Try a pancake sandwich for lunch using 2 pancakes, a layer of spicy hummus, slice of tomato, avocado, some leafy greens or sprouts, a baked tofu slice or whatever else you have on hand - super delicious and nutritious!
More Easy Vegan Dinner Recipes
Simple Chickpea Mushroom Bake - a flavorful, fuss-free, nourishing family favorite.
Fast Fresh Tomato and Spinach Fettuccine - vegan pasta with vegan feta recipe and crispy fried capers.
Tender Tofu Masala - Flavorful, tender tofu simmering in spicy creamy gravy.
Did you make my savory Chickpea Pancakes (vegan) recipe?
If so, please leave a comment and rating below.
Follow along for more vegan recipes on Instagram and Facebook.
DON'T MISS A RECIPE: Sign up for our email NEWSLETTER!
Simple, Savory Chickpea Pancake Recipe
These scrumptious, savory chickpea pancakes are packed with loads of veggies and are super easy to make. They are gluten free, oil free friendly, dairy free, grain free, egg free, totally plant based and totally delicious! Don't forget the sauce for drizzling!
Rate this recipe!
INGREDIENTS
Vegetable Filling
1

tablespoon

oil (optional for pan)

1-2

cups

veggies (mushrooms, onions, peppers)*

handful

spinach, rough chop

¼ - ½

cup

black beans
Drizzling Sauce
½

cup

cashew cream or sauce of choice
Fresh Toppings
tomato, avocado, green onions, cilantro chopped
Chickpea Pancake Batter
1

cup

chickpea flour

¼

cup

nutritional yeast

1

teaspoon

garlic powder, to taste

1

teaspoon

onion powder, to taste

1-3

teaspoons

dried oregano, to taste

salt & pepper, to taste

¾ - 1

cup

water
Garnishes (optional)
hemp hearts

pinch+

hot pepper flakes

drizzle

sriracha hot sauce
INSTRUCTIONS
Vegetable Filling
Warm oil in a medium size skillet over medium-high heat. (If oil-free, use a non-stick pan.)

Sauté mushrooms, onions, and red peppers until soft and starting to caramelize (4-5 minutes).

Add a handful of chopped spinach and black beans right at the end and stir until the greens wilted. Transfer to a bowl. Wipe out pan.

If using leftover veggies, skip the sauteing, chop the veg and add to batter.
Toppings
Prepare toppings - chop tomatoes, slice green onions, dice avocados, and chop cilantro. Set aside.
Chickpea Pancake Batter
Meanwhile, mix chickpea flour, nutritional yeast, spices (garlic powder, onion powder, dry oregano, s&p) in a medium bowl.  Add ¾ cup water* and whisk until fully incorporated. If too thick, add a tablespoon at a time until desired consistency is met (pancake batter).

Stir in the sautéed (or leftover) veggies and beans.
Cooking Crispy Pancakes
Heat oil in skillet on medium high with 1 tablespoon oil. OR if oil free - leave oil out and use a non-stick pan.

Scoop the batter into 4 even pancakes in the hot pan - gently spreading slightly with the back of a spoon.

The size of the pan and how big you make each pancake will determine how many batches. (I made 2 batches with 3 pancakes in each)

Cook until brown and crispy (3-5 minutes). Flip and cook on other side. You may need to reduce the heat to medium if the pan is running too hot.

May need to add oil before frying additional batches.
To Serve
Serve the pancakes with the toppings (chopped tomatoes, green onions, avocado, cilantro), a sprinkle of hemp hearts and red pepper flakes, and a drizzle of cashew cream/sauce and sriracha.
NOTES
The pancakes come together quite quickly so have all the toppings and sauce made before you start frying the pancakes.
The cashew cream sauce takes about 5 minutes if you have a high-speed blender so make it right away and set aside.
You can use any combination of vegetables and toppings. I usually use whatever leftover vegetables we have in the fridge.
Leftover pancakes store well in the fridge for several days. Delicious served hot or cold.
This recipe is from simplyceecee.co food blog. All images and content are copyright protected. Please do not use my images or republish this recipe without prior permission. Thank you.
Original post May 2018 - updated October 2021