This Simple Vegan Rice Bowl is super easy, healthy, and versatile, It's packed full of protein and fiber, is oil-free, gluten free, dairy free, and pure yumminess! Add any grain, and bean, any veggies and of course a Buddha bowl sauce to take it over the top!
My favourite, go-to meal always involves a bowl! In fact, it was rumoured for a time that I didn't own any plates. Ha Ha, family, ha ha! Being a food blogger, I obviously create some leftovers (A LOT) so a bowl is usually the perfect follow-up meal to a day or two of shooting.
This particular bowl was my lunch one day this week. I'd made a big batch of brown rice in the Instant Pot on Sunday. I usually make rice, quinoa, lentils or some type of grain in a bigger batch during the week which is a great meal prep idea. Then store it in the fridge or freezer (it thaws really fast!).
*PRO TIP: Use the Instant Pot for your big batch beans and grains, it's simple and fuss free.
The rest of the bowl is bits and bobs from the fridge. I added some avocado (or guacamole) which leads me to pico (or halved tomatoes). Then I wanted some black beans and salsa in there. Those flavours are just screaming for a big dollop of smooth, creamy hummus aren't they?
And is it even a rice bowl without a sauce or drizzle? My latest obsession is this Sweet and Spicy Tahini Sauce which I had on hand and applied liberally to my bowl - it was perfection!
How to Build a Buddha Bowl
What goes into a rice bowl you ask? A bean a green and a grain - the perfect vegan/vegetarian meal. It's protein rich, packed with fiber, super healthy and delicious, hearty and filling, and ultra versatile.
Let's break down how to build a vegan buddha bowl, aka rice bowl, vegan bowl, nourish bowl, power bowl, leftover bowl, hippie bowl!
BEANS: beans, beans the magical fruit . . . eg. black beans, chickpeas, brown beans, pinto beans, kidney beans, peas, etc.
LEAFY GREENS: Arugula (rocket), spinach, kale, beet greens, butter lettuce, mixed spring greens, watercress, chard, romaine. You get the idea.
WHOLE GRAINS: Rice - brown, white, jasmine, quinoa, buckwheat, bulgur, lentils or millet just to get you started.
VEGGIES: Baked sheet pan veggies, leftover veggies, cauliflower and broccoli are popular choices or sweet potato chunks, Brussels sprouts, and carrots. The sky's the limit!
SAUCE: You're going to need something to drizzle! My current favourite Sweet and Spicy Tahini Sauce but Cashew Cream (all the flavor options) is amazing or try my Spicy Green Tahini or Easy Peanut Sauce Recipe - all incredible.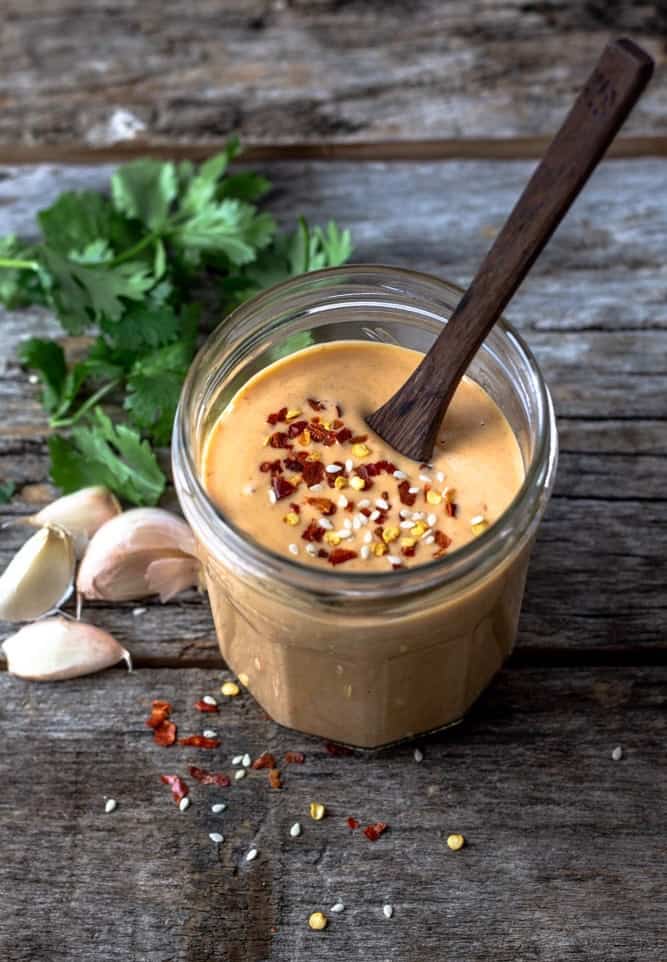 EXTRAS: These are the toppers, the cherry on top, some ideas to take your bowl from simple to fancy! Salsa, Perfectly Simple Pico de Gallo, or simple tomato halves add freshness and flavour. Quick Delicious Hummus, avocado slices or Holy Guacamole add a delicious creaminess. Pickled onions, gherkins, beets (pickled or baked) or olives add a lovely tanginess. Sprouts or nuts and seeds for crunch!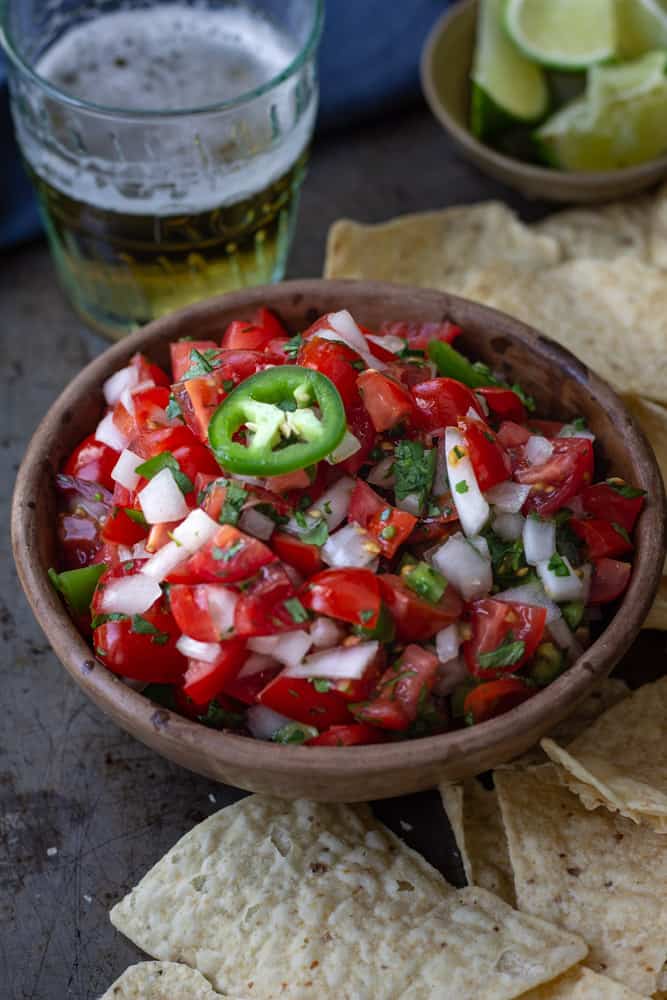 There are so many combinations, it's almost impossible to run out of ideas. So when you are in a hurry cause the family is hangry or you're low on inspiration for dinner or lunch ideas, just open the fridge and remember, a bean, a green, and a grain.
More Vegan Bowl Ideas
Incredible Vegan Sushi Bowl Ideas - easy to make, gorgeous and super delicious!
Vegan Taco Meat Bowl - this one is on regular rotation at our house - extra yummy!
Spicy Peanut Tofu Noodle Bowl - tofu whisperer - turns everyone into a tofu lover!
Did you make this recipe? I'd love to see it!
Please leave a star rating and comment at the bottom of the page.
Thank you so much for sharing! Tag me on Instagram 
For more Vegan Recipes: Sign up for my email NEWSLETTER!
Simple Vegan Rice Bowl
Quick and easy, vegan rice bowl made with any green, grain, and bean, some fresh veggies to add crunchiness and freshness and top it off with a luscious creamy sauce. Perfect for everyday vegan dinners.
Rate this recipe!
INGREDIENTS
1-2

cups

rice, cooked

1-2

cups

beans, any variety

1-2

cups

leafy greens

1-2

cups

roasted veggies (optional)

1

cup

salsa

1

cup

cherry tomato halves or pico de gallo

1-2

avocados, halved and pit removed

½

cup

hummus

garnishes

½

cup

tahini drizzle or cashew cream sauce
INSTRUCTIONS
Top with a sprinkle of nuts, seeds or sprouts.
NOTES
Green - leafy greens, broccoli, kale, etc - choose a variety of greens - all have different flavors and nutrient profiles. Bean - any bean from black or red to chickpeas (baked or raw). Great source of nutrients, protein and fiber. Grain - rice (white, brown, cauliflower), gluten-free or low carb - lots of choices from a 5 minute grain like couscous to a whole grain like brown rice. Try lentils, millet, farro, bulgur or quinoa for example. Packed with nutrients. Extras - something fresh like tomatoes, something tangy like pickled onions, something creamy like sauce or hummus. Batch Cooking - great for meal prepping - store everything in their own containers and enjoy all week.
This recipe is from simplyceecee.co food blog. All images and content are copyright protected. Please do not use my images or republish this recipe without prior permission. Thank you.