This spicy cauliflower burger is super succulent and saucy. The roasted cauliflower is melt-in-your-mouth tender with crispy edges; there's a spicy kick from harissa and tangy crunch from vegan tzatziki and slaw. To say this combo is drool worthy is an understatement!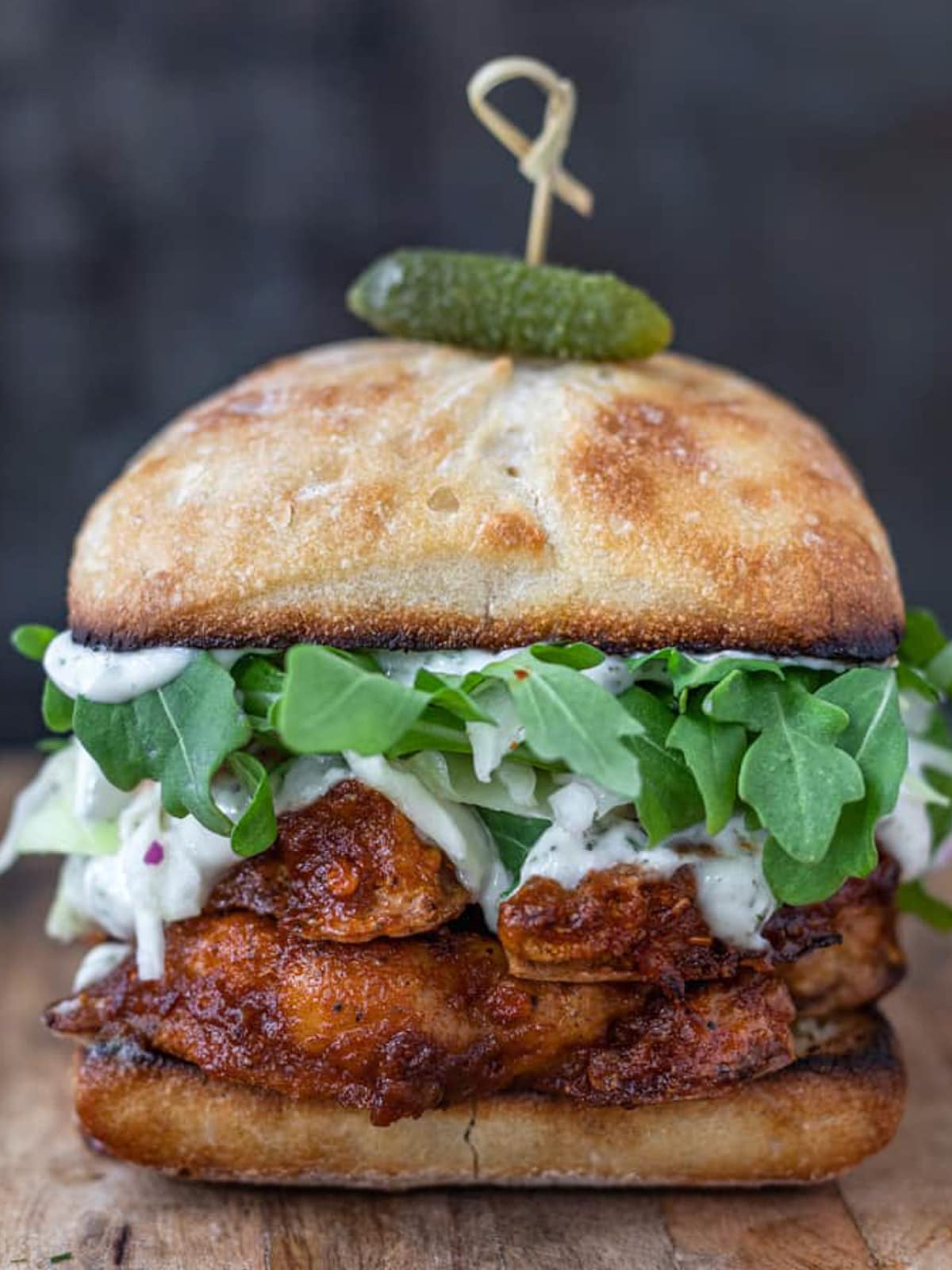 Sometimes I crave a big, toothsome burger that's loaded with toppings and explodes with flavor when I bite into it. That's what I had in mind when I created this decadent cauliflower burger recipe.
The cauliflower pieces are battered then baked until the centers are creamy, tender, and slightly sweet. Then they are brushed with a thick layer of rich, spicy harissa sauce and baked again until the sauce bubbles up and gets crispy along the edges. The addition of vegan tzatziki wakes everything up, tangy slaw adds tons of crunch, and everything comes together sandwiched in a crusty bun.
Let's get into the details.
Spicy Cauliflower Burger Ingredients
This cauliflower burger is easy to make with basic pantry and fridge items. You'll need 2 sets of ingredients to make the cauliflower steaks/floret clusters.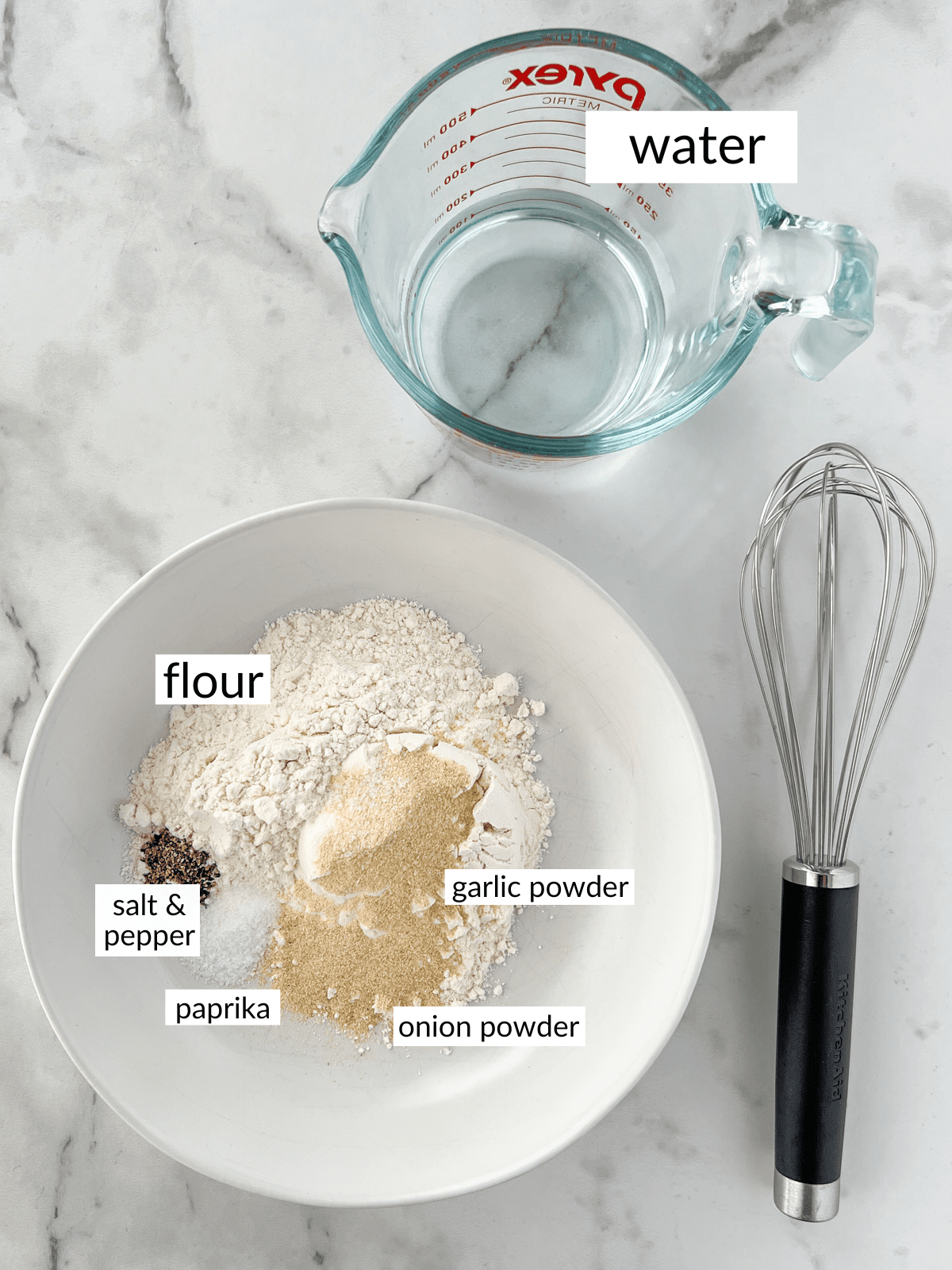 For the batter: cauliflower, flour, garlic and onion powder, salt, pepper, paprika, water
For the harissa sauce: Vegenaise, harissa (a North African chilli pepper spice)
Slaw: A zingy slaw to cut through the richness and spiciness of the harissa sauce. Shredded cabbage, cilantro, Vegenaise, vinegar, s&p, maple syrup
Bun and optional toppings of choice!
Ingredient Substitutions and Options
This cauli burger is versatile and easy to customize. Play with flavor and toppings to satisfy whatever you're craving. Here's a few ideas:
Burger sauce: I used tzatziki as a condiment in this recipe; but Vegenaise, vegan Ranch or Blue Cheese Dressing (we like Follow Your Heart brand) are delicious store bought options.
Play with spices: I like the heat from harissa paired with tangy tzatziki. If you don't like (or can't find harissa), sub in another flavor. Just be sure to use powdered spice and not a liquid version of like sriracha as it will thin out the mayonnaise. The mayo needs to be thick for slathering.
Optional topping ingredients: add a few or all the burger toppings including vegan slaw (or shredded cabbage), leafy greens, tomato slices, red onion slices, gherkin or sweet pickles.
Choose your favorite bun: We like a crusty roll, kaiser and ciabatta, but a cheese bun pretzel bun or brioche bun would also be delicious. If you like to bake, try these chewy hamburger buns.
How to Make
Although there are a few components to prepare, everything is super easy and can even be made ahead. Let's get started:
Preheat the oven: Be sure to preheat the oven so it's HOT when the cauliflower goes in. Place the oven rack in the middle position.
Cauliflower: Cut and trim into small steaks (cutlets). Pat dry.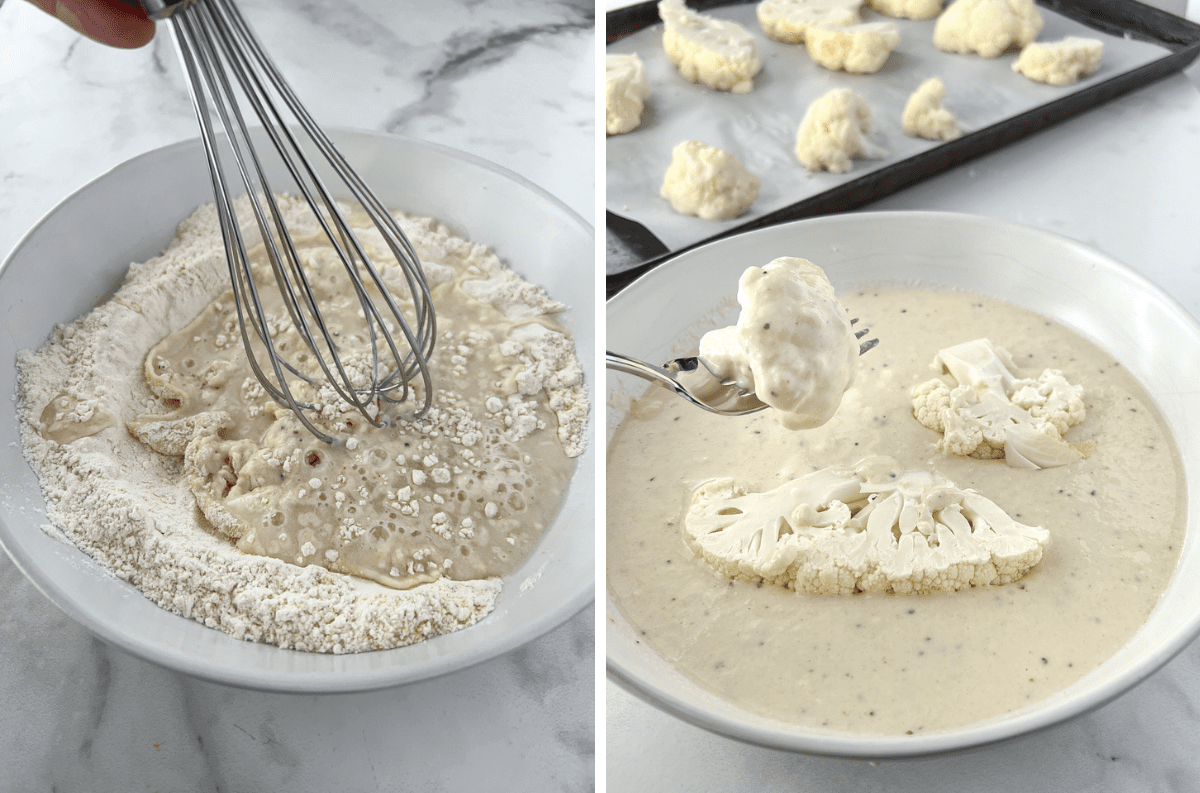 Cauliflower batter: Whisk batter ingredients together until pancake batter consistency (like paper mache paste). Can sub gluten-free flour!
Coat the cauliflower pieces: Dip the cauliflower pieces in the batter. Use a brush or your hands to be sure all the surfaces are coated. Place on a parchment-lined baking sheet in a single layer with room around each piece.
Harissa sauce: While the cauliflower cooks, whisk together the harissa sauce, make the slaw, tzatziki sauce, and prepare any optional toppings.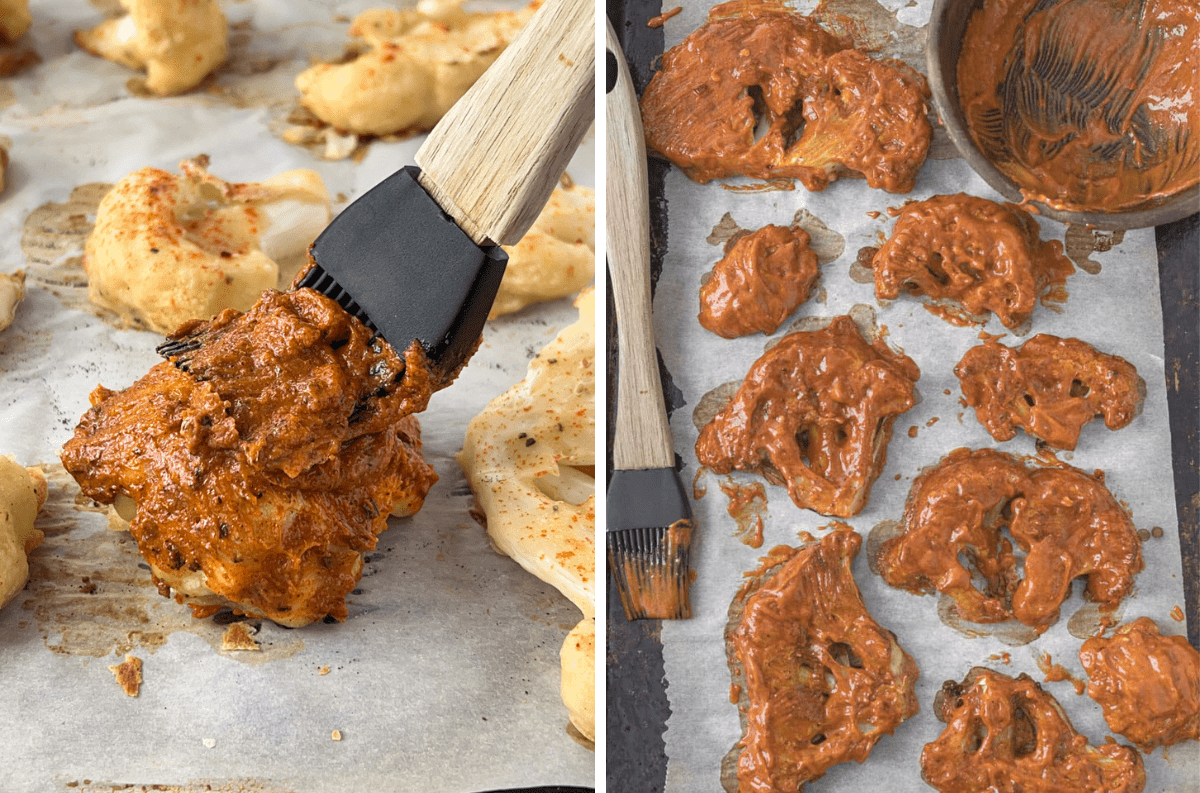 Bake: Roast the cauliflower until crispy around the edges (~20-25 minutes - longer for larger steak slices). Remove from the oven and brush on a thick layer of spicy harissa sauce. Return to the oven for 5-7 minutes until the top is bubbly and caramelized.
To serve: Toast the buns, slather with sauce, layer on the cauliflower and pile on the toppings. Enjoy!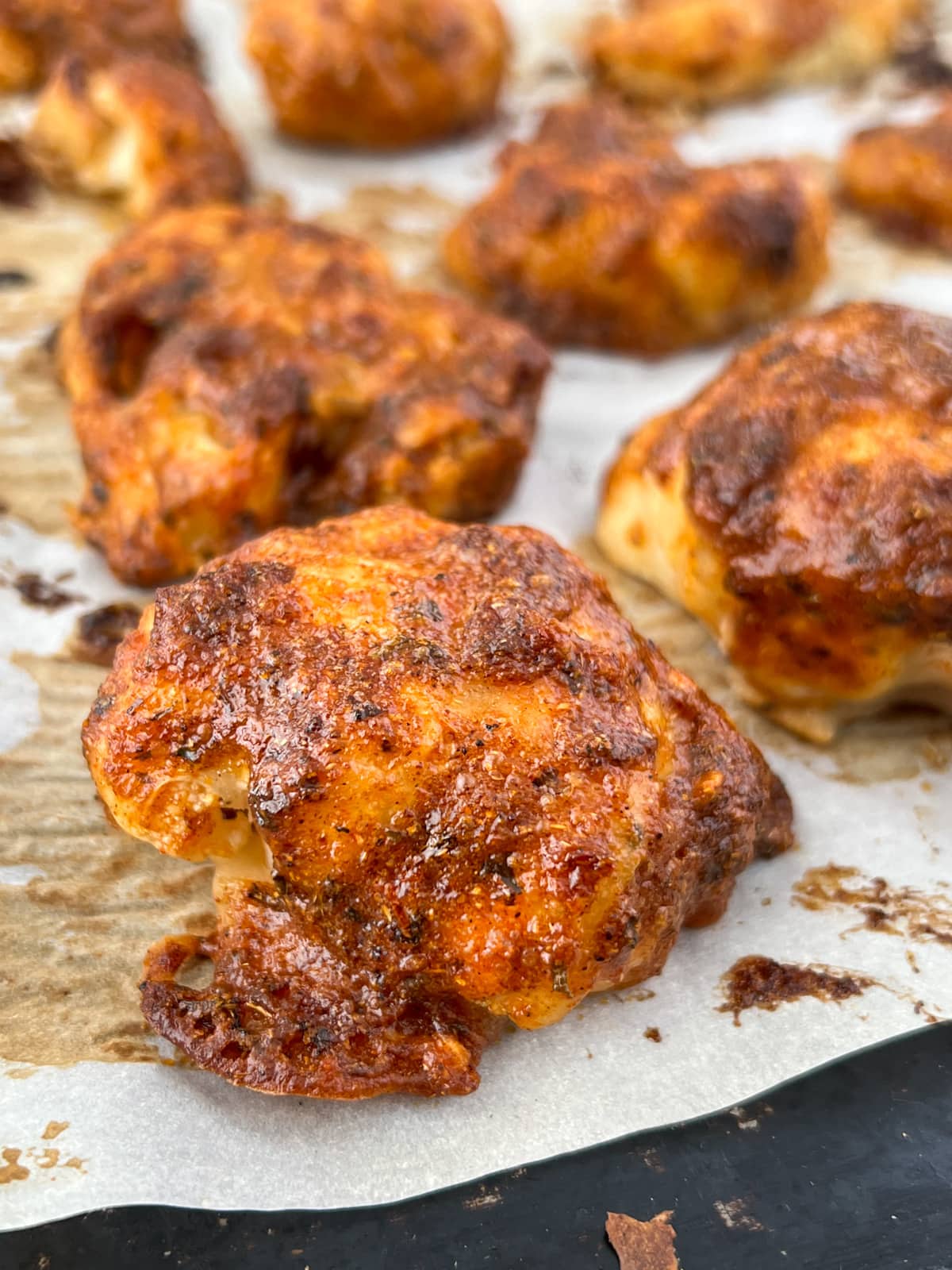 Expert Tips
Flipping the cauliflower: Flipping the cauliflower pieces for the last 5-7 minutes ensures an even bake on the crust. But they are still crispy and delicious if you don't.
Cooking time: a few things will impact how long to cook the cauliflower burgers. How hot your oven is, how thick/large the cauliflower pieces are cut, the type of pan you use.
Make cauliflower wings: Use any smaller florets (wing size) to make the perfect spicy cauliflower wings. Delicious served as an appetizer or on game day with your favorite dipping sauce.
How to cut cauliflower steaks and florets: Trim the cauliflower leaves and stem as needed. For cauliflower steaks: cut though the middle with a large, sharp knife so the florets stay attached to the core. Cut a steak from each side ~1" thick (you can usually get 2-3 steaks per medium-large cauliflower). Slice or break off the floret clusters and trim them to the thickness and size you want.
Million Dollar Tip: Save all pieces of stem, leaves, and small florets to add to soups, stews and more! If you won't use them right away, they freeze beautifully and can be used without thawing first.
Make ahead: I urge you to make extra harissa sauce as it's so delicious on everything from roasted veggies to sandwiches, pizzas, and tacos. The tzatziki can be made several days in advance and stored in the fridge in a jar.
Storage & Reheating
Roasted cauliflower steaks are best served immediately; however, if you have some leftover (lucky you!), store them in the fridge for up to 4 days to use in Buddha bowls, on pizza or in a vegan taco. I love getting two meals from one!
Reheat the cauliflower pieces in a toaster oven or air fryer.
More Cauliflower Recipes to Try!
If you like cauliflower, here's a few recipes to try next:
Did you make this recipe? I'd love to see it!
Tag me on Instagram and please leave a comment and rating below.
NEVER MISS A RECIPE: Join our Sunday morning NEWSLETTER!
Succulent Cauliflower Burger (saucy + spicy)
This spicy cauliflower burger recipe is second to none! Made with cauliflower clusters slathered in creamy, spicy harissa mayo baked to tender, crispy perfection. Topped with crunchy slaw and tangy vegan tzatziki sauce, they're THE BEST veggie burger ever! The whole family agrees.
Rate this recipe!
INGREDIENTS
Cauliflower
1

whole

cauliflower, cut into clusters
Spicy Cauliflower Batter
½

cup

AP flour (sub gf flour)

½

teaspoon

onion powder

1

teaspoon

garlic powder

1

teaspooon

paprika

S&P to taste

¾

cup

water (more as needed for thinning)
Harissa Sauce
6

tablespoons

Vegenaise (vegan mayo)

1 ½ - 2

tablespoons

harissa spice blend
Simple Slaw
3

cups

shredded cabbage or slaw mix

½

cup

cilantro, chopped

2

tablespoons

Vegenaise

1

tablespoon

white vinegar

½

teaspoon

maple syrup

salt and pepper to taste
Optional Toppings
2-4

tomato slices, thick

2-4

red onion slices, thick

leafy greens (lettuce, spinach, arugula)

4

gherkin or sweet pickles

4

buns (ciabatta, kaiser, pretzel)
INSTRUCTIONS
Preheat oven to 425º F.  Prepare a baking sheet with parchment.
Cauliflower Prep
Cut the cauliflower head into ½" slices or medium size floret clusters (see photos).

You will get some smaller pieces/nuggets as well which are perfect for sliders and cauliflower wings.
Cauliflower Batter
Add all dry ingredients to a medium bowl and whisk together. Stir in ½ cup of the water until incorporated - add the remaining water as needed to achieve a pancake batter (paper mache) consistency.

Dip the cauliflower pieces into the batter. Use a pastry brush or your hands to make sure the batter gets into all the crevices and pockets of the cauliflower slices.

Place each piece on a parchment-lined baking sheet in a single layer with space between (see photo). Bake in a preheated for ~20-25 minutes. Flip the pieces after 15 minutes.

If your cauliflower pieces are larger/thicker, increase the cooking time. Test with a fork for tenderness - should be tender but firm (not mushy). Up to 40 minutes for the larger steaks.
Make the Harissa Sauce
Whisk the harissa spice and mayo together in a small bowl - it will be thick. Add more spice to your taste.

When the cauliflower has cooked for ~25 minutes, remove it from the oven and brush the harissa sauce very generously on the tops and edges of each cauliflower piece.

Bake for another 5-7 minutes until the harissa sauce is bubbly and caramelizing. *Any small pieces/nuggets will be ready sooner.
While the cauliflower is roasting, make the tzatziki sauce or use store-bought vegan mayo, vegan ranch dressing or blue cheese sauce.
Quick and Easy Slaw
In a medium bowl, whisk the dressing ingredients together.

Add the cabbage and cilantro and toss until well coated.
To Serve
Cut the buns in half and toast them in the oven or on the grill. Buttered or plain.

Slather tzatziki sauce on the bun, layer on a few cauliflower cutlets then top with slaw, and any optional toppings.
NOTES
Cauliflower - I typically don't go for big steaks (which take much longer to cook). I prefer the cluster size (see photos).
Harissa Sauce - meant to be applied liberally so it bubbles up and is slightly caramelized on top of the cauliflower. This method creates the most delicious melt-in-your-mouth, saucy, tender cauliflower burgers!
Leftovers - leftover cutlets are amazing next day in Buddha bowls, vegan tacos, and on pizza! Warm up in toaster oven or air fryer!
This recipe is from simplyceecee.co food blog. All images and content are copyright protected. Please do not use my images or republish this recipe without prior permission. Thank you.