If you love tahini sauce like we do, you're going to go crazy for this gorgeous fresh, spicy, green tahini sauce recipe. It's earthy, tangy, slightly sweet, and it's packing some serious heat!
Luxuriously rich and creamy, this spicy tahini sauce is a delicious dairy-free recipe made with tahini, garlic, lime, jalapeno, cilantro, and salt. There are only a few steps to make this easy sauce, and it makes everything taste better from salads to falafels and vegan shawarma.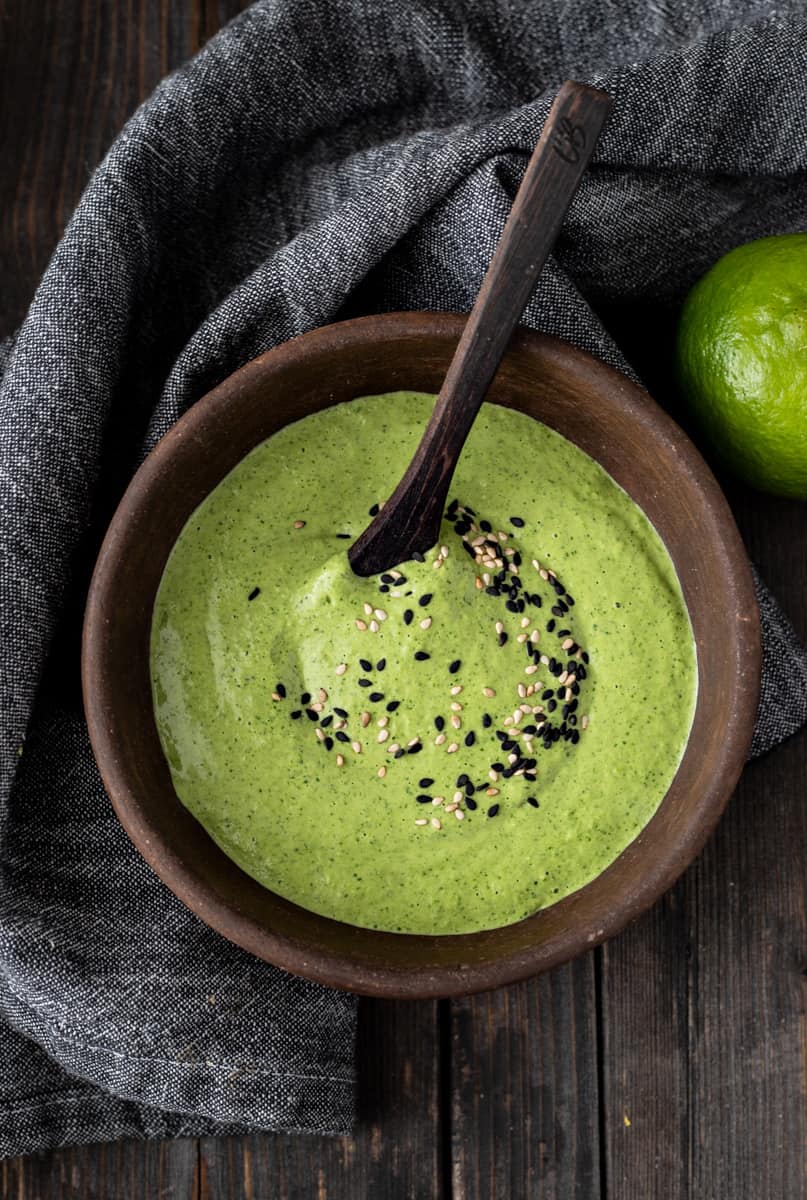 Our Favorite Dairy-free Tahini Sauce Recipes
We are a sauce loving family so tahini sauce / dressing is a favorite, healthy, versatile sauce that is a staple in my kitchen. Our tahini obsession started with the slightly addictive Sweet and Spicy Tahini Sauce (called red tahini sauce at our house), next up the more basic, Everyday Tahini Sauce (aka white tahini sauce), and now this coveted flavorful, green tahini sauce.
If you're looking for a bright and creamy, herbaceous tahini sauce recipe that's dairy-free, oil-free, gluten-free, and vegan, keep reading! Super versatile and flavourful, this nourishing tahini sauce is easy to throw together when you need a delicious sauce, dressing, drizzle or dip.
Ingredients for Dairy-free Green Tahini Sauce
Let's talk about flavour! This creamy green tahini sauce is bursting with the wonderful flavour combination of jalapeno, lime, and cilantro. Its perfectly balanced profile hits all the right notes - herby, garlicky, salty and sour with just a hint of sweetness, and a generous hit of heat. It's simply irresistible!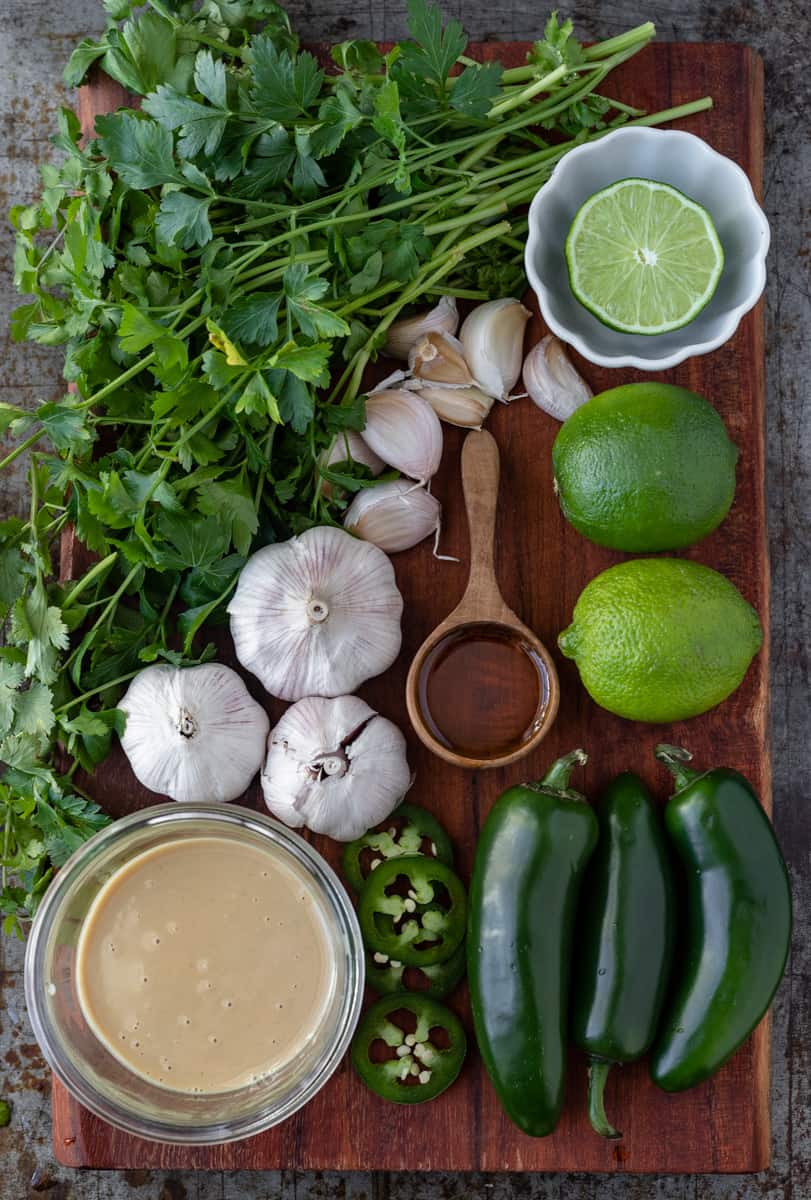 tahini - adds nutty flavour, slight bitterness, and lots of creaminess
garlic - adds pungency and flavor
lime juice - fresh is best!
cilantro - fresh, herbaceous flavour - so delicious paired with lime
jalapeño - spicy heat (see ingredient highlight below)
maple syrup - just a hint of sweetness for perfect flavor balance
salt - elevates and enhances the flavors
water - for sauce viscosity (sauce, dip, drizzle, dressing)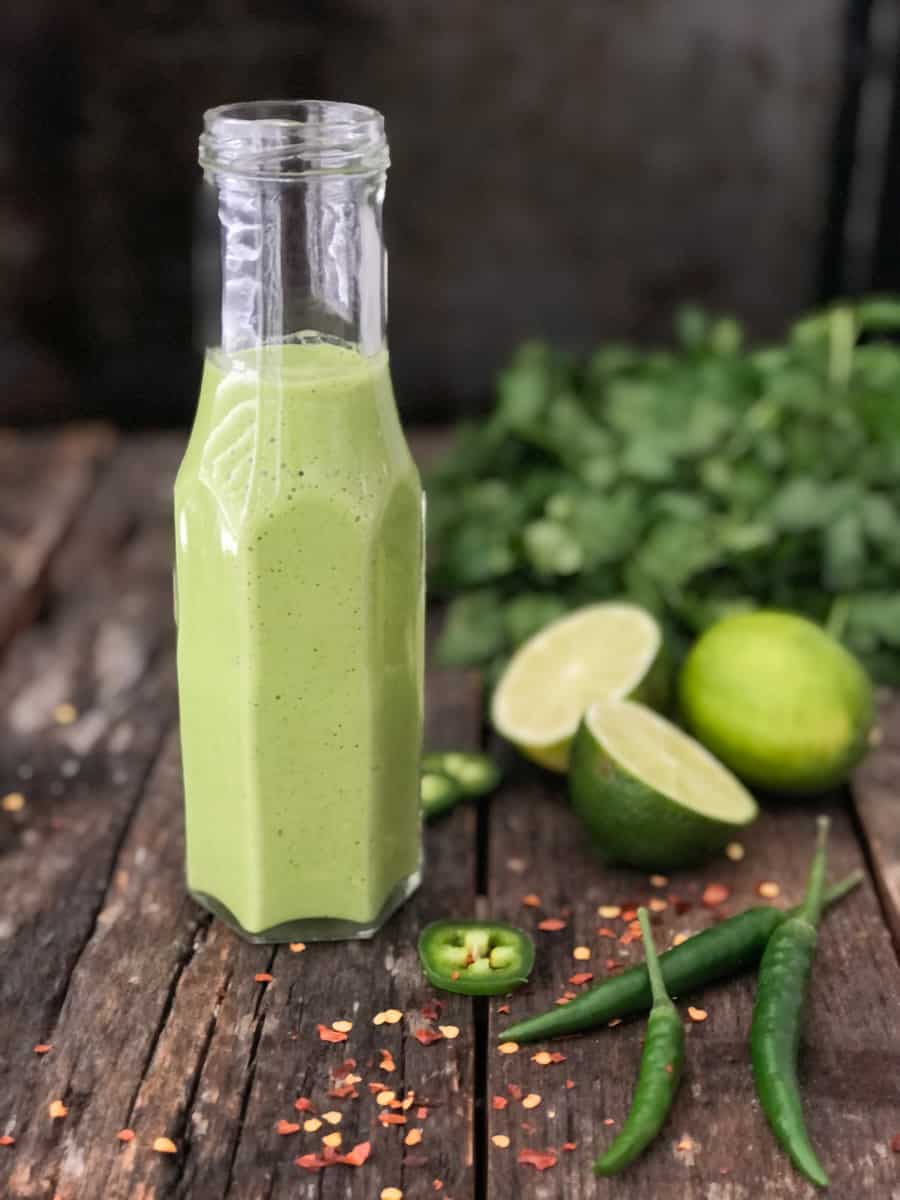 Ingredient Highlight - Jalapeño Chili Peppers
Jalapeños add a good amount of heat but without overpowering the spiciness of a recipe. On the Scoville Heat Scale which measures the amount of capsaicin in a chili pepper (the more capsaicin, the more heat), the jalapeño pepper measures 2,500–8,000. They have a similar heat rating as fresno peppers (2,500–10,000), but are a lot more spice than the milder poblano pepper (1,000–1,500 SHU) and bell peppers (0 SHU).
*FYI: the ghost pepper is 850,000 - 1,000,000 ai-yai-yai!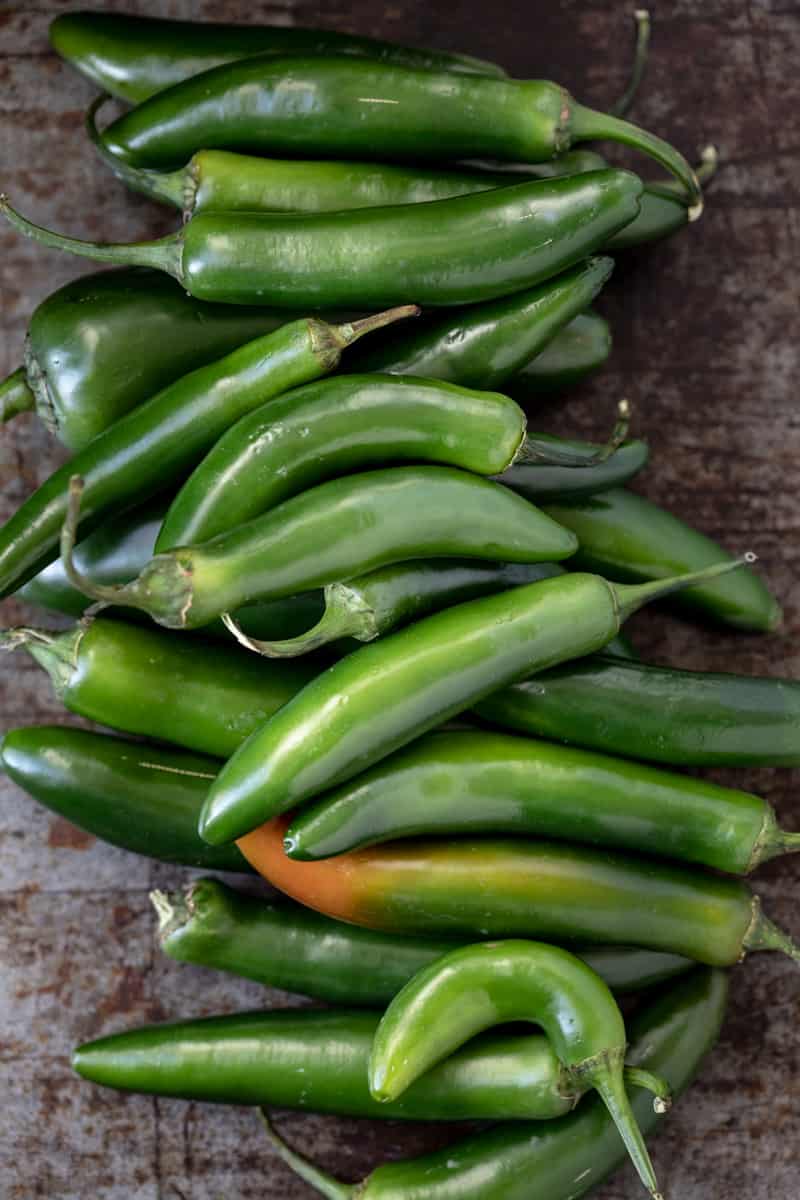 Green jalepeño peppers are picked before they are fully ripe (and therefore have a lower heat index). Fully ripe (and spicy!) jalapeños are red. However, not all green jalapeño peppers are created equally! The heat level of green jalapeños can vary which apparently is dependent on the growing conditions and when they are harvested.
Although the fruit itself is spicy, the seeds and ribs carry a good amount of heat as well. So be careful cutting the peppers by wearing gloves or using a cloth to protect your hands. Be sure to wash your hands, the cutting board, and knife after preparing the peppers. Discard any stray seeds.
More Uses for Spicy Green Tahini Sauce
I love how the fresh, slightly bitter flavour of spicy green tahini pairs with the warm sweetness of roasted cauliflower and crunchy spicy chickpeas. Add juicy tomatoes, briny olives, and pickled onions; and I could eat that combo all day long stuffed in a warm pita bread. Or serve it in a Buddha bowl over fresh greens liberally drizzled with the green tahini sauce. Here are a few more of our favorites: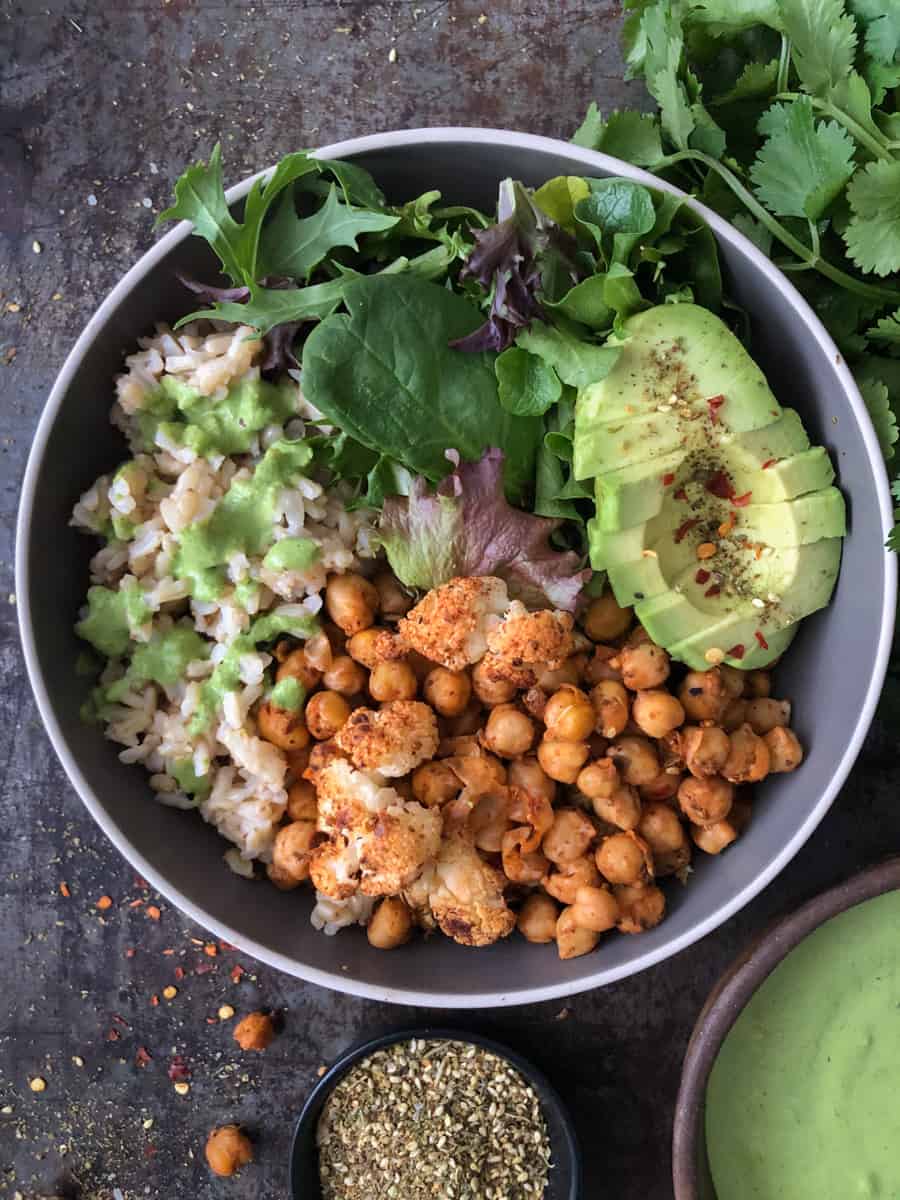 Storing Tahini Paste and Tahini Sauce
Tahini paste typically is sold in large tubs. Because it's made of sesame seeds that are ground into a paste, it settles - the solids and liquids separate just like natural peanut butter does. When you open a fresh tub, you'll need to give it a stir until it comes back together.
Once the tahini paste has been opened, store it in the fridge.
Tahini Sauce can be stored in the fridge in a jar. Since this one has fresh herbs, it's best to use up the sauce within 4 or 5 days.
Because it is so versatile, this tahini sauce is fabulous for meal prep! We love it on rice bowls, baked sheet pan veggies, burgers, and sweet potato fries.
Did you make my vegan Spicy Green Tahini Sauce recipe? 
I'd love to see it! Please leave a comment below and tag me
on IG @ceeceecooks if you took any photos!
NEVER MISS A RECIPE: Sign up for my email NEWSLETTER!
Spicy Green Tahini Sauce (vegan)
Spicy green tahini sauce (oil-free and vegan) is fresh, garlicky, slightly sweet with a strong hit of jalapeño heat. This tahini sauce is super delicious, healthy, and versatile - use it as a dip, dressing or sauce!
Rate this recipe!
INGREDIENTS
½

cup

tahini paste

1

clove

garlic

1

small

jalapeno pepper

1

lime, juiced (more or less to taste)

2-3

teaspoons

maple syrup

6-8

tablespoons

warm water

½

teaspoon

salt, coarse ground (more or less to taste)

1

bunch

cilantro, rough chop
INSTRUCTIONS
Place everything into the blender. Blend until smooth.

Jalapenos - to control the heat index, start with a small pepper and add more as per desired spiciness. The seeds and veins increase heat, so remove some of them if you want to temper the heat.

Add more water as needed until desired consistency is met.

Taste and adjust seasoning to your preference.
NOTES
Tahini paste - find tahini paste in the peanut butter aisle, health food aisle or International aisle at most grocery stores (or buy it online).
Jalapeno peppers - be sure to handle with care and wash hands and boards after to prevent burning skin or eyes.
Discard seeds and veins if you want a lower heat profile.
Lime Juice - depending on how juicy your lime is, you may want to add more or less to taste.
Consistency - add the water a couple tablespoonsful at a time to ensure that you achieve the correct consistency - dip, sauce, drizzle, dressing, pourability!
Storage - store in the fridge in a jar for 4 or 5 days. May need to add a teaspoonful of water to thin out after storing in the fridge.
This recipe is from simplyceecee.co food blog. All images and content are copyright protected. Please do not use my images or republish this recipe without prior permission. Thank you.