Spicy mayo is my all time favorite condiment to liven up vegan sushi, vegan fish tacos, and more! Only 3 ingredients and ready in under 5 minutes, you don't want to skip this popular spicy sushi sauce at your next sushi night!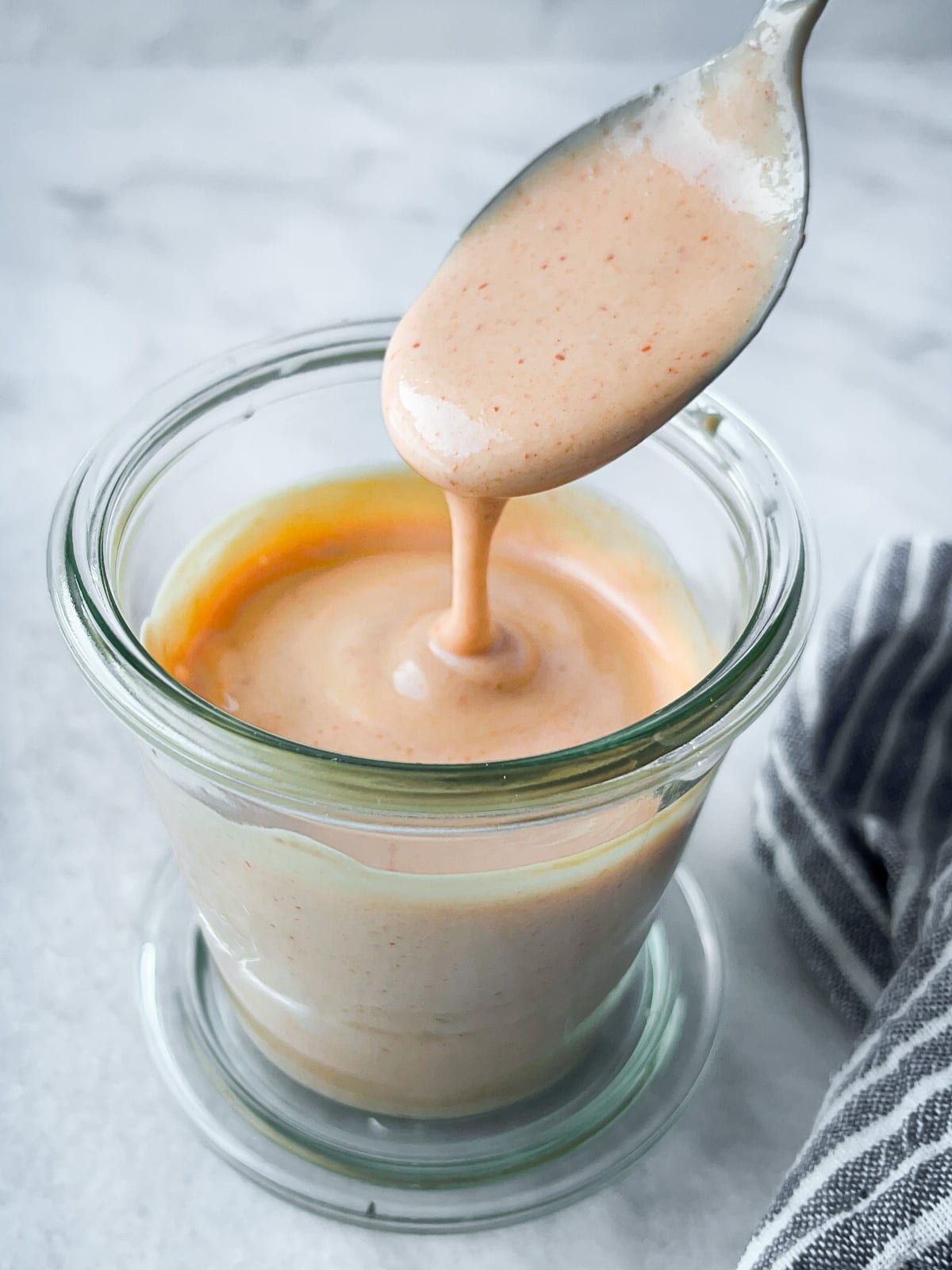 If you're looking for a next-level, spicy mayo sauce (vegan version) that's super quick to make and adds a flavor burst to everything it touches, this is it! Just like my sweet and spicy tahini and my spicy peanut sauce, this sriracha mayo transforms leftovers into something extra special.
Ingredients (w/ substitutions & variations)
You'll need only 3 ingredients for this spicy sushi sauce recipe as written, but have fun with some of the variations below to suit your taste: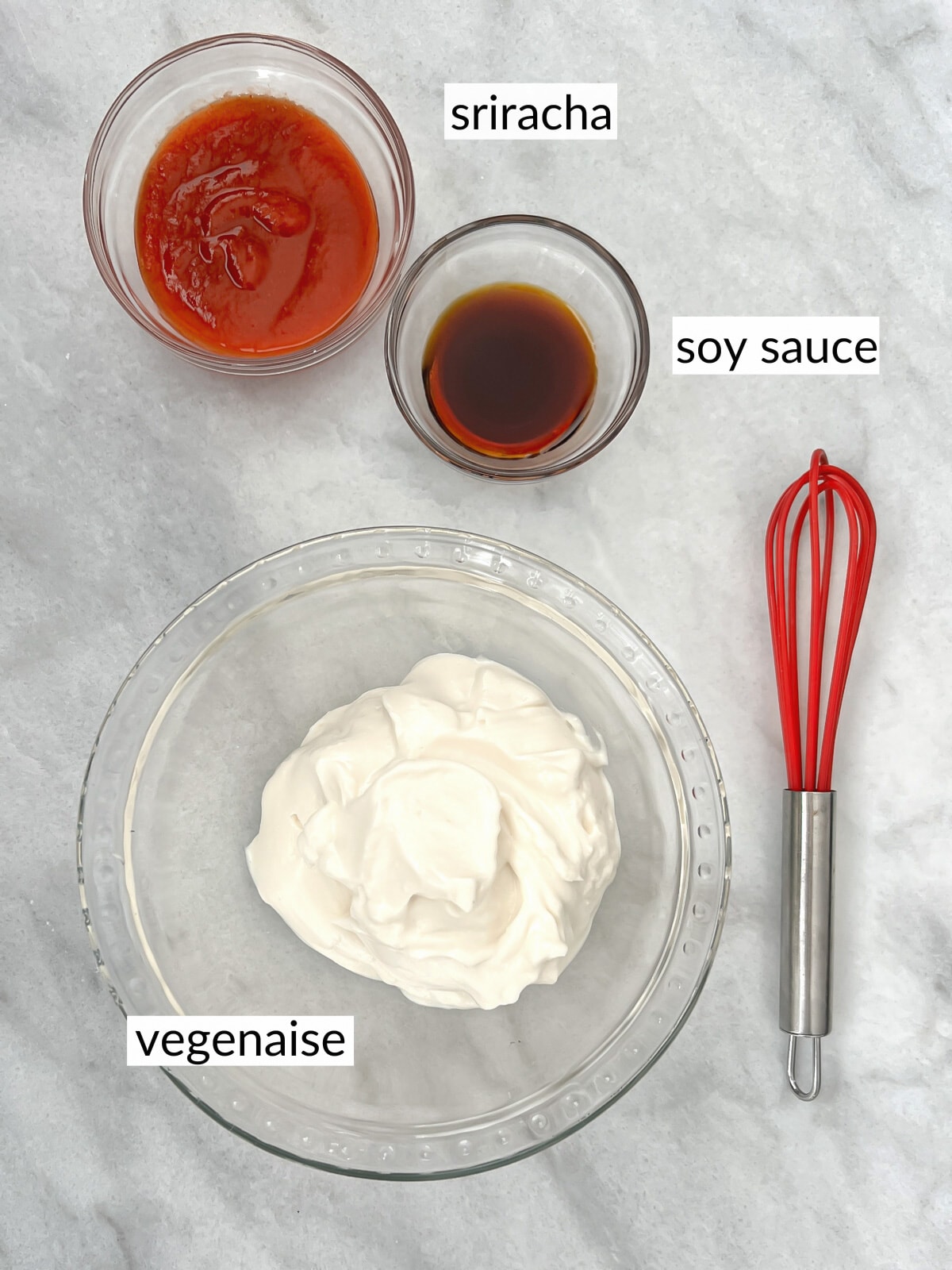 Mayonnaise: Use the best tasting, good quality, rich mayonnaise as it forms the base of this sauce. Note: The original condiment popular in sushi restaurants is typically made with Japanese kewpie mayonnaise which is tangier, slightly sweeter, and richer made with egg yolks. I use Vegenaise which is great sub for vegans, vegetarians, and those with egg allergies.
Sriracha hot sauce: Sriracha is traditional in spicy mayo, it's the perfect balance of heat, slightly sweet and a kiss of garlic. You could sub in another hot sauce in a pinch.
Soy sauce: or tamari (gluten free). I add just a whisper of soy sauce to bring savory umami depth.
Sauce variations: Once you've tried the recipe as written, feel free to switch up the ingredient ratios making it spicier or slightly sweeter. Add fresh garlic, a few drops of toasted sesame oil or a splash of fresh lime juice if you like.
How do You Make Spicy Sushi Sauce?
I'm obsessed with the spicy sriracha mayo at sushi restaurants, and luckily it's easy to make at home! Here's how:
Place everything into a bowl and whisk until smooth and creamy.
Taste and adjust to your preference.
Cover and store in a jar or air tight container for 10 days or more. The longer the sauce chills, the thicker it gets. Make it a day or two in advance for the best consistency for drizzling).
Pro Tip: If you're feeling fancy, put some sauce in a squeeze bottle to drizzle over sushi rolls (or bowls!).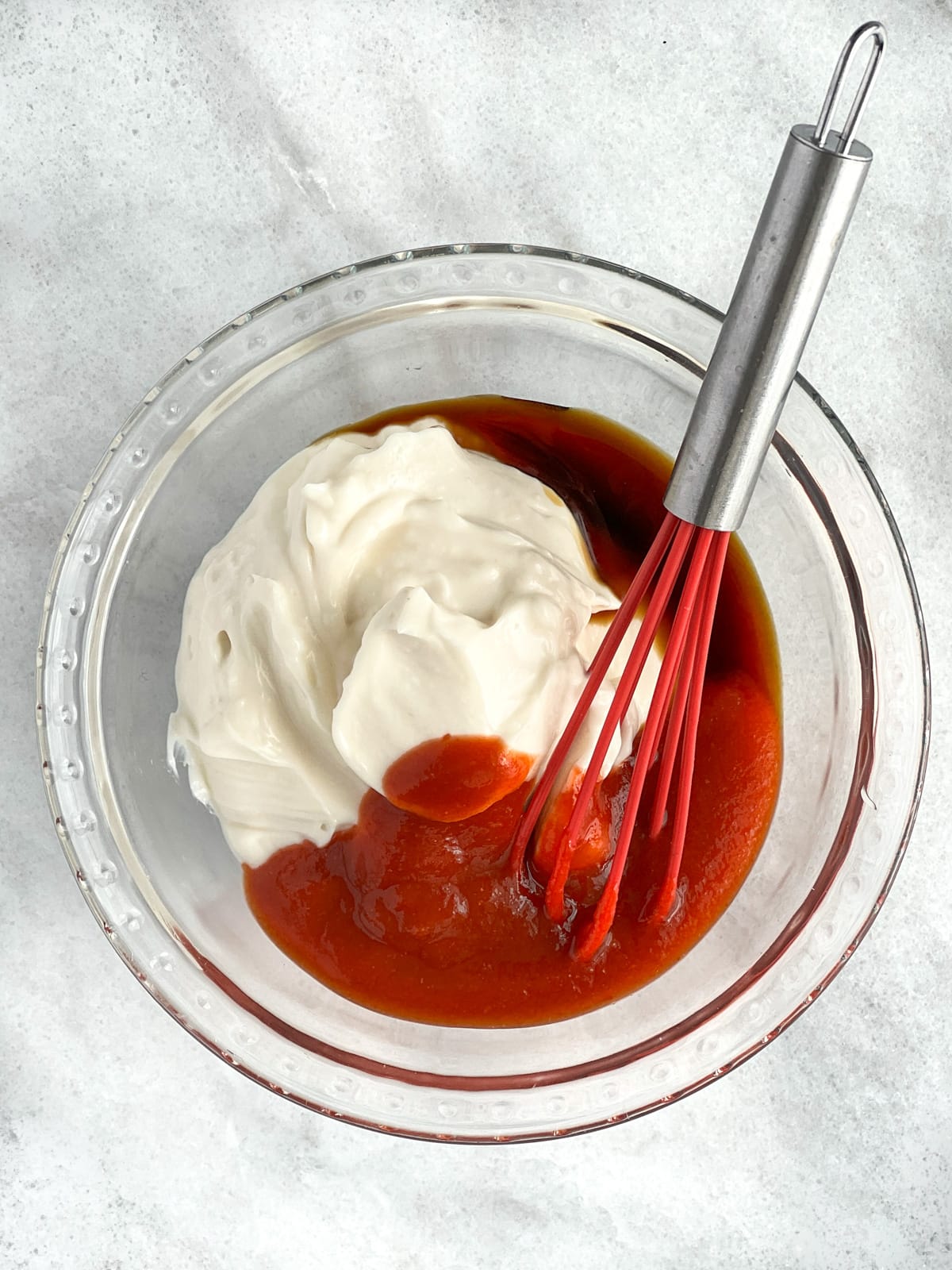 What to Serve Sriracha Mayo With
When we're making homemade vegan sushi or sushi bowls (no rolling required!), I always whip up a side of spicy mayo. Talk about an easy flavor boost - I can't get enough of it!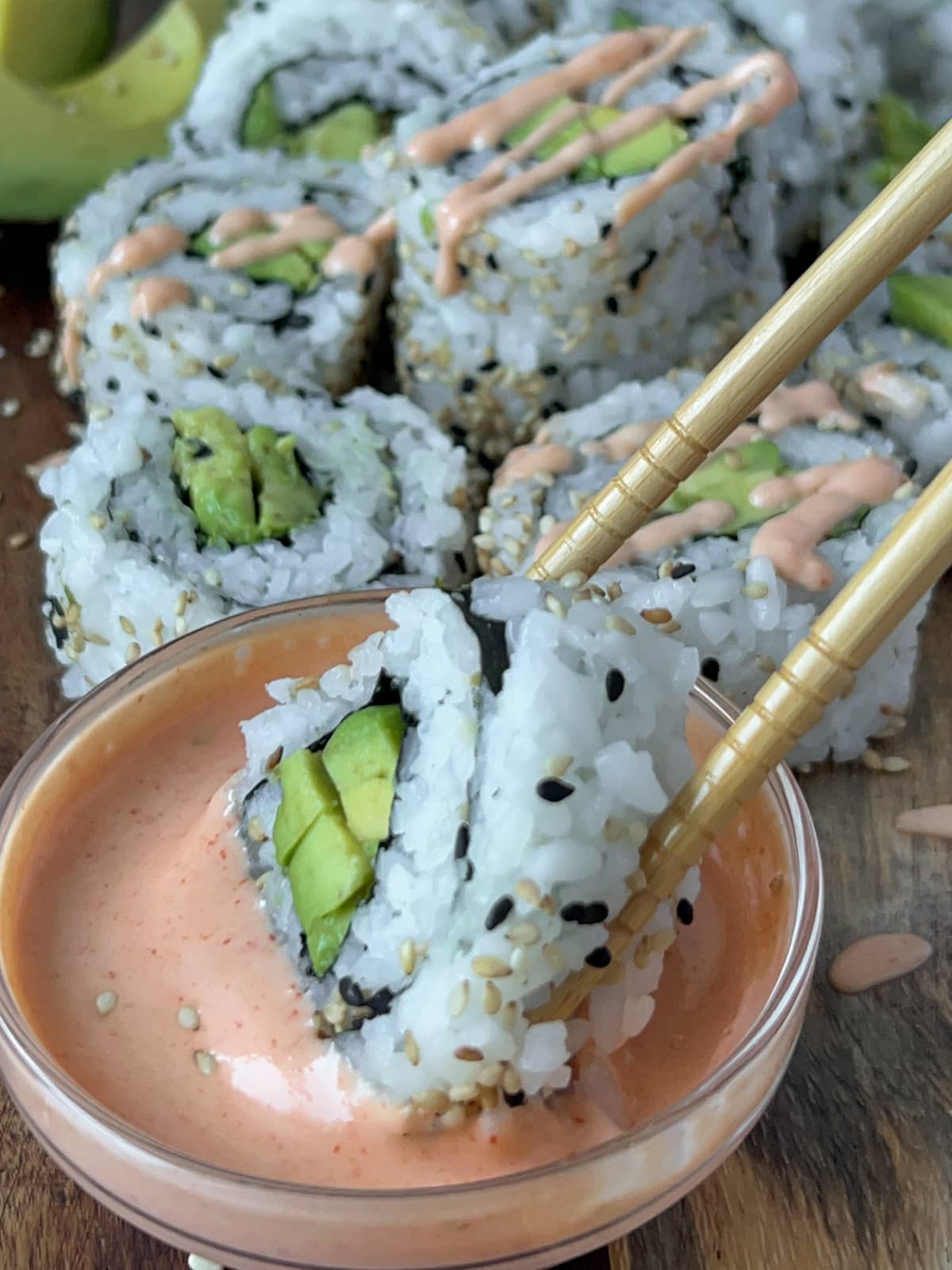 But there are plenty other uses: It's delicious slathered on cauliflower burgers or veggie sandwiches. Makes a tasty dipping sauce for crispy smashed potatoes, sweet potato fries or onion rings. And we love it drizzled over rice bowls, baked tofu or grilled veggies!
Toss leftover spicy mayo with shredded cabbage and a squeeze of vinegar for a quick and delicious vegan coleslaw to pile on tacos, burgers, and more.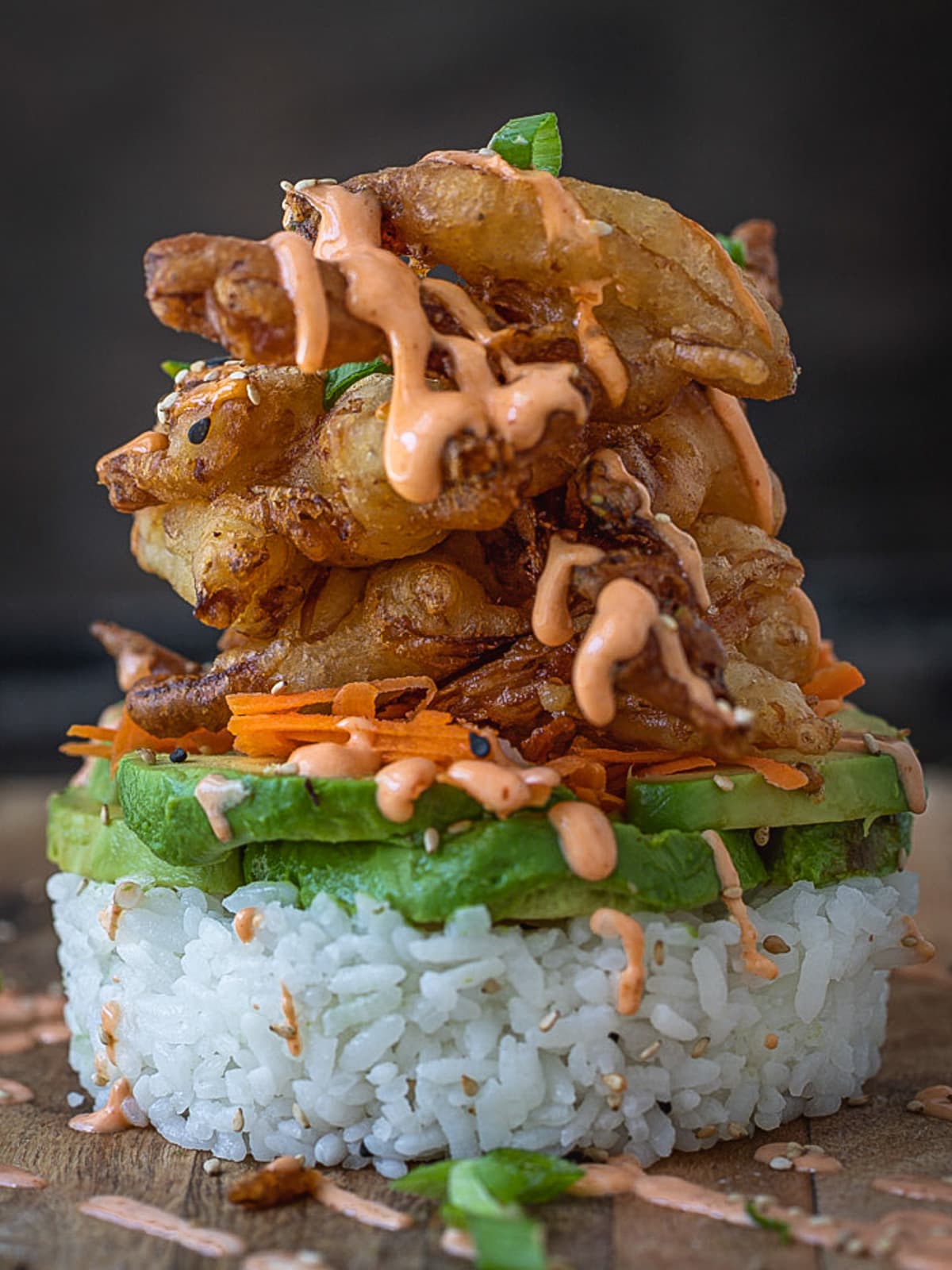 Best Vegan Sauces
If you love this spicy sriracha mayo, try one of these favorite sauce recipes next: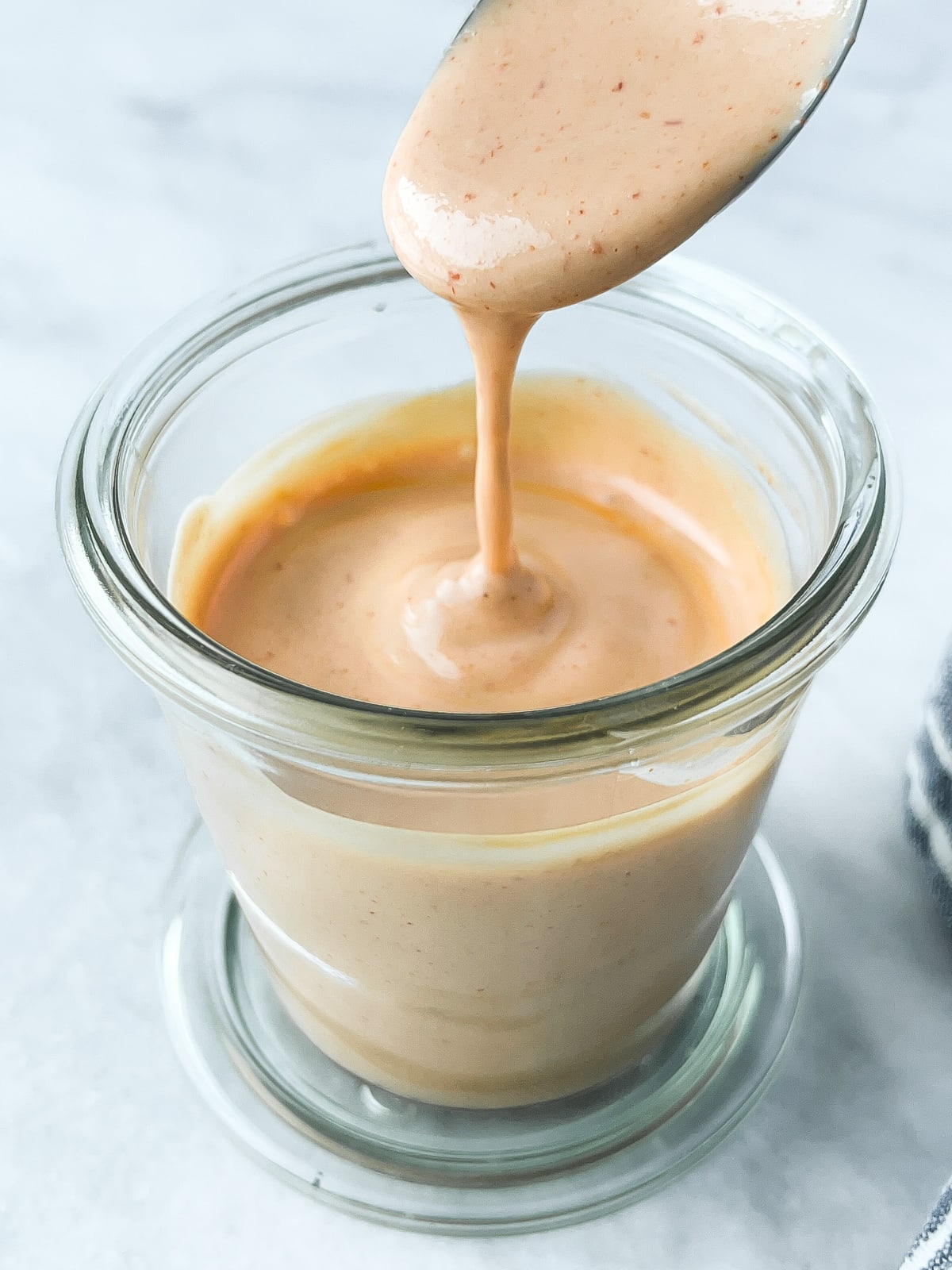 Storing
Spicy sriracha mayo sauce keeps well in a jar for 10 days in the fridge.
Did you make this recipe? I'd love to see it!
Please leave a review and ⭐️ rating below. Thank you so much for sharing!
Tag me on Instagram
NEVER MISS A RECIPE: Sign up for my email NEWSLETTER!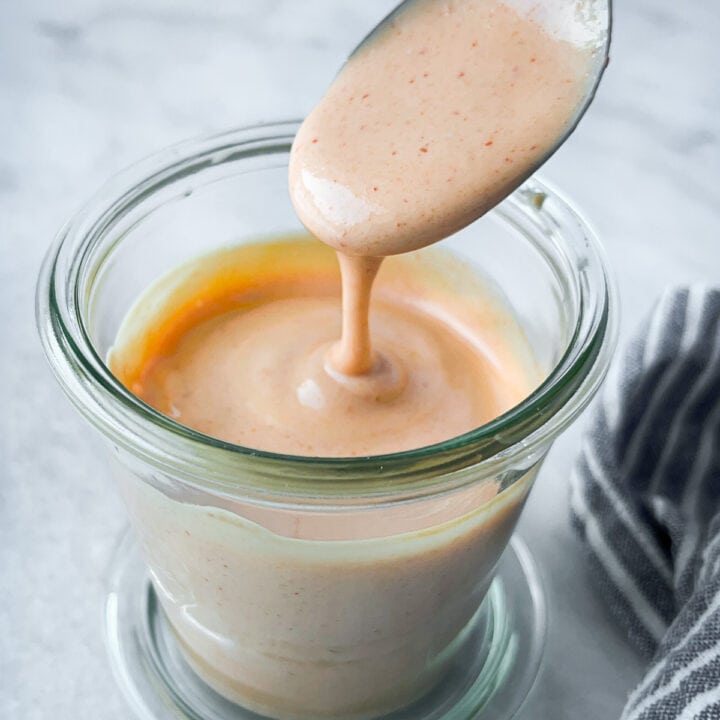 Spicy Mayo for Sushi (vegan)
I'm obsessed with this creamy, spicy mayo on my sushi (and so much more!). It's quick and easy to make this popular restaurant-style spicy mayo at home in just 5 minutes with 3 simple ingredients! Vegan/vegetarian, egg free, and gluten free version.
Rate this recipe!
INGREDIENTS
½

cup

mayonnaise (Vegenaise)

2-3

tablespoons

sriracha sauce

1

teaspoon

soy sauce (tamari)
INSTRUCTIONS
Place everything in a bowl, whisk until smooth.

Store leftovers in the fridge (covered) for a week - 10 days.
NOTES
Mayonnaise - of course I use vegan mayonnaise for this recipe (the sauce you find in sushi restaurants uses Japanese mayo which is made with egg yolks). I like Vegenaise but choose whichever vegan mayo is your favorite. Sriracha sauce - find it in the International aisle or condiment aisle in the grocery store or order it online. How spicy? - start with 1 tablespoon of sriracha and build the heat to your specific taste (we like 3 tablespoons). Note: the more sriracha you add, the thinner your sauce will be. Soy sauce - depending on the type and Brand of soy sauce (tamari), you may want to add another teaspoon (or more) of soy sauce. Storing Spicy Mayo - it keeps well in the fridge in a jar for 10 days.
This recipe is from simplyceecee.co food blog. All images and content are copyright protected. Please do not use my images or republish this recipe without prior permission. Thank you.