Forget takeout, you can dazzle your guests with this show-stopping spicy stacked sushi recipe at home. You'll be the talk of the party - trust me!
Vegan sushi is so delicious, versatile, and super healthy. These no roll sushi stacks are relatively simple to make, and you can layer them with all your favourite fillings! Sweet potato, avocado, cucumbers, and carrots are my favourite vegan fillings so that's what I used this time. I'm also a sushi sauce aficionado so I've included a couple of my spicy favourites here.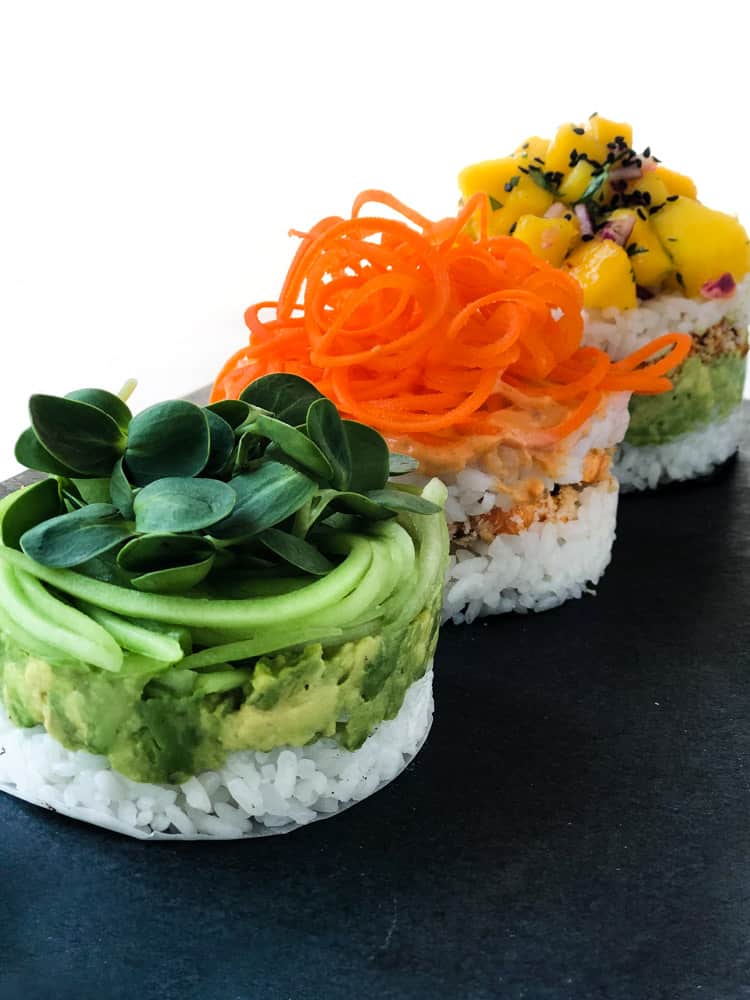 Hosting a sushi stacking party is loads of fun. Just make the rice ahead of time, set up a buffet bar in the middle of the table with all the fillings, seeds, and sauces then invite everyone to start stacking.
SIDE BAR: I set a place for each guest beforehand with a placemat, food ring (like this one), small finger tip bowl of warm water, a cloth napkin, some chopsticks and dipping dishes. Don't forget the Saki!!
Sushi Sauces
Drizzling and dipping sushi sauces are the best! You can find tons of ideas in my easy vegan sushi recipe and even more in my sushi bowl ideas post. In the meantime, here's a few to get you started.
classic combo: mix tamari and blob of wasabi (to taste)
super spicy: mix tamari, wasabi, sriracha & sesame seeds (to taste)
spicy mayo: mix vegenaise, sriracha, ¼ tsp tamari (to taste)
firecracker: mix ¼ cup tamari, 2 T sriracha, 1 T maple syrup, 1 tsp cracked black pepper, 1 clove garlic - minced, bit of freshly grated ginger root, sesame seeds
Kitchen Management
Start the rice by soaking for 15 minutes.
Preheat oven to 400º F.
Peel and slice sweet potatoes and place in oven. Mash or cube avocados, peel and julienne carrots and cucumbers (I use this amazing tool).
Put rice on to cook for 10 minutes.
Make sauces of choice. Cut nori circles.
Remove rice from heat and let sit for 15 minutes.
Make mango salsa (if using).
Start stacking.
More Vegan Sushi and Sushi Sauce Ideas
Easy Vegan Sushi Rolls - super popular and easy with 4 dipping sauces
Vegan Sushi Bowl Ideas - incredible, better than take out vegan sushi + sauces!
Spicy Tofu Noodle Bowl - this recipe will convert everyone to a tofu lover!
Did you make this recipe? I'd love to see it!
Please leave a star rating and comment at the bottom of the page.
Thank you so much for sharing! Tag me on Instagram 
For more Vegan Recipes: Sign up for my email NEWSLETTER!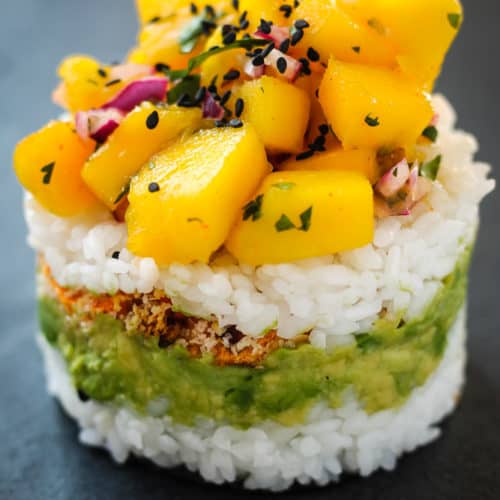 Spicy Stacked Sushi Recipe (vegan)
Easy, stunning stacked vegan sushi ideas. This recipe shows you how to stack your favorite sushi ingredients to impress your family and friends. Plus don't forget the drizzles and sauces!
Rate this recipe!
INGREDIENTS
1 ½

cups

sushi rice

water

2-4

tbsp

seasoned rice vinegar

1

medium sweet potato, sliced

squirt

lemon juice or vegetable broth

red pepper flakes, s&p

1

large

carrot, julienned

1

cucumber, peeled, deseeded & julienned

2

avocados, mashed or cubed

1

mango salsa recipe* (if using)

sprouts (optional)

2-3

nori sheets, cut into circles

pickled ginger, soy sauce, wasabi, sesame seeds

2-4

baking rings*
INSTRUCTIONS
Making Perfect Sushi Rice
Soak the rice for 15 minutes in cold water in a lidded saucepan. Drain and rinse.

Add 1 ½ cups of water to rice. Cover the pan, bring to a boil, then turn the heat down to the lowest setting. Cook for 10 minutes. Remove from heat.

Leave covered for another 15 minutes. Remove lid, add 2 – 4 tablespoons of rice vinegar and stir until the rice is completely cooled (I transfer mine to a large mixing bowl to stir and cool).

Cover with a damp cloth until ready to use.

PRO TIPS:   Keep the rice in the bowl/pan covered when not in use.

Keep a bowl of water for dipping finger tips while spreading the rice to prevent stickiness.

Keep a clean, folded kitchen towel next work space to keep hands, and surfaces clean and clear.
Preparing the Vegetables and Filling
Slice sweet potatoes to ¼" thick slices and place on prepared baking sheet. If oil free, brush with lemon juice, hot pepper flakes, and a pinch of salt. Or pour 1 tsp of oil into your hands and rub each piece until lightly coated, place on prepared baking sheet and cook as directed.

Place in oven for approximately 12 minutes, remove from oven and flip the pieces, then continue to cook for another 5-8 minutes until they are golden and medium soft (cooking time will be dependant on how thick your slice are and how hot your oven runs). Remove from oven and set aside.

Wash, peel, deseed, cut, chop, mash, and prepare other vegetables you are using as necessary.

Cut nori circles the same size as the stacking rings (allow 2-3 per person).
Sushi Dipping / Drizzling Sauce
Prepare dipping sauces (as above) or simply set out dishes of tamari/soy sauce, pickled ginger, wasabi, and sesame seeds.
How to Make a Sushi Stack
Place nori circle on plate and baking ring over top. (I used a 3" ring but you could use a 2" as well).

Add a layer of rice - gently pressing down to lightly pack.

Layer veggies, sauces, avocado, salsa, etc until desired height is reached.

Gently lift ring over the sushi stack.

Garnish with sprouts, a drizzle of sauce, pickled ginger, and a sprinkle of sesame seeds. Enjoy!
NOTES
Vegan sushi filling - prepare any of your favorite sushi fillings to stack on rice. Lots of ideas on my other vegan sushi posts. Rice - follow the method above for perfect sushi rice every time. Nori sheets - found in the International aisle of most large grocery stores or at your favorite local Asian market. Leftovers - store each ingredient separately in the fridge for 1 - 2 days without loss of flavor or texture. Sushi dipping sauces - make lots of sauces and combine a few for the most incredible foodie experience!
This recipe is from simplyceecee.co food blog. All images and content are copyright protected. Please do not use my images or republish this recipe without prior permission. Thank you.