Tofu yeah or nay? I think these tender chunks of tofu simmering in spicy BBQ sauce will convert and delight you. Scoop the spicy tofu and juicy sweet pineapple pieces with a crispy tortilla wedge for a crunchy flavour explosion. This vegan Buddha bowl is addictively delicious!
I'll admit it, I was a bit late to the tofu game. I'd been a vegetarian for eight years before I made my first tofu dish! But I've been playing around with tofu textures and flavours like these Simply Delicious Vegan Tacos or this incredible Tender Crisp Vegan Fish Tacos and now my tofu game is STRONG!
Three Easy Steps for Cooking Perfect Tofu
I know that tofu can be polarizing. Usually, the initial reaction is, dislike. In my experience, there are typically two types of tofu resisters: the ones who have never tried it (that was me) and the ones who have never had properly prepared tofu. It's easy to make tofu delicious with just a few easy steps.
Let's get started . . .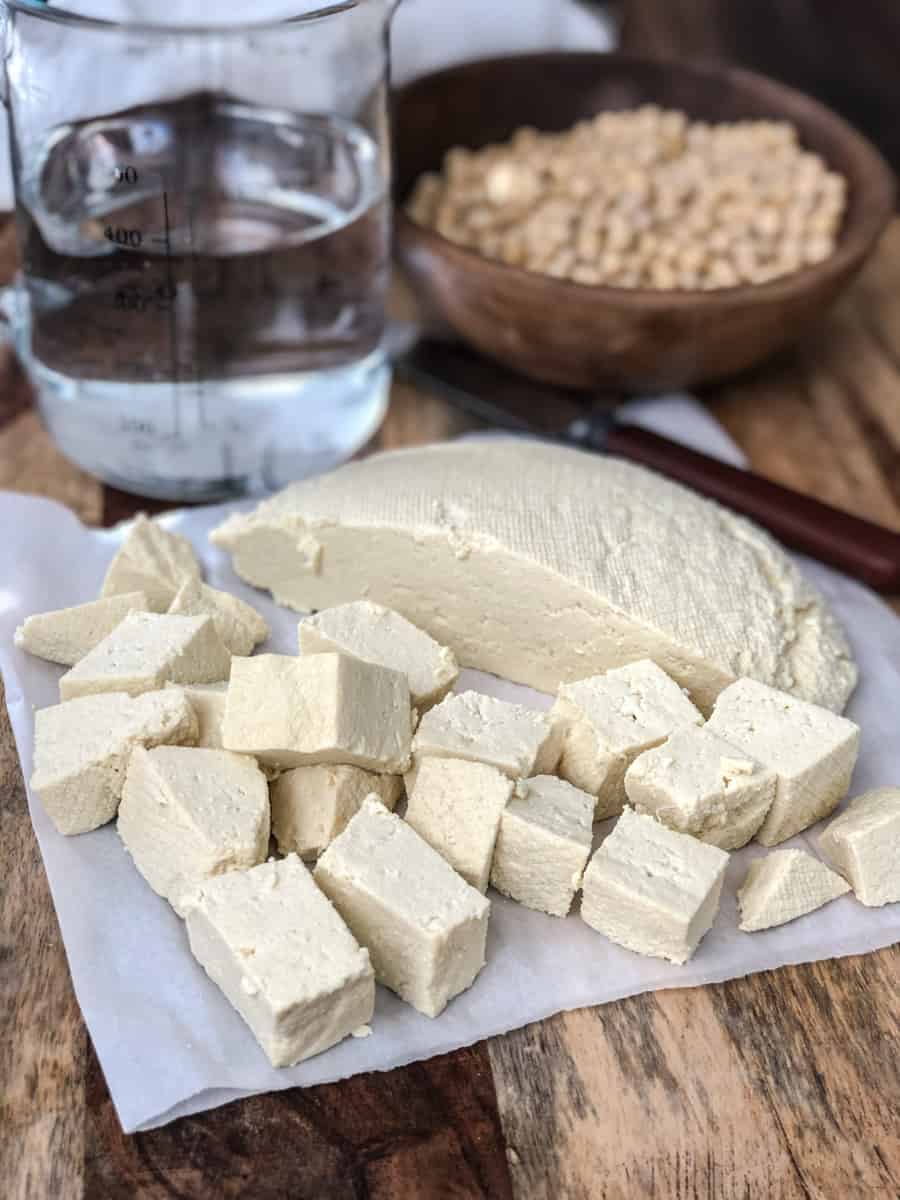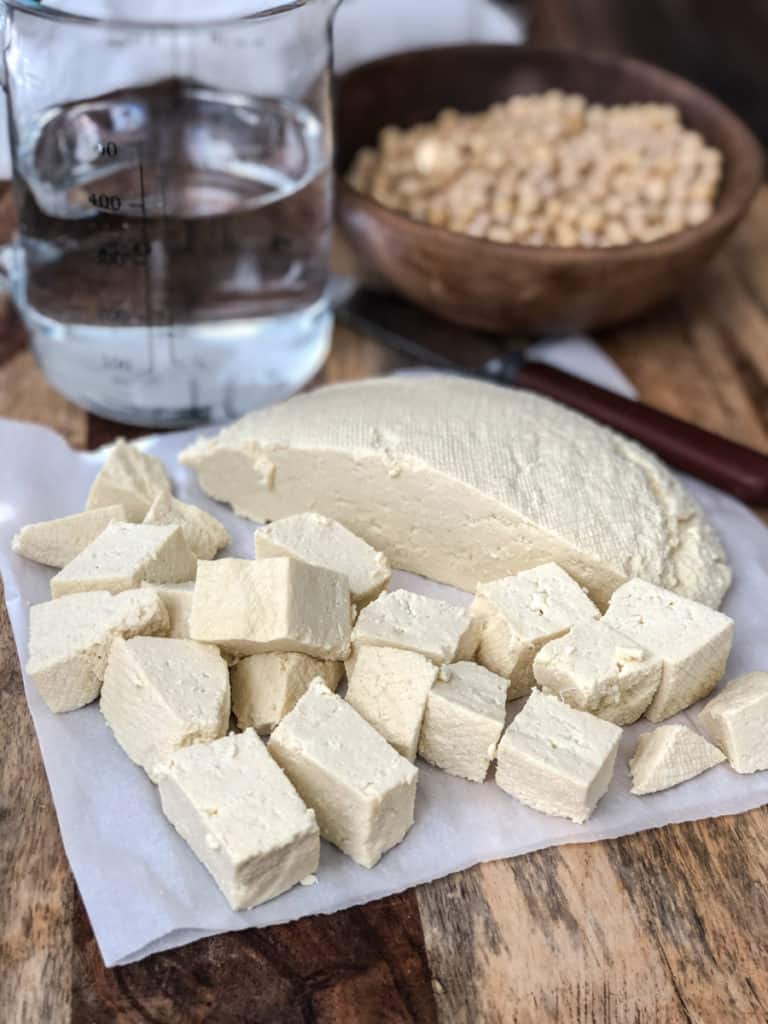 PRESSING TOFU - pressing excess water out of tofu compresses it and gives it a denser/meatier texture. I like organic, non gmo, firm or extra firm tofu for this recipe. Just wrap the block of tofu in a few sheets of paper towelling or a clean kitchen towel, then place a heavy cookbook or cast iron pan on top for ~15 minutes.

SEARING THE TOFU - in a hot cast iron pan, add a tablespoonful of oil and coarse ground salt. Heat to shimmering. Add the tofu chunks and sear, then flip until the pieces are golden and crispy.
*Pro Tip: for oil-free cooking, heat a non-stick pan, add tofu and don't touch it until it naturally releases. As the water evaporates, the tofu will form a crust and will naturally release. If it's sticking, wait another 30 seconds until it releases.
SPICING THE TOFU - add spice to the tofu prior to cooking, during cooking, and/or after cooking. For this recipe I seasoned before, during, and simmered in sauce for the last step.
Sweet and Spicy BBQ Sauce for Tofu
This spicy BBQ sauce is lip-smackingly delicious. It's a spicy-sweet, smoky, oil-free sauce that can be customized to suit your taste. Turn that heat UP or down!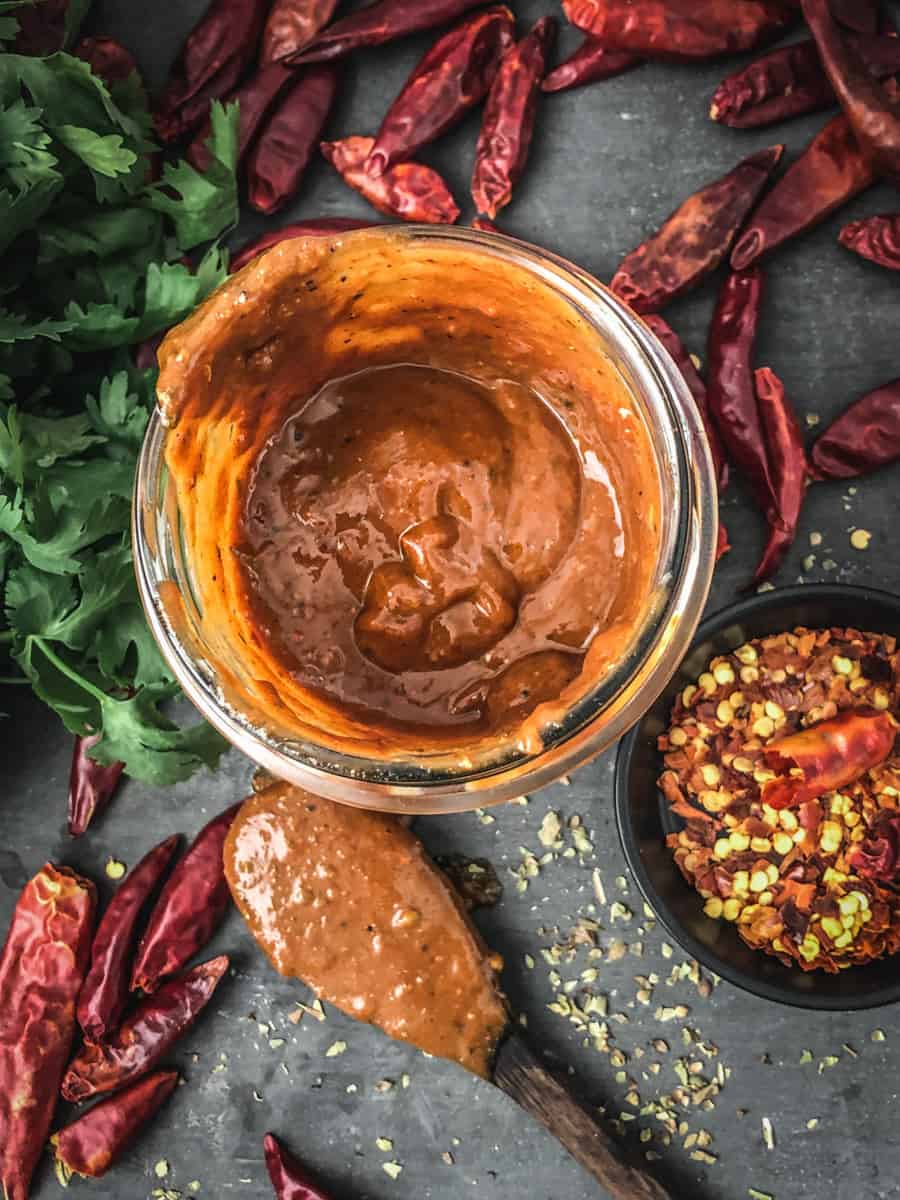 Store-bought or homemade ketchup is the base of this BBQ sauce which add a tomato, tanginess.
Molasses adds a deep, distinct flavour and sweetness, as well as thickens the sauce.
The rest of the ingredients add layers of flavour, heat, smokiness, and tanginess and can be adjusted to taste.
This spicy saucy tofu and sweet, juicy pineapple chunks combination is super versatile. Add them to a taco with creamy slaw, a burrito stuffed with rice and sweet potatoes or on a pizza! You won't be disappointed.
Building a Delicious Vegan Buddha Bowl
Here's how to make a Buddha bowl:
Start with rice or any whole grain (quinoa, couscous, buckwheat groats), add a plant protein like (tofu, seitan, tempeh, beans, soy curls, jackfruit), veggies (fresh or baked), leafy greens, and an unforgettably yummy sauce or drizzle.
Sauce Tip: My most popular drizzle/sauce is this addictive Sweet and Spicy Tahini Sauce.
Optional topping suggestions: something sour or tangy like pico de gallo, pickled onions or sauerkraut. Something crunchy like seeds or nuts and some heat like jalapeno or sriracha.
More Delicious Vegan Bowl Recipes
And if you're in the mood for more bowls, why not try this Vegan Sushi Bowl, Spicy Satay Tofu Noodle Bowl or this incredible spicy Dan Dan Noodle Bowl
Did you make this recipe? I'd love to see it!
Please leave a star rating and comment at the bottom of the page.
Thank you so much for sharing! Tag me on Instagram 
For more Vegan Recipes: Sign up for my email NEWSLETTER!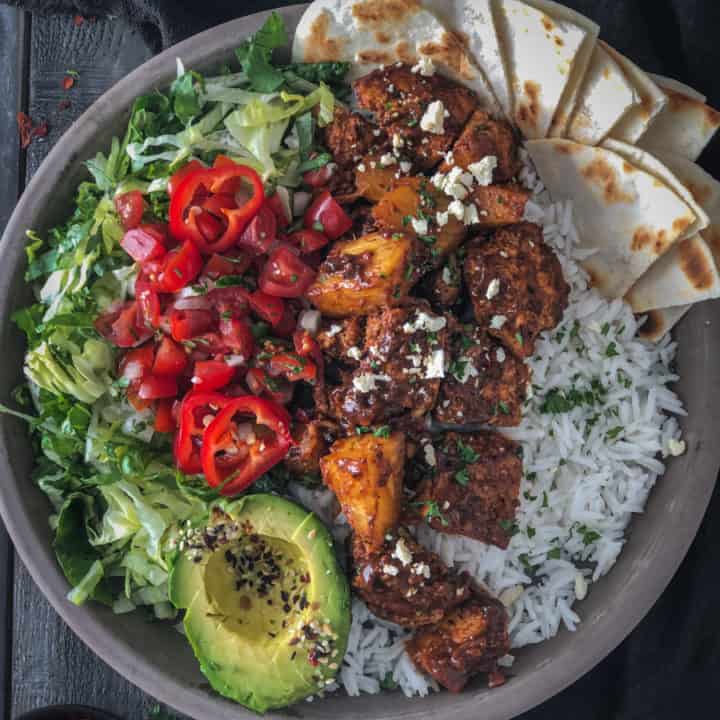 Saucy, Sweet and Spicy Tofu Buddha Bowl (vegan)
Succulent chunks of seared, tender tofu covered in a sweet and spicy BBQ sauce and served on fluffy rice. It's an irresistible combination!
Rate this recipe!
INGREDIENTS
1,

350 g

package extra firm tofu, pressed

1-2

tablespoons

oil

½ - 1

teaspoon

coarse ground sea salt

1-2

tablespoons

coarse black pepper

1 ½

teaspoons

garlic powder

1

cup

rice, cooked
Sweet and Spicy BBQ Sauce for Tofu
½

cup

ketchup

2

tablespoons

molasses

2-3

cloves

garlic, minced

1

tablespoon

smoked chili powder

1-2

teaspoons

ancho chili powder (to taste)

½

teaspoon

cumin

½

teaspoon

cinnamon

1-2

teaspoon

oregano

1-2

teaspoons

chipotle Tabasco sauce*

1

lime, juiced

3-4

tablespoons

vinegar
Toppings
1

cup

pineapple chunks (fresh is best)

1

handful

cilantro, chopped

1

jalapeno pepper, cut into rings

1

lime, cut into wedges

lettuce, shredded* or leafy greens

2-4

small tortillas, toasted

1

avocado (optional)

1

pico de gallo (optional)
INSTRUCTIONS
Rice (brown or white)
Make 1 cup of rice (brown or white) as per package instructions.

PRO TIP: Make a big batch of rice on the weekend and then freeze for use throughout the week. I make mine in an Instant Pot which is effortless and fuss free.
Tofu, Extra Firm (pressed)
Press the tofu block between a couple sheets of paper towelling or a clean kitchen towel and stack a heavy cookbook on top while you prepare the other ingredients.

Kitchen Tip: make the BBQ sauce, start the rice, and prepare the toppings while the tofu is pressing.

About 15 minutes before serving, sprinkle the tofu block with coarsely ground black pepper and garlic powder on all sides. Break or cut the tofu into chunks (about 12-16 per tofu block).

Heat 1 - 2 tbsp oil sprinkled with ½ - 1 tsp of coarsely ground sea salt into a cast iron skillet over medium-high heat. Once shimmering, place tofu chunks into the pan. Sear on all sides and then remove the pan from heat.

Oil-free Option: Use a non-stick pan and skip the oil. Make sure the pan is hot and don't move or flip the pieces until they are seared which will naturally release them from the pan without sticking.
Sweet and Spicy BBQ Sauce for Tofu
Whisk together the sauce ingredients.

Just before serving, return the tofu to the stove at medium-high. Pour ⅔ of the sauce into the skillet with the tofu, stir to incorporate. If the sauce is too thick, add a splash of water until desired consistency.

Stir in the pineapple chunks. Reduce the heat to low and simmer for a few minutes to warm through.

Add more sauce as needed. Serve immediately.
Topping Options (Prepare these while the tofu is being pressed)
Peel, and cut a fresh pineapple into chunks.

Chop the cilantro and slice the jalapenos, avocado, and lime.

Shred some lettuce (I used iceberg and romaine for crunch).

Dry fry the tortillas in a skillet or griddle over medium heat for a couple minutes on each side until golden. Cut into wedges.
PUTTING IT ALL TOGETHER
Scoop some rice into a bowl. Spoon on the tofu-pineapple mixture.

Add a few slices of avocado, some shredded lettuce, and pico if using.

Add a squeeze of lime, some chopped cilantro, a couple jalapeno slices, and a few tortilla wedges.

Serve any remaining sauce to drizzle over the rice.
NOTES
While the tofu is pressing, start the rice, make the sauce, dry fry the tortillas, and prepare the toppings.
BBQ Sauce - pass any extra sauce to be drizzled over the rice.
Storage - the spicy BBQ tofu can be stored for a couple of days in the fridge.
Leftover Serving Options - use any leftover tofu in a taco with creamy slaw or take it for lunch wrapped in a burrito with vegetables and rice.
This recipe is from simplyceecee.co food blog. All images and content are copyright protected. Please do not use my images or republish this recipe without prior permission. Thank you.