Delicious, spicy, creamy tofu tacos that will light your taste buds on fire! Easy to make and loaded with amazing flavours and textures, everyone loves this crispy tofu tacos recipe.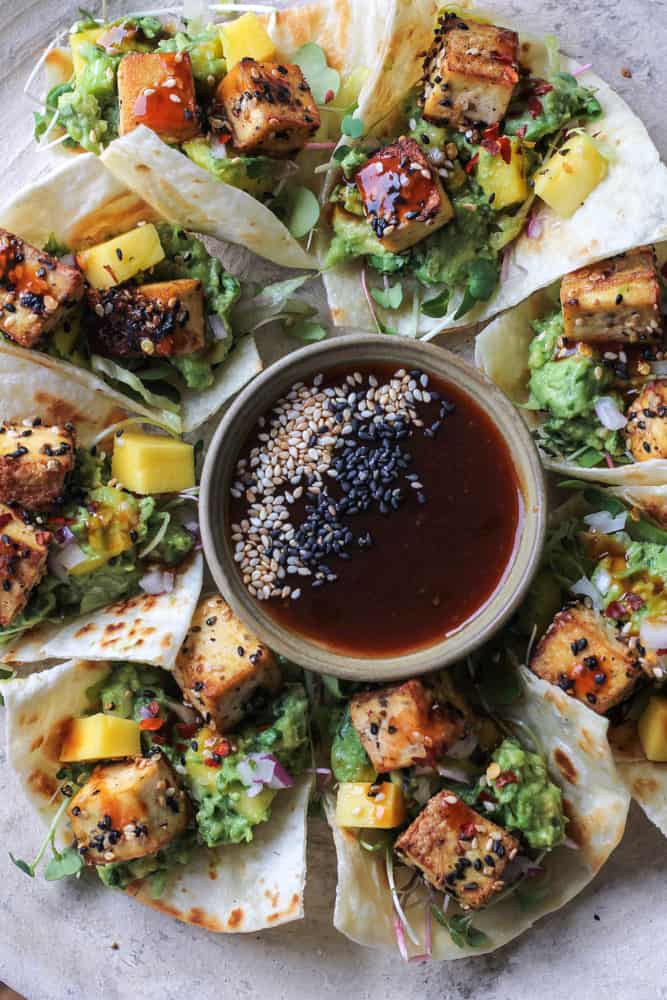 It's taco time! That's ALL the time at our house. Not even kidding, I make tacos a lot!
If you love vegan tacos as much as we do, try this easy taco recipe with two options for vegan meat replacement including tofu taco meat and cauliflower-walnut crumbles: Simply Delicious Vegan Tacos.
Tofu Tacos Ingredients
It's easy to make tacos vegan/vegetarian these days. For this recipe I used peppery crusted tofu as the vegan meaty filling. Creamy guacamole, tangy mango chunks, and spicy sauce boost flavour and texture. Here's what you'll need:
Cracked-Black-Pepper Crusted Tofu - pressing the excess water from tofu allows it to soak up other flavours and changes the texture. These tofu cubes are crusted with cracked black pepper, garlic powder, and sesame seeds then seared until crispy. Finishing them in the oven leaves time for preparing other components.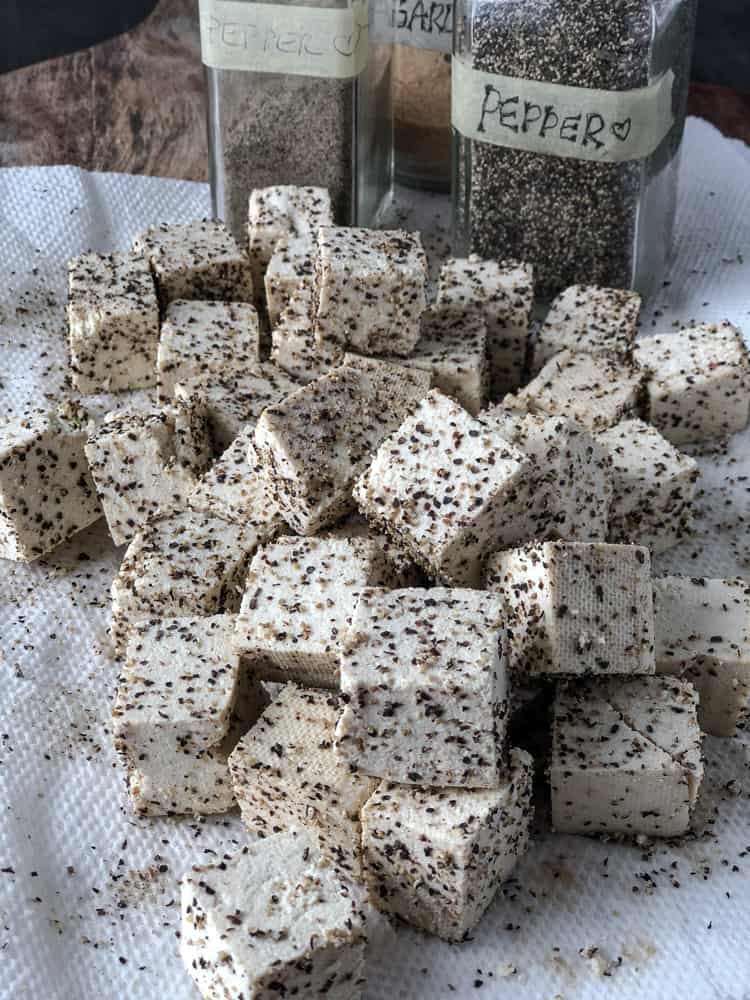 Creamy Guacamole - smooth or chunky? I like my guacamole with some texture, but mash and mix the avocado until you are happy with the consistency. Onion adds a pungency, lime brightens the creaminess, cilantro adds freshness, and salt enhances all the flavours - adjust to your taste preference.
Spicy Sauce (Horseradish-Tamari) - this spicy sauce was inspired by Wicked Healthy. It's easy to make, full of flavour, and delicious drizzled on everything!
Mango Chunks - the mangos add a sweet, tangy, juiciness to the tacos that tempers the heat of the sauce and pairs well with the creamy guacamole.
Toasted Tortillas - I used small flour tortillas and warmed them in a dry skillet over medium-high heat until crispy. But you can easily swap out your favourite gluten free option.
Although, these drool-worthy, crispy, tofu tacos have a few components, they are all simple to make. So delicious, these tacos are sure to be a new family favourite.
Steps to Make Vegan Tacos
Here are a few pro tips to help you sail through this recipe:
Press the tofu for 15 minutes (wrap in paper towelling and pile a couple heavy cookbooks or a cast iron frying pan on top).
Prepare the spicy sauce and set aside to cool.
When tofu is baking, make the guacamole and prepare the other toppings.
Remove tofu from the oven and place in a serving dish.
Warm the tortillas - serve immediately.
Pass the extra horseradish tamari for drizzling.
Happy Taco Monday, Tuesday, Thursday . . . .
More Vegan Tacos Recipes
Holy Smokes Jackfruit Tacos - tender, tangy and creamy with saucy jackfruit taco filling
Jackfruit Tacos Recipe - unforgettable, flavour bomb jackfruit taco
Sweet Summer Corn Tacos - juicy, crunchy and delicious vegetarian taco with slaw
Did you make this recipe? I'd love to see it!
Please leave a star rating and comment at the bottom of the page.
Thank you so much for sharing! Tag me on Instagram 
For more Vegan Recipes: Sign up for my email NEWSLETTER!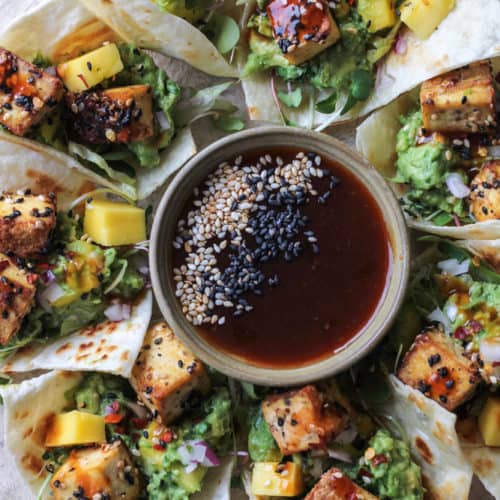 Spicy Tofu Tacos with Mango Guacamole
These tacos have it all, spicy, sweet, saucy, crunchy, and delicious. Easy to make, and a crowd favourite. They are going to light your taste buds up!
Rate this recipe!
INGREDIENTS
1

package

tofu, organic, extra firm (pressed)
SPICY SAUCE (Horseradish Tamari)
½

cup

tamari

1

cup

water

2

tsp

fresh garlic, crushed

1.5 - 2

tsp

fresh horseradish, grated

2-3

tbsp

maple syrup

2-3

tbsp

sriracha

1

slurry (whisk 1 tsp cornstarch w/ 2 tbsp water)
BLACK PEPPER TOFU
1-2

tbsp

oil

2

sprinkles

coarse sea salt

1+

tbsp

cracked black pepper, to taste

1

tsp

garlic powder

2

tbsp

sesame seeds (black and white)

2-4

tbsp

horseradish tamari sauce
TOPPINGS
2

avocados, pitted and peeled

1

handful

cilantro, chopped

¼

cup

red onion, minced

1 - 2

tbsp

lime juice

salt, to taste

1

mango, cubed

sprouts

1

cup

lettuce, shredded

2-4

green onions, sliced

4-6

tortillas, warmed
INSTRUCTIONS
BLACK PEPPER TOFU
PREPARE TOFU (15+ minutes)

Wrap a block of firm or extra firm Tofu with paper towelling or a clean kitchen towel. Place a couple heavy cookbooks on top.

Preheat oven to 400 F.
SPICY SAUCE
Add all sauce ingredients (tamari, water, garlic, horseradish, maple syrup, and sriracha) to a small sauce pan over medium-high heat.  Let it come to a boil, reduce heat to simmer. Add in slurry of cornstarch and water to slightly thicken sauce and let simmer for 3 or 4 minutes. If you prefer the sauce to be a bit thicker, add another tsp of cornstarch.

Remove from heat and let cool - strain and place into squeeze bottle or pouring jar. 

Leftovers can be stored in the fridge in an air tight container.

*Horseradish - if fresh is not available sub with creamed horseradish (to taste).
CRACKED BLACK PEPPER AND SESAME TOFU
Once the tofu is pressed, cut it into ~ 1" cubes. Sprinkle with a generous amount of cracked black pepper, garlic powder, and sesame seeds. Gently roll tofu cubes in pepper and seeds to coat.

Heat enough oil to coat the bottom of a pan* and a sprinkle of sea salt until it shimmers. Place cubes into pan and sear each side. Next place pan into pre-heated oven to bake for 5 minutes. Drizzle with 2 - 4 tbsp of spicy horseradish tamari and toss to incorporate.  Set aside in a serving dish.

*cast iron pan if available as it get really hot and retains the heat - but an oven-proof skillet if you don't have a cast iron.
GUACAMOLE and TOPPINGS
In a medium bowl, gently mash the avocado with a fork. Add chopped cilantro, minced red onion, lime juice, and salt - mix just to incorporate.  I like to keep the guacamole pretty chunky.

Cut mango into cubes (here's a great method). Set aside.

Shred the lettuce, slice the green onions, and place on serving dish with sprouts.
PUTTING IT ALL TOGETHER
Warm tortillas on a dry grill pan over medium-high heat until toasty on both sides.

Fill each tortilla with shredded lettuce and sprouts, topped with a heap of guacamole, mango cubes, a sprinkle of chopped green onions, and 3 tofu cubes. Drizzle tacos with horseradish sauce. Enjoy!
This recipe is from simplyceecee.co food blog. All images and content are copyright protected. Please do not use my images or republish this recipe without prior permission. Thank you.