Loaded baked potatoes are always a big hit at our house. They are easy to make, super delicious, satisfying for all eaters (vegan or not), and are incredibly filling. It's like a tasty vegan buffet on a baked potato - great way to use up leftovers too!!!! You're going to love these vegan baked potatoes, I'm sure of it!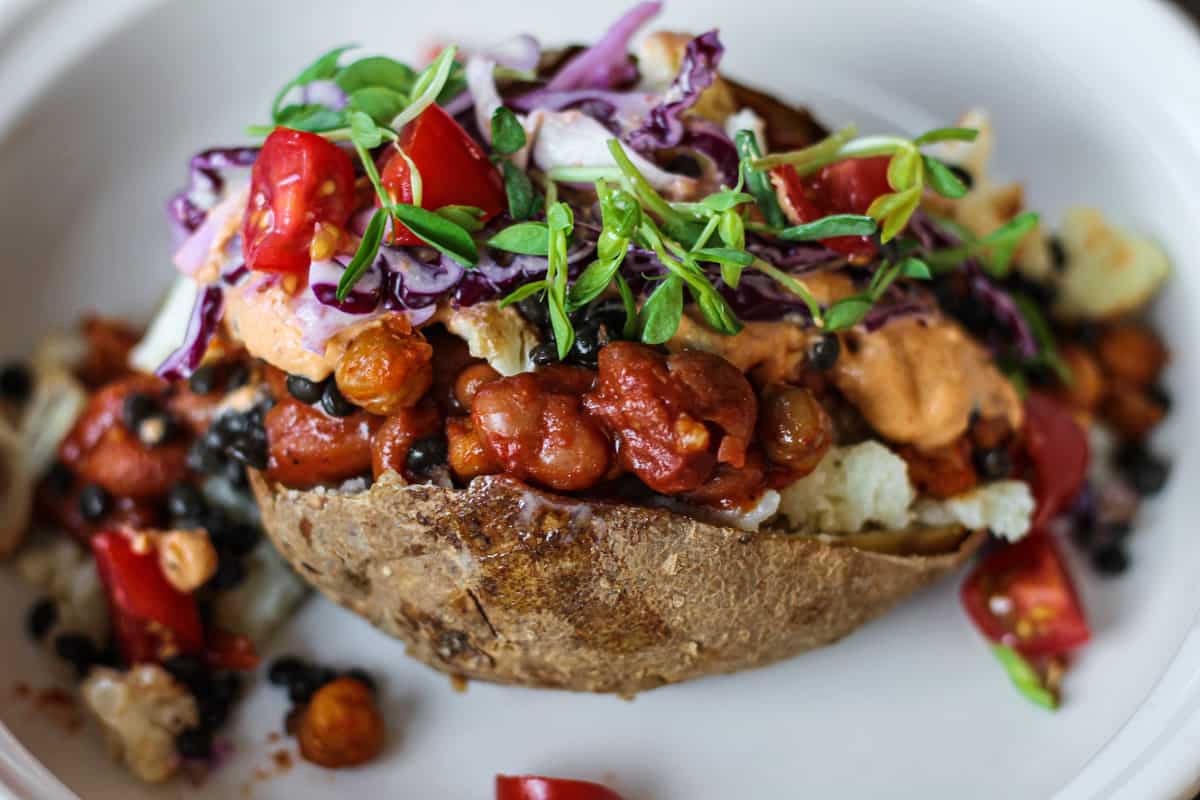 There's just something so satisfying about a baked potato stuffed with all your favourite things. We love them because they are simple and fuss free to make on busy weeknights. Plus it's a great way to use up leftover veggies.
I just pop a few potatoes in the oven to bake, bring out the leftovers, make a quick slaw, and then pile them on top. This is healthy, vegan comfort food at its best, and a family favorite for sure!
Ingredients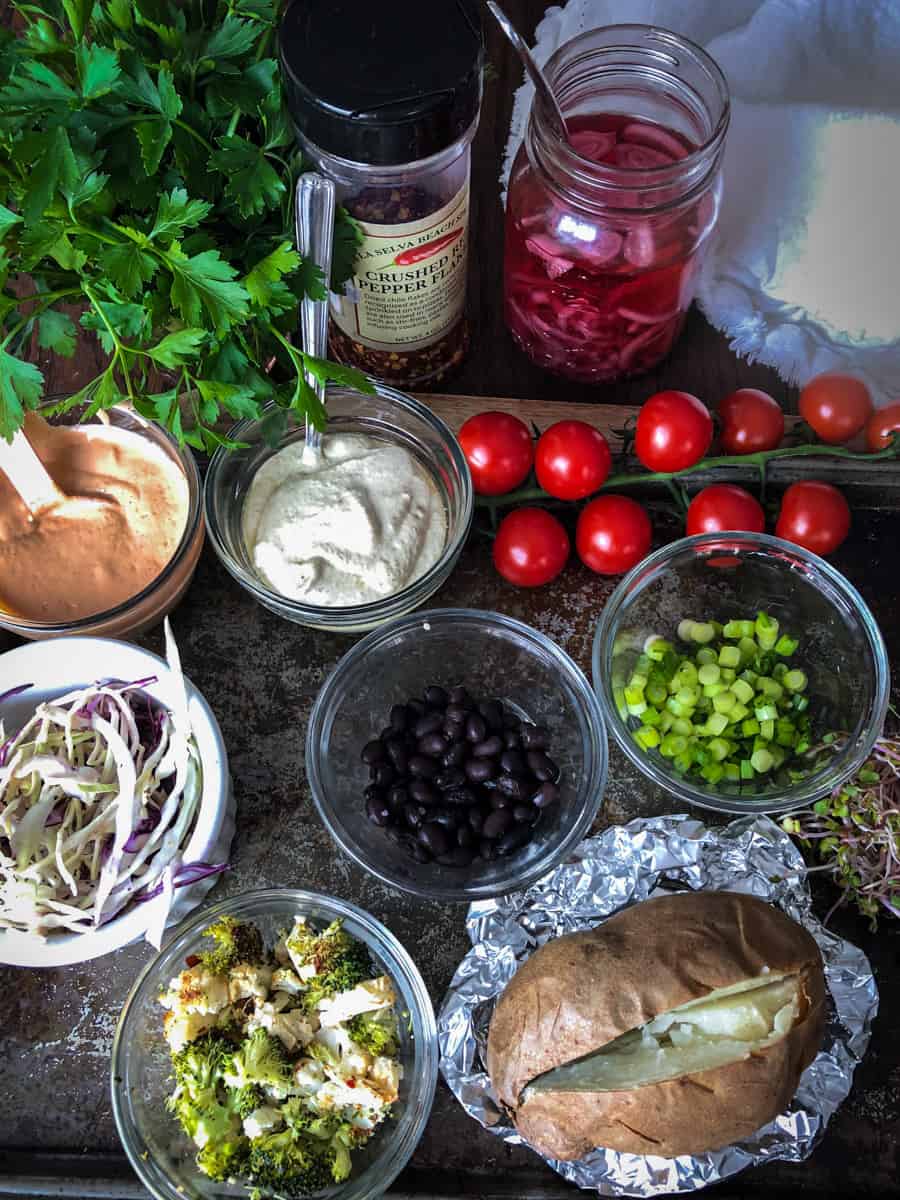 When I serve stuffed baked potatoes, I set everything out like a baked potato buffet so everyone can customize their own baked potato. Here's our go-to veggie packed baked potato combo:
jacket potatoes - baked in the oven or air fryer
baked tray vegetables - we like broccoli and cauliflower but often use leftover baked or grilled veggies
beans - beans or chili style beans. I usually add BBQ sauce, chili powder and sriracha for extra flavor
optional veggies - cherry tomatoes, avocado chunks, green onion slices
creamy slaw - 5 minute vegan slaw
cashew sauce - smoky chipotle cashew cream or sriracha cashew cream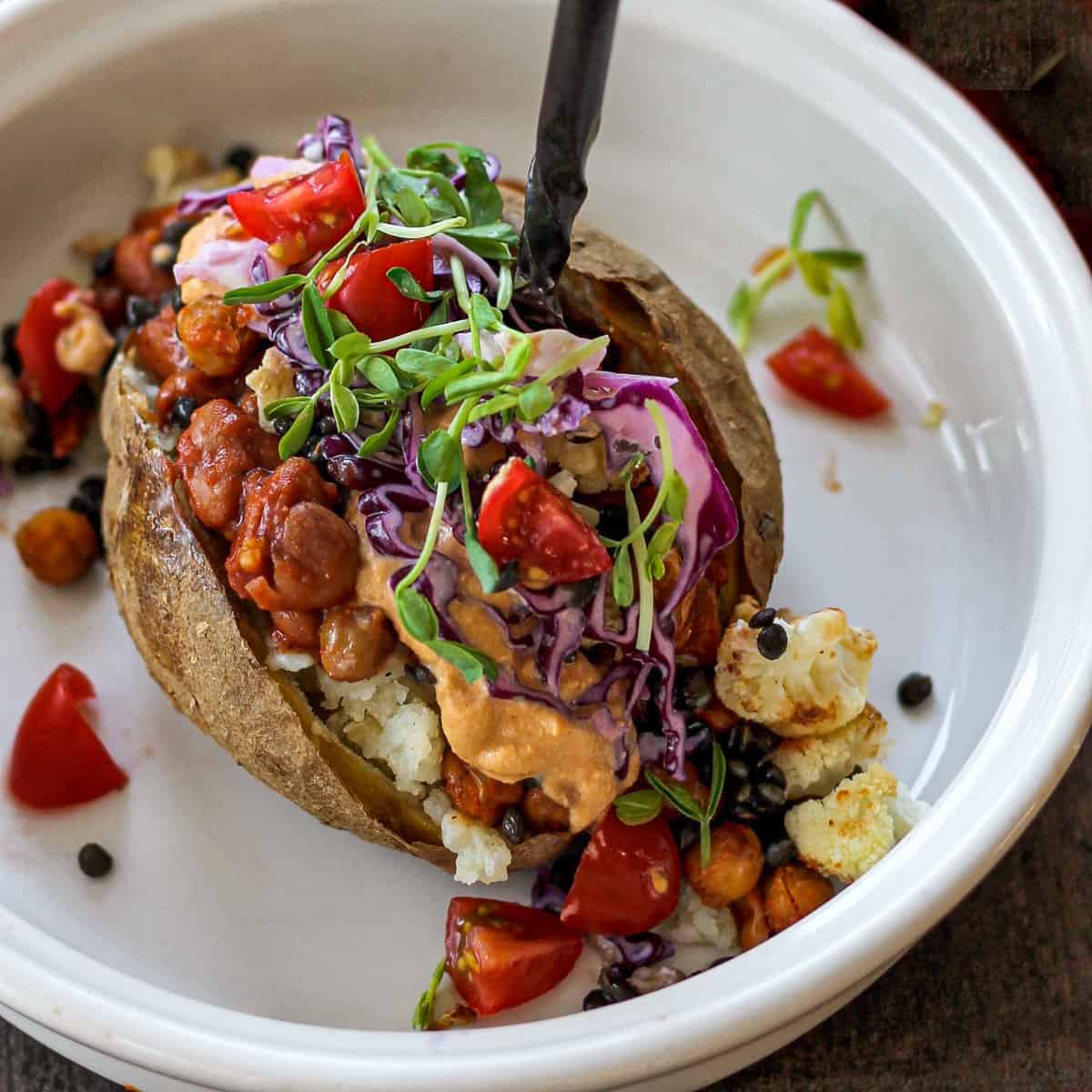 How to Make Baked Potatoes
Baked Potatoes - Bake potatoes until soft when gently squeezed. About 40 minutes (you can par cook in the microwave if you are pressed for time then finish in the oven). Alternatively, you can bake a sweet potato if you prefer.
Baked Vegetables - break cauliflower and broccoli into bite-size florets, season as per your taste preference, and bake on a sheet pan for ~25 minutes.
Saucy Beans - use leftovers or grab a tin of your favorite beans in sauce, pour them into a saucepan over medium heat, add some smoky bbq sauce, a squirt of sriracha or chipotle tabasco, and a few teaspoons of chili powder for extra flavor.
Cashew Cream - the luscious, dairy-free cashew cream pulls all the smoky, bbq, spicy, tangy flavors together. I usually make a Tex-Mex cashew cream. This takes under 5 minutes! Leftovers store nicely in the fridge for up to a week. Another quick and delicious sauce to drizzle is this Sweet and Spicy Tahini Sauce!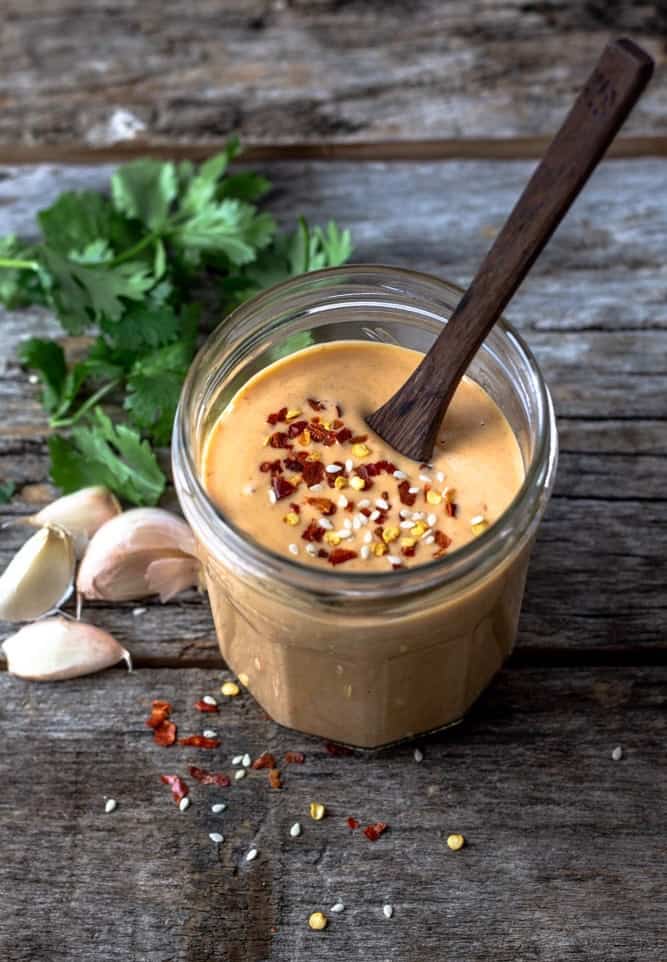 The Rest - tomatoes and avocado chunks add extra color and texture. Green onions are non-negotiable in our house because they pair so deliciously with soft buttery baked potatoes and the cashew cream! Dairy-free slaw is quick, fresh, crunchy, and tangy - it makes the perfect topper for these stuffed vegan baked potatoes.
Ingredient Options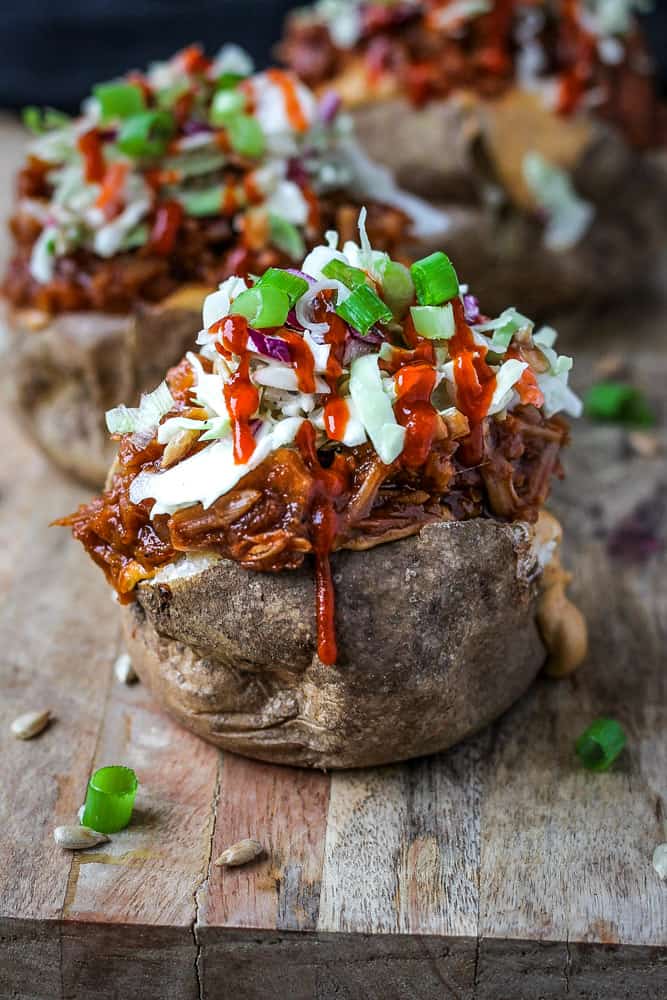 The options and combinations for stuffed vegan baked potatoes are endless. Some of our favorites include BBQ jackfruit stuffed potatoes. Indian stuffed potatoes using leftover Spicy Chana Masala with cashew cream as well as Lentil Mushroom Bolognese stuffed potatoes which was incredible. Yum!
More Vegan Dinner Ideas
Here's a few more vegan dinner ideas that are kid and family approved:
Did you make this recipe? I'd love to see it!
Please leave a star rating and comment at the bottom of the page.
Thank you so much for sharing! Tag me on Instagram
For more Vegan Recipes: Sign up for my email NEWSLETTER!
Stuffed Baked Potatoes (vegan)
Stuffed vegan baked potatoes are hit in our family. Stuff them with baked veggies, smoky saucy beans, creamy chipotle cream and creamy slaw. They are easy to make, healthy, gluten-free, oil-free, dairy-free, and totally yummy!
Rate this recipe!
INGREDIENTS
Potatoes
4

jacket potatoes, baked

2

large

sweet potatoes, cut in half (optional)
Baked Sheet Pan Vegetables
½

large

cauliflower, broken into florets

1-2

cups

broccoli, broken into florets

1

tablespoon

oil (if using)

½

large

lemon, juice

1

teaspoon

garlic powder

1

tablespoon

taco seasoning, more to taste
½

cup

Tex-Mex cashew cream
The Toppings
1

cup

baked beans

¼

cup

BBQ Sauce

2

tablespoons

sriracha sauce

2-3

teaspoons

chili powder

4

green onions, sliced

2

cups

creamy slaw recipe
Optional Add Ins
1

cup

cherry tomatoes, quartered

1

avocado, chunks
INSTRUCTIONS
Potatoes (jacket or sweet)
Preheat oven to 400º F (can put the heat up to 425º F). 

Wash jacket potatoes, pierce several time with a fork, and place in oven for 40 - 45 minutes or until soft when squeezed.

Pro Tip: If pressed for time, you can par cook the potatoes in the microwave for 8-10 minutes on high (don't forget to pierce them first!). Then finish them in the oven for 15-20 minutes or until tender.

OR Sweet Potatoes if you prefer: Wash sweet potatoes, cut in half lengthwise, season the cut side with lime juice, a sprinkle of cinnamon and cumin and place cut side down on a baking sheet covered with parchment.

Cook for until fork tender (about 20 - 25 minutes depending on size).
Baked Sheet Pan Vegetables
Meanwhile, cut the cauliflower and broccoli into florets. Toss with 1 tablespoon of oil (or a splash of lemon if oil free) and taco seasoning or seasoning of your choice.

Arrange in a single layer on a baking sheet covered in parchment paper.

Place in oven until tender, around 20- 25 minutes. Stir halfway through.
The Toppings
Slice green onions (tomatoes and avocados if using). Make slaw.

Beans in Sauce - to amp up the flavor, pour a tin of beans in tomato sauce into a small saucepan, add ¼ cup smoky bbq sauce (to taste), a generous squirt of sriracha sauce and a couple teaspoons of chili powder. Cook over medium heat until bubbling. Remove from heat.
Putting it All Together
Split the baked potatoes open, add butter, bbq beans, roasted vegetables, cashew cream and green onions. Top with slaw (tomatoes & avocados if using).
NOTES
This meal is a great way to use up bits and pieces of leftover beans, baked or grilled vegetables, sauce, etc. 
Adding fresh tomatoes, avocado, slaw and creamy drizzle is the perfect topper to this satisfying vegan comfort meal.
This recipe is from simplyceecee.co food blog. All images and content are copyright protected. Please do not use my images or republish this recipe without prior permission. Thank you.