This delicious, dairy-free coleslaw dressing is the perfect addition to a crunchy cabbage salad. Easy to make, this vegan dressing is super creamy, smooth, and tangy. It's tastier than any store-bought dressing and is ready in under 5 minutes.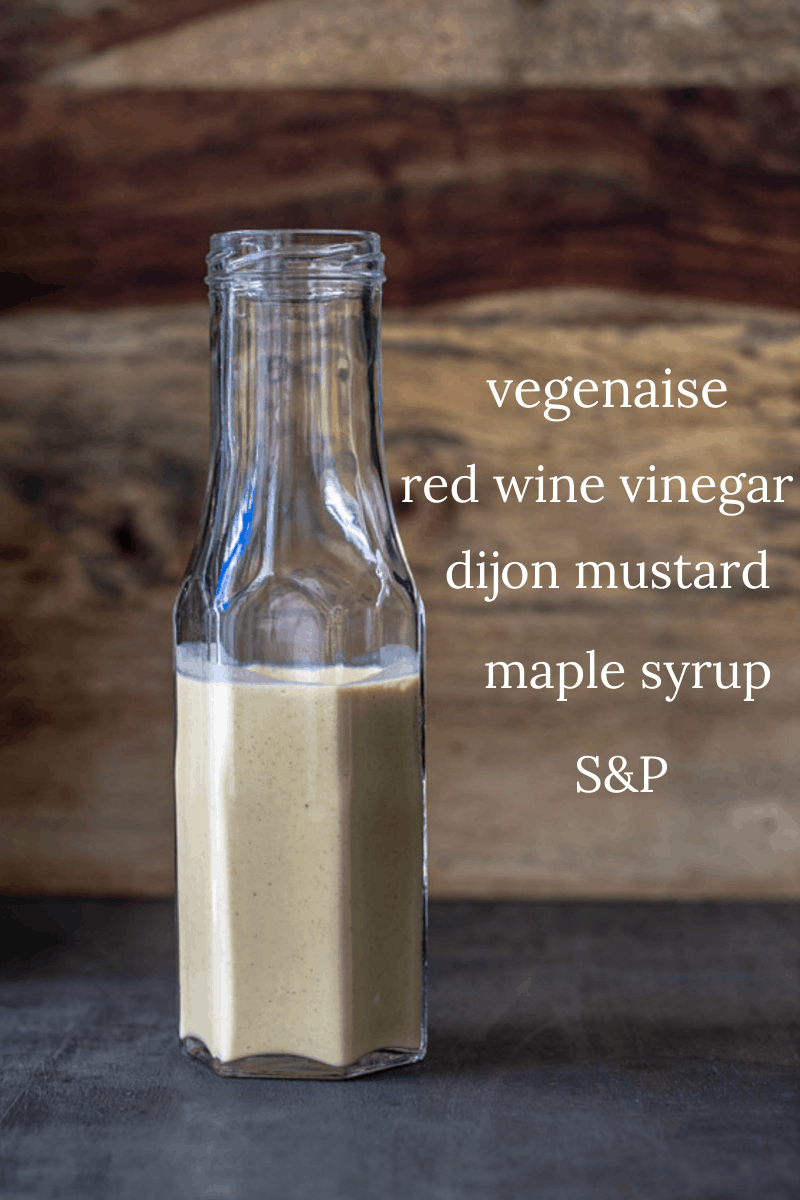 We are a slaw-loving family no doubt about it. I randomly concoct many different dressings sometimes creamy, sometimes pickled, sweet, sour, savoury, dilly, spicy - we love them all.
Plus slaw is makes everything better! Try it on vegan pulled pork burger, vegan tacos, baked potatoes, Buddha bowls, and vegan bolognese to name a few.
How to Make Creamy Coleslaw Dressing
Vegenaise - creamy, dairy-free base for the dressing.
Dijon mustard - creamy co-star plus it adds tanginess.
Vinegar - use red wine vinegar, balsamic vinegar or even white vinegar.
Maple syrup - just a titch, adds sweetness and smooths out the vinegar.
Hot pepper flakes - optional but a nice, subtle hit of heat.
Coarsely ground black pepper & salt
This coleslaw is extremely versatile. Shredded cabbage makes up the bulk of the slaw. A mixture of purple (maybe you call it red) and green cabbage is pretty and each brings a different nutrient profile. Shred using mandolin or a sharp knife.
After that anything goes! Try adding shredded carrots, Brussels sprouts, red peppers, and fresh bean sprouts. Whatever's in your garden, shred it up and throw it in.
Then toss the shredded vegetables with as much dressing as you like. We call it sloppy slaw so that may give you some idea of how much dressing we use!
Storing Salad Dressing
This vegan slaw dressing on its own can be stored in the fridge for up to a week in a jar with a lid.
For the best flavor and texture, coleslaw is best eaten the same day it's prepared.
What to Serve with Vegan Coleslaw
Did you make this recipe? I'd love to see it!
Please leave a star rating and comment at the bottom of the page.
Thank you so much for sharing! Tag me on Instagram
For more Vegan Recipes: Sign up for my email NEWSLETTER!
Easy Delicious Coleslaw Dressing Recipe (dairy-free)
This tangy-sweet coleslaw recipe is incredibly delicious on coleslaw, salad or as a drizzle on Buddha bowls. It's a creamy, extremely easy to make dressing that makes everything extra delicious and it's 100% vegan!
Rate this recipe!
INGREDIENTS
Tangy Slaw Dressing Ingredients
2

tablespoons

Vegenaise

2

tablespoons

dijon mustard

1.5

tablespoons

red wine vinegar, balsamic vinegar or white vinegar

2

teaspoons

maple syrup

¼

teaspoon

salt

coarsely ground black pepper (to taste)
Coleslaw Ingredients
6

cups

thinly sliced (shredded) cabbage

other vegetables, optional*
Optional Toppings
1

handful

cilantro, chopped

2

tablespoons

toasted sunflower seeds

hot pepper flakes or squirt of sriracha
INSTRUCTIONS
To Make the Vega Slaw Dressing
Whisk together the slaw dressing ingredients. Taste and adjust to suit your preference.
To Make the Coleslaw
Shred cabbage* (approximately half of a smalls head). We like green and purple. Use a mandolin if you have one or slice thin with a knife.

Add grated carrots, thinly-sliced red peppers, shaved radish, chopped green onion, shaved Brussels sprouts, bean sprouts or any other other fresh veggies you enjoy.

*Alternatively, grab a bag of coleslaw mix at the store and skip the prep altogether.

Toss dressing with the slaw to combine.

Top with toasted sunflower seeds, chopped cilantro, and a sprinkle of hot pepper flakes.
NOTES
Cabbage mix - when you are short on time, grab a bag of slaw mix from the grocery store.
Acid - sub red wine vinegar with balsamic vinegar or white vinegar.
Herbs - add fresh chopped herbs or a sprinkle of dry oregano for an extra boost of flavor.
This recipe is from simplyceecee.co food blog. All images and content are copyright protected. Please do not use my images or republish this recipe without prior permission. Thank you.