Sweet and spicy tahini sauce is the bigger, bolder, epic big sister of classic tahini sauce and cousin to gorgeous spicy green tahini sauce! Easy to make, still dairy-free, gluten-free and oil-free, this flavour combination is the bomb. We drizzle this luscious, creamy tahini sauce on everything!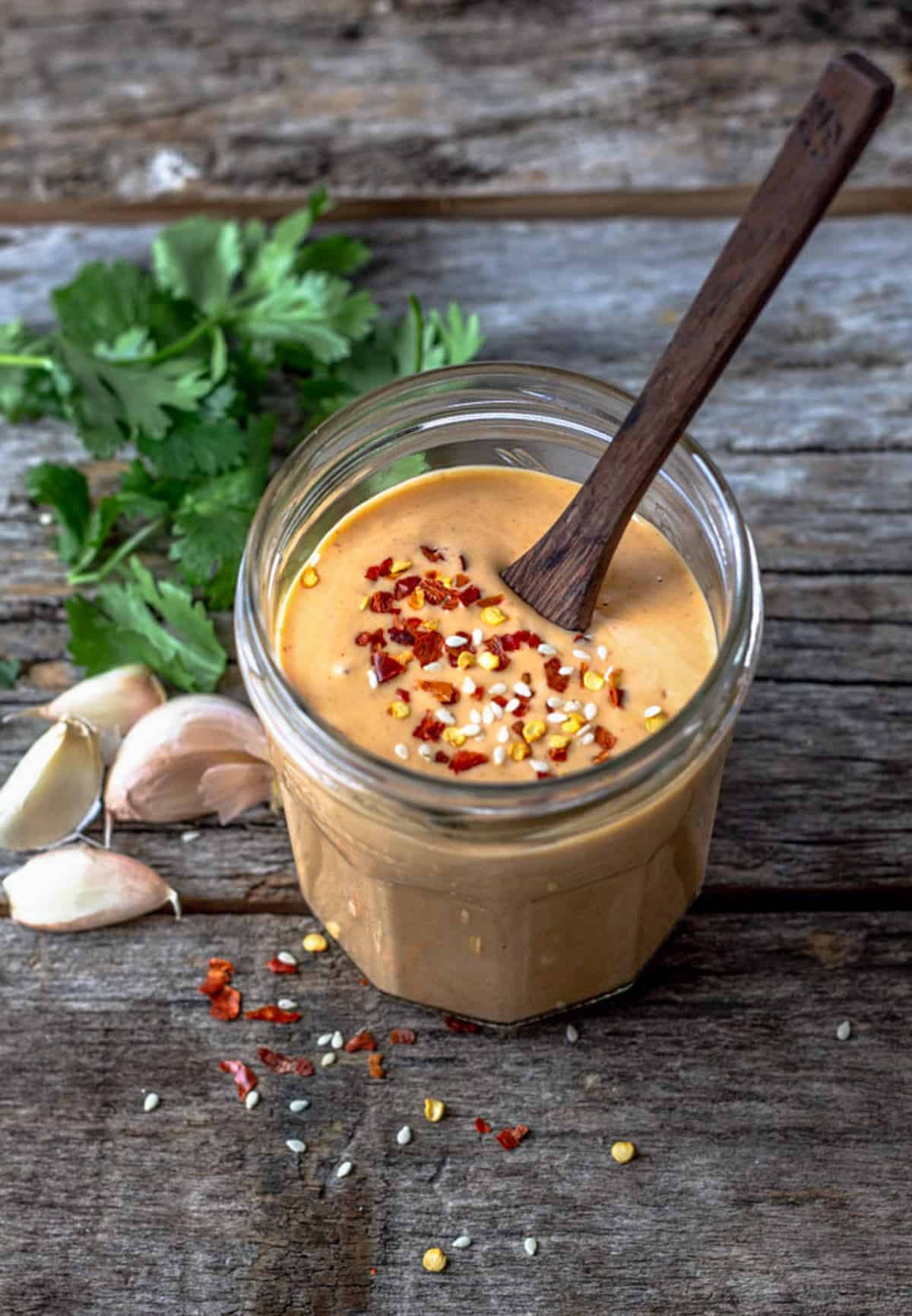 Think delicious everyday tahini sauce, but with gold dust sprinkled on top. This sweet and spicy tahini is that! It's the crowning glory that is delicious as a sauce on falafels or shawarma, fajita or fritters, and a yummy dairy-free condiment slathered on sandwiches and burgers.
Sweet and Spicy Tahini Sauce Ingredients
So easy to make and makes everything 1000% more delicious!
Here's what you'll need . . .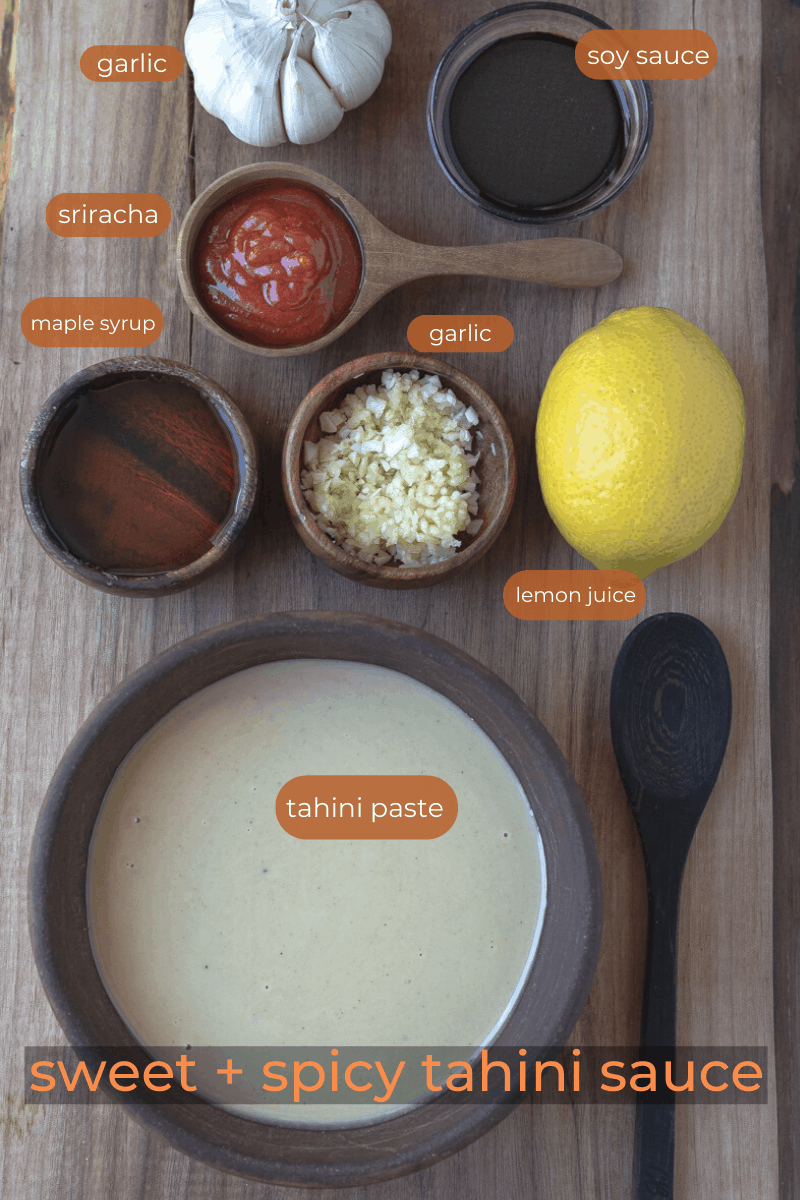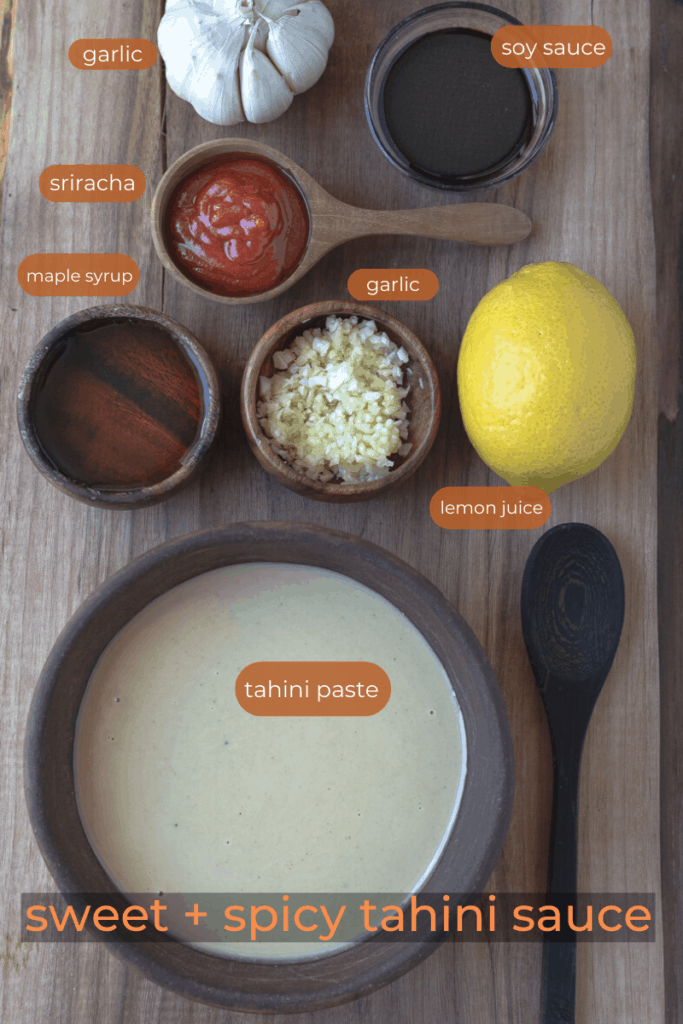 tahini paste - star and foundation of this sauce. Adds creaminess and flavour without dairy (affiliate link)
garlic - strong pungent flavour; use freshly grated or minced.
lemon - adds brightness and a hint of sourness; freshly squeezed is best!
tamari - salty umami flavour or use soy sauce (affiliate link)
maple syrup - touch of sweetness to balance all the flavours
sriracha sauce - we go through a bottle of this a month! (affiliate link)
Let's Make Tahini Sauce - sweet and spicy version!
A basic, everyday, easy tahini sauce is made with sesame seed paste mixed with garlic, salt, and lemon juice - super creamy, smooth and luscious, right? But I needed something 'extra' for my succulent vegan shawarma stuffed into a warm pita bread to make it epic (have you tried it yet?)!

Just as simple to make, but with a slightly sweet and spicy flavour profile, this red tahini sauce combo is dang delicious and somewhat extremely addictive. Plus it's ready in minutes!
Simply whisk everything together in a dish. Taste and adjust quantities to suit your personal preference; tanginess, garlic, sweet, spicy, salt, heat.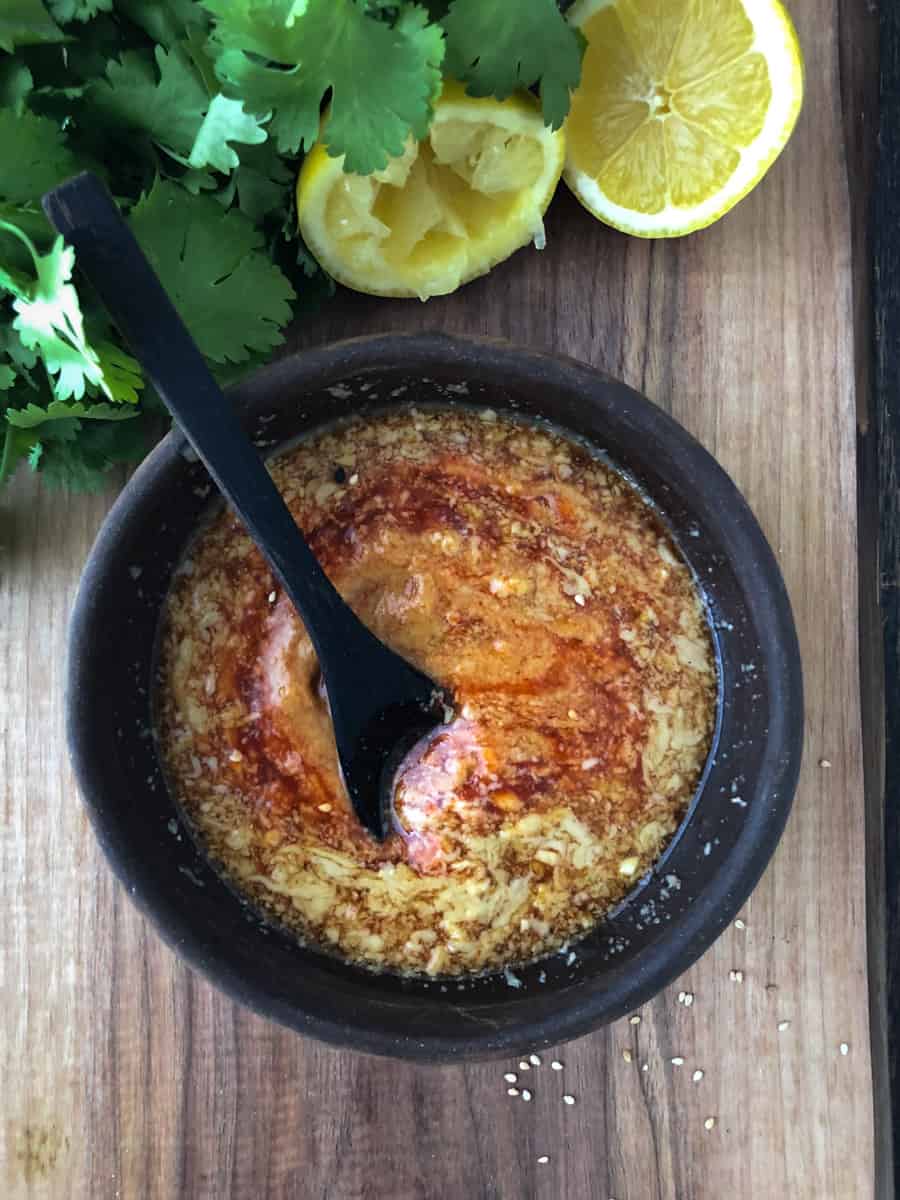 Ingredient Spotlight - What is Tahini Paste?
Tahini Paste - tahini (or tahina) is simply sesame seeds ground into paste. It's made with toasted or raw sesame seeds.
Tahini has a very nutty, earthy, slightly bitter taste. It has a high fat content and an oily texture like peanut butter.
A popular condiment in Mediterranean recipes, tahini paste is widely used in cooking and baking. It's a rich and creamy, dairy-free, gluten-free essential ingredient in vegan kitchens. For example, use it in hummus recipes, to add richness and creaminess to salad dressings, vegan sauces, drizzles, dips and so much more.
Where do I find Tahini Paste? Find tahini paste in the peanut butter aisle or check the health food or International aisles at the grocery store. Sold in jars or plastic tub. Or if you prefer order online (affiliate link).
How do I store tahini paste? tahini paste is ground seeds and just like peanut butter, the solids separate from the oil so give it a good stir to bring it back together before using. Refrigerate the tahini after opening so it doesn't turn rancid (be sure to check the best before date).
What's the best tahini paste to use? For this recipe, choose a tahini paste that is runny and tastes good (not too bitter). Here are some popular, easy to find brands: Soom, Whole Foods 365 Brand, and Trader Joe's (affiliate link).
Storing Sweet and Spicy Tahini Sauce
This sauce keeps for a week or two in the fridge (mine never lasts that long tho). It thickens up in the fridge so just stir in a teaspoonful of water at a time until the desired consistency is met.
Uses for Tahini Sauce
This yummy sweet and spicy tahini sauce is perfect drizzled on everything. If you love sauces as much as we do, check out these popular vegan sauces for more incredible dairy-free, oil-free dressings to spruce up your vegan salad bowls, Buddha bowls, tacos, and so much more . . .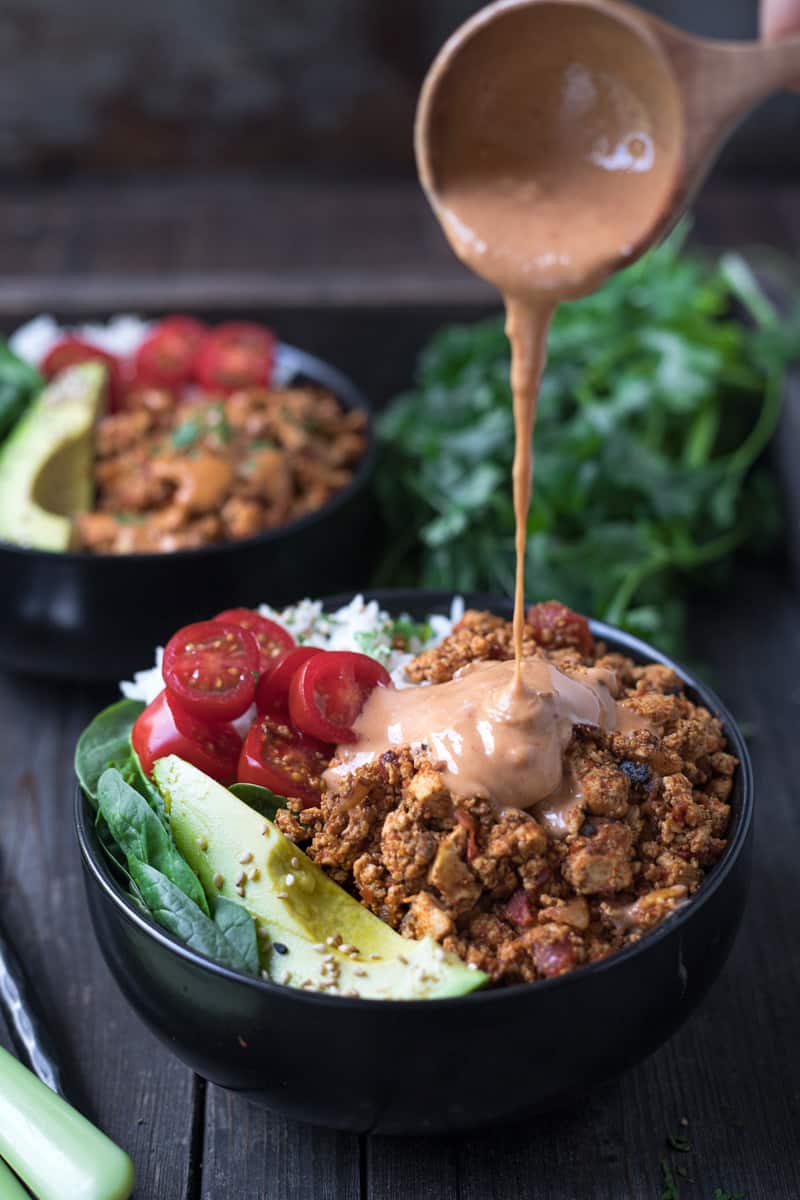 easy vegan tofu taco bowl - easy, scrumptious, family favorite '8 days' a week!

mediterranean platter with

baked falafel

,

pita bread

or flatbread, olives,

hummus

, and

pico
vegetarian dagwood sandwich or burgers - no mayo required!
roasted veggies - makes extra, they are irresistible with sweet and spicy tahini drizzled on top!
vegan shawarma with spicy tahini sauce - this epic vegan shawarma is beloved - vegan or not!
baked stuffed potato - easy, nutritious, weekly meal in the cooler months!
brussels sprouts - will turn everyone into a brussel sprout lover
veggies and dip - try the white, green or red tahini for dipping!
fancy rainbow salad (thin out w/ lemon juice/water for pourable consistency)
delicious and nutritious chickpea pancakes - so easy to make and incredibly versatile!
Did you make my Sweet and Spicy Tahini Sauce recipe? 
I'd love to see it! Tag me on Instagram and Facebook!
NEVER MISS A RECIPE: Sign up for my email NEWSLETTER!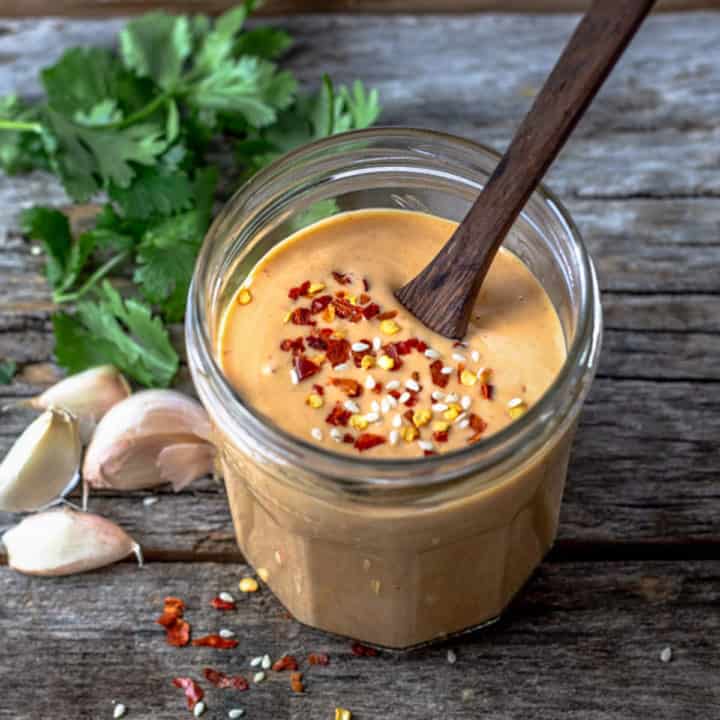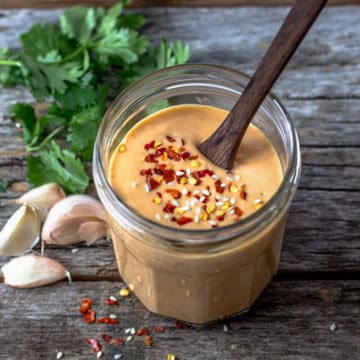 Sweet and Spicy Tahini Sauce
This tahini sauce is perfectly sweet and spicy. Totally dairy free and completely addictive, you'll want to smother it on everything! Easy to make plus oil-free, gluten-free, dairy-free, a drizzle of this sauce makes everything 1000% better! Trust me.
Rate this recipe!
INGREDIENTS
¼

cup

tahini

3

tbsp

lemon juice

1-2

cloves

garlic

1-2

tsp

tamari

1

tbsp

maple syrup

1+

tbsp

sriracha
INSTRUCTIONS
Place all ingredients into a small bowl and whisk together.

Taste for flavours and adjust as desired. Add a teaspoonful of water at a time to thin out the sauce and make it more pourable.

Store leftover sauce in an airtight container in the fridge. The tahini sauce will thicken in the fridge. Add a teaspoonful of water to thin out the sauce after it has been in the fridge.
NOTES
Depending on how much lemon you use, how thick your tahini paste is, and what you are using your sauce for (condiment dip or drizzle), you may need to add a teaspoonful or more of water to thin out.
Find tahini paste in the International aisle, 'natural' aisle or peanut butter aisle in most grocery stores. Stir well to incorporate oil before using. Store in fridge after opening.
STORAGE - the sauce stores well in the fridge in an airtight container all week.
It will thicken in the fridge.
This recipe is from simplyceecee.co food blog. All images and content are copyright protected. Please do not use my images or republish this recipe without prior permission. Thank you.
Originally posted October 2019 - updated photos, tips, and techniques in June 2021.